Stand-up flexible pouches—flexible pouches that stand erect without external support when they are filled with their intended contents—now extend beyond their origin in fruit beverage packaging into confections, snacks, and other products.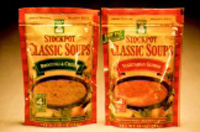 Most professionals today appear to accept the triangular-shaped flexible pouch with a unitary flat base as mainstream. In addition, there are gusseted sidewall pouches with flat bottoms achieved by double-point foldover; units with flat tops to expand the volume; four long-seam-seal structures that force the flexible pouch to imitate a paperboard folding carton; and the Z-flex.
Although gusseted-side-wall, flat-bottom paper bags supported by the weight of contents have been standard for flour and sugar packages for a century or more, the contemporary stand-up flexible plastic-film pouch is attributed to France's M. Louis Doyen, who developed a singular pouch with an added base panel, appropriately dubbed Doy Pak.
Doyen introduced the package in France, across Europe, and in the United States during the 1960s with relatively little acceptance. The cost was significantly higher than for conventional vertical form/fill/seal pillow pouches which could only be displayed flat and horizontally. Vertical form/fill/seal machinery began with relatively inexpensive roll stock, while Doy Paks required preformed pouches whose fabrication was expensive and whose forming and filling were relatively slow. Nevertheless, Doy Paks found some use in packaging olives and, later, fruit beverages in Europe and specialty candies in other locations.
The advent of the 1980s environmental movement to eliminate or at least significantly reduce package materials led to the rediscovery of Doy Pak as a replacement for paperboard cartons, glass, plastic bottles, and composite cans. Despite their other environmental deficiencies (e.g., they were made from laminations which could not effectively be recovered), flexible pouches could lead to a 90% reduction in mass of package materials in containers for flowable dry and liquid contents. A temporary surge of pouch use for liquid and powdered detergents, window cleaners, shampoos, hand lotions, and all types of other products failed because of inherent deficiencies in stand-up flexible pouches (e.g., failure to stand when half the contents were gone, cost, and other reasons). But a number of companies had invested in infrastructure, and these assets were not about to be wasted.
With the expiration of the original Doy Pak patents, the 1990s brought major thrusts by suppliers around the world to market stand-up flexible pouches and their converting and filling equipment. More than 20 machinery companies and a dozen flexible package converters developed stand-up flexible pouches, offered as the next generation of innovative package. The presence in the world market of Capri Sun beverages in stand-up flexible pouches and the attempts by Nabisco to use them for some of its venerable brands such as Planter's were evidence offered that stand-up flexible pouches were indeed "the wave of the future."
Mainstream stand-up flexible pouches were relatively easy to fill and seal on preform/fill/seal equipment at moderate speeds. With the addition of zipper closures, stand-up flexible pouches became increasingly popular for new food product introductions. As legal restrictions on the application of stand-up flexible pouches for beverages were eased, Coca Cola's Minute Maid and Hi-C fruit drinks appeared in stand-up flexible pouches with unique structural design.
The graphic capabilities of pouches are generally superior to those of paperboard because of their gloss; their ability to be fabricated in-line, with filling and sealing on automatic equipment; their face-to-face heat seals, which are inherently better than overlap and fold-over closures; and their projected lower cost because of lower material mass. However, the pouches exhibit poorer shelf display capabilities than paperboard cartons because the base is generally not flat and is dependent on the weight of the contents. They are also slower to run on packaging equipment; and the cost of secondary packaging used to physically protect the primary stand-up flexible pouch increases unit cost. The cost of dispensing closure fitments for liquids can increase cost as well.
Among the food products currently prominent in stand-up flexible pouches are pet treats and dried fruit; salty snacks; nuts; candies; hot and cold cereals; frozen concentrated juice for hotel/restaurant/institutional applications; cocoa beverage mix; pancake mixes; dry milk; roasted coffee beans; roasted and ground coffee; fruit beverages; refrigerated soups, sauces, and pumpable entrees; sugar; and retorted pet foods. If the category were expanded to include all stand-up flexible pouches and not just the Doy Pak style, the product content list would include foods such as flour; sugar; pretzels; Asian sauces; isotonic drinks; yogurt; dry mixes of all kinds; and cookies and crackers.
Many observers have been suggesting for some time that the category packaging is weak, or archaic with superfluous elements, e.g., cake mixes in paperboard cartons containing pouches fabricated from coextruded polyolefin film which functions as the primary barrier, while the exterior paperboard is a shell for graphics and the "stand-up" feature. Several packagers have demonstrated that stand-up flexible pouches could be protectively functional, and, evidently, acceptable to consumers. Analogous arguments could be made for breakfast cereals, rice and pasta mixes, and even rice or pasta, all of which have been traditionally packaged in printed paperboard shells. 
Some reasons why stand-up flexible pouches haven't been more successful include the inertia of reliable old equipment assets in place, with no sound economic reason for replacement, especially since stand-up pouch packaging equipment generally is not high speed. When the product has been static or in decline for decades (e.g., cake mix), there is little rationale for further investment. However, the new package might contribute to rejuvenating the category, much as it did for roasted and ground coffee or dried fruit. But there's always a concern about market share if a package looks unfamiliar to consumers.
Incompatibilities between products in the pouch causes some concern, and flexible walls are more sensitive to the rigors of distribution, especially in the erect position. There are also concerns that the additional heat seal at the base used to achieve the oval stand feature is subject to transmission of moisture, odor, or even product. The added seal is on the base and subjected to extra pressure and stress during distribution and display.
The use of stand-up pouches for aseptic, hot fill, or retorting would increase its use. Stockpot soup concentrates and single-strength sauces packaged in the pouch with claims of 90-day shelf life under refrigeration suggests greatly expanded use. Hot filling is also used for the newer pumpable entrees also distributed refrigerated in retail channels.
Despite the any claims for aseptic packaging in stand-up flexible pouches, very few aseptic flexible pouches for low-acid fluid foods have been produced commercially. Among the problems for preformed pouches would be a means to sterilize preformed pouches; assurance of sterility of the empty package; sterilization of what must be a retrofitted aseptic packaging machine operating at some commercially acceptable speed; mechanism to remove the residual sterilant, assuming it is a chemical; ability to seal under sterile conditions; and a means to exit the sterile area without compromising the internal environmental sterility. Even those several bag-in-box engineers who have presterilized preformed pouches with ionizing radiation have placed very few low-acid aseptic packaging machines (for ambient-temperature shelf-stable liquid foods) during the past decades.
The concept of aseptic packaging of pillow pouches on vertical form/fill/seal machines has been accomplished with some technical success elsewhere, but commercial-scale packaging has not been particularly successful in the U.S.
A more demanding but nevertheless achievable objective for stand-up flexible pouches is retortability. At least two such commercial products have been marketed, one a hotel/restaurant/institutional evaporated milk and the other a retail pet food offered in the U.S. but actually packaged in Europe. Retort pouches must be able to withstand temperatures of up to 133ºC for up to one hour and subsequent cooling to 40ºC under counterpressure, which must be carefully maintained to avoid differential pressure on heat-weakened seals that would otherwise open the seal.
For several years, suppliers have designed shaped stand-up flexible pouches as means of differentiating products on the shelf. To date, the standard "triangular" shape has been preferred. But there are some innovative products, including the Japanese Poucher™, which has an elegant contoured or wasp-waist shape with a patented rib design for pouring stability. A similar design was introduced by Argentinian packagers who were prominent in stand-up flexible pouches during the 1990s. Quattro™ from Curwood has a cylindrical shape and a top gusset with a reclosable tamper-evident spout fitment on one side.
Soft Pouch™ from Japan's Fuji Seal Astec has a side-gusset, box-like shape with contours on the corners and a center spout with a straw-type tamper-evident spout fitment. Israel's Atifon offers Boxibag™, a stable, square-based bag with face-to-face seams on all four longitudinal edges to provide a box-like appearance. It is made on horizontal form/fill/seal equipment, whereas the similar Rovema Stabilopack (in Germany and the U.S.) is made on vertical form/fill/seal equipment. Japan's Cheer Pack has been offered in the Western Hemisphere for a decade, with little commercial success in North America. It is a quasi-stand-up flexible pouch with gusseted side walls and fold-over base to foster a semblance of a stand-up feature, with a center-placed spout fitment on the top.
The Z-Flex stand-up pouch was preformed by heat sealing flexible plastic, with a complex structural design to foster hermetic closure. Originated by Jerry Buchanan, the concept was exhibited at a packaging exposition as an IBM-designed prototype. It was later transferred to Crown Zellerbach, which recently became part of International Paper. Claims made for the new version called Z-Flex, named for its "encapsulated apex seal," are formation from a broad range of substrate web stock, and a wide range of shapes, including bowls, bottles, cartons, and pouches. Among the applications suggested are replacements for cereal cartons, handled cartons for doughnuts, beverages, mixes, and other products.
In the not-too-distant future, experience with stand-up flexible pouches will permit their more universal applicability. Meanwhile, dry flowable foods and possibly hot filling for liquids with refrigerated distribution or high-acid fluid contents are within the range of these exciting new packages.
What's New on IFT's Web site? Take a look . . . www.ift.org  
by AARON L. BRODY
Contributing Editor