With a strech of holidays right around the corner, I thought it might be fun to look at several ingredients that are used during these festive occasions how they function and their different applications. Like Santa's list, a compilation of holiday ingredients would be very extensive, and when looking them over—from ginger to nuts, from cranberry to pumpkin—I can guarantee there is not a "naughty" one in sight.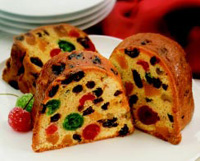 Although there is a wide range of such ingredients for use in holiday foods, they have several similarities worth mentioning. The most obvious one is that many of them can be used throughout the year and are not necessarily limited to holidays. Some have a long history in cooking. Others may have once started out as holiday ingredients, but have broken out of their stereotypes. Also, and perhaps not as obvious, many of these ingredients are associated not only with "indulgence" but also with health, as a wide array of research studies, especially over recent years, are showing their potential benefits in reducing the risk of certain diseases.
Another very important similarity is that over the holidays, foods tend to dress up for the occasion and the ingredients they use—traditional or not—help them to do this. For example, foods are frequently sweeter, and so chocolate, sweet potatoes, honey, raisins, and brown sugar may be used either by themselves or as ingredients. Foods are often more flavorful or spicier so we may see cinnamon, ginger, and nutmeg in the recipes.
And let's not forget about colors and the range of ingredients that can be used to make a food's appearance more suitable for the festive occasion. A coffee cake may be topped with red and green candied cherries and white icing. Blueberries may be used in the formulation of cranberry sauce. Pumpkin imparts its fall tones to pie or other baked goods. Cheese can be flavored with swirls of cranberry or peppermint. Snacks such as yogurt pretzels may be drizzled with red and green colors. And, in one of my personal favorites, a red cherry may be used as a clanger for a bell-shaped cookie.
Shapes, too, can help create a holiday food. Gingerbread men, leaf shapes made from pastry scraps on the top of pumpkin pie, tree-shaped sugar cookies, egg nog logs, and lemon cookies in the shape of snowballs are some examples.
And finally many of the ingredients that will be discussed here are very compatible and so a variety of ingredient combinations, such as fruits, nuts, chocolate, and rice can add flavors, colors, and interesting textures to the food.
Hopefully, now that you're in the proper festive mood, let's look at some of these ingredients for use in holiday foods.
Ginger. Gingerbread men and gingersnaps are some of the products that immediately come to mind when I think about ginger and holiday foods. Of course,ginger has a broad range of other uses, including application in nutraceutical products.
A major ingredient in such cuisines as Australian and Asian, as well as becoming increasingly important in dishes fusing different cultures, ginger is prepared from the dried rhizome or root of a tuberous perennial plant Zingiber officinale. Its flavor has been described as pungent, lemon-citrus, warm, and sweet, and can add zest or flavor enhancement to a number of dishes, including seafood, meat and poultry, soups and sauces, salads, confections, baked goods, frozen desserts, and beverages.
--- PAGE BREAK ---
Health research has demonstrated that the ingredient may soothe upset stomachs, provide relief for arthritis, and help lower blood pressure and cholesterol. Most recent, researchers at the University of Arizona Center for Dietary Supplement Research, established by the National Institutes of Health, are focusing on ginger and two other botanicals used for the treatment of inflammatory diseases.
Because of its functionality, versatility, and potential health value, ginger can add new dimension to a variety of traditional holiday foods. For example, a Christmas pudding can be given a warming overtone by the ingredient; a ham glazed with a ginger, lemon, and lime conserve can be imparted with a flavor reminiscent of the tropics; the flavor of cake can be boosted by the inclusion of ginger chips; the flavor and texture of custard can be enhanced by a topping made with dark chocolate and a sprinkle of ginger pieces; and a snack platter of cheese and nuts can be given a flavor twist by the addition of crystallized ginger.
A wide range of such recipes are available from Buderim Ginger Ltd., 50 Pioneer Rd., Yandina, Queensland, 4561 Australia (phone 617-5446-7100; fax 617-5446-7520). Other recipes highlighted include Golden Pear and Ginger Pudding, Ginger and Soy Glazed Salmon, and Smoky Pumpkin Tartlets. A range of ginger products may be used in their formulation, including sliced, shredded, grated, chips, crystallized, pureed, pulp, and marmalade form.
Pumpkin. Pumpkins belong to the gourd or melon family (Cucurbitaceae) which includes squashes and cucumbers. During the holiday season, these large orange fruits with the coarse strongly flavored flesh are best known, of course, as an ingredient in pies or as a festive decoration.
However, pumpkin is surprisingly versatile, finding use as an ingredient in a variety of traditional and some not so traditional recipes. Such applications offer exciting alternatives to consumers who might want to try something a little different during the holidays. For example, not only can pumpkin be used as a base for soups, but there are actually a wide range of recipes available. Pumpkin-Ginger Soup with cashews; Cream of Pumpkin Soup with cinnamon croutons; Harvest Pumpkin Soup, a vegetable soup made with pumpkin as a hearty base, potatoes, leaks, and chicken stock; Tomato and Pumpkin Soup; Curried Pumpkin Soup; Peanut Butter and Pumpkin Soup; and Pumpkin Shell Soup made with chicken broth, maple syrup, and nutmeg; and Butternut Squash Bisque are only a few possibilities.
For those who want a bakery product other than traditional pumpkin pie, pumpkin can be used in a variety of different formats, including Pumpkin Cookies, Pumpkin Bread, Pumpkin Pound Cake, Pumpkin Flan, Pumpkin-Walnut Muffins, and Pumpkin Custard.
Other innovative recipes using pumpkin include ice cream, mashed pumpkin (served as an alternative to mashed potatoes), and fried pumpkin chips.
As an ingredient, pumpkin is available in a variety of forms. One supplier, Confoco, 170 Emerson Ave., Paterson, NJ 07502 (phone 973-956-8989; fax 973-956-9551) offers ingredients produced from the flesh of pumpkins grown in Ecuador. Pumpkin flakes, when reconstituted with water, have the same traditional uses as cooked pumpkin, and are suitable for cakes, muffins, pies, bread, baby food, vegetable preparations, and soft food diets. The flakes have a tan yellow color. The pumpkin puree made by reconstituting pumpkin flakes with water has the color, odor and flavor of mashed cooked pumpkin. Pumpkin essence—a clear, colorless liquid with intense odor of fresh cooked pumpkin—may be used in refrigerated and frozen products and other applications where a water-based aroma system is used to impart a pumpkin flavor. Pumpkin powder is suitable for dry soups, vegetable preparations, cake mixes, and other applications calling for the taste and aroma of cooked pumpkin.
--- PAGE BREAK ---
Cheese. Dairy researchers are continuing to look for ways to improve cheese manufacture, functionality, and appeal. According to Dairy Management, Inc., 10255 W. Higgins Rd., Suite 900, Rosemont, IL 60018-5616 (phone 847-803-2000; fax 847-803-2077), these researchers or "cheese tailors" are customizing cheeses to suit a wide range of manufacturing needs. Some of the custom-flavored, custom-colored cheeses being created may find particular appeal in holiday foods.
Project researchers at the Western Dairy Center, Utah State University, Logan, Utah, built an injection system that shoots liquid flavor and/or color into cheese for a customized, finished product. The liquid is injected into young cheese, one to two days old, when the curd hasn't knit together. The injected colors or flavors follow cracks in the curd, giving the cheese a marbled effect. This system allows a manufacturer to inject into as little as one-pound block of cheese, and to adjust the intensity of the injected flavor or color.
Researchers recommend using mild-flavored cheese for this process such as Muenster or Monterey Jack. They experimented with a number of different flavors, such as traditional garlic, sage, lemon, cranberry, and peppermint. Several of these flavors can easily be associated with the holidays. Various colors such as red or green may be used to suit the holidays or festive occasions.
Cranberries. If there is one berry that is associated with the celebration of Thanksgiving and Christmas, it is the cranberry. Native to the bogs and marshes of the northeastern United States, cranberries were part of U.S. history since the beginning, with the Pilgrims calling the fruit Crane Berries. (Just for the record though, cranberry sauce was not one of the foods served at the First Thanksgiving.)
A quick glance at holiday recipes suggests the dominance of this little berry as it can be used in jams, breads, warm beverages, glazes for meat and poultry, stuffings, pies, sweet rolls, chutney, salads, gelatin molds, sherbet, and a wide range of other foods. (To give you some idea of its versatility, check the website www.thanksgivingrecipe.com which includes 50 recipes using the cranberry as an ingredient.)
Also suggested by the recipes is the compatibility of cranberries with other ingredients, including fruits such as strawberries, apples, raspberries, blueberries, apricots, cherries, and raisins; spices such as ginger or cinnamon; nuts; rice; and meat ingredients. Recipes reflecting today's trends may also be adapted using cranberries. For example, a cranberry-jalapeno relish may satisfy a need for hotter foods or a turkey sausage-dried cranberry stuffing may be formulated for a healthier, lower fat option.
Cranberry is another good example of an ingredient that can combine the indulgence of festive foods with an emphasis on health. As cranberries are adapted to fit more and more recipes, research is showing its range of health benefits in addition to promoting urinary tract health. Recent research is suggesting that cranberries may help fight bacteria that can cause ulcers as well as interfere with E. coli bacteria. Compounds in cranberries may also prevent certain bacteria associated with periodontal gum disease. Preliminary research also found that cranberry components inhibited the development of tumors in mice—findings which may someday have impact in the area of human health.
--- PAGE BREAK ---
Vanilla. Pure vanilla extracts may be use to enrich the flavor of eggnog. Although vanilla is not used in all eggnog recipes, it can provide a twist to the old favorite by adding a rich, sweet, and creamy note to the formulation and highlighting the egg flavor of the drink. The vanilla may also complement other ingredients, such as nutmeg, in the eggnog. Nielsen-Massey Vanillas, 1550 Shields Dr., Waukegan, IL 60085-8307 (phone 847-57801550; fax 847-578-1570), recommends the use of Madagascar Bourbon Pure Vanilla Extract in eggnog.
The manufacturer also recommends using pure vanilla or pure vanilla blends to create cookie products for the holiday season. It should be noted, however, that it is very important to select the right vanilla as each one has its own flavor characteristics, depending on from which region the vanilla beans originated. 
For example, Madagascar Bourbon Pure Vanilla, with its rounded notes and smooth, delicate flavor can lose some of these distinctive aromatics during the high heat/low mass baking process that is typical of a cookie baking operation. A blend of Bourbon and Indonesian Vanillas perform better under these conditions, offering a stable blend that holds up to the high temperatures. Tahitian Vanilla, with its fruity, cherry, and anis-like notes, enhances cookies that have inclusions such as raisins, cherries, and other fruits. A powdered form of Madagascar Bourbon functions best in a frozen or refrigerated cookie dough because of its excellent flavor-holding ability. When using liquid vanillas, they should be creamed or blended into the fat and sugar portion of the formula, as this encapsulates the vanilla and ensures maximum retention during the baking process. In addition, custom blending of vanillas is offered, giving holiday cookies a distinctive flavor profile.
Rice. When I think about rice and the holidays, rice pudding immediately comes to mind. Also, rice dishes may be used as an alternative to stuffing or as an ingredient in such holiday items as meatballs or soup.
The potential of rice in future holiday foods may be especially promising because rice is such a staple in so many different ethnic cuisines. Furthermore, it can play an important role in fusion foods—the combining of foods and food ingredients from different cultures. It is quite possible that fusion foods—with rice being one of its major ingredients—will gain an increasingly important presence on future holiday tables.
Because tradition plays an important part during the holidays, it is doubtful that fusion foods will completely replace foods such as turkey; however, it is quite possible that these dishes can become part of the meal, standing side by side with traditional foods, and, as an ingredient, can even revitalize old holiday standbys such as vegetable casseroles, stuffings, and seafood dishes.
The fact that rice is very versatile, finding use in cereals, packaged mixes, baby foods, frozen entrees, candies, soups, and a host of other products only reinforces the possibility that rice may play a more promising role in future celebrations.
The USA Rice Federation, P.O. Box 740121, Houston, TX 77274 (phone 713-270-6699) offers the newest version of its information kit on rice for industrial applications. This kit provides easy access to information on rice varieties, functionality, texture, taste, nutrition, and availability.
--- PAGE BREAK ---
Dried plum puree. Dried plum puree may be used to enhance the moisture and flavor of ground turkey products. Called Plum Juicy™Meat Moisture Enhancer, the ingredient is manufactured by California Prune Board, 5990 Stoneridge Dr., Suite 101, Pleasanton, CA 94588 (phone 925-734-0150; fax 925-734-0525).
Products that are low in fat such as ground turkey may have a dry texture and a lack of taste. However, use of this natural fruit system—a blend of dried plums and dried plum juice concentrate—is said to significantly increase both the moisture level and the cooked yield of precooked, processed meat products while enhancing texture and flavor.
Several of the formulations utilizing the ingredient are suitable for holidays or other festive occasions. These may include turkey sandwich patties, turkey meatballs, and turkey crumbles as a topping for lasagna or stuffed vegetables. Usage levels of the ingredient are said to be minimal. For example, the manufacturer reports 3% for turkey patties and 5% for crumbles. Depending on viscosity, texture, and color preferences, processors can modify the puree by adding other fruit purees and/or dried plum or other juice concentrates to the base.
In addition to its use in ground turkey and other processed meat products, dried plum puree is suitable for use in a variety of other holiday foods, including reduced-fat baked goods such as fruit cake, fruit breads, and cookies. Also, dried plums can improve a turkey stuffing and novel appetizers can be created such as a prune wrapped in bacon. Recipes are available from the California Prune Board.
Turkey and stuffing. According to The National Turkey Federation, 1225 New York Ave. NW, Suite 400, Washington, D.C. 20005 (phone 202-898-0100; fax 202-898-0203), 91% of U.S. consumers surveyed reported eating turkey on Thanksgiving.
Although turkey is a traditional food during the holidays, the federation suggested a variety of ways to put a new twist on it. "You can change the flavor profile of turkey by altering the cooking method, preparation, or both," said a consumer affairs specialist for the federation. "Experiment with different rubs and marinade seasonings, then try deep frying or grilling for added flavor."
Turkey dinners can also be fashioned around regional themes. For example, an Asian dinner with a Teriyaki Marinated turkey may be served with rice noodles, shitake mushrooms, and lemongrass seasoning. A Cajun Thanksgiving can include deep-fried turkey with a Creole Marinade injection and cayenne-cornbread stuffing. A Moroccan dinner features turkey seasoned with onion, paprika, garlic, and saffron, and served with an olive and feta cheese couscous.
Newly Weds Foods, Inc., 2501 N. Keeler Ave., Chicago, IL 60639 (phone 773-489-7000; fax 773-292-3809) expanded its stuffing flavor portfolio beyond traditional profiles such as turkey and chicken. Called Americana Stuffing, the portfolio contains stuffings incorporating such ingredients as wild rice, mushrooms, cranberries, and cornbread. The company hopes that by creating stuffings with a variety of flavor profiles, stuffing will become a food consumed all year around.
--- PAGE BREAK ---
Honey. A variety of recipes are available from the National Honey Board, 390 Lashley St., Longmont, CO 80501-6045 (phone 303-776-2337; fax 303-776-1177), illustrating how the use of honey can sweeten a wide range of holiday foods and beverages, as well as frequently providing a twist to traditional products.
Some of these recipes include a novel stuffing made with wild rice, mushrooms, dried apricots, and honey; cranberry-glazed salmon which combines cranberry sauce, honey, soy sauce, garlic, and ginger in a glaze for salmon fillets; honey-glazed sweet potatoes, which uses honey to impart an extra sweetness to a traditional winter vegetable; cranberry salsa formulated with cranberries, honey, and jalapeno peppers; and a honey apricot spread.
Bakery products, in particular, can take advantage of honey's functionality, which includes the ingredient's ability to add or enhance flavor, contribute moisture, provide sweetness, support fermentation, reduce crumbliness, and provide natural gold color. One formulation, a Honey Almond Biscotti, is said to be especially suitable for the holidays.
Honey may also be used in a variety of festive beverages, including honey hot chocolate, pineapple punch, honey eggnog, and honey mulled cider. The ingredient adds sweetness, flavor, mouthfeel, and nutritional value. One study, in particular, conducted by the University of Nebraska-Lincoln Food Processing Center, showed that honey can be used in chocolate milk beverages and yield positive results.
Cherries. The average U.S. citizen is said to consume at least one pound of tart cherries per year, with the entire nation consuming more than 260 million pounds of the frozen, canned, or dried fruit. Not surprising, cherries are a popular ingredient for use in holiday foods, adding flavor and color, as well as being compatible with other ingredients.
The fruit may be used as a filling for crepes, as a sauce for gingerbread or pound cake, and as an ingredient in holiday cookies and pastries, such as pumpkin bread, carrot cake, apple pie, or apple crisp. It is suitable for use in bread stuffing and in the creation of cherry salsa (a combination of cherries and other fruits with or without cilantro and hot peppers) and cherry chutney—accompaniments for turkey or poultry, pork, and beef. Cherries are also a good addition to salads and salad dressings and can accent rice or couscous combinations.
The Cherry Marketing Board, P.O. Box 30285, Lansing, MI 48909-7785 (phone 517-669-4264; fax 517-669-3354), is making available a brochure which provides a number of recipes using cherries in holiday foods. The brochure, Holiday Baking with Cherries includes such recipes as Christmas Bread (cherries, bananas, and macadamia nuts), Ho Ho Surprises (cookies prepared with cherries and pecans), Cherry Blossoms (breakfast rolls made with cherries, pecans, and cinnamon), Ribbon of Cherry Cheesecake, Cherry Cheese Brownies, Cherry Cinnamon Rolls, Danish Butter Cookies, and Double Cherry Pie.
Recent studies are examining the health benefits of cherries. According to researchers at Michigan State University, cherries may provide antioxidant protection comparable to commercially available supplements, such as vitamin E and vitamin C. Preliminary studies at the University of Texas are showing that tart cherries have very high levels of melatonin, a potent antioxidant with a variety of health benefits. In addition, cherries are rich in perillyl alcohol—a compound which may block the formation of a variety of cancers. Cherries may be used in the formulation of hamburgers and other meat products, reportedly helping to make a juicier product with lower levels of heterocylic aromatic amines.
--- PAGE BREAK ---
Nuts. Although we won't be talking about chestnuts in this article, the image of roasted chestnuts probably come to mind when thinking about holidays, thanks largely to Christmas carols and movies. Actually, roasted chestnuts are still sold in certain parts of Europe around the holidays and the American version of the chestnut (which was decimated by disease, chestnut blight, several decades ago) are grown on some farms in the U.S. and may even some day see a revival.
Many nuts are freshly harvested right before the holidays which can help explain, in part, their popularity in holiday foods. Availability by itself does not provide the whole story, however. Functionality, versatility, and health play a major part in their use during the holidays as well as the rest of the year. (See the Ingredients Section of the 2000 February issue for an update on nuts and their benefits.)
Let's look at the walnut first. The association of walnuts with the Christmas holidays has been the subject of many legends and stories. For example, according to biblical history, walnuts was one the gifts that the Three Wise Men from the East brought to the manger. In many cultures the home is decorated with walnuts because they were believed to be part of the Garden of Eden. And, of course, cracking walnuts has become tradition in many households.
Walnuts can add taste, a crunchy texture, and visual appeal to a variety of holiday foods, especially bakery goods such as breads, cakes, muffins, and cookies.
One recipe available from the California Walnut Marketing Board is for a Caribbean Christmas Ring, a quick bread style ring which provides a tropical flair for the holidays. An orange sugar glaze and walnut decorations add a finishing touch.
In addition to its functionality, walnuts may have potential health benefits as they are one of the best sources of plant-based omega-3 fatty acids. Research suggests that these acids may help prevent coronary heart disease stroke, and some cancers, as well as provide possible treatments of rheumatoid arthritis and mild hypertension.
Pecans, too, find their way in numerous recipes suitable for the holidays such as pies, tarts, cakes, cookies, candies, puddings, and sugared snacks. According to the Georgia Pecan Commission 328 Agricultue Building, Capital Square, Atlanta, GA 30334 (phone 404-656-3678; fax 404-656-9380), they also go well with all kinds of meats, poultry, and fish, and may be used as a crunchy coating for salmon, shrimp, chicken, and other entrees. For those planning to have more elegant feasts, a combination of wild rice and pecans make a suitable side dish for doves, quail, or cornish hens. Pecans can be combined with sweet potatoes, another staple of holiday fare, or may be sprinkled in place of bread crumbs on green beans or a squash casserole.
In the Taste of Home Holiday Recipe Card Collection, a magazine profiling 187 festive recipes (I urge you to buy a copy at your local bookstore!), several recipes used pecans, such as Butter Pecan Cake, Butterscotch Pecan Dessert, Cherry Pecan Torte, Honey Pecan Cheesecake, and Southern Pralines.
Although I have to confess that peanuts would not be the first nut that comes to mind when I think about the holidays, the use of this nut (actually legume) has some interesting possibilities, such as Peanut Butter and Pumpkin Soup and Peanut Pumpkin Bread. Peanut butter may also be used as ingredient in fudge, cheese torte, and candy.
Other nuts that may be used in holiday foods include almonds, cashews, hazelnuts, and macadamia nuts. In addition, mixed nuts can be used to create innovative recipes. For example, colorful nut bars may be formulated with candied cherries, almonds, cashews, and other nuts. Also, salads may be combined with fruits and various nuts.
--- PAGE BREAK ---
Raisins. Since the first Thanksgiving in 1621, raisins have been used in a variety of holiday foods. In fact, a book of recipes brought to America by the Pilgrims included a Boiled Salad, which was a sweet and sour dish of cooked spinach and raisins. While I am not sure if we are still partaking in "Boyled Sallet," as the dish was called back then, today's consumer can choose from a wide variety of regional holiday foods using raisins as an ingredient.
The following are some examples as provided by The California Raisin Marketing Board (CRMB), 3445 N. First St., Suite 101, Fresno, CA 93726 (phone 559-248-0287; fax 559-224-7016):
Northeast or "Yankee" dishes include Cornbread dressing (crumbled cornbread tossed with sausage, raisins, chopped apple, celery, and sage) stuffed into roasted turkey or goose; fruit relish, chutney, and conserve (cooked blends of chopped fresh fruit with raisins, onion, crystallized ginger and other spices, sugar or honey, vinegar, and nuts) served as condiments for roasted poultry and meats; mincemeat pie (chopped lean beef, raisins, dried or candied fruit, citrus peels, molasses, and spices); and Flaming Plum Pudding (molded, steamed cake that is dense with raisins, dates, candied citrus peels, almonds, spices, and brandy or other liqueur.)
The South offers such hospitality as Southern Smoked Ham with Raisin Sauce, Candied Sweet Potatoes with Raisins, Kentucky Pecan Bourbon Cake, Raisin Pie (pecan pie with a raisin filling), and Nesselrode Pie (rum-flavored chiffon pie with raisins, almonds, and candied fruit.
From the Midwest, are such heartland items as Wild Rice Stuffing, Fruit-Stuffed Goose, Sweet and Sour Red Cabbage simmered with raisins, sugar, and vinegar, and Amish Baked Carrots with Raisins and Honey.
The Southwest offers Mexican-style tamales with fillings consisting of ground meat and raisins or an ever sweeter mixture of raisins and other dried fruits, and empanaditas—mini turnovers filled with raisins, apricots, or apples flavored with cinnamon.
New research sponsored by CRMB shows that raisins are a good source of inulin, a naturally occurring fiber-like carbohydrate that helps keep the colon healthy, and antioxidants.
Sweet potato. A member of the morning glory family, this plant forms nutritious tubers which are especially enjoyed during the holiday seasons. Native to the American tropics, it was an important component of the Aztec diet. Europeans introduced the plant to their continent in the 16th century and it later spread to Asia. Today, while U.S. is not a leading producer, it is grown primarily in the southern states and California.
Its sweet taste and color probably explains its holiday popularity. Frequently, it is prepared with honey, molasses, sugar, or other sweeteners. However, it can provide much of its own sweetening when it is cooked slowly because it contains an enzyme (beta-amylase) that converts starch to maltose and dextrins. Heating the tuber activates the enzyme, which is eventually inactivated when the internal temperature becomes too high.
Sweet potatoes may be used in biscuits, breads, cakes, cookies, custards, muffins, and pies. In casseroles, they are often accompanied by apple slices or pineapple rings and are seasoned with spices such as allspice and cinnamon. Some of the specific recipes that I have seen using sweet potato include Baked Sweet Potatoes with Ginger and Honey, Orange Glazed Sweet Potatoes, Sweet Potato Pecan Pie, Rum and Sweet Potato Casserole, and Sweet Potato and Pineapple Casserole.
Most of the ingredients discussed in this article are part of the holiday tradition. However, the meaning of the word tradition itself may be changing to accommodate a wide range of different cultures interacting with the mainstream.
For example, an Asian family in the U.S. might celebrate Thanksgiving with shark's fin soup (made up of shark fin, crab meat, and chicken broth) or a Malaysian curry dish (consisting of potatoes, chicken, and spices), along with other more familiar holiday dishes. Holiday staples such as turkey may be prepared differently and stuffing may be formulated with rice, spices, and other ingredients commonly used in that culture. At Christmas, the family might eat roast duck or seafood dishes. Furthermore, foods that have a certain religious or holiday symbolism for that culture may play a major role in the feast.
Over the past few years, fusion—combining foods and food ingredients from different cultures—has steadily gained attention. What better way for this trend to become incorporated into the mainstream than at the holidays—a time of celebration, indulgence, and good cheer. Also, what better way to dress up a traditional food that using the customs and knowledge of different cultures.
by DONALD E. PSZCZOLA
Associate Editor