This September marks the sixth annual National Food Safety Education Month. It is one of the initiatives supported by the National Food Safety Initiative. The goals of the program are to: reinforce food safety education and training among restaurant and foodservice workers and educate the public to handle and prepare food properly at home. Since it is National Food Safety Education Month, it might be worthwhile for food processors to take a step back and look at their track record on the incidence of foodborne illness. Notwithstanding recent media accounts such as the Center for Science in the Public Interest's report on foodborne illness, I still believe that the U.S. has the safest food supply in the world. Some cynically might think that doesn't say much, but when you think about the millions of pounds of food produced in this country each year, it is a real credit to working food technologists and quality assurance personnel.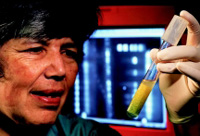 According to the 1999 FoodNet report, which describes the incidence of foodborne illness in FoodNet sites in the United States (the information can be found online at www.cdc.gov/epo/mmwr/preview/mmwrhtml/mm4910a1.htm), since 1997, there has been a 19% overall decline in incidence of the bacterial foodborne infections. Although these declines might reflect simple annual fluctuations in foodborne illness, they were concurrent with several interventions, including implementation of mandated changes in meat and poultry processing plants, increased attention to "good agricultural practices" on farms, and increased consumer awareness.
Campylobacter infections continued to decline in 1999, decreasing in incidence 19% from 1998. Since poultry is the most common source of Campylobacter infections, according to the report, this decline is likely related to changes in poultry processing plants instituted by industry and encouraged by the Pathogen Reduction and Hazard Analysis and Critical Control Points rule of the USDA.
Shigella incidence demonstrated a 44% decline from 1998 to 1999. This decline follows a large outbreak of shigellosis in 1998 traced to imported parsley, which focused attention on the problems of produce-associated shigellosis and the need for improving basic sanitation on produce farms throughout the continent. This outbreak highlighted the global nature of foodborne illness.
The rate of Salmonella infections increased in 1999. Infections due to the most common serotype, Salmonella typhimurium, remained constant, and those due to the second most common serotype, S. enteritidis, declined. The continued decline of S. enteritidis, an egg-associated serotype, occurred during increased farm-to-table control measures. Increases in other Salmonella serotypes may be related to large outbreaks associated with unpasteurized orange juice, raw sprouts, and mangoes.
The rate of Escherichia coli O157 infections decreased in 1999 to a 4-year FoodNet low. This decline occurred in the setting of improved sanitation and hygiene in slaughter and processing plants and attention to hamburger cooking temperature. FoodNet completed a case-control study of Campylobacter infections in 1999. The data indicate that travel and eating undercooked poultry are risk factors for the infection. In FoodNet sites, Listeria infections were associated with the highest hospitalization rate and caused nearly half of the reported deaths.
--- PAGE BREAK ---
Ultimately, ensuring safe food requires that everyone—from farm to table—assume responsibility for producing and preparing safe food. The food industry is conscientious about taking action in preventing foodborne illness. But no system is absolutely foolproof. Consumers need to be aware of four critical steps in handling products: keep foods, utensils, and preparation surfaces clean; keep cold foods cold; cook foods thoroughly; and separate raw and cooked product to prevent cross-contamination. When these steps are followed, foodborne disease can be virtually eliminated.
Understanding the microbiology of food products is an integral step for processors in optimizing their products and their production.
So called "practical food microbiology" assures the production of safe and wholesome foods, more efficient and economical operations, and product and process optimization. Practical food microbiological testing applications include environmental testing, incoming ingredient testing, finished product analysis, pathogenic organism testing, spoilage organism testing, finished product challenge studies, and process validation studies.
Microbiological sampling of environmental surfaces can determine the effectiveness of cleaning/sanitation programs, the presence of microbial growth niches, and the presence of pathogens. The selection of sampling sites is based on proximity to product and the likelihood of microbial growth. Samples are taken with sponges for large relatively clean surfaces and with swaps for smaller sites and for crevices.
Total aerobic plate counts are the best overall measure of microbial growth. Total enteric counts are a good indicator of the potential for Salmonella in dry operations. Yeast and mold counts are useful if a product is subject to spoilage by these organisms. Aerobic plate counts in sufficiently high numbers (>100,000 to >1,000,000) indicate a growth niche and a site at high risk for the growth of spoilage or pathogenic bacteria. Sufficiently high numbers of enteric bacteria in dry processes indicate potential for the presence of Salmonella.
Total aerobic plate counts are the best overall measure of microbial growth. Total enteric counts are a good indicator of the potential for Salmonella in dry operations. Yeast and mold counts are useful if a product is subject to spoilage by these organisms. Aerobic plate counts in sufficiently high numbers (>100,000 to >1,000,000) indicate a growth niche and a site at high risk for the growth of spoilage or pathogenic bacteria. Sufficiently high numbers of enteric bacteria in dry processes indicate potential for the presence of Salmonella.
The basis for producing a safe and wholesome food product are Good Manufacturing Practices or GMPs. The Food and Drug Administration currently has GMPs for food (see Title 21, Code of Federal Regulations, Chapter 1, Part 110) and has initiated the design of GMPs for dietary supplements (21 CFR, Chapter 1, Part 111). GMPs cover all aspects of the manufacturing and control process. These practices help ensure that the food produced is safe for its intended use, is not adulterated or misbranded, and meets federal standards.
Now that the USDA's Food Safety and Inspection Service (FSIS) has entered the third and final phase of implementation of the final rule on Pathogen Reduction; Hazard Analysis and Critical Control Point (HACCP) Systems, it is beginning the a new HACCP-based inspection models project. In this project, volunteer plants are extending their HACCP and other process control systems to cover certain activities conducted before and after slaughter that are not currently covered under HACCP. Plants will be responsible for preventing meat and poultry that are unsafe or unwholesome from entering the food supply. They will work under FSIS oversight inspection and verification inspection and will be required to meet FSIS performance standards.
--- PAGE BREAK ---
The project is an extension of the Agency's implementation of HACCP in all meat and poultry plants. Under HACCP, plants identify and evaluate the food safety hazards that could affect the safety of their products and institute controls necessary to prevent those hazards from occurring or to keep them within acceptable limits. However, HACCP does not currently apply to all activities associated with the slaughter process; FSIS continues to use its slaughter inspection workforce in traditional ways. This means that during the traditional slaughter process, FSIS inspectors have assumed responsibility for identifying and removing defects, defining corrective actions, and solving production control problems. This contrasts with HACCP, under which plants assume their proper responsibilities for process control, and FSIS sets performance standards and verifies that they are meeting these and other regulatory requirements.
Twenty-eight plants that slaughter young, healthy animals have volunteered so far to be a part of this nationwide test and are in various stages of preparing for the project. Goldkist, Inc., Guntersville, Ala.; Hatfield Quality Meats, Inc., Hatfield, Pa.; and Quality Pork Processors, Inc., Austin, Minn., are the first plants ready to test the new procedures. Goldkist, slaughters young chickens; the other two plants slaughter market hogs. Implementation of the project will continue through next year. Of the 28 plants that have volunteered, three slaughter hogs, five slaughter young turkeys, and 20 slaughter young chickens. No beef plants have volunteered for the project.
My point in bringing forward information on GMP and HACCP is that testing for pathogens is in some sense limited. Because of the nature of microbiology, if you test for certain microorganisms, then there is a good chance you will find them. And the more sensitive your test, then the greater the chance of finding microorganisms. It is possible that the most sanitary plant in the world could fail current standards. In the real world, it is overall quality programs, such as GMP and HACCP, that will provide for a safe and wholesome food supply.
PATENTS
Grain quality monitor. U.S. patent 6,100,526, filed 2/6/1998, issued 8/8/2000 to D.M. Mayes, assigned to DSquared Development, Inc. Describes how concentrations of constituents of a sample of cereal grain or other agricultural product in a flowing stream are determined while harvesting or processing using a short wave near infrared analyzer. The analyzer irradiates the sample, picks up diffuse reflectance of individual wavelengths from the sample and spatially separates the diffuse reflectance into a response at individual wavelengths. The result is to simultaneously detect the intensities of the individual wavelengths in parallel from the same portion of the product being analyzed. Percentage constituents of the composite substance may then be compared with known percentage constituents to determine the constituents. The analyzer is optically stabilized and is therefore suitable for attaching to an agricultural combine to perform real time measurements in the field.
Detection of analytes using electrochemistry. U.S. patent 6,100,045, filed 2/9/1998, issued 8/8/2000 to R.M. Van Es, assigned to DSM N.V. Describes diagnostic assays where the detection means is based on electrochemical reactions. This means that the label to be detected provides an electric signal. Preferred labels are enzymes. The device has a flow cell where a solid phase is provided in a flow stream of the sample, in close proximity to a working electrode to detect any electrical signal. In a typical application, a sample is mixed with a molecule having specific binding affinity for an analyte of interest. The conjugate is then immobilized on the solid phase in the vicinity of the working electrode, the flow cell is rinsed with a solution and afterwards a substrate solution for the label (an enzyme) is provided upon which an electrical signal is generated and can be detected by the working electrode. The methods and devices of the present invention are particularly useful for liquids which comprise many substances that may disturb measurement in conventional assays.
--- PAGE BREAK ---
Products & Literature
DIGITAL DISPLAY THERMOMETER, the SM175, has two remote K-thermocouple probes allowing the recording of temperature in two locations at once. The two probes can measure temperature ranges of -300 to 2,000°F, which is suitable for monitoring either a high-temperature oven or a low-temperature freezer. The unit features a minimum/maximum key which allows users to make decisions about the data by looking at minimum and maximum readings on a large digital display before they download data. For more information, contact Dickson Co., 930 S. Westwood Ave., Addison, IL 60101-4917 (phone 630-543-3747; fax 630-543-0498)—or circle 300.
NON-GLASS PH PROBES, called IntelliProbes, may be used to replace glass electrodes with silicon ISFET sensors. The clog-resistant sensing area of the probe is said to be easily cleaned using a simple toothbrush and requires minimal routine maintenance. The probes' electronics are embedded in the unit and powered by a battery. Signal processing converts the ISFET and temperature signals to match a glass pH electrode signal at the measurement temperature. The probes are available in six models and come either with a BNC or DIN connector. For more information, contact Sentron, Inc., 7117 Stinson Ave., Ste. C, Gig Harbor, WA 98335 (phone 800-472-4361; fax 253-851-7899; www.sentronph.com) —or circle 301. circle 301.
OVERVIEW OF ELEMENTARY ANALYSIS is provided in an 18-page primer offered by TJA Solutions. The booklet defines, compares, and evaluates the strengths and limitations of various spectrometry techniques. The guidebook's easy-to-understand language and illustrations are said to assist even a relative newcomer to the field of elemental analysis in deciding on what is the best tool for specific lab requirements. The resource guide explains how each analytical technique works. These include flame atomic spectrometry, graphite furnace atomic absorption spectrometry, inductively coupled plasma atomic emission spectrometry, and inductively coupled plasma mass spectrometry. The primer encourages users to ask themselves several basic questions before purchasing an instrument for a particular technique; for example, What is the application? What elements and concentration ranges are required? How many samples will be analyzed per day? How much lab space is available? A table shows typical detection limit ranges for each technique. The primer also outlines various interference effects and compares important distinctions involving precision, ease of use, operator skill, and speed of measurement. A glossary of terms covers the key concepts used in elemental analysis today. For a copy of the free booklet, contact TJA Solutions, 27 Forge Pkwy., Franklin, MA 02038 (phone 800-229-4087; 508-520-1880; fax 508-520-1732)—or circle 302.
MICROBIAL PATHOGEN DETECTION SYSTEM, the BAX® system, is now automated. The new system comes with a compact combination cycler and detection instrument as well as its own computer workstation with system software. Food and environmental samples are prepared and loaded into the instrument for processing. The results, seen as color-coded plus for positive or minus for negative, can be read on the computer screen and tracked and stored electronically. The new system uses the latest edition of the BAX screening kits, which combine primers and other reagents with a positive control in a single tablet. These new kits allow labs to run up to 96 samples in one batch, run multiple batches per day and combine tests for different bacteria in the same batch. The system currently detects the key pathogens and indicator organisms Salmonella, E. coli O157:H7, Listeria genus and L. monocytogenes in food and environmental samples. Detection capability for Campylobacter coli and C. jejuni and for the parasite Cryptosporidium parvum in water samples will be added later this year. For more information, contact Qualicon, Inc., Bedford Building, 3531 Silverside Road, Wilmington, DE 19810 (phone 800-863-6842 or 302-695-5300; fax 302-695-5301; www.qualicon.com) —or circle 303.
OXYGEN ANALYZER, the DF140, incorporates a non-depleting sensor. It is shipped calibrated to NIST standards and is ready to use out of the package. The analyzer is housed in a NEMA 4X enclosure to allow mounting in harsh environments. For more information, contact Delta F Corp., 4 Constitution Way, Woburn, MA 01801 (phone 781-935-4600; fax 781-938-0531)—or circle 304.
--- PAGE BREAK ---
TIN IN CANNED FRUIT JUICE may be determined with the Unicam 939QZ Atomic Absorption Spectrometer, fitted with a GF90 Zeeman Graphic Furnace and a FS90 Furnace Autosampler. Inorganic tin and its compounds can adversely affect the flavor and storage properties of food products. The metal is introduced as a contaminant during processing of food products and can accumulate during storage due to leaching from the containers. For more information, contact Unicam Atomic Absorption, P.O. Box 207, Cambridge, Great Britain, CB1 28U (phone 44-1229-958866)—or circle 305.
SOIL VAPOR MONITOR may be used to detect hydrocarbon vapors in total hydrocarbons or non-methane hydrocarbons. This allows the user to distinguish between methane or natural gas and other volatile hydrocarbon vapors. The monitor, calibrated with hexane, measures very lowppm hydrocarbon vapors (0-1,000 ppm) in 10 ppm steps. The humidity resistant combustible sensor is not affected by changes in relative humidity. The probe has an internal hydrophobic filter to protect pump and sensor from dust or other contaminants. For more information, contact Gas Tech, Inc., 8407 Central Ave., Newark, CA 94560 (phone 510-745-1275; fax 510-794-6201; www.gastech.com) —or circle 306.
CO2/H2O ANALYZER, the LI-7000, is an infrared gas analyzer. Applications include determining the carbon dioxide and water vapor budgets of agricultural or natural landscapes such as forest canopies, grasslands, deserts, oceans, etc., for global change and ecological studies. The unit operates in absolute or differential mode. Small differentials can even be measured when the reference cell concentration is unknown and variable. The large diameter inlet and outlet ports are connected directly to the optical bench, helping to eliminate leaks and errors due to back pressure. For more information, contact Li-Cor, 4421 Superior St., Lincoln, NE 68504 (phone 402-467-3576; fax 402-467-2819; www.licor.com) —or circle 307.
NITRATE ANALYZER, the OptiQuant™, may be used to monitor nitrate levels with no need for reagents. Applications include those where nitrate levels must be monitored to ensure consistent water quality, such as wastewater, drinking water, and agricultural runoff. Immersed directly into the sample stream, a self-cleaning probe uses dual-beam UV absorption technology to measure light absorbed by nitrates and nitrites, then relays data directly to a microprocessor-based control unit. The unit then displays nitrate and nitrite concentration continuously, as either nitrate (NOX) or nitrate as nitrogen (NOX-N). The self-cleaning probe has a built-in wiper that removes surface film and particles that can diminish accuracy. An optional flow-through sample cell is also available for clean water applications where direct immersion of the analyzer probe is impractical. The analyzer eliminates the need for reagents, sample conditioning, and frequent calibrations. The instrument's cycle time is adjustable and can be programmed to average up to 12 measurements per cycle. For more information, contact Hach Co., P.O. Box 389, Loveland, CO 80539-0389 (phone 800-227-4224; fax 970-669-2932)—or circle 308.
NIR ANALYZER, the InfraAlyzer 100, may be used for moisture determination in solids and pastes. The sensor is suited for moisture measurement in tobacco, soup powder, milk powder, wheat flour, pet food, tea, peanuts, coffee, chocolate, sugar, and many other foods. Typical moisture measurements range from 0 to 40% at 1940 nm and 40 to 90% at 1430 nm. The unit can be installed over conveyor belts and slides, and provides contact-free measurement, averaging 2 readings per second. For more information, contact Bran+Luebbe, Inc., 1025 Busch Pkwy., Buffalo Grove, IL 60089 (phone 847-520-0700)—or circle 309.
--- PAGE BREAK ---
LIQUID NITROGEN TUNNEL FREEZER, the AGA Freeze Mini, is suitable for small-scale freezing production operation, laboratory, and food development use. With a 550 mm belt and a length of 4 m, the unit provides rapid freezing that preserves the quality and shape of delicate products and keeps weight loss to a minimum. Nominal capacity of 150 kg/hr makes the unit a logical choice for small scale freezing operations. It features stainless steel construction. Low operating temperatures are achieved by a liquid nitrogen cryogenic system. For more information, contact AGA, AB, S-181 81 Lidingo, Sweden (phone 46-8-731-1000; www.aga.com) —or circle 310.
FLEXIBLE LABORATORY SHAKERS may be used to handle heavy loads of up to 30 kg, with either reciprocal or orbital motions. Models are available in two sizes: small with a 20-mm throw or large with a 50-mm throw. An incubated shaker completes the range with optimum and constant temperature conditions inside. As the shakers can run at low speeds excellent mixing can be achieved without froth, foam, or emulsions forming on the solutions. The shakers operate with a motor system with a low center of gravity and this helps prevent the unit from "walking" during operation. A microprocessor controls the pre-selected frequency of the throws. All shakers are programmable to the nearest rpm and min. At the end of the run the shaker will automatically stop for unattended operation. For more information, contact ViscoAlpha Corp., P.O. Box 2227, Middletown, NY 10940 (phone 914-692-8889)—or circle 311.
FLAT SURFACE pH ELECTRODE system allows measurements to be made in pressurized tanks and main lines without the need for system shutdown for electrode maintenance and is inserted into 1-in user supplied ball valves. This adjustable insertion depth allows it to be positioned in a turbulent flow region so that the system can utilize the self-cleaning features of the flat surface electrode. By taking advantage of the design, the electrode coating problems are minimized. A special feature of the probe allows the electrode to be installed in any position between horizontal and vertical. For more information, contact Sensorex, 11751 Markon Dr., Garden Grove, CA 92841 (phone 714-895-4333; www.sensorex.com) —or circle 312.
TEMPERATURE DATALOGGERS, the MLH and MLT series, may be used to monitor temperature and humidity to provide an accurate means of tracking environmental conditions to optimize food safety and quality while improving costs. Designed for a variety of applications throughout the food cold chain including process, transport, refrigeration, and maintenance, the self-cleaning feature Windows software in a handheld case and a five-year battery for long service life. For more information, contact Selco Products Co., 709 N. Popular St., Orange, CA 92868-1013 (phone 714-712-6200; fax 714-712-6222; www.selcoproducts.com) —or circle xxx.
LABORATORY-SCALE GRINDER is offered by Marlen Research Corp. in a variety of capacities for product development work in the meat industry. When used to stuff and grind ground beef in 10-lb chubs, the system is said to provide a product with less smear and better textures at throughputs of up to 30,000 lb per hr. A companion stuffer when used in combination with the grinder is said to produce a ground product with better color generation and retention than any other system. Temperature rise and fat smear on the surface of the product are minimized with this new system. For more information, contact Marlen Research Corp., 9202 Barton St., Overland Park, KS 66214 (phone 913-888-3333; www.marlen.com) –or circle xxx.
by JAMES GIESE
Associate Editor