From Ricky Martin to the Lambada, Americans are loving everything Latin, and that includes foods and beverages!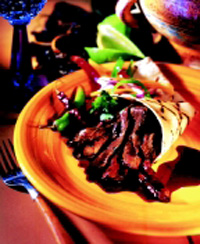 Penton Food Service Media reports that "Nuevo Latino" is currently the top influence on noncommercial foodservice menu development. Its future looks strong. In a January 2000 survey conducted for Restaurant Business, 56% of high school students said they have already tried Latin food, and an additional 29% said they will try it in the future.
If multicultural influences continue to have a dramatic impact on America's food behavior, then Latin it is. The 1999 U.S. Census Bureau projects that the United States Hispanic population will reach 41.1 million, or 14% of the total U.S. population by 2010, an increase of 9.7 million people, up 31% from 1999. In comparison, African-Americans will reach 37.5 million (up 4.4 million, or 13%), and Asian, Pacific Islanders will reach 14.4 million (up 4.1 million, or 40%). After 2020, the Hispanic segment will add more people to the U.S. population than all other racial and ethnic groups combined!
Defining Latin cuisine is difficult. It's a bit like lumping together the diverse cuisines of Western Europe. Restaurant industry terminology credits both South American and Caribbean cuisines, along with those of Cuba, Brazil, Argentina, and, to some extent, Peru, as exerting the greatest influence.
The Latin influence relies heavily on cumin, fennel, and cinnamon, according to McCormick & Co., but each country has a distinct profile. For example, bay leaves, peppercorns, cloves, coriander, saffron, nutmeg, and cardamom often characterize Brazilian dishes; Caribbean cooks often use allspice, nutmeg, ginger, cloves, thyme, annatto seeds, and various chiles; while traditional Spanish cuisine utilizes bay leaves, cinnamon, cloves, cumin, nutmeg, saffron, sweet and smoky paprika, thyme, and anise seeds.
Despite the generous use of chiles, Latin food is not always "hot." Citrus fruits and assorted vinegars are also integral to Latino cooking. Mojo, probably the most ubiquitous of the vinaigrettes, is made with herbs, garlic, and lime juice. Sofrito, a simple mixture of olive oil, peppers, onion, and garlic, is used in rice and meat stew dishes.
While Americans are most familiar with empanadas, Argentinian beef, Peruvian blue potatoes, ceviche, and ropa vieja (pot roast), other Latin favorites such as chimichurri, ancho chiles, arepa (cornmeal cakes), and postones (fried plantain) are fast becoming common mainstream culinary terms. Tubers and root vegetables (which are not particularly attractive in their natural state) such as yucca, boñiato, and beets are also common ingredients. Poblano, chilaca, chayote, and pequillo chiles are used as vegetables. Hoja santa and epazote add strong pungent herbs, and cherimoya, mango, and guayabano are delicious native fruits. Seafood dishes focus on snapper, mahi mahi, Chilean sea bass, and corvine (the No. 1 fish for ceviche), all common to warmer water. Flaming long skewers (rodizios), fiery dipping sauces, and bold steak sauces are additional South American motifs.
Latin beverages will be no exception. American bartenders will be mixing popular cocktails like the mojito (Cuban rum, lime, and mint), the Brazilian caipirinha (cane liquor and lime), and Pisco sour (Peruvian brandy and lemon). Moderately priced Spanish, Chilean, and Peruvian wines will also get mass market attention.
The new millennium is just seeing the tip of the iceberg for mass-market Latino-based food products and flavors. For example, a number of ice cream manufacturers have developed Dulce de Leche flavor based on the South American sweet caramel-like milk product. LeMars' Blue Bunny ice cream has Dulce de Leche ice cream sandwiches, and Dean Foods' CountryCharm Ice Cream offers the only Dulce de Leche with chocolate flavor. Good Humor–Breyers Ice Cream unveiled La Fruta Loca (crazy fruit), a spiral and fruity frozen novelty in unusual flavors. General Mills' Betty Crocker unit has provided its rendition of two traditional Hispanic dessert products—Rice Pudding and Flan—featuring bilingual packaging.
From café con leche to arroz con pollo, Latin foods are "livin' la vida loca." The only thing more difficult than creating the recipes themselves is educating the people who will eat them—as most Americans still equate Latin food with Mexican. But that will change, too. There really are no boundaries to Latin foods, whether this means using authentic dishes with local ingredients or incorporating Latin ingredients to tweak traditional recipes. Latin foods are here to stay.
by A. ELIZABETH SLOAN
Contributing Editor