FreshLoc Technologies, Inc., Plano, Tex., an innovator in wireless food safety technology, and Ecolab, Inc., St. Paul, Minn., a leader in food industry sanitation, announced on May 11 a strategic alliance to solve or prevent food safety problems by use of the FreshLoc automatic data-collection, monitoring, and alerting system.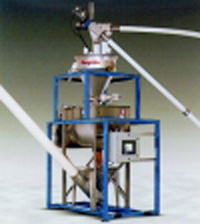 Wireless sensors monitor temperature, humidity, and other environmental data and transmit the data via the Internet for access by management at any location via computer, telephone, cellular phone, pager, or fax. Several times a minute, the sensor transmits a unique identity number and the current conditions existing at the sensor's location to a reader/antenna located nearby (up to about one-third of a mile indoors or a quarter of a mile outdoors), which forwards the information to a secure, Internet-based monitoring system. The system logs and reports the temperature data coming in from each sensor, 24 hours a day. Reports can be generated at intervals prescribed by management and in real time. When data are outside tolerance levels, the system automatically alerts management, so prompt corrective action can be taken.
According to Doug Foster (phone 972-423-3313), FreshLoc's President and Chief Operating Officer, the sensors (see photo) are about the size of three stacked quarters and slightly larger in diameter than a half-dollar and can be placed in as many or few locations as desired. They are powered by internal batteries and have a life of two years if set to transmit 2–4 measurements per minute and up to 3½ years if less-frequent measurements are required. They can measure temperature, humidity, vibration, and other things, even if they are not built into the actual circuit. For example, a sensor can take data from a gas-sensing meter and relay that information over the Internet. The sensors were first used in beta-testing trials two years ago, Foster said, and have been used in field trials by about 30 companies since then.
In the alliance, FreshLoc Technologies will provide the sensor technology, systems, and technical support, as well as ongoing tracking, monitoring, and alerting. Field sanitarians in Ecolab's Kay Division, which provides sanitation products and services to the food industry, foodservice, and grocery accounts, will install, service, and maintain the FreshLoc system.
The alliance can solve such problems as those faced by supermarkets, distributors, manufacturers, trucking companies, restaurants, and others in the food supply chain when their perishables are not maintained at proper temperatures, leading to spoilage or foodborne illness.
FreshLoc offers a number of advantages over other food temperature monitoring systems: wireless sensors allow flexibility to change facility layout; automatic alerting; accurate record keeping, providing complete and precise records of any or all monitored areas; labor savings, since employees don't have to manually log temperatures and maintain records; versatility, since users can monitor information or print out reports as frequently or infrequently as they desire; and fast, easy installation without disrupting plant, store, warehouse, or truck operations.
FreshLook reports providing a snapshot of every area monitored are sent as e-mail and can be printed out, if desired, to provide data to submit to local health departments or analyze equipment performance. For example, the reports can be used to determine how cooling units on refrigerated trucks are performing and to identify which trucks can cool down fastest. They can also provide assurance to the retailer that the product was handled correctly, so it won't be rejected.
One of the applications the system is being used in is a 500,000-sq-ft meat processing plant belonging to San Antonio–based HEB Inc., the largest grocer in Texas. It has been used for a number of purposes, ranging from identifying problems with the HVAC system to protecting against the growth of Escherichia coli, and has protected hundreds of thousands of dollars of inventory. In another application, Foster said, a restaurant complained that the food the distributor provided had been temperature abused, but the distributor presented documented data, obtained through use of the FreshLoc system, showing that it hadn't been.
The alliance is beneficial to both companies, Foster said. Having both a chemical sanitation program and an electronic monitoring and alerting system is the ultimate in food safety. That puts an envelope around a brand and really protects it.
PATENTS
Food article in the form of a taco chip. U.S. patent 6,083,554, filed 5/5/1998, issued 7/4/2000 to L. Parker. Describes a method for making an edible beef jerky-containing chip. The chip includes a grain product such as wheat, rice, or corn, as well as bits of a meat product, preferably beef jerky, although a variety of types of meats may be used.
Noodles/vermicelli from maize (corn, Zea mays L.) and a process for its preparation. U.S. patent 6,083,551, filed 9/28/1998, issued 7/4/2000 to C.M. Sowbhagya et al., assigned to Council of Scientific & Industrial Research. Describes a process for preparing noodles/vermicelli made from maize. The process includes soaking maize grits in an aqueous solution containing sulfur dioxide; washing and drying the maize grits; grinding the dried maize grits to form a powder; mixing the powder with water; steaming the mixture to form a flour; mixing the flour with boiling water to form a dough; extruding the dough through a press to obtain noodle or vermicelli strands; and steaming and drying the strands.
Apparatus and method for cooking food products for consumption. U.S. patent 6,082,251, filed 3/24/1997, issued 7/4/2000 to J.H. Kendall et al., assigned to Riviana Foods, Inc. Describes an apparatus and method for cooking cereal grains and rice products. The rice is first prewashed, presteamed, and then allowed to absorb water in a steeping step for a short time before being cooked in a steam cooker. The rice may be passed along to various dryers, and later dried and packaged for use by the consumer.
Radiation processing apparatus and method. U.S. patent 6,096,379, filed 3/16/1999, issued 8/1/2000 to P.S. Eckhoff. Describes a method and apparatus for the continuous feeding of polymer chips or particles to an electron beam accelerator, making use of spreading, belt conveying, irradiation, and cooling. The apparatus is designed to make more efficient use of radiation through continuous feed. This method and apparatus, suitably adapted, is also used for food irradiation and decontamination, particularly for ground meats.
Method for non-frozen preservation of food at temperature below freezing point. U.S. patent 6,096,361, filed 9/15/1997, issued 8/1/2000 to A. Yamane et al., assigned to Hyo-On Inc. Describes a method of preserving perishable food in a nonfrozen state in the nonfreezing region below the freezing point of the food. It involves comparatively rapidly cooling the food from the ordinary temperature to the vicinity of the freezing point of the food and then slowly cooling it below the freezing point at a rate of 0.01–0.5ºC/hr. This method permits perishables such as vegetables, fruits, fish, or shellfish to be preserved with a high degree of freshness and can maintain the freshness after harvesting.
Method of measuring out and/or forming foodstuffs, foodstuffs obtained by said method, and packaging suitable for being implemented by said method. U.S. patent 6,096,355, filed 1/16/1998, issued 8/1/2000 to P. Lesellier et al. Describes a method of measuring out and/or forming foodstuffs such as fish and shellfish to impart a shape (such as that of a fish) to it without compromising the rheological and organoleptic properties.
Process for aseptically packaging protein-containing material and product produced thereby. U.S. patent 6,096,354, filed 1/2/1998, issued 8/1/2000 to D.D. Albrecht, assigned to Iams Co. Describes a protein-containing composition produced by coagulating the protein (from meat, poultry, or fish); emulsifying it, continuously heating it to a predetermined temperature and maintaining that temperature for long enough to sterilize it; continuously cooling it; then aseptically packaging it. The resulting product is a high-quality, highly palatable, and highly digestible protein source which can be shipped without special accommodations regardless of temperature.
Method of manufacture of cream cheese products. U.S. patent 6,096,352, filed 1/27/1998, issued 8/1/2000 to M. Kijowski et al., assigned to Kraft Foods, Inc. Describes a method for utilizing frozen concentrated milkfat to manufacture cream cheese. Frozen concentrated milkfat is comminuted and mixed with a preheated dairy fluid so that it melts while in contact with the dairy fluid, providing a cream cheese mix. The mix is subsequently fermented, and the cheese is separated from the whey and packaged. The method provides a cream cheese product with excellent keeping quality without oxidized off-flavors.
---
Products & Literature
SOLVENT-FREE OILSEED EXTRACTION PROCESS
using twin-screw extruders can extract up to 92% of the oil from a variety of grains, including sunflower seeds, rapeseeds (canola), castor beans, and flax seeds without the use of hexane or other chemical solvents. The continuous twin-screw extrusion process can replace extraction techniques that require different machines for cracking-flaking, cooking, and pressing, performing these tasks within the extruder barrel with a high degree of automation and sanitation. Temperature, shear, and other processing parameters can be varied during extraction to give processors added flexibility in creating oils with specific functional properties. For more information, contact Clextral Inc., 14450 Carlson Cl., Tampa, FL 33626 (phone 813-854-4434, fax 813-855-2269)—
or circle 313.
POST-BAKING DRYERS use radiofrequency to remove the drying burden from ovens, increasing throughput and letting bakers control the color of cookies and crackers independently of moisture. The custom-engineered Macrowave™ RF Post-Baking Dryers allow increases of 30% or more in band speeds and control moisture uniformity throughout the thickness of a baked good. For more information, contact Radio Frequency Co., Inc., 150 Dover Rd., Millis, MA 02054 (phone 508-376-9555, fax 508-376-9944, www.radiofrequency.com) —or circle 314.
WEIGH BATCHING/BLENDING SYSTEM receives bulk ingredients from multiple upstream sources and weigh-batches, blends, and discharges the material into a surge hopper for subsequent conveying or gravity discharging into downstream process equipment or storage vessels. The automated unit can be integrated with new or existing processes and conveyor systems. A touch screen displays images of system components in operation, indicating material fill levels of the weigh hopper, blender, and surge hopper, as well as upstream and downstream vessels, in real time. For more information, contact Flexicon Corp., P.O. Box 5269, Phillipsburg, NJ 08865-5269 (phone 888-353-9426, fax 908-859-4820, www.flexicon.com) —or circle 315.
SLICER/DICER/STRIP CUTTER, the QuantiCut® Dicer, is designed for high-capacity slicing, dicing, and strip cutting of fibrous root vegetables as well as a variety of fresh-cut fruits and vegetables without precutting. It will accept input product up to 10 in in any dimension and offers cuts ranging from 1/8-in to 1-1/8-in slices, 1/4 in to 1-1/3-in dices, and a variety of strip cuts. For more information., contact Urschel Laboratories, Inc., P.O. Box 2200, Valparaiso, IN 46384-2200 (phone 219-464-4811, fax 219-462-3879, www.urschel.com) —or circle 316.
DAIRY POWDER DISPERSER, the Ytron® can disperse dairy powders into cream, whole milk, water, or other liquids at concentrations up to 40% by weight and flow rates up to 200 gal/min. The 3A Clean-in-place disperser can be used for both inline and batch processes. For more information, contact Quadro Inc., 55 Bleeker St., Millburn, NJ 07041-1414 (phone 973-376-1266, fax 973-376-3363)—or circle 317.
by NEIL H. MERMELSTEIN
Senior Editor