The term "fast food" may be changing as health-promoting ingredients such as soy become more mainstream.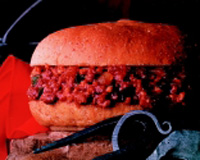 For example, in the downtown area of Chicago, there is a quick-serve restaurant, HeartWise Express, that specializes in low-fat, healthy fare. Menu offerings include soy-containing veggie burgers (370 cal., 8 g fat); Sloppy Joe made with a veggie mix, green peppers, onion, garlic (270 cal., 4 g fat); Killer Tofu Salad Sandwich, a blend of tofu, celery, onion, and seasonings on dark pumpernickel bread with lettuce and tomato (400 cal., 11 g fat); Shanghai Noodle Salad, a combination of flat wheat noodles, carrots, red cabbage, and snow peas topped with chicken or tofu and sesame balsamic vinaigrette (480 cal., 1.5 g fat); and a variety of other foods such as smoothies, wraps, rice and noodle bowls, and baked goods. Nutrition information for each item is displayed on menus and tabletop charts.
Restaurants such as this one which combine convenience, good taste, and healthy eating are becoming increasingly popular. The one-store operation grossed sales of more than $1 million for 1999. Furthermore, surveys by the restaurant found that 45% of its patrons are men, and 90% of all breakfast patrons and 35% of the lunch crowd eat there every day of the work week.
A number of its dishes use soy as an ingredient, which is not too surprising as soy products are proliferating in the marketplace. But why is soy so hot today? There are a number of factors, I think, that have had impact on the growing success of soy in the mainstream.
This Ingredients section will provide a brief perspective on what I think are 10 of these factors and why they're important:
1. FDA's soy health claim. Perhaps the most obvious one is the Food and Drug Administration's approval last year of a health claim that reads "25 grams of soy protein a day, as part of a diet low in saturated fat and cholesterol, may reduce the risk of heart disease." Products that contain at least 6.25 g of soy protein per serving, and are low in fat, saturated fat, and cholesterol will be eligible to carry the claim on food labels. Because of the claim, many food manufacturers are reformulating food products to increase soy protein content, and we are seeing more products made with soy in the marketplace. The claim also sparks the development of new soy ingredients and the use of other ingredients such as flavors, colors, and stabilizing systems to improve the taste, texture, and appearance of these products in the marketplace. Finally, as a result of the claim, consumer interest in soy and sales of soy foods is expected to continue to increase.
--- PAGE BREAK ---
2. Consumer surveys. Surveys are also showing that mainstream consumers are more willing to try soy in their diet. In particular, consumers who are recognizing the health benefits of soy are becoming a highly motivated target market for manufacturers and food processors.
The United Soybean Board's 1999–2000 national report, "Consumer Attitudes about Nutrition," indicates that the number of consumers who perceive soy and soy products as being very healthy increased to 71% in 1999 from 67% in 1998 and 59% in 1997. Furthermore, 40% of consumers are aware of specific health benefits of soy such as reducing the risk of heart disease, lowering cholesterol, reducing the risk of certain cancers, and relieving or reducing the symptoms of menopause. Consumers report that they are eating more soy products. Of those who have tried soy products, 68% report using them "regularly" and 24% once a week (compared to 15% in 1998). The three products that ranked highest in consumer awareness are tofu, soy burgers, and soymilk.
The results of a study commissioned by Protein Technologies International, A DuPont Business, St. Louis, Mo., also suggest that "Americans want to be healthier; however, they also want convenient, great-tasting ways to achieve good health that do not disrupt their lifestyles. Because of its many health benefits and the ease with which it can be incorporated into many popular foods, soy is an option many are now considering."
3. Strategic alliances. When taking into consideration the growing popularity of soy, it is not surprising that a number of companies are using strategic alliances such as acquisitions, joint ventures, and cooperative efforts between their subsidiaries to introduce soy products into the marketplace. For example, over the past year, Kellogg acquired Worthington Foods, a manufacturer of veggie burgers and other soy-based meat alternatives; Kraft Foods purchased Boca Burger which manufactures and markets soy-based meat alternatives; Dean Foods Co. became a minority shareholder of White Wave Inc., manufacturer of Silk, a refrigerated soymilk; and DuPont's Protein Technologies International and General Mills, Inc. announced a collaboration to develop and market soy foods. WholeSoy Foods, a manufacturer of meat alternatives, started up in 1999 when a soybean genetics company formed a relationship with two Iowa-based soybean processors. An innovative cold soymilk-and-fruit drink available from PepsiCo Inc.'s Tropicana was the result of a joint venture with Galaxy Foods Co., a manufacturer of vegetarian cheese.
Also, there were several examples of different business units or subsidiaries within a company forming a cooperative relationship to spur product development of soy. For instance, a soy pudding formulation was the result of Central Soya and the Health and Nutrition Group—both within Eridania Beghin-Say. Martha Gooch, a subsidiary of Archer Daniels Midland, is manufacturing pasta fortified with a soy ingredient made by ADM Protein Specialties. Nutritious Foods, Inc., a DuPont Business, has developed a series of nutritional foods and beverages made with isolated soy protein provided by Protein Technologies International, also a DuPont Business.
And, of course, it's a safe bet that as soy continues to move into the mainstream, more companies will form strategic alliances, especially with ingredient suppliers, to develop and bring to the marketplace innovative foods and beverages made with soy products.
--- PAGE BREAK ---
4. Updated dietary guidelines. On May 30, 2000, the United States Department of Agriculture and the Dept. of Health and Human Services released the 5th edition of Nutrition and Your Health: Dietary Guidelines for Americans. In the updated guidelines, which form the basis of federal food and nutrition education programs, soyfoods are listed as a means to meet the dietary recommendations demonstrated by the Food Guide Pyramid. The guidelines recognize that soy beverages are a source of calcium, protein, vitamins, and minerals. In the Meat and Bean Group, ½ cup of tofu and 2½-oz soyburger is listed as a serving suggestion.
5. USDA approval of soy as a meat substitute in school lunch program. A USDA modified ruling, Vegetable Products Requirements for the National School Lunch and Breakfast Programs, removed the limitation on the amount of soy protein that can be served in school lunch programs. (Previously, soy could only be used as an additive in amounts less than 30%.) Under the new ruling, which went into effect April 10, 2000, soy can be used to replace hamburger or other meats in school lunch programs, and the ingredient does not have to be fortified with iron and zinc.
The ruling is important because (1) it makes it easier for foodservice systems to reduce the overall amount of fat children are eating, (2) schools can increase the amount of soy they blend into meat, and (3) it may provide impetus for the development of new soy products that children find appealing.
6. Development of new soy ingredients. A number of soy ingredients are being developed that are improving functionality and nutraceutical value. Eliminating or reducing undesirable tastes associated with soy, increasing stability, improving dispersibility and solubility, providing healthier fatty acid profiles, and utilizing new methods for recovering isoflavones are only some of the advantages that these ingredients are now offering. As a result, their use in a broader range of applications is becoming reality.
A grade of soy protein concentrate suitable for use in fruit yogurts has been developed by the Health and Nutrition Group of Eridania Beghin-Say, Vilvoorde, Belgium. Actisoy soy protein concentrates may be used as a protein source and cholesterol-reducing ingredient in a variety of food applications. Yogurt, however, is a very sensitive application, requiring an ingredient which has excellent dispersibility and fine granules so that the texture of the product is not adversely affected. According to the manufacturer, trials have shown that the specially modified powder may be used to fortify no-fat fruit yogurt while maintaining all the desired sensory attributes. The concentrate also has a dietary fiber content of around 20%.
A soy protein concentrate, produced by Cargill Soy, Cedar Rapids, Iowa, utilizes a manufacturing process that reportedly reduces or eliminates the beany taste of soy. Improved flavor allows the ingredient to be incorporated at high levels into a variety of mainstream foods, especially snacks, yogurts, and beverages. The company has produced its soy protein isolates in a laboratory setting and has tested them in a variety of processed meat applications and beverages. Results have shown improvements in taste and texture over commercially available products without sacrificing functional benefits such as water absorption and emulsification. Construction on a pilot plant is underway and expected to be completed by early February 2001, followed by a full-scale production plant within two years.
--- PAGE BREAK ---
A high-oleic soybean oil offers both improved fatty acid profiles (approximately 83% monounsaturated fat, 11% saturated fat, and 5% polyunsaturated fat) and the stability of hydrogenated oils. Marketed under the name Nutrium, the oil is manufactured by Protein Technologies International, St. Louis, Mo. Its bland flavor, improved stability, and higher smoke point reportedly make it more versatile in applications than olive oil. It is suitable as a replacement for heavily hydrogenated oils in frying applications and lightly hydrogenated oils for use as an ingredient in breakfast cereals, baked snacks, and crackers. It may also be used in nondairy creamers, nutritional drinks, and margarine spreads. The oil can be used to reduce trans fatty acid levels by replacing all or part of the partially hydrogenated fat and can be blended with low linolenic oil in frying applications. The oil results from a better oilseed developed by DuPont researchers.
Isolated soy proteins that deliver improved levels of dispersing and solubility are produced by ADM Protein Specialties, Decatur, Ill. Pro Fam™ 940 is a specially designed agglomerated product for food systems where a highly dispersible, highly soluble, low-viscosity protein is required. It offers bland flavor characteristics and is rich in isoflavones. Pro Fam 942 is a calcium-fortified version of the soy isolate, delivering a calcium to protein ratio similar to cow's milk without any gritty mouthfeel. Also available is Pro Fam 976, an isolated soy protein which is processed specifically for use in pasta.
Soy-containing additive called Purawave may be used to improve the quality of microwavable baked goods. The powdered product, developed by Puratos Corp., Cherry Hill, N.J., is said to help reduce the toughening effect which occurs when yeast-raised baked goods are reheated in a microwave. Consisting of soy protein, vegetable gum, mono- and diglycerides, salt, soy oil, and lecithin, the additive product has been tested in different bun recipes.
A concentrated liquid base called Soycreme will not impart a "beany" taste when formulated into beverages and other food products. Developed by Blue Pacific Flavors & Fragrances Inc., City of Industry, Calif., the ingredient contains 1–3 g of soy protein per 8-oz finished drink. At lower usage levels, it acts as a beverage cloudifier.
Soy oil—called Certified Organic Expeller—is said to have a neutral flavor profile and extended heat stability suitable for all applications requiring vegetable oil, and can replace canola oil in many formulations. Available from SunRich, Inc., Hope, Minn., the oil is an excellent source of omega-3 fatty acids and linolenic acids.
Methods for recovering isoflavones from soy molasses are disclosed in U.S. patent 6,083,553, filed 6/5/1998, issued 7/4/2000 to D.H. Waggle et al., assigned to Protein Technologies International, Inc., St. Louis, Mo. The patent describes a method for producing an isoflavone-enriched material from soy molasses, a method whereby isoflavone conjugates present in soy molasses are converted to isoflavone glucosides and this material is recovered from soy molasses, and a method in which isoflavones are converted to their aglucone form and this material is recovered from soy molasses.
Concentrated soy isoflavones are the latest additions to a line of functional ingredients from the Health and Nutrition Group of Eridania Beghin-Say. Prevastein, a 5% isoflavone concentrate, and Prevastein HC, a 40% isoflavone concentrate, are designed to be readily formulated into applications at low inclusion levels. The concentrates contain the isoflavones genistein, daidzein, and glycitein in similar proportions as those found naturally in soybeans. The ingredients are sold through Central Soya Co., Inc., Fort Wayne, Ind.
--- PAGE BREAK ---
A study was recently conducted by Nizo Food Research to determine if soy isoflavones would ferment in yogurt preparations without negatively affecting sensory qualities. The study compared the fermentation rate, viscosity, taste, smell, and color of the control against yogurts formulated with three SoyLife isoflavone products (25 micro, 25 micro nontoasted, and 150) available from Schouten USA, Inc., Minneapolis, Minn. The micro nontoasted variety appeared to be the most suitable of the three products tested because it had the least bitter and floury taste and because of a pleasant fruity flavor.
Natural sources of isoflavones are manufactured by Solbar Plant Extracts, Ashdod, Israel. Products include Solgen, a soy isoflavone extract available in a wide range of concentrations, and Nutragen, a traditional soy protein fortified with soy isoflavones which has a bland flavor profile and important binding properties for food processing.
7. Other ingredients that improve flavor and appearance. The previous section discussed the development of several new soy ingredients. However, other ingredients are also being utilized, such as flavors, colors, and stabilizer systems, that can improve the flavor and appearance of soy foods and help them move into the mainstream.
A natural ingredient mix, when blended with soy milk or soy protein, is said to eliminate the underlying beany flavor. Developed by Prime Favorites, Inc., Morris Plains, N.J., the mix is not a masking or over-flavoring agent, but rather acts as a natural neutralizer with no characteristic flavor of its own. According to the manufacturer, the proprietary formulations consist of a small percentage by weight per serving size of the soy-based beverage. The mix may be combined with such flavors as citrus, fruits and berries, herbals, and vanilla. A provisional patent, specifying the formulations and blends, has been registered with the U.S. Patent and Trademark office. The company intends to license its proprietary technology.
Stabilizing ready-to-drink soy-based beverages and soy milk products may be achieved by using cellulose gel called Avicelplus™ CF 2410. Consisting of calcium carbonate, cellulose gel, and cellulose gum, the ingredient is available from FMC BioPolymer, Philadelphia, Pa. Added during processing, it offers stable suspension properties of insoluble materials, with minimal viscosity. In addition, it adds body, a smooth rich mouthfeel, and opacity to beverages.
A new generation of high-methoxyl pectins produced by Hercules Inc., Wilmington, Del., may be used to stabilize low pH beverages made with soy protein isolate, soy protein concentrate, or soy milk. The ingredient is particularly suited for beverages that have sufficient soy protein to utilize the health claim recently approved by FDA. According to the manufacturer, without this new generation, beverages with approximately 3% soy protein isolate or 4.5% soy protein concentrate would have had excessive viscosity build-up from the amount of pectin necessary to stabilize this quantity of protein. The new pectin stabilizer allows for a lighter mouthfeel.
Improving the appearance of soy beverages and other products through the use of caramel colors is achieved by D.D.Williamson & Co., Louisville, Ky. In particular, the company is focusing on combining caramel with other natural colors. Use of a caramel color in soy sauce is also described: the company recommends a positively-charged, non-sulfited, salt-stable caramel color in this application.
Flavors are normally used to impart a characteristic taste, but today, with the growing inclusion of soy ingredients, it is necessary for them to solve physical or chemical problems related to the finished product. Wild Flavors, Inc., Erlanger, Ky., has developed a proprietary technology that effectively blocks the perception of bitterness at the taste-receptor site in the mouth. Although it was initially designed to block bitter tastes, it is effective for almost any product that contains off-notes. Consequently, objectionable off-notes caused by soy products can be blocked by the proprietary technology. Soy Resolver™ Type Flavor was used to alleviate the beany off-tastes associated with soy in a prototype Plum Mulberry with Soyavit™ Soy Beverage. The prototype features a Natural Plum Mulberry flavor blended with 6.25 g of soy protein from Wild's Soy Base (8 ounce serving) with Soy Resolver Type Flavor, 25% juice, vitamins A, C, and E, calcium, zinc, and natural purple color.
--- PAGE BREAK ---
A natural soy masking flavor, part of a line of taste modifiers called Camouflage™, is said to cloak objectionable off-notes while allowing desirable flavor profiles to come through. Its manufacturer, Robertet Flavors Inc., Piscataway, N.J., highlighted the ingredient in a formulation, Raspberry Creme Brulee Soy Protein Fortified Milk Shake. The prototype meets FDA's new soy protein health claim.
Prosweet line of flavor masking agents, developed by Virginia Dare, Brooklyn, N.Y., can reduce beany off-flavors in a variety of products fortified with soy. For example, in one application, Chuck Wagon Coffee containing soymilk and Natural Dark Roast Coffee Flavor, the flavor-masking agent was used effectively in an 8-oz serving of the beverage which provided 6.25 g of soy. In a second application, soy-enhanced cookies, the agent masked off-flavors, while a serving of two cookies provided 6.25 g of soy.
A process of neutralizing negative flavors in soy and creating target flavors to enrich the flavor of the application has been developed by GSB Flavor Creators, Kennesaw, Ga. In addition to the masking agent, the flavors offered include exotic fruits, cappuccino, chai tea, and traditional types such as strawberry, chocolate, vanilla, amaretto, and coffee flavors.
A recent consumer taste test comparing two different commercial soy beverages was conducted by Haarmann & Reimer, Teterboro, N.J. The purpose of the study, the first in a series on soy, was to study the effects of consumer satisfaction and acceptance of soy when it is enhanced or masked by flavors. The study consisted of two groups: consumers who regularly use soy products and consumers who have tried using soy products and rejected them. The results reportedly indicated a much higher acceptance rate among both groups when soy taste is masked compared to traditional soy taste characterized by a grainy, beany perception. Each subject in each group was given tasting samples of a vanilla-flavored soy milk commercial beverage and an unflavored commercial soy milk beverage.
8. Versatility of soy. More than 300 food and beverage products made with soy were said to be introduced in 1999 and the numbers are still rising. Furthermore, soy is not limited to certain foods such as nutritional bars or shakes, but is finding innovative uses in a wider number of food products, ranging from pasta to pudding to coating systems.
The following are some products recently introduced into the marketplace, as well as some novel prototypes that may soon be appearing in the mainstream.
--- PAGE BREAK ---
• Pasta. Martha Gooch Soy-Enriched Pasta, manufactured by Gooch Foods, Inc., Lincoln, Neb., is part of an entire line of pasta entrees created for restaurants. The product, fortified with a soy ingredient made by ADM Protein Specialties, Midland, Decatur, Ill., contains 6.25 g of soy protein per finished serving, which qualifies it to include the recently approved FDA health claim regarding soy on its packaging. The soy ingredient is added to the normal pasta-making process without making changes to the process or to the pasta's taste. In a taste panel, consumers rated the product's taste "above average." In addition to restaurants, the product will also be available in grocery stores. Martha Gooch, a subsidiary of Archer Daniels Midland, has been manufacturing pasta since 1926.
•Waffles. Frozen toaster waffles containing soy isoflavones was formulated by Nature Path Foods, Inc., Blaine, Wash., an organic cereal maker with plants in both Canada and U.S. Called Soy Plus, the organic product consists of SoyLife—an ingredient manufactured by Schouten USA, Inc., Minneapolis, Minn., which delivers standardized amounts of isoflavones—as well as calcium and folic acid. Delivering 30 mg of soy isoflavones per serving, the product is especially aimed at women who are entering menopause, but may also benefit men with higher risk of coronary heart disease. The eggless and dairy-free waffles are described as light and crispy with a subtle cinnamon taste, and recently won the American Testing Institute's 2000 Gold Test Award. It is marketed through Lifestream, a division of Nature's Path that focuses on manufacturing packaged functional, vegetarian, and specialty foods.
•Pudding. The Health & Nutrition Group of Eridania Beghin-Say has created a formula for a pudding that contains the proper amount of soy protein to qualify for the FDA's health claim linking soy protein with a reduced risk of coronary heart disease. According to Charlie Worrall, director of the Health & Nutrition Group in North America, "When the health claim was approved, the food industry looked first at including soy protein in nutrition bars and drinks, but as we develop new technology to include higher levels of soy protein in food applications, we found that there are a wide array of innovative applications that can take advantage of the new health claim." The pudding, which provides 6.25 g of soy protein, 3 g of fat, and 210 calories per serving, was developed in conjunction with Central Soya, an Eridania Beghin-Say company.
• Cereals. A soy-based cereal, Smart Start® Soy Protein, was introduced by Kellogg's, Battle Creek, Mich., in March 2000. The cereal, launched regionally in the western U.S., is said to be the first soy-based cereal introduced by a leading brand manufacturer. Containing such soy ingredients as toasted soy pieces, soy protein concentrate, toasted defatted milled soy, and texturized soybean protein, the product is free of saturated fat and cholesterol and provides 6.25 g of soy protein per one-cup serving, qualifying it for the soy protein health claim.
A soy fortified cereal, Soy Flakes™, was introduced in July 2000 by Health Valley, Uniondale, N.Y., a leading natural foods brand in cereal. The product is available in two varieties: 11-oz Original provides 9 g of soy protein per serving and 12-oz Raisin supplies 6.5 g.
•Frozen dessert. A soy-containing frozen novelty, Tropical Jewels, earned a student team from Cornell University the Best Overall Product and Most Marketable Entry in a dairy ingredients contest sponsored by Dairy Management, Inc., Rosemont, Ill. The winning product combines whey protein concentrate, yogurt, tropical fruits and soy isoflavones for a creamy frozen core and is coated with a white chocolate melt blended with green tea powder. The nutraceutical dessert is rich in vitamin C and calcium.
--- PAGE BREAK ---
•Meat alternatives. A soybean-based meat alternative, Spicy Chargrilled Soy Empanada, was highlighted at the 2000 IFT Annual Meeting by Kerry Ingredients, Beloit, Wis. The application—illustrating one of the company's core technologies, savory flavors and ingredients—can be described as a Latin American turnover filled with the seasoned beef substitute and served in a savory brown sauce. The shelf-stable meat substitute is said to match the fibrous texture, flavor, and appearance of whole-muscle meat, and has a much higher protein-to-fat ratio than beef.
A line of meat alternatives were introduced by WholeSoy Foods LLC, Des Moines, Iowa, at the 2000 Food Marketing Institute show. Marketed under the name Heartland Fields, the fully cooked, easy-to-prepare products include Soy Barbecue, Soy Steak Strips and Italian-Style Soy Sausage. They are made with proprietary soybean varieties specifically developed for soyfoods and a new processing technology that enhances their taste and texture. Soy Barbecue—the company's first soyfood product made available to consumers—is said to the industry's first prepared soy barbecue. The product consists of water, tomato paste, textured soy protein, high fructose corn syrup, distilled vinegar, molasses, salt, mustard bran, natural hickory smoke flavor, spices, onion powder, garlic powder, and other ingredients. One serving size contains 140 calories, 8 grams of soy proteins, 1.5 grams of fat, and no saturated fat. WholeSoy Foods began in 1999 when a soybean genetics company, Schillinger Seed, Inc., Cumming, Iowa, formed a relationship with two Iowa-based soybean processors, Natural Food Products of Grinnell, a processor of whole-fat soy flour, and Iowa Soy Specialties of Vinton, a processor of low-fat soy flour and textured soy protein.
• Nutritional foods and beverages. A new product line containing isolated soy protein ingredients are said to provide consumers with more energy, better recovery from exercise, and enhanced fat metabolism. Called Personal Edge®, the products are manufactured by Nutritious Foods Inc., a DuPont Business, St. Louis, Mo. The line currently consists of an energy bar, a recovery bar, and nutritious powdered beverages—all containing Supro® brand isolated soy protein, an ingredient available from Protein Technologies International. The ingredient is said to provide a special amino acid profile that meets the needs of athletes under training stress, in addition to consumers who desire more energy to get through the typical business week. According to the manufacturer, Crispy Energy Bar provides 3 g of soy protein and contains 110 calories per bar; Recovery Bar delivers 15 g of soy protein and can be used after exercising or between meals to support glycogen and protein synthesis; and powdered beverages, which provide 20 g of soy protein, can be consumed during the day or with meals as a low-calorie way to optimize metabolic rates.
Soy protein bars called Health Source™ were introduced by Ross Products Div. of Abbott Laboratories, Columbus, Ohio. Like the company's soy protein shake mix, the product contains Supro XG, a blend of soy protein isolate and calcium phosphate available from Protein Technologies International. The bars, which provide more than one-third (9 g) of the daily soy protein intake recommended by FDA's health claim, are available in four flavors—Peanut Crunch, Oatmeal Spice, Double Dark Chocolate, and Lemon Crisp.
A cold soymilk-and-fruit drink, available from PepsiCo Inc.'s Tropicana, is being tested marketed in certain Florida theaters, as well as selected restaurants and supermarkets. Positioned as an alternative to sodas and other drinks, the product is described as an icy smoothie made with juice, fruit puree, soymilk, and soy protein.
--- PAGE BREAK ---
A powdered soy milk beverage mix which provides convenience and health benefits has been recently launched by GeniSoy Products Co., Fairfield, Calif. The product, which requires only mixing with water, is offered in three flavors—vanilla, chocolate, and natural. The low-fat, cholesterol-free product is high in calcium, contains isoflavones genistein and daidzein, and meets FDA's health claim.
Soy protein bars called Nature Grains have recently been introduced by GeniSoy. The low-fat, oven-baked bars contain water-processed isolated soy protein, which is said to maintain natural isoflavone levels. The bars, which meet FDA's heart healthy and low-fat guidelines, are available in four flavors—chocolate, oatmeal raisin, wild berry, and banana nut.
Two new flavors, mocha and chai, have been added to the family of Silk™ refrigerated soymilks available from White Wave, Inc., Boulder, Col. According to the manufacturer, Silk Mocha is a sweet yet light coffee-flavored soymilk with a creamy texture while Silk Chai has the spiciness of chai tea with a lighter texture and less sugar than regular chai drinks. As is true with the other soymilks in the family, the lactose-, cholesterol-free products contain 1% fat per 8- oz glass. They can be served hot or cold, and each serving contains the FDA recommended 6.25 g of soy protein. In 1999, White Wave successfully introduced Silk Nog for the holidays.
Soy-based beverages called NutraBlend were recently introduced to the U.S. by Bestfoods. Soy Milks, available in Original and Vanilla flavors, provides 7 g of soy protein per serving. Soy beverages, in orange and apple flavors, provide a burst of creamy soy and are an excellent source of vitamin C.
•Salad dressing. A recipe for a salad dressing using soybean oil is available from United Soybean Board. The recipe, Sweet "N" Sour Poppy Seed Dressing, consists of chopped red onion, sugar, salt, ground mustard, red wine vinegar, soybean oil, and poppy seeds, and was demonstrated on a tossed green salad at the 2000 IFT Food Expo. Published in the American Journal of Clinical Nutrition, a study following the eating habits of 76,000 nurses for 10 years found that those with a higher dietary intake of linolenic acid had a lower relative risk of fatal ischemic heart disease. The source for most of this linolenic acid, an omega-3 polyunsaturated fat, was soybean oil-based salad dressing.
• Bread. A high–soy protein bread which may help relieve menopausal symptoms and support the wellness of women was developed by French Meadow Bakery, Minneapolis, Minn. Called appropriately Woman's Bread, the product is made with such ingredients as soy isoflavones, flaxseed, rice bran, and B vitamins. The soy ingredient (marketed under the name SoyLife by Schouten USA, Inc., Minneapolis, Minn.) delivers 40 mg of phytoestrogens in one slice, the daily amount recommended by soy experts. French Meadow received Bon Appetite magazine's award as one of the ten best bread bakeries in the U.S.
•Muffin. A muffin prototype designed to promote joint health was demonstrated by Watson Nutritional Ingredients Div., West Haven, Conn., at the 2000 IFT Food Expo. The prototype is formulated with a Watson premix containing a variety of nutraceuticals including soy isoflavones, which are shown to be effective in preventing osteoporosis.
--- PAGE BREAK ---
• Confections. Soy ingredients may be used in chocolate candy, combining indulgence with health. For example, Delicious Concepts developed a formulation that incorporates soy phytonutrients such as isoflavones and saponins in a chewable chocolate soy candy. The candy provides 5 mg of isoflavones. The soy ingredients can be used alone or in synergy with other ingredients such as calcium for bone health, grape seed extract for cardiovascular health, and folic acid for women's health.
• Spreads. A spread made from soybeans may be used to replace peanut butter in nutrition bars, cookies, fillings, and confectionery products. Called I.M. Healthy SoyNut Butter, it is said to have the flavor of peanut butter with 30% less fat. According to its manufacturer, The SoyNut Butter Co., Barrington, Ill., the product contains 8–10 g of soy protein and 30–40 mg of soy isoflavones per serving.
• Coating systems. Coating systems for poultry and other foods may be formulated with toasted soynuts (Solnuts) which provide a crisp nutty profile and may be used as an alternative to tree nuts. One such application, Hot-Glazed Asian Chicken Tenders, was demonstrated by Kerry Food Ingredients at the 2000 IFT Food Expo. The company also highlighted the use of soynuts in sweet coatings for nutritional bars. Two of these prototypes were Lemon Zest Bar, made with a soy–yogurt coating containing soynuts, and Decadent Chocolate Peanut-Flavored Bar, enriched with soynuts and milk proteins.
•Tofu. Improved versions of tofu—enriched with vitamins and minerals—are available from Nasoya Foods, Ayer, Mass. The products, Enriched Silken and Enriched Firm are said to provide 30% of the RDAs for vitamins A, D, E, and B-12, and calcium. They also have half the fat of regular tofu.
9. Proposed labeling of trans fatty acids. FDA has proposed a label requirement listing the amount of trans fat in a food product. The proposal calls for food manufacturers to combine trans fat with saturated fat on the nutrition label, with a notation at the bottom that separates out the amount of trans fat. Depending on when FDA makes its decision, food manufacturers will face a deadline of 2002 or 2004 to change their product labels.
Because of this proposal, however, soy ingredients are being developed that can help create foods that are low trans fat or trans fat free, as well as low in saturated fats and high in more healthful monounsaturated fats. Some examples of ingredients that are designed to meet consumer demand for more healthful foods include soybean oils which are low saturated, high oleic, or low linolenic; high-protein soybeans, and high-sucrose soybeans.
10. Ongoing health studies. Research on the health effects of soyfoods and soy-based ingredients continue to increase, and the areas of health they are exploring are expanding greatly. Heart disease, cancer, menopause symptoms, osteoporosis, diabetes, kidney problems, and hearing disorders are some of these areas where the health benefits of soy have been investigated. The findings of these studies will, of course, have an impact on the marketing of these products and their movement into the mainstream.
--- PAGE BREAK ---
It would be impossible to summarize the vast amount of ongoing research in a couple of paragraphs, so this article will point out just a few of the recent developments.
As already noted, based on research over many years, FDA issued a soy health claim linking consumption of soy with reduction of heart disease. Most recently, researchers at the University of Illinois found health benefits from levels of soy even lower than those recommended by FDA. The findings showed that consuming as little as 20 g of soy protein reduced concentrations of LDL cholesterol. Also, a study at the University of Toronto found that soy foods reduced the risk of heart disease without raising the levels of hormone activity. Tests of estrogen levels were conducted, and no hormone risks were found.
Researchers from Southern Illinois University–Carbondale have found that a diet high in protein can keep genetically obese rats from developing a "fatty liver"—a liver which is visibly larger than normal with a lot of fat in it. This condition is common in overweight humans. While fat buildup itself does not damage the liver, some diseases, such as cirrhosis, diabetes, and elevated triglyceride levels, accompany the condition. In the study, a diet high in soy protein and soy phytoestrogens reduced the size of the liver to almost what it is in a normal rat.
Studies are showing that diets rich with isoflavones can reduce hot flushes and other menopausal symptoms, and soy protein with isoflavones is currently being investigated as an alternative to hormone replacement therapy. A recent medical study conducted by the Columbia Presbyterian Hospital in New York and Johns Hopkins in Baltimore, Md., demonstrated that soy isoflavone extracts when taken orally are effective in reducing the frequency and severity of menopausal hot flushes in women. Studies such as these which emphasize soy's role in reducing menopausal discomfort can increase women's interest in soy and its benefits in other areas such as heart disease.
Continuing studies are being done in examining soy intake and cancer risk. In particular, there have been several promising studies done recently in the area of prostate cancer. (See Prostate 37: 36, 1998; J. Nutrition 129: 1628, 1999; and Cancer Causes Control 9: 553, 1998). However, since there are many different types of cancer, we should avoid any temptation to oversimplify. More research needs to be done, especially more clinical trials, before conclusions should be drawn.
by DONALD E. PSZCZOLA
Associate Editor