Mark your calendars! IFT's next International Food Safety and Quality Conference and Expo will be held February 20-22, 2002 in Atlanta, Georgia, at the Atlanta Marriott Marquis. Designed to augment the IFT Annual Meeting & IFT Food Expo®, conference sessions will explore in-depth the safety and quality of fresh fruits, vegetables, and other commodities and issues in the food service and retail sectors. An expo will feature exhibits by leading suppliers of instruments, packaging systems, processing technologies, and professional services. The event will include poster presentations and tours, such as the University of Georgia Center for Food Safety and Quality Enhancement in Griffin.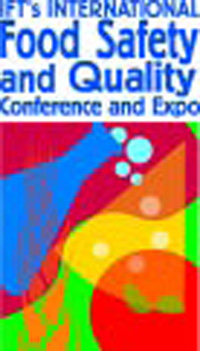 Advisory and program committees, chaired by IFT Past-President Charles Manley and comprised of representatives of IFT Divisions, are finalizing event details. The conference will begin with keynote addresses from internationally renowned experts from the public health and food safety research communities. The general schedule of events appears in the side bar and descriptions of specific conference sessions planned are listed below. The conference program and registration and hotel reservation details are accessible at http://www.iftfoodsafety.com. For information on exhibiting, contact ROC Exhibitions, Inc. (Lisle, Ill.) by phone (630-271-8210) or e-mail ([email protected]). The event is sponsored by IFT's Food Technology magazine and is endorsed by the Association of Food and Drug Officials, Food Safety Magazine, International Association of Foodservice Executives, Meat & Poultry magazine, and the National Registry of Food Safety Professionals.
Emerging Microbiological Food Safety Issues and Implications for Control in the 21st Century
Moderator: Morris Potter, D.V.M., Food and Drug Administration
A panel will discuss IFT's report on pathogenicity, humans as hosts of microbial foodborne disease, and the changing ecology in pre- and post-harvest environments as these factors influence the application of science to food safety management and a scientific framework for food safety regulation.
Beyond HACCP: The "Eight" Principles?
Moderator: Donn Ward, North Carolina State University
HACCP, first introduced in the early 1970's, has evolved from a voluntary science-based system implemented in diverse and complex processing environments to a mandatory system for some situations. The impact of this evolution on the HACCP principles and its future will be addressed.
Rapid Testing Methodologies
Moderator: Daniel Y.C. Fung, Kansas State University
The sophistication and application of rapid methods and automation in microbiology have matured considerably in the past 5 years. This session will review developments of rapid one shift testing of pathogens (6 to 8 hours tests), rapid allergen testing, constant time tracking of food product temperature, GMO testing concepts, and practical applications of immunological and genetic GMO testing methods.
Developing Quality Systems
Moderator: John Surak, Clemson University
Regulatory agencies and food companies are improving quality assurance systems to meet the demands for safe, high quality foods. Successful management systems that enable food processors to address global marketplace opportunities while maintaining high quality and safety will be presented.
Application of Ionizing Radiation to Extend Shelf Life for Case Ready Meat Products
Moderator: Aaron Brody, Rubbright•Brody, Inc.
Low dose irradiation is receiving approval for additional foods and packaging materials and approvals for more uses are being pursued. Microbiological, sensory, and shelf life variables are being addressed to meet consumer expectations for these products. At the same time, the safety of irradiated foods is receiving increased attention. These issues will be comprehensively reviewed.
Microbiological Safety of Fresh and Fresh-Cut Produce
Moderator: Frank Busta, University of Minnesota
The control of relevant pathogens on fruits and vegetables; influence of packaging and packaging atmospheres on pathogen growth; and future research needs to ensure safety of these commodities will be addressed. Presentations will be based on state-of-the-science information requested from IFT by the Food and Drug Administration to enable the Agency to make well-informed food safety regulatory and policy decisions.
Delivering Safe Produce
Moderator: James Gorny, International Fresh-Cut Produce Association
Good agricultural practices have been very effective in enhancing safety for some commodities. Purchasing specifications, with and without scientific backing, are playing an increasing role in some segments of the industry, as is microbial testing. Successful industry practices for delivering safe produce will be presented.
Updates of Topical Issues
Recent developments in areas of major importance to food safety and quality will be addressed. Hot topics will include BSE, Foot and Mouth Disease, and HACCP regulations for juice products.
Toward A Single Food Safety Agency?
Moderator: Catherine Woteki
Should the federal government bring all responsibilities for food safety matters under a single agency? What societal benefits would reorganization achieve? What principles should guide reorganization and what should be the scope of a reorganization? What lessons can we learn from other countries' experiences? Hear from current and former government officials on these intriguing questions.
by ROSETTA NEWSOME
Director, Dept. of Science and Communications