With grocery shoppers taking even more responsibility for their own health than last year and an unprecedented consumer demand for purity and protection from chemical, environmental, and genetic contamination, it is not surprising that health remained a central consumer theme among Food Expo exhibitors at this year's Annual Meeting in New Orleans.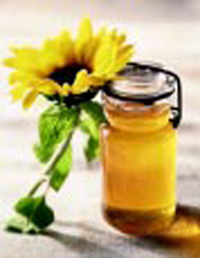 Comparatively speaking, this years' Annual Meeting seemed to feature fewer exotic botanicals and way out energizing, mentally stimulating potions and formulae. Rather, on-the-mark exhibitors were poised to address the dramatic and surging consumer trend to "remembering the basics" when using food as a tool to maintain health. Sugar-free, reduced sugar, low fat, lower sodium, high fiber, high nutrient, calcium fortified, whole grain, soy/isoflavones, and even gluten-free were once again dominant exhibit and ingredient themes. And why not? Just under half of all U.S. households are still trying to avoid fat, one-third salt, and one-quarter sugar.
Optimum frying with Frypowder, by Miroil (602-620 N. Tacoma St., Allentown, Pa., phone 610-437-4618) allows for a healthier fried food option, as 40% less oil is absorbed by the food and the oil that is absorbed is said to have a higher nutritional profile. FutureCeuticals, a division of Van Drunen Farms (P.O. Box 9, Momence, IL 60954, phone 815-472-3100) featured Nutrim™, a soluble hydrocolloid made from oats (contains 10% beta-glucan soluble fiber) that is designed to replace some or all of the fat in nutrition bars, meal replacement beverages, nondairy creamers, and baked goods. Nutrinova (25 Worlds Fair Dr., Somerset, NJ 08873, phone 732-271-7220) featured their Sunnett ™ line of sweeteners and innovative blends for sugar-content reduction. Unlike sugar-free drinks, products sweetened with a blend do not necessarily have to be positioned as "diet"or "lite," rather they can emphasize refreshing new flavor, improved calorie content, or a healthier image. Nutrinova came armed with a new survey reporting that 78% of Americans feel they eat too much sugar; 77% feel their level is unhealthy; and 54% watch their sugar content. Both Kikkoman (50 California Blvd., San Francisco, CA 94111, phone 415-956-7750) and Eatem (1829 Gallagher Dr., Vineland, NJ 08306, phone 609-692-1663) featured a wide range of lower sodium ingredient options and bases.
But, when it comes to basics, the return of dietary fiber was the big news showcased by a wide variety of new products, ingredients, and applications from clear high-fiber beverages to healthy cholesterol lowering bars. Caromax™ from Nutranova, made from the fruit of the carob tree, has a total dietary fiber content of > 80% and is characterized by its high content of lignins, polyphenols, and pinitol. A clinical study, conducted on 49 adults with slightly to moderately high cholesterol levels, showed that Caromax had a cholesterol lowering potential of 7.8% total cholesterol and 12.1% LDL reduction after a 6-week regimen. FiberAid™ from Larex (4815 White Bear Pkwy., White Bear Lake, MN 55110, phone 651-636-2628) contains a concentrated Larch (tree) arabinogalactan. It is also certified kosher. Joanne Slavin, U. of Minn., has shown "broad physiological benefits" including "increased anaerobes in the gut and aided bowel habit." Arabinogalactan claimed health benefits include immune system enhancement, beneficial cholesterol, beneficial microflora enhancements and improved gastrointestinal function.
--- PAGE BREAK ---
Imperial Sensus (P.O. Box 9, Sugarland, TX 77487, phone 281-490-9522) made a practical move showing you can marry nutrition and good taste by demonstrating its Frutafit™ inulin—a prebiotic extracted from chicory with unique water soluble fiber properties—with Blue Pacific Flavors & Fragrances and International Fiber corroboration. The trio showcased a high energy, antioxidant breakfast beverage and high fiber and sugar-free drinks made with soy and inulin in cherry and vanilla hazelnut flavors. On the food front, they displayed chicken galangal with red Thai curry in puff pastry, tortellini pasta and pierogies as well as sugar-free gummy bear candies and chocolate chip cookies. Clinical studies report that Fruitafit inulin enhances calcium absorption, stimulates the immune system, helps control blood glucose and reduces bad cholesterol levels. Glanbia Ingredient Inc., (523 6 St., Monroe, WI 53566, phone 800-336-2183) featured TruCal™, calcium from milk. Likewise, other fiber derivatives were prevalent on the floor.
In the crowded world of soy ingredients, Protein Technologies Intl. (St. Louis, MO 63188-1940, phone 314-982-1938), a DuPont business, unveiled its new Solae™ consumer branded soy protein ingredient program. The first product to carry the Solae brand, 8th Continent Soymilk, hit the shelves in July. In return, PTI provides promotional support for products carrying the Solae logo, including a grass roots marketing program starting this summer aimed at consumers, dieticians, and nutritionists. Cargill (15407 McGinty Rd., Wayzata, MN, 55391, phone 952-742-5928) also announced that it has made available the first product in an evolving line of naturally occurring soy isoflavones under the AdvantaSoy™ brand. The initial product contains 2.25% isoflavones, and is available in standard and non-GMO versions.
Additive avoidance. Additive avoidance—a consumer trend rarely seen in the U.S. for the last ten years and now fueled by European GMO media coverage and outbreaks of Mad Cow disease—has spurred a diversity of all natural, non-GMO, natural and certified organic flavor, color and ingredient options. With two-thirds of food shoppers reporting to the Food Marketing Institute last year that they are trying to again avoid artificial additives and preservatives vs 10% in 1995, these IFT suppliers are clearly on target for this rejuvenated purity movement.
Growing consumer demand dictates that products are inherently more natural and "green" yet continue to offer benefits in terms of superior taste, performance and efficacy. Zylepsis (Ashford, Kent, UK, phone 44-1233-660555) highlighted a series of their natural ingredients, produced using a proprietary biotransformation process, showcasing the absence of genetic manipulation or chemical synthesis. Natural tea, vanilla, grapefruit and cherry flavors/aromas, UV absorbers and antimicrobials are just some of the novel ingredients that they have already developed. Western Commerce Corp. (636 Turnbull Canyon Rd., City of Industry, CA 91745, phone 626-333-5225) featured natural and organic sweeteners including honey, bee products, molasses, agave nectar, fruitsweet, brown rice syrup, chicory sweetener, organic molasses, organic honey, and organic maple syrup.
Food manufacturers seeking organic products are too often limited by the availability of certified organic ingredients. A similar situation exists for non-GMO ingredients. Ojai (Ojai, Calif.) announced the availability of a certified organic, non-GMO lecithin. TIC Gums' (4609 Richlynn Dr., Belcamp, MD 21017, phone 410-273-7300) customers have long been able to make all-natural claims for gum-containing products such as cosmetics and food supplements. Now, they offer a certified "organic" by the Organic Growers and Buyers Assn. TIC Gums also now offers two grades of GMO-free gum arabic that are effective replacements for corn sweeteners.
With consumers preferring to get their nutrients from foods, commodity groups continued to put their best nutritional food forward. The National Honey Board (390 Lashey St., Longmont, CO 80501, phone 800-356-5941) released a new study conducted at the U. of Ill., Champaign-Urbana, characterizing the strong antioxidant content of seven varieties of honey and promoted another study by the U. of Memphis Exercise and Sport Nutrition Laboratory which found honey to be one of the most effective forms of carbohydrate gels to ingest just prior to exercise. The lower glycemic index of honey is important for sports enthusiasts because when ingested just prior to exercise, higher glycemic index carbohydrates like dextrose, maltodextrin or sucrose may promote fatigue more quickly due to the corresponding release of insulin and faster muscle glycogen utilization.
--- PAGE BREAK ---
Foods as medicine. While the "back to basics" movement seems to parallel the downturn in the supplement market and the current market trend of "sensiblizing" key health promoting formulae, it is offset by the skyrocketing trend to using food and functional ingredients as a more natural way to manage and treat health conditions. Led by glucosamine and chondroitin, sales of specialty supplements jumped nearly 20% in the mass market last year, while herbals were down, most likely due to consumer efficacy and interaction concerns. With more than 74 million primary food shoppers exhibiting a strong desire to treat themselves first, and 65% of shoppers currently trying to manage or treat a health condition via food purchases, ingredients that function at the "food as medicine" interface—such as probiotics/prebiotics and blood pressure reducing whey—will continue to be in great demand.
In addition to continued attention to the many health benefits and forms of probiotics and prebiotics, the health-promoting properties of dairy ingredients received a great deal of attention and interest by attendees. With 50 million adults and 2.7 million children diagnosed with high blood pressure, one of the most promising food ingredient risk reducers may well be whey—a "tried and true" food technology staple. To draw further attention to the positive role BioZate whey protein hydrolysate can play in reducing hypertension, Davisco (11000 W. 78th St., Eden Prairie, MN 55344, phone 952-914-0400) offered free blood pressure checks, while highlighting the ease of incorporating BioZate into existing protein products without affecting the product flavor and eating quality. In addition, they introduced glycomacropeptide (GMP) a casein-derived whey peptide. GMP may help prevent dental cavities, influence blood clotting, interact with antibodies, and protect against bruises and bacteria. It is the only naturally occurring whey protein without phenylalanine, and may be useful in the treatment of phenylketonuria. Studies have shown that GMP stimulates the body to produce CCK, the protein released after eating that gives one a sense of satiety, potentially critically important in weight loss, control of blood sugar levels, and other important physiological functions. Dairy Management Inc. (10255 W. Higgins Rd., Rosemont, IL 60018, phone 847-803-2000) brought whey to life by featuring a protein fortified sports beverage, a high protein chocolate cookie, and a meal replacement beverage designed to achieve the 40/30/40 nutrition profile.
Others showcased promising healthpromoting ingredients including polyphenols, grape seed extract, lycopene, lutein, zeaxanthan, anthocyanins, beta carotene, glucosinolates, supforaphane, and allicin/alliin. This year, Cyvex Nutrition (1851 Kaiser Ave., Irvine CA 92614, phone 949-622-9030) brought joint support ingredients—glucosamine, chondroitin sulfate, hydrolyzed bovine collagen, and Athro-Coll™ Chicken Collagen Type II—to the convention floor. But putting healthy ingredients together with creativity and great taste is often best left to Watson Foods (301 Hefferman Dr., West Haven, CT 06516, phone 203-932-3000), which featured "mental milk," a chocolate soymilk beverage with choline, vitamin B5, and taurine; "Doctor Bone's" Ice Cream; Iced Latte with protein, vitamins A and D, and calcium; and bone health cookie bars.
With the Nutrition Business Journal's new Functional Foods report projecting a functional foods market at year end 2001 of $17.4 billion—growing at a rate of 8.5%—it is likely that the cutting edge ingredients exhibited at the New Orleans meeting will find a ready and receptive consumer market in the years ahead.
by A. Elizabeth Sloan,
Contributing Editor
The author, a Professional Member of IFT, is President, Sloan Trends & Solutions, Inc., P.O. Box 461149, Escondido, CA 92046-1149.