IFT's 2001 Annual Meeting & IFT Food Expo in New Orleans, La., June 23–27, attracted more than 19,000 registrants and featured more than 1,500 papers and 1,024 companies exhibiting in 2,498 booth spaces (249,800 square feet).
Mayor Marc H. Morial and the City Council of New Orleans proclaimed the week of June 23–27, 2001, as National Food Science and Technology Week, saying that the IFT Annual Meeting & Food Expo provides a great opportunity for scientists and professionals to meet, share ideas, and advance knowledge.
Opening Event
At the Opening Event on Saturday evening, Mary K. Schmidl [1], IFT's 61st President, started off the proceedings by introducing Dorothy Benham, former Miss America, who entertained the audience with the song, "You Are the Future." Schmidl said that through her visits to IFT Regional Sections and various countries, "I have been able to see and feel a glimpse of our future. As your President, I have to deal with the world as it is, but in my mind's eye I can see what it could become, and what IFT must continue to strive to help it become–a world where new technologies assure the safety and quality of food; a world where the 800 million people who are currently starving or malnourished are enabled to use the benefits of biotechnology to help meet their demand for food; a world where efficient production and processing methods are used to create an environmentally sustainable food supply."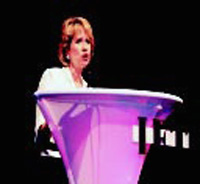 Schmidl then reviewed some of IFT's accomplishments this year, including the official "open house" for IFT's new Washington, D.C., office on October 5, 2000; the release of IFT's "Expert Report on Biotechnology and Foods"; the presentation of the first "IFT Congressional Support for Science Award" to Senators Thad Cochran and Richard Durbin; the planned move of IFT's headquarters to a new location in downtown Chicago next spring; the launching of the joint IUFoST/IFT online magazine, The World of Food Science (www.worldfoodscience.org); the hosting of IFT's first Annual Food Safety and Quality Conference; the formation of various task forces to explore membership needs; and offering two videoconferences to Regional Sections—"Genetically Modified Foods" and "Organic Foods," which can be viewed via streaming video on the IFT Web site (www.ift.org).
Enrique Guardia, chair of the IFT Foundation, invited IFT members to "Take the Next Step" and invest in the IFT Foundation. "Take the Next Step" is the IFT Foundation's member campaign. Guardia stated that the IFT Foundation helps IFT serve members' interest in communicating science to Congress, points young students to careers in food science and technology; and provides employment services and other resources to address member needs. "You've made the investment in your education and professional development," Guardia said to members, "Now take the next step and invest in your field."
Dennis Breitbart, chair of the IFT Awards Committee, presented the 13 newly elected Fellows of the Institute (see pp. 113–118) and this year's Achievement Award winners (see pp.119–121).
Schmidl presented a plaque to Past President Charles H. Manley and introduced Philip Nelson as the next President of IFT. She then introduced IFT's President-Elect No. 2, Mark McLellan, who will become IFT President in September 2002. Posing for a photo after the Opening Event were [from right in 2] Past President Manley, President-Elect Nelson, Executive Vice President Dan Weber, President Schmidl, and President-Elect No. 2 McLellan.
Elizabeth Dole [3]presented the keynote address (see sidebar).
--- PAGE BREAK ---
Technical Program
The Technical Program began on Sunday morning and continued through noon on Wednesday. It featured 1,562 papers on all aspects of food science and technology and its related disciplines.
• Symposia. There were 304 papers presented in 55 different symposia on subjects ranging from developing new soy foods to educating electronically, such as using IFT's Web site as presented by James Giese, IFT Internet Editor [4].
• Oral and Poster Papers. There were 28 technical oral sessions with 260 papers presented and 42 poster sessions. More than 900 papers were presented in poster sessions.
• Hot Topic Sessions. Three Hot Topic sessions were held on the subjects of bioterrorism, product development [5], and Mad Cow disease (see pp. 62–68).
• Special Forums. There were nine Special Forums on organic foods, education standards (discussed here by Marilyn Swanson [6]), marketing, processing, testing for GMOs, food science in high schools, undergraduate and graduate food science education, and going from school to industry.
• Division Lectures. Five Division Lectures were presented this year on recovery of functional proteins from muscle, animal welfare considerations for religious and ethnic slaughter, nonthermal processing, chemistry of singlet oxygen oxidation discussed by D.B. Min [7]), Salmonella, and the international impact of rapid microbiological methods.
• New Products & Technologies Sessions. There were three New Products & Technologies sessions this year: "Nutrition, Package, and Process"; "Ingredients"; and "Analysis and Instrumentation." This year, for the first time, a plaque was presented by the New Products & Technologies Subcommittee to recognize the best paper presented during the New Products & Technologies sessions. The first plaque was given to Jean-Christophe Mifsud [8] of Alpha M.O.S. for his paper, "The New Artificial Tongue and Its Application in Beverage Analysis."
Continuing Education Programs
Ten educational programs and workshops were presented on the Friday and Saturday preceding the Annual Meeting. They included the traditional Basic Symposium, seven two-day programs, and two one-day programs. They covered product development, food engineering, beverage technology, HACCP, sanitation, process control, selling skills, presentation skills, and project management. More than 400 short course attendees listened to a variety of speakers such as Richard Stier [9].
Food Expo
Food Expo featured 1,024 companies exhibiting in 2,498 booth spaces, compared to 815 companies exhibiting in 2,342 booth spaces in 1996, the last time the meeting was held in New Orleans [10–13]. Full coverage of the new and interesting ingredients, laboratory, and processing products exhibited at the Food Expo are discussed elsewhere in this issue (see p. 77 for Ingredients, 100 for Laboratory, 105 for Processing, and 110 for Packaging).
--- PAGE BREAK ---
Student Association Activities
IFT's Student Association sponsored many activities at this year's Annual Meeting, including the Student Association booth [14, p.47]; the undergraduate and graduate research paper competitions; the Product Development Competition and poster session; a symposium entitled, "From Graduation to the Real World: Industry and Student Perspectives" (co-sponsor Carbohydrate Div.); an open forum for food science clubs; and the Welcome Assembly & Food Science and Technology College Bowl Competition, which included a special challenge competition by the winner of the Canadian Institute of Food Science and Technology's College Bowl.
• Student Chapter of the Year. The Rutgers University student chapter of IFT was named Chapter of the Year [15, p.48], and the U. of Georgia was named the Most Improved Chapter.
• Achievement Awards. At its Welcome Assembly, Student Association Membership Chair Amanda Lathrop announced that Achievement Awards were being given to 20 student chapter members who have made outstanding contributions to the success of their food science student chapter.
The awards, sponsored by Campbell Soup Co., consist of a framed certificate and $20 toward Annual Meeting registration. Recipients were Brandon Burrows, Brigham Young U.; Jennifer Vierra, Cal Poly. State U.; Zachary Caplan, Cornell U.; Robyn Reynolds, Michigan State U.; Kara Lochman, N. C. State U.; Anne Wehking, N. Dakota State U.; Carie Mueller, Ohio State U.; Heather Hjorth, Oregon State U.; Anne Panko, Penn. State U.; Kristen Naschansky, Purdue U.; Jeanny Zimeri, Rutgers U.; Krista Schneider, Texas A&M; Hazel Fromm, U. of Arkansas; Lisa Appezzato, U. of Delaware; Hannah Osborn, U. of Georgia; Jill Branen, U. of Illinois; Mike Plichta, U. of Kentucky; Sean Leighton, U. of Minnesota; Charity Lakins, U. of Tenn.; and Laura Lebak, U. of Wisconsin-Madison [16].
• College Bowl. The North Carolina State U. team won this year's Food Science and Technology College Bowl on Monday evening. Chaired by Yizhi Meng of Cornell U. and moderated by Lisa Schroeder of General Mills, the event drew a large audience. The winning N.C. State team, consisting of Monique Thomas, Arnie Sair, B. Logan Buck, Jeff Resch, Jack Davis, Wendy Campbell, Christopher Daudert, and Allen Foegeding, advisor, beat the U. of Illinois team (Yvonne Chan, Jill Branen, Kevin Ryan, Elizabeth Gutierrez, Meredith Agla, and Scott Morris) in the final round. A special event at this year's competition was the Canadian Challenge, in which the Canadian team that won the Canadian Institute of Food Science and Technology's College Bowl competition held earlier this month in Toronto faced off against the a mix of the IFT College Bowl team captains. The special challenge was moderated by Mary Schmidl. For more on the Canadian Challenge see p. 131.
• Product Development Competition. The U. of Wisconsin team (Vidya Sridhar, Erin Natuig, Debby Levenson, Kole Ewoldt, Peggy Mak, Chad Fahrenkrug, Collen Madden, Laura Lebak, and Achyuth Hassan) won this year's Product Development Competition, competition chair Vinny Gill announced at the Welcome Assembly Monday night. The team won for its development of Handicotti [17]. The second- and third-place winners were, respectively, the Michigan State team, which created Toastoritos, and the N.C. State team, which developed Munchatas. The competition was organized and conducted by the Student Association and sponsored by M&M/Mars. The finalists presented their products at an oral session on Sunday morning and in a poster session on Monday morning. Judges sampled the products in a closed session on Monday afternoon.
• Paper Competitions. Winners of the Student Association undergraduate and graduate paper competitions, as well as other paper competitions sponsored by the IFT Divisions, were announced during the Phi Tau Sigma Honorary Society breakfast on Wednesday (see p. 122).
• Welcome Assembly and Mixer. Students mingled with some mascots during the Welcome Assembly on Monday evening [18]. Mary Schmidl passed an honorary gavel and Robert's Rules of Order to Jonathan Gray, this year's IFT Student Association President-Elect [19].
--- PAGE BREAK ---
• Career Fair. Seventeen companies and more than 400 students participated in this year's Career Fair, where students had the opportunity to informally network with companies to discuss employment opportunities. The participation increased from 12 companies and 300 students at last year's fair.
Fun Run
New this year was a Fun Run for the IFT Foundation, sponsored by the IFT Student Association [20]. It was held early Sunday morning and drew more than 250 participants, generating in excess of $6,000 for the Foundation. IFT Student Association members working at the Fun Run [21] included (from left) Russell Hazen, Jonathan Gray, Kristen Naschansky, Rodney Green, Lauren Franssen, Justin Shimek, Michelle Koehler, and Tanya Ditschun and Jaime Rudolf (kneeling). Mary Wagner [22], IFT Past President, helped register members for the run. Sponsors for the event included David Michael & Co., Newly Wed Foods, Pepsi-Cola, and Taco Bell.
Food Engineering Division's 25th Anniversary
IFT's Food Engineering Division celebrated its 25th anniversary during the Annual Meeting. As part of the celebration, the division featured a Division Lecture by S. Bruin. At the Division's anniversary dinner, Mary Schmidl thanked the members of the division for their contributions to the Institute, stating "Without a doubt, your division is a pillar of the Institute, and we look forward to your strength in supporting the Institute in the next 25 years."
Committee and Other Meetings
The Executive Committee and the IFT Council met on the Friday and Saturday prior to the Annual Meeting. At the Council meeting, Schmidl presented plaques to the outgoing members of the Executive Committee who had served on the committee for the past three years: Charles Manley, William Davidson, S. Suzanne Nielsen, Ellen Bradley, John Floros, and Russell Hazen.
At the Council meeting [23], members approved new guidelines related to the definition and criteria for Professional Members. Also approved were recommendations to improve the role and function of the IFT Council. These recommendations created a chair of the Council to be elected by the Council Membership. The Council Chair will be the newly elected Councilor Representative to the Executive Committee who receives the most votes by November 1. Finally, the Nonthermal Processing Division received approval for full Division status
In addition, most IFT committees and Divisions met during the Annual Meeting. Other meetings included an orientation for new IFT committee members and a workshop for new Regional Section and Division officers.
The Phi Tau Sigma Honorary Society held its annual breakfast meeting, at which the winners of the student paper competitions were announced (see p. 122).
About 90 chief research officers of companies and heads of university food science departments attended the largest ever meeting of IFT's Chief Research Officers Program (see p. 54).
At the IFT Council luncheon on Saturday, J. Ralph Blanchfield, past president of the UK's Institute of Food Science and Technology (IFST) and current chair of its External Affairs, presented to Mary Schmidl and IFT a 1750 hand-colored engraved map of the British Isles to symbolize the Cooperating Societies relationship of IFT and IFST [24].
--- PAGE BREAK ---
The World of IFT
The World of IFT Resource Center [25] combined the IFT Store [26], the IFT Internet & Technology Café, and other booths providing information about continuing education programs, Science, Communications, and Government Relations activities, and the IFT Foundation.
Annual Meeting Publications
The IFT Publications staff published the IFT Annual Meeting Program and Food Expo Exhibit Directory, and the IFT Today daily newspaper. The newspaper and directory were distributed to attendees as they entered the convention center on Sunday, Monday, and Tuesday [27 and 28]. The 32-page newspaper included news and articles prepared by the IFT publications staff and other contributors.
Food Donations
Food Expo exhibitors each year donate their leftover food to a food bank located in the Annual Meeting city. The amount of food donated over the years was 8,100 lb in 1997, 11,776 lb in 1998, 17,009 in 1999, 18,575 lb in 2000, and 17,185 lb this year. For more information, see p. 58.
Sponsorships
Several companies sponsored various activities at the Annual Meeting and Food Expo, helping to support IFT activities (see p. 60). They included ISP Alginates, Inc. (ExpoScan), Carmi Flavors (Annual Meeting/Food Expo Web sites), International Food Information Service (IFT Internet & Technology Café), Wild Flavors (badge lanyards), WorldJuiceTrade.com (Attendee pen), Careers in Food.com (Employment Bureau), and Roche Vitamins, Inc. (Health Fair). Balchem Encapsulates, Dutch Quality House, and Wayne Farms, LLC sponsored the Student Association Mixer.
Next Year
IFT's 2002 Annual Meeting and Food Expo will be held in Anaheim, Calif. [29], on June 15–19. Plan now to attend!
---
Keynote speaker Dole encourages volunteerism
Stressing the need for increased volunteerism throughout the world, keynote speaker Elizabeth Dole commended IFT members for all their hard work and dedication.
Citing some of her own experiences assisting victims of famine worldwide while serving as President of the American Red Cross, Dole urged IFT members at Saturday night's Opening Event to continue in their efforts to improve the world's food supply.
"Your volunteer efforts through IFT go a long way toward this end," she said. "Many of you bring your scientific expertise to benefit deliberations on key issues in food science and technology. Through your service on IFT committees or authoring reports on important topics, inroads are being made that will help ensure a safe and wholesome food supply for all people."
--- PAGE BREAK ---
Keeping with the Annual Meeting theme of "Vision for Change," Dole discussed the many changes the United States has gone through from its founding to today, as well as changes that have occurred worldwide.
"Based on the input of experts from academia, industry, and government, IFT is helping promote programs and policies that are rooted in science and consistent with public interests," she said. "And in keeping with your conference theme, 'Vision for Change,' I've been asked to share with you a few of the insights I've gained about organizations and people, and a few observations about how America has changed, and how we must change in the future, for in today's fast-paced world, the only constant is change."
The dedication of IFT members to further food-related causes are essential, Dole said. As volunteers, the Institute's members have the opportunity to have a positive impact on the world.
In her remarks, Dole congratulated the award winners on their achievements, particularly Al Clausi, with whom she serves on the World Food Prize Foundation's Council of Advisors.
"Tonight has been a very special one because of the presentation of the awards," she said. "I want to extend my heartiest congratulations to all the recipients. And I am delighted to see that Al Clausi . . . is being honored with the Nicholas Appert Award this evening."
Getting involved and doing the right thing, whether it be nationally, internationally, or locally, in the many issues facing the world today is imperative, Dole said.
"With clear heads, open eyes, and full hearts, we can choose above all else those things that are most important, that will endure, that we will always see as noble," she said in closing. "Our future is not preordained; we must choose it. But I believe it is the American destiny to choose well."
—Sara Langen, Assistant Editor
Research officers program urges science-based public policy 
Partnership for Growth was the theme of the Sunday morning meeting of the IFT Chief Research Officers Program, focusing on the role IFT can play in advocating research and promoting public policies based on science. This year's meeting was the largest ever, according to program co-chair Hamed Faridi, vice president of research and development at McCormick & Co. Inc. The invitation-only meeting drew approximately 90 senior industry executives and high-ranking academic officials. IFT President Mary K. Schmidl highlighted IFT's commitment to bring together academia, government, and industry, continually finding ways to work together "because each of us is passionate about food science and technology. We realize that food science and technology research and education are not only worthwhile but critical to the well being of the country and this planet."
IFT is poised to make an extremely meaningful contribution in the area of emerging foodborne pathogens, according to Morris Potter, lead scientist for epidemiology at the Food and Drug Administration's Center for Food Safety and Applied Nutrition. Potter is chairing a panel of experts assembled by IFT to create a comprehensive report on the scientific aspects of emerging microbiological foodborne safety issues and implications for their control.
--- PAGE BREAK ---
The primary theme in the report's discussion of food safety management and public policy is "science-based," according to Douglas Archer, professor of food science and human nutrition at the University of Florida. "The science is evolving quickly, and we must maintain flexibility to incorporate the latest science when it is appropriate to do so," Archer said. The IFT report will advocate a flexible approach that relies on risk assessment as a way to strategically prioritize efforts to improve food safety.
John Bode, a principal with the law firm of Olsson, Frank & Weeda, provided valuable insight into the prospects for food-related legislative action in the current Congressional session. Although the closely balanced political situation will likely hinder major legislative initiatives, the current efforts to pass a new Farm Bill bear watching. Looking at the political situation, the new Farm Bill is likely to have a title that addresses food safety issues, Bode predicted.
To enhance opportunities to provide scientific input to the legislative process, IFT is reaching out to government officials to encourage them to consider IFT as a source of scientific information, Schmidl said. IFT's Congressional Science Fellowship, now entering its sixth year, gives IFT members the opportunity to see food policy development from the inside, working as a staff member for a Representative or Senator. In addition, the newly established Congressional Support for Science Award is designed to raise IFT's visibility in Washington, D.C. by recognizing members of Congress for their efforts to advance food science and technology.
Another topic with significant policy-related issues is the regulation of foods produced using modern biotechnology methods. Biotechnology crops are the most rapidly adopted technology in the history of agriculture, according to Susan Harlander, president of Biorational Consultants.
Another area of significant public concern is bovine spongiform encephalopathy and chronic wasting disease. Given the steps that have been implemented to prevent BSE from reaching the United States, it is unlikely that BSE will reach America, according to Lester Crawford, director of the Center for Food and Nutrition Policy at Georgetown University. Current surveillance efforts are "as exhaustive as we can afford" and the probability of not identifying BSE if it were present is less than 1 in one billion, Crawford said.
The public impact of the use of antibiotics in animal production is an issue currently under debate but clearly not resolved. David Wallinga, director of the Antibiotic Resistance Project at the Institute of Agriculture and Trade Policy, provided insight into the public health perspective, saying the public health concerns are based on not only the quantity of antibiotics used but also the routine way in which they are used. Richard Carnevale, vice president of regulatory, scientific, and international affairs for the Animal Health Institute shared the industry perspective, saying it is critical to put the issue of resistance in context. Only a small portion of antibiotic-resistant bacterial strains are attributable to animal production use of antibiotics, he said.
To nominate an individual to participate in the IFT Chief Research Officers Program, contact the IFT Washington, D.C., office at 202-466-5980 or by e-mail at [email protected]. —Mary Helen Arthur, Science Information Manager 
--- PAGE BREAK ---
Food Donated to Feed the Needy 
Every year, at the close of Food Expo, IFT works with a local hunger-relief organization that accepts food donations for the needy from our exhibitors. After Food Expo closed at 12:30 p.m. on Wednesday, 80 companies donated 17,185 lb of food to Second Harvesters Food Bank in New Orleans. Second Harvesters serves 27 parishes and distributes food through more than 350 nonprofit agencies. The top donor this year was Kraft Food Ingredients, donating 2,140 pounds of meat, soup, and miscellaneous food items. IFT would like to acknowledge Freeman Companies and Sullivan Transfer for their generous time and labor collecting and transferring the food items [30–32]. The following exhibitors donated to the food bank this year:
Almond Board of Calif.
American Food Ingredients, Inc.
Andre Klein A.G.
ASE Deli Co.
Assoc. Milk Producers, Inc.
Australian Macadamias
Barry Callebaut USA, Inc.
Bell Carter Olive Co., Inc.
Bell Flavors & Fragrances bioMerieux, Inc.
Burdock & Assoc., Inc.
California Date Comm.
California Dried Plum
Calpis Co. Ltd.
Central Soya Co., Inc.
Cerestar
Clover Corp., Ltd.
Cherry Marketing Institute
Comax Flavors
C P Kelco
Custom Industries
Croc' Dor Foods, Inc.
DairiConcepts, L.P.
David Michael & Co.
Davisco Foods Intl., Inc.
Diversified Food Resources
Enzyme Development Corp.
Food Ingredient Solutions, L.L.C.
Food Product Design
Foran Spice Co., Inc.
Foremost Farms USA Co-Op
Fortitech, Inc.
Glanbia Ingredients, Inc.
Graceland Fruit, Inc.
Gray & Co.
Griffith Labs
Grey House Publishers
IngredienTrade
Innova Corp., A Griffith Labs Co.
Kraft Food Ingredients
Jon Lin Frozen Foods
Land O' Lakes, Inc.
Mane, Inc.
Metaron USA, Inc.
Midwest Grains Prods., Inc.
Mitsubishi Intl., Corp.
Moody Dunbar, Inc.
Nagaoka Perfumery Co., Ltd.
National Starch & Chem. Co.
Newly Weds Foods, Inc.
Norpac Foods, Inc.
Northland Cranberries, Inc.
Ocean Spray Cranberries, Inc.
Organic Commodity Prods.
Ottens Flavors
Pacific Foods, Inc.
Peter's Chocolate
Phillips Foods, Inc.
QA Products, Inc.
Robertet Flavors, Inc.
Roquette America, Inc.
Sabroso Co.
San Filippo
Sargento Foods, Inc.
Sartori Food Corp.
Sesmark Foods, Inc.
Shoei Foods
J. R. Simplot
Specialty Minerals, Inc.
SunRich Foods Group
Tabasco Brands/McIlhenny Co.
Tate & Lyle
Unilever Bestfoods–Ingredients Div.
USDA
Virginia Dare
Washington Red Raspberry Comm.
Western Commerce Corp.
Wixon Fontarome
J. R. Woods
by James H. Giese,
Internet Editor
by Neil H. Mermelstein,
Editor