Ground level, Ernest N. Morial Convention Center, New Orleans, June 2001. The global food manufacturing industry convenes for one of its biggest events—IFT Food Expo. Clearly "next generation" functional foods and organic ingredients took center stage, but behind the headlines several additional future trends were evident. Here's a brief summary of what's in store: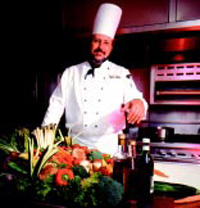 Commercializing space. The National Aeronautics and Space Administration (NASA) is serious about moving space age food processing into the commercial mainstream. The agency's Food Technology Commercial Space Center (FTCSC), located at the Iowa State University Research Park in Ames, Iowa, was established two years ago and is aggressively leading a national effort to develop foods and food processing technologies that enhance space missions and advance commercial food products. The program involves cooperative efforts between NASA scientists and technologists, academic researchers, and commercial companies.
Cooperative programs are based on partnerships in which commercial companies commit funds for research and development activities with the potential of reaping big rewards through both space and consumer applications, according to Cheryll Reitmeier, Education Mission Specialist, FTCSC, Iowa State.
While NASA has always maintained an important working relationship with university research facilities, and supported technology transfer, this more aggressive stance signals a heightened opportunity. As the space station program continues to develop, look for NASA to become even more interested in cooperative efforts aimed at commercializing space food technology. More information is available online: www.ag.iastate.edu/centers/ftcsc/ 
Freeze drying on the rise. Expensive and slow, but for applications that demand low moisture, long-shelf life, and high product integrity freeze-drying has no equal. For years the technology was relegated to highly specialized market niches because the process costs far more than conventional dehydration. Now, with the recent launch of Kellogg's Special K red berries cereal featuring freeze-dried strawberries, producers are starting to think big. "If other cereal makers begin to incorporate freeze dried fruit demand will increase exponentially," stated Michael Alaga, president, Wolf Canyon Foods, Inc., Carmel, Calif. His company is one of several exhibiting at Food Expo with a keen interest in this global trend. In Europe, for instance, Kellogg has incorporated a freeze-dried strawberry, raspberry, cherry mix into its cereal. More information is available at www.kelloggs.com
Cuisinologist, a title for the new millenium. Part food scientist, part new product marketer, and part chef -- the cuisinologist is a new generation food development specialist with a combination of these skills. The title may sound funky, but it reflects a serious effort to combine necessary skills for today's frenetic, high quality, niche-oriented development environment, according to Eric Carr, self styled cuisinologist and CEO of ErdaTek, Inc., Wheeling, Ill. His company has developed a complete training program for what may be termed "cuisinology". His effort reflects the trend away from formal development silos and into a more integrated approach to food product development. More information is available at: www.culinaryresearch.com 
--- PAGE BREAK ---
Universities are playing hardball. The promotional material from the top universities this year reflects a far more aggressive posture in developing commercial partnerships. Clearly they realize that the shrinkage and consolidation among corporate facilities means more opportunities to fill the gap. To this end, many are expanding their research capabilities and corresponding infrastructure, even to the point of building pilot plants and warehouses.
The University of Nebraska, Lincoln, for instance, promotes "One Stop Shopping to Design and Develop Successful Food Products," in a series of polished promotional pieces. Its Food Processing Center is positioned more like an industrial consulting group than an academic enterprise, according to Rose White, workshop/program coordinator.
Nebraska is among the most ambitious in a whole range of university research facilities positioning themselves for a greater role in food product development activities. More information is available at: fpc.unl.edu
Tracing points of origin. The dark side of the globalized food industry is reflected by a new publication called Food Traceability Report, a newsletter dedicated to the growing concerns about biotech crops, certification of organic crops, and livestock diseases such as Food and Mouth and Mad Cow. The term "traceability" isn't in the dictionary yet, but it certainly fits the new profession of knowing what exactly a food is made of and where it came from. With both biotech and animal diseases increasingly on the public mind both in the U.S. and abroad, this trend will most likely grow to include traceability departments and  professionals within the food company hierarchy, as well as courses and programs at the university level to support them. It also has started an informational explosion that ranges from government web sites dedicated to animal disease monitoring to computerized tracking systems for biotech crops. More information is available at: www.foodtraceability.com
The high end of low-cost. One of the most time worn axioms in product development is "Taste is everything," or something to that effect. For every new food that succeeds, approximately nine will fail often because consumers simply don't like the taste. The low-fat, no-fat bandwagon stalled because of taste, as did many other "good-for-you" concepts. In this marketers have faced a perennial catch-22, good taste often means adding cost and higher cost is the second big inhibitor to product success.
The ultimate solution is low-cost alternatives to expensive ingredients and processing techniques that really deliver on the promise. The current generation of flavoring systems and replacers is beginning to achieve this elusive goal. Kraft Food Ingredients, for instance, introduced several new cooking flavors to its line-up, each designed to replicate slow, kitchen-cooked techniques such as backyard charcoal grilling, sautéing, roasting, and smoking. The flavors are imparted to meats via a dry marinade and tumbling technique that reduces cost by permitting the use of less expensive cuts and higher volume, faster processing, according to Chef Lucien Vendôme, Kraft Food Ingredients Executive Chef.
Some companies, such as Danisco Cultor USA, Inc., are applying similar principles to make functional foods, such as soy-based drinks, more palatable. It has developed as system to create better mouthfeel and improved flavor for both beverages and soy yogurts.
These efforts are part of an industry-wide trend in which ingredient suppliers, such as McCormick Flavor, a division of McCormick & Co, have expanded their product development capabilities to work more closely with leaner food processing clients.
These trends are a sampling of the dynamism in food ingredient marketing reflected at the 2001 Food Expo. We'll explore them in more detail, and look at some others in upcoming business and marketing columns.
by Pierce Hollingsworth,
Contributing Editor