Non-GMO labeling is becoming an important issue for several reasons. The EU has recently instituted a labeling requirement for foods greater than 1% GMO content. Because of the consolidation of crops in cental elevators, small amounts of GMO can result in rejection of large amounts of food and raw materials. Several other countries outside Europe are also considering labeling requirements for GMO. Finally, consumer perception of GMO-containing products is increasing. At this year's Food Expo, several laboratory exhibitors and suppliers emphasized their ability to ensure that a product was GMO-free.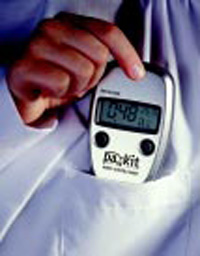 Silliker Laboratories Group, Inc. (900 Maple Rd., Home-wood, IL 60430, phone 708-957-7878) announced the introduction of a new Genetically Modified Organism (GMO) Integrity Program in North America and Europe at the Annual Meeting. The program helps companies ensure the integrity of their products by offering real-time PCR testing for GMOs, educational consultations, and audits. The company has licensed technology from the Danone Group. Danone's biotechnology lab developed a specialized method with increased sensitivity. In addition, Danone conducted extensive validation tests on numerous products with difficult matrices like chocolate, beer, and baby foods. Silliker's facility in Cergy, France, is already established to do the GMO testing, while a new laboratory under construction in Cedar Rapids, Iowa, will also conduct testing when it opens in October 2001. As part of the program, Silliker is offering consultation on GMO food testing.   Guidance is also provided on how companies can prevent potential contamination in their products and processes.
Woodson-Tenent Labs, Inc., a division of Eurofins Scientific (1331 Union Ave., Memphis, TN 38104, phone 901-272-7511) highlighted their GMO and food authenticity testing. Eurofins detects genetically modified products with the use of enzyme linked immuno sorbent assays, or ELISA. They also detect GMOs with the aid of the polymerase chain reaction (PCR). Since DNA, unlike proteins, is quite stable, it withstands hot or acidic production conditions. The PCR method is sensitive enough to detect a concentration of 0.1% modified DNA. The group also had information on their upcoming Food Authenticity and Safety Symposium, which will be held in Nantes, France, Nov. 28–30. The Symposium provides quality control personnel with information on authenticity and safety. For more information on the Symposium, see www.eurofins.com.
The Wizard®Magnetic DNA Purification System for Food (Promega Corp., 2800 Woods Hollow Rd., Madison, WI 53711, phone 608-274-4330) is designed for the purification of DNA from a variety of food samples including corn seeds, cornmeal, soybeans, soy flour, and soy milk. This DNA is used for GMO testing. In addition, DNA can be purified from processed food such as corn chips, chocolate and chocolate-containing foods, lecithin, and vegetable oils may also be used with appropriate optimized protocols. The system uses paramagnetic particles. These particles can be considered a "mobile solid phase." Unlike column-based systems, the binding the of nucleic acids to magnetic particles can occur in solution, resulting in increased binding kinetics and binding efficiency.
ABC Research Corp. (3437 Southwest 24th Ave., Gainesville, FL 32607, phone 352-372-0436) highlighted at the meeting a new test developed at Colorado State U. that can detect minute quantities of central nervous system tissue (CNST) in raw and cooked meats. The test uses an enzyme-linked immunosorbent assay (ELISA) technique specific for glial fibrillary acidic protein (GFAP) in the detection process. The importance of this test is that CNST in meat has been linked to the transmission of so-called "Mad Cow" disease, BSE or Bovine Spongiform Encephalopathy. Although no method currently exists that directly tests for the presence of the BSE disease agent in foods, the ELISA test method that ABC Research is using detects the presence of CNST, thought to be the primary carrier of the BSE agent. William Brown, Ph.D., President and founder of ABC Research said, "While this is not a direct test for the disease, it is an indicator of nervous system tissue contamination in a product. Advanced Meat Recovery (AMR) processors now have a reliable method of proving their product is CNST-free." Most AMR processors use industry-standard deboners to recover meat not economically feasible for removal by butchers.
--- PAGE BREAK ---
The Food Traceability Report (published by CRC Press, LLC, 1725 K St., NW, Ste. 506, Washington, D.C., 20006-1401) is a newsletter dedicated to the growing concerns about biotech crops, certification of organic crops, and livestock diseases such as Food and Mouth and Mad Cow. The trend to providing documentation on the background of a product may grow to include traceability professionals in food companies. More information is available at www.foodtraceability.com
Besides GMO testing, products to ensure the safety of foods was an area highlighted by many lab suppliers at the show.
The eclipse™ E. coli O157:H7 rapid test (Eichrom Technologies, Inc, 820 S. Cass Ave., Ste. 111, Darien, IL 60561, phone 630-963-0320) is designed for microbial monitoring of ground beef, pork, and vegetables and offers superior specificity for the :H7 species at high sensitivity to significantly reduce the incidences of false positives. General applications for this rapid test include ground beef and pork safety monitoring, vegetable (sprouts) safety monitoring, ground water contamination testing, and retention pond effluent monitoring.
Gene-Trak Systems (94 South St., Hopkinton, MA 01748, phone 508-435-7400) has introduced a new rapid system for detecting Salmonella spp. in foods. Gene-Trak's Sequepoint™ Salmonella uses DNA hybridization technology in a microtiter format that can be used manually or with an automated processor for high throughput of microbiological analysis of food samples. The new system is a DNA probe assay specifically designed for the rapid detection of Salmonella spp. in foods. According to the company, utilization of directly labeled probes provides sensitivity and specificity equivalent to the company's DLP assay and traditional culture methods. The assay is capable of detecting as few as one Salmonella cell in 25 g of food sample. The combination of DNA hybridization technology in a 96-well microtiter format is said to offer flexibility and convenience.
AppliedSensor, Inc. (400 Lanidex Plaza, Parsippany, NJ 07054, phone 973-887-6900) introduced its handheld chemical sensor system and data processing solution at the meeting. The company demonstrated its' handheld VOCcheck chemical sensor. The sensor may be used for the on-site detection, analysis and verification of volatile compounds providing quality assurance for a variety of applications within the food industry including the: packaging, confectionary, edible oils, meat and poultry industries. AppliedSensor also unveiled its new patent-pending data processing method, Optimal Discriminative Projection (ODP) at IFT. ODP is a software method that solves the reduction dimension problem that occurs while processing data for gas sensor systems.
Cole-Parmer Instrument Co. (625 E. Bunker Court, Vernon Hills, IL 60061-1844, phone 888-409-3663) introduced several new products at IFT. These included the Varian® 3900 Gas Chromatograph the Sartorius® Moisture/Solid Analyzer, and the Retsch® High-Speed Blender. The High-Speed Blender features a heavy-duty industrial motor and special knife-cutting system that gives homogeneity of a wide variety of sample types—from dry materials to samples containing water, fats, and oils. These blenders are suitable for food applications where a standard blender is inadequate. The blender is available in either a dual-speed standard knife blender or a variable-speed programmable model. Both include a 1-L polypropylene vessel with lid, knife assembly with stainless steel blades. The Moisture/Solid Analyzer is a microwave unit that features a new sensor technology that measures the moisture content of samples within an average of 40 to 100 sec. The unit features a cylindrical microwave chamber and a built-in printer.
--- PAGE BREAK ---
Improper cooling of cooked food is the most common cause for foodborne illnesses, and DeltaTrak's (5653 Stoneridge Dr., Ste. 120, Pleasanton, CA 94588, phone 925-467-5940) Heat/Cool is the first thermometer to easily track this cooling rate. After the food is cooked, the user sets the alarm temperature to 41°F, the timer is started, and then the SOP (standard operating procedures) for cooling are followed. When the food cools down to 41°, the timer will automatically stop to show the total time it took to cool to the safe temperature. The new FlashCheck thermometer can go from room temperature to 32°F in just 10 sec. The 4 ½" long reduced tip probe folds back for safety, the large back-lit display is easy-to-read and users can carry it in a shirt pocket. It is completely waterproof and rubberized against accidental drops. Another very useful food safety function is the Min-Max feature that allows users to put it through a high-temperature dishwasher cycle to verify that the final rinse has reached the safe sanitization temperature of 180°F.
A new portable thermal analyzer, the SETline 300, was shown by Setaram (2701 Forum Dr., Grand Prairie, TX 75052, phone 972-641-3564). The unit is designed for users in need of thermal analysis for controlling materials on site. The unit measures transformation, transition, and reaction temperatures and enthalpies of samples subjected to a thermal cycle. Samples can be studied during heating and cooling because of Peltier effect elements fixed on the measurement vessel. For food applications, the unit may be used for melting and transition analyses as well as measuring parameters such as solid fat index.
HunterLab's (11491 Sunset Hills Rd., Reston, VA 20190, phone 703-471-6870) ColorTrend HT may be used to continuously measure and report color and height of food products on a moving conveyor. It is suited for use for a variety of products including breads, rolls, buns, potato/corn chips, peanuts, sugar, cookies, and crackers. The unit is positioned between 2 and 6 in away from the product and designed for harsh production environments.
A new portable "Pawkit" water activity system was introduced by Decagon Devices, Inc. (950 NE Nelson Ct., Pullman, WA 99163, phone 509-332-2756). The self-contained battery-operated Pawkit is 4-in long and weighs only 4 oz., with an accuracy of ±0.02 Aw. Water activity affects the ability of microorganisms to proliferate in foods. Therefore, monitoring water activity is a critical control point for many manufacturers. Incorporating water activity testing and other science-based analyses into a food safety program helps ensure the highest quality and safest food supply. For more information, see www.decagon.com/pawkit.
The Leica (P.O. Box 123, Buffalo, NY 14240, phone 716-686-3000) AR200 is a portable refractometer that digitally measures critical angle, reflected light refractive index or % solids as Brix over the full range of 0-95% Brix or 1.3300-1.5600nD. Its 3600 cell, linear scanned array imaging achieves accuracy to +/- 0.0001nD or 0.1% Brix. The instrument allows the user to calibrate with distilled water set point or utilize up to four customizable calibration points for full compliance with standards and accuracy comparable to most bench-top models. The IR communications port allows downloading of readings directly to a PC.
Bran+Luebbe (1025 Busch Pkwy., Buffalo Grove, IL 60089, phone 847-520-0700) introduced the InfraAlyzer 100 Series during the IFT Food Expo. The instruments may be used for the fast determination of moisture in food products for at-line or on-line applications. The 110 model may be used for the feedback control of oven and dryers used in the production of baked goods, snack foods, pasta, dairy powders, ingredients, and spices in real-time. The instruments have special patented process-ready optics to enable non-contact analysis from 6 to 22 in from the product's surface. Besides the 110 model, other units include a bench unit for at-line moisture measurement and units that are configured for both moisture and fat applications.
--- PAGE BREAK ---
The Petrifilm Rapid S. aureus Count (RSA) plate method from 3M Microbiology Products (3M Center Bldg., 275-5W-05, Saint Paul, MN 55144-1000, phone 800-228-3958) has received AOAC Official Method 2001.05 status. The method may be used for testing of foods and provides a confirmed S. aureus result in 26 hr as compared to 69 hr for more traditional methods
Biocore International (200 Centennial Ave., Ste. 100, Piscataway, NJ 08854, phone 732-885-5618) announced that an important EU food safety improvement project, FoodSense, demonstrated the applicability of Biocore's SPR (Surface Plasmon Resonance)-based biosensor technology for the analysis of veterinary drug residues in foods such as milk and meat. SPR allows the detailed study of biomolecular interactions–in real time, without the need for fluorescent tags or radioactive markers.
Brookfield Engineering Laboratories, Inc. (11 Commerce Blvd., Middleboro, MA 02346-1031, phone 508-946-6200) showed the food applications of both their new in-line process viscometer, the STT-100 and their High Pressure PVS Rheometer. The STT-100 may be used in various processing applications including food and dairy, chocolate, tomato juices, concentrates, or other free-flowing products that require an easy-clean design. The process viscometer can be installed directly in-line or in a bypass to the main pipeline. It provides shear rates ranging from 10 to 1,000 sec -1 while measuring viscosity from 10 to 500,000 cP. The PVS is a dynamic coaxial cylinder, controlled shear rate rheometer allowing quick and easy viscosity measurements under pressure at temperatures where sample boil-off is a problem. The PVS can be used to simulate process conditions for small fluid samples in a laboratory benchtop environment. Applications in the food industry include juice and tomato processing.
CEM Corp. (3100 Smith Farm Rd., Matthews, NC 28105, phone 800-726-3331) demonstrated the determination of moisture and fat content using the SMART Trac System. This system combines NMR technology with drying capability and analytical software to measure moisture and fat without solvents or calibration. The system can accurately determine free fat, as well as chemically bound fat. It directly measures fat content utilizing a signal-to-mass ratio. Unlike indirect methods, which only measure the fat on the surface of a sample, NMR measures fat throughout the sample, yielding a more accurate analysis that is not dependent on sample uniformity. 
by James H. Giese,
Internet Editor