When you seek information on innovations in food packaging, go directly to the IFT Annual Meeting, where the always active and assertive Food Packaging Division continues to expand and function as North America's definitive resource for this discipline. Reports summarizing  and highlighting the symposia, sessions, and posters on active packaging, the future, holistic hurdles, effects of ionizing radiation, and packaging in product development will be published in upcoming issues of Food Technology. Until then, anxious readers will have to be  satisfied with the following brief reviews of exhibits from the 2001 IFT Food Expo.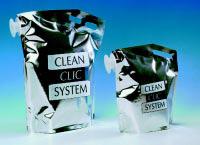 Company offers sausage casings and processed meat and cheese flexible packaging. Vista International Packaging, Kenosha, Wis. (phone 262-694-2276) promoted sausage casings and processed meat and cheese flexible packaging, made by several converters and marketed through Vista. Two intriguing concepts are based on a single technology—the transfer of some functional component from the interior of the flexible package structure to the surface of the contained product. Casings with interior color could transfer the color to the sausage in the smoking or cooking operation. Casings with spices or flavor (and color) affixed to the shirred interior surfaces transfer the seasonings to the product in cooking and/or distribution. For the cheese maker, the interior of the  individual slice wrapper is printed with a design, character, or message in edible ink. During distribution, the graphic transfers to the cheese surface, and when the child strips off the wrapper, voila!, he or she finds a design on the surface of the cheese soon to be eaten or placed on a hamburger.
Small stand-up flexible pouches showcased. Long the world's leader in large-size liquid bag-in-box, Scholle Corporation, Northlake, Ill. (phone 708-562-7290) has entered into smaller sizes with a stand-up flexible pouch licensed from IPN in the Netherlands. In sizes of 1.5 liter and above targeting the hotel/restaurant/institutional fluid condiment industries, the pouches are fin sealed with injection molded fitments for filling and dispensing. Called Clean-Clic®, the technology centers around one-piece devices affixed to the pouches for easy condiment dispensing in retail hand or automatic operating systems. The system, not yet commercial in the United States, may be filled aseptically or non-aseptically. The company also offered a new non-metallized transparent high-gas barrier film, DuraShield46™, coextruded with a nylon core for bag-in-box applications. An interesting claim made for the food contact layer of this monolayer structure is "preserves the flavor of the food," overcoming a long-standing problem with many bag-in-box structures.
Films reduce "burn on" and help retain moisture. M & Q Plastic Products, North Wales, Pa. (phone 215-641-4570) offered high-temperature-resistant nylon films as cook-in films and as flexible pan liners under the name PanSaver®. These films are cut to fit standard steam table trays, pots, and roasters used  in hotel/restaurant/institutional kitchen operations. According to the maker, the films reduce the probability of burn on, reduce pot and pan scrubbing, and retain moisture better than direct contact with the pot/pan metal.
Company showcases labels. Shamrock Scientific Specialty Systems, Inc., Bellwood, Ill. (phone 800-323-0249) offered a line of pressure-sensitive paper labels.
--- PAGE BREAK ---
Oxygen scavenging packaging technology highlighted. The only United States maker of ferrous iron oxygen scavenger sachets and labels, Multisorb Technologies Inc., West Seneca, N.Y. (phone 716-824-8900) is also a major supplier of in-pack silica gel desiccant sachets, canisters and cartridges for dry product packaging. Oxygen scavenging packaging technology has been growing dramatically during the past five years, with in-package sachets still leading. Moisture activated oxygen scavengers within spun bonded poly-olefin sachets are capable of reducing oxygen levels within gas barrier packages which have been evacuated to effectively zero levels of oxygen within hours. Among the more intriguing recent applications has been oxygen reduction for case-ready meat packaging.
Company showcases canning equipment. A manufacturer of manual, semi-automatic and fully automatic can seaming equipment, Dixie Canner, Athens, Ga. (phone 706-549-1914) has been an exhibitor at IFT shows for many years—some would remark since the can was invented. Regardless of the accuracy of this assertion, Dixie Canner equipment has been a mainstay in canning plants, and a major resource for the University of Georgia's Dept. of Food Science and Technology for a long time.
Innovative flexible pouches displayed. Tetra Pak was not a formal exhibitor, but its relatively new Prisma Pak, an aseptic composite paperboard carton with eight vertical sides as contrasted to the conventional four sides for a rectangular brick, was used to sample a number of new drinks. And Hosagawa's Cheer Pak aseptic gusseted side wall stand-up flexible pouch with center spout on top was seen containing aseptically packaged drinks and ginger puree (not at the same booth, of course).
Company highlights pack retort pouches, among other items. A major contract packager of retorted and other shelf stable foods, Sopakco Foods, Mullins, S.C. (phone 843 464 0121) is a multiplant operation with facilities across the southern part of the U.S. Sopakco was among those leaders that pioneered the development of the retort pouch and tray. The company remains one of the few in the U.S. authorized to produce and pack retort pouches of low acid foods for both military and civilian applications. Their facilities are both FDA and U.S. Dept. of Agriculture approved for manufacturing low-acid foods. Not to be overlooked are their capabilities for high acid fluid food filling for hotel/restaurant/institutional pouch sizes. Sopakco also processes and packages entrees and side dishes for refrigerated or frozen distribution.
Company offers dry and fluid packing capabilities. A single-location operation, VJI Packaging, Bedford Park, Ill. (phone 773-586-2930) has capabilities to pack dry products on one of four Bartlet horizontal form/fill/seal pouch machines, bag-in-box or in jars; or cold fill liquids in glass or plastic bottles of up to one-gallon size.
Bag-in-box systems highlighted. A growing supplier, Rapak, Romeoville, Ill. (phone 815-372-3600) is now part of the United Kingdom's David S. Smith, mainly a supplier of corrugated fiberboard cases. Although the great majority of the organization's bag-in-box systems' output is for conventional high acid contents and refrigerated low acid contents, a tiny fraction has targeted ambient temperature distribution of low acid foods such as dairy mixes. Intasept™ is an old Australian development engineered to facilitate aseptic transfer of sterile low acid liquid foods and to function as a barrier in packaging and distribution. Intasept consists of a sterile internal membrane that is sealed to the interior of the dispensing fitment after filling to isolate the usually gas permeable fitment membrane and provide a gas barrier. Although well publicized and evidently used outside of the U.S., this system has not yet overcome the inertia of chilled distribution of low acid dairy mixes in this country. The conventional range of Rapak bag-in-box systems has been growing in single and double head semi- and fully automatic as well as bulk fillers of up to 1,000 liters. Rapak also offers the Italian Astepo line of aseptic bag fillers and a laboratory model for fitment sizes of 16 and 32 mm diameter.
--- PAGE BREAK ---
Internal liners showcased. With the "cute" sobriquets of Starfish™ and Blowfish™ for their internal liners, R. Arena Products, Inc.'s, Rochester, N.Y. (phone 800-836-2528) distinguishing attributes include its external returnable plastic case intermediate bulk containers (IBC). The internal liners have two fitments, one each for filling at the top and dispensing at the bottom. The only size offered is 330 gallons. The external cases are estimated to have about four to six cycles. Contents most often filled include condiments such as mustard, pickle relish, and fruit fillings. Dispensing is facilitated by Air-Evac, a device that inflates the bag with shop air to move the product contents toward the center and the discharge valve.
Company provides distribution packaging. Chep, Orlando, Fla. (phone 407-370-2437) is an international pallet and container pooling company servicing packagers. Chep supplies pallets and other types of distribution packaging that are used by the packager and then returned to a depot for refurbishing and reuse. By "renting" the pallets, packagers are saved the capital investment and the variable cost of recovering pallets for reuse. Unicon is Chep's name for its IBC, using internal flexible bags within knocked-down reusable polypropylene panels and steel base and frame. Container capacity is 275 gallons.
New bulk-liquid container showcased. Longview Fibre Co., Los Angeles, Calif. (phone 323-725-6150), a major supplier of corrugated fiberboard cases, offered Liquiplex® LSQ, a new bulk-liquid container consisting of a large flexible bag with fitments for filling and dispensing. The bag fits into a corrugated fiberboard unit that provides physical protection. Bags are fabricated from ultra-low density polyethylene. The unit, received knocked down, may be a cubical or octagonal drum in capacities from 1,000 liters to 330 gallons. Among the applications are edible oil, juice concentrates, honey, and molasses.
Company highlights no-wood collapsible liquid bulk container. Paper Systems Inc., Des Moines, Iowa (phone 515-280-1125) showed off its Exotainer, a returnable, collapsible liquid IBC. The product's claim is "no wood," which is used by many other bag-in-box bulk containers, thus saving significant weight. Exotainer is a 300-gallon-capacity unit. Their EZ-Bulk system is a one-way disposable IBC in sizes from 110 to 330 gallon capacity. The internal flexible bag contains two fitments. The outer container is an octagonal corrugated fiberboard box that arrives knocked down for rapid and "easy" assembly by the food packager.
Duplexed flexible-polyethylene liners highlighted. TNT Container Logistics, Aurora, Ill. (phone 630-236-9562) classifies itself as being in the IBC business. Essentially the product is a duplexed flexible-polyethylene liner with two fitments, one for filling and the other for dispensing, fitted into a returnable external injection-molded frame box. The target market for these 275 gallon containers is the dairy industry, although products being contained include syrups, wines, fruit juice sauces, and yeast extracts.
Company showcases IBC that doesn't have long seam. SpaceKraft Packaging, Indianapolis, Ind. (phone 317-871-6999) offered SpaceKraft®, a corrugated fiberboard IBC acquired from MacMillan Bloedel. The external unit is unique because it contains no long seam, being continuously wound from six to nine plies of corrugated fiberboard and thus offering the ability for four- to six-high stacking. Liquid capacities range from 55 to 330 gallons.
I was amazed that I was able to find 15 of the fewer than 20 packaging exhibitors scattered throughout the 2001 IFT Food Expo. Even using the program and exhibit directory as my guide, some were so well hidden that only chance permitted me to stumble on them. Inquiries among my colleagues and friends suggested that, being less intrepid than I, their find rate was much lower. Assembling all the packaging exhibitors together in one location would help facilitate visitations. Dispelling the myth that IFT Food Expos are not venues for packaging suppliers would also help.
The more than 1,000 IFT professionals who frequented the meetings and poster sessions on packaging demonstrate that the audience is present and desirous of more information. With no other national food packaging exhibition, perhaps the time has come for IFT to capture the opportunity by actively soliciting the packaging supply community to participate more fully in our activities. Using our aggressive IFT Food Packaging Division as a foundation, let us actively open up future Food Expos to the family of packaging.
by Aaron L. Brody,
Contributing Editor
The author is Managing Director, Rubbright Brody, Inc., P.O. Box 956187, Duluth, GA 30095-9504.