More than 150 ingredient developments will be featured in this preview of the 2001 IFT Annual Meeting & IFT FOOD EXPO®. This article will be organized into 20 ingredient categories (see box below). Each category will provide headlined stories on the newest ingredients, applications, technologies, and business developments that you will see.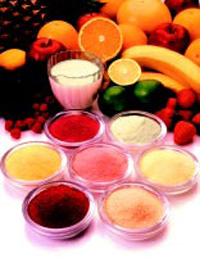 Now that you have your "map" handy and you are plotting out your different destinations, here are some ingredient developments that I think you should keep your eye out for.
• Consider the following words: andouille, matcha, chappati, lacuma, and purple corn. What do they mean? Well, if you read this preview carefully, you'll find out. But, as you probably already guess, foods from a variety of different cultures will be highlighted. Asia and South America will have a particularly significant presence this year.
• Since the IFT Annual Meeting & IFT FOOD EXPO will be held in New Orleans, it shouldn't be too surprising that we'll see plenty of signs reminding us of where we are. Fried Louisiana Alligator, Hurricane beverages, and Mardi Gras Kickin' Chicken Tenders are some of the more obvious examples. But on a larger scale, New Orleans is a fitting place for the broad range of flavors and seasonings that will be shown this year—many of them, of course, hot and spicy.
• Okay, it's 2001 and we're not yet routinely traveling through space, visiting distant planets. But if you lower your sights a bit, expect to find a wide variety of upgrades—traditional ingredients that have been modified some, making them more functional than ever. Here are some examples: Xanthan gum with improved properties, extremely hydrophilic polyglycerol fatty acid esters, enhanced agglomerated honey powder, an improved weighting agent consisting of sucrose acetate isobutyrate and vegetable oil, enzymatically hydrolyzed vegetable proteins, ways to improve butter composition, advances in smoke flavor technology, improved coffee flavors—the list goes on and on.
• Soy continues to be popular, especially in combination with other ingredients. Check out, for example, a soy protein rice nugget, a soy and oat coprocessed ingredient, an oil made from soybeans and sunflower, and soy caramels. Talk about giving value-added a new meaning.
• Fat replacement may have quieted down some, but you can still count on seeing some innovative products out there. For example, a chocolate powder with much of the fat removed has been developed, and a modified potato starch has been introduced for use in low-fat meat products. On a larger scale, however, expect to find a variety of lipid products with their functionality emphasized.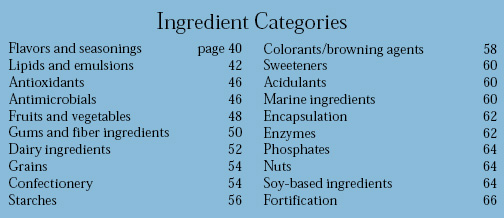 --- PAGE BREAK ---
• Food safety and quality are again among the dominant themes this year.Several ingredients will be featured that have antimicrobial properties. In fact, a whole symposium is focusing on antimicrobial intervention of acidified sodium chloride, and a technical poster session is examining a gamut of antimicrobials. Also, expect to find a wide range of antioxidants, especially those promoted as natural.
• I've already mentioned how soy can be combined with other ingredients to create value-added products. But a variety of flavor and ingredient combinations are also creating novel tastes and textures, some you might not quite expect. Take, for example, a savory beef flavor in a Bloody Mary mix, cranberries in chocolate, pasta bake with black beans, green tea powder in ice cream, jalapeño cheddar mashed potatoes, and popping candy in chocolate or ice cream.
• Again considering the location of the show, one can expect to see some innovative seafood products. A range of seafood extracts, fish bases, a symposium on chitosan, and a variety of ingredients obtained from raw materials of marine origin are some examples.
• "Getting back to the basics" seems to be an approach emphasized more this year and should not be overlooked. For example, symposia are reviewing the use of hydrocolloids in product development; the past, present, and future of dairy ingredients; and the effectiveness of antimicrobials. More and more, exhibitors are holding seminars at their booths, reviewing the ABCs of their products. For example, one exhibitor, using sensory evaluation technologies, is demonstrating how flavors are targeted to different consumer groups. Furthermore, there are a wide range of processing aids to help solve specific problems in the successful development of your product.
• And finally we get to health. In previous years, the emphasis on nutraceuticals and other health-promoting ingredients was extremely loud and singular. This year, you're still going to see a variety of healthy products, but—based on what I received for the preview–I think that message has been tempered somewhat to include other messages, such as functionality, improved taste and texture, bolder flavors, and the desire for indulgence.
• In short, I think we're in for an exciting time with broader focuses.
1. Flavors and seasonings
Learn how flavors are targeted to consumers. How well do you know your consumer? Can you taste like a 7-year-old? What flavor profile does a Baby Boomer prefer compared to a member of Generation X? Questions such as these will take on an all new meaning as attendees taste, see, and experience first-hand how flavors are targeted toward different types of consumers. Using state-of-the-art sensory science technologies, attendees can test their knowledge of flavors referred by children, Baby Boomers, or the whole family. Assisting them will be experts on hand to answer sensory and product development questions and help test attendees' taste buds. A complete line of flavor solutions will be available for testing, including flavors, seasonings, sauces, condiments, spices and herbs, vanilla, and coating systems.McCormick Flavor Div., Booth 2341
--- PAGE BREAK ---
Andouille seasoning adds spiciness to sausage. Andouille (French for "sausage")—a spicy smoked sausage seasoned with onion, garlic, pepper, and other spices—can be used in traditional Cajun dishes, such as gumbo, red beans and rice, and jambalaya; it can be grilled or pan-fried, or it can be used as a spicy substitute for smoke sausage in all types of dishes. Highlighted at the IFT Food Expo, the sausage is made with Andouille seasoning, a free-flowing reddish-orange dry blend that imparts a fresh aroma of paprika, herbs, and peppers. Chr. Hansen, Inc., Booth 5141
Flavors featured in "fit and fun" foods. New natural flavors and masking agents will be featured in a fruit- and cream-flavored, multigrain, vitamin-fortified, soybased energy bar. On the fun side, a variety of new flavors will be highlighted for ice cream in soft-serve mini-cones. Fortified granites, juice drinks, and flavored teas will also be available, illustrating a broad assortment of flavors. Virginia Dare, Booth 1631
Chefs create new line of innovative flavors. A line of innovative flavors and seasonings created expressly for FIS by leading research chefs will be introduced. Called Signature Series™, the flavors and applications will be available for sampling. The following is a daily schedule for the applications being served and the chefs on-hand who will be responsible for preparing them: Sunday 1:00 p.m., smothered oyster casserole (Chef John Folse); Sunday 3:30 p.m., to be announced (Chef Wolfgang Bierer); Monday 1:00 p.m., seared steak with creamy gorgonzola sauce served over Herb de Provence potatoes (Chef David Jennings); Monday 3:30 p.m., Chicago's West Side skirt steak with fire-roasted vegetables and Cuban black bean sauce (Chef Ray Sierengowski); Tuesday 1:00 p.m., Clam, Scallop, and Shrimp Sicilian over rice pilaf (Chef Mike Minor); and Tuesday 3:30 p.m., bayou shrimp (Chef Juerg Aeschabch). Presentations last approximately 75 minutes. A daily schedule will also be available at the booth. FIS, Booth 4741
Applications highlight dairy flavors. Recently released extensions to a line of dairy flavor ingredients will be showcased. Products to be featured include a Non-Dairy, Cream of Chicken & Rice Soup, Fried Louisiana Alligator with Honey Mustard Dipping Sauce, Cheddar Sour Cream Mashed Potato Bites with Jalapeños, Holy Mole Tortilla/Mini Bagel Chips, and Raspberry Cheesecake filled Cream Puffs with a Chocolate Glaze. Edlong Flavors, Booth 4915
Poultry items feature novel flavor combinations. Poultry items demonstrating novel flavor combinations and textures will be shown. Mardi Gras Kickin' Chicken Tenders, formulated with a crispy rice coating, feature vibrant spices that impart a kick of fire. Yucatan Wings highlight the traditional flavors of Mexico's Yucatan Peninsula but adds other elements, including Caribbean citrus, the bite of Habanero peppers, and cinnamon. Customized profiles complement all aspects of product development, spanning flavor, texture, appearance, processing, yield, and stability. Newly Weds Foods, Inc., Booth 1743
Advanced coffee flavor line unveiled. Flavored coffee beverages using higher quality coffee flavors will be highlighted. The company is reportedly manufacturing its fifth generation of flavors—flavors which have been refined each year to match the profiles that coffee customers desire. This line of flavors called DC5 is now available to roasters and retailers and are said to use sweet, creamy undertones to even out and mask the bitter taste of coffee. Rich sheen, aroma, caloric count, heat stability, packaging compatibility, shelf life, flavor masking, and recognizable characterizing flavor are all factors that need to be considered when developing advanced coffee flavors. Danisco Cultor USA, Inc., Booth 3641
Menu highlights culinary flavors. A variety of flavors and ingredients available from Kraft Food Ingredients will be highlighted in the dishes prepared by culinary chefs. On the menu this year will be restaurant-style chargrill chicken breast with seasoned bread dusting, Mexican cheesy pasta "bake" with chilies and black bean, Cracker Barrel® down home cheese soup with chives, and Oreo® cookies and cream cheese cake truffles. Kraft Food Ingredients, Booth 1443
--- PAGE BREAK ---
Flakes deliver savory flavors. Lipid-based flavor delivery system called Savory Betrflakes™ will be introduced for use in baked goods. The system allows product developers to easily and quickly incorporate tomato-basil and cheddar-garlic flavors into a variety of baked goods, such as foccacia bread, biscotti, and biscuits. Other savory ethnic or regional flavors can also be custom created. The system utilizes a fat-based structure to create clearly defined areas of intense flavor and color that are not lost during baking. Being a specifically shaped flake, the ingredient simplifies handling, measurement, cleanup, and storage. Loders Croklaan, Booth 5622
Enzymatically hydrolyzed wheat gluten introduced. Enzymatically hydrolyzed vegetable proteins were developed by Kikkoman Corp., Japan, as an alternative to hydrolyzed vegetable protein. Wheat gluten, selected as a raw material because of its feasible degradation, was hydrolyzed by shoyu-koji which produced proteolytic enzymes.
The hydrolysis was performed in the presence of salts and at high temperatures to prevent microbial contamination. The hydrolyzate was then matured, filtered, sterilized, and powdered, and the resulting products were called NFE-PN and NFE-S. Their main characteristics are that they have strong flavor intensity, weak odor, light color, and no added monosodium glutamate. The manufacturer believes that they can be used as a new generation of natural flavors for a variety of foods.
Soy sauce and yeast extract have been recognized as the most popular natural flavors made by enzymatic hydrolyzation of proteins. A comparison of NFEs with soy sauce powder and yeast extract will be presented at New Products & Technologies: Ingredients Session 43. Paper 43-2, Monday, 9:15 a.m. and Kikkoman Corp., Booth 2831
Green tea powder provides refreshing flavor and health benefits. Natural green tea leaf powder can be used as a new refreshing flavor for instant  beverages, dairy products, baked goods, and confections. Called Matcha Powder™, the ingredient is prepared by milling specially cultivated green tea leaves under very low temperatures (below -120°C). The health benefits of green tea are said to be preserved, maintaining original levels of polyphenols, vitamins, minerals, fiber, chlorophyll, and the amino acid L-theanine. The very fine powder has a natural vivid green color. Taiyo International, Inc., Booth 1130
Beef flavors showcased. Beef flavors called Robust® Elite will be featured in two applications. The first is a line of quesadilla-style tortillas with a filling made from ground chicken thigh meat. Three profiles will be shown: southwest tequila lime, beef gravy, and chili, all flavored with a seasoning based on beef flavors. A second application is a Bloody Mary mix with a beef flavor added, creating a unique taste treat. Innova Corp., a Griffith Laboratories Company, Booth 5233 
Flavor blends create tasty functional foods. Flavor blends will be featured in carbonated tea and fruit-flavored beverages, calcium-enriched smoothie beverages, exotic fruit-flavored frozen desserts, and a savory dipping sauce. In addition, masking flavors and flavor systems will deliver healthy products that taste good, such as alternative beverages, energy bars, pharmaceuticals, and other products containing nutraceutical/herbal supplements. Robertet Flavors, Inc., Booth 2231
Concentrated powders deliver chicken and egg flavors. Classic chicken broth powder is very concentrated, allowing food developers to use low levels yet get high flavor impact. It is up to five times stronger than other commercially available broths. It can be used in any application that calls for either liquid or powdered broth. This broth will be featured in a chicken nugget product. Also showcased will be an egg flavor powder, which is also very concentrated. It can deliver flavor in applications at usage levels as low as 0.25%. While not replacing the functionality of egg in food applications, the powder does improve the texture and mouthfeel of finished products, especially low-fat versions. The egg flavor powder is very heat stable, making it suitable for baking applications. It may also be used to enhance puddings, salad dressings, and other products. It will be featured in a soft-serve French Vanilla ice cream. This year, J. Manheimer, Inc., and Henningsen Foods are teaming up to highlight the HJM Foods Partnership. J. Manheimer Inc., Booth 5315
--- PAGE BREAK ---
Robust smoke flavor designed for sauces. New smoke flavor, Zesti BBQ Smoke is designed specifically for sauces where a very robust smoke flavor is preferred. It provides this flavor with very little color change to the finished product.Hickory Specialties Inc., Booth 3723
Soy delivery system provides masking properties. Flavor engineering solutions for soy protein beverages, dairy protein nutritional drinks, health and nutritional bars, and other food products will be shown. In particular, a soy delivery system will be highlighted which provides masking properties by neutralizing the beany characteristics of soy protein and delivers a creamy and long-lasting flavor and intense aroma. Blue Pacific Flavors & Fragrances, Inc., Booth 1763
Flavors made from novel technologies. Flavors and other ingredients based on a variety of novel technologies will be shown. Natural vanillin—called AromaZe™—captures the delicate flavor notes of vanilla. Made from natural processes using enzymes and microorganisms, the ingredient may be used to replace vanilla extracts in a variety of formulations. Also highlighted will be natural bake-stable flavors, controlled release flavor systems, and agglomerated flavor boosters. Zylepsis Ltd., Booth 972
Green tea powder featured in ice cream and soy milk. Matcha—a traditional Japanese drink—may be used as a flavor for a variety of foods. The green tea powder will be featured in ice cream and soy milk. It contains such healthy components as tannic acid, vitamin A, vitamin C, vitamin E, dietary fibers, and potassium. Aiya Co., Ltd., Booth 1073
Flavors featured in savory soy products. A line of new flavors called Savory Plus will be introduced to improve the organoleptic flavor quality of food products. Soy-based savory products using these flavors will be featured. Also spotlighted will be a soy protein-based, non-dairy frozen confection and fruit-flavored confectionery products using these flavors. Flavors are offered in liquid, dry, and encapsulated forms. Ottens Flavors, Booth 5023
Blending culinary with science. Chef John Matchuk will prepare food creations that blend culinary arts with flavor technology This year, applications will highlight a new line of flavors called ChefArome. T. Hasegawa USA, Inc., Booth 4031
Expanded line of seasonings shown. An expanded line of seasonings will be showcased. Sauces and seasonings for poultry and fish, snack food toppings, seasoned breaders, and coatings for fish, chicken, and potatoes are some examples. Brownie, muffin, and cake mixes are available as well. The company produces blends for all further processors and options for packaging them will be suggested. Georgia Spice/GSC Blending and GSC Packaging, Booth 3831
Yeast extracts enhance flavor. Yeast extracts may be used as flavor enhancers in prepared meats and vegetables, frozen entrees, ethnic foods, soups, sauces, gravies, snacks, baked goods, and low-fat foods. Two new products will be introduced this year: Beef Flavorin 22 and Chicken Flavorin 23. Levapan S.A., Booth 255
Powder adds chicken flavor. Chicken Bouillon Powder, made with genuine chicken meat, may be used in soups, marinades and seasonings for meat, seafood, vegetables, noodles, and chicken-flavored rice. The product is available in 5-gal and 55-gal containers. Lee Kum Kee Co., Ltd., Booth 678
--- PAGE BREAK ---
Flavors for energy drinks introduced. A new line of flavors for use in energy drinks will be introduced. The line features combinations of popular fruit flavors with a masking agent incorporated to neutralize unpleasant notes inherent in nutraceutical products. The flavors are available as natural or natural and artificial water-soluble liquids. Comax Flavors, Booth 5631 
Ingredients group formed. Several companies—Flavtek, Inc., Geneva Flavors, Inc., Gilette Food Flavorings, and Gilette Food Ingredients—have combined their resources to form the Geneva Ingredients Group. Shared products and resources include sweet and fruit flavors through liquid compounding, expertise in savory flavors and food ingredients through reaction flavor technology, novel savory flavors and custom savory blending capabilities, and natural fruit and berry distillates. Geneva Ingredients Group, Booth 4859 
Improved coffee and tea flavors offered. Improved concentrated coffee and tea flavor essences and extracts will be highlighted. Approach manages the flavor formation and removal during the brewing process itself. Spinning cone column is utilized to brew both coffee and tea, then capture the aroma fractions at their peak. This enables the complete collection of the coffee and tea flavor profile while avoiding all heat-induced off-notes. The flavor essences and extracts will be demonstrated in a still refrigerated beverage. Sensus, Booth 4654 
Soy-sauce flavored rum and other spirits added. A full line of cooking oils are available, such as burgundy, chablis, golden, sherry, and sautern, as well as a variety of vinegars. Recently, specialty denatured spirits have been added to the line of products, including soy-sauce flavored rum, salted light rum, French brandy, white tequila, and Kentucky straight bourbon. Todhunter Foods, Booth 5022 
2. Lipids and Emulsions
Product catalog highlights fats and oils. New catalog provides the latest information on products available from Humko Oil Products, a division of ACH Food Companies, Inc. Categories covered include All-Purpose Shortenings, Bread Shortenings, Cake and Icing Shortenings, Emulsifiers, Frying Shortenings, High-Stability Oils, Icing and Filling Shortenings, Margarines, Nutri-Lipids®, Puff and Danish Pastry, Salad and Cooking Oils, Specialty Cake Shortenings, Specialty Fats, and Stearines. The catalog also gives highlights of the company and provides manufacturing information, a glossary of terms, and a product index. Humko Oil Products, Booth 2629
Fat powders derived from chicken impart flavor and mouthfeel. Chicken broth and fat powders provide savory flavor and creamy mouthfeel in a variety of applications.Three new chicken broth and fat powders have been developed for use in such products as soups, sauces, and marinades. Also, marinades will be demonstrated which impart flavor and mouthfeel to both white and dark meat. International Dehydrated Foods, Inc., Booth 1719
MCTs have lower calories per gram. Medium-chain triglycerides (MCTs), marketed under the name Neobee®, have 6.8 kcal/g vs 9 kcal/g for conventional fats. The MCTs function as healthy, rapidly digested fats, flavor carriers, emulsifiers, solubilizers, release agents, anti-stick agents, and shelf-life enhancers. Advanced custom manufacturing and toll oil deodorization have been made possible by a $16 million plant expansion. Stepan Company, Booth 1762
New shortenings introduced. A shortening will be introduced that helps to control water activity (migration) from the cake to the frosting, ultimately increasing the shelf life of the baked good. This product exhibits excellent performance in the freeze/thaw category. Also featured will be a new line of custom-flavored shortenings whereby encasing the flavor in fat decreases the oxidation of sensitive flavors.Golden Foods/Golden Brands LLC, Booth 1473
--- PAGE BREAK ---
Emulsification properties of fatty acid esters emphasized. Decaglycerol esters of fatty acids called Ryoto Polyglycerol Esters will be shown for the first time. These safe emulsifiers are effective even in severe conditions (e.g., low pH, high salts concentrations, and high temperatures. Also shown are sucrose esters of fatty acids, which are well-established, multifunctional emulsifiers. Their functionality includes emulsification, dispersion, lubrication, softening of wheat products, antibacterial activity, viscosity reduction of oils, and fat crystal control. Mitsubishi-Kagaku Foods Corp., Booth 1315
Extremely hydrophilic emulsifiers developed for beverages. Polyglycerol fatty acid esters (PGFEs) are non-ionic emulsifiers widely used for food, cosmetics, and toiletries. Recently, Mitsubishi Chemical Corp., Japan, developed a synthesis process for obtaining extremely hydrophilic PGFEs which can improve the emulsion stability of milk beverages and improve the solubility of sucrose monoesters used for inhibition of spore germination in clear acidic beverages.
According to the manufacturer, the PGFEs synthesized with less catalyst and higher reaction temperature had higher cloud point and lower degree of esterification than those synthesized under conventional methods. The PGFEs synthesized by the new process were extremely hydrophilic. They decreased the creaming rate and suppressed oiling off in milk beverages. Also, they prevented sedimentation and improved the solubility of sucrose monoesters in clear acidic beverages.
The PGFEs synthesized by the new process are now used in some milk beverages in Japan. Furthermore, the demands for these emulsifiers is expected to expand in the PET-bottled beverage market. The developments of these emulsifiers will be discussed at New Products & Technologies: Ingredients Session 43. Paper 43-9, Monday, 11 a.m. and Mitsubishi International Corp., Booth 2723
Quillaja saponins may be used as a surfactant. Quillaja saponins, manufactured by Natural Response S.A. Chile and distributed by Desert King International, San Diego, Calif., are natural surfactants for stabilizing oil-in-water emulsions. Extracted from the Chilean tree Quillaja saponaria Molina, they are FDA-approved additives and may be used as natural foaming agents and emulsifiers in foods and beverages.
The natural surfactants consist of glycosides (the hydrophilic radical) linked to triterpene aglycones (the lipophilic part of the molecule). Because of their good hydrophilic properties, they can form stable oil-in-water emulsions. Their emulsifying properties are said to compare well with other emulsifiers such as sucrose fatty acid esters.
Emulsions were prepared with different concentrations of quillaja extracts as the surfactant, soybean oil as the oil phase, and xanthan gum as the thickener. The results were then compared to emulsions prepared with sucrose esters. Pontificia Universidad Catolica de Chile will report on the effectiveness of quillaja saponins as an alternative to other surfactants at New Products & Technologies: Ingredients Session 43. Paper 43-10, Monday, 11:15 a.m. and Desert King International, Booth 4414
--- PAGE BREAK ---
Weighting agent may be used in nonalcoholic beverages. Sucrose acetate isobutyrate (SAIB)—weighting agent for beverages that contain essential flavoring oils—has been used in various countries for more than 25 years, but it was not until June 4, 1999 that SAIB was approved for use in the United States. (The Food and Drug Administration allows SAIB in nonalcoholic beverages at a level of up to 300 ppm in the finished beverage.)
SAIB, described as a clear, viscous liquid produced from sucrose, has a high specific gravity which allows for easier weighting, has good solubility in flavoring oils, and can be blended with food-grade solvents to lower its viscosity and make it easier to handle. Heating to 60– 70°C also lowers its viscosity. It also has excellent oxidative stability, is odorless and flavorless at typical beverage levels, and after absorption is metabolized by the body into its component sugars and acids.
The weighting agent can be used in a variety of nonalcoholic carbonated and noncarbonated beverages, such as soft drinks, fruit punches, sports drinks, and pre-mixes. It will be discussed by its manufacturer, Eastman Chemical Co., at New Products & Technologies: Ingredients Session 43. Paper 43-4, Monday, 9:45 a.m. and Eastman Chemical Co., Booth 2623 
Weighting agent offers improved stabilization. A weighting agent consisting of sucrose acetate isobutyrate (SAIB) and vegetable oil has been developed by Nutrinova, Inc. for use in cloudy soft drinks. Called BalancePlus, the product is mainly used in beverage emulsions as a density adjusting agent to keep the flavor components in balance and create stable, cloudy beverages.
Because of incompatible specific gravities of flavoring oils and finished beverages, emulsified oil can rise to the drink's surface and form an unsightly ring at the neck of the bottle. Although there are several stabilizing methods available to address this problem, many of them have disadvantages. This new product, however, is the result of improving SAIB, which was recently approved in the U.S., to provide better features in product handling and superior clouding effects in the beverages. The vegetable oil reportedly lowers the viscosity of SAIB to get a fluid weighting agent that can be easily handled.
The weighting agent, which has a specific gravity higher than water, is oxidative stable and has no distinctive color or flavor that might impair the finished product during its shelf life. Its maximum allowed concentration stabilizes as much as 150 ppm flavor/terpene. Properties of the weighting agent will be described at New Products & Technologies: Ingredients Session 43. Paper 43-5, Monday 10 a.m. and Nutrinova, Booth 1931
3. Antioxidants
Antioxidants have functional and health value. Ingredients having antioxidant properties will be highlighted including a naturally occurring tocotrienol extracted from rice bran oil (NuTriene), Tenox antioxidants used to reduce deterioration and increase shelf life, and Vitamin E TPGS NE, a derivative of natural-source vitamin E. Eastman Chemical Co., Booth 2623
Plant extract has potent antioxidant capabilities. A natural antioxidant derived from edible herbs belonging to the Labiatae family (oregano, rosemary, melissa, and sage) has been introduced by RAD Natural Technologies, Israel. Marketed under the name Origanox, the plant extract is available in powdered form and is said to be completely water soluble, making it effective in aqueous systems and emulsions.
The extract derives its antioxidative capacity from hydroxycinnamic acid compounds, such as rosmarinic acid, known to be a very effective free radical scavenger and inhibitor of enzymatic reactions. Also available are purified extracts containing up to 50% rosmarinic acid for special applications in food processing, as well as for health food.
According to the manufacturer, comparative tests show that this product has a considerably higher antioxidant capability than vitamins C and E, BHA, and existing rosemary extracts, and is effective at low dosing. Furthermore, it is said to be stable for long periods of time, stable at high temperatures, and organoleptically neutral in most applications. Because of these properties, the product may open up new opportunities for food preservation, especially in the areas of meat and fish, "healthy oils" in baking applications, and nuts. Its properties, benefits, and applications will be covered at New Products & Technologies: Ingredients Session 43. Paper 43-3, Monday, 9:30 a.m.
--- PAGE BREAK ---
Tocopherol/rosemary blend prevents oxidation. Natural antioxidants—a blend of tocopherols and rosemary extract—are said to extend shelf life of food products. Marketed under the name Fortium, the oil-soluble ingredient blends prevent oxidation, delaying rancidity and keeping foods fresher longer. The antioxidants are a natural and heat-stable alternative to synthetic preservatives and are more effective than either rosemary or tocopherols individually. Applications include fresh ground meats, spices and oils, and other products. Kemin Foods, LC, Booth 529
Study focuses on antioxidant capacity of honeys. Antioxidants in honeys from different floral sources will be characterized by the University of Illinois, Urbana-Champaign. Although previous research demonstrated that honeys from various floral sources exhibited a range of antioxidant activities, little is known about individual honey components that are responsible for its protective effects. The major objective of this study is to characterize the antioxidant content of seven different honeys. Specific antioxidant components, including phenolic compounds, ascorbic acid, and the enzymes glucose oxidase, catalase, and peroxidase were identified and quantified. The antioxidant capacity of the honeys appeared to be primarily due to their phenolic composition as opposed to enzymatic antioxidants and ascorbic acid. More information can also be provided by the National Honey Board. Paper 30A-29 and the National Honey Board, Booth 1158
Natural antioxidants described in new brochure and CD. Natural fat-soluble antioxidants called Covi-ox® provide protection against food oxidation in fats and oils, meats, poultry, bread, cereal, baked goods, dairy, fish, and a variety of other products. The line of antioxidants, isolated from vegetable oils and concentrated to contain naturally occurring mixed tocopherols, does not impart a flavor, color, or odor to final products. A new product brochure describes these antioxidants, and an accompanying mini CD contains technical information to make it easier for food producers to match the appropriate food application to the specific antioxidant product. Cognis Corporation, Booth 5800
Natural antioxidants can prevent warmed-over flavor. The development of warmed-over flavor in cooked meat products can be retarded by using synthetic or natural antioxidants. University of Missouri conducted a study to determine the effect of grape seed extract and pine bark extract as natural antioxidant systems on reducing WOF cooked ground beef. The two antioxidants were used at the 0.02% level. Cooked ground beef with added antioxidants were stored at 4°Cfor three days. Compared to the control, the grapeseed extract, alpha-tocopherol, pine tree extract, and oleoresin rosemary reduced hexanal contents by 73%, 64%, 48%, and 33%, respectively. Results suggest that the natural antioxidant systems can reduce WOF in cooked beef and provide potential health benefits. Paper 30C-27
Grape skin extract introduced. Grape skin extract—called MegaNatural® GSKE—is said to be higher in total phenols and antioxidant capacity than most grape seed extracts available. According to the manufacturer, the standardized product has a minimum of 80% polyphenols and a minimum of 1.5% anthocyanins. In testing conducted at University of Scranton, it reportedly performed better than other antioxidants such as green tea extracts, vitamin C, and tocopherols. Made from grape skins, grape seeds, and stem, the product is available as a powder. Polyphenolics, Inc., Booth 968
Two antioxidants featured. Two antioxidants will be highlighted for use in processed foods and confectionery products. These antioxidants are Natural Vitamin E, originating from a sunflower source, and mixed tocopherols derived from soybeans. According to the manufacturer, they are both GMO free. Daminco, Inc., Booth 764
--- PAGE BREAK ---
4. Antimicrobials
Symposium focuses on antimicrobial intervention of acidified sodium chloride. Acidified sodium chloride (ACS) was recently approved as an antimicrobial agent for pathogen reduction and shelf life extension for poultry, raw agricultural commodities, red meats, and seafood. ACS is formed by reaction between sodium chloride and citric acid. A symposium sponsored by the Food Microbiology Division focuses on this antimicrobial, its chemistry and mode of action, its spectrum of activity and rate of kill, its use on red meats and poultry, its effectiveness on fresh produce, and its potential applications on seafood. Session 91, Wednesday, 9:00 a.m. to 11:35 a.m.
Product combines two antimicrobial ingredients. An antimicrobial product—called Purasal OptiForm—combines potassium or sodium lactate and sodium diacetate for use by the meat industry. (In March 2000 the allowed use level of sodium and potassium lactate was increased from 2.0% to 4.8% while the allowed use level for sodium diacetate was increased from 0.1% to 0.25%.) With the combination of these two ingredients, it is possible to fully inhibit or control the growth of Listeria monocytogenes, resulting in safer meat products. The recently introduced product reportedly offers a special balance in flavor and antimicrobial effectiveness. Purac America, Inc., Booth 4841
Dried plums suppress pathogens in meat products. Dried plum ingredients may be used to improve the microbiological safety of meat products. Kansas State University recently completed a series of tests to determine the effect of dried plum puree and fresh plum juice on pathogens in ground beef samples. Five days after inoculation, the raw beef samples that contained dried plum puree or fresh plum juice reportedly exhibited fewer microorganisms than the control samples. In the case of E. coli, beef samples treated with dried plum puree tested at a 91.0% kill rate against the control, while samples infused with plum juice registered a 99.0% kill rate. The plum products also appear to suppress total bacteria. According to the researchers, a 3% usage rate of the ingredients is adequate to suppress pathogens and improve functionality. California Dried Plum Board, Booth 1669
Anticaking agent provides mold inhibition. An anticaking agent called Solka-Floc EXT combines the anticaking function of powdered cellulose with the antimycotic function of natamycin. The Food and Drug Administration allows the agent to be applied in a one-step dry application to the surface of shredded and grated cheese at levels not to exceed 20 ppm. International Fiber Corp., Booth 3941
Technical poster session examines gamut of antimicrobials. The effect of a variety of antimicrobials on foodborne pathogens will be looked at in a technical poster session sponsored by the Food Microbiology Division. For example, carbon dioxide (4% v/v) and cinnamon (0.3% w/ v), individually or in combination, can be very effective in controlling E. coli O157:H7 in nonpasteurized apple juice. Other examples of antimicrobials discussed include Ginkgo biloba leaf extract, dried prune purees, allyl isothiocyanate, garlic extract, potassium lactate, plant essential oils, acidic solutions, and various other additives and processes. Session 59E, 1:00 p.m. to 4:40 p.m.
5. Fruits and vegetables
USDA study isolates tomato chromoplasts The fruit of the tomato is composed of elongated tomato cells (pericarp) filled with organelles called chromoplasts (plastids). The numerous plastids scattered throughout the cell are rich in nutrients, particularly proteins and lipids. The plastids can be released from the tomato cells by rupture of their cell membranes, and then isolated. The plastids and its cell contents can be utilized by the food processing industry for the preparation of special food products having enriched nutritional value. A study conducted by USDA found that the addition of tomato plastids to certain foods may be nutritionally beneficial and contribute to the proper functioning of the digestive tract, the prevention of some digestive cancers, and the amelioration and treatment of cardiovascular diseases. The use of tomato plastids in sauces for pasta and rice dishes, salsa, and extrusion products could increase the amount of fruit in the diet. Paper 29-2
Tart cherry juice may relieve pain. Tart cherry juice concentrate, primarily used in the beverage industry, is made from whole fresh or frozen Montmorency tart cherries. The cherries are warmed, and the juice is extracted and then concentrated by removing water until it reaches 68° Brix. Typically, ready-to-drink cherry juice or frozen cherry concentrate is made with other fruit juices. Recently, however, 100% ready-to-drink tart cherry juice has been gaining consumer attention because of its reported medicinal attributes in relieving the pain of arthritis or gout. Ongoing research shows that cherries are a rich source of melatonin and other antioxidants. Tart cherries also contain compounds such as perillyl alcohol and ellagic acid that are known to have anticarcinogenic properties. Cherry Marketing Institute, Booth 1969
--- PAGE BREAK ---
Olives offered in dehydrated form. A line of dehydrated olives will be introduced having 53% fat, 5% moisture, and a 12-month shelf stability. Products in the line include such forms as sliced, diced, granules, and spray-dried powders and will be sold under the Lindsay, Bell, and Oberti Brands. Black olives, Kalamata, and other varieties will be highlighted. Bell Carter Olive Co., Inc., Booth 576
Fruit debuts from South America. A fruit native to the Andean region of Peru will make its debut. Called lacuma, the fruit is said to have a distinctive and pleasing flavor that may be promoted as an alternative to traditional flavors such as vanilla or chocolate. Potential applications include ice creams, cereals, energy bars, drinks, and a variety of other products. ATZ Natural Inc., Booth 561
Better vegetables created. A line of vegetables will be introduced that is the result of a proprietary process that reduces water before freezing. These "dehydrofrozen" vegetables, part of the GardenFrost line, have higher solids, firmer texture, better color, and less weeping than IQF vegetables. Applications showcase the enhanced functionality of the dehydrofrozen pieces. Also, the manufacturer's acquisition of Basic Vegetable Products has broadened the product line to include dehydrated vegetables, onion, garlic, and capsicums. Gilroy Foods, Booth 3629
Caneberries have nutraceutical properties. Oregon caneberries are high in phytochemicals and antioxidants, including vitamin C, ellagic acid, quercitin, catechins, phytoestrogens, and fiber. Recent research is showing that such nutraceutical components may control the onset and development of cancer, heart disease, and age-related disorders such as loss of memory and motor skills. In addition to their health properties, caneberries are intensely flavored and premium processed. The Oregon Raspberry and Blackberry Commission, Booth 769 
Pureed vegetables are fire roasted. Several new dressings, sauces, and marinades will be displayed utilizing a line of Fire Roasted and Sauteed Vegetable purees. These purees include Roasted Tomatoes, Roasted Garlic, Roasted Onion, and Roasted Tomatillo. Also highlighted will be a new line of shelf-stable chile pepper purees: chipotle, guajillo, habanero, New Mexico, and De Arbol. Haliburton International Corp., Booth 1556
Treated potatoes offer extended shelf life. Fresh-cut, whole peeled, diced, or sliced potatoes using a special quick-dissolving dry powder called NatureSeal™ have an extended shelf life that maintains fresh taste and appeal longer. The powder can extend the shelf life of diced potatoes up to 21 days and whole peeled potatoes up to 14 days at 2–5°C. Made with GRAS ingredients, the powder protects all aspects of shelf life (except microbial), including texture, color, flavor, moisture, and firmness. Treated potatoes are sulfite free and can be packaged in flexible bags. Mantrose-Haeuser Co., Inc., Booth 2057
Freeze-dried powders available in expanded lines. Expanded lines of fruit and vegetable powders offer a variety of characteristics, attributes, and functionality. Made by a low-heat process designed to retain the natural flavor, aroma, color, and taste of the juice concentrate or puree, these ingredients are suitable for a broad spectrum of applications, such as bakery, beverage, nutraceutical, and foodservice. Products which will be featured include Crystals™ freeze-dried fruit and vegetable powders which contain 50–100% juice, alternative versions which contain a potato maltodextrin carrier, and Crystal Caps™ freeze-dried encapsulated fruit powders which contain 30–50% juice and are encapsulated with maltodextrin to provide moisture protection, easier handling, and better shelf-life stability. Crystals International Inc., Booth 2159
Tomato powder has highest lycopene content. Tomato powder, Spreda 707, is said to contain the highest level of natural lycopene available. The powder is made by a cold spray process which conserves the natural lycopene content of the raw material. Lycopene has been shown to be a significant cancer inhibitor and preventor of cardiovascular disease. Spreda, Booth 3854
Roasted potatoes available in new flavor profiles. Frozen roasted potatoes in numerous new flavor profiles will be shown. Each flavor is designed to work under frozen, retort, and boil-in-bag applications. According to the manufacturer, the new flavor profiles and new technology for coating roasted potatoes enables the final product to work in virtually every cooking application that exists. NorSun Food Group, Inc., Booth 1957
New quick cooking beans offer advantages. A new line of quick cooking beans do not need to be presoaked. They are already cooked, and they naturally rehydrate back to their original form. The beans work well in soups, side dishes, quick cook applications, frozen foods, dips, and a variety of other products. The beans are made by a special process which can be applied to multiple types of legumes. Briess Industries Inc., Booth 1656
--- PAGE BREAK ---
6. Gums and fiber ingredients
Benefits of soluble fiber shown. Arabinogalactan (AG), a dietary fiber composed of beta-linked galactose and arabinose units in a 6:1 ratio, has special physiological benefits, according to two clinical studies conducted by the Dept. of Food Science and Nutrition, University of Minnesota.
The studies found that the soluble dietary fiber, available from Larex, St. Paul, Minn., is fermented in the gut with health-promoting physiological properties, and may play a role in immunological function. At 10 g/day, AG decreased serum lipids in hyperlipidemic individuals and appeared to modulate serum glucose. Also, consumption of AG increased fecal levels of bifidobacteria and lactobacillus. Furthermore, the ingredient is not viscous and can be easily incorporated into foods and beverages. The studies will be provided in detail at New Products & Technologies: Nutrition, Package, and Process Session 13. Paper 13-2, Sunday, 9:15 a.m. and Larex, Inc., Booth 2749
Oat-based compositions increase nutritional value. Oat beta-glucan is a biologically active soluble fiber that results in lowering blood cholesterol in men and women and improving glucose and insulin responses of moderately hypercholesterolemic men and women. Studies are looking at the suitability of new oat-based compositions for increasing the nutritional value of foods.
For example, a hydrocolloidal composition derived from oat flour or bran (Nutrim) can reduce saturated fat and increase soluble fiber. Nutrim 10, processed from oat bran, was found to be a suitable replacement for butter and coconut fat in desserts such as cake, pudding, and ice cream. At least a 50% replacement of saturated fat was possible in a variety of foods.
Soy and oats may be co-processed to produce an ingredient called Soytrim, which can replace 50% or more of saturated fat. A 30% addition of Soytrim slurry resulted in soymilk and tofu with less fat and more fiber.
Prelimary studies on the combination of these ingredients with other nutraceuticals may provide some promising marketing opportunities in food and supplements. These oat-based compositions and their potential will be discussed by Van Drunen Farms and USDA at New Products & Technologies: Ingredients Session 43. Paper 43-6, Monday 10:15 a.m. and Van Drunen Farms, Booth 4336
Carrageenan improves frozen dough. Carrageenan is said to enhance quality characteristics and extend shelf stability of frozen bakery dough systems, such as pizza, croissants, cinnamon rolls, and danish.
The ingredient, marketed under the name Viscarin® XP 3480 by FMC BioPolymer, Princeton, N.J., protects the yeast cells, controlling ice crystal formulation and maintaining gluten strength during freezing, storage, and repeated temperature abuses. Products baked from the dough reportedly offer a number of benefits, including increased volume by 15–20%; improved color, appearance, and texture, better freeze-thaw stability; and reduced baked loss.
The effectiveness of carrageenan in frozen bakery dough was evaluated and compared to that of other hydrocolloids such as guar gum, xanthan gum, alginates, and microcrystalline cellulose. Results of the investigation will be reported at New Products & Technologies: Ingredients Session 43. Paper 43-8, Monday 10:45 a.m. and FMC BioPolymer, Booth 4441
--- PAGE BREAK ---
Symposium highlights use of hydrocolloids in product development. The use of various hydrocolloids in formulating successful food products will be reviewed in a symposium cosponsored by the Carbohydrate and Product Development Divisions. Gums covered include carrageenan, alginate, xanthan, and guar gum. Session 18, Sunday, 2:05 p.m. to 4:00 p.m.
Gum derived from fennugreek seed has nutraceutical properties. A tasteless and odorless hydrocolloid gum derived from the fenugreek seed has been introduced which has nutraceutical properties. Called Fene-Pure™, the purified fenugreek gum has a galactomannan content of 80% and may be used as a functional ingredient in baked goods targeted for diabetics.
A bread containing 400 mg of the ingredient per slice was launched in January 2001 by Angel Bakery, the biggest bakery chain in Israel. A cake for diabetics containing 200 mg of the ingredient per slice was launched in Israel by Osem in February 2001.
The ability of the fenugreek gum to adsorb to hydrophobic surfaces was recently proven and stable emulsions with special interface consisting of uniform gum layers were obtained. These properties are instrumental in managing the glucose response in diabetic patients and are helpful in reducing cholesterol levels. In addition, the ability to efficiently entrap fat suggests possible efficacy as a weight loss supplement. Adumim Food Ingredients, Booth 5423
Xanthan gum has improved properties. A food-grade xanthan gum called Keltrol 521 reportedly offers improved dispersion, hydration, and powder flow properties. The product, which has a controlled particle-size distribution, is designed to address dusting, lumping, and conveying problems typically encountered when utilizing standard 80- mesh xanthan gum. Data comparing this improved product with conventional forms of xanthan gum are available. Other products featured include gellan gum, carrageenan, cellulose derivatives, guar gum, and refined locust bean gum. These products are available from CP Kelco, a new company formed by the combination of Copenhagen Pectin/Food Gums Division of Hercules Inc. and the Kelco Biopolymers Group of Monsanto/Pharmacia Corp. CP Kelco, Booth 2927
Pectin-guar stabilizer enhances sorbet recipe. Gum stabilizer—called TIC Pretested ® Ticagel™ PG-730—enhances mouthfeel and provide protein stability in fruit-based and dairy-based beverages. The ingredient, a combination of guar and pectin, has proven itself as a cost-effective gum system to replace all-pectin stabilizers. It was originally developed for an acidified milk product, but because sorbets have a high water content and can have acidic properties, it is suitable for this application as well. In addition to its water binding and crystal prevention properties, it provides the needed viscosity and protein reactivity. The gum stabilizer performs equally well in batch and soft serve applications. TIC Gums, Inc., Booth 5733
Texture improvements using gum karaya. Heat-treated gum karaya is suitable as a texturizing agent in dressings and sauces and as a highly soluble fiber. Reportedly having the same behavior in solution as xanthan gum, this polysaccharide can be used alone or in association with other hydrocolloids, such as locust bean gum. It is particularly suitable for the formulation of chilled ready food, warmed up by microwaves. The standardized product is stable and has excellent water-binding and swelling potency capacities. According to the manufacturer, it is produced by a method of physical treatment which reduces the total plate count of hydrocolloids, preserving their functional properties. Alland et Robert, Booth 4521
Fiber-based prototypes highlighted. Featured formulations will be made with oat fibers, wheat germ, starch-based texturizing agents, and other ingredients. Applications include seasoned beef with oat fiber added for increased yields and enhanced performance, cheddar cheese with starch (Optamax) for a reduction in fat and an improvement in texture and yield, chips with fiber (Optafiber) for improved strength, and crackers with wheat germ for nutritional value. Opta Food Ingredients, Inc., Booth 2523
--- PAGE BREAK ---
High-fiber source exhibited. A readily dispersible, tasteless high-fiber source called Fibersol-2 has many beneficial and physiological properties, including acid and heat stability, low viscosity, high solubility, and prebiotic function. It is suitable for use in beverages, such as sports drinks and fortified waters; processed foods; baked goods; dietetic foods; fiber supplements; and functional foods. Matsutani America, Inc., Booth 5700
High-fiber product offers prebiotic benefits. A new line of high-fiber ingredients offers a natural, cost-effective solution to fiber-fortified products. Called Fibregum, the water-soluble vegetable fibers are said to have prebiotic properties. According to the manufacturer, the ingredient does not have the negative side effects associated with other soluble prebiotic fibers. Colloides Naturels Inc., Booth 3849
New carrageenan products for use in meat. Carrageenan, a natural hydrocolloid extracted from red algae, is used as a suspending and emulsifying stabilizer, thickener, binder, and gelling agent. It is finding increased usage in meat and poultry products as a fat replacer and a binding agent. New carrageenan products will be introduced, including CarraBind 68T and CarraBind 68TR. These are specifically designed for use in meat applications. The Carrageenan Co., Booth 4225
Applications highlighting alginates. Products made from GMO-free alginates offer a variety of benefits. These applications include baked goods with appealing texture and appearance, cold-water makeup, and holding power that spans the range from tarts to meringues; pastas and noodles that have better bite, more bounce, and smoother mouthfeel; and beverages that can stand up to heat and cold. ISP Alginates, Booth 5031
7. Dairy ingredients
Researchers studying ways to improve butter composition. Researchers are looking at ways to improve the performance and appeal of dairy-based spreads such as butter and cream cheese. According to California Polytechnic State University, San Luis Obispo, Calif., it might be possible to change milkfat composition up front by manipulating the type of feed given to the dairy herd. Through modifying the type of feed given to the cow, the amount of monounsaturated fats present in the cow's milk can be elevated for a measurable analytical difference in the fat composition of the end product. Butter having a higher level of monounsaturated fats will have a better texture. Another future area of research interest is reduced-fat butter, which has more moisture worked into the process to replace some of the fat content. Researchers at Wisconsin Center for Dairy Research in Madison are studying milkfat fractions as still another way to modify butter composition. Technology allows researchers to separate milkfat into various fractions, and then recombine them to create different types of butter products, ranging from malleable pasty butters for baking operations to a spreadable butter that has consumer appeal. Dairy Management, Inc., Booth 2541
Symposium focuses on emerging dairy ingredients. A look at the past, present, and future of dairy ingredients is provided by a symposium sponsored by the Dairy Foods Division. Historical, domestic, and international perspectives on the use of these ingredients are presented, followed by a paper focusing on emerging dairy components. These ingredients include milk and whey components which are isolated, fractionated, and marketed as nutritional, specialty, and nutraceutical foods. Further isolation yields products rich in alpha-lactalbumin, beta-lactoglo-bulin, lactoferrin, and lactoperoxidase. Each of these proteins has structure-functional relationships that can be utilized in developing markets. Milk proteins and their hydrolysates are showing promise for such physiological functions as antihypertension, immune enhancement, and appetite suppression. Other emerging ingredients include milk-derived minerals and bovine colostrum. The symposium ends with a look at the future of dairy ingredients. Session 89, Wednesday, 9:00 a.m. to 11:35 a.m.
Fat replacers may be derived from whey. Whey protein has been processed in both acidic and neutral pH conditions to make fat replacers. However, these fat replacers can only be applied in food systems within a limited range of pH values. Otherwise, texture becomes unacceptable possibly due to alpha-lactalbumin. Trypsin modification of whey protein isolate (WPI) may degrade this protein to improve product quality. The University of Missouri conducted a study to use trypsin to modify WPI to determine if the hydrolysis could improve the quality of fat replacers. The study found that the hydrolysis of alpha-lactalbumin in WPI resulted in smooth texture with good stability in a broader pH range and the resulting whey protein-derived fat replacer showed potential. Paper 15C-22
--- PAGE BREAK ---
Bovine colostrum highlighted. A new market has developed over the past few years for bovine colostrum, a dairy ingredient which has functional and nutraceutical properties. Scientific evidence for physiological claims is being published. This ingredient—its properties and applications—will be discussed, in addition to a variety of other dairy products, including milk protein concentrates and isolates, whey protein concentrates and isolates, bioactive proteins and peptides, and milk minerals. Glanbia Ingredients, Inc., Booth 5041
Formulations utilize dairy systems. Dairy systems, including intensely flavored cheese ingredients, enzyme modified cheeses, and spray-dried cheeses, are available for any type of food processing operation. Highlighted applications feature Cheezy Bread Stick with Supernatural ® Bake Stable Enzyme Modified Cheese, Recombined Sour Cream System with Sour Cream Onion Seasoning, Spicy Cheddar Dip with Supernatural® Sharp Cheddar Ingredient, and Healthy & Fun Beverage with Cream Powder. DairiConcepts, L.P., Booth 3415
Company active in global trade of dairy ingredients. Dairy trader focuses on such ingredients as dried dairy products and derivatives, milk protein concentrate, whey protein concentrate, lactose, acid casein, sodium and calcium caseinate, and cheese blends. Trading operations of the company are located in the Netherlands, Germany, Poland, Hungary, Lithuania, Russia, Australia, Uganda, Estonia, and the United States. Products can be sourced from around the world—for import, export, or foreign port–to–foreign port delivery. The Apollo Group, Booth 812
Organic dairy powders introduced. A complete line of organic powdered dairy ingredients will be displayed. These organic powders include whole milk, skim milk, lactose-reduced skim milk (70%, 90%), milk protein concentrate 42%, lactose, buttermilk, and calcium, potassium, and sodium caseinates. Specification sheets are available for each of these ingredients. In addition, an existing line of roller-dried caseinates, milk powders, and functional specialty blends are available. Lactoprot USA, Inc., Booth 3860
Functionality of dairy concentrates. Natural dairy concentrates called ButterBuds are free-flowing powders that provide the flavor and mouthfeel of butter, cream, and cheese. They can also mask off-flavors, round out harsh notes in seasoning blends, and enhance savory and sweet flavors. Applications include processed meats, baked goods, snacks, soups, sauces, and dressings. Butter Buds Food Ingredients, Booth 2249
8. Grains
Flour developed for Indian foods. Chappati flour, also known as Atta flour, is specifically designed for use in the production of a variety of Indian flatbreads such as chappati, roti, paratha, and puri. It is produced from 100% durum flour, resulting in a pleasing flavor and desirable golden color. Flatbread doughs made from chappati flour exhibit minimum stickiness and excellent sheeting characteristics. These dough characteristics result in high-quality finished breads. ConAgra Grain Processing Co., Booth 3629
Value-added grain ingredient introduced. A soy protein rice nugget, designed for use in high nutrition energy bars, delivers more than 50% protein content with functionality similar to traditional crisp rice. In addition to a desirable nutritional profile, the nugget offers increased bulk and improved texture. Specifications about this value-added specialty grain in ingredient will be available. The Weetabix Company, Booth 1335
--- PAGE BREAK ---
Domestic rice consumption reaches new high. Rice consumption in the United States has increased to 27.09 lb, up 2.2% over the previous year's figure. One of the driving forces in the increased domestic rice consumption in the industrial area is the ever-increasing number of snacks, crackers, and crispy products that feature rice. This category showed a 111% increase over last year's usage. More dessert products, such as rice puddings, helped increase rice consumption 21% in this category. Pet food processing was 14% higher than in the 1999–2000 period. USA Rice Federation, Booth 961
Symposium looks at grains from around the world. Traditional Asian and Latin American food products made from grains and other starch-based ingredients will be the subject of a symposium sponsored by the Religious & Ethnic Foods Division. The symposium includes presentations on grain and starchy products of Northeast Asia; rice, minor grains, and other starchy ingredients (tapioca, sago, sweet potato, and taro) from Southeast Asia; grains and starchy products in South Asia; root crops from Latin America; grains of Mexico, Central, and South America; and grain and starchy products in the Caribbean. Session 20, Sunday, 1:30 p.m. to 4:30 p.m.
9. Confectionery ingredients
Chocolate powders have reduced fat. Reduced-fat and low-fat chocolate powders are made from full-fat, conched milk or plain chocolate from which some or virtually all of the fat is removed. These products enable development of novel reduced-fat (typically 10–20%) and low-fat chocolate foods with authentic chocolate tastes and flavors. For both products, fat is physically removed from chocolate by a proprietary process. The particle size of these chocolate powders is less than 20 microns, thus imparting a smooth taste and flavor without any grittiness. Examples of applications include sauces (in which the chocolate solids content can be increased up to 45%), spreads (in which the reduced-fat chocolate solids content can be increased to more than 60%), and beverages (in which the chocolate solids content can be increased up to 100%). Usage can be extended to ice cream, yogurts, cakes, and a wide variety of confections. Natra USA, Inc., Booth 1060
Cranberries in chocolate. Cranberries covered in white, dark, bittersweet, or milk chocolate will be featured. A second confectionery item, raspberry malted milk balls will also be shown. Ingredients such as nuts, dried fruits, and chocolate- or yogurt-covered products are supplied to a variety of industries, including dairy, baking, confectionery, and retail. Terri Lynn, Inc., Booth 1468
Confectionery coatings highlight health. Functional food coatings can be used for nutrition/energy bar centers, enrobing, or panning. These low-carbohydrate, high-protein coatings include chocolate, vanilla, yogurt, and semi-sweet flavors. In addition, a full line of confectionery coating products are available, such as Majestic, Vanilla Pastels, Dark and Light Roasted Peanut Flavored, Yogurt, and Butterscotch. Clasen Quality Coatings, Inc., Booth 3461
Gum base is a suitable delivery system for nutraceuticals. Gum bases may be used in a wide variety of innovative gum applications in the confectionery industry. Gum base is also a suitable delivery system for many nutraceutical applications, such as oral care, smoking cessation, and dietary supplement. An assortment of popular sugarfree chewing gums, as well as traditional and novelty bubblegums will be displayed. L.A.Dreyfus Co., Booth 982
Acidulants play a role in nutraceutical confections. The new focus is to use confectionery products as a vehicle to deliver active medicinal, functional, or nutritional ingredients. Some of the new confectionery products are caffeinated chewing gum for an energy boost, lollipops to sooth a sore throat and cough, chewy candies to deliver calcium or bifidus for strong bones and good gut health. The inclusion of functional or herbal ingredients means that flavor-masking and flavor management of confectionery products are critical to the success of these new products. Fumaric acid's low solubility rate can be used to extend flavors in chewing gums or sanded confectionery products. Bartek Ingredients, Booth 843
--- PAGE BREAK ---
Gelatin candy contains fiber. Gummies are featured which provide fiber. In addition to gelatin, the gummies contain a maize-derived "resistant" starch which has a high amylose content and is a natural source of dietary fiber. Gelatin may be used in a variety of formulations, including confectionery products such as this one, as well as desserts, meat products, beverages, dairy products, and a variety of other products. Leiner Davis Gelatin, Booth 1733
Popping ingredient adds novelty. Popping candy, Pop Rocks®, consists of small pieces of hard candy that have been gasified with carbon dioxide. When this candy comes into contact with moisture, either in the consumer's mouth or in a beverage, these small pieces of candy release the gas, creating a novel sensation accompanied by crackling sounds. The candy may be used as an ingredient in chocolates, as well as cereals, ice creams, and desserts. It is available in different granule sizes and a wide range of flavors and colors that can be adapted to the needs of the product. Zeta Espacial S.A., Booth 829
Caramel developments described. Confectionery ingredients, Swiss Cream Caramels and Caramel Cream, are based on traditional recipes and techniques, and may be used in a variety of applications, such as ice cream. Pure vegetable soy-caramels have been developed which are said to be indistinguishable from their traditional counterparts. Although they are made without lactose, their appearance and taste are identical to those of traditional products. Andre Klein AG, Booth 1457
10. Starches
A novel starch derived from oats. A high-purity starch, isolated from oat groats or oat flour using conventional wet milling techniques, has been developed by Avena Group, Helsinki, Finland. The oat starch consists of small (3–10 microns) polygonal granules and has an amylose: amylopectin ratio of around 30:70. At high temperatures, the starch reportedly swells and forms more viscosity than other native cereal starches studied.
At moderate shear rate (160 rpm), 10% oat starch gels formed 56% and 69% more peak and final viscosity, respectively, than native corn starch. Although shear thinning was somewhat higher, the viscosity of the oat starch at 480 rpm was still 20% higher than that of corn starch. Acid thinning was not seen at pH 4. At pH 2.8, the viscosity of oat starch was similar to that of corn starch.
Oat starch forms opaque, cuttable gels. Yogurt samples made with oat starch, when compared with those made with modified corn starch, showed similar viscosity at 20% lower inclusion rate, similar gel stability, and improved aroma and flavor release, especially after a 30-day storage. Oat starch also produces good swelling and uniform cell structure in extruded applications such as cereals and snacks. Further comparison between this ingredient and other starches will be provided at New Products & Technologies: Ingredients Session 43. Paper 43-7, Monday 10:30 a.m.
Native starch introduced for freeze-thaw applications. Native starch, based on a waxy rice variety, has application in frozen foods. Called Novation 8300, the starch is said to withstand refrigeration and storage well below freezing. It provides a desirable, smooth, short texture and exhibits good tolerance to heat, acid, and various shear conditions. The starch resists retrogradation and syneresis in various food systems. Tests show that even after several complete freeze-thaw cycles, the food made with the starch still looks clear with no signs of graininess or liquid separation. Previously, only premium modified starches provided the stability needed to withstand repeated freezing and thawing. The ingredient, which requires only a starch label, has been tried and tested in baby foods, frozen soups, sauces, and pet foods. National Starch and Chemical Co., Booth 2641
Symposium on resistant starch. Resistant starch can be defined physiologically as dietary starch that resists digestion in the small intestine and therefore is available for bacterial fermentation in the large intestine. Recently, it has been shown that resistant starch, in addition to traditional fibers, may contribute significantly to the health benefits of plant-based diets. The physiological and health benefits of resistant starch is the subject of a symposium cosponsored by the Carbohydrate and Nutrition Divisions. Effects of resistant starch on colonic function, the role of human gut microflora in health and nutrition, and the intestinal immune system as influenced by fermentation and the gut's microflora will be addressed. Session 7, Sunday 9:00 a.m. to 11:35 a.m.
--- PAGE BREAK ---
Paper reviews functionality of starches. The chemical modifications and properties of various starches will be described in a paper, "Use of Starch in Developing Successful Food Products." Major categories of food starches include powdered, modified, pregelatinized, instant, and granular cold-water swelling. The selection of the proper starch for a finished food product depends on a clear understanding of functional needs that are desired by the user and also on the processing conditions utilized to manufacture the desired product. The paper focuses on certain fundamental aspects of applications where starches are most widely used and offer functional and cost benefits. Paper 18-1, Sunday, 1:35 p.m. and Cerestar USA, Booth 1429
New versions of instant starches available. New versions of instant starches will be highlighted in a variety of food applications. An expanding line of carbohydrates are available which exhibit a number of functional properties including thickening, stabilizing, bulking, film-forming, dispersing, gelling, carrying, and browning. They also deliver nutritional value. Grain Processing Corp., Booth 2033
Modified potato starch can replace fat in meat products. A modified potato starch gel has been introduced for use in low-fat meat applications, including sausage products and coarse ground meats. Called PenGel 8, the ingredient was developed specifically to mimic fat in appearance and texture. In consumer testing, meat products using the ingredient compared favorably to full-fat versions in bite, appearance, mouthfeel, flavor, and particle definition. Also shown will be a family of GMO-free corn, potato, and tapioca starches. Penford Food Ingredients, Booth 5401
11. Colorants/Browning agents
Second-generation browning technology introduced. Recent advances in smoke flavoring technology have resulted in a new option for food and meat browning. Patented pyrolysis techniques and refinement procedures have allowed the development of a second generation of browning technology, CharSol VSA. Available as a transparent liquid, the product can be used to impart a range of browning effects to meat and other food products. Processors can achieve their browning target without overpowering smoke taste. Also available is Maillose, a product which provides a rich golden-brown color without the flavoring effect obtained from natural smoke flavors. Red Arrow Products Co. LLC, Booth 5431 
Paper analyzes caramel color. Caramel color, from the palest yellow to the deepest brown, accounts for more than 90% by weight of all the colors added to foods and beverages, with consumption reaching more than 200,000 tons per year worldwide. A scholarly paper, appearing in a recently published book, Natural Food Colorants, is said to provide the most extensive analysis to date of the chemical properties and functionalities of the four classes of caramel color. The paper includes a historical perspective on the use of caramel color, a discussion of its labeling, and a detailed focus of the appropriate uses for caramel colors in each class. Further information on this paper will be available. Flavor profile of caramel color, differences between the products, and the latest developments will also be discussed. D.D. Williamson & Co., Inc., Booth 4922
Mold offers possible color alternative in yogurt. Pigments produced by the mold Monascus purpureus offer a possible alternative to certified food dyes or natural pigments now used in flavored yogurts to enhance or replace the natural color of the fruit. University of Georgia, Athens, conducted a study to ascertain the performance of Monascus pigments as coloring agents for yogurt compared with more traditional red yogurt colorants. Results suggest that pigments from the mold could be an acceptable substitute for traditional colorants in strawberry yogurt. While the color does change slightly during various production stages, the change is comparable to that of FD&C Red #40 and is less than the changes found using carmine or beet juice powder. Paper 15C-35
Purple corn provides a source of natural color. The juice of purple corn from South America may be used as a natural color additive in a variety of foods and beverages or as a beverage itself. Because of its high anthocyanin content, the product also has powerful antioxidant properties. ATZ Natural, Inc., Booth 561
Dark-colored foods may offer more health benefits. In recent years, black or dark-colored foods have been recognized as having medicinal effects. Traditional Chinese medicine believes that food can be categorized as five colors: green, red, yellow, white, and black, with each color corresponding to different human organs. Studies on proximate composition, dietary fiber, amino acids, minerals, and other elements show that dark-colored foods contain higher levels of nutrients compared with other colored foods. University of Georgia will discuss selected popular black food items in terms of nutritional quality and preparations. Paper 78-4
--- PAGE BREAK ---
Line of caramel colors expanded. An expanding line of liquid and powdered caramel colors will be highlighted. Available in a wide range of tinctorial powers and hue indexes, these colors may be used in beverages, baked goods, meats, sauces, condiments, and other food products. Target colors ranging from yellows to deep, rich browns can be achieved. Varieties include double strength, acid proof, and low sulfite. Sethness Caramel Color, Booth 4325
System adheres colors without the use of oils. A wide variety of products to color, glaze, polish, coat, and enhance appearance of foods and beverages are available. In particular, a dry film-forming system called Opadry Type F will be featured. The system is designed to adhere flavors, seasonings, colors, vitamins, and other typically dry-charged ingredients to a variety of foods without the use of oils. Colorcon, Booth 3759
Liquid smoke products provide browning. Liquid smoke—called Zesti Advantage—provides brown roasted color to meat and food products without the presence of smoke flavor. It also improves the textural quality, accentuates roasted flavors, increases cooking yield, and decreases cooking time. Level of color created is dependent upon the concentration used, the processing temperature, and the total cook time. Product applications include bakery items such as muffins and croissants; meat products including ham, poultry, and sausages; glazes and marinades; batters and breadings; pot pies; dough systems; dry rubs; and a variety of other products. Also featured is a new product, Supersmoke 350, which is a highly refined concentrated smoke that provides high-staining capabilities with very low smoke flavor to food products. It is completely soluble without any food emulsifiers and can be used in drenching and atomization applications. Hickory Specialties, Inc., Booth 3723
12. Sweeteners
Flavor distillate imparts sugary taste. Clear flavor distillate derived from cane sugar is said to impart a natural sugary taste to food systems without adding calories, sugar, protein, or color. Called Sugar Treattarome™ 9806, the product is made using a process which concentrates the volatiles of sugar, maximizing flavor entrapment while leaving behind the sucrose. t is particularly suitable for use in low-calorie products where it works synergistically with artificial sweeteners, masking metallic, dry taste, giving a more natural flavor to the product as well as improving overall texture. Applications include beverage and confectionery products. Florida Treatt Inc., Booth 3259
Erythritol improves chewing gum coating. Recent studies have shown that erythritol, a noncaloric bulk sweetener, can improve chewing gum coating, giving it more crunchiness, better adhesion to the chewing gum center, and a fresh coolness, sweetness, and juiciness. A 40:60 ratio of erythritol and sorbitol is a cost-effective combination for achieving this. Coating time can be shortened with about 30% due to the fact that erythritol crystallizes so easily. It also provides a very pleasant cooling effect because it has the highest negative heat solution of all sugar alcohols. In the chewing gum center, partial substitution of sorbitol by erythritol improves chewing gum texture and shelf life. Erythritol does not promote tooth decay, is suitable for diabetics, and provides excellent sensorial benefits. Manufactured by fermentation of glucose derived from corn and the use of a microorganism, erythritol is sold under the brand name C*Eridex®. Cerestar, Booth 1429
New honey formulation. Enhanced agglomerated honey powder is more free flowing and more flavorful than the original formula. A spray-dried honey on maltodextrin, the dried powder contains approximately 25% honey solids by weight, with added fructose, sucrose, and natural flavors. The powder undergoes a second processing step of agglomeration. The white to beige colored ingredient imparts honey flavor, color, and odor and is instantly soluble in hot or cold water. Sioux Honey Association, Booth 1263
Joint marketing company launched. Corn Products MCP Sweeteners LLC (CPMCP) is a supplier of high fructose corn syrup, dextrose, corn syrup, and food starches. CPMCP is a joint marketing company recently created by two parent manufacturers—Corn Products International, Inc. and Minnesota Corn Processors LLC. More information will be available about this new organization and the wide range of quality ingredients it provides for the food and beverage industries. CornProductsMCP Sweeteners LLC, Booth 1643
--- PAGE BREAK ---
13. Acidulants
New acidulant offers potential in food. Sodium acid sulfate (NaHSO4) is a dry granular acidulant designated as GRAS by FDA on June 5, 1998. It is approved as a leavening agent in cake mixes, pH control agent, and processing aid. The acidulant has a pKa value of 1.99, which indicates an acid strength similar to that of phosphoric acid. The flavor profile is described as a clean, smooth tartness with no bitter aftertaste, and its sour intensity is higher than other acidulants. It easily dissolves in water and offers safe handling characteristics. Potential applications include beverages, confections, leavening systems, and other products. Acidulant will be discussed at New Products & Technologies: Ingredients Session 43. Paper 43-12, Monday 11:45 a.m. and Jones-Hamilton Co., Booth 4221
Malic acid can appeal to all tastes. Malic acid's mellow tartness and its flavor-enhancing and flavor-masking abilities are very suitable to blend the seasoning bases in savory snack foods such as meat jerkies; pretzels; potato, corn, or rice snacks; dehydrated vegetables or nuts; instant soups or noodles; sauces for pastas, curries, satays, or chili; or dips for vegetables. Malic acid's lingering tartness and its ability to boost and mask flavors makes it a suitable acid for use in new age drinks which contain a variety of vitamins, minerals, herbal extracts, proteins, live bacteria cultures, and fruit or vegetable juices. For sweet-based hand-held foods such as cereal bars, fortified meal replacement bars, and bakery snacks, malic acid's flavor-boosting abilities can help lift the subtle flavor of fruit fillings. Bartek Ingredients, Booth 843 
Monosodium citrate highlighted. Monosodium citrate, a GRAS buffered citric acid salt, is highlighted. Also featured are citric acid; sodium, potassium, and calcium citrate; citric acid esters; a full line of organic acids; and a variety of other products. Jungbunzlauer Inc., Booth 4449
14. Marine ingredients
Chitosan offers benefits in nutraceutical applications. Chitin, a polysaccharide most commonly extracted from shellfish processing waste, is frequently transformed into the cationic polymer chitosan through deacetylation with concentrated alkali. Some food technology applications for chitosan include cryoprotectants, viscosifiers, thickening and gelling agents, fruit coatings and preservatives, as well as protein binder in recovery processes. Chitosan is also a useful substrate for modification with other compounds. Recent research is revealing the benefits of chitosan in nutraceutical food formulations where it plays several key beneficial roles, including cholesterol reduction and dietary lipid binding. Its present and potential uses in food processing and nutritional applications will be reviewed. Paper 82-3
New seafood extracts featured. A new range of seafood extracts, the "Marinextracts," will be featured. The extracts, available in paste and powdered forms, include crab, lobster, crayfish, shrimp, salmon, clam, and scallops. Also presented will be a range of seafood pastes, combining seafood mince meats, extracts, and flavorings for use in processed seafood products such as terrines, spreads, mousses, soups, sauces, and stocks. The company also produces a wide range of natural colors and processed colorings especially adapted for the seafood industry and may be used in surimi seafoods, salmon burgers, cooked shrimp, and a variety of other products. Activ International, Inc., Booth 5807
Mild fish provides base for soups. Freeze-dried whitefish can provide an economical base component for dry soup applications. Processed from the salt water species Malabar Rock Grouper found off the southern coast of India, the mild-tasting fish is suitable for use in such products as clam or crab chowder, and seafood bisque. Samples of the ingredient are available. Gourmet Club Corp., Booth 4549
--- PAGE BREAK ---
Study looks at DHA fortification of baked goods. The omega-3 fatty acid docosahexaenoic acid (DHA) offers a variety of health benefits, but may play a particularly important role in the structure and function of the brain, the eye, and the nervous system, and in maintaining a healthy heart. Merck KgaA of Germany conducted a study on fortifying baked goods and cereal products with DHA. White bread with 0.1% wt DHA was prepared, with 100 g of bread containing 38% of the adequate daily intake of 220 mg DHA. No change in dough preparation, fermentation, and baking process was observed. The bread volume was 15% higher. Loss of DHA during baking was about 5%. The shelf life of the bread was at least one week. Cereal bars with 0.1% wt were also studied, with a 100-g bar delivering 38% of the adequate daily intake and shelf life lasting at least 6 mo. The conclusion arrived at was that baked goods and cereal products form ideal matrices for incorporation of DHA. Paper 29-4
Chitosan has functional and nutritional properties. Chitosan—the N-deacetylated form of chitin—has numerous food applications, including anticholesterol and fat binding, food stabilizer, flavors and tastes, fruit preservation, and nutritional additive. The ingredient is produced from fresh Norwegian marine raw materials. The manufacturer is reportedly the leading European producer of chitosan and has three manufacturing sites along the Norwegian coast. Primex Ingredients, Booth 928
Marine ingredients added to product line. Ingredients obtained from raw materials of marine origin include fish gelatins, hydrolyzed fish collagen and gelatins, marine extracts, and fish oils rich in omega-3 polyunsaturated fatty acids. Some of these ingredients, recently added to the company's product line, are targeted at the flavoring area (fish extracts) while others are involved in dietetic and nutritional applications (hydrolyzed fish collagen and omega-3 oils) because of the various health benefits they offer. Miquel Junca S.A., Booth 934
15. Encapsulation
Oil encapsulated with gamma cyclodextrin offer stability. Fish oils containing omega-3 polyunsaturated fatty acids can be stabilized by gamma cyclodextrin complexes, reducing unpleasant tastes and odors caused by oxidation.
Gamma cyclodextrin and omega oils give very stable dispersions in water, which are then easily converted into white powders using conventional drying techniques. The resulting ingredient called Omega Dry® may be used to fortify foods such as beverages, cereals, baked goods, spreads, dressings, sauces, dairy products, and nutraceutical formulations.
A significant increase in the stability of the oils against oxidation, even at temperatures of 100°C, is said to be shown. Furthermore, triglyceride oil complexes with gamma cyclodextrins are stable against shear forces and adjustable in particle size by grinding, an advantage over microencapsulation techniques.
In the U.S., gamma cyclodextrin was reviewed by an independent international expert panel and declared to be GRAS in a variety of applications.
The ingredient will be discussed by Wacker Biochem Corp., Adrian, Mich., at the New Products & Technologies: Nutrition, Package, and Process Session 13. Paper 13-3, Sunday 9:30 a.m. and Wacker Biochem Corp., Booth 2961
--- PAGE BREAK ---
Encapsulation systems bring stability. Encapsulated ingredients bring stability across multiple product applications. Featured products include encapsulated cinnamon that delivers yeast protection, encapsulated guarana from the Vitashure™ line, and fortified ice cream with a flavored popping sensation. Also highlighted are encapsulated acidulants and preservatives to extend shelf-life in a variety of flatbreads and baked goods and encapsulated leavening agents to provide oven-spring in frozen pizzas as well as in frozen biscuit applications. Balchem Encapsulated, Booth 2017 
Encapsulated flavors enhance microwavable foods. A line of flavors have been developed to enhance the taste of microwavable food products. Called Michaelwave, the flavors use encapsulation technology to preserve and release the flavor through the microwave process. With the encapsulation matrix, food formulators are able to use less flavor to get the same impact. According to the manufacturer, a wide assortment of flavors is available, including a blueberry flavor for baked goods and a roast flavor for vegetables. Also, flavors can be custom designed. Flavors are available in a variety of forms, including liquid, dry, natural WONF, artificial, and natural and artificial. David Michael & Co., Inc., Booth 5829
Encapsulated BHA extends shelf life of ground turkey. Antioxidants are used in the improvement of comminuted meat quality through inhibition of rancidity. Butylated hydroxyanisole (BHA), a lipid-soluble antioxidant, is recommended for use at maximum 0.01% of total fat content of comminuted meats. It is hypothesized that encapsulation of BHA using phospholipid liposomes will increase its effectiveness by increasing the expected shelf life of treated meats. Alabama A&M University conducted a study to determine the efficiency and effect on shelf life of encapsulated BHA vs unencapsulated BHA in ground turkey meat. The results of the study indicate that the use of encapsulated BHA could extend the shelf life of ground turkey meat compared to unencapsulated BHA and untreated samples. Paper 30C-32
16. Enzymes
Enzyme improves quality of noodles and pasta. A microbial lipase for improving the overall quality of Oriental noodles and non-durum pasta has been introduced by Novozymes North America, Inc. Called Noopazyme®, the lipase modifies the native lipids in the flour, enabling the T formation of lipid-amylose complexes, which, in turn, inhibit the swelling and leaching of amylose during cooking. The addition of the lipase reportedly increases the amount of these complexes in pasta by more than 60%.
Data will be presented at New Products & Technologies: Ingredients Session 43 showing the enzyme's ability to reduce surface stickiness, to increase the tolerance to overcooking by maintaining a desired "al dente" texture, and (in the case of white, salted noodles) to improve surface brightness. The effects of the lipase in both noodles and pasta made from flours of varying quality will be covered. Paper 43-11, Monday 11:30 a.m. and Novozymes North America, Booth 5331
Bread improved by new enzymes. Dough handling can be improved by enzyme and enzyme/emulsifier products called PowerBake. The addition of the enzymes to the dough can result in bread dough properties that are more stable, making the baking process easier and more reliable. The finished bread product has a desired texture and volume. The line of enzymes, recently launched in the U.S. and Mexican markets, are often used in conjunction with emulsifiers to provide the baker with optimum tolerance to the conditions of stress associated with high output bakeries. Danisco Cultor USA, Inc. Booth 3641
Experimental ascorbic acid oxidase shown. A wide range of enzyme preparations are available for use in foods, ethanol, brewing, agriculture, baking, and flavors. Highlighted products will be lipases for enzyme-modifed cheeses, an experimental ascorbic acid oxidase for use in seafoods and baking, and trypsin and chymotrypsin blends from bovine and porcine sources. Enzyme Development Corp., Booth 542
Latest enzymes showcased. A new fungal alpha amylase for baking and food processing has been developed with proprietary microgranulation technology and is marketed under the name Clarase G Plus. Also, food-grade proteases for protein modification and hydrolysis will be introduced under the name Multifect Neutral. They have many diverse applications, ranging from brewing to casein and whey hydrolysis. Genencor International, Inc., Booth 1354
--- PAGE BREAK ---
17. Phosphates
Phosphate-based ingredients available. A variety of specialty food phosphates and phosphate-based food ingredients are available. Brifisol 960 is a highly water-soluble combination of sodium polyphosphates for injection brines and marinades. Bekaplus stabilizers have application in acidified protein beverages. Bekaplus BB90 is used for improving adhesion in batter and breading applications. BK Giulini Corp., Booth 1123
Broad phosphate portfolio offered. A full range of sodium, potassium, aluminum, and calcium phosphates are offered, as well as a large number of specially formulated phosphate-based products. Phosphates may be used in a broad range of applications, including baked goods, meat products, processed cheese, fish and seafood, cereals, fruits and vegetables, beverages, pharmaceuticals, oral care, pet food, and various technical applications. Prayon, Booth 6025
18. Nuts
Reference tool provides data on almonds. A resource guide, Book of Almonds, has been developed for food technologists who require information about using almonds in product formulations. The guide includes a history of almonds; details about varieties, forms, and applications; statistics about almond production; health and culinary benefits; and consumer perceptions. It lists handlers and trade sources. Almond Board of California, Booth 523
Nut-based ingredients are available in a variety of forms. A full complement of nut-based ingredients will be shown. These ingredients include nut pastes, nut butters, nut flours, toppings, and fillings. Pastes are cooked in small batches to assure the greatest levels of control and consistency. Potential applications for these ingredients are baked goods, pastries, confections, ice cream, and other products. American Almond Products Co., Inc., Booth 5512
Hazelnuts enhance nutritional bars. Hazelnuts have potential for increased acceptance and usage with food manufacturers. Better awareness of the health benefits and functionality of this versatile tree nut can lead to enhancement of existing food products and new or improved sensory impressions. Nutritional bars are a convenient form of nourishment and a product in which hazelnuts could be a valuable component. Colorado State University conducted a study to evaluate hazelnuts in the development of a nutritional bar formula. Hazelnut meal was incorporated into the formula and performed as a binding agent and flour replacer. It was found that bars containing hazelnut meal show potential for use in the food industry and retail sectors. Paper 44F-24
Almonds and pistachios in a variety of forms. An extensive line of manufactured almonds and pistachios are offered. These include products ranging from in-shell, diced, sliced, and slivered pistachios to sliced, diced, whole kernel, and slivered almonds. Formulations using nuts and information on health studies will be available. Paramount Farms, Booth 4023
19. Soy-based ingredients
Soy peptide reduces serum cholesterol. Soy peptide food ingredient called CSPHP Kyowa SuperSoy is said to significantly reduce serum concentrations of total cholesterol and LDL cholesterol to healthy levels. In clinical trials, patients taking as little as 3 g of the product per day saw high cholesterol levels return to normal.
The ingredient, developed by Kyowa Hakko, binds enzymatic-decomposed lecithin to hydrolyzed isolated soy protein in an 80:20 ratio, and the two components are bonded in a hydrophobic manner. Because of its stability, the ingredient is suitable for use in a wide range of products and processing conditions. It also offers improved taste, aroma, and texture when compared to soy protein, hydrolyzed soy protein, or lecithin. The product will be discussed at New Products & Technologies: Nutrition, Package, and Process Session 13. Paper 13-1, Sunday, 9:15 a.m., and Kyowa Hakko USA, Inc., Booth 3125
--- PAGE BREAK ---
Symposium focuses on emerging soy ingredients. The development of a new generation of soy ingredients and soyfoods is the focus of a symposium sponsored by the Product Development Division. The event will provide an overview, followed by presentations on soy in meat alternatives, dairy alternatives with soy, food applications with new-generation soy ingredients, and functionality and applications of full-fat soy flour. Session 2, Sunday, 9:00 a.m. to 11:35 a.m.
Soy ingredients have functionality and health properties. A wide range of powdered functional soy protein concentrates and textured soy concentrates are available for industrial meat processing and vegetarian ready meals. These ingredients, marketed under the names Solcon and Maicon, are characterized by their functional properties, nutritional value, and bland flavor profile. They are manufactured in many sizes, shapes, and colors. Also highlighted are soy isoflavones, Solgen and Nutragen, which are offered in a wide range of concentrations, with high levels of genistein. These soy ingredients are all derived from non-GMO soybeans. Solbar Plant Extracts, Booth 1876
Soy ingredients provide health benefits. A new protein bar containing NutriSoy soy protein has been recently launched. Called Soy One, the bar provides 15 g of soy protein and is available in chocolate raspberry and apple cinnamon flavors. Each bar contains 6 g of fat, 40 g of carbohydrates, and 2 g of dietary fiber. There are currently 12 other products made with this soy protein in the marketplace. Also highlighted are isoflavones, marketed under the name Novasoy. These soybean extracts contain a chemical structure similar to the hormone estrogen, and share some of the physiological properties of estrogen. Studies have shown that isoflavones found in these ingredients may help bone and heart health during menopause. ADM, Booth 4141
Oil made from soybeans and sunflowers featured. A number of products derived from soybeans will be highlighted. EZ Soymilk offers improved digestibility and can replace dairy milk concentrate. Naturally occurring stachyose and raffinose have been enzymatically hydrolyzed and reduced by 90%. Soy Supreme Light, a soymilk available in liquid or spray-dried versions, offers high protein and low fat. Organic SoySun Oil Blend is made from preserved organic soybeans and sunflowers and is suitable for all applications requiring vegetable oil. It has a neutral taste profile and extended heat stability, and may be used as a replacement for canola oil. SunRich Food Group, Booth 4847
Symposium addresses health and safety of phytoestrogens. Functional foods enriched in soy isoflavones gained momentum within the food industry after the Food and Drug Administration's decision to allow a health claim for soy protein in reducing risk for heart disease. A wide range of soy isoflavone extracts and supplements are now available, but little is known about their metabolism and effects. The health benefits and safety of dietary phytoestrogens will be evaluated in a symposium sponsored by the Toxicology & Safety Evaluation Division. Papers will cover the potential health benefits of soy in a number of areas, including cardiovascular disease, osteoporosis, diabetic kidney disease, and bone metabolism. Perspectives will be given by FDA and the food industry. Sources and analysis of dietary phytoestrogens will be provided. Session 79, Tuesday, 1:30 p.m to 4:35.
Low-sodium miso introduced. A variety of miso, Kyoto White, features 60% less sodium than a regular version. Made from organic whole soybeans, the low-sodium paste concentrate is said to have a dessert-like sweetness and may be used as a versatile seasoning in soups, sauces, dressings, and all types of cooking. The product contains isoflavones which may be beneficial to health. Miyako Oriental Foods, Booth 1819
Recent soy developments discussed. Latest developments on initiative to develop an improved soybean variety with targeted composition enhancements will be available. Soy protein and soy oil experts will be on hand to discuss applications and functionality of soy. Soy prototypes will be highlighted. Visitors can browse the USB Web site, www.talksoy.com. United Soybean Board, Booth 4355
Soy processor on hand. Iowa-based processor of soy flour and textured soy protein ingredients will be available. Ingredients are said to be non-GMO and organic. Iowa Soy, Booth 431
New soybean lecithins offered. Lecigran IP Deoiled Lecithin and Leciprime IP Fluid Lecithin are produced from certified GMO-free crude soybean lecithin. Acetone insolubles of 97% are typical of the Lecigran IP products. Both granular and powdered products are available. Riceland Foods, Inc., Booth 4815
--- PAGE BREAK ---
20. Fortification
System provides improved iron fortification. A nutrition delivery system for improving iron fortification has been developed by Taiyo Kagaku Co., Ltd., Japan. Called SunActive Fe, it consists of a preparation of ferric pyrophosphate and emulsifiers which disperses insoluble iron in liquid formulations and produces no precipitation.
The system is also said to mask the disagreeable taste of iron without affecting the flavor of the finished product. It is stable under high heat and salt conditions, and its particle size was found to show a distribution size several-fold smaller than conventional ferric pyrophosphate.
A study was carried out to examine the bioavailability and safety of the system. Iron utilization was the highest with diets containing the product as compared to other iron sources. Furthermore, it did not show any toxic effect on the gastrointestinal system compared to other iron sources.
Various applications such as milk, yogurt, and low-pH beverages may be fortified with the system. Advantages such as improved solubility, safety, and bioavailability will be discussed at New Products & Technologies: Nutrition, Package, and Process Session 13. Paper 13-5, Sunday, 10 a.m. and Taiyo International, Booth 1130
Enriched inulin increases calcium absorption. An enriched form of inulin developed by Orafti Active Food Ingredients has been clinically proven to boost calcium absorption at lower usage levels.
A recent double-blind placebo-controlled study demonstrated that 8 g/day of the product (Raftilose Synergy 1) increased calcium absorption by 20%. The study, conducted at the USDA/ARS Children's Nutrition Research Center at Baylor College of Medicine in Houston, Tex., involved 29 girls ages 11–4.
Previous studies showed that 15 g/day of inulin (Raftilose P95) increased the body's calcium uptake.
The ingredient may be used in formulating dairy products such as ice cream, cheese spreads, yogurt, and fluid milk products. In addition, it can be easily incorporated into soy products, nutraceutical beverages, bakery products, and nutrition bars. Details of the study are described at New Products & Technologies: Nutrition, Package, and Process Session 3. Paper 13-4, Sunday 9:45 a.m. and Orafti Active Food Ingredients, Booth 5123
Database provides assistance in fortification. Online bionutrition database called FortiSource™ will be presented which allows instant search for nutrients by name, health concern, or body system and review of benefit claims, precautions, and interactions. Visitors can directly utilize this information to discuss customizing ingredient blends. A variety of food and beverages fortified with vitamins, minerals, amino acids, and other nutraceuticals will be available for sampling. The samples highlight expertise in formulating potent, shelf-stable nutrient blends without compromising taste, texture, or color. Fortitech, Booth 3523
--- PAGE BREAK ---
Citrate-based minerals offer high bioavailability. A new line of highly bioavailable enrichment minerals based on citrate has been developed for fortification. Called Enrichment Minerals, this line consists of calcium citrate, magnesium citrate, and zinc citrate. These citrates offer the most effective bioavailability of the mineral. Various forms are available for the easiest and most effective incorporation into the product. Applications include juices, baby foods, dairy products, soups, health foods, energy bars, cereals, pet foods, and nutraceuticals. Gadot Biochemical Industries, Ltd., Booth 1720
A new line of highly bioavailable enrichment minerals based on citrate has been developed for fortification. Called , this line consists of calcium citrate, magnesium citrate, and zinc citrate. These citrates offer the most effective bioavailability of the mineral. Various forms are available for the easiest and most effective incorporation into the product. Applications include juices, baby foods, dairy products, soups, health foods, energy bars, cereals, pet foods, and nutraceuticals.
Study provides insights into fortification. Newest generations of nutritional fortification solutions will be displayed. These include Dry Vitamin E 15% CC, designed for the fortification of clear beverages; new Beta-Carotene 10% CWS/S, a high-potency vegetarian powder; and the latest line of Nutrient Blends which provide a single, convenient, time-saving system for formulating fortified applications. In addition, six new fortified beverage concepts have been developed which are designed to appeal to a diverse assortment of specific consumer demographic groups, ranging from children as young as 4 years to adults over 50. These beverage concepts are the result of data gained directly from consumers through an independent research study sponsored by Roche and conducted by HealthFocus, Inc. Key findings of the study address such questions as (1) Which nutrients do people associate with certain foods? (2) In what forms and delivery systems do consumers want to receive these nutrients? (3) Which ingredients and applications do consumers associate with specific body functions such as heart and brain health, immune system health, athletic performance, eye health, bone health, and appearance? A brochure is also available discussing these findings. Roche Vitamins Inc., Booth 3241
New study on benefits of L-Carnitine. L-Carnitine is a vitamin-like nutrient which is essential for turning fat into energy in the human body. Because of clinical findings, it is a popular supplement among physically active people who use it to help improve their performance, while delaying the onset of fatigue. A recent study is available which updates the benefits of this nutrient. Lonza Group, Booth 4115
Calcium carbonate provides fortification. Natural ground calcium carbonates have application in calcium supplements, vitamins, foodstuffs, and antacids. Calcium carbonate can be supplied with mean particle sizes ranging from 4 microns o 16 microns. The material is processed in an Arizona-based facility under strict quality control measures to ensure that these products meet all of the specifications of both the U.S. Pharmacopeia 24 and the Food Chemicals Codex, 4th Edition. OMYA Arizona Inc., Booth 983
by DONALD E. PSZCZOLA
Associate Editor