"In today's time-pressed world, we don't always have time to shop, chop, cook and clean. Yet, we want to serve and enjoy foods that taste just like homemade." This neat bit of copy writing appears on Nestle's Stouffer's Sensations Web site, and it does much more than introduce the company's expanding line of frozen meals. The words also define today's mandate for value-added foods—from the perspective of the consumer.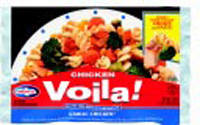 This is a consumer with lots of choices and little regard for distinctions between retail and foodservice. This is a consumer who defines value as convenience without compromise.
This consumer could be mom, dad, teenager, or grandparent. The one common denominator is convenience built on the quality attributes that are important to each demographic group. Teens want fun and flavor, grandparents want nutrition, and the parents want a unique taste experience. And they all want it fast.
"As everyone migrates toward ease and convenience, the entire industry starts shifting in that direction," stressed Tim Straus, a partner in The Turover-Straus Group, Inc., a firm specializing in market research and product development. "It used to be the big decision was whether to cook at home or eat out. Today, it's a whole different mind-set. You can go to McDonalds, or Bennigan's, or the supermarket and buy an entire meal, take it home, and eat in 10 minutes. Or I can buy a fresh or frozen meal and eat in 15 minutes."
In effect, fast food, casual dining, supermarket delis, and packaged foods companies are all competing for the same share of stomach at meal time—a decision often made with little premeditation by the "time-pressed" consumer Straus terms a "dasher."
"These are people who made the decision tonight about tonight's hot dinner," he said. And if the decision means a trip to the supermarket, "They're literally in there five minutes or less. They're very targeted, usually going to the hot deli section, buying what they want, and getting the heck out of there."
The dasher is responsible for the drive-thru-ization of both supermarkets and more upscale restaurants, where take-out is a growth business. The parking lot may be empty, but the cooks are working overtime. The only brakes on this trend are cost—take-out convenience is expensive—and a cultural need to prepare food hot and fresh. And this is the emerging opportunity area for branded food companies such as Stouffer's and suppliers such as Kraft Food Ingredients.
Stouffer's Skillet Sensations and Oven Sensations are relatively new frozen meal lines that include meat, vegetables, and potatoes in several varieties, ready to heat and eat. Unlike the frozen dinners of yore, these dinners are designed as either skillet or casserole style entrees. This concept helps to elevate product quality without extra preparation time. Pour it out, cook, and eat.
Agrilink Foods' Birds Eye Voila! takes the concept a step further by keeping the key ingredients separate until cooking time. Then meat, pasta, potatoes or rice, and vegetables are combined, cooked, and served. These all-in-one meals are designed to give the consumer a sense of meal preparation, without the time or work. Meat is a new addition to Voila!, which has been marketed for several years as an "add-your-own-meat" product. Varieties now include beef, chicken, turkey, and shrimp.
This type of convenience is not limited to all-in-one meals. Recognizing that half of all beef sold at retail is ground, and that more than half of that is browned and added to other recipes, Farmland National Beef introduced Ground and Browned last year. The product delivers meat ready for tacos or chili without the time and splatter. The company likens its simple yet revolutionary product to bagged, pre-cut salad or shredded cheese. "We believe the future is with branded beef," said David Hall, senior vice president of sales and marketing.
This simple approach also ignited the success of The Quaker Oats Co.'s surprise hit last year, Oatmeal Express. Taking its cue from the ramen noodle producers, Quaker put its popular instant oatmeal in a microwavable bowl. The concept was based on research showing how many people eat at their desk and in their car. "Oatmeal at warp speed" is the tag line the company used in its introduction.
Kraft Food Ingredients recently expanded its Flavors of Cooking line to include Backyard BBQ Grill, Chargrill, Lemon Grill, and International Grill flavors. These formulations are designed to simplify manufacturing processes by replicating flavors associated with actual cooking, thus saving time and raw material cost. "The expanded line of flavors reflects increasing consumer demand for more authentic tastes," stated Patti Lehigh, senior research scientist.
To be sure, Sensations, Voila, Ground and Browned, Oatmeal Express, and the many other similar products entering the marketplace are more expensive than scratch cooking or less-convenient, lower-quality meal solutions. And this—not technological hurdles—is why they haven't appeared in the marketplace sooner. Manufacturers simply did not believe consumers would pay the price.
"The consumer will spend that kind of money—and more," Straus observed. The reason is that the axiom 'time is money' has increased to the point where consumers will spend more than in the past for convenience. This means new opportunities for more-complex products that combine convenience and good taste. "It's almost like an arms race—it keeps escalating," Straus said.
The winners will be quick and easy and will allow consumers, as Sensations promises, "to serve and enjoy foods that taste just like homemade."
by PIERCE HOLLINGSWORTH
Contributing Editor