For many years, major food marketers have looked at the natural products industry as a stepchild catering to those fringe consumers willing to disregard taste for health or as a testing ground for trend-setting products that eventually—with the aid of technology or repositioning—may be able to capture the attention of mainstream America.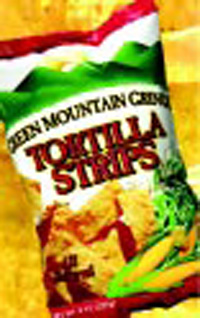 Times have changed. Anyone who attended the recent Expo West show in Anaheim—and there were a lot of IFT members there—couldn't help but be impressed by the unprecedented product quality, taste, and innovation. There's no doubt that this segment has raised the bar and set new standards for achievable healthy food criteria and claims.
While the upgrading and upscaling of the natural products segment will provide unprecedented competition for major food manufacturers, it will also offer a wealth of new, well-executed, all-natural, tasty organic, additive/GMO-free, and "clean" foods to emulate. Most important, natural food marketers have been able to cross the barrier of mixing restaurant-quality food, chef creativity, and health/nutrition. The following highlights some of the emerging trends and forthcoming product categories.
Perhaps the most dramatic examples of creative all-natural, organic, and nutritious foods—with exceptional taste and quality—were in the frozen sector. Radical Cuisines' Radical Ravioli—which asks consumers to "think globally and eat radically"—offers a creative variety of fresh-tasting organic stuffed pastas, such as Tuscan Spinach, Santa Fe Black Bean, California Grill, and Teriyaki Tofu. Other well-known "healthy food" marketers such as Amy's took a long-awaited health twist to popular products by adding a line of organic Toaster Pops, including grilled cheese made with non-GMO organic wheat flour and oat bran, and a line of Organic Skillet Meals featuring vegetarian-based Country Cheddar and Teriyaki Stir-Fry.
Significant was the ability of natural product marketers to pave the way to "fresh frozen" and to make packaged foods look fresh. Ethnic Gourmet's Ethnic Wraps is an explosive entry into the hand-held frozen category. Positioned as "exotic taste sensations for the health conscious," and featuring authentic recipes for Vegetarian Peanut Satay and Chicken Tikka Masala Wraps, you would not think these wraps were frozen. Imagine Natural and others offered a wide variety of fresh-looking, hand-held organic, all-natural stuffed breads and calzones, ranging from spinach feta to Mediterranean veggies and cheese. Eye-catching, natural-looking packaging was everywhere.
Not surprisingly, beverages led the way. Two mesmerizing examples: The Republic of Tea offered beautifully tall, slim, curvaceous bottles of Kiwi Pear, Berry Plum, and Orange Spice green tea, while Eurobubblies introduced an effervescent traditional French sparkling lemonade in old-fashioned spring-capped bottles. Walnut Acre's Certified Organic Soups, including Autumn Harvest and Country Corn Chowder, in pourable, attractive, farm-friendly glass jars gave an unusual aura of authenticity.
But to me, two things stood out. First, the ability to manufacture frozen and other processed great-tasting products with very low sodium, fat, sugar, or cholesterol content. With more than 50 million adults and 2 million children having high blood pressure, this is sure to return as a viable concern after great-tasting convenience products become available. For example, Gloria Kitchens' Hoisin BBQ vegetable and noodle entrée has only 70 mg of sodium and 170 calories for a delicious dinner entrée. Her products were not alone. Second, I saw an improved ability to deliver all-natural, no-preservative snacks, appetizers, and other forms of contemporary foods. Green Mountain Gringo's tortilla strips and chips are all natural, low-fat, gluten-free, and kosher; they contain no preservatives and no cholesterol, and are only lightly salted. Health Valley and Cascadian Farms provide similar products. From gluten- and wheat-free to non-dairy and vegan-based, the claims are accelerating.
So what else will we be seeing? Rice and soy yogurts, rice/oat/soy combination beverages, tuna burgers, all-natural pizza, lots and lots of rice- and couscous-based Middle Eastern entrees, and Thai cuisine and Asian noodles everywhere. There were some breakthrough categories, too, like Spectrum Naturals Mayonnaise, Kozy Shack's all-natural puddings, and Florida Crystals' organic cane sugar.
And there will be the glamour, too. Celebrity chef Akasha—who has spent her career cooking delicious vegetarian meals for health-conscious actors, rock stars, and socialites—is offering her new line of vegetarian frozen casseroles. YoSelf yogurt for women by Stonyfield Farm pioneered the customized organic health food category. Wise food marketers will tap into this new wave of health and quality, as it offers a new license for great-tasting and highly lucrative fare.
by A. ELIZABETH SLOAN
Contributing Editor