Next month, the Institute of Food Technologists will bring together in New Orleans scientists and business professionals to explore the complexities of nutrition, production, safety, and economics amid ever-changing global needs and consumer concerns for food quality, variety, and convenience. This year's IFT Annual Meeting has been designated 2001, A Food Odyssey . . . Visions for Change. Through our interaction and shared insights on critical issues within the food science and technology community, we will evolve greater knowledge, superior products, and professional enrichment.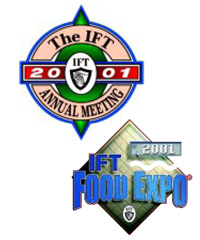 On Friday and Saturday, June 22 and 23, IFT will present nine continuing education programs on subjects ranging from "Food Engineering Fundamentals for R&D" to "Food Product Development Based on Experience."
On Saturday evening, the Opening Event will feature keynote speaker Elizabeth Dole, whom the Gallup Poll called one of the world's ten most admired women for her many contributions to the health and welfare of humanity. The event will also honor award winners for their contributions and achievements.
The Technical Program will run from Sunday morning through Wednesday morning, featuring symposia, forums, oral presentations, and poster sessions on almost every aspect of food science and technology. Hot Topic sessions will present timely information on three issues of importance, and two New Products & Technologies sessions will provide details of several of the industry's newest developments.
The IFT FOOD EXPO® will run from Sunday afternoon through Wednesday morning and will feature exhibits from all over the world.
Many more activities will occur throughout the Annual Meeting. Plan to attend. You can obtain complete information about the IFT Annual Meeting and IFT Food Expo, as well as register on-line, at www.ift.org.
In the following pages, Food Technology's editors present highlights of the more than 1,400 technical papers and more than 900 exhibit booths that will be featured, to help you determine in advance which of them you will want to make sure you get to. For your added convenience, a box precedes each item; if you mark it, it can serve as a personal reminder to attend that paper or exhibit. Don Pszczola covers Ingredients; James Giese, Laboratory; Neil Mermelstein, Processing; and Sara Langen, Packaging and Services. Each section includes a list of the exhibitors in that category and their booth numbers. These sections are followed by the preliminary technical program, listing all the papers as of press time, and a list of participants (speakers, authors, moderators, and panelists).
We hope that this issue will serve as a useful tool to help you plan your Odyssey through the 2001 IFT Annual Meeting and IFT Food Expo.