After food ingredients, the most numerous category of exhibitors at the 2002 IFT Annual Meeting & Food Expo in Anaheim, Calif., on June 16–19, was laboratory suppliers. The following is a roundup of some of the new products and developments these suppliers exhibited.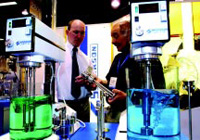 Food color measurement meter, the ColorTrend HT, may be used to continuously measure and report color and height of food products on a moving conveyor. It is suited for use for a variety of products, including breads, rolls, buns, potato/corn chips, peanuts, sugar, cookies, and crackers. The unit is positioned 2–6 inches away from the product and designed for harsh production environments. HunterLab, 11491 Sunset Hills Rd., Reston, VA 20190 (phone 703-471-6870).
Hand-held mechanical tester to measure texture and tension of foods was on display at the meeting. Instron Corp. introduced what is claimed to be the industry's first hand-held mechanical tester: the In-Spec 2200 Hand Held. Equipped with an industrial-strength battery, this portable testing instrument is said to be ideal for any application where it is more efficient to bring the tester to the sample rather than bring the sample to the lab. The new tester is said to easily convert between two test modes: "push-pull" and "tension-compression." In the push-pull mode, the force is reacted against the object itself. In the tension-compression mode, the force is reacted against a built-in crosshead. In both operational modes, the tester applies load or displacement at known, repeatable speeds to ensure consistent testing and results. Instron Corp., 100 Royall St., Canton, MA 02021 (phone 800-564-8378; www.instron.com).
Enteropathogenic Campylobacter species may be identified with a new rapid test. The Dryspot Campylobacter Test DR150M is based on the principle that blue latex reagent sensitized with rabbit antibody reactive with selected Campylobacter cell surface antigens is dried onto the surface of reaction cards. When a Campylobacter antigen extract is mixed with the test reagent, agglutination occurs dur to cross-linking of the latex-bound antibody and the antigens. Oxoid, Inc., 800 Proctor Ave., Ogdensburg, NY 13669 (phone 800-567-8378; fax 613-226-3728).
Laboratory fluid bed dryers are compact benchtop units that use an air delivery system and heater to rapidly remove moisture or solvents from lab samples with up to 80% moisture content. Units ensure thorough drying, even with fine or irregularity-shaped samples. Cole-Parmer Instrument Co., 625 E. Bunker Ct., Vernon Hills, IL 60061 (phone 800-323-4340; fax 847-247-2929; e-mail [email protected]).
Protein determination may be made with the use of the vario Max elemental analyzer. The instrument may be used in place of a Kjeldahl extraction. Applications include a variety of dairy products, such as whey, milk protein concentrate, sodium caseinate, fluid milk, yogurt, and cottage, processed, and natural cheese. The analyzer determines nitrogen by combustion of the dairy food, followed by reduction of the nitrogen to N2, then detection using a thermal conductivity detector. Elementar Americas, Inc., 520 Fellowship Rd., Ste. B-204, Mt. Laurel, NJ 08054 (phone 856-787-0055; www.elementar-inc.com).
--- PAGE BREAK ---
Water activity instruments were exhibited by Rotronic Instrument Corp. Using digital signal processing, the new line of instruments is said to offer flexibility and reliability. The line includes a handheld portable solution, PC-based software with indicator and probes, and a stand-alone instrument for the measurement of water activity. The portable unit, the HygroPalm AW, is an inexpensive instrument consisting of a microprocessor and a probe. For PC-based solutions, the company is offering the HW3 Aw Software and HygroLab 2. Automatic logging of end results, product description, probe identification, date and time simplifies record keeping and is available in both measuring modes. The HygroLab 3 offers all of the features of the HygroLab 2, with the requirement of a PC for quick measurements. Up to four probes can be connected to the instrument for simultaneous measurement of four different product samples. Rotronic Instrument Corp., 106 E. Main St., Huntington, NY 11743 (phone 631-427-3902 or 800-628-7101; www.rotronic-usa.com). 
Laboratory refractometer, the model LR-01, is a new analytical instrument for laboratory use. It measures the refractive index of the sample, computes its concentration, and presents the value on a digital display. The measurement can also be sent to an external printer or computer. The model features eight measuring scales (two standard plus six user-customized ranges), automatic zero calibration with water, printer and computer outputs, single or continuous analysis, and voice synthesizer in four languages. The instrument has an optional flow-cell adapter for continuous analysis in pilot plants. Primary applications for the model include food, beverage, dairy, and chemical industry laboratories. Maselli Measurements, Inc., 7746 Lorraine Ave., Ste. 201, Stockton, CA 95210 (phone 209-474-9178; 800-964-9600; fax 209-474-9241; www.maselli.com).  
Colony counting system, the QCount, uses patent-pending technology to bypass limitations of ambient lighting and clustered colonies, giving sharp, error-free plate counts. The unit combines a high-resolution CCD video camera, specialized lighting, and contour-analysis software into a system that counts microbial colonies on plates with exceptional ease and accuracy. The software is said to accurately analyze colony size. The company says that a recent study demonstrated that the system performed within 0.1 log of the corresponding manual (hand) count more than 95% of the time. The study is available on request. Spiral Biotech, Inc., Two Technology Way, Norwood, MA 02062 (phone 800-554-1620; 781-320-9000; fax 781-320-8181; www.spiralbiotech.com).
HACCP software, called sayDATA, was introduced at the Annual Meeting by Norback, Ley, & Associates, LLC. The software allows the user to record data with spoken input and interact with a PC to create records. It includes a voice-recognition training module, adapting PC software to a input from a user's unique voice. By wearing a wireless headset, the user speaks the data and a PC-generated voice confirms what was heard. The PC-generated voice then asks for the next data item. The software can be used for many types of input. Some of these include taking the temperature of food samples, confirming the condition of a received product, and noting sanitation conditions. Norback, Ley, & Associates, LLC, 3022 Woodland Trail, Middleton, WI 53562 (phone 608-233-3814; fax 608-233-3895).
Dissolved CO2 in beverages and other liquids may be measured with fluorescence-based optical sensors from Ocean Optics. The sensors may be used in beer, wine, and soda, as well as in biochemical and environmental samples such as freshwater and seawater. The real-time sensors have a dynamic range of 0–25% and offer high sensitivity in liquid samples with a resolution as low as 0.001% at low concentrations. Ocean Optics, 380 Main St., Dunedin, FL 34698 (phone 727-733-2447; fax 727-733-3962).
--- PAGE BREAK ---
In-transit temperature recorders, strip-chart recorders, circular chart recorders, and temperature/humidity recorders were offered by DeltaTrak, Inc. Best known for in-transit recorders, the company has researched and developed several new microprocessor-based technology products such as the TQM-500 thermometer, CDX multi-channel monitoring, alarm and recording systems, and a family of electronic data loggers. They also showcased new digital thermometers, hygro thermometers, ISFET pH Meters, and non-contact infrared thermometers. Delta Trak, Inc., P.O. Box 398, Pleasanton, CA 94566 (phone 925-249-2250; 800-962-6776; fax 925-249-2251; [email protected]). 
Water-quality testing products were offered by LaMotte, Inc. One new development is the SMART Spectro, which features pre-programmed tests and automatic wavelength selection over a range of 350–1,000 nm with extremely high resolution and accuracy. Their new pH PLUS Direct allows direct-reading results in concentration for any ISE. More unitdose reagent systems are being developed, including the Insta-Test line of water-quality test strips and the UDV Unit Dose Vials for colorimetric instrument use. LaMotte Co., 802 Washington Ave., Chestertown, MD 21620 (phone 410-778-3100).
Software tools for new product development and regulatory assessment were offered by Selerant Corp. Called WinChem, the software tool allows the user to effectively plan and manage projects. It combines a spreadsheet and outlook-style interface. With the tool, the user can create a project brief based on customer or marketing requests, perform automatic assessments and opportunity analysis, and give a priority rating to the customer request based on internal business rules. The system also sends automatic notifications at different levels in the workflow. The system has the ability to define the project workflow and has a built-in workflow designer application. Selerant Corp., 45 Main St., Ste. 708, Brooklyn, NY 11201 (phone 718-260 8037; fax 718-260-8038; E-mail: [email protected]).
Microbial detection in food products is made possible with the BioSys System. The system is a computerized instrument designed to rapidly detect microbial contamination in industrial samples, food, beverage, water, cosmetic, and nutraceutical products. Also capable of detecting the presence of various groups of organisms (e.g., coliform bacteria, yeasts and molds, lactic acid bacteria, and others), the system is said to be a rapid approach to microbiological safety. Other tests performed by the system are detection of spoilage organisms, shelf-life assessment, microbial limits, and preservative challenge tests. The system is based on detection of the metabolic processes of the organisms, by combining newly developed dye technologies and optical sensors. REMEL Inc., 12076 Santa Fe Dr., Lenexa, KS 66215 (phone 800-255-6730; fax 800-621-8251).
Screening method, called Rapid-Screen, that provides a positive or negative result for the Toxic Equivalency Quotient (TEQ) of a sample at some specified target point was offered by Triangle Labs. The TEQ represents an estimate of the toxicity of the sample. Each compound has been assigned a Toxicity Equivalency Factor (TEF) by the Environmental Protection Agency. This factor is multiplied by the measured concentration, and the sum of these values is the TEQ. The TEQ is expressed in the units of the analysis (e.g., parts per trillion for a food sample). A screening analysis should not be confused with a validated analysis. Samples that give a positive result from a screening analysis must be analyzed by a validated method to meet regulatory compliance. The new technology allows screening for dioxins, furans, and PCBs in food and feed. Triangle Labs, 2445 S. Alston Ave., Durham, NC 27713 (phone 919-544-5729; fax 919-544-5491).
Benchtop shakers, called Lab-Line Force Orbital, operate in temperatures from 4 to 40°C and accommodate three platform-sized as well as dual-tier configurations. Precise microprocessor control of speeds from 15 to 500 rpm with 99.9 minute or hour timers makes the Force shakers perfect for cell, tissue, or bacterial studies, diagnostic tests, washing procedures, and more. The shaker carry a lifetime warranty on drive mechanisms and a 60-month warranty on components. Barnstead/Thermolyne, 2555 Kerper Blvd., Dubuque, Iowa 52001 (phone 319-556-2241; fax 319-589-0516).
--- PAGE BREAK ---
Multi-data logger, the TrackSense II TM, is a battery driven universal logger with changeable sensors that is said to be easy to use in several food applications. With optional mounting accessories, the loggers can be mounted both on the inside and the outside of a variety of food containers and packages. The logger has an internal temperature sensor, which can be activated so temperature can be monitored when using external pressure, relative humidity, or can rotation sensor or as a double temperature monitoring together with the company's rigid/flexible solo temperature sensors. Ellab Inc. 6355 Ward Rd., Ste. 308, Arvada, CO 80004 (phone 303-425-3370; fax: 303-425-3384; e-mail [email protected]).
Electronic nose and tongue, the Gemini Electronic Nose and the Astree Electronic Tongue, were exhibited by Alpha M.O.S. The Gemini is a screening tool for aroma and volatile organic compounds analysis. It provides the verification of incoming raw materials and detects taints and off-odors before product shipment. The instrument features chemical sensor array technology, LIMS, data transfer, control charting, and an autosampler. The Astree is designed for liquid product analysis and taste control. The instrument works by measuring dissolved compounds and taste substances in liquid samples. It allows product conformity testing, taste default detection, origin identification, and substance quantification. It features an autosampler and integrated software. The company also offers testing and technique development services. Alpha M.O.S. Inc., 20, Av. Didier Daurat, Toulouse 31400, France (phone 011-33 5 62 47 53 80; www.alphamos.com).
Handheld thermal properties meter, the KD2, was introduced to the food industry at Food Expo. The handheld meter uses a single-needle sensor to measure the thermal properties of food products and other materials. It uses a simple yet precise heating and monitoring system to measure the slope and intercept of the sample specific temperature rise vs. time curve. From these data, thermal diffusivity and thermal resistivity are derived. The unit only weighs 4 oz and is durable, making it ideal for carrying from site to site. The company also exhibited its AquaLab water activity meter and Pawkit portable water activity meter. There are two AquaLab models—the Series 3 with standard aw meter and the Series 3TE with internal temperature control. The patented chilled-mirror dewpoint sensor measures water activity from 0.030 to 1.000 aw. Decagon Devices, Inc., 950 NE Nelson Ct., Pullman, WA 99163 (phone 509-332-2756).
Food and water testing products were presented by Bio-Rad Laboratories. The company's new iQ-Check Salmonella and iQ-Check Listeria monocytogenes kits are real-time PCR-based assays for the detection of Salmonella and L. monocytogenes in food samples. The use of chromogenic substrates in culture media is said to allow specific microorganisms to be tested for, identified, and enumerated in a single step. Bio-Rad, 2000 Alfred Nobel Dr., Hercules, CA 94547.
Antioxidant analyzer, the Photochem®, provides analysis of the antioxidative capacity of both water-soluble and lipid-soluble antioxidants with the photochemiluminecsence (PCL) method. The instrument is said to have very short measuring times for a concentrated sample with high sensitivity. Sampling, measurement, and rinse cycles are automatic. The analyzer may be used to measure antioxidative capacity in beer, tea, coffee, vegetables, garlic, vitamin tablets, oils, grape musts, and other products. Analytik Jena USA, Inc., 601 Sunbury Rd., Delaware, OH 43015 (phone 740-369-9358).
X-ray solutions for the rapid analysis of chemical phase, polymorphism, structure, texture, stress, orientation, elemental analysis, and composition in samples ranging from pure to inhomogeneous, small, and large samples were exhibited. The instruments are said to determine and screen sugar and lipid distribution in food products without the need for sample prep. Bruker AXS, 5465 E. Cheryl Pkwy., Madison, WI 53711 (phone 608-276-3000; www.bruker-axs.com).
--- PAGE BREAK ---
Microwave laboratory instrumentation was exhibited by CEM Corp. The company offers a range of moisture/solids analyzers, fat analyzers, muffle furnaces, sample preparation systems, and extraction systems. The company also provides experienced applications chemists and technical support personnel to solve difficult applications problems. CEM Corp., P.O. Box 200, Matthews, NC 28106 (phone 704-821-7015; www.cem.com).
Product development software, called Genesis R&D, was offered by ESHA Research. The software allows the user to customize work and save time of reentry and hand calculations. In addition to the nine Nutrition Labeling and Education Act (NLEA) label formats and a supplement label, a variety of professional reports are available. The user can view the analysis as a spreadsheet, protein quality report, bar graph comparison, or single nutrient report. The program allows users to enter a complete ingredient statement and print it with a Nutrition Facts panel. In addition to USDA and manufacturers' data, the program's database includes items specific to the food manufacturing industry, such as colors, flavorings, chemicals, and raw ingredients. ESHA Research, P.O. Box 13028, Salem, OR 97309 (phone 503-585-6242 ext. 200, 800-659-3742 ext. 200; fax 503-585-5543; [email protected]).
Orbital shakers, the VWR and VWR Signature Series, may be used in most laboratory shaking applications. Operating in either timed or continuous mode, the digital controller uses a microprocessor to provide motion control. The shakers can be configured with various accessories to fit individual needs. VWR International, 1310 Goshen Pkwy., West Chester, PA 19380 (phone 610-431-1700; fax 610-431-9174, www.vwrsp.com).
Starch and flour sample evaluation may be accomplished with the use of the Micro ViscoAmyloGraph. The new instrument needs only 5–10 g of sample for an evaluation. Total test time can be reduced with the use of an elevated temperature rate. Correlation software allows the user to compare up to 15 different curves. C.W. Brabender Instruments, Inc., 50 E. Wesley St., South Hackensack, NJ 07606 (phone 201-343-8425; www.cwbrabender.com). 
Miniature heat exchangers, plate and tubular, were exhibited at Food Expo. In a major upgrade to one of its most popular products used for research and development by the food and beverage industries, two-stage cooling has been added to the miniature-scale plate and tubular heat exchangers available on Armfield's FT74X UHT/HTST system. The units consist of a small-footprint service cabinet containing a pressurized hot water circulator on which interchangeable plate-and-tube heat exchangers can be mounted. Water circulating at over 160ºC enables a full range of processes from pasteurization to UHT operation, with throughputs of up to 20 L/hr. A membrane control panel allows the operator to set and display process parameters such as product pressure and temperatures these are displayed throughout the process. A USB port allows real-time data logging. Armfield Ltd., Bridge House, West St., Ringwood, Hants. BH24 1DY, UK (phone +01425 478781; fax +01425 470916; e-mail [email protected]).
Screen for ruminant MBM is said to be the only test available that provides a simple, quick and accurate method to detect the presence of ruminant meat and bone meal (MBM) in non-ruminant meat and bone meal. The test provides an easy method to protect business and industry from the consequences of the discovery of the accidental feeding of cattle with ruminant by-products. Concern about the consumption of ruminants (cattle, sheep, etc.) infected with bovine spongiform encephalopathy (BSE) led the Food and Drug Administration in 1997 to ban the feeding of rendered ruminant by-products to other ruminants. Failure to meet FDA's restrictions has led to the quarantine of animals that were mistakenly fed feed containing the banned ingredients. Agri-Screen for Ruminant MBM is a single-step lateral flow immunochromatographic assay. The extract is wicked through a reagent zone, which contains antibodies specific for heat-stable ruminant muscle protein, conjugated to colored particles. If ruminant by-product is present, it will be captured by the conjugated antibodies. The ruminant-antibody-particle complex is then wicked onto a membrane which contains a zone of antibody specific for the ruminant muscle protein. This zone captures the complex allowing the particles to concentrate and form a visible line. If no ruminant by-product is present, no line will form. The membrane also contains a control zone where an immune complex present in the reagent zone is captured by an antibody, forming a visible line. The control line will always form regardless of the presence of ruminant by-product, ensuring that the strip is working properly. Neogen Corp., 620 Lesher Pl., Lansing MI 48912 (phone 517 372 9200; fax 517 372 0108; e-mail [email protected].
Meat species assay, the Melisa-Tek™, is intended to be used for the detection of animal species proteins in meat and bone meals, animal feeds, and cooked and uncooked foods. The newest method for speciation of products containing animal proteins is based on patented monoclonal antibodies to a thermostable, muscle-specific antigen and offers improved analytical performance for detection of species content in thermally processed products. The test will detect species content in products processed at temperatures exceeding 133°C and 3 bars of pressure and is both muscle and species specific. Testing for the presence of the species content in anumal feeds is important because of the potential for transmission of BSE in ruminant feeds containing ruminant tissues. Elisa Technologies, 4581-L NW 6th St., Gainesville, FL 32609 (phone 352-337-3929; fax 352-337-3928). 
by James H. Giese, Internet Editor