A new Products & Technologies Section, Nutraceuticals and Functional Foods, was recently added to Food Technology that looks at research addressing a number of health concerns (for example, cancer, heart disease, and obesity), and potential solutions that are being developed. Consequently, I thought it would be appropriate to expand our post-show coverage of the 2002 IFT Food Expo to include some of the more important developments related to nutraceuticals and health-promoting ingredients.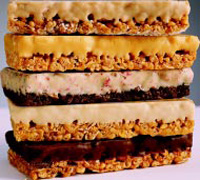 For those who have read the post-show ingredients coverage (see p. 62), it is not surprising to find a very strong health element at Food Expo. For example, ADM unveiled a variety of products ranging from a new diacylglycerol oil that promotes low levels of body fat to next-generation soy-based ingredients. Kerry's new division, Nutriant, will be focusing on nutraceutical and other health-promoting markets. Cargill highlighted a variety of innovative healthy ingredients at a media food fair. BioGaia demonstrated a unique delivery system for its probiotics. And Virginia Dare unveiled a variety of prototypes made with new flavors and masking agents that showcased the concepts of fitness and fun.
Any one of the above developments could easily fit into this article as well. When developing a product, factors such as health, functionality, convenience, and, of course, flavor and other desirable sensory attributes must all be taken into consideration, and all are closely related. Suffice then to say that the ingredients article strongly sets the stage for this one and both articles complement each other.
Let's now look at some of these nutraceutical developments that were highlighted at the 2002 IFT Food Expo. Afterwards, I will provide a brief summary looking at the more important trends.
Strategic triple alliance highlighted new fortified beverage concepts. Newest fortified beverage concepts developed through a strategic "One Solution" partnership were displayed by Roche Vitamins, Inc., 45 Waterview Blvd., Parsippany, NJ 07054 (phone 973-257-8288; fax 973-257-8675; www.nutraaccess.com). The partnership combines the fortification expertise of Roche, the flavoring capabilities of Givaudan, and the liquid packaging and product protection resources of Tetra Pak. Together, the three companies have created an assortment of fortified beverage prototypes, each aimed at specific demographic segments of the consumer marketplace.
At the 2001 IFT Food Expo, these three companies first introduced their innovative alliance which offered beverage formulators the resources they need to meet the demands of a health-minded consumer marketplace. Several prototypes were highlighted at that time. This year, other prototypes were introduced.
One product resulting from the collaboration is Activitea, reportedly a tangy and refreshing lemon-flavored iced tea fortified with Roche nutrients to provide antioxidant protection for men and women ages 25–54. Independent research conducted by HealthFocus®, Inc., has found that consumers in that age segment consider the health of their immune systems and their eyes to be among the most vital health issues. The beverage created consists of several nutrients, including lutein, zeaxanthin, zinc, and vitamins C and E that can supplement and enhance their health regimens in these areas.
A second product highlighted was Xtreme Orange, an orange-flavored fruit smoothie that contains 30% orange juice. The beverage is fortified to deliver nine essential nutrients to pre-teens for promoting strong bodies and maximizing performance.
--- PAGE BREAK ---
Recently, Roche lycopene, a carotenoid with potent antioxidant capabilities, received GRAS self affirmation and can be formulated into foods and beverages. The carotenoid has been associated with a reduced risk of certain cancers and can help promote a healthy prostate, lungs, and cardiovascular and stomach functions. Suggested daily intake of lycopene is approximately 6.5 mg based on intake levels associated with the highest protection from prostate cancer.
Technical and marketing experts from Roche Vitamins were available to discuss the diverse product development opportunities that now exist for foods and beverages fortified with lycopene, which is available in both water-dispersible and oil-soluble forms. Potential applications include nutritional bars, juices and a variety of drink types, salad dressings, yogurts, puddings, soups, gelatins, and several other products. The ingredient is stable, easy to process, and will not affect the taste profile of the applications.
Lutein, an antioxidant carotenoid, is now GRAS by self-affirmation, through a cooperative effort between Kemin Foods and Roche Vitamins, Inc. Studies have shown that diets rich in lutein and zeaxanthin are associated with reducing the risk of age-related eye disease such as macular degeneration and cataracts. More information about new developments related to lutein will follow in this article.
Roche Vitamins also unveiled its new e-Commerce web site, www.nutraaccess.com. By logging onto the site, customers can scroll a custom on-screen catalog of nutrients, request quotes, place orders, review order status, check past ordering history, and search and download critical documents such as certificates of analysis.
New beverages offer eye health benefits. New beverage products containing FloraGLO® brand of lutein, a nutrient which promotes long-term eye health, were introduced by Kemin Foods LC, 600 E. Court Ave., Suite A, Des Moines, IA 50309 (phone 866-536-4666; fax 515-248-4050; www.keminfoods.com). The three consumer products, manufactured by Ross Products Div. of Abbott Laboratories, Sunsweet Growers, and Country Pure Foods, will be available nationwide in grocery stores.
Ross Products—a global healthcare company focusing on the discovery, development, manufacture, and marketing of pharmaceuticals, nutritionals, and medical products—has reformulated its Ensure® brand nutritional supplement beverage with 500 micrograms of lutein per serving, and includes a line on the front of the package that reads "Now! Lutein to Help Support Eye Health."
Sunsweet Growers, Inc.—a worldwide producer and marketer of dried plums—has reformulated its flagship prune juice to include 500 micrograms of lutein per serving, and includes the line "Now with Lutein for Healthy Eyes" in the corner of its new package label.
--- PAGE BREAK ---
Country Pure Foods—one of the largest independent juice suppliers in the United States serving the foodservice, retail, and co-pack areas—formulated its Fruit Well™ Eye Power with lutein as well as thiamin, folate, and vitamins A, C, and E. The beverage, marketed under the brand Ardmore Farms, will be found in the chilled orange juice section.
"We're extremely pleased that three national consumer brands have formulated new products with FloraGLO lutein," said Alex Fink, strategic marketing manager at Kemin. "And we expect other manufacturers to jump on board soon."
Lutein, a nutrient found especially in dark green, leafy vegetables such as spinach and kale, promotes long-term eye health in two ways. First, lutein acts as a light filter, protecting the eyes from some of the damaging effects of the sun. Second, as an antioxidant, it protects the eyes from the damaging effects of aging.
According to Fink, a growing amount of scientific evidence shows a clear association between a diet rich in lutein and a decreased risk of cataracts and age-related macular degeneration, the leading cause of blindness in the U.S. for people over age 65.
Joint venture focuses on nutrition premixes. A joint venture for the manufacture, marketing, and sales of human nutrition premix products was formed between Fortitech, Inc., Riverside Technology Park, 2105 Technology Dr., Schenectady, NY 12308 (phone 518-372-5155; fax 518-372-5599; www.fortitech.com) and BASF Corp., 3000 Continental Dr. N., Mount Olive, NJ 07828-1234 (phone 973-426-2835; fax 973-426-2847).
Under the agreement, BASF, producer of nutritional ingredients, will transfer its premix customers in Europe, Asia, South America, and Africa to the international companies of Fortitech, a provider of custom-developed nutrient systems. Fortitech's international companies, constituting the joint venture, will assume ownership of BASF's premix manufacturing facilities in Denmark and Malaysia. In addition, BASF will become the primary supplier of a broad range of nutritional ingredients to Fortitech.
The joint venture builds on the existing North American strategical alliance the companies formed in June 2002, creating a worldwide partnership and strengthening the companies' respective positions as leading suppliers of nutritional ingredients and nutrient systems.
As part of the joint venture, BASF will provide Fortitech with enhanced access to high-quality nutritional ingredients to be used in nutrient systems for products including baby formulas, nutrient bars, drinks, and supplements. Fortitech's customized premixes feature a comprehensive range of vitamins, minerals, amino acids, nucleotides, nutraceuticals, and other specialty ingredients. Furthermore, Fortitech will have access to BASF's nutritional research and development efforts.
At Food Expo, Fortitech highlighted a variety of prototype applications formulated with its premixes.
--- PAGE BREAK ---
A fortified chocolate chip cookie made without refined sugars utilizes the healthy, natural sweetness of real fruit juice and grains, and contains a number of vitamins (B, C, E, and A), folic acid, and other healthy ingredients.
A new vitamin chew for kids has been formulated to help supplement the vitamins children may not be getting from the foods they eat. This multi-vitamin product contains vitamins A, C, D, E, and an array of B vitamins essential for energy, metabolism, and proper nerve and muscle function.
A natural cereal bar in a chocolate flavor was fortified with vitamins A, D, E, C, and several B vitamins. Among the many nutrients contained in the bar is biotin, which is essential for the body to derive energy from foods, as well as iron, which helps to maintain a healthy muscular system, and whey protein.
A water beverage was developed that is low in calories and has a natural appetite suppressant. A special combination of natural extracts, vitamins, and electrolyte minerals help reduce appetite and enhance hydration, metabolism, energy, and immunity.
Premixes fortify ice cream and other prototypes. Customized vitamin and mineral premixes used for fortifying a variety of prototype foods and beverages were demonstrated by Watson Foods Co., Inc., 301 Heffernan Dr., West Haven, CT 06516 (phone 800-388-3481 or 203-932-3000; fax 203-932-8266).
For example, a premix fortified premium ice cream with calcium, magnesium, phosphorus, vitamin D, and soy isoflavones, making possible label claims identifying these nutrients as excellent sources. Such a fortified product would meet consumers' desires for indulgence and health. Furthermore, being a dairy product, it already has a built-in association with bone health.
A premix was used to fortify water with beta-carotene, pantothenic acid, niacin, vitamin B-6, vitamin C, and vitamin E. The prototype water, Vita-Spring, was shown in two light, subtle, and fruity flavors—lemon and cherry. The lemon beverage uses 1% Beta Carotene F080189 for its sole source of color. The pink blush color of the cherry beverage comes from 15% Beta Carotene F080263.
Microencapsulation used in a premix allows high levels of nutrients to be added to a nutrition bar without effecting its flavor profile. The prototype highlighted was a fortified savory baked bar, containing vitamin A, iron, thiamin, riboflavin, niacin, pyridoxine, folic acid, zinc, and phosphorus. A line of bars could be developed to include savory flavors such as Tomato/Basil, Nacho, Pizza, and other flavors, and may be promoted as an alternative to bars having confectionery or fruit flavors.
Use of a fortified, high-protein cookie base resulted in a peanut butter cookie with 190 calories, 18 g of carbohydrates, 14 g of protein, and 9 g of fat (1.5 g is saturated fat). The nutrients provided in one serving include 45% of the RDI for calcium; 25% for vitamin A; 35% for vitamin E; 40% for riboflavin; 50% for vitamin B-6; 25% for vitamin B-12; and 70% for niacin. It also contains pantothenic acid, copper, folate, thiamin, iron, and zinc.
--- PAGE BREAK ---
The cookie base could be purchased in bulk by fitness food manufacturers and packed under private label for sale to consumers. Alternatively, a base could be sold to produce a soft baked bar with the flavor of a cookie. Or a peanut butter cookie with the company's Strawberry Glitter added on top could be sold having a taste like a peanut butter and jelly sandwich. High protein foods are attractive for weight management and fitness, and lower carbohydrate foods could be targeted to diabetics as well as parents of children with hyperactivity.
Soy's components work synergistically to provide health benefits. Research establishing that the health benefits of a soy ingredient, SoyLife, are due to the synergy of its active components was provided by Acatris USA, Inc., 3300 Edinborough Way, Minneapolis, MN 55435 (phone 952-920-7700; fax 952-920-7704; www.acatris.com).
The research conducted by the company suggested that the health benefits of soy are due to the variety of healthful nutrients found within soy, including soy protein, isoflavones, vitamin E, and saponins working together in synergy. SoyLife, manufactured by the company, is a soy germ food and supplement ingredient that contains more than 40 active components.
Also, researchers looked at the possible prebiotic and saponin effects of the soy ingredient. When the ingredient was added to an in-vitro model of the human digestive system, it was found that there was an increase in the presence of the healthy bacteria Lactobacillus sp. and that this increase resulted in substantial metabolism of soy isoflavones, suggesting a prebiotic effect. A separate in-vitro study showed that the saponin portion of the soy ingredient may protect the gut and its healthy bacteria by reducing the negative impact of bile salts.
According to the manufacturer, studies such as these are showing that SoyLife is a complex nutritional ingredient and its nutritional value goes beyond just soy protein and isoflavones.
A family of companies—Daminco, SoyLife, Schouten USA, and Orffa Foods—was introduced under the new name Acatris. The resulting integrated, multifaceted global organization combines the expertise of established leaders in a wide range of fields, including those related to health, and will provide tailor-made solutions needed to improve the marketability of the customer's current and future products.
Healthy products highlighted by the company included natural and synthetic antioxidant solutions, vitamin/mineral enrichment blends, and health ingredients derived from soy, flax, and fenugreek.
Beet components offer therapeutic benefits. The therapeutic benefits of betaine and uridine, active ingredients derived from sugar beets, were described in a newsletter published by Amino GmbH, An der Zucker-Raffinerie 10, Frellstedt, Germany (phone +49-5355-699-124; fax +49-5355-699-222; www.aminoactives.com).
--- PAGE BREAK ---
The amino acid derivative, betaine (trimethylglycine) is extracted from beet molasses. One article in the newsletter states that betaine has been used since 1999 alone or in combination with other substances for the treatment of mental disorders. Betaine may also delay the progress of Alzheimer's disease because of its ability to lower homocysteine levels and increase S-adenosyl methionine (SAM) levels. A second article discusses the research that Amino GmbH has gathered on uridine, a nucleoside compound with the potential to treat a number of disorders. For example, one patent indicates that uridine may be useful in the treatment of rheumatoid arthritis. The most promising use of uridine, however, may be in the area of neurodegenerative disorders, where evolving research is demonstrating its efficacy as a treatment or preventive.
A copy of the newsletter may be requested at [email protected].
Fiber ingredients provide partial replacement of sugar in cookies. Cookies formulated with less sugar and more fiber were showcased by Orafti Active Food Ingredients, 101 Lindenwood Dr., Malvern, PA 19355 (phone 610-889-9828; fax 610-889-9821; www.oraftius.com). These reduced-sugar cookies were reportedly made with fiber ingredients replacing 25% of the sugar and 50% of the sugar.
Attendees were invited to taste-test a full-sugar cookie and those made with the company's proprietary multifunctional dietary fiber ingredients. Orafti is a manufacturer of inulin (Raftiline®) and oligofructose (Raftilose®), next-generation dietary fibers that can provide important health benefits including increased calcium absorption and enhanced digestive health.
According to Scott Noar, Manager of Applications and Technical Services, people could not tell the difference between full-sugar cookies and those made with inulin replacing part of the sugar, thus demonstrating that reduced-sugar cookies with more fiber can be just as tasty as full-sugar cookies as well as having a similar texture.
"Based on people's reactions at the show, we expect that some of the industry professionals who sampled the possibilities will take the lesson back to the formulating studio and create visionary new products that will make a big impact on store shelves in the very near future," observed Kathy Niness, vice president of marketing.
New acquisition may spur further development of DHA. OmegaTech, a producer of docosahexaenoic acid (DHA) derived from marine microalgae, was recently acquired by Martek Biosciences Corp., an innovator in the research and development of DHA for use in functional foods, infant formula, early childhood nutritional products, dietary supplements, and animal health products. The company has changed its name to Martek Biosciences Boulder Corp. and will continue to operate from OmegaTech's former headquarters in Boulder, Colo., focusing primarily on the food industry.
DHA, a long-chain omega-3 fatty acid, is important for the healthy development and function of the heart, brain, and eyes. However, because the body is inefficient at producing DHA, experts recommend that adequate amounts be obtained from the diet. In 2000, the Food and Drug Administration allowed a qualified omega-3 heart health claim that associates good cardiovascular health with the intake of omega-3 fatty acids such as DHA.
--- PAGE BREAK ---
Because Martek's DHA is derived from microalgae, it is said to have several advantages over the use of fish oil as a source of DHA. It provides increased stability, is free of environmental pollutants and toxins, and does not deplete the world's supply of fish. The DHA oil is extracted and refined using techniques similar to those used in the production of common vegetable oils.
For more information, write to Martek Biosciences Boulder Corp., 4909 Nautilus Court N., Ste. 208, Boulder, CO 80301 (phone 303-381-8100; fax 303-381-8181).
Product concepts illustrate bioactive dairy ingredients. A range of nutritional and functional dairy ingredients, as well as innovative product concepts demonstrating these ingredients, were highlighted by Glanbia, 523 6th St., Monroe, WI 53566 (phone 800-336-2183; fax 608-329-2828; www.glanbiaingredients.com).
A confectionery product, gummy worms, was calcium fortified with a milk mineral complex called TruCal™. The ingredient, a natural source of milk calcium containing high levels of other minerals such as magnesium, phosphorus, and zinc, is said to be excellent for bone health, for weight loss, and as an antioxidant in meat. The gummy worms, in blue and orange colors, were said to have a smooth texture with no chalkiness.
Ready-to-drink and dry-mix high-protein fruit beverages were formulated with Provon® whey protein isolate. The fruit beverages contain 11–15 g of protein per serving and are targeted at the nutritional and mainstream beverage market. The clean tasting, highly soluble whey protein delivers essential amino acids and contains glycomacropeptide for immune modulation and gastrointestinal health.
A dairy ingredient—called Salibra 700—is manufactured using a proprietary membrane filtration process to enrich whey components linked to intestinal health and immune stimulation. The ingredient is said to contain more than 20% bioactive components derived from whey, such as glycomacropeptide (13%), immunoglobulins (5%), lactoferrin (1%), and phospholipids (2%). Other bioactive components that have been detected in the whey concentrate but are at a lower concentration include conjugated linoleic acid and growth factors (IGF-1, TGF-beta 1, and TGF-beta 2).
Research on these components has shown specific mechanisms for inhibiting certain pathogens, modulating the immune system, and maintaining intestinal integrity. Potential applications for this ingredient include yogurt, ice cream, low-fat products, nutritional bars, frozen whipped toppings, nutritional beverages, brownies, or any food system that currently uses whey proteins but would benefit from enriched levels of bioactive peptides. Also, nutraceutical products such as capsules, tablets, or lozenges are suitable delivery systems for the ingredient.
A lactoferrin called Bioferrin is biologically active for immune stimulation, iron supplementation, probiotic activity, and antibacterial applications. The health-promoting protein can be consumed directly or included in formulated foods or dietary supplement products. Glanbia has commenced a major lactoferrin expansion in its state-of-the-art whey processing facilities in Idaho. Strong demand for natural, antimicrobial, and immune-enhancing ingredients is a major driving force for the expansion.
A new interactive web site, www.glanbiaingredients.com, was also launched. The site contains comprehensive product and company information, advanced graphics, and application ideas. Coming soon to the site will be consumer-targeted information on dairy calcium and whey.
--- PAGE BREAK ---
Soy applications provide mainstream appeal. Soy protein—called Solae™—was showcased in several food and beverage concepts by DuPont Protein Technologies, P.O. Box 88940, St. Louis, MO 63188-1940 (phone 314-982-1983; fax 314-982-1121; www.solae.com).    
These applications included a milk chocolate pudding; a peach-flavored carbonated beverage; ready-to-drink fruit beverages in flavors of cranberry-raspberry, orange-passion fruit-mango, and pina colada; a raspberry yogurt energy bar, and an all-family food bar that is a healthy alternative to traditional candy bars.
A new high-protein nugget was recently introduced which offers bar and snack marketers formulation flexibility to achieve targeted protein levels and to deliver a desirable crunch and taste.
Representatives from the company provided information on rising consumer interest in soyfoods. Health benefits related to heart health, women's health, bone health, weight management, and cancer prevention were out-lined and the functionality of soy discussed.
Program demonstrates custom fortification solutions. A total body health product concept which combines functionality, taste, and convenience was presented by The Wright Group, P.O. Box 821, Crowley, LA 70527 (phone 337-783-3096; fax 337-783-3802; www.thewrightgroup.net).
Marketed under the name Synergy, the concept includes six families of products, each demonstrating how custom fortification solutions meet the growing demands of the consumer marketplace.
The Protein family highlighted a ready-to-drink mocha cappuccino beverage which combines the functionality of instantized whey protein concentrate (Proliant™ 8010) and whey protein hydrolysate (Proliant 8390) with nutrients (vitamins B-12, D, E, and A; folic acid; biotin; and essential micronutrients) vital to maintaining cardiovascular and bone health. The nutrient-rich instant drink is said to have a thick, creamy texture suitable for meal replacements and liquid supplement applications.
The Performance family featured a nutrient-enhanced energy drink which provides an alternative to carbonated beverages or non-fortified caffeinated drinks. Containing essential B-vitamins, L-taurine, and caffeine, the instantized ready-to-drink powder is added to water and shaken. It has a clear appearance and an orange flavor.
The Cardio family showcased a sugar-free chocolate chip cookie enhanced with omega-3. The product may be used by diabetics and health-conscious individuals and contains vitamin E, flaxseed oil, vitamin C, selenium, and folic acid.
The Joint Health family spotlighted a lemon wellness bar formulated with microencapsulated nutrients for relieving arthritis. The soy-based bar contains 1,500 mg of glucosamine and chondroitin, 563 mg of methylsulfonylmethane, and 37.5 mg of Devil's Claw, a multifunctional herb.
--- PAGE BREAK ---
The Bone Health family featured a fortified chocolate vanilla ice cream. With a natural profile high in calcium, the dairy dessert is fortified with vitamins A, C, D, E, and K.
The Complete family highlighted a fortified reduced-fat lemon poppy muffin. Fortified with 16 vitamins and minerals, the muffin offers a tasty, lemon poppy flavor and contains only 2.5 g of total fat.
Brochures describing each of these formulations are available from the Wright Group, comprised of three divisions—Wright Enrichment, Wright Nutrition, and Wright Pharma. Each division is specialized to provide service and expertise to the milling/baking, nutritional/functional food, and pharmaceutical industries.
Novel ingredients from Japan offer health benefits. A variety of novel health-promoting ingredients were highlighted by Japanese companies, in conjunction with Mitsubishi International Corp., 520 Madison Ave., New York, NY 10022 (phone 212-605-2408; fax 212-605-1810).
A probiotic product, a highly concentrated Bifidobacterium longum powder, is manufactured by Morinaga Milk Industry Co., Ltd. The product is said to improve intestinal environment, stimulate immunity, prevent diarrhea, and suppress harmful bacteria. The powder, which reportedly has exceptional room temperature stability, may be used in infant formulas, dietary supplements, and fortified or functional foods. It is produced by a technology which ensures that the bacterium remains viable in the product so that it reaches the large intestines.
A green tea extract called Thea-Flan is manufactured by Ito En, Ltd., and distributed and marketed by Mitsubishi. The extract has catechin or tannin content which offers medical benefits such as lowering cholesterol and allergies and providing antimicrobial properties. It can prevent food oxidation and is protein reactive, making it compatible for soy milks.
A soy flour called Uni-Cell is made by Japan Cell Foods using enzymatic technology that breaks down soy cells into their constituent parts. The result is that the flour is free of beany taste and odor typically associated with conventional soy flours, while maintaining its nutritional value.
A versatile soy derivative manufactured by Fuji Oil Co. is a soy peptide that has an amino acid composition similar to that of soy protein. Marketed under the name Hinute, the ingredient is highly water soluble in alkaline and acid conditions and its viscosity is much lower than that of soy protein. Properties include increased absorption, promotion of fat metabolism, and anti-fatigue effect.
A variety of health-promoting ingredients were unveiled by Maruzen Pharmaceuticals Co. These ingredients (and their health properties) include soy isoflavone (bone density and strength maintenance), Indian dates and kohki leaf (lipid and fat metabolism normalization); linden flower (anti-stress); alpinia leaf, purple hull rice, and lotus seed germ (anti-aging); turmeric, silymarin powder, licorice, and oyster (liver protection); gymnema and yacon leaf (sugar metabolism normalization); and tiencha and kohki leaf (free radical scavenging/antioxidants).
--- PAGE BREAK ---
Bamboo fiber adds health benefits. A bamboo-derived dietary fiber—available for use as a ingredient or processing aid in a variety of food, pharmaceutical, and nutraceutical products—was highlighted by CFF (CreaFill Fibers) Corp., 10200 Worton Rd., Chestertown, MD 21620 (phone 410-810-0779; fax 410-810-0793; www.cffcorp.com).
According to the manufacturer, the bland-tasting bamboo fiber can help promote a healthy digestive tract, aid in weight management, and contribute textural properties. Derived from the fiber-rich parts of bamboo plants, it consists of more than 90% water-insoluble fiber.
Peptide ingredient lowers cholesterol. A peptide ingredient combining soy protein hydrolysate and soy phospholipids to safely block cholesterol absorption within the intestine was developed by Kyowa Hakko USA, Inc., 599 Lexington Ave., Suite 4103, New York, NY 10022 (phone 212-319-5353; fax 212-421-1283). At the same time, while reducing the level of harmful LDL cholesterol, the ingredient is said to promote the production of healthy HDL cholesterol.
Called CSPHP, the ingredient is compatible with many different pH systems and is highly suitable for heat processing. It remains stable when added to other food and beverage components including proteins, lipids, starches, emulsifiers, and minerals. Among the applications that can be fortified with the ingredient include soy beverages, meat products, nutritional supplements, nutrition bars, and functional foods. It has a recommended daily dosage of only 3 grams and the ingredient will not alter flavor profiles.
Children's birthday party highlighted benefits of inulin. Inulin in foods and beverages designed especially for children was the booth theme of Imperial Sensus, P.O. Box 9, Sugar Land, TX 77487-0009 (phone 281-490-9522; fax 281-490-9615). A children's birthday party showcased inulin-fortified foods such as hot dogs, french fries, jelly beans, s'mores, rice krispy treats, and beverages.
The applications were formulated with Frutafit® inulin, a natural ingredient extracted from chicory root, that provides both functional and nutritional benefits to foods, beverages, and nutraceuticals. Inulin can increase nutritional value without adversely impacting flavor.
Compared with regular hot dogs, the inulin-fortified product reportedly has 50% less fat, twice the fiber and protein, and improved snap. (According to a company representative, a commercial vegetarian hot dog made with inulin was recently introduced.) Accompanying the hot dogs were low-fat french fries that retained crispiness eight times better after 10 minutes, compared with control fries. Because of inulin's fat-mimicking properties, fries with 20% less fat than traditional fries can be made. Also inulin helps improves the fries' toasted appearance.
The fortified sweet applications benefited from inulin's fiber contribution and sweetness.
A functional beverage for kids combined organic whole grains with fruit. Called Fruice®, the patented beverage from Philadelphia-based Devine Foods is a good source of fiber and is available in four flavors—Cheerful Cherry, Playful Peach, Perfect Pear, and So-Good Strawberry. The vitamins, minerals, fiber, and complex carbohydrates in the beverage are said to provide sustained energy and facilitate bone and muscle growth. One serving of the drink provides 40% of the recommended daily fiber amount for a two-year-old and provides a good source of vitamin C.
Clinical studies indicate that inulin—a prebiotic with special water-soluble dietary fiber properties--helps increase mineral bioavailability, particularly calcium absorption, stimulates the immune system, helps control blood glucose, and reduces LDL cholesterol levels.
--- PAGE BREAK ---
Distributor announces new health developments. Controlled release soy isoflavones, marketed under the name Solgen SR, was introduced by P.L Thomas & Co., Inc., 119 Headquarters Plaza, Morristown, NJ 07960 (phone 973-984-0900; fax 973-984-5666; www.plthomas.com).
Developed by Solbar Plant Extracts and Israel-based Bio Dar, the product is designed to release a minimum of 30% soy isoflavones within 12 hours. The slow delivery system gives sustained availability throughout the day and allows formulations that avoid momentary high serum concentrations and quick eliminations by the body. Solbar is currently sponsoring a human clinical study on the effect of this product at a major university. Studies have shown that soy isoflavones can be used in support formulas for menopause, bone and heart support, immune maintenance, and glucose control.
Also, PLT was recently named the exclusive U.S. distributor of superoxide dismutase (SOD), manufactured under the name GliSODin™ by France-based Isocell. The product is made by a process which protect SOD from degradation in the gastrointestinal track, providing increased levels of circulating SOD. The product has application in immune, neurological, cardiovascular, and liver support; vision and lung health, and overall cellular health.
PLT is also the exclusive distributor of a fenugreek product called Fenpure™, which is manufactured by NatuR&D, a division of Israel-based Adumin Food Ingredients. This fiber source has been shown effective in regulating glucose levels in the human body, and also has shown strong potential in weight loss applications. Applications for this product include tablets, capsules, beverages, breads and other baked goods, yogurt, cereals, and nutritional bars. The fenugreek fiber has been deodorized and standardized to contain a minimum of 85% fenugreek galactomannans.
New vitamin E product launched. A new vitamin E product for potential use in fortified foods, dietary supplements, and pharmaceuticals was launched by Cognis Nutrition and Health, 5325 S. Ninth Ave., La Grange, IL 60525 (phone 708-579-6150; fax 708-579-6152; www.cognis.com).
A new grade of high-potency natural-source vitamin E powder, marketed under the name Covitol® 1185 HPMC, is a vitamin E succinate, coated with hyproxyPropyl Methyl Cellulose (HPMC). Vitamin E succinate is an ester form of d-alpha tocopherol (natural vitamin E) that offers beneficial oxidative stability. It is solid at room temperature, permitting use in direct compression tablets and hard-gelatin capsules.
According to the manufacturer, the HPMC coating on the surface of the particles is responsible for the superior flow properties of the ingredient, bringing improved performance over other succinate products.
Strategic alliance focuses on functional food segment. A strategic alliance to supply dietary supplement and functional food ingredients to the nutraceuticals industry was formed between RFI Ingredients, 300 Corporate Dr., Ste. 14, Blauvelt, NY 10913 (phone 845-358-8600; fax 845-358-9003) and Hauser, Inc., headquartered in Long Beach, Calif., and Longmont, Colo.
RFI has traditionally focused on the food and functional food industry, while Hauser's expertise lies in the dietary supplement market. The two companies will combine strengths to offer a diverse product line of proprietary, science-based ingredients and custom blends to the entire nutrauceutical industry, with emphasis on the growing functional food segment within the dietary supplement business.
--- PAGE BREAK ---
Acquisition add DHA to product portfolio. Omega-3 fatty acid, docosahexaenoic acid (DHA), has been added to the product portfolio of Nutrinova, Inc., 285 Davidson Ave., Ste. 102, Somerset, NJ 08873 (phone 800-786-3883; fax 732-271-7235; www.nutrinova.com). The portfolio expansion was the result of the company's acquiring Protos-Biotech, Celanese Ventures' biotechnology unit, on July 1, 2002.
Protos-Biotech's most important product, DHA, is produced using highly developed microorganisms (protists). The product, which will be marketed under the name DHActive, is said to exhibit significant advantages over omega-3 fatty acids extracted from cold water fish. According to the manufacturer, it contains a higher percentage of DHA, maintains a constant level of high quality, and has a pleasant taste.
As DHA can only be produced in limited quantities by the body, it has to come from the diet. An adequate supply of DHA promotes the development of babies and improves the general health of adults. Omega-3 fatty acids can be taken as food supplements or used as food ingredients.
An independent team of international experts have granted DHActive GRAS status, enabling the product to be used in the U.S. in dietary supplements, such as capsules, and in traditional foods such as baked goods, cereals, dairy products, fruit juices, or snacks.
New lycopene formulation developed. A lycopene product specifically intended for food has been introduced by BASF Corp., 3000 Continental Dr. N., Mount Olive, NJ 07828-1234 (phone 973-426-2835; fax 973-426-2847).
Marketed under the name LycoVit®, the synthetic lycopene product is determined as GRAS based on scientific procedures by an external panel of experts and a notification of this determination is being submitted to FDA. It was determined that the synthetic version is substantially similar to naturally occurring lycopene and is safe to use in conventional foods.
The ingredient is available as a cold-water-dispersible powder or as a dispersion in vegetable oil.
Studies have demonstrated the beneficial effects of lycopene on the cardiovascular system, prostate, lung, breast, and colon.
Extracts provide standardized levels of phytochemicals. Fruit and vegetable extracts providing standardized levels of phytochemicals were introduced by GNT USA, Inc., 660 White Plains Rd., Tarrytown, NY 10591 (phone 914-524-0600; fax 914-524-0681). Called Nutrifood®, the extracts are designed as a new, more convenient way to get the recommended daily servings of fruits and vegetables in foods and beverages.
According to the manufacturer, the liquid concentrates contain a wide spectrum of carotenoids, anthocyanins, and polyphenols, as they are found in fresh fruits and vegetables. They are standardized to deliver consistent levels of phytochemicals without the variations associated with nature.
Potential applications for these extracts include beverages, candies, fruit-based fillings, dairy items, breads, ice cream, yogurt, cookies, snacks, pasta, and nutraceutical products.
--- PAGE BREAK ---
Over the years, as health trends dominated, there was a growing emphasis on the health benefits of a particular ingredient rather than on the benefits of its functionality in a food application. However, as I think this article shows, when talking about the value of health-promoting ingredients, frequently along the way we rediscover their functionality. Inulin, of course, is one good example. In reduced-sugar cookies, it was used to replace part of the sugar. In hot dogs and French fries, it was used to replace fat and provide textural properties. Soy, of course, is another good example of an ingredient that provides a variety of functionality properties. And the carotenoids, in addition to their health value, are used as colorants in some of the applications highlighted at the show.
Recently, Polyphenolics Inc. announced self-GRAS approval for MegaNatural® Gold Grape Seed Extract and MegaNatural GSKE Grape Skin Extract, purified concentrated phenolic/flavonoid compounds for use in beverages. Studies have shown that these products have potent antioxidant properties and are synergistic with vitamins C and E. The GRAS determination moves these health-promoting ingredients beyond the nutraceutical arena and into the beverage market. Furthermore, because of their functionality—they are 100% soluble and have excellent long-term stability—they are very suitable for beverages.
I want to provide one more interesting example on rediscovering functionality. In the previous ingredients article in this issue, I wrote about BioGaia's delivery of a probiotic for use in shelf-stable beverages. Several ingredient companies expressed an interest in using the system to deliver other functionality ingredients such as flavors and colors into beverages. The development thus moved beyond the health aspects to include novelty, the creation of possible children's beverages, and improved products that have a longer shelf life.
Rediscovering the functionality of health-promoting ingredients might make for an interesting in-depth review in some future issue of Food Technology. With all the health studies that keep coming out, it is important not to forget the functionality benefits that these ingredients have–either singularly or in combination with other such ingredients.
In addition to the functionality aspects, there were several other notable developments occurring in the nutraceuticals arena. For example, there were several important strategic alliances that were bridging functional food ingredients with dietary supplements, combining strengths, and offering a more diverse product line.
Furthermore, frequently from these same alliances were emerging new product concepts, prototypes, or already commercialized products promoting health benefits. What was particularly interesting was that many of these products were very specific—targeting one area such as eye health, bone health, or diabetes. And I think we'll see more new health concepts in the coming months.
And, of course, we're seeing the development of some interesting nutraceutical ingredients such as those derived from sugar beets, dairy products, fruits and vegetables, and even bamboo. Several Japanese companies, in particular, highlighted a variety of next-generation nutraceutical ingredients, such as a cholesterol-lowering peptide, a prebiotic with improved functionality, and several unique soy products.
For a few days at the 2002 IFT Annual Meeting & Food Expo, I think we got a good view of the future of the nutraceuticals area and the factors that are shaping its parameters.
by Donald E. Pszczola, Associate Editor