More and more, ingredient companies are using the IFT Annual Meeting & Food Expo to define—or perhaps reshape—themselves to convey certain ideas or themes to their customers.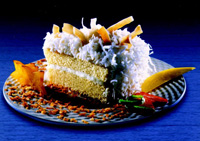 Depending on the company, of course, this may be done in a variety of ways—for example, the design of the booth structure to reflect an overall theme; the press conferences, tours, and other events held at the booth; the use of culinary chefs to prepare dishes that incorporate ingredients available from the company; the celebrating of a company anniversary, a new logo, or a product launch; the highlighting of new applications for traditional ingredients; and so on.
A quick glance at the show floor this year only confirms the wide variety of ways that companies used to define themselves. Kerry Ingredients created an exhibit structure consisting of different business units stretching across several aisles, all of them linked together by creative visuals. ADM used the occasion of its 100th anniversary to launch innovative ingredients, ranging from a unique oil that can help promote low levels of body fat to a new generation of soy ingredients. Cargill showcased its innovative ingredients in a food fair atmosphere.
Need more examples? Kraft Food Ingredients provided its customers with 10 menu categories demonstrating the use of innovative ingredients that offer solutions to culinary challenges in product development. Dairy Management Inc. created a simulated marketplace that showcased new innovations and applications that utilize the functional, nutritional, and flavor aspects of dairy ingredients. Virginia Dare featured prototype formulas for desserts, beverages, and nutritional bars made with new flavors and masking agents that highlighted the concepts of fitness and fun. Red River Commodities launched a new product, a spread made from sunflower seeds that may be used as an alternative to peanut butter.
When looking at these companies—as well as the others mentioned in this article—one quickly realizes how sophisticated these companies have become. That is almost an understatement. What is especially interesting, however, is that in this process of defining themselves, there seems to be a kind of synergy going on. The different strategies the companies adopt have an important impact on the development and promotion of the ingredients they sell. And, in turn, the development of these ingredients (as well as their technologies, applications, marketing strategies, and expertise gained through acquisitions and other business developments) have also had a major effect on the strategies the companies use to define themselves today and in the future.
This may all sound a little bit too philosophical, but I think that out of this synergy—or perhaps it's more like the meeting of two different air masses—comes the thunder of creativity. And—as I think you'll soon see—there were many examples of such creativity at this year's show.
Let's now look at some of these exciting developments. As you read, keep in mind the strategies that were used and the possible impact that they may have on your work in the food industry.
--- PAGE BREAK ---
ADM celebrated its 100th anniversary with innovative ingredients. Archer Daniels Midland Co. celebrated its 100-year anniversary at the IFT Annual Meeting & Food Expo. The company has grown from a small linseed crushing business to one of the world's leading agricultural processors and suppliers of food ingredients.
ADM marked its anniversary by unveiling a variety of new production techniques and innovative ingredients offering health and functionality benefits. In an interview with Food Technology, Tony DeLio, Vice President of Marketing and External Affairs, discussed several of these innovations.
For example, a healthy cooking oil containing 80% diacylglycerol oils was introduced under the name Enova™ by ADM Kao LLC. Made from soy and canola oils, the new product has been shown to help promote low levels of body fat and triglycerides in the blood-stream and may be used like any other vegetable oil in a variety of applications, including baked goods, salad dressings, and sauces.
Unlike other oils, diacylglycerols contain only two fatty acids per fat molecule, instead of three. The majority of diacylglycerol fatty acids are located at the ends of fat molecules, rather than in the center. Studies have shown that because of this structural difference, the body metabolizes the oil differently from other oils. Rather than storing the fat molecules for later use, the body immediately burns the oil for energy. Consequently, the amount of fat-rich particles contained in the bloodstream following a meal containing the diacylglycerol oil can be 50% less than conventional oils.
In 2001, the Food and Drug Administration acknowledged the oil's Generally Recognized As Safe (GRAS) status for use as a cooking oil and as a margarine-like spread, and GRAS status for other categories is pending. Diacylglycerol oils have been studied in the United States and Japan for more than 15 years, and research has demonstrated its weight loss and fat reduction benefits as well as safety. More than 40 million bottles have reportedly been sold in Japan.
A U.S. production facility was recently commissioned in Decatur, Ill., and the oil will be available to food manufacturers later this summer. The product was the result of a joint venture between ADM and the Andrew Jergens Co., a U.S. subsidiary of Japan-based Kao Corp. ADM Kao, headquartered in Decatur, brings together ADM's experience in vegetable oil processing and functional food development with Kao's scientific innovations and marketing experience in Japan.
ADM Specialty Ingredients offers a complete line of soy protein products, including soy foods such as a line of soy-enriched pasta (Soy 7), the NutriSoy® line of soy isolates, and textured vegetable protein-based products. Additionally, ADM offers a line of soy-based emulsifiers and meat enhancers that food companies can use to improve the texture and taste of meat-based products. The company's branded ingredient marketing programs, such as the NutriSoy alliance with the American Heart Association, help to educate customers regarding the health benefits of soy.
--- PAGE BREAK ---
Furthermore, a number of developments are helping soy to reach the mainstream. These include improved soybean growing and processing methods which eliminate undesirable effects such as beany taste; cooperative efforts between other industries such as dairy; food scientists and culinary chefs working together to create finer quality products; trends toward convenience and the consumption of international foods such as Asian and Hispanic and their fusion with more traditional products; and FDA-approved heart health claims combined with more sophisticated educational programs.
ADM's Natural Health and Nutritional Division has introduced PFL, a new specialty isolated soy protein product created by a patent-pending process. PFL is an acronym for protein, a fiber ingredient called Fibersol-2 available from Matsutani America, Inc., and lecithin. This product contains approximately 78% protein.
Unlike typical soy protein concentrates and isolates, PFL is an agglomerated product consisting of the additional functional ingredients previously mentioned. Fibersol-2 contributes soluble dietary fiber and slight sweetness, as well as promoting dispersion in the liquid medium and improving flavor. Lecithin aids the protein in complete dispersion in water. Because of its enhanced functional characteristics in water, PFL can be added to instant powdered product applications, primarily dry-blended nutritional beverages. Additionally PFL can be used in other soy-protein-fortified instant application products such as instant puddings.
Many of these ingredient developments were highlighted in special applications. In honor of its anniversary, ADM created a silver pound cake with butter cream icing. The cake incorporates several of the company's ingredients, including soybean oil and the diacylglycerol oil.
A chocolate candy bar bite was fortified with CardioAid™-S, an ingredient made with plant sterols that can help reduce cholesterol. Each bite contains soy isoflavone concentrate, diacylglycerol oil, and 18 essential nutrients including natural-source vitamin E.
A fruit-based Mimosa beverage contains Novasoy soy isoflavones, a 40% concentrated ingredient with a natural isoflavone profile like that found in whole soybeans; a water-dispersible natural-source vitamin E, a new product that offers blending advantages; and Fibersol-2.
And, of course, a variety of soy applications prepared by Chef Jeff Parker were showcased. These included a Mexican-Asian fusion wrap made with diacylglycerol oil and Soy 7 Recipe Strips, a meat-free soy protein with chicken-like flavor; Soy 7 Taco Dip "Scoops," a taco dip appetizer; and Bean and Fruit Relish made with diacylglycerol oil.
Novel exhibit demonstrates technology-based approach. A wide range of foods demonstrating technologies from several strategic business units were highlighted by Kerry Ingredients North America, 100 E. Grand Ave., Beloit, WI 53511 (phone 608-363-1200). The exhibit structure, having the theme Kerry Idea Café, was designed to illustrate a decentralized, technology-based approach to food ingredients that the company takes. The structure consisted of different booths stretching across several aisles, with the exterior, "a blue sky visual," linking all the booths together into one continuous exhibit.
--- PAGE BREAK ---
Here are some of the technologies that the different units were highlighting:
• Kerry Coatings. Potato Baco Blues, an appetizer for children, is made using a bacon-flavored potato-style breader and a blue-colored, grilled cheese–flavored filling designed to hold its shape. Providing a baked potato flavor, the breader contains no bacon but pieces that look and taste like bacon. Reuben Bites is a snack made with a combination of corned beef and ready-to-use Swiss cheese sauce, a tangy Thousand Island dressing, a sauerkraut filling, and a rye breader. The breader imparts true rye flavoring, a visual appeal including real caraway seeds, and a crunchy texture. Thai-Style Chicken Drummies feature fry-stable colored soy hull particulates in a breading system and chicken flavored with ginger, lemon grass, coconut, and coriander. A sweet snack, S'Mores Singles, is made with real milk chocolate and a marsh-mallow filling center, and coated with a chocolate batter, extruded honey graham bits, and multicolored extruded cereal bits for an extra crunch.
• Kerry Seasonings. Cilantro Lime Steak with Navajo Rice and Roasted Corn Salsa demonstrates distinctive flavor profiles provided by marinades, rice seasonings, and topical seasonings. The thinly sliced cilantro lime marinated steak is complemented with a chili saffron rice blend and a Chipotle-seasoned roasted corn salsa. Other demonstrations by this business unit included sliced pork roast marinated with ginger sesame and finished with a sesame rub, combined with a rice ball and a traditional Japanese Ponzu sauce; a pizza which has a peanut satay sauce base and red Thai-seasoned shrimp; and a baked pasta dish which has a rich garlic sauce and Italian sausage flavor.
• Kerry Specialty Ingredients. A pineapple, papaya, lime, and mango yogurt smoothie features an acid-stable creamer made from sunflower oil and a nonfat, spray dried yogurt powder (SanACreme® NF). These ingredients provide a creamy texture, clean flavor, and stability. A pasta dish highlights Gorgonzola cheese powder which retains its flavor through processing, heating, and holding times, and a chicken analog (Prime Cut™) which matches the texture of whole muscle chicken. Other demonstrations included a fresh fruit salad featuring a tangy, light-yogurt, cream cheese sauce that is reconstituted with water, and a rich instant coffee beverage featuring creamers and foaming agents to impart mouthfeel, creaminess, and foam head.
• Kerry Sweet Ingredients. Snack, breakfast, and ice cream applications can be customized using such ingredients as variegates, chips, particulates, agglomerates, and cookie bits. In particular, new flavors for a sweet ice cream treat included tart Granny Smith apples paired with sweet caramel; crunchy almond caramel blended with a caramel popcorn swirl; a burst of watermelon swirled with chocolate chip "seeds"; tart lime bits and a cool key lime variegate paired with sweet graham; and oil-coated grahams swirled with a gingerbread variegate.
• SPI Foods/Ringger Foods. A meal replacement bar, emphasizing savory flavor rather than sweet, was created in two varieties. The taco bar consisted of a shelf-stable crispy blend of corn and soy cereals with meat and vegetable pieces, held together with a cheesy salsa filling. A Cheddar cheese compound coating is applied on the outside to enhance visual appeal. The pizza bar is highlighted with extruded crisps, shelf-stable pizza filling, tomato inclusions, Monterey Jack coating, tomato flavor, spray-dried Cheddar cheese powders, and Italian seasoning.
--- PAGE BREAK ---
• Kerry Canada. Applications demonstrated included Cold Cucumber Dill Soup, made with yogurt powders, non-dairy creamers, seasoning blends, and flavorings; Fiesta Dip consisting of sour cream/buttermilk/shortening powders, seasoning blends, and flavorings.
• Kerry Mexico. Tropical Tamarind Solnuts and Hot 'N' Sour Solnuts were two soy nut snack formulations created that provided a special international twist. Also highlighted were a Mole and Soy Meat Tamale, made with savory flavored vegetable meat (Prime Cut™); Strawberry Bites Tamale, a fruit-flavored tamale; and a Choco-Banana Creamy Milk Shake made with functional dairy ingredients and fruit powders.
• Nutriant. In addition to the above strategic business units, a new division, Nutriant, was launched by Kerry. The new company was designed to identify and develop nutritional food and soy ingredients for individualized customer applications. The name of the company is trademarked and its logo (use of yellow, green, and blue colors) suggests freshness, health, and the importance of flavor and taste.
Previous acquisitions of Iowa Soy—a U.S. provider of low-fat soy flours and all natural textured vegetable proteins—and Solnuts—the largest provider of all-natural soy nuts—helped create the nutritional division. Furthermore, the increase in the size and scope of the soy market influenced Kerry's decision to form the new company.
The company is reported to provide ingredient that offer the health and functionality of soy without undesirable flavor qualities. Three high-quality soybean varieties are used as base materials in a natural expelling process. Products available include an organic soy concentrate, textured soy proteins, soy fibers, high-protein soy powders, soy flour, soy grits and meal, and Solnuts, dry-roasted soybeans that provide a nutty texture. These ingredients may be used in a wide range of food applications including baked goods, cereals, trail mixes, snack bars, and vegetarian alternatives.
In an interview with Food Technology, Kerry representatives noted that although the emphasis is currently on soy, the new division intends to develop other healthy ingredients beyond those of soy and will increasingly be focusing on nutraceutical and other health-promoting markets.
Food fair highlighted health and functionality. Innovative ingredients in baked goods, breakfast bars, drinks, snack foods, energy foods, and frozen desserts were showcased at a Media Food Fair by Cargill Inc., P.O. Box 5625, Minneapolis, MN 55440 (phone 952-742-6000; fax 952-742-7393; www.cargill.com). Six business units of Cargill highlighting products included Cargill Salt, Sweeteners, Health and Food Technologies, Soy Protein Solutions, Specialty Food & Pharma Starch Solutions, and Wilbur Chocolate.
--- PAGE BREAK ---
Product concepts focusing on women's health, heart health, and energy were presented by Cargill Health & Food Technologies, P.O. Box 9300, Minneapolis, MN 55440-9300 (phone 1-866-456-8872; fax 952-742-7393; www.cargillhft.com).
A rich-tasting, low-fat chocolate beverage, Sweet Life, is fortified with phytosterol esters—nutrients found in fruits, vegetables, and other foods that can help maintain cholesterol within the normal range. These nutrients are said to offer a safe and effective means of reducing cholesterol levels and improving cardiovascular health. Cargill is reportedly working with a number of food companies that plan to incorporate phytosterols into new and existing products, such as spreads, yogurt, and beverages.
Two lemon-lime concept energy drinks, Cruz Control and High Gear, contain trehalose, a type of sugar made from corn starch. The sugar is said to have half the sweetness of sucrose and provides an energy source for use in such applications as nutrition bars and sports drinks.
Cargill Health and Food Technologies, established under its previous name Cargill Nutraceuticals in June 1997, is a leading developer, processor, and marketer of science-based, health-promoting ingredients for food and dietary supplement industries worldwide. Its commercial product categories include the AdvantaSoy™ line of soy isoflavones, the CS/90+™ brand of chondroitin sulfate, vitamin E, phytosterol esters, and trehalose.
Soy Protein Solutions (phone 1-866-769-7768; www.cargillsoyprotein.com) featured its line of soy protein isolates (Prolisse™) in foods and beverages. The isolates are said to eliminate the characteristic beany taste associated with soybeans and offers food manufacturers the opportunity to meet FDA's requirements for soy protein health claims. The ingredient is the newest addition to the unit's line of soy protein products, which includes soy flour and Textratein textured soy protein.
Innovation within Cargill's Specialty Food & Pharma Starch Solutions unit is said to be further expanded by the recent acquisition of the European food ingredient company, Cerestar, which brings increased talent and resources to the food business. According to Creagar Simpson, head of the unit, the acquisition brings to Cargill a greatly enhanced research and development team, an expanded product line, and a broader global presence. New to Cargill products include an expanded line of specialty food starches, maltodextrins, polyols, dry dextrose, and cyclodextrins.
Encapsulated ingredients overcome processing challenges. The potential of encapsulation technology in food, beverage, and health products was demonstrated by Balchem Encapsulates, a business segment of Balchem Corp., P.O. Box 175, Slate Hill, NY 10973 (phone 877-222-8811; fax 845-355-4204; www.balchem.com). A variety of products highlighting encapsulated ingredient applications that deliver unique flavors, stabilize, taste mask, minimize ingredient interactions, and overcome previously insurmountable processing challenges were shown.
A new line of encapsulated ingredients called Flavorsure™ 3-D were sprinkled on to hot dogs to illustrate their flavor. Having a look and texture similar to nonpareils, the three-dimensional particulates are available in a range of flavors and granulation sizes for both topical or matrix inclusion. Two flavors were highlighted at the show: zesty tomato and oregano flavor and hot cinnamon flavor. The hot cinnamon flavor is especially suitable for dessert applications. For example, a vanilla cookie can be topped with a cake icing featuring the ingredient. Encapsulation prevents the red color from bleeding and delivers a high-impact cinnamon flavor.
--- PAGE BREAK ---
"Pop rocks" are said to be enjoying a resurgence in the candy market and Balchem is showing application of its flavor delivery technology in a popping candy. Featured in mint, cinnamon, and chocolate, this popping candy contains Confecshure Burst™, a hydrophobic encapsulated carbon dioxide that creates a popping experience when eaten. The encapsulation technology prevents the carbon dioxide from being released until the precise moment when it is consumed. Furthermore, use of the low-melt technology means that the popping candy will burst in the mouth without having to be chewed.
A line of encapsulated wellness ingredients called Vitashure™ was showcased in nutrient bars, alligator meat sticks, and smoothies.
One nutrient bar was fortified with encapsulated nutrients, including a stabilized form of choline and flaxseed. A second nutrient bar contained vitamin C, guarana, and iron. These bars demonstrate how encapsulation technology creates an impermeable barrier around the ingredients to control, protect, and deliver the nutrients. Also, these ingredients may all be delivered together in one product without undesirable interactions, off taste, loss of potency, or instability.
Alligator meat sticks were fortified with flaxseed, a source of omega-3 fatty acids. According to the manufacturer, flaxseed can rapidly deteriorate and lose efficacy during the manufacturing process. However, encapsulation technology creates an impermeable barrier around the flaxseed, ensuring stability of the essential components found in flax. A second alligator meat stick featured guarana, a botanical which can have a bitter taste. Encapsulated, the botanical is taste masked and prevented from solubilizing.
Smoothies featured included orange cream with ferrous sulfate and vitamin C, strawberry banana that included choline and vitamin C, mocha cappuccino with guarana, and peach mango fortified with choline and ferrous sulfate. All the smoothie drinks contained encapsulated nutrients that were designed to give manufacturers control over ingredient interactions, off flavors, and potency.
A line of encapsulated ingredients called Bakeshure™ was designed to overcome common processing barriers for the baking industry. A frozen biscuit "fresh from the oven" was featured, made with Bakeshure 180, an encapsulated leavening ingredient used to optimize rise during a range of bake times and to overcome processing challenges such as premature leavening that can occur during the thaw cycle. According to the manufacturer, this premature leavening results in low-volume products with undesirable textures and colors. Other suitable applications for the encapsulated ingredient includes frozen dough products such as self-rising pizza crusts and scoop-and-bake products, as well as dry mixes.
To deliver the taste of a homemade bakery product, this chemically leavened biscuit also is formulated with a microencapsulated "fresh baked bread" flavor. Microencapsulation technology is used to stabilize flavor and ensure that it is protected from premature interactions or harsh processing conditions so that the desired flavor in its full intensity is delivered at the desired time.
--- PAGE BREAK ---
"Marketplace" highlighted dairy innovations. A simulated marketplace showcasing new innovations and applications that utilize the functional, nutritional, and flavor aspects of dairy ingredients was recreated by Dairy Management Inc. (DMI). The theme of the booth, "Ideas Beyond the Dairy Case," highlighted only a few of the traditional and nontraditional ways that dairy ingredients can make an impact in today's grocery store.
Here are some of these product demonstrations that highlighted dairy ingredient versatility and value-added benefits.
Is that bleu or blue cheese you're nibbling on? Actually, believe it or not, it may be the latter. A newly developed technology offers specialty cheese manufacturers the ability to produce custom-flavored, custom-colored cheeses such as bubble gum, green apple, blueberry, coffee, wine, beer, and garlic, while adding vitamins and minerals to the product. Food Technology was invited to sample cheeses in blueberry and sour apple flavors (I personally preferred the blueberry) and found that the new spin on cheese created novel opportunities for possible use as a cheese spread or for snacking.
A cheese injection technology, developed by the Western Dairy Center at Utah State University, shoots a narrow, high-pressure stream of liquid into young, mild-flavored cheese, such as Monterey Jack or Muenster, before the curds knit. As the cheese matures, the added flavor or color spreads through the block of cheese to help create a custom product. The system is adjustable depending on the intensity of the flavor or color desired.
A videotape of a recent taste test involving children, ages 10–12 years, sampling blueberry and sour apple-flavored cheeses was presented. The school children voted blueberry their favorite and gave the flavored cheeses a thumbs-up as a snack option they would enjoy. The children also suggested their own list of flavors, including chocolate, peanut butter, watermelon, and cotton candy.
Researchers at the Wisconsin Center for Dairy Research developed a technology for whey proteins to perform as a replacement for gelatin in gummi-style candies. K.J. Burrington, dairy ingredients applications center coordinator, noted that a manufacturer would have no trouble modifying the make procedures to include the use of a whey protein concentrate (containing 80% protein) as an alternative to gelatin for a kosher product. Gummi drops available for sampling also came fortified with milk calcium, demonstrating a popular trend in Japan for candies fortified with beneficial vitamins and minerals.
A functional product formula providing a healthy option for chai tea drinkers was developed by researchers at California Polytechnic State University's Dairy Products Technology Center. According to Carolyn Podgurski, program coordinator, smooth, creamy dry milk ingredients blend with the subtle sweetness of honey, spices, and lactoferrin (an iron-binding whey protein that studies indicate may have multiple biological functions). One serving of the formula provides 30% of the RDA of calcium and 3 g of protein.
Bread may be getting a new twist. Cheddar cheese played a central role in Jalapeño Cheddar Cheese Bread, contributing its characteristic flavor while enhancing the product appearance and adding protein, calcium, and a chewy texture.
Other areas highlighted at the booth included "Dinner in Minutes," which focused on the use of dairy ingredients in convenience foods and "Sweet Cravings," which demonstrated how dairy ingredients can help satisfy a sweet tooth and help the nutritional profile of products designed for consumers from infancy to maturity.
In each market aisle, visitors were allowed to tear-off recipe cards on the benefits of formulations that spotlighted a different product application capitalizing on the benefits of dairy ingredients. Selections from Poppy Seed Dressing to Reduced-Fat Cheesecake were available.
--- PAGE BREAK ---
Flavors and masking agents highlight fitness and fun. A variety of prototype desserts, beverages, and nutritional bars made with new flavors and masking agents that highlight the concepts of fitness and fun were showcased by Virginia Dare, 882 Third Ave., Brooklyn, NY 11232 (phone 718-788-1776; fax 718-768-3978; www.virginiadare.com).
Although these formulas are manufactured exclusively for the 2002 IFT Food Expo and are not specifically available to customers, they illustrate the innovative uses that flavors and masking agents can have in the development of healthy or novel products, and how they can meet or anticipate consumer trends. In particular, some of the prototypes incorporate the most recent additions of Prosweet masking/flavoring agent, new and improved versions over previous systems.
In an interview with Food Technology, the following applications were discussed:
• Guava Lemonade. Because of an increasing consumer interest in lemonade, there are potential opportunities for the creation of new beverages of this type. The selection of guava as a natural tropical flavor shows promise in creating lemonade with a flavor twist. Furthermore, the 10% juice drink is calcium and vitamin fortified. Flavors include Natural Lemon Flavor WONF, Natural Flavor for Guava, and All Natural Prosweet® Flavor Enhancer.
• Forest Berry Nutritional Bar. This soy-based, high-protein nutrition bar is yogurt coated and delivers 13 g of protein. It is made with an all-natural version of Prosweet, a masking/flavoring agent which is said to mask off notes of soy proteins and vitamins or minerals, and contains Natural Forest Berry Flavor WONF.
• Hawaiian Nut Brittle Nutritional Bar. This soy-based, high-protein, high-calcium nutritional bar is chocolate coated and delivers 21 g of protein. It is made with a version of Prosweet that contains natural and artificial ingredients and is designed to mask the off notes of soy proteins and vitamins or minerals. Flavors in this prototype include N&A Flavor for Caramel and N&A Flavor for Macadamia Nut Brittle.
• Cinnamon Bun Frozen Custard. Cinnamon buns are a popular bakery dessert, and this formulation takes a cinnamon bun flavor, Natural Flavor for Cinnamon Bun, and incorporates it into frozen custard.
• Dulce Frapp Ice Cream. The flavor of Dulce Frapp, a trendy drink, is incorporated into ice cream. Flavors included Natural Coffee Flavor WONF, Pure Indonesian Vanilla Extract 2X, and Natural Flavor for Dulce de Leche.
Other prototypes (and their ingredients) included Creamy Key Lime Ice Cream (Superfreeze Natural Flavor for Key Lime, and Natural Flavor for Whipped Cream); Island Freeze beverage (Natural Juicy Orange Flavor WONF and Natural Flavor for Pineapple); Chai beverage (Natural Tea Flavor Powder, Natural Black Tea Flavor WONF 300X, and Natural Chai Flavor); and Mandarin Green Tea Beverage (Natural Green Tea Flavor Powder, Natural Green Tea Flavor WONF 300X, and Natural Mandarin Extract).
More information on these formulations can be obtained from a direct e-mail address: [email protected].
Spread made from sunflower seeds provides alternative to peanut butter. What's creamy, has a fresh-roasted, "nutbuttery," taste, and can stick to the roof of your mouth?
And no, it's not peanut butter.
A peanut butter-like spread derived from sunflower kernels was unveiled by SunGold Foods, P.O. Box 3022, Fargo, ND 58108 (phone 701-492-4392; fax 701-282-5325; www.sunbutter.com). Called SunGold SunButter, the product was developed by parent company Red River Commodities, a sunflower processor, in conjunction with USDA's Agricultural Research Station in New Orleans, La.
The peanut butter alternative, which may be used as a 1:1 replacement, is said to look similar to peanut butter with a mild yet distinctive sunflower seed flavor. It has a similar consistency, blending, freezing, and cooking properties compared to peanut butter.
--- PAGE BREAK ---
According to USDA researchers, the secret is in the seeds. Previously, no other company has ever successfully marketed a spreadable sunflower seed butter. However, a way was discovered to process the seeds naturally so that a "nutbuttery" flavor comes through when they are blended with other ingredients. The product has a patent pending.
Also, the spread has a protein profile similar to that of peanut butter, but with more vitamin E, less saturated fat, and less sodium. The sunflower kernels are said to provide 43% of the vitamin E, 49% of the thiamine, and 9% of the iron needed daily in a single serving. Furthermore, for those individuals who have allergies to peanuts, it is a safe alternative.
Delivery system generates interest in health and other areas. A unique delivery of a probiotic, Lactobacillus reuteri, for use in shelf-stable beverages was developed by BioGaia AB, P.O. Box 3243, SE-103 64 Stockholm, Sweden (phone +46 8 555 293 00; fax +46 8 555 392 01; www.biogaia.com). The packaging system called LifeTop™ enables long-term survival of probiotic cultures and other sensitive ingredients in bottled waters, soft drinks, juices, sports drinks, and other functional beverages.
The ingredient is packed in a blister with a protective barrier that is integrated in the cap of the bottle. This barrier protects the ingredient from oxygen, moisture, and other factors. When activated, a special mechanism efficiently releases the ingredient into the beverage, where it dissolves quickly and distributes evenly into the liquid. In addition to the cap, a straw has been developed which delivers the important ingredient into the beverage. Details of this system and the health benefits of the lactic acid bacteria were described in the Ingredients preview of the May issue of Food Technology.
The system was designed to boost reuteri's potential as a health-promoting ingredient in beverages. For those interested, several new brochures are available from the company, including "How to offer well-being through food and drink products."
Interestingly, according to Staffan Palsson, president of the company's functional foods division, several ingredient companies at Food Expo also expressed an interest in using the system to deliver other ingredients such as flavors and colors into beverages. This emphasis on novelty, the creation of possible children beverages, and improved products that have a long shelf life were perceived as a added benefit, creating other opportunities for the use of this system.
Questions about this system can also be addressed at Functional Foods, BioGaia, 6213 Angus Dr., Raleigh, NC 27613 (phone 919-782-3312).
Rice starch can replace gelatin in yogurts. A new rice starch-based system for replacement of gelatin in yogurt applications was developed by A&B Ingredients, Inc., 24 Spielman Rd., Fairfield, NJ 07004 (phone 973-227-1390; fax 973-227-0172; www.abingredients.com).
The starch is said to offer many of the same attributes of gelatin in yogurt applications. Providing a plastic structure similar to that of gelatin, it breaks down into a creamy gel with minimal stirring. It also provides a filmy layer in the yogurt, which imparts a sheen and a fat-like creamy mouthfeel similar to a higher fat product. In addition, the properties of the rice starch aids with the stability of the yogurt against separation and whey-off.
"Food processors have strived to find alternatives to gelatin over the past few years with little success," said Gil Bakal, Managing Director at A&B. "While the unique functionality of gelatin has been hard to emulate, we believe we now offer an extremely viable rice starch-based alternative that is competitively priced."
The rice starch conforms to the strict label requirements of vegetarian, halal, and kosher status. It can also be tailored to meet each customer's specific requirements depending on the amount of gelatin they are currently using in their system and the amount of mouthfeel and sheen they require.
--- PAGE BREAK ---
Categories highlight problem-solving ingredients. Ten menu categories demonstrating the use of innovative ingredients that offer solutions to culinary challenges in product development were highlighted by Kraft Food Ingredients, 8000 Horizon Center Blvd., Memphis, TN 38133 (phone 901-381-6500; fax 901-381-6524).
For each category, a variety of dishes were either available for sampling or could be prepared for special customer requests at the Kraft booth, termed Chef 's Table. (Food Technology staff were invited to sample some of these dishes.)
Categories and dishes included beef and pork (Juicy Chargrilled Beef, Homestyle "Roast-in-the-Bag" Pork with Savory Rub, and Honey-Hickory Barbecued Pulled Pork); poultry (CharRoast Chicken Breast, Three Cheese Chicken Nuggets with Herbed Sourdough Crust, and Pepperoni-Style Turkey Sausage); sandwich builds (Grilled Chicken Breast with Pan Drippings Sauce, Grilled Hamburger with Toasted Velveeta® Cheese Sauce, and Grilled Turkey Caesar Wrap with Parmesan and Lemon); cheese sauces (Steamed Broccoli with Cheddar Sauce, Risotto-Style Creamy Parmesan Rice, and Cheddar Cheese Potatoes au Gratin); and savory sauces and gravies (Smashed Potatoes with Homestyle Roast Beef Pan Juices, Buttered Noodles with Roast Chicken Pan Drippings Gravy, and Cooked-in-the Bag Grilled Peppers and Onions).
Other categories and dishes were macaroni and cheese (Classic Mac and Cheese, Homestyle Mac and Cheese, and Out of the Box Mac and Cheese); savory fillings (Vera Cruz Roast Pork and Cheese in a Flaky Pastry, Thai Curry Spring Roll with Stir-Fried Vegetables and Coconut, and Capri-Style Mushrooms and Cheese-Filled Pasta Shells); salty snacks (Scalloped Potato Chips, "Fire and Ice" Sandwich Crackers, and "Blue Blazers" Potato Chips); sweet snacks and cereals (Indulgent Oreo® Snack Bars with Caramel and Marsh-mallow, Chips Ahoy® Parfait with Peanut Mousse and Marshmallow Creme, and Baked Oreo® and Coconut Bars); and desserts (Caramel Apple Cheesecake with Honey Graham Crumble, White Raspberry Creme Brulee, Coconut Roulade with Mango Filling and Rum Cream Cheese Icing, and Summer Berries with Caramelized Pecan Creme Anglaise & Coconut Macaroon).
Among the ingredients highlighted in the above categories included the following:
• CharRoast flavor offers food manufacturers a distinctive slow-roasted profile and more development advantages than traditional roast flavor. The flavor is said to have a distinctive brown, fatty, slightly sweet roast flavor profile with a slight chargrill flavor.
• Pepperoni Flavor, the latest addition to the company's line of vegetarian flavors, imparts an authentic pepperoni taste to a variety of applications such as pizza and pizza-flavored foods, pocket sandwiches, appetizers, vegetarian applications, poultry-based meat substitutes, snacks, sauces, and retorted foods. Available in liquid and dry form, it is kosher, contains no cholesterol, and adds only a trace amount of fat per serving.
• Pasteurized Process Cheddar Cheese called CheddaSharp® and Pasteurized Process Cheese Sauce Base 200 are two new products which are said to merge the benefits of pasteurized cheese products with the high impact flavor of aged Cheddar cheese. They have improved melt characteristics and consistency in flavor and texture when compared to natural aged cheese.
• Sweetened flake coconut called Baker's Angel Flake is now available in a new multi-bag case, making it more convenient and cost-effective for foodservice operators. The ingredient is a long, feathery, sweetened flake coconut that adds flavor and visual appeal to any bakery or confectionery application that calls for a tropical twist. The new multi-bag case marks the first entry in a new line of coconut products packaged specifically for foodservice.
--- PAGE BREAK ---
Leavening ingredient improves tortilla performance. New research demonstrating the benefits of chemical leavening on the quality of flour tortillas and wraps was provided by Astaris LLC, a leader in the food phosphate industry, 622 Emerson Rd., Ste. 500, St. Louis, MO 63141 (phone 800-244-6169; fax 314-674-7005).
In a designed experiment conducted by the company at the American Institute of Baking, it was shown that the selection of leavening acid can significantly impact tortilla production and performance. In particular, use of sodium aluminum phosphate (Levn-Lite®) results in a superior tortilla, providing greater diameter, stack height, tenderness, and rollability.
The special chemical leavener was developed for cereal chemists who require a leavening acid that does not react with baking soda prior to baking. In addition to increased yield, it helps produce a consistent product (dough does not expand during holding and remains extensible throughout production, buffers pH for shelf life stability, and provides desired toast points).
Astaris LLC, jointly owned by FMC Corp. and Solutia Inc., began operations in April 2000. It sources its products from 16 manufacturing locations in the U.S. and Brazil.
Radish-derived color offers stability. Natural color derived from red radish was launched by RFI Ingredients, 300 Corporate Dr., Ste. 14, Blauvelt, NY 10913 (phone 845-358-8600; fax 845-358-9003).
Called ColorPure™, the line of natural colors is said to be similar in hue to that of FD&C Artificial Red 40, offering potential as a replacement in certain applications. According to the manufacturer, the product is also more stable than fruit anthocyanins and can be used at a higher pH level than other products such as red cabbage. The product, which is GRAS and kosher, is available in liquid or powder form.
Potential applications include functional foods and beverages, dairy products, fruit preparations, confectionery products, and salad dressings.
High-protein ingredient replaces rolled oats. A replacement for traditional rolled oats was introduced by Nuvex Ingredients Inc., 1640 W. First St., Blue Earth, MN 56013 (phone 507-526-7575; fax 507-526-2838; www.nuvexingredients.com).
Called Proti-Oats™, the ingredient is said to taste and look like rolled oats, but contains more than 50% protein, allowing higher protein levels in products such as granola, granola bars, clusters, cookies, muffins, trail mix, hot oatmeal, and toppings. The ingredient is available in soy protein, whey protein, and high-fiber varieties.
New texture systems and processing aid launched. Two new texture systems were launched by International Specialty Products (ISP) Food Ingredients, 1361 Alps Rd., Wayne, NJ 07470 (phone 973-628-3938; fax 973-872-1583; www.ispcorp.com). The products are proprietary, multicomponent systems that are developed for optimum functionally in a particular application.
Stabileze® NB 100, a texture system designed for specific application in nutritional beverages, consists of sodium alginate and microcrystallline cellulose working synergistically to provide superior stability and a smooth mouthfeel. Key benefits of the system include excellent stabilization for high-solids beverages, suspension of vitamins, minerals, and cocoa powder without sedimentation or separation during storage, high viscosity at rest, a light and creamy mouthfeel, and reduced flavor masking.
Textureze™ SD 200, a stabilizer system for salad dressings and sauces, is composed of propylene glycol alginate and microcrystalline cellulose, working synergistically together to provide stability and a rich, creamy mouthfeel. The system can be used in both full-fat and reduced-fat dressings with equivalent mouthfeel and stability. Key benefits include superior stability, suspension, flavor release, and cling characteristics.
--- PAGE BREAK ---
In addition to these two texture systems, the company introduced a new processing aid, Polyclar® BV, for use in beverages. The product is said to provide excellent beverage clarity through the removal of polyphenols, a common source of haze and precipitation in many beverages because of their interaction with proteins.
It clarifies, gently deodorizes, and removes certain polyphenols implicated in unwanted, astringent flavors. As such, it can improve the appearance, shelf life, and taste of such beverages as ready-to-drink teas and coffees, functional beverages, fruit and vegetable juices, and fortified sodas. The manufacturer notes that the product is particularly effective in clarifying iced teas, both ready to drink and concentrated versions.
Soy powder is suitable for dairy applications. A uniform soy powder with a minimum of 40% protein content, designed for use in the production of milk-type blends, was introduced by Specialized Protein Products, 34052 La Plaza, Ste. 204, Dana Point, CA 92629 (phone 949-488-8828; fax 949-443-2459; www.sppintl.com).
Called SPP Multibase®, the product, when reconstituted with water, forms the basis for high-quality soy milk with a smooth creamy mouthfeel, and may be used "as is" or in the formulating of beverages such as smoothies. It is also suitable for producing soy-based frozen desserts, yogurt and other cultured products, and tofu, as well as for replacing or extending milk solids in cheeses and other dairy-like products.
According to the manufacturer, the 100% whole bean product retains the healthy benefits of soy but does not have a beany taste. It is extracted by a natural water process.
New fruit has a sweet and hot flavor profile. A new fruit, a cherry tomato and red pepper propagation, was introduced by Vegetable Juices, Inc., 6410 W. 74th St., Bedford Park, IL 60638 (phone 773-586-6800; fax 773-586-6841). Called the Peppadew™, the fruit is said to have a juicy flesh with a flavor profile that is sweet, tangy, and hot. A member of the Capsicum family, it is rich in beta-carotene, lycopene, vitamin C, and fiber.
This fruit originated in the Republic of South Africa, and has been sold in South Africa, Australia, United Kingdom, Ireland, and Canada. It has been approved by FDA for sale in the U.S. and is available as a refrigerated or frozen puree.
Business unit commercializes new fermentation products. A new business unit established to identify, develop, and rapidly commercialize new fermentation products was introduced by CP Kelco, 8355 Aero Dr., San Diego, CA 92123 (phone 858-292-4900; fax 858-292-4901; www.cpkelco.com). The unit, Kelco Biospecialties Group, is set up within the San Diego–based company, a leading supplier of specialty hydrocolloid products to the food and pharmaceutical industries.
The new unit operates a highly versatile pilot plant related to fermentation and downstream recovery processes. The plant can be used to develop and optimize these activities, as well as produce products in semi-commercial quantities. The company has fermentation experience with a range of micro-organisms, including bacteria, algae, and fungi. The operating staff has demonstrated the ability to rapidly commercialize new fermentation processes and to support or enhance existing manufacturing technology.
--- PAGE BREAK ---
The company is very interested in joint development projects that lead to a broadening of its product portfolio, which includes xanthan gum, gellan gum, pectin, carrageenan, refined locust bean gum, and microparticulated whey protein concentrate. By developing products with features specially designed for the end user, it can create value for the customer. Furthermore, its scientists understand how to create products to meet specific customer needs and to relate the features of its products to customer benefits.
At Food Expo, CP Kelco introduced low-dust xanthan gum products (Keltrol 521, 622, and HP 594) that are easier to handle from an operations perspective. Also, making its debut is K0B619, a food-grade xanthan gum with special functional properties. This innovative gum is said to be more stable in low-pH environments than standard xanthan gum and has enhanced synergy with galactomannans, such as guar and locust bean gum.
The company showcased a variety of soy and milk protein fortified juices, yogurt drinks, and other beverages made with its hydrocolloid ingredients. Also shown was a carrageenan-based system used to improve marinated meat products.
License agreement creates portfolio of branded cheese ingredients. An exclusive license agreement has been formed between Humko Specialty Powders, a division of ACH Food Companies, Inc., 1115 Tiffany St., Boyceville, WI 54725 (phone 715-643-2600; fax 715-643-2221; www.achfood.com) and Sargento Foods, Inc., One Persnickety Place, Plymouth, WI 53073-3547 (phone 920-893-0851; fax 920-892-6822). Under the agreement, Humko Specialty Powders will produce dried Sargento Cheese Powders and market them to processed food manufacturers in the U.S.
"Co-branding with Sargento continues our effort to create a branded portfolio of powdered ingredients manufactured from only the finest products," said a representative from Humko Specialty Powders. "Sargento cheese won the Gold Taste Award in the 2002 Awards of Americas competition. We capture Sargento's superior taste and quality in a convenient powder form."
ACH Food Companies will dry various cheeses from Sargento's Food Ingredients Division. The products will be packaged and then marketed to processed food manufacturers. The products sold will bear the logos and trademarks of Sargento.
Hot ice cream? Hot sauces having new flavors were highlighted in diverse applications such as ice cream, pepperoni, and chips by McIlhenny Co., Industrial Ingredients Div., Avery Island, LA 70513 (phone 337-373-6109; fax 337-367-8678; www.tabasco.com).
A new flavor of Tabasco sauce—Chipotle Pepper Sauce—is made from red jalapeño peppers that are slowsmoked. The dark, pourable sauce is full-bodied, has a rich, smoky flavor, and provides a balance between heat and flavor. It may be used as a condiment, recipe ingredient, prepared sauce enhancer, marinade, basting sauce, or smoky-flavored meat sauce.
Also featured was a new Pepper Paste, marketed under the Tabasco brand, which is said to be six times hotter than its liquid counterpart. It also has less vinegar content than the traditional pepper sauce.
--- PAGE BREAK ---
Global division brings together various flavor businesses. A new global flavor division, Mastertaste, was launched by Ireland-based Kerry Group (phone 353 66 7182304; fax 35366 7182972; www.kerrygroup.com). The new division, which will be headquartered outside of Chicago in Rosemont, Ill., will bring together under a common identity a series of recent flavor business acquisitions for the providing of innovative, high-quality flavors for foods and beverages.
"We are fully committed to attaining leadership in the food and beverage industries through Mastertaste's world-class flavor technologies and to on-going investment in the acquiring and commercializing of new technologies," said Hugh Friel, Managing Director, Kerry Group. The division is planning to expand its presence in major market categories including savory products, dairy applications, beverages, and confections through the use of such technologies as reaction, topnote, biotechnology, encapsulation, extraction, distillation, microgranulation, pyrolysis, and smoke fractionation flavors.
The division resulted from such acquisitions as Master-taste UK, a leading United Kingdom-based flavor house for savory and sweet applications; San Giorgio Flavors, a leading Italian producer of flavors for beverages, dairy desserts, and confections; the Geneva Group consisting of FlavTek Inc., Geneva Flavors Inc., and Gilette Food Flavorings; and Hickory Specialties, Inc., a leading producer of liquid smoke flavors under the Zesti Smoke brand.
The division will have flavor development facilities in New Jersey, California, Wisconsin, Missouri, and Tennessee, as well as in Italy, Germany, and Australia.
Flavors impart a meaty taste and enhance appearance. Flavor innovations in a variety of culinary dishes were showcased by Red Arrow Products Co. LLC, P.O. Box 1537, Manitowoc, WI 54221-1537 (phone 920-683-5500; fax 920-683-5524; www.redarrowusa.com).
Roastin' Turkey 2002™ is an oil-based product that imparts a rich meaty turkey note with a subtle roasted turkey skin flavor, reminiscent of pan drippings of a Thanksgiving turkey. The flavor was highlighted in Turkey Lumpia, a dish prepared by Red Arrow's Corporate Chef, Melissa Ventura.
Roastin' 9073™ provides the rich taste of roasted chicken skin, while Roastin' 1013™ gives the deep savory flavor of roasted chicken meat. Roastin' 1019 —a dry product that provides a roasted chicken note, with a mild, yet distinctive grilled taste—was used by Chef Melissa in the preparation of Chile Lime Grilled Vegetables.
The family of Roastin' flavors are suitable for meeting the growing consumer demand for rich, long-cooked taste from rapid preparation methods.
Specialized natural smoke flavors can be utilized to create "grill marks" through the normal cooking process. Carbonyls in the liquid smoke interact with proteins on the product surface to create varying degrees of browning. By applying smoke flavors such as CharSol VSA™, processors can create a golden-brown, lightly seared look with minimal smoke flavor. CharSol Select 24P™ may be used to impart more of a charred appearance with a light smoky aroma and mellow smoke flavor. For medium color and rich smoky aroma and taste, CharSol Supreme Poly™ is especially suitable. Application methods will vary with product type and processing parameters.
A new family of natural smoke flavors made from fruit-wood was introduced. CharSol Applewood 2502™ and Char-Sol Cherrywood 2514™ are aqueous smoke flavors made from 100% apple and cherry wood, respectively. The flavor derived from apple wood lends a sweet, ashy smoke character, while the flavor from cherry wood provides a bold earthy smoke taste. In addition, the purity of raw material allows processors to label finished products as "apple wood smoked" or "cherry wood smoked."
--- PAGE BREAK ---
Functionality of natural gum systems demonstrated. Natural gum systems were showcased in a raspberry vinaigrette salad dressing and soy protein bars by TIC Gums, Inc., 4609 Richlynn Dr., Belcamp, MD 21017-0369 (phone 410-273-7300; fax 410-273-6469; www.ticgums.com ).
TIC Pretested AragumR T-1998—a gum system consisting of xanthan, guar, and gum arabic—was used in the formulating of the highlighted flavorful, lower-oil salad dressing. The gum system is said to mimic the acid stability and high viscosity of gum tragacanth. As an alternative to tragacanth gum, it may be used in smaller amounts, is readily available, and effective for use in emulsions.
Prehydrated Gum Arabic FT Power FT was used in the formulating of the soy bars as a way of illustrating its effectiveness in a variety of foods and beverages, especially nutraceutical products. The easy-to-use powdered gum arabic system is high in soluble dietary fiber—reportedly up to 85%. It has a low viscosity, making it possible to add higher gum levels. The ingredient can perform a range of functions including encapsulating flavor, boosting fiber, stabilizing, and emulsifying beverages.
When a company employs a certain strategy, such as the design of a booth to convey a theme, it obviously isn't just for the aesthetics. (Although I think you have to admit that some of these booths were quite impressive, resembling outdoor restaurants, fairs, and marketplaces.)
The well-thought-out strategies employed suggest the larger and broadening responsibilities that the food ingredient supplier undertakes in today's world.
We're no longer talking about some general ingredient—the use and marketing of which largely falls on the customer's shoulders. Rather, we're frequently talking about specific products that were developed on a prototype basis to demonstrate the effectiveness of the ingredient. We're talking about noted culinary chefs preparing sophisticated dishes that food scientists will replicate in processed foods. We're talking about next-generation nutraceutical products being developed by divisions of ingredient suppliers dedicated to that task.
All of these changes can obviously have an effect on the ways new products are formulated, on the way products are distributed, and quite possibly, on the costs that are involved.
And, of course, for a few days, all of this takes place at the IFT Annual Meeting & Food Expo.
And we're still not quite done exploring, as the post-show coverage of ingredients will continue in the September issue of Food Technology. So this article is actually only part one.
Stay tuned for the second half!
by Donald E. Pszczola,
Associate Editor