Three Hot Topic sessions were presented during the IFT Annual Meeting in Anaheim, Calif., June 15–19, 2002. This article provides highlights from the three sessions.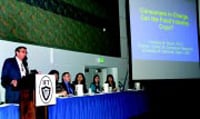 Food as a Terrorist Target
"The question is not if, but when food terror will occur," warned Lee-Anne Jackson, Food and Drug Administration Health Science Policy Advisor and panelist for the packed Hot Topic session, "Homeland Defense: Food Security."
One year ago, during the 2001 IFT Annual Meeting, Hot Topic session panelists looking at the vulnerability of the United States' food supply raised the name of Osama Bin Laden as one of many potential terrorist threats. Today, the world is a different place—in the wake of September 11, Osama is a proven threat, and his terror network and others like it are the main focus of a global war. They are a mercurial enemy that exists in the shadows and caves, always on the move, under no unified command, not bound by national borders, and bankrolled clandestinely by myriad sources. It's tough to find and fight them on the battlefield as well as on the field of international commerce. 
Food is a vulnerable target because it flows from field to table through a vast global network. Fortunately, this vulnerability has given rise to strength, through the considerable checks and balances related to food safety, but that's not enough.
"Food safety is not food security," Jackson stressed, and it requires vigilance. The Hot Topic panel focused on strategies and techniques to tighten security and plan for the unexpected. While government officials have stressed that there is no evidence to suggest that food is a target, there's also no evidence to suggest that it isn't. For that reason, FDA has become an integral part of a network of federal and state agencies seeking to coordinate and enhance both preparedness and response efforts, she said. "Our combined efforts are aimed at anticipating the threat, containing the threat, rapidly responding, and deterring." (For more information visit FDA's Web site at www.cfsan.fda.gov/~dms/guidance.html, or call FDA's 24-hr hot line at 301-443-1240.)
"Food security is a continuum," stated panelist Rhona Applebaum, Executive Vice President of the National Food Processors Association. "We've got to focus security efforts on personnel, products, and property." To that end, NFPA has introduced an education program called "Light it, lock it, limit access . . . " to help food processors implement more-stringent, flexible, effective plans. Other tools include a guide and checklist called the "Security Assessment Guide," and the Threat Exposure and Management (TEAM) process. NFPA also has a food security manual in the works. "Terrorism is real, timely info is the key," Applebaum stressed. "We need to raise awareness of food security initiatives without scaring consumers."
The most effective initiatives are those aimed at prevention, according to Michael Donaldson, President of Valent BioSciences Corp. He described a "closed system security management plan" in which a food company's entire "chain of custody" is reviewed and assessed for risk, from incoming raw material to finished products and warehousing, especially when these activities are handled by a third-party vendor. "It can be costly, but because it requires a total audit of your business, you can gain considerable efficiencies," he said.
--- PAGE BREAK ---
New policies and procedures also must follow a clear, consistent, well-communicated, and well-documented plan, according to Matthew Botos, Senior Scientist at the Illinois Center for Food Safety and Technology. "Get used to more documentation," he stressed. "And most important, identify where you're most vulnerable."
Usually this vulnerability is greatest during shipping and distribution, when raw or finished products are in transit. Many new techniques and technologies exist to seal packages and containers and provide evidence of tampering or hijacking, according to Gleyn Bledsoe, head of the Dept. of Biological Systems Engineering at Washington State University. "Packaging must be secure at all levels," he stressed. 
Scott Brooks, Senior Manager for Quality Assurance at Tricon Global Restaurants, and Barbara Rasco, Associate Professor in the Dept. of Food Science and Human Nutrition at Washington State University, moderated the session. 
How to Win Consumers
"Our pond is stagnant, and it's up to the food industry to lead us to rivers of clean water." With that, Kiera Hornby—at 16, the youngest IFT panelist ever—laid down the consumer gauntlet.
Her generation is big, well-heeled, and savvy, and it operates at warp speed. They want good food adapted to their frenetic lifestyle, and they don't always get it, according to Hornby, billed as "youth consumer par excellence." 
"We want meals our own way, but we don't always make mature decisions. We've got loads of peer pressure; we're horribly busy, living off vending machines; pizza is our most popular food; chips rule; and chocolate is one addiction we can live with," Hornby said. Time, advertising, and what's "cool" determine food purchases, which contain large amounts of fat and sugar. "Many of the ads we see portray junk food as cool. We want to be cool, so we confuse eating what's advertised as eating what's cool," she stressed. 
She also pointed to over-packaging; frozen foods that look far different when heated than they appear on the box; and arcane nutrition information that's hard to read and compare. Her well-prepared presentation put a spotlight on the disconnect between product development and marketing—and the consumers that these efforts are aimed at. 
That was the point of the Hot Topic session, "Consumers in Charge—Can the Food Industry Cope?" The other panelists included Christine M. Bruhn, Director of the Center for Consumer Research, University of California–Davis; Nancy Francis, facilitator, Ideas to Go; Peter Slade, Associate Professor, Illinois Institute of Technology, National Center for Food Safety and Technology; and NFPA's Rhona Applebaum. Moderators were André Bolaffi, President, Bolaffi International, and John Hanlin, Senior Project Manager, General Mills, Inc.  
General agreement centered on the need to produce foods better adapted to consumer wants—greater convenience, better health, environmental friendliness, and great taste working in concert. While the product development landscape is littered with failed attempts, many successes dot the food terrain. Moreover, the industry is getting better at communicating the benefits of new technology. 
--- PAGE BREAK ---
A Nation of Super-Heavyweights
The most affluent culture in the course of human history, and the fattest—that's America in the 21st century. In fact, obesity is widely regarded as public health problem No. 1. It is directly related to obesity, heart disease, and a host of related diseases, and it contributes to a staggering economic cost due to medical bills and lost productivity. 
Predictably, the public debate surrounding obesity centers more on the blame game than on solutions. Scapegoats are always more convenient than personal accountability in a society that also has more lawyers per capita than any other in human history. A predatory food industry, foisting super-sized, fat-sopped triple burgers and calorie-laden shakes on unsuspecting consumers is often the leading media villain. In addition, public education, suburban sprawl, labor-saving machines, the rise of the service economy, the relatively low cost of food, and cable television are cited as co-conspirators.
"The fat cell is the center of the universe. . . . We know the world is getting fatter. It's not genes; it's environment, food, and physical activity—chief is physical activity," panelist Michael Hamilton, Director of the Pennington Biomedical Research Center at Louisiana State University, during the Hot Topic session, "Obesity: A Global Metabolic Timebomb!"
Yet, it's not enough to encourage the public to eat less and exercise more, he said. "We need medications. Obesity is like diabetes. We don't lecture diabetics, even though most cases can be controlled through diet and exercise. We are free to prescribe medications that control the condition."
In reality, obesity is an epidemic that directly contributes to a host of diseases, all of which are growing more prevalent. Chief among them are diabetes and heart disease.
According to the Centers for Disease Control and Prevention, the 1990s witnessed a rampant rise in the number of U.S. adults classified as obese (those with a body mass index of more than 30). Only three states reported an obese population of 20% or more in 1991. By 1999, the number had grown to 49 states, with a corresponding pattern for the prevalence of diabetes. Today, CDC estimates that 61% of U.S. adults are overweight or obese. Figures for the economic costs vary, but CDC has it pegged at approximately $117 billion per year and climbing. Moreover, incidences of childhood diabetes and heart disease, rare just a generation ago, are rising at an alarming rate, Hamilton said.
Ironically, the average American's daily caloric intake isn't much different than it was in 1965. "Our sedentary lifestyle is a big contributor. Physical activity is the key," he stated. "Today we burn 700–800 fewer calories per day."
Much of the cost is borne by the federal government, according to Eric Finkelstein, Research Economist with the Research Triangle Institute. "Medicare is paying nearly half the expenditure related to obesity." Although obesity occurs throughout life, the consequences tend to be picked up later in life. Thus, a heavier aging Medicare population will become increasingly more expensive.
A secondary effect of the obesity trend is a wider prevalence of stigmatization and stereotyping, according to Anne Wolf, instructor of research at the University of Virginia School of Medicine. Numerous studies indicate an innate cultural bias against obese persons. "The stigma starts young," she said. "When we asked children to rank other children with varying physical characteristics in order of who they would want as a friend, obese kids ranked last."
In addition, college students have negative stereotypes of obese college students as lazy, self-indulgent, sexually unskilled, and unresponsive. Employers rate obese applicants as lacking self-discipline and having low supervisory potential, poor hygiene, slower mental acuity, and emotional instability.
--- PAGE BREAK ---
The trend has caught the attention of the media, which has dramatically increased its attention on the issue, according to Sylvia Rowe, President of the International Food Information Council (IFIC) Foundation. From a handful of stories in national media in late 1999 to more than 700 in the first quarter of 2002, the media are raising both awareness and emotions. In addition to balanced statistical coverage and exploration of causes, many stories have attempted to fix blame and assign simple solutions to a complex problem, such as taxing "bad" food, much like cigarette taxes.
But taxing "bad" food, even if such a scheme could work, doesn't address the issue of inactivity. "Our studies show that both kids and parents relate obesity more to food than to physical activity," Rowe stated. In addition, obesity is not often seen as a health issue among parents, who are far more concerned about drugs and sex. The problem is complex and long-term, and requires "small victories" over a long term to achieve success.
The food industry is a convenient scapegoat. It may argue that it delivers what the market demands, but increasingly negative media coverage and posturing by politicians looking for expedient actions loom large. While the U.S. food industry offers many choices, it's the high-fat, high-sugar foods that are receiving the media and legislative attention.
Consumers, however, seem less willing to blame the industry, according to Sheila R. Cohn, Nutrition Coordinator for the National Restaurant Association. "In a fit of panic to find a culprit and consequently a cure, unnecessary blame has been placed on the restaurant industry," she said. Nevertheless, she stressed that 71% of adults agree that there are enough portion sizes available at restaurants for people watching their calories and fat consumption, and virtually all restaurants allow customers to customize their meals, whether it's food preparation method or substitution of food items to meet their needs. In fact, the number of restaurant patrons customizing their food choices has nearly doubled over the past two years, Cohn said.
They also don't want government-sponsored social engineering. Nearly all consumers surveyed oppose additional taxes on restaurant foods known to be high in fat, and 84% oppose a law or regulation limiting portion size.
While these facts may be accurate, legislation is not always fact-based. The panel stressed the need for industry cooperation, sensitivity, creative communication, and innovation to curb the obesity epidemic.
The panel was moderated by Fred Wolfe of the University of Arizona and Fatemeh Malekian of the Pennington Biomedical Research Center, Louisiana State University.
by Pierce Hollingsworth,
Contributing Editor