The continued occurrence of foodborne illness is not evidence of the failure of our food safety system. In fact, many of our prevention and control efforts have been—and continue to be—highly effective. However, residual risks exist, and foodborne illnesses continue to occur. Despite great strides in the area of microbiological food safety, much remains to be done. That is the focus of a new IFT Expert Report being issued this month in conjunction with the Institute of Food Technologists' Second International Food Safety and Quality Conference and Expo in Atlanta, Ga., February 20–22, 2002. This article presents an overview of the 110-page report.
Why the Report Was Commissioned
Managing microbiological food safety is a complex task, with roles for the food industry, regulatory and allied professionals, and consumers. It is critically important that regulatory policies and food safety management efforts be based on the best science currently available. For this reason, food safety policies must be flexible to incorporate scientific knowledge in a product- and process-specific manner.
Recognizing that food safety is a fundamental and continuing issue, the Institute of Food Technologists commissioned an expert panel to review the available scientific literature related to emerging microbiological food safety issues. These experts (see sidebar) were charged with identifying the factors that make a microorganism "emerge" as an important foodborne pathogen and identifying mechanisms that use this knowledge to improve the safety of our food supply.
The objective of the report, according to the charge from the IFT Executive Committee, is to increase understanding, among IFT members and other interested parties, of the scientific information on emerging foodborne pathogens relative to public policy issues and strategies for preventing foodborne illness.
At a two-day meeting in January 2001, the panel discussed the scope of the project, coming to grips with the complexity of emerging microbiological food safety issues and their control. The multidisciplinary panel of experts quickly agreed that it would be impossible to create a comprehensive list of factors that cause new microbiological food safety issues to emerge and that any attempt to create such a list would be misleading.
"The panel was concerned that any list we compiled might create the impression that a single effort to address these factors would 'solve' emerging microbiological food safety issues for all time," said panel chair Morris Potter of the Food and Drug Administration's Center for Food Safety and Applied Nutrition.
Complexity and constant change became important threads in the panel's discussion and, ultimately, in the report, "Emerging Microbiological Food Safety Issues: Implications for Control in the 21st Century." "Foodborne illness is not a simple problem in need of a solution; it is a complex combination of factors that must be managed on a continual basis," according to the report's introduction.
--- PAGE BREAK ---
Emergence of Pathogens
In a broad context, emergence can be used to describe a recent significant change in foodborne disease. Using this interpretation, a pathogen could be described as emerging when it is first linked to disease, when the illness it causes suddenly increases in frequency or severity, or even when a pathogen recognized for a significant amount of time suddenly "reappears." In terms of public perception, all these scenarios may be considered emerging microbiological food safety issues.

At the simplest level, foodborne illness can be reduced to three factors:
the pathogen, the host, and the environment in which they exist and interact. The report explains that all three factors influence the likelihood that foodborne illness will occur (Fig. 1a). "For example, a susceptible host may consume food that contains a significant amount of a microorganism, but if the microorganism does not possess the traits necessary to cause illness, foodborne disease does not occur," explained panel member Douglas Archer of the University of Florida. "Similarly, if the pathogen is heat-sensitive, adequately cooking a food will eliminate exposure and render the food safe."
When one of the three factors changes, new foodborne pathogens can emerge. "Microorganisms that are not pathogenic in the general population may cause illness in sensitive populations. If there is a significant change in a portion of the population that makes those individuals more susceptible to a previously nonpathogenic microorganism, a new pathogen may appear to emerge," said panel member Dallas Hoover of the University of Delaware. "Another example is a microorganism that has increased virulence when it acquires characteristics that help it overcome defenses in the human body," added panel member Brett Finlay of the University of British Columbia.
The relationship among the three factors is also the key to reducing foodborne illness, the panel agreed. Although prevention and control efforts often focus on the contribution of one of these factors (Fig. 1b), the most effective approach, in many cases, addresses more than one factor (Fig. 1c). "Current technologies and production methods cannot provide a food supply that is completely free of all pathogenic microorganisms," said Arthur Liang of the Centers for Disease Control and Prevention. "Fortunately, even small reductions in several factors can have a significant combined effect."
Complex Drivers of Change
A number of factors will drive the emergence of new food safety concerns, including changes in the characteristics of the consuming public, changes in the foods we manufacture and sell, changes in the hazards themselves, and changes in the ability of public health officials to identify illnesses as foodborne and to trace the illnesses to their food source.
Because pathogens are living organisms that rapidly adapt and evolve, the methods they use to cause illness are never static. "When scientists understand how a particular pathogen is able to cause illness, then they can look for ways to disrupt this process and render the organism harmless or find treatments that mitigate illness," said panel member Michael Doyle of the University of Georgia.
Pathogen evolution is continuous and is driven by a variety of forces, only some of which relate to human activities. "Genomics has greatly facilitated our understanding of pathogen evolution, revealing that genetic exchange between bacterial species plays a much greater role in pathogen evolution than previously realized," according to panel member Jeffrey Farber of Health Canada's Bureau of Microbial Hazards. The continual evolution of foodborne pathogens forces us to change food processes and products to maintain and improve microbiological food safety, he said.
--- PAGE BREAK ---
Although the primary focus of the report is on bacterial foodborne disease, other pathogenic microorganisms are also addressed. "Parasites, viruses, and biotoxins all present food safety challenges," according to panel member Lee-Ann Jaykus of North Carolina State University. "These pathogens have properties that make them quite different from the common bacterial agents of foodborne disease."
A number of factors that relate to the human host have a major impact on the occurrence and severity of foodborne disease. The host's age, gender, place of residence, ethnicity, educational background, underlying health status, and knowledge, attitudes, and practices related to health and diet all have important bearing on foodborne illness. The health of the host affects the individual's susceptibility to infection and illness, and the host's dietary and hygiene practices affect exposure to pathogens.
Foodborne disease is widely recognized for the acute effects on the gastrointestinal tract, but it also includes other symptoms throughout the body. In addition, foodborne pathogens may cause chronic disease, which may occur independently or accompany an acute illness. Many of these chronic diseases have only recently been linked to foodborne pathogens.
Given current technologies, the complexity of the pre-harvest, harvest, and post-harvest environment makes it impossible to control all potential sources of microbial contamination. "A sterile food supply is not practically achievable," explained panel member James Dickson of Iowa State University. Pathogen control in the production agriculture environment is especially difficult. In addition to the presence of pathogens,the ecology of the microbial environment is important because environmental stresses can select microorganisms with improved resistance and may result in more virulent pathogen strains.
Any discussion of emerging food safety issues must consider the impact of new alternative processing technologies developed to meet consumer demand for foods with minimal process-induced changes in sensory and nutritional characteristics. Although these technologies have promise, many of them require additional research before they are ready for commercial application. Furthermore, the food safety analysis of new technologies must consider the impact and the potential ramifications further down the production chain. "The microbial ecology in these environments is an intricate system, and even seemingly small changes can have significant effects," said panel member Frank Busta, professor emeritus at the University of Minnesota and senior science advisor to IFT's Dept. of Science and Technology Projects.
Science-Based Policies
Developing and implementing science-based policies is not an easy task. The IFT Expert Report endorses the use of food safety objectives, a risk-management approach recently proposed by the International Commission on Microbiological Specifications for Foods. As defined by ICMSF, a food safety objective (FSO) is a statement of the maximum frequency and/or concentration of a microbiological hazard in a food at the time of consumption that provides the appropriate level of protection. "The FSO concept is gaining in acceptance and will influence future efforts to enhance the safety of our food supply," said panel member Bruce Tompkin of ConAgra Refrigerated Prepared Foods.
"The FSO approach can be used to integrate risk assessment and current hazard management practices into a framework that can be used to achieve public health goals in a science-based, flexible manner," according to panel member Merle Pierson of Virginia Polytechnic Institute & State University. Although the FSO concept is relatively new, its acceptance is growing because it offers a practical means to convert public health goals into values or targets that can be used by regulatory agencies and food manufacturers.
--- PAGE BREAK ---
The limits imposed in an FSO should reflect not only the best available scientific information but also nonscientific input from a variety of sources. FSOs should reflect societal values with regard to levels of consumer protection.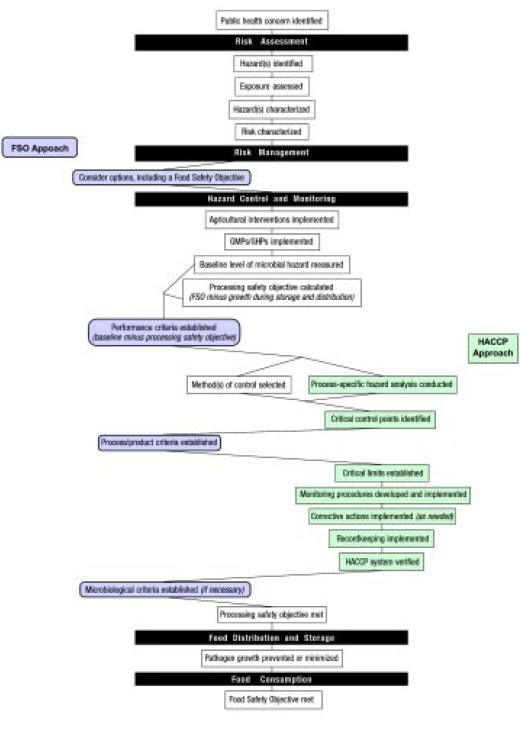 The report provides a detailed look at how risk assessment, FSOs, and Hazard Analysis and Critical Control Point (HACCP) programs fit together into a science-based framework for food safety management (Fig. 2). "FSOs help translate the outcome of risk assessment into something that can be used with HACCP programs," Busta said. "The FSO approach will be successful when directly intertwined with a food processor's good manufacturing practices and HACCP rogram," he said.
Routine microbiological testing can be useful in certain applications. It can be helpful for surveillance purposes and process verification, and it is sometimes helpful for lot acceptance. However, microbiological testing of finished product can be misleading, and negative test results do not ensure safety. Statistical limitations of microbiological testing are of significant concern, especially when the rate of contamination is very low. The report contains an in-depth explanation of the statistical limitations of microbiological testing and discusses the value of the results of such testing.
Surveillance of foodborne illness provides important information for food safety management. "Not only can scientists track the spread and frequency of a pathogen by looking for its victims," said panel member Craig Hedberg of the University of Minnesota, "they also can quickly spot changes in virulence or exposure." In addition to allowing rapid response to outbreaks of foodborne illness, the data generated through surveillance programs can be used in hazard analysis and other risk-assessment activities.
Looking Ahead
Because certain elements of pathogen evolution are inherently unpredictable, it is impossible to predict, with absolute accuracy, the microbiological food safety issues of the future. However, our knowledge of the current issues and the complex factors that drive the changes in microbiological food safety do provide us with a good sense of the likely trends, which are discussed in the report. With this knowledge and understanding, we can target our research and surveillance efforts to spot emerging issues as they arise and be prepared to respond quickly and appropriately.
To provide the maximum benefits, our food safety efforts and policies must be carefully prioritized, in terms of both research and application of controls. Our efforts at control and prevention should focus first on areas with the greatest impact on public health.
How to Obtain the Report
The full report, "Emerging Microbiological Food Safety Issues: Implications for Control in the 21st Century," will be available on IFT's Web site (www.ift.org) immediately after the Food Safety and Quality Conference and Expo.
--- PAGE BREAK ---
Panel Members
Morris Potter, D.V.M. (chair), Lead Scientist for Epidemiology, Center for Food Safety and Applied Nutrition, Food and Drug Administration, Washington, D.C.
Douglas Archer, Ph.D., Professor, Food Science and Human Nutrition, University of Florida, Gainesville.
Andrew Benson, Ph.D., Assistant Professor, Food Microbiology, University of Nebraska, Lincoln.
Frank Busta, Ph.D., Emeritus Professor, Food Science & Nutrition, University of Minnesota, St. Paul.
James S. Dickson, Ph.D., Associate Professor and Chair, Dept. of Microbiology, Iowa State University, Ames.
Michael Doyle, Ph.D., Director, Center for Food Safety, University of Georgia, Griffin.
Jeffrey Farber, Ph.D., Director, Bureau of Microbial Hazards, Health Canada, Ottawa, Ontario, Canada.
B. Brett Finlay, Ph.D., Professor, Biotechnology Laboratory, University of British Columbia, Vancouver, Canada.
Michael Goldblatt, Ph.D., Director, Defense Advanced Research Projects Agency, Defense Sciences Office, Arlington, Va.
Craig Hedberg, Ph.D., Associate Professor, Division of Environmental and Occupational Health, University of Minnesota, Minneapolis.
Dallas Hoover, Ph.D., Professor, Dept. of Animal and Food Sciences, University of Delaware, Newark.
Michael Jahncke, Ph.D., Associate Professor and Director, Dept. of Food Science & Technology, Virginia Seafood Agricultural Research and Extension Center, Virginia Polytechnic Institute & State University, Hampton.
Lee-Ann Jaykus, Ph.D., Associate Professor, Food Microbiology, Dept. of Food Science, North Carolina State University, Raleigh.
Charles Kaspar, Ph.D., Associate Professor, Food Research Institute and Environmental Toxicology Center, University of Wisconsin, Madison.
Arthur P. Liang, M.D., M.P.H., Director, Food Safety Initiative Activity, Division of Bacterial and Mycotic Diseases, National Center for Infectious Diseases, Centers for Disease Control and Prevention, Atlanta, Ga.
James Lindsay, Ph.D., National Program Leader, Food Safety, Agricultural Research Service, U.S. Dept. of Agriculture, Beltsville, Md.
James Pestka, Ph.D., Professor, Food Science and Human Nutrition, Michigan State University, East Lansing.
Merle Pierson, Ph.D., Professor, Dept. of Food Science and Technology, Virginia Polytechnic Institute & State University, Blacksburg.
Peter Slade, Ph.D., Director of Research & Technical Services, National Center for Food Safety and Technology, Summit-Argo, Ill.
R. Bruce Tompkin, Ph.D., Vice President of Food Safety, ConAgra Refrigerated Prepared Foods, Downers Grove, Ill.
Mary Lou Tortorello, Ph.D., Research Microbiologist, National Center for Food Safety and Technology, Food and Drug Administration, Summit-Argo, Ill.
by Mary Helen Arthur
The author, lead editor of the IFT Expert Report, is Science Information Manager, Dept. of Science and Communications, Institute of Food Technologists, 525 W. Van Buren St., Suite 1000, Chicago, IL 60607.