Americans can breathe easy. A torrent of unique product introductions has revolutionized the minty world of breath fresheners.In fact, a whole new product category recently spawned from the compulsive desire of American consumers to overcome the pall of halitosis. Breath strips, those potent melt-away Post- It-sized-wafers that fit in your watch pocket, have ignited a retail firestorm.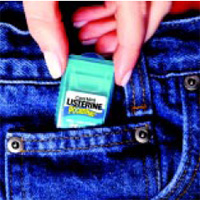 It all started last October when Pfizer, Inc., introduced Listerine PocketPaks and quickly ate up a significant share of the fresh-breath industry on first-year sales of $112 million. The introduction was hyped through sponsorship of numerous parties before the Emmy Awards and through major promotions tied into the Golden Globe Awards and Oscars. The ongoing marketing effort also includes distribution to major modeling agencies, NBA teams, and other high-profile personalities, based on the principle that if cool people use them the masses will follow. All this for a breath freshener.
The success of PocketPaks was not lost on newly aggressive gum giant Wm. Wrigley Jr. Co. Under the direction of its new CEO William Wrigley Jr., the company has embarked on a major revamping of its venerable brands, as well as the late-summer introduction of the first non–chewing gum product in the company's 111-year history. Still in the roll-out stage, Eclipse Flash Strips directly compete against PocketPaks and are backed by an initial $50-million  marketing campaign entitled "Beyond Breath."
Although the breath-strip category is new, more entries are expected. Based on current trends reported by Information Resources, Inc., the category is projected at $300 million. Since Eclipse Flash Strips have been in the market for less than a year, this estimate could grow with more competition.
While these products may be more of a fashion fad, they have shaken up the entire $3-billion fresh-breath industry, where a torrent of vicious, high-potency peppermints is pitted against ever-stronger chewing gums. They're not just functional masks for a garlicky lunch—breath mints and gums have become important lifestyle accessories that stretch across demographic boundaries.
According to the National Confectioners Association, sales of breath mints, gums, and lozenges rose 15.3% in 2001, a five-year growth trend that has outpaced chocolate, traditional chewing gum, and other candies. These categories combined for a meager 2.9% growth rate.
The timing of this market phenomenon is hard to assess. It's part style and part culture. Until the 1970s, a stable of unglamorous products that included toothpaste, mouthwash, Life Savers, and traditional chewing gum was the main arsenal against halitosis. Dentists then and now stress that the best defense is healthy teeth and gums from regular flossing and brushing. But that's neither cool nor convenient. The prototype of breath freshener as fashion statement first arrived in the 1970s in the form of an aerosol spray, popularized by Binaca, now produced by Playtex Products, Inc. The brand, and the quick, clandestine spraying technique, quickly became as closely associated with the '70s culture as leisure suits and disco. Tiny breath mints began to proliferate during the '80s, led by TicTac, marketed by the French-owned Ferrero USA. Then in the mid-'90s, Altoids, a Kraft, Inc., brand, launched a hip, aggressive marketing campaign that moved high-powered breath mints into the category of lifestyle-defining accessories.
Today, all these brands—and the upstart breath strips—constitute a vibrant, highly competitive market. Sales leader Tic Tac moved 95 million units in 2001, Altoids sold 49.4 million units, and PocketPaks hit 54.5 million units, according to Information Resources. These comparative sales comprise supermarkets, chain stores, and mass merchandisers but exclude Wal-Mart, so actual unit sales are actually higher.
These brands are the tip of a growing iceberg. Retailers from Starbucks to Victoria's Secret have their own high-powered mints. In fact, Binaca has a product called Power Blasts mints, while Tic Tac has introduced ever-hotter peppermint varieties.
by PIERCE HOLLINGSWORTH
Contributing Editor
President, The Hollingsworth Group, Inc.
Wheaton, Ill.