As restaurants go, so goes the nation. Or is it vice versa? Economic uncertainty, behavioral shifts, and fears due to 9/11, business spending cutbacks, travel aversion, high gas and utility bills, and a re-centering around home, family, and friends have all taken a bite out of foodservice sales.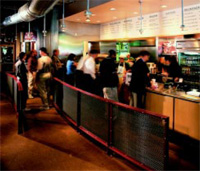 More than almost any other industry, the restaurant industry is a barometer of the American scene. Restaurants and other foodservice outlets are the nation's largest private-sector employer, servicing 858,000 locations nationwide. Their direct daily sales are equal to 4% of the gross national product, and 46% of all food dollars in the United States is now spent away from home (NRA, 2002a). But thanks to value-driven actions and menu reorientation by quick-thinking operators, total foodservice industry sales are projected to show modest but improved growth for 2002, and mid-year sales figures are already showing signs of a slow but steady recovery, at least for the restaurant segment. 
Not surprisingly, the dynamics of this highly competitive industry are changing, perhaps for good. Spurred by an unprecedented desire for comfort and value, casual chain restaurants continued to move out ahead, with 20% of all consumers saying they ate there more frequently last year, while 40% visited fine dining establishments less often (Perlik, 2002a). Touting fresh, fast, healthy, and good value, it's not surprising that the emerging "fast casual" segment enjoyed the strongest growth, with sales of McDonald's' Chipotle Grill leading the pack, up 116%! And the competition continues to escalate as traditional segments like family/coffee shop restaurants, convenience store (c-store) operations, and deli's show new life. 
All isn't back to normal yet, and it may never be. Take-out meals appear to have stalled. After being stable for 15 years, on-premise dining began to decline. And the motivations for selecting a specific restaurant have changed, too. Enjoying time with family and friends now tops the list of reasons diners choose a casual or family-style eatery, while four in ten view eating out as a way to make new friends. Socializing over meals is changing the way guests order, and tasting, sampling, sharing—and comparing—are all part of the scene. 
Last, while convenience—and of course, an enjoyable experience—have long been the most important reasons that Americans go out to eat or take restaurant food home, more and more it's about the food. And, that's changing, too. New tastes but familiar foods, casual and cozy, fun but not frivolous, and family or regional-styles are some of the new foodservice guidelines for the years ahead. Today, the past is fertile ground for the future, and the 1950s and '60s will be one of the roads to success in the years ahead. The following discussion is designed to provide an update on the current state of the foodservice industry, and to identify upcoming mega-trends and culinary and business opportunities for the few years ahead.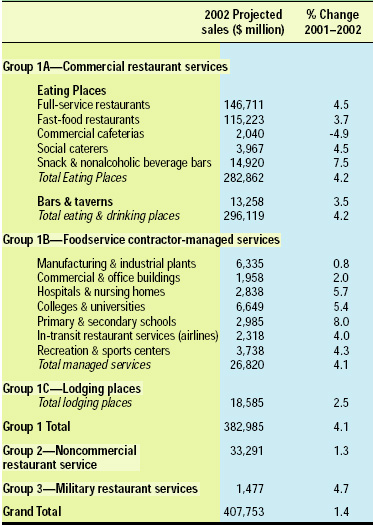 New Market Dynamics and Industry Directions
Despite the economic uncertainty, the continued high cost of gasoline/home utilities, business spending cutbacks, aversion to travel, and fears emanating from 9/11, total foodservice industry sales are expected to show modest growth for 2002. Following ten consecutive years of "real"—or "inflation-adjusted" growth—the National Restaurant Association (NRA, 2002a) estimates year-end record sales of $407.8 billion, up 3.9% over 2001 and up 1.4% in "real" terms (Table 1). With direct sales equal to 4% of the gross domestic product, the industry will post average daily sales of more than $1.1 billion and serve an estimated 54 billion meals in restaurants and work/institutional cafeterias this year. Currently, 46% of U.S. food dollars are spent "away from home"—up from 25% in 1955—and are expected to climb to 53%, or $577 billion, by 2010. The Mountain, East South Central, and West South Central regions will enjoy the strongest growth (NRA, 2002a). 
--- PAGE BREAK ---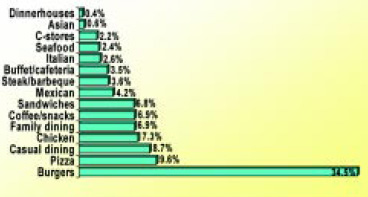 According to Restaurants & Institutions' 38th annual Top 400 report (Hume, 2002), the "Top 400" restaurant chains posted collective sales of $196.6 billion, up 3.4% in 2001 vs a 5.5% gain in 2000. Although the full-service restaurant segment is growing faster than the quick-service restaurant (QSR) segment, three-quarters of the Top 400's revenues still came from QSRs, with burger chains accounting for just over one-third of Top 400 chains' revenues (Fig. 1). With 2001 sales of $39.7 billion, McDonald's is by far the largest chain, followed in the "Top 10" by Burger King ($11.2 billion), Kentucky Fried Chicken ($9.7 billion), Pizza Hut ($7.6 billion), Wendy's ($6.8 billion), Subway ($5.2 billion), Taco Bell ($5.0 billion), Domino's ($3.8 billion), Applebee's ($2.9 billion), and Dairy Queen ($2.8 billion) (Hume, 2001). 
June 2002 mid-year sales figures (Technomic, 2002a) are already showing signs of a slow but sure recovery for restaurants, with total sales up 4.3%, limited service (fast food) up 3.5%, and full service up 5.0%. "Beyond restaurants"—which includes travel and leisure, education, healthcare, retailers, business and industry, and all others—did not fare as well, up only 0.2% in sales, and total foodservice, up 2.5%, the same level as 2001. Clearly, those segments hit hardest by the economic turndown and post-9/11—high-end dining, locations heavily dependent on travel and tourism, and those related to sports, entertainment, or events—face an uphill battle, particularly as price-sensitive customers seek greater value, operators scramble to grab local customers, and culinary innovation in the casual sector begins to rival high-end fare. 
Not surprisingly, the dynamics of this highly competitive industry are changing, perhaps permanently. In 2001, 40% of consumers said they ate at upscale restaurants less often than the year before, 50% of those with children. Of fine dining's "bread and butter" customers—only 14% of those earning $75,000+ and 16% of consumers who spent $50+ per week at restaurants—said they visited high-end eateries more often. Casual chains saw the greatest full-service gains, with 20% of all consumers dining there more often, compared to 14% at QSRs and 8% at fine-dining restaurants; about half ate at casual restaurants and QSRs with the same frequency. Most important, one-third of those earning $75,000+ and one-quarter of those who spend $50+ per week at restaurants—traditional fine-dining patrons—ate more frequently at casual chains (Perlik et al., 2002). 
But the most exciting development last year was the "real" growth coming from the emerging "fast-casual" segment, destined to redefine fast food, and now the industry's fastest-growing sector. Fast-casual is fresher, higher-quality+ market food, delivered in a convenient format—usually with counter ordering and upscale ambiance—and costing only slightly more than fast food. Generally characterized by fresh, handmade items and open kitchens, it creates the perception of a "healthier" menu. The food is usually prepped in an open-line and theater-like kitchen.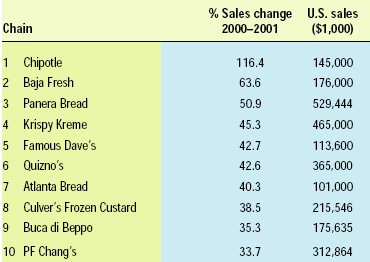 According to Restaurant Business's "Top 50 Growth Chains" (Amer, 2002), four of the Top 10 growth chains fell into the fast-casual segment (Table 2). McDonald's-owned Chipotle Grill, which posted 70% unit growth, led the list, with sales soaring 116%, followed by Baja Fresh—now owned by Wendy's—up 63% in sales. Panera Bread and Atlanta Bread—bakery café concepts—grabbed the 3rd and 7th slots, up 50.9% and 30.3%, respectively. Although not in the Top 10, sales at McAllister's Deli were up 31.5%, Rubio's Baja Grill up 18.8%, and Souplantation/Sweet Tomatoes up 17.3% (Amer, 2002; Brumback, 2002a). Virtually all the major fast-food chains are arming themselves with an entrant in this quickly emerging field. 
--- PAGE BREAK ---
And the competition continues to escalate, as an unexpected segment pursues a value-driven, upscale culinary plan. According to the Chain Account Menu Survey (CAMS, 2002), there appears to be new vitality in the "family/coffee shop" chain sector as they take on a new persona, offering seemingly high-end entrees at a price point similar to burger chains' large combo meals. Bob Evan's Raspberry Grilled Chicken Salad; Baker's Square's Chicken Pasta Rustica (cavatappi pasta with portabellos, pesto, etc., over chicken); Country Kitchen's Rosemary Chicken Ravioli; Eat 'n' Park's Gulf Coast Spinach Bake (shrimp, crabmeat, spinach, artichokes, and cheese); and Perkins' Grilled Teriyaki Salmon are new menu additions, all priced below $10! 
But foodservice isn't just about restaurants. Sales of contractor-managed services in primary and secondary schools are expected to climb up 8%; hospitals and nursing homes up 5.7%; colleges and universities, up 5.4%; and airlines and recreation/sports centers both up more than 4%. Military restaurant services are also projected to enjoy increased growth. Conversely, noncommercial restaurant services—where organizations manage their own eating services—are not faring as well. In the current economic climate, those servicing these institutions as well as corporate dining sites are readying themselves for the same belt-tightening as the rest of the market. However, simply because of demographics, universities, schools, hospitals, and nursing homes can rely on a growing customer base (NRA, 2002a; Perlik, 2002a).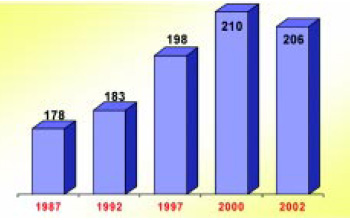 Changing Attitudes and Actions
Americans bought 206 meals per person last year at commercial restaurants—down slightly from 210 in 2000 but still at, or around, the highest level in history (Fig. 2). Nearly three-quarters of all restaurant meals (74%) were purchased at a fast-food establishment, up from 71% in 1994, and 14% were purchased at mid-scale restaurants, 11% at casual chains, and 1% at fine-dining places.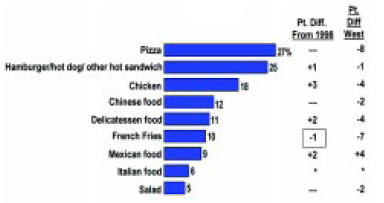 Americans continue to use restaurants more for take-out meals than as a place to go out and eat. While the number of meals eaten in restaurants has stayed about the same for at least 15 years, since 1999 meals consumed on-premise have declined slightly, down from 66 meals/person/year in 1999 to 64 in 2000. On-premise dining accounted for 42% of all restaurant customer traffic last year, carryout 35%, drive-thru 18%, and delivery 5% (NRA, 2002b). Conversely, take-out meals—which jumped from 85 meals/person/per year in 1985 to 121 in 2000—appears to have stalled, sliding down to 118 for the year ending April 2002 (NPD Foodworld, 2002). Just over half of all take-out meals go home, while 20% are eaten in the car (up from 15% in 1989), 12% at work, and 13% somewhere else. Take-home meals are most likely to be consumed for supper, accounting for 6.8% of all dinners—a level unchanged for the past few years. Younger adults are the most likely to bring home take-out for dinner. Pizza remains the leading take-out food (27%), followed by burgers, hot dogs, and sandwiches (25%), chicken (18%), Chinese food (12%), deli items (11%), fries (10%), Mexican food (9%), Italian food (6%), and salad (5%) (Fig. 3). 
Not surprisingly, food-savvy consumers are looking more toward upscale and varied eateries for their take-out orders. Takeout now accounts for about 15% of all casual-dining traffic, while carry-out sales at full-service chains grew nearly 11% last year, the most of any segment (NPD Foodworld, 2002). Four in ten adults—and half of those aged 18–24—said they would use a table-service restaurant more for take-out if it had a drive-thru option;15% have used the Internet to view a menu, and 5% have ordered on-line (NRA, 2001a). Well-known chains, including Outback Steakhouse, Bob Evans, Chevy's, Chili's Grill & Bar, and Ruby Tuesday, have established take-out-friendly counters and services. Table-service operators perceive the lack of suitable take-out packaging—and its ability to keep food fresh-looking and warm—to be one of their greatest business barriers (NRA, 2001a). 
--- PAGE BREAK ---
But fast-food marketers have a new convenience strategy, too—multi-unit branded restaurants. For example, McDonald's "3-in-1" chain melds its burger operation with a diner-like Sandwich & Platter Shop and a bakery-ice cream outlet. Yum! Brands is testing its multi-concept of co-branding Long John Silver's, Taco Bell, and possibly eventually its new Asian fast-casual concept, Yan Can Cook. 
With easy access the key, it's not surprising that 8% of those who brought home take-out during the past week got it at a cstore, compared to19% from a full-service restaurant, 50% from a fast-food place, 41% from a take-out food store (pizza, Chinese), 18% from the supermarket, and 13% from a deli (RoperASW, 2002). Foodservice is second only to cigarettes in terms of c-store category sales, contributing $13.8 billion in revenues, according to the 2002 CSNews Industry Report (Chanil, 2002). 7-Eleven is the leader with $2.2 billion in foodservice sales, followed by Circle K ($450 million) and Wawa Food Market ($420 million) (Hume, 2002).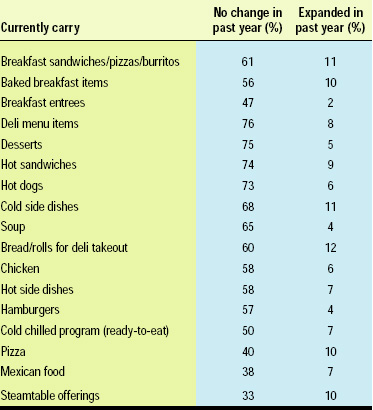 More than half (58%) of foodservice items sold are unbranded proprietary items. National/regional branded and branded proprietary programs each account for about one-fifth of all foodservice items sold. Subway led the list of branded fast-food-chain partners—now in 20% of c-stores—followed by Krispy Kreme and Taco Bell at 13%, and A&W, Baskin-Robbins, and Burger King, all at 10% or less. Only 14% of c-stores offer two or more branded "food court" programs. Nine out of ten c-store managers report preparing at least some items fresh on site. Coffeemakers and microwave ovens are available in 93% of stores. One-third of stores have baking equipment, one-quarter grills and pizza makers, and 15% broilers, rotisseries, and soft ice cream machines. Four in ten offer party platters/catering, 18% a drive-thru, and 8% home delivery. Operators appear to be expanding their offerings of breakfast programs, bread/rolls for deli and take-out, cold side dishes, pizza, and steam-table items (Table 3).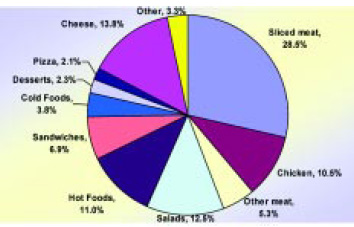 And supermarkets are keeping pace. Last year, 69% of in-store delis, whose total sales reached $13.6 billion, offered prepared foods, 22% a salad bar, 19% a restaurant area, and 2% branded fast food (Heller and Major, 2002). Prepared foods have increased their share of total deli sales to 38.3% (Fig. 4). Cheese increased its share, while deli meat declined. Three-quarters of supermarkets offered ready-made salads, 41% refrigerated/frozen sandwiches, 38% entrees, 27% refrigerated lunches, 12% refrigerated pizza, 8.4% refrigerated pasta, and 8% fruit salad. 
Last, while the economy is the first to blame for the current leveling of the take-out market, the plethora of new "packaged" supermarket products positioned as easy, less costly, in-home meal solutions—including meal kits, quick-cooking and prepared meats, higher-quality frozen meals, and restaurant-branded foods—have clearly had an impact. Nearly 12% of in-home suppers include a frozen item, up from 9.4% just four years ago! With the average cost of a restaurant take-out meal at $5.60—nearly three times as high as an in-home meal ($2.00 per person)—no wonder these pre-prepared products are gaining ground! 
The Ever-Changing American Palate: Top 10 Culinary Trends to Watch
While convenience—and of course, an enjoyable experience—have long been the most important reasons that Americans go out to eat or take-restaurant food home, more and more it's about the food. Today, the food itself is the deciding factor determining the type of restaurant consumers choose to visit. Nearly three-quarters of consumers say the "food" has the most to do with selecting a fine-dining or a casual-dining restaurant (up 10% and 20%, respectively, since 1997) and two-thirds a family–style eatery (up 22%). In terms of fast food, while price (up 5%) and convenient location (up 6%) still lead the list of factors influencing restaurant selection, the food now ranks a strong third (up 22% over the past five years); one in ten fast-food patrons now say a wide menu variety has the most to do with selecting a restaurant (RoperASW, 2002).
--- PAGE BREAK ---
1. Classics, Comfort, and Close-In Fare
9/11 and recent economic pressures have had an even more widespread effect on the restaurant business than creating price sensitivities and grounding travelers. It further accelerated the re-emerging mega-trend to home, family, comfort, and community, sending traditional comfort, family-style, Retro, and Classic foods soaring (Trend No. 8 in Food Technology, April 2001, pp. 38–58). New tastes but familiar foods, casual and cozy, fun but not frivolous, and family or regional-styles are the foodservice guidelines for the years ahead. Good simple food, real value, and great taste! 
While just about half of consumers say they like to try something new from time to time in restaurants, one-third pretty much stick to what is familiar (RoperASW, 2002). But this heightened desire for familiarity shouldn't be perceived as hampering culinary creativity or leading to boring foods. According to findings from Restaurants & Institutions' biannual Menu Census (Yee et al., 2001), diners are most open to new tastes when food is familiar in some way. Caesar salad is an example of familiarity expanding consumers' "comfort" profile. In 2001, three-quarters of fine-dining restaurants had Classic Caesar salad on their menu, more than half had chicken Caesar, 39% had shrimp Caesar, and fewer had beef or pork Caesar, and these salads have more than likely inspired the current Chinese chicken salad craze (Hume, 2002). This trend will manifest itself in several food ways. 
First, menus will continue their successful return to the comfort foods of decades gone by, but with a contemporary twist! Barbecued beef brisket topped the Menu Census list (Yee et al., 2002) of foods showing the greatest overall increases as restaurant sales gainers, followed by éclairs and cream puffs (No. 2), barbecue pork sandwiches (No. 5), beef brochettes (No. 9), ice cream cake (No. 10) and fruit/nut breads (No. 11). Cheese fries were up 33% (Hume, 2002). One-third more of the Top 200 chains menued ice cream sundaes, and cookies and milk continue to appear for dessert (CAMS, 2001a). Marie Callender's added comfort-driven dishes (Old Fashioned Meatloaf Sandwich, Turkey Tetrazzini, and Tomato Bisque), Red Robin added Pot Roast Burger, and Sizzler added a Grilled Stacked Meatloaf entrée. 
But the challenge is to create familiar dishes, in an interesting way, and chefs are going way beyond. The Cheesecake Factory's top-selling Chicken Luau Salad outdid its Chinese cousin by swapping oranges and almonds for mangos and macadamia nuts. Yellow-fleshed potatoes give a twice-baked potato a truly new look. How about tomato soup with Asiago cheese or olives, shrimp parmagiana, chicken matzoh ball soup, or crab and lobster pot pies? At Nob Hill Restaurant in Las Vegas, comfort comes on a cart which displays five different creative versions of mashed potatoes, wheeled tableside in a copper kettle. Can tableside rice selections, stuffing, macaroni with specialty cheeses, or hearty pasta pleasers be far behind? 
Second, restaurateurs are reintroducing old upscale Classics, Retro foods, and 50-ish condiments, too. Watch for the resurgence of celebratory fare, including Beef Wellington, Coquilles St. Jacques, Steak Diane, Veal Paillard/Chops, Crab Louie, Baked Alaska, and Crepes Suzette. New inventive forms of Crème Brulee, Petite Fours, classic cocktails, led by the martini, Old Fashioned, and Rob Roy, crabmeat stuffed avocado, and strawberry shortcake are making restaurant news. Old classic salads, including wilted, Cobb, iceberg wedges, and chopped, are making a triumphant return and forming the basis for contemporary adaptations; 12 new Cobb and 15 new chopped variations were added to chain menus in the 2nd half of 2001 (CAMS, 2002). Butter is once again being served alongside seafood, and hollandaise and béarnaise sauces have returned as menu mainstays at many chains, such as Dave & Buster's. Sauces with alcohol, compounded butters, which include herbal and other flavors, and old-fashioned gravies are rebounding strongly. 
Third, regional and local foods—which offer a big dose of comfort and excitement, too—are mainstreaming onto menus. Walleye and Lake Superior Trout, Southern grits with hot chilies, Wisconsin macaroni and cheese, crawfish, pork bellies, crab cakes, and Spam are catching customer attention. For travelers, comfort is often conveyed through foods typical of the destination city or country. For example, The Ritz Carlton in Philadelphia—after converting its in-room dining menu to comfort food—is enjoying great success with a Ritz version of the Philly cheese steak. Menus more frequently cite the farm, state, or region of origin (e.g., Sonoma duck or Long Island cherrystone clams) to build trust, while some credit the chef, farmer, or customer who inspired the dish. And hometown descriptors like Burger King's Back Porch Grillers or Applebee's Cowboy Burger and Neighborhood Block Party campaign make anyone feel at home!
--- PAGE BREAK ---
2. Protein Power
Despite the higher cost of protein foods, America's love affair with meat, poultry, fish, and seafood is steamier than ever! While beef has led entrée sales in restaurants for the past ten years and demand continues to grow, fish and seafood are making big news! United States per capita seafood consumption jumped from 14.6 lb in 1997 to 15.6 in 2000, and 80% of seafood dollars are spent in foodservice (NFI, 2001).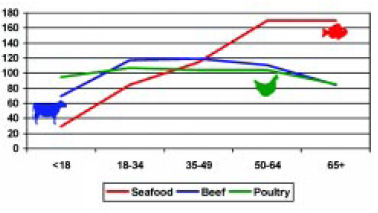 One reason for the strong showing may be new evidence, when protein consumption is indexed to age, that Baby Boomers prefer seafood (Fig. 5). Of the Top 10 foods showing the greatest overall on-menu gains in R&I's Menu Census (2001), four are fish or seafood: salmon tartare (No. 1, up 208% from 1999–2001); tilapia (No. 2, up 54%); sea bass (No. 4, up 31%), and mahi mahi (No. 9). Salmon tartare ranked 3rd on the list of overall restaurant sales gainers, sushi 13th, and tilapia 15th. With 18 quarters of continuous growth, Darden's Red Lobster restaurants dominate the $4.8-billion seafood chain restaurant segment with 2001 sales of $2.2 billion, followed by Yum! Brands' Long John Silver's restaurants at $812 million, and Captain D's at $486 million (Hume, 2002). On the quick-service side, chains have struggled. Some, like Long John Silver's and A&W, are co-branding for menu variety, while others, like Captain D's, are positioning for a fast-casual niche (Brumback, 2002b). Fresh is the key word at seafood restaurants these days, and leader Red Lobster is setting the pace, unveiling a new national menu featuring fresh signature fish dishes highlighting bold flavors and Asian, Italian, and Southwestern cuisines, and remodeling its restaurants with a "Coastal Home" design to give the bright, open feel of the sea. 
Tuna, salmon, and "other" forms, were the most commonly menued fish items in the Top 200 chains; shrimp totaled more than half of total shellfish entrees (CAMS, 2002). Regional fish—in simple preparations—such as Braised Walleye Pike, Lake Superior Fish Fry (perch), Maine Lobster Spaghetti, and Fried Crawfish Tails—appear to be gaining ground. Ethnic-flavored but relatively simple preparations enjoyed recent menu success, e.g., Grilled Teriyaki, O'Cajun, or Miso Salmon, Pan Asian shrimp recipes, and grilled tuna anything! Down-home fish appetizers—such as Tuna Salad on Pita Points, crab and shrimp samplers using different preparations, crab cakes, and fried bite-sized morsels, including clams, mussels, scallops, and oysters, continue to soar. Seafood ravioli, baked stuffed fish, classic dishes like seafood Fra Diavolo and Paella, and all sorts of fish tacos remain strong. 
Two major long-term trends are clear. First, raw menu items including sushi, ceviche, sashimi, and seafood are here to stay. The National Sushi Society reports that the number of sushi bars in the U.S. quintupled to 5,000 over the past 10 years, and interest is skewing younger; and Aramark Services reports that 52 of its college accounts include sushi on the menu (Anonymous, 2002). Second, breakfast is the next frontier for fish and seafood. Creative restaurateurs are already replacing high-fat breakfast meats with crab, shrimp, and even clams. Seafood omelets, seafood breakfast quesadillas, and even a fresh fish of the day with two eggs and hash browns are coming on strong. Both of these trends will raise the bar on operational issues, including purchasing and storage, food safety, preparation techniques, and server/chef training. 
At the same time, more than half of restaurants report a growing demand for steak. Steak entree orders in restaurants were up 6% in 2001, and steak sandwiches were up 23% (NPD Foodworld, 2001). Filet mignon was the most popular steak cut on menus, followed by flank, skirt, and hanger steak; new cuts include flat iron and ranch (Technomic, 2002b). In chain restaurants, CAMS (2002) reports that more than 80% of beef entrees were steak; 60% in Casual/Theme and Upscale/Steak segments; sirloin was most frequently menued, closely followed by filet. Italian and Mexican dinner houses and Asian and seafood chains added steak items. Pork menu entrees in chains grew moderately, with new item activity slightly above average and focused on pork chop variations, consistent with the comfort trend (CAMS, 2002). While chicken is a restaurant "must have," new menu items were added to 12 of the 16 chain segments tracked by CAMS. Ethnic, or at least ethnic-named dishes, accounted for half of all new chain chicken entrees; half were Italian, and Mexican/Southwest and Asian were tied for second. Duck and dark-meat poultry gained ground; Koo Koo Roo added an Original Dark option to its line of skinless flame-broiled chicken. 
Last, when it comes to meats, the "Big News" is still the success of menu items resulting from braised, slow-roasted, stewed, and other flavor-intensive cooking methods using less-expensive cuts of meat. Consistent with the comfort and value trend, pot roast, beef stew, beef bourguignon, marinated veal/lamb shanks, short ribs, shepard's pie, and slow-cooked meaty sandwiches are becoming top-selling menu staples (see Trend 6 below). Barbecued beef brisket (up 138%), pulled pork (up 59%), and barbecued-beef sandwiches (up 81%) showed big sales gains between 1999 and 2000 (Hume, 2002). Dry aging of beef, meats topped with cheese—especially blue or gorgonzola—or caramelized onions, crusting/wrapping, ribs/riblets of any kind, and beef carpaccio are other notable trends.
--- PAGE BREAK ---
3. Fresh, Quick, and Healthy
It's certainly not surprising that the fast-casual segment is exploding. Two-thirds of consumers cite fresh as the most desirable food claim, and after a clean, neat store, the freshness of the produce and meat departments is the second most important reason in selecting a supermarket (HealthFocus, 2001; FMI, 2002). Four of Americans' top time-saving activities involve food: 68% often/sometimes eat at a fast food restaurant to save time, 64% bring home take-out meals, 41% eat frozen or prepared meals, and 36% cook the main course in the microwave (RoperASW, 2002). While only 18% say they select healthier menu items when eating out all the time, 56% now do some of the time, mostly because they are concerned about a specific health problem (RoperASW, 2002). Longer term, the potential is awesome. Six in ten adults feel they can greatly reduce the risk of disease by eating healthfully and that eating healthfully is better to manage disease than taking medication; 58% say health greatly affects their grocery purchases (FMI, 2001). 
CIBC World Markets estimates the current fast-casual segment at a modest $5 billion, while others project that it may well reach $50 billion over the next 20 years (Brumback, 2002a). Deli sandwiches, bakery concepts, home-meal replacements like Boston Market or Koo Koo Roo, soup/salad bars, and varied menus such as Wolfgang Puck's Café Express, Asian entries such as Noodles & Co. or P.F. Chang's Pei Wei, and, of course, Mexican such as Chipotle and La Salsa are all sub-segments of the fast-casual market. Generations who grew up eating fast food and won't eat it any more and Boomers looking for healthier alternatives with more money to pay for better quality are credited with creating this foodservice niche. NPD Foodworld (2002) confirms that the 18–34 age group is most likely to opt for fast casual and accounts for 37% of traffic; 15% are under age 18, 28% are 35–49, 14% are 50–64, and 6% are 65 and older. 
With growth coming from both the $100-billion casual-dining segment and some from the maturing QSR sector, not surprisingly, the majors are arming themselves with an entrant, or trying to reposition. McDonald's has seven possible contenders: Chipotle, Donatos, Boston Market, McDonald's with a Diner Inside, McDonald's "3-in-1," Pret A Manger, and Fazoli's. Wendy's has a stake in Café Express and owns Baja Fresh. CKE, owner of Hardee's and Carl's Jr., owns La Salsa. Dairy Queen has DQ Grill & Chill. Yum! Brands, parent of KFC and Taco Bell, has developed a wok concept, Yan Can Cook, and may partner with Pizza Hut. An army of fast-casual brands are being developed by the casual-dining giants, from Chili's parent Brinker's Corner Bakery, to T.G.I. Friday/Carlson's Pick Up Stix, and P.F. Chang's Pei Wei. Last, other chains, like Hardee's and Arby's, have moved to upgrade their product offerings, and others, like Taco Bell, are adding individual items like their Border Bowls entrée line, to better position themselves with better food and service than the quick-service norm. 
But we can't talk about fresh and healthy without mentioning salads. NPD Foodworld (2002) reports a rise in demand for main-dish salads, up 7% in 2001. Caesar continues its popularity on chain menus with a number of new approaches, mainly using seafood, including shrimp and salmon. According to CAMS (2002), the other "Big 4" flavors—BBQ, Buffalo, Caesar, and Cajun—were represented by several BBQ chicken salads and a Buffalo chicken salad at Country Kitchen. Chicken was the characterizing ingredient in more than half of the new "composed" entree salads. Other trends included chicken salads with fruits and Insalata Mista with organic greens at Bice and Il Fornaio. Other noteworthy new entrée chain salads include Cobb with lobster, crab, and avocado; Blue, with crispy bacon or avocado; and roasted beet salads. Salad bars are also giving way to made-to-order stations where servers toss salads with customer choice add-ins. 
Last, a number of other important foodservice trends are also revolving around these three key attributes, including an increase in seasonal cooking, house-grown produce, and more vegetarian items. According to Mintel (2002), while only 2.5% of Americans are consistent vegetarians, one-quarter are "occasional vegetarians who replace meat with alternatives for at least some of their meals." McDonald's units in Canada debuted a "Lighter Choice" menu with seven items: McVeggie soy burger, Mandarin California Green Salad, Roasted Vegetable salad with chicken, Chicken Caesar, Whole-Wheat Chicken McGrill, Side Garden Salad, and Yogurt 'n Fruit Parfait. O'Naturals and Healthy Bites Grill are some of the health-directed chains popping up.
--- PAGE BREAK ---
4. Sharing, Sampling, and Socializing
Spending time with family and friends now tops Americans' list of leisure-time priorities, and restaurants are playing an important role. In fact, the top reason customers say they visited a casual-dining restaurant was to spend time with friends (up 5% over last year) or to be with family (up 8%). Enjoying time with friends also topped the list of reasons diners chose a family-style eatery (up 11%). Four in ten adults also see dining out as a means to make new friends (Roper ASW, 2002). As mentioned earlier, socializing over meals is changing the way guests order, and tasting, sampling, sharing, and comparing are all part of the scene. 
Not surprisingly, new menu appetizers remain a high priority, and finger foods are in high demand. CAMS (2002) reports that dips were the most frequently added new appetizer, accounting for more than 10% of the total new menu items in 2001. From sausage and cheese dips to shrimp and fried clam fondues, new dippable morsels spanned a wide range of prices and flavors. McDonalds is testing a new twist to dips, using a new technology, sauce-filled McNuggets. Miniature rolls such as Chili's Lettuce Wrap, seafood morsels, and appetizers featuring spinach/artichoke combinations were three other major categories appearing more frequently on the Top 200 chain menus last year. R&I's 2001 Menu Census ranked spinach and artichoke dip 13th of the foods with greatest overall on-menu gains (Yee et al., 2001). 
A number of dining mega-trends is impacting the category. First, the demand for nostalgia and Retro foods have brought back Pu Pu Platters—where munchies are cooked in an open flame—and Retro grilled specialty cheese wedges, escargot, croquettes, and fondue of any kind. Classic British-inspired finger sandwiches are also making a triumphant return. Second, chefs continue to upgrade favorite and familiar fare. For example, Tumbleweed Southwest Grill's Wild West Wings use turkey wings, spring rolls now feature Peking duck; and smoked salmon comes in latkes, too! Third, appetizers are increasingly more likely to mimic main meals, often containing more vegetables or simply mini versions of classic dishes, such as bite-sized beef Wellingtons, served over greens and marinated vegetables. Last, some chains, such as family and casual restaurants, are looking to balance their menus by adding lower-priced appetizers, including garlic cheese toast, queso and chips, and hearty chili samplers (CAMS, 2002). 
There's no doubt that mini foods are making it big. Menus are soaring to new heights with tasting flights. A flight refers to a sampler of several items that all have something in common. For example, a number of distinctly different mini morsels—usually three—may all be made with a particular spice, specialty cheese, chocolate, or nut, or they might involve a specific species of fish, pickled, fried, or in a sausage (Cobe, 2002a).
Move to miniature is another emerging dramatic culinary trend. Platters of mixed miniature sandwiches, baby burgers, little BLTs, and tiny tuna melts are great for kids and adults who like to share. PTK now offers a foodservice line of Mini Mexican appetizers from mini-taquitos to tamales. Krystal's square Sliders mini-burgers are going national and will be stocked in vending machines nationwide. 
At the same time, large sharable portions continue to gain ground. Operators are menuing family platters such as marinated flank steak with grilled vegetables, chicken with wood-roasted potatoes, grilled seafood papardelle, and macaroni and cheese casseroles. Buca offers family style Penne Cardinale, Shrimp Arrabiati, and Salmon da dora—a whole side of salmon dusted with spicy flour and spices. And desserts are no exception. Claim Jumper has a "Great 4 Sharing" section on its menu, with giant sharable éclairs and a chocolate 6-layer cake. Its Eureka Sampler offers a hefty assortment of signature desserts, including cheesecake, bread pudding, lemon bars, carrot cake brownies, and mud pies. Another fun sharable dessert is the Sando Cosi chain's Dessert S'Mores, where diners make their own s'mores over an open flame at the table (Cobe, 2002b). 
Last but not least, more than ever food time is family, and savvy operators are catering to kids. Nearly three-quarters of adults with kids under age 18 say they frequently/fairly often dine out together as a family (RoperASW, 2002). Wharf Research (2002) reveals that 81% of preteens surveyed eat out at least once/week. Chinese food is their top pick, followed by Mexican, Japanese, and Italian. Three-quarters of parents with preschoolers eat at least one meal at a full-service restaurant per month, and many more in quick-service (Yankelovich, 2002). Restaurateurs find that the bold flavors and ethnic influences reshaping menus also appeal to children (Yee, 2002). Cutting-edge foodservice suppliers are now making foodservice foods just for kids. McCain/Ore-Ida's Smiles are smiley-faced appetizers made from creamy mashed potatoes inside with a crispy outside. Tyson has PB&J RollUps, soft flour tortillas stuffed with creamy peanut butter and sweet grape jelly. Smuckers' makes menus more kid friendly with Uncrustables, a thaw-and-serve, round "giant ravioli-like" peanut-butter-and-jelly sandwich made from soft white bread and sealed at the edges. Likewise, Panda Express introduced its first kid's meal, a selection of orange-flavored chicken or beef with broccoli, a drink, and a Panda newsletter. Chevy's Fresh Mex gives kids a ball of tortilla dough to entertain themselves with.
--- PAGE BREAK ---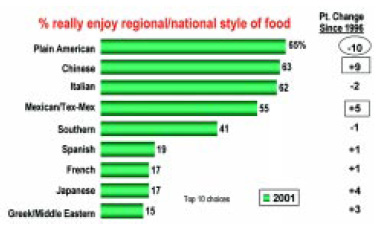 5. Globally Enhanced Foods
With American tastes staying closer to home, it's going to be increasingly more difficult to introduce truly new or authentic foreign cuisines, foods, customs, and ingredients, but there is still plenty of room to grow within Americans' current ethnic-eating "comfort zone." While plain American still tops the list of our most enjoyable styles of food, its popularity has fallen 10% since 1997, while Chinese and Mexican/Tex Mex cuisines have quickly gained favor (Fig. 6). 
According to NRA's "Ethnic Foods II" survey (NRA, 1999), awareness of Japanese (sushi), Thai, Vietnamese, Korean, and Middle Eastern cuisines has increased significantly since 1994. In addition to "traditional" Cantonese, nearly three-quarters of Americans have tried Mandarin, Hunan, and Szechwan foods. More than half have eaten Japanese, Greek, Cajun, or Creole; one-third Indian or sushi; and just about one-quarter authentic Thai, Mediterranean, Middle Eastern, or Vietnamese. The appeal dimensions that show the most potential for restaurant ethnic cuisines are Festive (Festive Mexican, Cajun/Creole, and Caribbean), Innovative and Trendy (Spanish), Adventurous & Spicy (Thai and Korean), and Value and Convenience (Chinese—Cantonese, Hunan, Mandarin, and Szechwan). 
Without a doubt, one of the greatest foodservice success stories is the resurgence and refocusing of the $10.2-billion Italian segment, led by Darden's Olive Garden restaurants, whose 2001 sales hit $1.7 billion in its 30th consecutive quarter of growth (Ramseyer, 2002). Repositioning toward authentic Tuscan fare, it was right on target: familiar comfortable cuisine, good value, family/friend oriented ("When you're here, you're family"), a cozy environment, family-style bottomless salad bowls/bread, trendy, and great food. They've upgraded their image with a Wine Institute in Napa Valley and two culinary training facilities in Italy, including the Culinary Institute of Tuscany. 
Not surprisingly, a parade of full-service Italian chains is following suit and pursuing authentic Italian fare. They include Buca di Beppo, Il Fornaio, Johnny Carino's Country Italian and Carrabba's Italian Grill. Clever marketers are now expanding by offering specialty items on their lunch menu. For example, Romano's Macaroni Grill is offering its Tuscan Lunch. Several chains, such as the Spaghetti Warehouse Grill and the Old Spaghetti Factory, are differentiating themselves by value and a lower price range. Last, a number of upscale pizza chains such as Pizzeria Uno—now offering steak and shrimp—are broadening their menus and positioning themselves as casual-dining venues. 
There is no doubt that the current trends to bolder flavors and fresher, faster, healthier, and more eye-appealing foods will accelerate the mainstreaming of Asian restaurant concepts, foods, ingredients, and flavors. Although still dominated by local restaurants, the Asian chain segment—presently with limited sales of $1.1 billion, or only 0.6% of the revenue of the Top 400 chains—is expected to grow rapidly. Led by quick-service Panda Express with $345 million in sales and P.F. Chang's China Bistro ($313 million) and Benihana ($218 million) on the casual-dining side, this segment is attracting the attention of major restaurant-industry players (Hume, 2001). The recent success of P.F. Chang's new Pei Wei, Brinkers' Big Bowl Asian Kitchen and Carlson's Pick Up Stix fast-casual spinoffs clearly inspires competition. Chinese, Pan-Asian, and, to a lesser extent, Japanese concepts seem ripe for chain development; however, other Asian cuisines, like Thai and Vietnamese, are likely to remain dominated by independents (Brumback, 2002c). 
Asian cuisines will continue to inspire hot and cold noodle bowls, noodle soups, Asian chicken salads, seared fish, sizzling rice salads, localized vinaigrettes, and tea bars, all grounded by familiar ingredients. In fact, Asian noodles/noodle bowls ranked 8th on R&I's Menu Census list of overall sales increases from 1999 to 2001 (Yee et al., 2001). Thai-inspired satay, pad noodles, and jasmine rice have already grabbed mass-market appeal, as have Japanese tempura and mochi—the short-grained sweet rice in sticky rice cakes. Asian vegetables—especially bok choy and Daikon—have found their way onto chain restaurant menus, and lime-ginger and wasabi dressings, fish sauce, lemon grass, 7-spice, and galangal—a milder cousin to ginger—aren't far behind. In 2001, 112 new Asian (non-Chinese) menu items appeared on non-ethnic chain menus (up 70% over the previous year), along with 61 new Chinese items (up 24%) (CAMS, 2002). 
--- PAGE BREAK ---
The $8.2-billion Tex-Mex/Mexican segment is also poised for growth, and fast-casual fresh-Mex chains will continue to lead the way. Watch for new menu expansion such as Del Taco's tortilla soup, Mexican egg rolls, Buffalo chili and upgrading of familiar favorites, as exemplified by On The Border Mexican Grill & Cantina's new Shrimp Fajitas. Look for Mexican cuisine to take a lesson from its Italian counterparts and upgrade with more regional cuisines. El Torito has introduced regional Mexican menus, with Sonora the first to be highlighted. Expect greater availability of miniature bite-sized versions of familiar favorites like tacos, burritos, gorditas, and empanadas, while the popularity of fish items such as crab quesadillas and fish fajitas continues to grow. The next wave will likely be Latin-inspired desserts including flautas, ancho chocolate cake, ice cream with dulce de leche—the thick Latin caramel—and churros—deep-fried, cinnamon-sweet dough sticks. 
Call it tropical, Caribbean, or Floribbean, Island cuisines are jammin' across America. From mango martinis to coconut chutneys, Caribbean cuisine is hot—witness Darden's Bahamas Breeze chain's success. Characterized by its combination of high-heat grilling, caramelized sweetness, and the fast-emerging trend to cooking with fruit, Island cooking will generate a complementary demand for "cool and colorful" and "sweet and spicy" fruit salsas, salad dressings, grilling sauces, searing marinades, and rubs. A sweet new note of sugar cane, molasses, maple, or honey will be a key. Light and tropical fruit–based salads, fruit n'spicy meat, poultry, and desserts, cold fruity marinated fish, and big bold flavors are driving its adoption onto mainstream menus. In 2001, 29 new Caribbean-inspired menu items were added to menus in non-ethnic restaurant chains (CAMS, 2002). 
While most diners are unable to describe the intricacies of Mediterranean cuisine, signature ingredients such as balsamic vinegar, olives, olive oil, roasted garlic, marinated vegetables, wine vinegars, and Romesco sauce will remain strong. Middle Eastern hummus, flatbreads, kebabs, rice pilaf, saffron, cumin, and cinnamon will also receive more attention. From pide, the Turkish equivalent of pizza, or mezze, a Near East version of antipasto, to the dozens of one-dish meals—like paella, bouillabaisse, or even meat and potato pies—the opportunities for "crossover cuisines" is endless, a la fish tacos! The Cheesecake Factory is on the right track with its "Melting Pot" menu theme—contemporary fusing of American, Asian, Italian, Caribbean, and Mexican influences.
6. Cooking Up Theatrics and Great Taste
Apple-wood roasted, red wine braised, macadamia nut crusted, fire-roasted, and ginger-wok seared, are just a few of the mouthwatering flavors appearing on menus conjured up by trendy cooking techniques. Today, it is not uncommon for a single ingredient to be marinated, smoked, and seared, all in one dish. At the same time, cooking techniques are becoming more theatrical, with brick-oven rotisseries, flaming skewers, Mongolian barbecues, cedar planks, and teppanyaki-style cooking moving center stage.
Grilled—including char-grilled, wood-fire grilled, and flamegrilled—tops the list of cooking methods most frequently mentioned on restaurant menus last year, double the amount of 2nd-ranked fried. Smoked, toasted, and sautéed mentions were also up (CAMS, 2002). Strong, bold, Latin-inspired flavors and use of heartier spices, herbs, and chilies have given grilling a new twist. But, not all trendy preparation techniques are about high heat. Classic lower-temperature, flavor-intensive procedures including braising, slow roasting, stewing, poaching, and pan roasting—browned on the stove and finished in the oven—have also found widespread menu appeal. The popular "smoked" category is also spawning new life with age-old plank cooking, once used by Native Americans to cook fish. Contemporary chefs are infusing wood flavors, including cedar, cherry, apple, oak, maple, and hickory, into everything from pork chops to cheese. 
But, with an eye for entertainment, open-flame cooking, brick-oven rotisseries, skewers, and kebabs map the road ahead. Bigger, more elaborate wood-burning and gas-heated rotisserie units will give this "chicken-only" technique renewed attention. Spit-roasted and stuffed meat, roast suckling pig, leg of lamb, French-roasted (without sauce) baby back ribs, chipotle-rubbed chicken, and roasted duck/turkey are becoming trendy menu additions. Some other popular cooking techniques are being used more frequently by chefs at all levels of foodservice, spawning flavorful menu descriptors, too; these techniques include sautéing, using flavored coatings/crusts, curing, glazing, infusing, chopping, searing, and caramelizing. Applications such as confit, coulis, and raw food treatments such as tartares, carpaccio, ceviche, and Credo, the Italian version of sashimi, using olive oil and fresh herbs, are also viewed with potential (Technomic, 2002c, d). 
--- PAGE BREAK ---
And global cooking techniques are starting trends here, too. The growing popularity of Brazilian-style churrascarias, which prepare whole beef roasts, pork loins, and even legs of lamb on sword-like spits in a rotisserie and then offer the meat to guests directly from the spit, will surely find an American adaptation (Cobe, 2002c). Likewise, South American rodizios are popping up everywhere. Witness Las Vegas's Rum Jungle, where meat, fish, and fowl are prepared on skewers in a "fire pit" and served along with condiments and sides. From licorice root and sugar cane served over wood planks, even the skewers are getting more exciting. Satay/skewers ranked 6th on R&I's Menu Census list of overall restaurant sales gainers (Yee et al., 2001). And Chi-Chi's has debuted a new Sizzling Fajitas line of entrees, where flaming meals are brought to the table. At the same time, entertaining cooking techniques such as teppanyaki, a tableside preparation from Japan popularized by chains such as Benihana, and Mongolian barbecue are moving mainstream. Korean barbecue in the yakiniku style, in which guests cook small portions of meat, may be the next wave (Technomic, 2002e). 
In an effort to showcase kitchen expertise and appeal to interest in fresh, made-to-order offerings, many menus tout hands-on involvement. Note Rockfish Seafood chain's signature hand-shaken Mexican Shrimp Martini or Chili's made-from-scratch dumplings. Hand-breaded, crusted, and rubbed items are getting menu attention, too, such as Shoney's hand-breaded whitefish fillets, or Chi-Chi's pepper-rubbed T-bone steak, along with marinades, and infusions, like Marie Callender's teriyaki-gingerglazed mushrooms. Hand layering, usually a signature technique with desserts, has now become fashionable for meats, fish, fowl, and veggies, such as stacked colorful beets and potato salads. 
Last, from open kitchens to tableside preparations, everyone is trying to make the dining experience more fun and unique. Serving ware and mismatched place settings are part of the charm. It's become common for foods to be menued and delivered in cooking vessels such as cast-iron skillets, sizzling sauté pans, individual crock pots, clay pots, steaming soup terrines, or signature parchments. Offering the appeal of freshness and personal service, there's more tableside presentation, too. Tableside carving, salad tossing, deboning, flaming, sauce-making, spooning, and igniting are getting customers to stay longer, order more courses, and enjoy the experience more. Guacamole, classics like Steak Diane, Fettucinne Alfredo, Dover Sole, and Bananas Flambé/Foster, along with pasta, salads, and crepes are now being customized tableside to order (Sheridan, 2001). 
No discussion of cooking would be complete without the term BBQ. Of the "Big 4" flavors, barbecue and Caesar showed slight declines in menu mentions, while buffalo and Cajun continue to increase. However, menu mentions for barbecue continue to grow in nontraditional menu applications. Entrees accounted for 43% of the barbecue menu mentions, sandwiches 19%, burgers 12%, appetizers, 13%, pizza 4%, kids 4%, and others 4% (CAMS, 2001b).
7. Super Soups and Sandwiches
When it comes to food, portability has become one of the necessities of life. And soups, salads, and sandwiches fit the bill for more meaningful mealtime fare. Sandwich and bakery chain restaurants topped $13.4 billion in sales in 2001, benefiting from recent trends to lower-fat menu alternatives, fresh-baked artisan breads, wider menu selections, greater access to the dinner day-part via hot sandwiches—such as Cosi's Warm 'n Cosi Melts—and the growing demand for freshly made foods. Subway, with sales of $5.1 billion and 15,000 restaurants, is the dominant category leader, followed by Arby's at $2.6 billion, Panera Bread at $529 million, Quizno's Subs at $485 million, Schlotzky's Deli at $423 million, and Blimpie Subs & Salads at $317 million (Hume, 2002). 
Sandwiches accounted for the largest number of newly menued items of any meal part in the Top 200 chain restaurants last year (CAMS, 2002). One out of three contained chicken, 15% turkey. Vegetarian and seafood sandwiches were two strong new menu trends. Charley Brown's Steakhouse menued a new Southwestern Crabcake Sandwich, Ruby Tuesday a Key West Fish Sandwich (tilapia), and Bakers Square a Grilled Tuna Steak Sandwich. Miami Subs added a vegetarian sub and pita; Au Bon Pain Garden Vegetable Goat Cheese Sandwich; and Tony Roma a California Grilled Vegetable Sandwich. 
Across all segments, operators are flagging the use of salad dressings as sandwich spreads and signature breads on menus to enhance appeal. Interestingly, despite the success of Subway, Arby's, and Blimpie—which recently added artisan breads, flatbreads, and wraps—less than 60% of new chain sandwich items had anything significant to say about the bread! With artisan and specialty breads ranking 5th on R&I's Menu Census (Yee et al., 2001) list of foods showing the greatest overall on-menu gains, it looks like a missed opportunity. 
--- PAGE BREAK ---
A number of other notable trends are occurring in the sandwich area. First, sandwiches are moving more toward a complete meal, calling on all four food groups to contribute. Second, flavorful spreads, boldly marinated and caramelized veggies, colorful precut veggies mixes, and specialty cheese toppers are differentiating chains and grabbing customer attention. The five latest additions to Subway's Select line are topped with red wine vinaigrette, honey mustard, sweet onion sauce, Southwest sauce, and horseradish sauce. Today, it's not unusual to see sandwiches topped with Merlot mushrooms or tapenade, a medley of spicy mixed peppers. Panera's new smoked turkey panini sandwich includes spinach artichoke spread, Asiago-Parmesan cheese, caramelized onions, and tomato on basil pesto foccaccia, all heated on a panini grill. Third, slow-roasted comfort meat–based sandwiches are regaining popularity, as are Retro favorites like "melts," open-faced, and Monte Cristo. Fourth, savvy marketers like Cosi are marketing to kids, offering petite signature bread sandwiches in kid-friendly favorites such as peanut butter and jelly, pizza for two, and s'mores. 
In addition, foreign and mini sandwiches are coming on strong. Panini sandwiches ranked 7th on R&I's Menu Census list of foods showing the greatest overall menu gains (Yee et al., 2001). Atlanta Bread Co. recently added panini and hot breakfast sandwiches in such hearty flavors as char-grilled chicken pesto, Cuban pork loin, and chicken cordon bleu. While wraps will stay strong, watch for gyros, tremezzini—crustless Italian cocktail sandwiches—and mini flatbread sandwiches to enjoy grab-and-go success. Perkins is promoting a collection of Parmesan Grillers all grilled on Parmesan sourdough bread, and Ciabatta sandwiches, with a classic Italian bread crust exterior and a soft and chewy interior, in Portobello Cheese Steak and 7-Pepper Sausage versions. 
Vietnamese sandwiches—French bread spread with pates topped with marinated grilled vegetables, meat, or poultry and smothered with aromatic herbs/spices—have fast become metropolitan "grab-and-go" fare. Roulades and pinwheel-shaped mini-sandwiches are finding mainstream appeal, as are mini-sandwich samplers with a variety of dipping condiments. Briazz is testing its Piadina sandwich, a toasted herb flatbread stuffed with salad fillings and then rolled, in super Italian and BBQ chicken versions. And Cosi goes to Mexico, with Cosadillas, quesadillas made with signature focaccia bread. Not surprisingly, menuing mini sandwiches as an afternoon snack is catching on fast! 
The hamburger/cheeseburger remains Americans' most favorite sandwich across all commercial and institutional restaurant segments (Hume, 2001). CAMS (2002) reports that a whopping 65 new burger items were added to the Top 200 chain menus in 2001 and for the first time showed signs of breaking out of the bacon/BBQ cheese mode. Two seemingly counter trends are prominent: spicy and cool. Spicy options such as Red Robins' 5-Alarm burger or Friendly's Colossal Mexican Burger, with spicy ranchero con queso, special fajita seasoning, salsa and melted pepper jack cheese, are designed to fire up taste buds. Conversely, burgers topped with cool, fresh veggies and light, refreshing salad dressings also gained popularity, such as Country Kitchen's Cool Bleu BBQ Burger, with blue cheese coleslaw and Sweet Baby Ray's barbecue sauce. And some burgers offer both, e.g., Buffalo Wild Wings' Western Burger with sweet barbecue sauce. Last, burgers aren't just about beef anymore. They've evolved into turkey, chicken, tuna, salmon, and even buffalo. Blue cheese topping is another strong trend, and so are hot dogs. 
Perhaps one of the most exciting trends revolves around the versatility, portability, and old-fashioned value and comfort of soup. In the Top 200 chains, three trends accounted for more than 70% of new menu activity (CAMS, 2002). First, seafood broths, bisques, and chowders continued strong, especially lobster bisque. Clam/seafood chowder was the best-selling soup in fine-dining, casual-dining, and hotel/motel restaurants. Second, chili stayed strong with noteworthy new items, including Beer Chili at the Spaghetti Warehouse and Seafood Chili at McCormick & Schmicks. Third, most likely reflecting the trends to value and comfort, three new potato soups began to appear on menus: Il Fornaio's Zuppa di Patate e Porri, home-made potato soup topped with herbs and Parmesan croutons; Country Kitchen's Baked Potato Soup topped with a blend of four Wisconsin cheeses; and Tumbleweed Southwest Grill's Tater Soup, creamy potato soup with Colby cheese and bacon. 
With the growing popularity of chicken soup in all forms, it's not surprising that beef and chicken versions of aromatic Asian noodle soups, especially Vietnamese and Japanese classics, are catching on quickly. Last but not least, from Cappuccino soups, made even richer with frothy steamed milk, to artisan edible bread bowls and creative and crunchy mini-stuffed morsels for dipping and dripping, the soup segment is alive with cutting-edge edible ideas.
--- PAGE BREAK ---
8. Kick It Up a Notch
Champps' Bourbon-Glazed Pork Chops, Dave and Buster's Parmesan Encrusted Chicken, and Ground Round's Whiskey Peppercorn Sirloin Tips are just some of the dishes where chefs are employing flavorful but familiar ingredients to impart more fun to food! 
Forced to work within a more limited culinary sphere, creative chefs are using upscaled versions of basic American ingredients to impart new flavors and add excitement to foods. Perhaps most noticeable is the increased use of specialty cheeses as toppings, stuffing, and sauces. While CAMS (2002) reports that Mozzarella, Monterey Jack, Cheddar, and Swiss remain the top four varieties mentioned on chain menus, Asiago, feta, goat, blue, Muenster, Colby-Jack, and Gorgonzola cheeses are coming on strong. And it won't be long before foreign artisan cheeses follow suit, especially Camembert, Brie, Vacherin, Taleggio, or Calbrales. 
Hot Italian, chorizo, kielbasa, and other forms of sausages, as well as clams, muscles, and flavor-intensive seafood morsels, are fast becoming nontraditional ingredients for zipping up familiar fare. Likewise, 50-ish condiments such as olives, capers, signature mustards, chives, and horseradish, and cooking in beer, e.g., beer-braised short ribs, or in port or wine are coming on strong. So are traditional flavoring agents such as honey, maple syrup, vanilla, Tabasco, citrus juices, sesame and poppy seeds, and nuts, now used in a variety of applications from macadamia nut—encrusted steaks and fish to crunchy rice creations. Last, lettuce and specialty greens, including arugala, endive, and radicchio, which have strong, bitter, peppery, and even earthy notes, are being used more for their unique flavors than simply as carriers for other ingredients or a salad base. 
At the same time, flavored basics like mayonnaise and oils are beginning to appear on the Top 200 chains' menus (CAMS, 2001c). In fact, most sandwiches now feature a flavored mayonnaise dressing. Although the numbers are still small, their rate of growth is strong. They most frequently include basil, chili, cilantro, red pepper, sesame, and truffles. Even cole slaw is being upgraded with new jalapeño, jicama, curry, carrot, and sesame flavors. As chefs use more salad dressing as flavorings, watch for a shift in preferences. CAMS Trendsetter Survey (CAMS, 2001b), which monitors independent restaurants and smaller chains known to originate menu trends, reports that more than half of their salad dressings are now flavored vinaigrettes (53%), followed by Caesar (18%), blue cheese (7%), and ranch (3%). In the top 200 chains, Caesar (24%) ranks first, followed by ranch (17%), vinaigrette (13%), and blue cheese (10%). 
Last, watch for more flavorful varieties of traditional staples such as jasmine rice, buttermilk, spaetzel for pasta, or crumbled tortilla chips as bread crumbs to become more prominent. Glazes, herbs, marinades, savory sauces, and seasonings are receiving unprecedented culinary attention. According to CAMS (2001b), menu mentions in the Top 200 chains of glazes are up 83.3%, and seasonings up 72%. While flavors still lean toward hot and spicy, Thai and Szechwan are good bets. 
Not surprisingly, industry suppliers are providing a helping hand with intensely flavored, pre-seasoned foods. French fries are a prime example. R&I's 2001 Menu Census (Yee et al., 2001) reported that sales of cheese fries were up 33% in sales over the past two years. Savvy marketers such as McCain's are expanding pre-seasoned fry options. Its Inferno, Sassy Salt and Vinegar, Gusto-Garlic, Cracked Black Pepper or Jalapeño Fire Fries are enjoying robust sales. Likewise, Campbell's Culinary Foundations features concentrated, full-flavored liquid foundations in five varieties for chefs—beef, chicken, vegetable, Bechamel, and Seafood Supreme for speed scratch preparation of a variety of dishes, from soups to sauces. 
Last, texture is another way to add pizzazz. Condiments like relishes and chutneys put more than just taste on the plate. Chevy's Corn & Pepper Relish, Red Robin's Peppercorn Spread, and Don Pablo's beef and chicken fajita salads, boost crunch with nuts and seeds. Crunchy coating and breading, including fried cheesecake, grains (faro, quinoa, and aromatic rices), and potatoes are gaining ground as texturizing agents. Chefs are also pairing raw and cooked versions of the same ingredients on the same plate to provide different textures, such as brocolli chowder topped with fresh broccoli.
9. Disintegrating Dayparts, Snacks, and Walk-Around Foods
There's no doubt that more-frequent eating and snacking occasions, shifting priorities within traditional patterns, and truly new eating venues—such as late-night computer dining—will spur new products, priorities, profits, and problems in the years ahead. With 20% of our calories coming from snacks, it's obvious that the lines between snacks and meals are beginning to blur. 
--- PAGE BREAK ---
Only one in five Americans eat three meals/day (down 10% since 1989), and 55% eat two or three meals/day plus a snack or two (up 9 and 6% respectively) (RoperASW, 2002). With Restaurants & Institutions' "Taste of America" survey (R&I, 2002) showing that adults are as likely during the average week to visit a foodservice operation for a non-meal snack as they are for breakfast, no wonder savvy marketers like McDonald's and Burger King have targeted between-meal hours with tasty morsels and appetizer-like finger foods for the past two years. Interestingly, those ages 42–55 are the most likely to snack at a foodservice operation, averaging slightly more than one between-meal purchase each week. Men average more snack visits than women. The most frequent between-meal patrons are in the South. Households with the most between-meal purchases are those with both children younger than 13 and teenagers. As household incomes rise, so do snack-visit averages (Sheridan, 2002). 
Not surprisingly, snack and nonalcoholic-beverage shops—serving ice cream, frozen yogurt, cookies, bagels, coffee, and other nonalcoholic beverages—are expected to remain one of the fastest-growing eating-place segments, up 7.5% in 2002 sales (NRA, 2002a). Many of these sites are in nontraditional locations, where demand for snacks and mini-meals is high. Driven by the growing popularity of sports bars and an increase in alcohol consumption—sales at bars and taverns should be up 3.5%. 
While round-the-clock dining—long serviced by QSR, diners, and family-style restaurants—isn't a new trend, the move for casual full-service restaurants and bars to capture these wandering diners is big news! Operators are offering creative, flexible, and portable menus for off-hour dining. More and more operators are taking their most-ordered appetizers and rounding them out with soups and sandwiches to provide menus that work all day to bring in customers who want a quality snack. For example, the Cheesecake Factory's Grand Lux Café at the Venetian Hotel in Las Vegas operates on the principle of "Anything you want to eat, anytime you want it." Menus at this 24-hour operation include top-selling appetizers such as Buffalo Chicken Rolls, Crispy Portobello Mushroom Fries, Chicken Satay, and Asian Nachos. Other popular dishes are mini pot pies, dessert samplers with three small portions, and potstickers. Double-tiered serving plates for mini-morsels, fondues, and mini soufflés provide a classy element. 
Some chain restaurant examples include Claim Jumpers' sliders—small square-shaped hamburgers—topped with Cheddar, Dave & Busters' mini cheeseburgers served on little Hawaiian rolls, and Roadside Sliders topped with grilled onions at the Cheesecake Factory. Suppliers are debuting new snack-oriented items, too, like McCain's Frips, described as a cross between French fries and potato chips, and Swirl Chips, which also have qualities similar to those of a French fry and potato chip in Cracked Pepper, Onion Ring, and Jalapeño flavors. 
Perhaps one of the newest and most interesting trends in the portability arena involves "Walk Around" desserts," now offered by a number of chains, primarily in the QSR segment. For example, Boston Market offers a Rice Crispy Treat, Au Bon Pain offers a Fruit Bar, and Buffalo Wild Wings Grill & Bar offers an Oreo Brownie! But the dessert category is exploding everywhere. CAMS (2002) reports that the dessert category was above average in new menu items in the first half of 2002. In pies/cobblers, new menu item activity was low, with new key lime pies and fruit cobblers the most frequently added items. One noteworthy new item was beer based: Stout Mudd Pie from Rock Bottom Brewery. The most frequently added new dessert item was cheesecake, followed by brownies and chocolate cake. The predominant cheesecake type—added by Applebee's, Bennigan's, Ruby Tuesday, and others—was plain with strawberry sauce, a switch from the specialty flavored cheesecakes added in recent years. 
Last, breakfast is certainly not the most lucrative day part for most foodservice operations, but a number of interesting menu trends and growing revenue for those QSRs that pursue it are giving it renewed appeal. A new breed of upscale sandwich chains such as Panera, Atlanta Bread Co., and Cosi are targeting morning sales for additional growth. Atlanta Bread Co. added hot breakfast sandwiches, and Cosi added Cosi Mornings based on Cosi Squagel, a square bagel made from its flatbread and offered in 12 flavors. Cosi offers an assortment of spreads, egg frittata sandwiches on flatbread with options to add ham, Cheddar, spinach, broccoli, and tomatoes, and a branded coffee program. Chick-fil-A is also bringing the chicken biscuit to breakfast. 
Sonic Drive-ins posted a 7% system-wide segment increase last year by getting into breakfast. While the cornerstone of Sonic's breakfast is a breakfast Toaster sandwich, using the same thick toast used for their other sandwiches, the menu also includes bacon/sausage burritos, fruit taquitos, and new corn dog-like sausage on a stick, wrapped in a butter milk pancake. Arby's is also expanding into breakfast (and up 7–9% in additional sales), while T.J. Cinnamon's introduced a new breakfast product, a cinnamon twist with a side of icing for dipping, geared for the drive-thru (Brumback, 2002d). No doubt, it's a wake up call for big chains!
--- PAGE BREAK ---
10. Ready for Repairs
There's no doubt that the sea change taking place in the foodservice industry will require a revised set of business priorities and increase demands on suppliers for more pre-prepared and speed-scratch products, better prices, more functional take-out packaging, and help in creating new value-driven menu options for every venue. According to Technomic (2001), the critical issues impacting the foodservice segment today are labor, cost control, competition, and growth—and I would add food safety and negative publicity. 
Labor still reigns as the top concern among operators, with all segments struggling with labor retention, recruitment, minimum wage increases, and training. Nationwide, 858,000 locations offer foodservice, up from 491,000 in 1972, and are expected to exceed one million by 2010 (NRA, 2002a). The foodservice industry is the nation's largest private sector employer, providing work for 9% of our workforce—an anticipated 13 million Americans by 2010. With mushrooming safety, preparation, and training issues related to foodservice's high turnover and unskilled labor pool, operators in all industry segments will continue to embrace today's new high-quality convenience products. For example, ConAgra's frozen omelets, blintzes, and crepes permit easy healthy breakfast options with hand-made quality. Uncle Ben's NoCook Rice can be simply prepared in a steam table with hot water for fool-proof prep. House of Raeford Farms, Inc.'s pulled chicken is perfect for quesadillas and other south-of-the border specialties, just heat and serve. Chicken of the Sea's tuna salad kits can be opened, mixed, and served in seconds. And Tampa Maid's new Dipt'n Dusted Louisiana Crawfish tails and Clear Springs Kitchen's stuffed Rainbow Trout Roulades make American regional items a snap. 
In a recent survey by Technomic (2001), maintaining low food costs (88%), increasing customer traffic (84%), and the ability to increase check averages (66%) topped the list of operator top- and bottom-line growth concerns. When considering new menu items, operators said that food cost (96%) and ease of preparation (91%) were most important, followed by the potential to attract new customers (84%), chance for incremental sales (83%), ease of ingredient sourcing (81%), differentiation from competition (73%), culinary trendiness (63%), and packaging requirements (47%). Entrees are most affected by menu changes (93%), followed by desserts (39%), appetizers (34%), beverages (10%), and snacks (10%). 
Pressured even more by today's value-driven customer, operators are trying to get a handle on rising costs, and the traditional mindset is shifting. Some practices once considered unwise from a business standpoint are now being heralded not only as excellent economic solutions but trendy as well! For example, many restaurants are increasing the proportion of comfort foods on their menus, which tend to be less expensive in terms of ingredients, often permitting the use of less-expensive cuts of meat, such as braised lamb shank, for high-end fare. Likewise, others are adding trendy Asian-style comfort foods, which use more vegetables and less meat. Large sharable family-style platters save time and labor in the kitchen and permit the use of leftover odds and ends. 
Some restaurants are sourcing less-expensive ingredients and quietly trading down from expensive items such as Chilean sea bass and Dover sole, to generic varieties. Less-intensive preparations and garnishes are being minimized, all consistent with the demand for simpler foods. In addition, other restaurants are offering prix fixe dinners/lunches to economize in purchasing ingredients, expanding their late-night offerings with less-labor-intensive foods, and shortening their entrée list, all on trend with customer ease in ordering. Last, kitchens are getting more adept at using up leftovers in fondues or salads, and opting for less-expensive proteins such as cod or halibut (Cobe, 2001d). 
From animal rights, to being blamed for causing the obesity epidemic, there is no shortage of issues plaguing the foodservice industry. However, none is potentially more costly than food safety. While no single tool, action, or piece of equipment can guarantee a safe food supply, nearly every foodservice operation is taking action to put strong HACCP practices and systems in place. Interestingly, NPD Foodworld's Food Safety Monitor reports than an average of 45% of consumers agreed with the statement, "Overall, I feel that foods sold in restaurants are safe" (NPD Foodworld, 2002). That rose to 51% in the 8-week period following the 9/11 attacks and declined slightly to 47% in March 2002. NPD found that consumers were most concerned about E. coli and Salmonella, with 25% and 34%, respectively, saying they were very or extremely concerned (Perlik, 2002b). More than 4 in 10 QSR operators plan to allocate a larger proportion of their budget to training in 2002 (NRA, 2001b). Open kitchen preparation—so prominent in the fast-casual segment—will help to keep consumer confidence high. 
--- PAGE BREAK ---
The Road Ahead
Despite the changing face of the foodservice industry and forthcoming economic and political influences, all demographic and societal factors indicate that the future of the foodservice industry will remain strong. Time-pressured lifestyles, lack of cooking skills, and the desire to do more with leisure time than prepare food will keep dining out and "bringing-in" a necessity of life. At the same time, restaurants that have refocused to offer a cozy continuation of the home environment are catering to family, kids, and friends and have successfully responded with creative but value-driven meals. 
Longer term, household incomes—including some typically less-affluent households, such as families headed by single women and households headed by foreign-born individuals—are expected to experience real gains. Second, high-income households, which account for a disproportionate share of casual and fine-dining restaurant sales are projected to increase. Those with the highest disposable income—Boomers 50–64 years old are the most likely to say they will be eating out more in restaurants, and are the most culinary-savvy group. And by 2010, single-person households—prime take-out candidates—will be up 12%, and married couples without children and with lots of disposable income will be up 18.8%! 
Finally, it really is all about attitude. Remember this: Nine in ten consumers feel "safe" when eating at local restaurants, 67% say they are busy and convenience is critical, 56% say they are in a hurry and want speedy service, 53% feel a need to reduce stress, 48% agree that their favorite restaurant foods provide flavor and taste sensations not easily duplicated at home, and 47% agree that restaurants are an important part of their lifestyle. 
As RoperASW (2002) stated, "It's now all about the 4-F's. It's about family! It's about the food! It's about fast! It's about fun!"
by A. Elizabeth Sloan, Contributing Editor
The author is President, Sloan Trends & Solutions, Inc., P.O. Box 461149, Escondido, CA 92046 ([email protected]).