Americans have a new recipe for home cooking—fast, fresh, and just heat and eat! Armed with a new set of food product criteria and experienced in restaurant fare, Americans are marching back into the kitchen. In 2002, 71% of meal preparers said they made last night's meal at home—an increase of 7% in just one year—and one-third used convenience foods, up 8%. Conversely, fewer people said they ate at a restaurant or brought take-out food home (MSI, 2003a).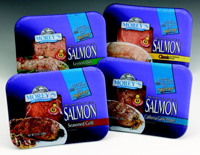 Consumer restaurant spending in 2002 grew only 2% over 2001, the lowest rate ever recorded by The NPD Group foodservice industry tracking firm (NPD, 2003a). The restaurant industry ended 2002 with two quarters of traffic declines, the first back-to-back drop since the spring of 1982. The last noticeable increase in restaurant units came in 1999, when units climbed 5%. Take-out appears to have stalled—demand was limited in 2002 by weakness in some of the major quick-service restaurant (QSR) concepts and certain full-service independent categories, such as casual dining and Asian. Within the off-premises business, drive-thru traffic drove the segment (NPD, 2003a). Restaurant visits from consumers age 25–49 years—which accounted for nearly half of all restaurant visits last year—declined.
Although some categories posted higher traffic and dollar sales in 2002, the hamburger, chicken, and Mexican segments contributed less than 9% of the industry's growth last year, compared to the early '90s when the hamburger category alone accounted for more than two-thirds of industry traffic growth. The alternative QSR sandwich categories—which include the sandwich-oriented fast-casual concepts and Mexican/wrap chains—were the largest contributors to growth. Still, the robust growth of the fast-casual concept appeared to level off toward the end of 2002. Fast-casual dollar sales growth rates decreased from a high of 23% during the quarter ending November 2001 to 2% for the quarter ending August 2002 (NPD, 2003b).
Over the last few years, restaurants have raised the bar on consumer food expectations. The recent explosion in fast-casual dining, including chains like Chipotle Grill, Baja Fresh Mexican Grill, and Panera Bread, have convinced consumers that they can get interesting high-quality fresh food, fast! Casual restaurants which now dominate the take-out, take-home segment—including Chili's Bar & Grill and Applebee's Neighborhood Grill & Bar—have introduced customers to new tastes, flavors, and cooking techniques right in the comfort of their own homes. And affordable ethnic chains like P.J. Chang's China Bistro and The Olive Garden have broadened consumers' awareness of contemporary cuisines.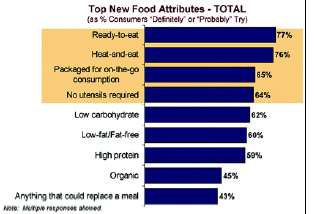 Although the culinary trends discussed in Food Technology's State-of-the-Industry Report on Foodservice Trends last September (Sloan, 2002) haven't changed much, their level of sophistication has. While Americans remain fixed on comfort, classic, retro, and American regional foods, they're dolling out dollars for those with a more-gourmet edge. Artisan foods, high-end desserts, and chef-created concepts are adding a little luxury to life. At the same time, the most familiar ethnic cuisines have plenty of room to grow, and foreign foods and ingredients that in some way are familiar—or can easily be substituted into favorite foods—are finding a welcome market.
Meal preparers continue to look for solutions to the time spent in food preparation. Nearly three-quarters of Americans (71%) take the majority of their eating occasions at home (IRI, 2002a). Within the next few years, ready-to-eat and frozen main dishes will surpass home-made as the most frequently served main dinner item. And with more than half of the population snacking regularly and the ranks of grazers growing, portability will remain a very desirable product attribute.
Last, consumers have no problem holding dichotomous attitudes about food and health. They recognize the pleasures of food as well as its power to influence their health. Since the terrorist attacks of September 11, there has been an increased demand for indulgent foods and more interest in the comforts of home, much of it centering on food. At the same time, there is a growing concern about personal safety and self-care. As more shoppers are indulging their cravings this year, more of them also admit that what they eat can have a major effect on how healthy they feel.
--- PAGE BREAK ---
Shoppers say they are eating more of the foods they enjoy. Seven in 10 (72%) agree and 30% strongly agree with the statement, "I eat foods I enjoy, even if they're not so good for me," up from 64% and 24%, respectively, in 2001. However, allowing some unhealthy foods onto the dinner table doesn't mean that shoppers show total disregard for the quality of their diet. Onethird (34%) agree and 14% strongly agree with the statement, "I eat whatever I want and don't think much about how it affects my health," up from 25% and 9% in 2001 (FMI, 2002).
Despite the increase in indulgent eating, shoppers express a growing concern with nutrition. Seven out of ten say their diets could be healthier and that they themselves, most of all, hold the key to ensure a healthy diet. While the number of people who are very concerned about nutrition has declined steadily in recent years, and fell to 46% in 2000, it appears this downward trend has ceased. In fact, the level of concern in 2002 rebounded to its 1998 level, 50%, the highest level ever (FMI, 2002).
Despite shoppers' less-than-strict control of their diet, they understand that food can make a big difference in how they feel. Nearly nine in ten (86%) now agree and 53% strongly agree that "In most cases, eating healthfully is a better way to manage illness than medications," up from 76% and 43%, respectively, in 2001, indicating that this is a firm belief among food shoppers (FMI, 2002).
Economic pressures have increased the importance of low prices. Low prices has jumped back up to being the third most important factor in deciding where to shop for groceries, right behind a clean, neat store and high-quality fruits, vegetables, and meats. Most important, concern for low prices is at its highest level in the past seven years, with 84% saying they were very important in 2002, compared to 77% in 2001 (FMI, 2002).
Price and brand name remain the leading drivers when purchasing a food item for the first time, but the impact of health claims, types of preservatives/additives, and organic claims have increased in importance. In 2002, 72% of shoppers said they almost always/sometime look at health claims, up 6% over the previous year; 68% type of preservatives, up 8%; and 47% organic claims, up 9% (FMI, 2002).
The Top 10 Trends
1 Heat and Eat
Ready-to-eat, heat-and-eat, packaged for on-the-go consumption, and no utensils required top America's "most-wanted" list of new food product attributes, along with great taste, of course, and are well ahead of nutrition or health (Fig. 1; IRI, 2002a).
Within the next few years, ready-to-eat and frozen main dishes will surpass home-made as the most frequently served main dinner item. In 2002, only one-third of dinners were prepared using ingredients (Fig. 2; NPD, 2003c). Although half of dinners were made in 30 minutes or less, meal preparers would like to pare that down to 15. The trend to fewer side dishes/courses continued last year. Half of dinners were one-dish meals; those with at least one other accompaniment dropped to 56%; and dessert ended only 14% of meals. Home "cooking" is also increasingly cookware and utensil-free. Only two out of ten suppers used more than one cooking appliance—the lowest level in NPD's 20-year database (NPD, 2003c).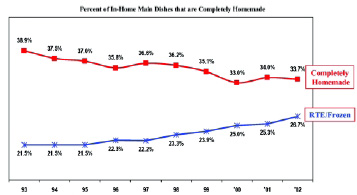 Convenient "dinner solution" sales have exploded, adding an average of more than 385 million meals sold incrementally each year for the past seven years, and they show no sign of slowing down (Fig. 3; IRI, 2002b). Sales of dinner solutions, with an 8- year compound annual growth rate (CAGR) of 7.5%, and breakfast solutions, with a CAGR of 6.6% are growing, while lunch solutions appear to have been solved by restaurants, cafeterias, and "lunch box" options (IRI, 2002c). Frozen entrées and meals reached retail sales of $9.3 billion, up 5.8% in supermarkets. Ten of the other 12 frozen categories also posted strong gains, confirming an emerging role for frozen as a pantry staple. Unprepared frozen meat (12.8%), ground beef (16.8%), frozen unbreaded fish (10.2%), frozen unbreaded shrimp (36.9%), and other unbreaded seafood (34.4%) topped the list. A new desire to keep frozen foods "on-hand" shot supermarket sales of frozen biscuits up 58.8%, cookies/dough 18.9%, frozen bread 15.0%, novelties 10.5%, and baked goods 8.9% (Heller, 2002). Likewise, shelf-stable meals such as Kraft's Pasta Anytime and meatless Fast Naturals™ Ready Meals from Fantastic Foods, Napa, Calif., such as Tuscan Mushroom Risotto, have also found a pantry niche and are pleasing brown-baggers, too. Traditional dry dinner kits and recent arrivals like the all-natural macaroni and cheese line, Annie's Homegrown, Wakefield, Mass., remain strong contenders, with $1.6 billion in supermarket sales (Heller, 2002).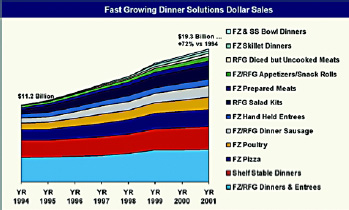 --- PAGE BREAK ---
With fresh topping the list of most desired label claims, it's clear that it will be the future for home-prepared foods. The introduction of premium precooked, extended-shelf-life, and ready-to-cook seasoned products into the fresh meat, poultry, and seafood cases by mega brands such as Hormel, Tyson, and Thomas E. Wilson raised the bar on consumer expectations, and a new generation of precooked products is following suit. Iowa Quality Meats, Ames, Iowa, brought pork Chops on a Stick to the fresh meat case; Jimmy Dean, Oscar Mayer, and others, ready-to-serve bacon; Tyson, a roasted, whole, flavored chicken; and Butterball, pre-cooked home-style fried chicken, popcorn nuggets, and Italian-style breast fillets. Morey's Seafood Intl., Minneapolis Minn. (Fig. 4), packaged marinated Atlantic salmon with a pop-up timer and a multi-purpose disposable tray for foolproof broiling, baking, or microwaving. And pre-cooked ingredients like seasoned sliced chicken strips, shredded pork, and taco-seasoned ground beef are gaining ground, too. Kraft's Fresh Prep and Borden's Shredded Cheese and Macaroni refrigerated dinner kits have already set the pace for an elite group of home-assembled fresh casseroles, soups, stews, and more.
Ready-to-cook pre-seasoned and prepared fresh meats, poultry, and fish/seafood—which collectively with precooked seafood account for 25% of supermarket seafood counter sales— are also finding a welcome market (Bavota, 2002). More than 50 million households prepare fish/seafood at home every month, and third-party marinade programs like Fresh Start from Mc-Cormick, Hunt Valley, Md., are making it tastier and easier than ever. The program offers retailers three sales opportunities: more than 50 SKUs of Old Bay and Golden Dipt products for home seasoning; marinade pumps and dry rub mixes for custom seasoning during purchase; and "back-room" marinades to facilitate store-packaged pre-flavored items.
The success of ready-to-eat and ready-to-cook items will spawn new issues and opportunities. Since the tendency is to use only one appliance to prepare a meal, consumers will soon demand side dishes that can be cooked simultaneously in the microwave or oven in about the same length of time as the precooked entree. The Inland Valley brand from Lamb-Weston, Kennewick, Wash., has developed individual quick-cooking portions of frozen mashed potatoes shaped like hockey pucks.
Expect cooking times on all products to be reduced. Side dishes that take 12–20 minutes when the main course takes 5–6 will lose appeal. Products like croutons or soups in glass jars will seek to strengthen their "fresh" image by moving into the refrigerated perimeter of the store. Ready-to-cook branded meats have already forced retailers to develop signature meats and seafood programs to compete. Buhler's Fresher Foods, Wooster, Ohio, sells Certified Angus Beef in cooperation with the American Angus Association, and Yoke's, Spokane, Wash., has its own herd of certified Hereford cattle (Vosburgh, 2002).
Whether cooking is gourmet or everyday, any product that eliminates work or cleanup will likely have enormous appeal. General Mills' Bisquick Complete, a mix to which consumers simply add water, has enjoyed tremendous success. Non-irradiated, salt-free seasoning blends in the Spices & Blends line from the Spice Hunter, San Luis Obispo, Calif., including Steak & Chop—Grill & Broil; Pasta; Thai and Chef 's Shake, make it foolproof to give any dish some flair. Missionero Vegetables, Salinas, Calif., offers fresh-cut, "100% usable" Garden Cuts, three varieties of romaine, green, and red leaf lettuce for salads or sandwiches, packaged in a bag containing an amount equivalent to one head of lettuce.
2 Retro Nutrition
Contrary to popular belief, interest in fat, sugar, calories, and dietary fiber did not die with the last decade. Usage of avoidance products remains high (Fig. 5; NMI, 2003). In 2002, sales in the United States of "less-evil" foods and beverages (no, low, less, than, reduced) were $53.2 billion (NBJ, 2002). New nutritional guidelines for macronutrients from the National Academy of Science's Food and Nutrition Board and subsequent media coverage of a more-detailed series of health issues are causing this market to quickly regain its momentum (FNB, 2002).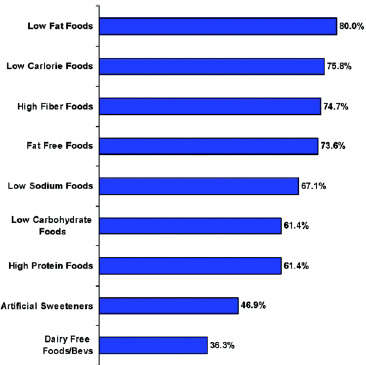 --- PAGE BREAK ---
Last year, FNB set the first U.S. recommended intake levels for dietary fiber, carbohydrates, nine essential amino acids, and omega precursors alpha-linolenic and linoleic fatty acids. The report established "Upper Level" intakes to "help consumers avoid harm" and with a new "emphasis on preventing chronic disease" advised reducing added/refined sugar to 25% of total calories; reducing carbohydrate from 230–280 g/day by setting the first-ever Recommended Dietary Allowance at 130 g/day; and avoiding trans fatty acids and saturated fat. The Board set no cautionary "Upper Limit" for protein or dietary fiber and made no recommendation concerning the Glycemic Index, saying there was insufficient evidence of its link to preventing chronic disease. While these new recommendations will spur reformulation and labeling changes and resurrect a few negative issues, they'll also serve as a basis for new and exciting nutrition product platforms.
The low-fat and fat-free market rebounded in 2001, gaining 2.4%, for the first time since the mid-1990s (IRI, 2002d). Last year, nearly two-thirds of consumers made a strong or at least some effort to reduce total fat intake, 58% saturated fats, 32% hydrogenated oils, and 31% trans fatty acids; and two-thirds of all dieters were on a low-fat regimen (MSI, 2002b). With pending Food and Drug Administration requirements for labeling of trans fats and heavy negative media coverage, savvy marketers like Frito-Lay, Plano, Tex., have created a market edge by eliminating trans fats from some of its major brands. Frito-Lay will also market Lays and Cheetos reduced-fat snacks in 2003. The new TLC (Tasty Little Crackers) line from Kashi Co., La Jolla, Calif., is free of saturated fat, cholesterol, artificial ingredients, hydrogenated oils, and trans fats. Pacific Valley™ Foods, Bellevue, Wash.) introduced trans- and fat-free French fries, and Sun- Gold™ Foods, Fargo, N.D., introduced all-natural SunButter™ sunflower peanut-butter substitute, high in vitamin E and transand hydrogenated oil free.
Sugar is closing in on fat as the top nutrition concern. More than half (56%) of consumers made a strong or some effort to reduce their sugar intake in 2002, up 8% over 2001; and four in ten dieters were on a low-sugar regimen, up 12% over 2001 (MSI, 2002b). One-third of consumers say they prefer foods with no added sugar; 40% usually check the package for forms of sugar before they buy (NMI, 2003). Four in ten mothers with kids age 6–12 made a strong effort to limit their child's sugar intake last year, compared to 23% for fat (MSI, 2002c). With 143 million adults overweight, adult-onset diabetes appearing in children, dental cavities increasing in kids age 8–12 and adults age 50 and older, and 80 million Americans estimated to be insulin compromised, concern, justified or not, over sweeteners will remain strong (NCHS, 2001).
With all the carbohydrate bashing, it's not surprising that high-protein/low-carbohydrate regimens are moving mainstream. More than one-third of consumers believe cutting carbs is a good strategy for improving long-term health; and 37% believe it a reliable means of weight loss (Walnut Acres, 2002; HealthFocus, 2003). Just over four in ten adults made a strong/some effort to cut carbs in 2002; one out of five dieters used this approach (MSI, 2002b). Two out of ten U.S. households increased their use of low carbohydrate foods last year, and 16% their use of high-protein foods (NMI, 2003). And the market will remain strong. Carbs and protein jumped into the second highest level of media coverage recorded by SloanTrends, right behind the leading topics—women's health, functional foods, heart disease, and fat. More important, the media has reversed its initial negative position on high-protein diets, up from 42% positive to 83% in the last trimester (STS, 2003a).
A number of newcomers are adding to the several hundred SKUs offered by market leaders Atkins' Nutritionals, Ronkonkoma, N.Y.; Life Services Supplements, Neptune, N.J.; and Ketogenics, San Clemente, Calif. Anheuser-Busch, St. Louis, Mo., had moved into the market with Michelob Ultra, a low-carb beer. Back to Nature's Hi-Lo cereal (Organic Milling Co., San Dimas, Calif.) offers 15 g of soy protein, 1 g of sugar, 12 g of complex carbohydrates, and 5 g of dietary fiber per serving (Fig. 6). Cold Fusion Foods, Culver City, Calif., markets a frozen, protein-enriched, 100%-juice bar-on-a-stick, and Kay's Naturals, Bloomington, Minn., offers Protein Chips with fiber, calcium, B-vitamins, and folic acid. As the high-protein market matures, expect more attention to be paid to the source of protein and to new protein combinations, including whey/ soy mixtures, as marketers look to differentiate. Last, with first-ever RDIs for nine essential amino acids, amino-directed products, flags, and "contains" claims will gain in popularity.
Dietary fiber has also returned to the spotlight. One-third of adults consider their diet deficient in fiber, and 29% think they don't get enough whole grains. Not surprisingly, nearly one-third of households increased their use of high-fiber products last year (NMI, 2003). Median intakes of 13.9 g/day for women, 18.6 for men, and 12–18 g for kids are well under the 25 g/day dietary fiber recommendation. Even more important, the new definition of dietary fiber includes a provision for functional fiber, i.e., synthetic or isolated forms that have a beneficial physiological effect. Last, with 40% of shoppers concerned about high blood pressure and 50 million adults afflicted by it, low-sodium products and claims are getting renewed attention. Lactose-free and gluten-free claims are appearing more frequently.
--- PAGE BREAK ---
3 Casual Indulgence
As the trend to casual and comfort continues, frustrated food-savvy consumers are demanding that "everyday" foods should be a little more "gourmet." And it's creating a wave of mildly upscale casual culinary concepts that are destined to be more indulgent, flavorful, festive, and fun (Sloan, 2002).
Subway, Milton, Conn., wrote the book on making basic foods more exciting when it topped its Subway Selects line with "fancier" sauces—including red wine vinaigrette, honey mustard, sweet onion, Southwest, and horseradish sauces—and put them all on fresh-baked artisan bread. Today, classic Monte Cristo sandwiches often contain salmon and flavored spreads, chicken salad sandwiches now frequently mean shaved chicken with Caesar salad, and cheeseburgers are likely to come topped with Chipotle Blue Cheese Slaw, Asiago–Parmesan cheese, or more! New entree salads feature nuts and fruits. The signature salad from Cosi, New York, N.Y., includes gorgonzola, grapes, pistachios, dried cranberries, pears and mixed greens topped with shallot sherry vinaigrette. And, talk about a twist, Country Kitchen, Madison, Wis., serves Lobster Ravioli and Bob Evans, Columbus, Ohio, serves Raspberry Grilled Chicken Salad.
Focusing on retro foods and classics reminiscent of fine dining in the 1950s and '60s is a safe and surefire way to inject more-elegant fare. Classic roasts, beef Wellington, rack of lamb, boeuf bourguignon, coquilles St. Jacques, and crab Louis are appearing in chain restaurants, and knockoffs are appearing in sandwich shops and pizza joints. Classic chicken dishes like southern fried chicken, chicken and dumplings, and chicken pot pies are back in vogue, but the dumplings may be herbed, the breading seasoned, and the crust made of potato or rice. Baked Alaska, crepes Suzette, chocolate eclairs, and bananas flambé are bringing with them a penchant for more-indulgent and upscale desserts. Edwards Fine Foods, Norcross, Ga., is perfectly positioned with its line of "ultimate" Lemon Meringue, Chocolate Sundae, and Georgia Pecan pies. Milkshake Cake, dipped in three types of milk, Turtle/Mud Pies, and Icebox cakes are also reappearing on casual-restaurant menus. Indulgent Classic French sauces—led by bearnaise and Dijonnaise—are also back.
For some, bigger is still better. Arby's, Ft. Lauderdale, Fla., added an Ultimate BLT to its line of Market Fresh Sandwiches, with ten half-slices (10.5 oz) of thick-cut bacon. Hardee's, St. Louis, Mo., offered a Loaded Omelet Biscuit including sausage, ham, bacon, two cheeses, and egg. Targeting America's growing ranks of big eaters, BarS, Phoenix, Ariz., offers Jumbo Jumbos Quarter Pound Franks, and Fantastic, Napa, Calif., offers Big Soup Noodle, Cereal, and Chili Bowls.
Sales of restaurant-branded foods like T.G.I Friday's and chef-directed items like Wolfgang Puck's soups are another form of contemporary food indulgence, as is the purchase of artisan-crafted breads and cheeses; more than 300 American artisans offer signature specialty cheeses. Organic treats such as Organic Expresso Chocolate Chunk cookies from Pamela's Products, San Francisco, Calif.) represent a new health-sensitive wave of indulgence.
The romance of contemporary cooking techniques continues to add gourmet appeal. Wood-fired, flame-roasted, flame-grilled, red wine–braised, Parmesan-crusted, wok-seared, hand-made, and now stone-fired conjure up mouthwatering flavors. A new generation of cherry, maple, hickory, and cedar smoked flavors are permeating everything from salmon to cheese. Mongolian barbecues, noodle bowl "select and stir-fry" buffets, and flaming skewered steakhouses are enjoying unprecedented success. Almost anything with entertainment value will do: Chi-Chi's, Louisville, Ky., offers Flaming Fajitas—flambéed table side and splashed with tequila!
Offering the unexpected is another technique being used to increase excitement. Interest in its Chicken Flatbread Sandwich was so high that McDonald's had to cut advertising and promotion to ensure that it could meet the demand. Likewise, Road House Grill, Ft. Lauderdale, Fla., enjoyed unexpected success menuing beef and chicken satay. New Age Potstickers—chicken and vegetable dumplings pan-fried with pesto and Peking sauce—and Cream Cheese Puffs—crispy wonton pastries with garlic-seasoned cream cheese—from Leann Chin, Minneapolis, Minn., are right on target. Shrimp fajitas, pulled-pork quesadillas, and teriyaki-sweetened corn-on-the-cob also fit the bill. Scallop and clam pizzas and conch steak are among new seafood offerings. Dessert nachos?—think whipped cream, fruit, and sugar.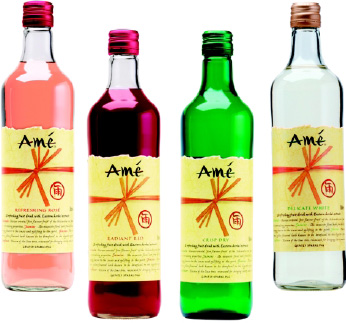 --- PAGE BREAK ---
One of the most recent trends making casual eating more elegant is the advent of sparkling forms of traditional beverages and foreign still waters. Lorina, Inc., Atlanta, Ga., offers a line of Lorina French Sparkling Lemonades in pink, orange, yellow, and clear versions in old-fashioned metal-corked bottles. IZZE Beverage Co., Boulder, Colo., combines fruit juice, sparkling European soda, and natural spring water in Sparkling Lemon and other flavors. Amé, Santa Barbara, Calif., introduced a line of premium blends of natural fruit juices, Eastern herbal extracts, and sparkling spring water (Fig. 7). Steap Green Tea Soda, Newtown, Pa., offers a line of micro-brewed, lightly carbonated green tea sodas, and Switch Beverage Co., Richmond, Va., introduced a line of carbonated 100%-juice products. Last, organic wines and gourmet coffee and dessert pairings are getting attention.
4 Country Charisma
Plain American still tops the list of foods and cooking styles that consumers (65% of respondents) say they "really" enjoy. But with all of the restaurant and prepared food exposure, it's not surprising that Chinese (63%), Italian (62%), and Mexican/ Tex-Mex (55%) have closed in fast. As ethnic trends quietly merge with our own traditional and regional cuisines, ingredients and food preparation techniques from these "Big 3" cuisines still provide the best route to mainstream success. Conversely, four in ten say they really enjoy Southern/Cajun, 19% Spanish, 17% French or Japanese, 15% Greek or Middle Eastern, 14% Thai, 10% Caribbean, and 9% Latin (RoperASW, 2002).
Along with upgraded American comfort, classic, casual, and retro foods, U.S. regional and seasonal foods remain in the spotlight (Sloan, 2002). Regional fish like braised walleye pike, Lake Superior fish fry (perch), and fried catfish or crawfish are gaining ground. Savory chef concoctions of grits now appear on one-quarter of restaurant "trendsetter" menus (CAMS, 2002a). Even open-faced sandwiches are back. Barbecue continues to reinvent itself with a wide range of unusual flavors. With every country virtually having a style of open-fire cooking, it's not surprising that Sweet & Sour, Hunan, Cranberry Rum, Mango Barbeque, Korean-style, red pepper-ginger, and rum molasses are some of chain restaurants' latest barbecue dressings (CAMS, 2002b).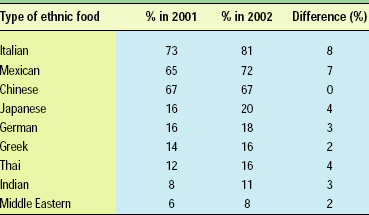 When it comes to home food preparation, it's hard to believe but Italian and Mexican still have more room for growth (Table 1; MSI, 2002a). Six in ten U.S. households purchase frozen Italian dinners, 39% Asian, and 36% Mexican. Italian frozen entree/ dinner sales reached $1.3 billion in 2001, Mexican frozen meals $500 million, and Oriental Frozen dinners about the same (Heller, 2002).
When it comes to Italian, Olive Garden (Darden, Ft. Lauderdale, Fla.) and now Subway, with its 1,500 pending Tuscany-decorated stores, will ensure that all roads don't lead to Rome. Risotto; gnocchi; prosciutto; sauces like carbonara, Bolognese, pesto, and Alfredo; bruschetta, manicotti, and other stuffed pastas; zabaglione and torfutti have all gone mainstream. In non-Italian chain restaurants, new Italian-inspired menu items include calamari; mussels; insalata mista; focaccia, michetta, and ciabatta breads; and bruschetta chicken (Roma tomatoes), chicken manicotti, veal/chicken/shrimp Parmesan, and chicken/vegetable Alfredo entrees (CAMS, 2002a).
The most significant trends in the Mexican segment include substituting more upscale ingredients like shrimp, lobster, or specialty cheeses in favorite foods; regional Mexican cooking; miniaturization to snack and appetizer portions, single-serve items and high-end desserts like Mexican crème caramel and flautas of any kind. With the majority of American Hispanics being of Mexican origin, the growth in the Hispanic population is expected to have an explosive impact on sales in the Mexican food category. For more information on the Hispanic food market, see Hollingsworth (2003).
With Americans loving everything Latin, one new food item stands out: Quick Cooking Spanish Paella Marisco from Costador's International Delicacies, Richmond, Va., which comes complete with the pan. Caribbean, Tropical, and Floribbean cooking remains a strong focus. Last, savvy marketers like Ethnic Gourmet, Framingham, Mass., are making forays into a wide range of cuisines with wraps and prepared meals, including those from Vietnam, Cuba, and India.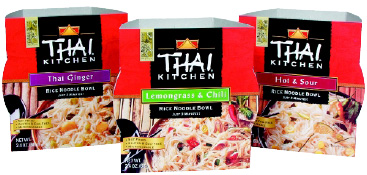 With the growing popularity of Asian chain restaurants like P.J. Chang's, Yan-Can-Cook, and Panda Express, it's not surprising that Asian dinner kits, frozen meals, and appetizers are exploding. Chow Mein Noodles with Garlic Sauce, one item in the line of dinner kits, noodles, and sauces marketed by Annie Chun's Inc., San Rafael, Calif., was the first Asian-style pasta to win an award at the Fancy Food show last July. The noodles-and-sauce line marketed by Simply Asia, Oakland, Calif., includes flavors originating from Japan and China, such as Sesame Teriyaki and Spicy Kung Po. Instant Rice Noodle Bowls (Fig. 8) from Thai Kitchen, Oakland, Calif., go anywhere in a variety of flavors, including Mushroom Medley, Spring Onion, and Thai Ginger. The company also recently introduced Noodle Carts, single-serve, quick rice noodles and sauce that cooks in its own tray.
--- PAGE BREAK ---
Koyo, Richmond, Va., offers a complete line of Asian pasta, including udon, soba, and somen noodles, as well as three flavors of ramen noodles. The line of natural Asian salad dressings and marinades marketed by San-J, Richmond, Va., includes Tamari Peanut, Mustard, Sesame, and Vinaigrette. Appetizers like San-J's Tamari Meatballs, Thai Peanut Cheese Log, and rice crackers, along with shu-mai, potstickers, and spring rolls from Ling-Ling, Hayward, Calif., will make any party a success. Chinese chicken salads—and salads topped with fried chicken—are one of the fastest-growing menu additions.
Key foreign ingredients that are used in a similar manner as they would be in American cooking are generally the most successful ethnic crossover items. Indian chutney and curry are two items adding a hot sweet note to a range of American dishes. Mythzithra, a grated cheese similar to Romano but a little less expensive, has joined Feta as a popular Greek import. Greek olives, specialty olive oils and spreads, spinach and Feta pie, filo dough, whole roasted red peppers, fruit nectars and preserves, bay leaves and deep dark coffee are integrating nicely into the American food culture.
5 Table Talk
As Americans struggle to be trendy in a more limited culinary sphere, new forms, more exotic varieties, or more highly flavored versions of favorite foods and ingredients are surefire tactics to induce product trial and help manage expectations.
With three-quarters of consumers saying they love the taste of cheese and 78% wanting to try new and different varieties, substituting specialty cheeses or creating new concepts around cheese is a very good idea (DMI, 2002). Annual cheese consumption is expected to jump from 30 lb/person to 35 by 2006, with U.S. sales rising to $11.1 billion (Packaged Facts, 2002a).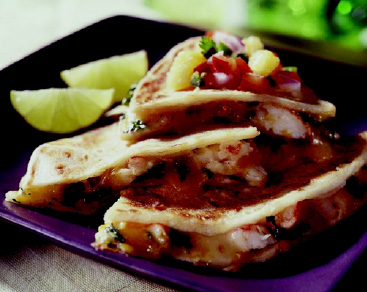 Cheese is the most mentioned protein on chain restaurant menus, with 85% more mentions than chicken (CAMS, 2002b). Asiago and Gorgonzola top the list of natural specialty cheeses enjoying double-digit growth, followed by Provolone, Muenster, Colby, Jack, Brie, goat, blue and Havarti. What about specialty cheese tacos, quesadillas, fondues, or frozen mini specialty cheese sandwiches or burgers for appetizers and larger versions for meals, too (Fig. 9)? Three restaurant trends stand out: topping meats with cheese, adding cheese to breadings and coatings; and making creative dipping sauces.
New flavors and forms of pasta, rice, and potatoes can add new life to tired soups and plated meals. Eddie's Gourmet Pasta, Poway, Calif., offers a wide variety of corn, brown rice, semolina, durum wheat, and soy pastas. Wild rice pasta, such as that offered by Rizopia Food Products, Toronto, Canada, is a sure hit to accompany poultry or to add value to chicken soup, and Tricolor Spaghetti from Zerega, Fairlawn, N.J., is as colorful as your imagination. Infused rices, like Uncle Ben's with alluring notes of cumin and ground chilies help give any dish a Latin flair. Seeds of Change, Santa Fe, N.M., offers a line of rice and grain side dishes that focus on contemporary grains and cuisines; they include Tuscan Style Rice and Beans and a Zesty Cilantro Quinoa Blend. More-exotic grains like flax, kamut, amaranth, and couscous are being tossed into everything, from bakery foods to pasta and cereals.
Tricolor Fries or Oven Reds potato wedges with olive oil, sundried tomatoes, and pesto, marketed by Alexia Foods, Brooklyn, N.Y., will give everyone plenty to talk about. What about more exotic cole slaws such as jalapeño or Chinese cabbage, or hot vinegared potato salads? Even pizza crusts are being made with brown rice, corn meal, or soy.
Flavored and signature ketchups, mustards, and other condiments are creating a stir on chain-restaurant menus. With meat entrees in chain restaurants up 31.9%, seafood entrees 23.6%, poultry entrees 21.1%, and entree salads 6.7%, chefs are upgrading familiar sauces, rubs, dressings, and condiments to draw customer attention (CAMS, 2002c). Mustard is expanding into glazes, sauces, dressings such as Hot Bacon Mustard, and even gravy (CAMS, 2002d). Ketchups are moving from traditional to trendy by adding habanero and other chilies, adding curry, mixing with salsa, or starting with yellow or green tomatoes. Chimichurri, tomatillo, miso, soy-ginger, chipotle pepper, jalapeño tartar sauce, pico del gallo, chipotle BBQ sauce, teriyaki apricot glaze, and Szechwan sauce are among those new sauces and condiments added to chain menus in 2002 (CAMS, 2002c).
On the trendy side, watch Thai coconut, corn/chive, black olive, pear mustard, and pineapple/Dijon mustard combinations. The line of flavored peanut butters from Peanut Better Inc., Agoura Hills, Calif., range from savory options like Spicy Southwestern, to sweet varieties, including Vanilla Cranberry and Deep Chocolate. Specialty and flavored oils like almond or grapeseed can also be strong product differentiators for salad dressing, dips, or fried foods. Organic and free-range broths or specialty sugars, like the Florida Crystals line from Flo-Sun Sugar, Palm Beach, Fla., which includes milled cane and certified organic or Demerara sugars, or organic rice produced under sustainable agricultural conditions, including pest control by free-living bats and birds —can add class and "chatter" to nearly any meal.
--- PAGE BREAK ---
Fruit has also been in a growth mode, up 21.6% in menu mentions over the past three years (CAMS, 2002b). Dried fruits, like the partially rehydrated Tender Fruit line from harvest Bay, Edison, N.J., posted supermarket sales of $480 million in 2002 (IRI, 2002b). Watch for more miniature veggies, including portabellinis and very young versions of lettuce, artichokes, root vegetables, baby corn, micro sprouts, and super-small edible flowers to add flair to foods. Veggies with a different look, like purple potatoes and red and white carrots, are adding excitement in uses from chips to dips. Mushroom enchiladas, vegetable stir-frys, and pasta/vegetable combinations are among the most popular vegetarian dishes in restaurants (CAMS, 2002b, c).
6 Simple Solutions
Overwhelmed by choices and starved for time, consumers are relying on food manufacturers to find simple solutions to make eating right easier, faster, and more fun.
General Mills has enjoyed sales growth in excess of 45% in the highly competitive bar market since its Milk'n Cereal Bars ensured the portability of cereal and milk. Single-serve snack cups are breathing new life into the ailing canned fruit and gelatin businesses. Kellogg put the syrup in its Wal-ful waffle; Boca Burger, Madison, Wis., incorporated the cheese into its new cheeseburger; and Break Bush Brothers, Westfield, Wis., put the dip in its Chik'n Bursts chicken nugget! And I doubt that M&M/Mars has gone too far by combining cookies and candy in just one bar, such as its Cookies & M&M's, Cookies & Snickers, Cookies & Twix, or Cookies & Milky Way bars.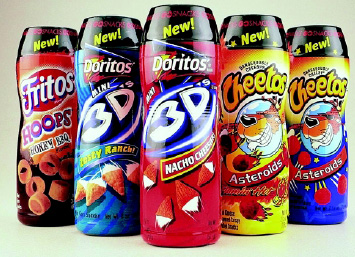 Packaging is in power when it comes to grab-and-go. Targeting the 20% of meals being eaten in the car, Campbell's Soup at Hand heat-and-eat soups fit perfectly into a car cup holder. Nabisco/ Kraft has packaged mini Chips Ahoy, Oreos, and Cheese-Nips in similar car-friendly fashion. Frito-Lay's GoSnacks (Fig. 10) and Procter & Gamble's Pringle's Snack Stacks have created a new generation of premium snacks. Squeezable yogurts continue to proliferate, and now fruit leathers come in squeezable versions, too. Convenience reigns for storage, too. Standup, reclosable bags for cookies, pasta, nuts, and frozen fries help keep cabinets organized; snap-and-pour creamer spouts help prevent spills; and pop tops may soon make can openers obsolete. Even Ocean Spray adopted a square plastic bottle so its juice fits better on refrigerator shelves.
Convenience also applies to health. A 2002 survey by Balance Bar, Rye Brook, N.Y., revealed that 88% of adults wish they could find more convenient sources of nutrition when they're on-the-go and that 70% still worry about meeting their daily nutritional requirements (Balance Bar, 2003). With nearly half of shoppers confessing that they're too busy to eat right and two-thirds that they're confused by conflicting health information, the demand for fortified foods and beverages and other forms of foolproof meal-replacement options will remain strong (FMI/Prevention, 2002).
With more than 500 nutrition and meal-replacement bars in the U.S. market today—marketed by more than 100 companies, including Kraft and Nestlé—it's hard to believe that there's room for more, but there is. With no end to innovation in sight, nutrition bar sales—which grew by 21% last year—are expected to deliver $1 billion more in new revenue by 2006, taking it to a $2.4-billion category (NBJ, 2002).
New RDIs, the perception of a more hectic lifestyle, and a plethora of new ingredients and benefits will keep bars among the fastest-segmenting markets in food history.
With one out of five women purchasing a bar in the past six months, its not surprising that bars focused on women's health, like Clif Bar's Luna and Power Bar's Pria, are driving category growth. While women's issues will remain a lucrative focus, products directed at males and children will soon be in high demand. EnviroKidz™ from Nature's Path, Blaine, Wash., is an all-natural, organic rice bar formulated to kids' nutritional requirements; the company donates 1% of the bar's sales to wildlife concerns. A new "over-nutrition" concern emerging in the bar market involves the extensive levels of individual nutrients children consume when they eat a bar designed for adults—some sports bars deliver more than 400–900% of the day's requirement for certain nutrients.
Expect the lines between candy bars, cake, and nutrition bars to continue to blur. While indulgent flavors such as Balance Bar's Chocolate! Chololate! S'mores still dominate the category, savory bars are finding a welcome niche. Specialty Cheese co., Lowell, Wis., offers Just the Cheese™ crunchy baked cheese bars and snacks that are low in carbohydrates; the wafers of natural cheese, which first crunch then melt in the mouth, come in Crunchy Pizza, Cool Ranch, Nacho Cheese, and other versions. Rice, nuts, seeds, and soy nuts are also adding crunch. Honey Bar, Ottawa, Canada, has put trail mix into a more convenient form, Trail Mix Bar. Most significant, perhaps, is the trend to organic and all-natural bars, up 21% and 19%, respectively, this year (IRI, 2002b).
--- PAGE BREAK ---
Most recently, bars have been more about what ingredients they don't have than they do have, especially sugar, fat, and carbohydrates— witness the skyrocketing sales of the Zoneperfect line marketed by ZonePerfect Nutrition Co., Beverly, Mass., which is based on one of the original diet plans promoting high protein and low carbs. High-protein bars are already differentiating by using different combinations of protein, such as a whey/ soy/calcium combination, wheat protein, or more exotic sources. Another fast-emerging trend is fruit-and-veggie bars, such as Real Berry and Real Green from Pure Sources, Guelph, Canada, each providing four servings of either organic fruits or vegetables.
Balance Bar has introduced Balance Satisfaction, an anti-hunger, satiety bar, with 23 nutrients, 11–12 g of protein, and 6 g of dietary fiber. Miniaturization is another compelling direction capitalized on by PowerBar, Berkeley, Calif., ProteinPlus mini bars. PowerBar Bites "provide energy on demand," while Sharkies, Auburn, Calif., markets a poppable, organic, energy fruit chew.
But beverages have even more potential. Functional beverages topped $9.7 billion in 2002 and are projected to reach $11.8 billion by 2005 and $15.9 billion by 2010 (NBJ, 2002). The $1.6- billion meal-replacement/weight-control beverage segment continues to post strong gains, with market leader Ultra Slim-Fast up 10% and Slim-Fast up 49% from Unilever, West Palm Beach, Fla. (IRI, 2002c). Soga furée, a "meal-in-a-bottle" natural soy smoothie from Pulmone USA, Inc., South Gate, Ga., and Yoplait's Nouriche, a yogurt drink with all the nourishment of a meal, are shaking up sales. Yogurt drinks are up by more than 100% in supermarkets and 366% in specialty/health food stores (SPINS, 2002). New organic entries like Stonyfield Farm's new single-serve Smoothie, with six strains of active cultures and added calcium and inulin to enhance absorption, is also scoring high. Functional juice-based beverages are estimated to reach $2.17 billion by 2005 (NBJ, 2002). Most recently, Tropicana's Healthy Kids juice proved to be one of the most successful new product launches in PepsiCo's history. Watch for a new generation of 100%-organic juice beverages, similar to the calcium-added orange juice from Organic Valley, LaFarge, Wis.
7 Custom Catering
Who said, "You can't please all of the people all of the time?" Certainly not today's food marketers, who are happily and lucratively tailoring foods and beverages for a bevy of differing taste preferences, age groups, and lifestyles.
When it comes to having something for everyone, yogurt marketers take first prize. With category sales of $2.7 billion, up 6.6%, and supermarket sales up 11% in 2001, it looks like they're doing everything right (Heller, 2002). Textural changes, like Dannon's la Crème ("incredibly creamy & mild yogurt") and Yoplait's Whips! ("light & fluffy" and closer to a mousse), are converting nonusers to yogurt lovers. Super-decadent yogurts and dessert-like flavors, like apple pie and crème caramel; have secured a permanent place in the dessert category. Dannon's Sprinkl'ins Color Creations, which turn color when sprinkles are mixed in, and Sprinkl'ins Mystery Surprise yogurts define edible entertainment. Catchy, colorful graphics and smaller portion sizes for kids, like Danimals drinks in 3.1-oz mini-bottles, have helped to attract attention. Squeezable yogurts continue to proliferate, while yogurt drinks reached $95 million in supermarket sales, up 73% in 2001. Organic soy and rice yogurts, like Stonyfield Farm's O'Soy, are coming on strong. There's yogurt for women and infants, and there's more to come.
With 38% of kids influencing food purchase decisions, it's become more than politically correct to cater to kids. One out of three family cooks report that children always or often dominate dinner grocery decisions. Kids often or always have input on snacks (75%) breakfast (72%), lunch (62%), and desserts (47%). Eight out of ten kids 6–17 years old occasionally fix meals for themselves, and half said that making their meals was among chores they do at home (Yankelovich, 2001). Not surprisingly, snacks and mini meals that kids can prepare, like Uncle Ben's Mini-Bowls for kids, Kraft's Easy Mac, and HotPockets from Chef America, Englewood, Colo., have met with unparalleled success.
From Heinz's EZ Squirt colorful ketchups to Parkay's blue and pink margarine, edible entertainment, colorful foods and kid-friendly flavors will continue to tempt little tykes. Annie's Naturals, North Calais, Vt., thinks kids will love topping their salads with Pizza Pie, Purple Zoom, or Tutti Fruitti organic dressing. Shapes, fun packaging with "play value," and licensed trendy characters—like Kraft's Cheese Nips tied to Jurassic Park III—remain in vogue.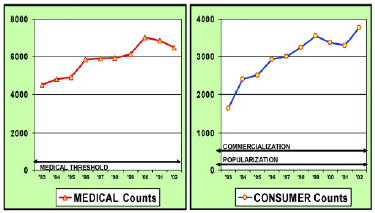 --- PAGE BREAK ---
However, there is more to kids' foods than fun and games. Children's health and nutrition represent one of the fastest-growing food opportunities (Fig. 11). With new RDIs and further evidence of deficiencies, fortified products will continue to grow and will likely refocus the mix of added nutrients. A comparison of government dietary intake data to the new RDIs reveals that calcium, vitamin E, iron, folate, phosphorus, magnesium, molybdenum, and vitamin K, in addition to dietary fiber, are among the many nutrients below recommended levels (STS, 2003b). Two-thirds of moms say they made a strong or some effort last year to buy fortified foods. Four in ten preteens and 45% of teens took a vitamin supplement last year (MSI, 2003c).
Macronutrient and "avoidance" or "less-evil" foods (e.g., low-fat, fat-free, low-calorie, no additives) for children will soon be in great demand. Among moms of preteens, 35% made a strong effort to increase consumption of calcium, 28% vitamins/minerals, 23% protein, 18% grains, 14% fiber, 11% calories, 10% complex carbohydrates, and 7% omega-3 fatty acids. Conversely, two-thirds are making a strong effort to limit caffeine, 48% artificial sweeteners, 38% sugar, 25% sodium, 23% total fats, 19% cholesterol, and 13% calories (MSI, 2003b, c).
But children's health problems go way beyond balanced eating— 27 million children under age 19 have high cholesterol, 2 million high blood pressure, and 2.5 million attention deficit disorder (ADD); and 85% get less than five servings of fruits and veggies a day. One-third of children get no exercise, 60% complain of being tired during the day, and 15% fall asleep at school. Two in ten age 12–17 smoke, and 18% drink alcohol (NCHS, 2001). Food allergies and asthma head the list of parents' top-of-mind health concerns for children age 2–13, followed by colds/ virus, ADD/attention deficit hyyperactivity disorder (ADHD), and dental problems (Hartman, 2002).
With women's issues being the most-covered media health topic, look for gender products to proliferate and bring men's needs mainstream. Osteoporosis will remain the fastest-growing women's health problem, increasing 16.5% by 2010. High cholesterol will increase 15.8%, menopause 15.7%, arthritis, 15.4%, high blood pressure 15.3%, cancer 15.2%, diabetes 15.0%, heart disease 1.0%, and joint pain/health problems 12.8% (MSI, 2002e).
Men are more interested in health than ever before. Just over half of male shoppers say their diet could be somewhat healthier and nearly half are trying a lot to eat healthfully. Low-saturated-fat, low-fat, and low sodium are the top three claims that influence men. Heart disease is the fastest growing men's health problem, up 22.5% by 2010, followed by cancer 22.4%, prostate problems 21.4%, diabetes 21.4%, arthritis 19.8%, cataracts/macular degeneration 18.9%, and high cholesterol 18.9% (MSI, 2002f).
The sports, energy, and performance categories—which spawned mega brands like Gatorade and PowerBar—continue to be among the fastest-growing and highest-margin categories. Last year, sports and energy drink sales topped $2.9 billion, up 16.3%, and sports supplements rose to $1.7 billion, up 8.7% (NBJ, 2002). People age 50 and older are the fastest-growing group within the ranks of our 51 million regular exercisers.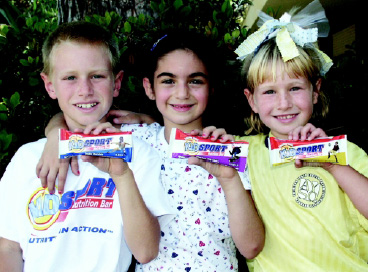 Other new youth segments offer tremendous potential. Building muscle and improving sports performance is now the top reason teenagers watch what they eat or go on a specialized diet. Two-thirds of teenage boys and 53% of girls are using foods and beverages to achieve this goal—more than those dieting to lose weight (MSI, 2002d). Performance foods can also be targeted to our junior athletes, and it's not just boys: in the past five years, 3.6 million girls age 6-11 participated in organized sports, up 86%. In addition, 2.5 million high school girls and one-third of all college women participate in organized athletics (President's Council, 2001). KidSport® nutrition bar (Fig. 12) from Good Natured Products, Orange, Calif., is designed for the nutritional requirements of active children. In flavors that kids enjoy, like Chocolate Chip Cookie, the bar contains 25 vitamins/minerals at kid levels, is high in calcium and protein, and has no herbal stimulants, artificial flavors, colors, or preservatives.
8 Correcting Conditions
With four in ten shoppers saying they suffer from tiredness or a lack of energy, one-third from overweight/obesity or arthritis, just under one-quarter from high cholesterol or hypertension, 20% gastrointestinal problems or depression, and 15% menopause, it's not surprising that the demand for foods that help to prevent, or even treat, a condition is at an all-time high (Health- Focus, 2003). In 2002, eight out of ten grocery shoppers tried to help prevent a condition through their food purchases, up 10% in one year! More than half of shoppers tried to manage or treat an existing condition. The vast majority (86%) agree that eating healthfully is a better way to manage illness than medications, up10% since 2001 (FMI/Prevention, 2002).
--- PAGE BREAK ---
With two-third of shoppers admitting that their diets could be healthier, it's not surprising that sales of fortified foods and beverages topped $20.0 billion in 2002, up from $17.7 billion the year before (Roche, 2002). Packaged Facts (2002b) estimates a CAGR of 9.2% for fortified foods and 12.9% for beverages from 2001 to 2006. Although more than two-thirds of food shoppers regularly purchase fortified foods, there's plenty of room for more. Two-thirds believe that their diet is deficient in at least one nutrient: 40% cite calcium, 32% omega fatty acids, 27% antioxidants, 26% chromium, 25% vitamin C, 24% lutein, 23% vitamin E, 21% potassium, 19% folic acid, and 16% magnesium (NMI, 2003). Just over one-third of moms with pre-teen children say they're making an effort to get more calcium, 28% vitamins/ minerals, and 7% omega fatty acids in their kid's diet (MSI, 2002c). Two-thirds of teenagers believe they're nutrient deficient: 33% name calcium, 27% iron, 26% protein, 25% vitamin C, and 17% vitamins (MSI, 2002d).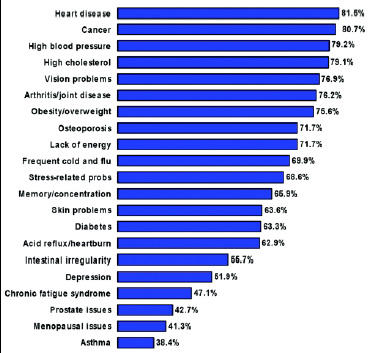 Heart-related problems, cancer, vision problems, and arthritis top the list of conditions that Americans would like to prevent (Fig. 13) (NMI, 2003). And today it's hard to talk about heart disease prevention without saying soy. With sales of $3.62 billion, soy products have infiltrated almost every food category (SoyaTech, 2002). VegeUSA, Acadia, Calif. (Fig. 14), raised the bar on meat substitutes with its Citrus Sparerib Cutlets, Black Pepper Steak, and Cod Fillets. The Smart Deli Line from LightLife Foods, Turners Falls, Mass., includes soy bologna, ham, hot dogs, and pastrami; its Gimme Lean! line includes soy bacon, Italian sausage, meatballs, taco meat; and it's Smart Cutlets line includes soy chicken and Salisbury steak.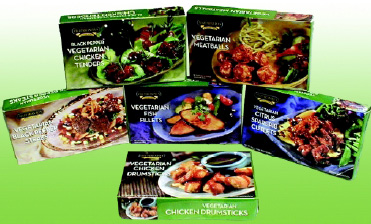 Mori-Nu, Torrence, Calif., introduced refrigerated Tomato, Creamy Corn, and Butternut Squash Soy Soups in gable-top containers. Dr. Soy, Irvine, Calif., forged into the snack category with cookies and a soy nut/trail mix line ranging in flavor from chocolate to ranch and barbecue. Turtle Mountain, Eugene, Ore., turned soy indulgent with its Purely Decadent Soy Delicious nondairy desserts in Praline Pecan and Mocha Almond Fudge flavors. To top it all off, Sun Soy Whip from White Wave/Dean, Boulder, Colo., has a new soy-based approach to whipped cream; Soga's Healthy Toppers provides diced soy ham and chicken strips for salads; and Soyafe, from Organics of Oz, Costa Mesa, Calif., is the first soy caffeine-free coffee alternative in granular form. And there's room for more—40% of adults consider their diet deficient in soy protein, and 36% isoflavones (NMI, 2003).
Annual soymilk sales have grown to $550 million; 8% of households use it on a regular basis (IRI, 2002c). Sales for market leader, Silk, marketed by White Wave, Boulder, Colo., were up 76% in 2002. Most recently, soy–juice combination beverages have moved center stage. Campbell launched V-8 Splash Smoothies with PTI/DuPont's Solae™ brand of soy protein displayed on the label. Ultra Smoothie made "with Tropicana's Juice" from Galaxy Nutrition, Orlando, Fla., is now sold in single-serve cups. And organic mixed beverages like Organic Protein Fruit Shake from Columbia Gorge, Hood River, Ore., are coming on strong. Soy beverages are also now being used to showcase other nutrients, such as Omega Blast Meal Replacement Energy Smoothie from Designing Health, Valencia, Calif., which provides 18 g of soy protein, fiber, and 1,200 mg of omega fatty acids.
With 61% of adults, 13% of kids age 6–12 years, and 14% of teens overweight or obese; two-thirds of women wanting to lose more than 20 lb; and one-third of Americans on a diet at any one time, it's no wonder that weight control remains a very big opportunity. For the first time, all segments of the more than $39.85-billion diet industry posted sales increases last year. Low-calorie/ diet entree sales were up 14% to $2.07 billion, diet soft drinks up3.5% to $14.86 billion, and artificial sweeteners up 3.6% to $1.79 billion (Marketdata, 2002). Nearly one-third (31%) of adults purchased a weight-loss product in the past three months (NMI, 2003). Four new weight-loss opportunities are emerging:
First, a health-motivated dieting segment fueled by the desire to reduce a risk factor or an existing condition, such as blood pressure. One in four Americans managed their weight for appearance purposes in 2002, and one-third for health. NMI (2003) projects a 3-year compounded growth rate of 10.5% for appearance dieting and 25.4% for health reasons. Second, with the amount of weight Americans need to lose at its highest ever, very-low-calorie products are coming into vogue. Third, a need for weight-loss products directed at children and teens is quickly emerging. Only one in three teens are satisfied with their weight, and only 17% of girls age 16–17. Of the 8% of pre-teenagers who are on a special diet, 43% are on a weight-control regimen, up 19% over 2001 (MSI, 2002c, d). And fourth, the timing is right for a new generation of low-/high-macronutrient products aimed at weight control, especially low in calories and fat and high in fiber. The no-longer faddish high-protein/low-carbohydrate segment should also be a major focus of product developers.
--- PAGE BREAK ---
It's time for those marketers who abandoned low-calorie and diet claims for a general healthier-living product positioning to return to their existing products once famous for their weightloss advantage, such as Lean Cuisine and Weight Watchers' Smart One lines.
Lowering cholesterol and helping to prevent cancer (primarily with antioxidants) topped shoppers' wish list of health-promoting foods, with 54% saying that they're very interest in trying them; 51% of shoppers also want products designed to help with high blood pressure and diabetes; 50% allergies; 49% weight control; 41% osteoporosis; 40% arthritis; and 41% (of women only) problems with women's hormones (FMI/Prevention, 2002).
9 Exceptionally Pure
As expected, with the U.S. Dept. of Agriculture's Organic Seal program and standards in place, new organic food products have exploded on the scene. Organic food sales reached $9.7 billion last year—up nearly 20%—with organic foodservice products, nutrition bars, snack foods, nondairy beverages, and packaged foods posting the largest growth (Traynor, 2002). Household penetration of organic foods, however, has remained relatively constant at around 40% despite consumer awareness of 91%, indicating that those who use already use organics are using more, rather than new buyers converting to organics (NMI, 2003). Although 77% of shoppers believe that organic foods are grown without pesticides, 74% believe that they are chemical free, and 71% believe that they are safer for the environment, 63% safer for farmers, and 61% safer to eat. A dropoff is evident in the number who believe that they are more nutritious (46%, down 14% since 1990), are of better quality (49%, down 7%), fresher (42%, down 7%), or better tasting (33%, down 7%) (HealthFocus, 2003).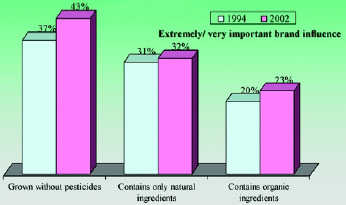 All-natural, additive- and preservative-free products are another mega retro trend regaining its momentum. Natural food sales topped $34 billion last year, with natural nutrition bars, foodservice, beverages (excluding dairy and non-dairy), beer, wine, coffee, and tea, and snacks posting the largest gains (Traynor, 2002). While the desire to avoid anything artificial continues to grow, a grown without pesticides claim appears to be a stronger influence than all-natural or organic ingredients (Fig. 15; HealthFocus, 2004). Coleman's, Denver, Colo., offers 100% all-natural beef hot dogs and burgers with no antibiotics, hormones, or nitrites/nitrates from cattle fed a strict vegetarian diet.
With eight out of ten consumers feeling very/mostly confident that their food is safe, confidence levels have rebounded back to the high levels of 1998. The majority (83%) believe that bacteria pose the greatest health risk, just above tampering, residues from pesticide, and eating food past the sell-by date. Only about one-third of shoppers believe foods produced by biotechnology, 30% irradiated foods, and 18% additives/preservatives are a serious health risk (FMI, 2002). Over the past two years, awareness of biotechnology issues grew significantly to 56%, up 22% over 2001; irradiation up 10% to 51%, and genetic modification up 4% to 44%. The TrendSense model (STS, 2003a) indicates that interest in GMOs has stalled and currently represents a market opportunity limited to specialty and health food channels. Most important, the number of shoppers who said they would buy irradiated foods rebounded to 53%, possibility as a result of irradiating mail in the anthrax scare (FMI, 2002).
At the same time, the concern over purity, quality, and chemical-free continues to spawn a wide range of premium products. Sales of kosher products readily associated with purity and quality by consumers continue to grow. In fact, ConAgra's Hebrew National brand posted the highest gains in the hot dog category last year. Livestock quality-of-life issues, pure drinking water purity, and roaming issues continue to drive premium meat sales. Wyoming Natural, Newcastle, Wyo., offers grass-fed, 100%-natural, free-range beef cuts and jerky. Vegetarian products continue to thrive. One-third of consumers make an effort to regularly eat a meatless meal, while 19% consider themselves an occasional vegetarian (NMI, 2003).
Using sustainable agricultural techniques for growing crops is a contemporary crowd pleaser. Perhaps the newest purity-related trend involves associating a product with a pristine and virtually untouched part of the globe. For example, Toronto, Canada–based Ceres juices are romanticized as coming from a pristine mountain valley in South Africa and being nourished by the sun and fresh mountain streams to produce the world's most succulent and nutritious fruit. With the concern for pure and healthy particularly strong among parents with infants, Fresh Baby, Petoskey, Mich., has launched a Fresh Start Kit to allow consumers to create their own all-natural baby food.
--- PAGE BREAK ---
Last, it's hard to talk about premium and pure without mentioning bottled water. With sales growing at double-digit rates and nearly half of Americans drinking it, per capita consumption is expected to climb from 18.3 gal to 24 by 2004. Expect the type and source of bottled water to become a market differentiator. Eternal natural artesian water from B.I.G., Novato, Calif., hails from New Zealand, and other companies others are promoting water from Fiji and Hawaii.
Then there are more-novel ways of getting super-pure water. Esker natural spring water from EVH USA, Tustin, Calif. is filtered through an esker, a rare geological phenomenon left behind by the Ice Age in a remote part of Canada. Other waters such as Eva from Emerald Valley, Harrisburg, Ore., are naturally fortified with naturally occurring calcium, magnesium, silica, bicarbonates for stomach acid regulation, and potassium. Dannon, Tarrytown, N.Y., has designed Dannon Fluoride to Go, aimed at kids who drink bottle water and may not get enough fluoride.
10 Snacks & Mini Meals
Despite intense competition and the fact that meals and snacks are becoming almost indistinguishable, convenient ready-to-eat snacks and mini/mobile meal solutions remain two of the largest opportunities in the food market today. Snacking is virtually ubiquitous: half of Americans regularly eat between meals, one-third regularly skip meals, and 10% are grazers (IRI, 2002a). The teen, young-adult, and "latch-key" kid populations— among the heaviest users of hand-held meals and snack foods— will grow throughout the decade, with those age 16–24 topping 38 million by 2010. Sleeping fewer hours, surfing the net, and watching even more TV has created a second very-late-night eating occasion (the first being snacking and desserts in front of the tv during prime time, 7–9 p.m.). And the demand for better-for-you and more-upscale snacks has simply not been met.
Salted snacks are expected to grow from $18.8 billion in 2001 to $25.5 billion in 2006. Potato chips and tortilla chips, which account for just over half of all salty snack sales, are expected to remain strong, reaching sales of $7.0 and $6.0 billion, respectively (Packaged Facts, 2002c).
In addition to packaging innovations and the success of combination chip/dip kits, a number of new creative concepts are emerging. Waffle-shaped Bistro Chips from Good Health Natural Products, Northport, N.Y., are light and airy and are coated with sophisticated flavors like Blue Cheese or Crème Fraiche & Green Onion. Bistro has also introduced all-natural Onion Rings and Veggie Rings, circular puffed chips similar to onion rings with excellent crispness and onion flavor, 30% less fat, and no hydrogenated oils. Pasta chips, like those from La Bici, Peacework, N.Y., in Italian Cheese, Basil Pesto, and Vinegar & Lemon flavors, offer another new direction. All-natural, lower-fat veggie-and-fruit chips with compelling flavors are coming on strong.; examples include Hot & Spicy Asian Veggie Rings from Harvest Bay, Hershey Import Co., Edison, N.J.; Fruit Crunchies from Blackbird Food Co., Santa Barbara, Calif., and Crispy Cinnamon Apple Chips from Good Health Natural Products. Watch for premium chips that impart flavor and health characteristics from premium or exotic oils. Good Health's natural olive oil chips in a variety of savory flavors, including cracked pepper or rosemary, make worthy dinner or snack companions. Crinkle and hand-cut chips, bold flavors, sweet herb flavorings, and 100% certified organic are poised to define new market segments.
Popcorn, seeds, and nuts account for 61% of evening snacks, followed by chips/pretzels (57%) and cookies (50%) (IRI, 2002a). Snack nuts, one of the fastest-growing salty market segments, are expected to reach $2.8 billion in sales by 2006. Flavored and gourmet nuts like Sweet Roasts Honey and Nut and Chocolate Trail Mix from Planters Div. of Kraft, East Hanover, N.J., will help ensure sales. Popcorn, anticipated to reach $2.3 billion by 2006, is also going organic, kettle-style, and toward both sweeter and bold savory styles. One health-oriented product, Grand Pa's Originals, marketed by Grand Pa Brands Co., Erlanger, Kans., combines popcorn and popped soy.
With interest in protein so high, consumers are likely to give meat snacks a second look. Last year, Americans spent $251 million on meat snacks (IRI, 2002b). Tango Clam Jerky from Tengu Co., Santa Fe Springs, Calif., is made from whole "sushi-grade" clams. Primal Spirit Foods, in Moundsville, N.J., has extended its Primal Strips line to include meatless jerky made with vegetables, soy, or shitake mushrooms.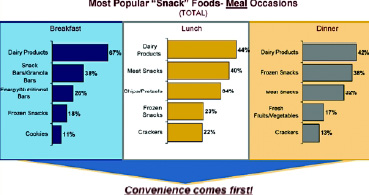 --- PAGE BREAK ---
The total hand-held food market is projected to grow from $2.4 billion in 2001 to $3.4 billion in 2006 (Packaged Facts, 2002d). Sales of hand-held entrees, which include burritos, wraps, breakfast sandwiches, hot pockets, etc., currently represent two-thirds of the hand-held foods market and are projected to grow from $1.6 billion in 2001 to $2.1 billion by 2006 (Packaged Facts, 2002d). As shown in Fig.16, frozen snacks are playing an increasing role in lunch and dinner. Four in ten (42%) of all American households are regular users of "frozen hot snacks and hand-held entrees" (Packaged Facts, 2002b). Major organic marketers like Amy's, Petaluma, Calif., are eying the segment; the company offers frozen hand-held American Burger, Pocket Sandwich, Burrito, and mini-snack lines. Expect frozen thaw-on-the-go sandwiches like Smucker's Uncrustables™ and ethnic items like meat-filled piroshki to find a new niche.
As Americans do more entertaining at home, the snack market and products suited for casual entertaining, like frozen appetizers, will grow. Mini-sized appetizers are also meeting a need as a snack for small children. The appetizer/snack category, including buffalo wings, egg rolls, taquitos, pizza rolls, and standard party hors d'oeuvres, has more than doubled in the past five years and is expected to grow 10% per year, reaching $1.3 billion by 2006 (Packaged Facts, 2002d). Health Is Wealth, Willamstown, N.J., has introduced a breakfast Munchees line of minipoppable meatless ham, egg whites, and cheese in whole-wheat morsels.
Driving Tomorrow's Market, Too
With the current economic and political climate, it's difficult to tell what the future will hold. The ethnic mixture of our customers will change dramatically over the next few years, and demographic shifts in our population will place our marketing emphasis on two distinctly different market opportunities:
young adults age 18–24 and older adults age 50 and older. At the same time, scientists will continue to unravel an unprecedented number of health linkages in foods' role in preventing and treating current conditions, and gender medicine will further identify genuine physiological differences between the sexes.
But whether the market turns affluent or health is hot or not, the same factors driving today's food market—convenience, health, flavor, and fun—although reincarnated, will drive tomorrow's market, too.
by A. Elizabeth Sloan,
Contributing Editor
The author is President, Sloan Trends & Solutions, Inc., P.O. Box 461149, Escondido, CA 92046.