Some of the ways that grains can provide value—or added value—in foods and beverages will be looked at in this month's Ingredients section. However, before going on, we need to take a moment to look at the current grain market, which unfortunately has had some troubles.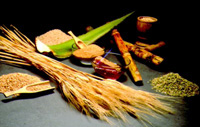 According to the December 2002 issue of Ag Outlook, USDA's Economic Research Service publication, the tightest grain and oilseed supplies in several years are boosting prices and forcing adjustments for end-users this year. A newsletter, Southeastern Solutions (Winter 2002), published by Southeastern Mills, Inc., Rome, Ga., noted that in the past five months, the grain market has advanced well over $1.50 per bushel. Reasons for this rapid price increase range from bad weather in the United States to political positioning worldwide.
In its update of the grain market situation, the newsletter went on to say that the U.S. has experienced the smallest wheat crop in more than 30 years. Many farmers stopped planting wheat in favor of more financially attractive alternatives. Furthermore, insufficient rainfall in the Midwest meant below average yields, with much of the crop not classified as milling quality wheat due to damage and stress. To complicate matters further, the weather was a problem elsewhere in the world, and the grain markets of countries such as Canada, China, and Australia were adversely affected.
What impact, if any, the current grain market situation will have on some of the new ingredient developments addressed in this article—or the impact that some of these new developments will have on the market—is certainly an interesting question to ponder.
For example, developing value-added products using grains—or finding other less traditional uses for grains—may help offset some of the higher costs incurred by the current grain market situation. Furthermore, identifying additional benefits, especially those involving health and functionality—as well as creating new and enhanced grains through ongoing and collaborative research efforts—may also have a positive impact and may eventually even help jumpstart the present market situation. And using different grain combinations to compensate for possible shortages in certain grain areas can further lead to the development of products that offer functionality or health benefits.
In any case, to get to the real "germ" of the matter, these new developments will hopefully plant seeds for the future—they may lead to the development of grains with improved characteristics; to the creation of novel grain-based ingredients; and to the use of grains in a broadening range of formulations, ranging from ethnic products, especially those influenced by Hispanic markets, to new nutraceuticals made with components isolated from grains.
The ingredients discussed in this article will be derived from a variety of grains, including wheat, oats, barley, rice, corn, and others, as well as some related ingredients from seeds such as flax and sunflower. Providing ways to redefine the value of grains, these new developments will focus on a broad range of areas, including functionality; new and expanding applications; broadening health benefits, especially in the nutraceuticals arena; and business or marketing strategies.
Afterward, we'll look at another issue that may also have an impact on the use of grains as carbohydrates in health promoting foods.
--- PAGE BREAK ---
WHEAT
Around 10,000 years ago, man discovered that wheat could be planted, grown, and harvested. And, of course, that discovery had a major impact on civilization. What I find especially interesting is that we continue to make discoveries—or rediscoveries—about the functionality and health benefits of this very important grain, and these advancements, just like 10,000 years ago, will have a positive impact on the directions that our civilization is moving toward.
The new developments discussed in this section I think reflect this. For example, the sharing of wheat genome data may boost research, providing stronger foundations for the development of new wheat varieties and the ingredients that are derived from them. Soft wheat flours with stronger protein strength are being developed. Innovative uses for wheat-based ingredients continue to be found, such as their potential use as a shortening substitute. And scientists, of course, continue to look at their healthy components and their potential value in the development of nutraceuticals.
New wheat flour acts as shortening substitute in bread. A flour from a new waxy durum wheat cultivar, developed by researchers at the USDA-ARS Red River Valley Agricultural Research Center in Fargo, N.D., can reportedly replace vegetable shortenings or other fats used in breads to improve crumb softness, volume, texture, and storage qualities.
According to the researchers, a single bread loaf might contain two tablespoons of shortening, so replacing that with the "waxy wheat" flour would cut back about 26 g of fat or 234 calories. Furthermore, bread made with the flour would not lose the desirable qualities that shortenings confer to the bread.
The flour is said to work best as a shortening substitute when it is used at 20% of a dough formulation. In trials, quarter-pound loaves of the experimental bread had the same softness, texture, and volume as those containing 100% wheat flour and 3.25 g of shortening. In tests for freshness, the bread made with the waxy wheat flour stayed much softer than the bread made with the nonwaxy version after five days of storage.
The researchers credit the flour's fat-replacing capacity to a type of starch found in this particular wheat cultivar. Unlike most bread wheat cultivars which have about 24% amylose and 76% amylopectin, this new cultivar contains an unusual type of starch that is 100% amylopectin.
The researchers have been developing, evaluating, and testing applications for the new flour for about five years. Such a development may give rise to future reduce-fat bread products.
This development was published in the October 2002 issue of Agricultural Research magazine and more information can be obtained from lead researcher Douglas Doehlert, USDA-ARS Red River Valley Agricultural Research Center, Fargo, N.D. (phone 701-239-1413).
--- PAGE BREAK ---
Sharing of wheat genome data may boost research. Proprietary wheat genome data is being made available to public and private researchers without restriction by DuPont Corp., in an effort to significantly boost industry-wide research and enhance nutritional applications of wheat and other major cereal crops.
Such a contribution, consisting of more than 200,000 lines of expressed sequence tags (portions of a gene which can be used to locate an entire gene), will considerably increase the amount of wheat genetic information widely available to scientists across the world, potentially strengthening the collaborative efforts among crop scientists and leading to the development of new and improved wheat varieties.
Sharing the data is expected to enhance the overall understanding of one of agriculture's most complex genomes.
According to Jim Miller, vice president, DuPont Crop Genetics Research & Development, "the wheat genome is significantly larger and more complex than most crops. Making this data available, without restrictions, will bolster many ongoing research efforts and provide a foundation for the development of advanced varieties that benefit growers, breeders, and consumers."
A greater knowledge about the wheat genome will help advance the research of all cereal crops that feed a bulk of the people in the developing world. Furthermore, the knowledge can lead to the development of novel ingredients derived from such grains.
For more information, contact DuPont Corporate Information Center, Chestnut Run Plaza, 705/GS38, Wilmington, DE 19880-0705 (phone 800-441-7515; www1.dupont.com).
Soft but strong wheat flours may have future impact. A new industry test for screening "soft but strong" wheat varieties is being used by Agricultural Research Service scientists at the Soft Wheat Quality Research Unit in Wooster, Ohio. The refined "lactic acid test" for measuring protein strength in soft wheat has found that some modern U.S. eastern soft wheats have enough dough-mixing strength to make bread, while still making fine baked goods. The tests substantiate that it is possible to create a valuable new subclass of soft wheat with strong protein content which can enhance dough mixing strength.
Currently, many cracker-makers have to add hard wheat flour to soft wheat flour to raise the dough-mixing strength that gives crackers their structure. Using 100% soft wheat flour would be preferred, partly to save costs.
The U.S. bread industry currently uses hard wheat. However, if the new soft wheat subclass comes into being, it could change that by competing for some of the bread market, particularly for the flat bread segment, including tortillas and pocket breads.
More information about this development can be obtained from the March 2002 issue of Agricultural Research magazine.
--- PAGE BREAK ---
Sack flours provide convenience. A complete line of packaged flours under the Pillsbury name is available from ADM Milling, a division of Archer Daniels Midland Co., P.O. Box 1470, Decatur, IL 62525 (phone 217-424-5200; www.admworld.com). Milled from a selection of choice wheat to achieve the desired taste, texture, fermentation, mixing tolerance, and absorption, the flours may be used in the production of breads, rolls, pizza crusts, cookies, cakes, pastries, pastas, soups, sauces, and other foodservice or baking applications.
Products in the line include flours derived from spring wheat, hard wheat, and soft wheat varieties, as well as a range of specialty flours. Available in sacks, the products are designed to provide high quality and convenience. The brand name, specific uses, and description of each flour are described in an 8-p brochure, "Your Guide to Pillsbury Flours."
Many of the flours are tailored for specific applications. For example, are you interested in pizza? High Gluten is suitable for Italian Crust Pizzas; XXX Patent for Greek pizza crusts and moderately thick and chewy pizza crusts; and H&R All Purpose for a Chicago-style thick crust and dessert pizzas.
Some other examples of brands and their specific applications include Evenloaf (Italian and hearth breads and rolls), Best Bakers Special (white & variety breads), Prairie Rose Pastry (cookies, crackers, pie crusts, pretzels, and cake doughnuts), Kanabec (ethnic breads), and Semolina (pasta).
One recent addition to the line of flours is milled exclusively for today's artisan baker. Called Golden Loaf Artisan Bread Flour, the hard wheat flour is said to combine excellent fermentation tolerance and oven spring with easy-to-work dough-handling properties. It is also enriched and contains malted barley flour.
ADM Milling, 800 W. 110 St., Overland Park, KS 66210 (phone 913-491-9400; fax 913-491-9610) operates grain processing facilities throughout the U.S., Canada, Mexico, Caribbean, and the United Kingdom, producing wheat, corn, rice, and oat products, in addition to packaged mixes and ingredients. The company, said to be the world's largest processor of wheat, specializes in high-gluten, all-purpose, pastry, and durum flours. In addition, it produces a wide variety of pastry fillings, icings, dry bakery mixes, dry milled corn products, and other products.
Name change reflects greater focus on specialty wheat-based ingredients. Innovative wheat-based ingredients for use in a broad range of food categories are available from MGP Ingredients (formerly Midwest Grain Products, Inc.), 1300 Main St., Atchison, KS 66002 (phone 913-367-1480; fax 913-367-0192). The name change, which became effective on October 10, 2002, was designed to reflect a greater focus on the development, production, and marketing of specialty proteins and starches derived from wheat which have application in a broad range of food applications.
Among the highlights in the company's portfolio is a textured wheat protein called Wheatex™ which is said to successfully mimic the textural characteristics and appearance of meat, fish, and poultry products. It is available in a variety of sizes and colors and can be easily formed into patties, links, or other shapes. The ingredient has a neutral taste and excellent water-binding capacities.
The company has also developed a line of wheat protein isolates for frozen dough, frozen par-baked, and freshly baked goods. Called Arise™, the wheat protein isolates can reportedly help improve dough machinability. The film forming properties of these products can help control water migration while improving product softness, freshness, and shelf life.
--- PAGE BREAK ---
Joint milling operation formed. A wheat milling joint venture under the name Horizon Milling LLC was formed in January 2002 by CHS Cooperatives and Cargill, Inc. The venture combines the flour milling expertise of both organizations. With CHS contributing five mills and Cargill 16 mills, the new company anticipates a combined daily flour milling capacity of 293,000 cwt.
The combined resources of Horizon Milling are expected to create broader, more reliable wheat origination options, as well as enhanced distribution, and increased product development to meet special customer needs.
Furthermore, on its Web site, the company provides a news update on the most current events affecting the grain industry, such as the growing popularity of tortillas and tortilla chips. According to the Tortilla Industry Association, the entire tortilla market was $4.4 billion in 2000 and is expected to reach $5.7 billion by the end of 2002. Tortilla consumption is likely to outpace combined consumption of all types of ethnic and specialty bread products.
For more information about the company's capabilities, write to Horizon Milling LLC, a Cargill Foods Affiliate, P.O. Box 9300, MS 61, Minneapolis, MN 55440-9300 (phone 800-742-4506; fax 952-742-4050; www.horizonmilling.com).
Wheats Foods Council presents symposium proceedings. The proceedings for a symposium, "Grains for the Health of It,"can be found on the Web site of the Wheat Foods Council, a national nonprofit organization formed to help increase awareness of dietary grains as an essential component to a healthy diet.
The symposium focused on increasing grains and whole grains consumption as a strategy for health. Papers addressed the health effects of newly recognized grain constituents, including antioxidants, phenolics, lignans, and phytochemicals; grain physiology and chemistry; the anatomy of a whole grain health claim; and how do whole and enriched grains measure up as functional foods. For complete papers, visit www.wheatfoods.org.
OATS
Oats may be used in a variety of foods that we are familiar with—oatmeal, oatmeal cookies, breads, granola, and snack bars, just to name a few. Because of its potential health benefits, especially its cholesterol-lowering abilities recognized by the Food and Drug Administration, oats may find increasing use in a broader range of applications, such as beverage formulations, fortified cookies, nutraceutical foods, and even supplements.
In addition to its health benefits, oats offer functionality. Toasted oats can add a nutty taste and crunchy texture to salads, snacks, and other foods. Oat flour may be used as a thickener for soups, gravies, sauces, and puddings, and is suitable as a coating for fish, meats, or poultry. And other uses are being looked at as well. For example, oat oil may be used as an alternative for shortenings in breads.
We're all probably familiar with oat bran, but different components as well as forms of oats are being looked at more closely for future application.
The following are some of the novel and diverse ways that the industry is sowing its wild oats:
--- PAGE BREAK ---
FDA amends health claim. A health claim on the relationship between beta-glucan soluble fiber from whole oat sources and reduced coronary heart disease (CHD) has been recently amended by FDA to include an additional eligible source of whole oat beta-glucan soluble fiber.
Previously, FDA concluded that there was significant scientific agreement that a relationship exists between the beta-glucan soluble fiber of certain whole oat sources and the reduction of risk of CHD by lowering blood cholesterol levels. Now, in the amended ruling, FDA concluded, based on publicly available scientific evidence, that in addition to rolled oats, oat bran, and whole oat flour, the soluble fraction of alpha-amylase hydrolyzed oat bran or whole oat flour with a beta-glucan content up to 10% and not less than that of the starting material is an appropriate source of beta-glucan soluble fiber for the health claim.
Rolled oat ingredient boosts protein levels. Rolled oat ingredient called Proti-Oats™ is said to look and taste like traditional rolled oats, but contains 25–50% soy or whey protein. The rolled ingredient, which maintains its shape, color, and flavor through the rigors of heat and extrusion, has been developed by Nuvex Ingredients, Inc., P.O. Box 158, Blue Earth, MN 56013 (phone 507-526-4362; fax 507-526-2838; www.nuvexingredients.com).
According to the manufacturer, the ingredient may be used as an alternative to traditional rolled oats in a variety of applications, including clusters, cookies, muffins, oatmeal, granola bars and granola, cereals, trail mixes, toppings, and other products. It is designed to boost protein levels, providing, for example, 20 g of protein/55-g serving in clusters and granola cereal, 8 g of protein/28-g serving in chewy granola bars, and even higher levels of protein per serving in energy bars.
Available in toasted or untoasted varieties, the ingredient can incorporate vitamins, fruit powders, and calcium. Flavors such as cocoa, banana, and strawberry are offered, as well as a variety of popular shapes and colors.
Ingredient provides high concentration of oat bran. An oat bran concentrate, suitable for use in capsules, bars, chewables, drink mixes, and health-promoting foods, has been developed and marketed under the name OatVantage™ by Nurture, Inc., 28 S. Waterloo Rd., Ste. 100, Devon, PA 19333 (phone 610-989-0945; fax 610-989-0991; www.nurtureinc.com).
The manufacturer describes the ingredient as oat bran concentrated to 50% oat beta-glucan (soluble fiber) by weight. Derived from oats, it is available as a beige free-flowing powder which has a neutral taste and is water soluble. Use of 1.5 g of the oat bran concentrate in the formulation may qualify for the FDA oat heart health claim and may also offer benefits for hypertension, diabetes, and obesity.
The oat bran concentrate is made by a process which allows for the economical concentration of beta-glucan from oats while maintaining its benefits. The water-based processing technology will not damage the oat bran or its co-products. Since 1992, Nuture, Inc., has focused on research and development technologies for the manufacture of value-added components of oats, including oat oil, oat protein, and oat beta-glucan.
Beverages containing oat bran lowers cholesterol. A series of new beverage formulations containing an oat-derived soluble dietary fiber that reduces the risk of coronary heart disease and lowers blood cholesterol has been developed by Arthur D. Little (ADL), Cambridge, Mass., in conjunction with FutureCeuticals, Inc., a subsidiary of Van Drunen Farms, Momence, Ill.
--- PAGE BREAK ---
The beverage formulations are said to be formulated with Nutrim, the newest generation of oat bran which features a highly concentrated amount of oat beta -glucan, approved by FDA as the component in oats that lowers cholesterol. The ingredient was originally developed by the U.S. Dept. of Agriculture as a food additive to act as a healthy replacement for butter, oil, cream, and other fats.
The beverages contain sufficient amounts of oat beta-glucan to meet the requirements of the health claim, while having the equivalent flavor, mouthfeel, and texture as the leading meal replacement and smoothie beverages currently in the marketplace.
More information about the development can be obtained from Arthur D. Little, Inc., Acorn Park, Cambridge, MA 02140-2390 (phone 617-498-5000; fax 617-498-7200; www.adl.com). Or from FutureCeuticals, a subsidiary of Van Drunen Farms, 300 W.6th St., Momence, IL 60954-0009 (phone 815-472-3100; fax 815-472-3850; www.vandrunenfarms.com).
Oatmeal cookie, anyone? When thinking about foods formulated with oats or oat flavors, oatmeal cookies are certainly one of the more popular applications. For those interested in that particular product, there have been some interesting developments.
A functional food prototype, oatmeal raisin cookies made with phytosterol esters, was showcased at the American Dietetic Association Food & Nutrition Conference 2002, October 19–22, by Cargill Health & Food Technologies, P.O. Box 5625, Minneapolis, MN 55440 (phone 952-742-6000; fax 952-742-7393; www.cargill.com). The cookie was designed to demonstrate how new avenues for health-promoting foods can be created using phytosterol esters. The ingredient can be consumed regularly as part of a healthy diet and can be used as a dietary option for lowering cholesterol. Also, FDA has approved the use of a cardiovascular health claim for some foods enriched with phytosterol esters.
Two new oatmeal cookie flavors—Natural Oatmeal Raisin Cookie Flavor and Natural/Artificial Oatmeal Spice Flavor —have been developed by Ottens Flavors, 7800 Holstein Ave., Philadelphia, PA 19153 (phone 215-365-7800; fax 215-365-7801). The flavors, which are said to offer a hint of maple and brown sugar as well as slight grainy and toasted notes, may be used in a variety of cereal and baked goods applications, including cookies, snack bars, instant oatmeal, and meal replacement products.
Customized formulas create a variety of textures. Toasted oats and grains are provided by Solvex Foods, P.O. Box 2178, Collegedale, TN 37315 (phone 423-396-3145; fax 423-396-3402; www.sovex.com). When used as cereal or snack inlays, toasted oats and grains and granola clusters are said to create exciting blends and variety in texture. Toasted oats, for example, impart a nutty taste and crunchy texture.
The company specializes in industrial cereal ingredients, granola clusters, private-label cereals, contract manufacturing, customized product creation, flavored and toasted grains, and research and development assistance. Potential applications for its customized formulas using grain-based ingredients and inclusions include bread bases and other bakery products, doughnut and dessert toppings, cereals, and other products.
--- PAGE BREAK ---
Oat oil offers potential use in breads. Oat oil, which makes up about 6% of most dehulled oats, is rarely sold commercially but, according to USDA researchers, the ingredient may offer potential value in bakery products.
The oil is said to be rich in phospholipids and glycolipids, which when combined with water, can lubricate bread dough to help it rise evenly and bake into a uniformly soft and springy loaf. The oil may be used as an alternative to vegetable shortenings and other such additives to increase loaf size, improve texture, and lengthen the shelf life of bread.
Furthermore, the researchers note that bread made with oat oil or its components could become an alternative dietary staple for people who would rather avoid vegetable shortenings which contain trans fatty acids that some studies have associated with heart disease.
Information about this development was published in a science update in the May 2001 issue of Agricultural Research magazine.
Oat products offer sweetener alternative. A line of organic sweeteners derived from oats are available from Sunrich Food Group, Inc., P.O. Box 128, Hope, MN 56046 (phone 800-297-5997; fax 507-451-8201; www.sunrich.com). Oat maltodextrins and oat sweeteners may be used as an alternative to traditional powdered sweeteners. The products, marketed under the name Oatsweet, have Dextrose Equivalent (DE) levels of 10, 24, and 42. Custom blends offer 10–42 DE values. Potential applications, depending on product, include baked goods, fillings, frozen desserts, beverages, and bulking or stabilizing agents. Oat sweeteners have the additional advantage of containing high levels of beta-glucan which has proven heart health benefits.
The company also offers other oat-derived products, including rolled oats, oat bran, and whole oat flour. Applications for these products include baby foods, cereals, cookies, muffins, granola, and snack foods.
National Oatmeal Month Promoted. And, finally, let's not forget: January 2003 was National Oatmeal Month, earning that distinction because January is reportedly the month in which Americans buy the most oatmeal. To help celebrate, the Quaker Oats Co. has included on its Web site (www.quakeroatmeal.com) a 31-day calendar with each day marking a different topping idea.
Last month's Ingredients section discussed fruits and vegetables and it's quite interesting, when you look over the calendar, how many fruits and combinations of fruits can be incorporated into oatmeal. To give you an idea, some examples include chopped dried figs, mashed ripe banana, warm apple pie filling or apple sauce, cranberries, blueberries, pears, cherry preserves, apricots, orange marmalade, peaches, pineapple, raspberries, raisins, sliced kiwi, and many others. Many of these fruits are used in combination with other ingredients such as wheat germ, cinnamon, yogurt, brown sugar, nutmeg, almonds, and walnuts, and some unusual types (peanut butter, cottage cheese, pancake syrup, eggnog, and even brewers yeast.
Also on the site can be found a wide range of facts about oatmeal and recipes such as Mediterranean Meat Loaf, Chili Cheese Oat Biscuits, Cinnamon Coffeecake Muffins, and Double Berry Whole-Grain Pancakes.
--- PAGE BREAK ---
BARLEY
According to the National Barley Foods Council, barley is used commercially for animal feed, to produce malt for beer production, for seed, and as an ingredient in human food applications. In the U.S., nearly 55% of the crop is used for animal feed, about 40% for malt production, and about 3% for seed. That leaves about 2% for human food. But that consumption level may start rising in the near future for a number of reasons.
First, there has been an increased effort to get more whole grains into the diet. Barley is a very rich source of antioxidants, vitamins, fiber, protein, and other nutrients. Improved processing methods may also help in retaining the nutritional value of barley which previously might have been lost or reduced.
Second, agricultural researchers, plant breeders, and farmers continue to make progress in improving different barley varieties, enhancing traits that will prove useful in the development of health-promoting foods.
Third, barley is recognized as having a higher beta-glucan content than oats, which can be effective in lowering serum cholesterol levels. It's quite possible that someday barley may have its own health claim.
Fourth, work is being done to isolate and concentrate components of barley which may find use in the creation of novel nutraceuticals.
Fifth, in addition to its potential health value, barley offers a variety of functionality benefits. Because of barley's neutral flavor and texture properties, it may be added to a variety of dishes, including soups, sausages, crackers, casseroles, hot and cold ready-to-eat cereals, snacks, baked goods, and granola. Furthermore, it can be milled into various fractions, producing different cuts, pearls, flours, grits, and flakes.
As a functional food ingredient, barley may be used as a soluble fiber or as a fat replacer. Barley flours may also be added to flours from other grains.
Here are some of the significant barley developments. Keep in mind how they may have a positive impact on the overall consumption of this grain.
Barley-based ingredient aids in glucose transporter activity. A barley-based ingredient that increases the non-insulin dependent glucose uptake in peripheral muscle tissue has been developed and marketed under the name Maltrim by FutureCeuticals, 300 W. 6th St., Momence, IL 60954-0009 (phone 888-472-3545; fax 815472-3850).
The ingredient is said to be a product of liberation and activation of low-molecular weight active substances hidden in a macromolecular matrix of barley seed proteins that actively increases the body's Glut-4 (glucose transporter) activity. The product is useful in maintaining healthy blood glucose levels and aids in weight management.
In addition to blood glucose management, it may also be effective in decreasing total lipid levels in blood triglycerides and cholesterol with an improvement in the HDL/LDL ratio.
The ingredient may be used in health bars or beverages, or as a stand-alone supplement in capsules and tablets.
--- PAGE BREAK ---
Developing bioactive components from barley. Novel bioactive components, especially those derived from cereal grains such as barley, are being developed for use in foods and nutraceuticals by PolyCell Technologies, a bioscience technology company, P.O. Box 552, Crookston, MN 56716 (www.poly-cell.com).
In a paper presented at the symposium, "Grains for the Health of It," (see www.wheatfoods.org), Tom Jorgens, president of the company, discussed some of these products. The company is reportedly working with several international partners to develop leading-edge methods to extract and apply selective bioactive components of barley for a range of nutrition and health uses. These products include a beta-glucan isolate (called Glucagel™) that is in the 75% range, a high beta-glucan concentrate (23%), a barley/bran concentrate, and a waxy starch concentrate.
The paper discussed several clinical studies that have shown the effectiveness of barley beta-glucans in reducing LDL cholesterol (typically 7–13%), and helping to modulate blood sugar levels by slowing the rate of carbohydrate digestion and glucose absorption. New studies are also showing that barley beta- glucans can stimulate immune function and can increase short-chain fatty acid production through fermentation in the colon. Furthermore, barley beta-glucans are a significant source of antioxidant activity and can provide a satiety effect that can contribute to weight loss.
Because of the results of these studies, there may be an effort to establish a barley health claim comparable to the oat health claim.
Rediscovery of hulless barley. According to the National Barley Foods Council, hulless barley is gaining recognition as a suitable choice for food applications. Hulless barley grows with the hulls or outer coverings loosely adhering to the kernel. When it is harvested, the hulls or outer coverings typically fall off and only a minimum amount of cleaning is required prior to processing the kernels for human food. Because hulless barley requires very little cleaning after it is harvested, the entire kernel may be used, including the nutrient-rich bran and germ. Food products made from hulless barley, such as barley flour, flakes, and grits, are considered whole-grain foods.
Hulless barley varieties is one of the products available from Minnesota Grain, Inc., 1380 Corporate Center Curve, Ste. 105, Eagan, MN 55121-1200 (phone 651-681-1460; fax 651-681-7975; www.mngrain.com). These varieties may be utilized as a source of cholesterol-lowering beta-glucans, which can be incorporated into a number of foods, including breads, ready-to-eat hot and cold cereals, muffins, cookie, biscuits, noodles, and granola bars. Hull-less barley can be ground, pearled, cracked, steamed, flaked, or cut into grits.
The company specializes in barley products, (for example, hulled and hulless, pearled, flour, meal, flakes, and grits) but also processes a number of other grain varieties, including wheat, rye, and triticale. Recently, it added whole grain flours to its portfolio. Many of these products are certified as organic.
Committee sets goals for barley industry The Barley Foods Research Steering Committee was assembled by the U.S. barley industry in an effort to seek conclusive documentation of barley's important health benefits. The committee, consisting of barley producers, nutrition professionals, and scientists representing private industry, the U.S. Dept. of Agriculture, and academia, identified several goals. These include compile and review existing barley research; seek new funding to conduct additional barley foods research; identify new research priorities; and after appropriate scientific consensus has been reached, seek FDA approval to use specific health claims on food product containing barley.
--- PAGE BREAK ---
Nutraceutical composition isolated from barley seed. A method of treating ulcerative colitis using substances isolated from the germinated seed of a barley or other member of a grass family is the subject of U.S Patent, 6,475,533 issued November 5, 2002, and assigned to Tokyo-based Kirin Beer Kabushiki Kaisha. Containing proteins and insoluble dietary fibers, the substances may be used as an active ingredient in pharmaceutical or food compositions.
Barley has a wide range of uses. Being of Polish descent, I was practically raised on foods such as mushroom barley soup or barley sausage. But barley, especially because of its functionality and health properties, is a suitable ingredient in a wide range of dishes, including breakfast foods, baked goods, vegetarian meals, salads, and main or side dishes. The Web site of the National Barley Foods Council (www.barleyfoods.org) provides a wide range of recipes using pearl barley, flour, and flakes. Some creative examples include Barley Pumpkin Waffles, Tuna Barley Garden Salad, Barley Fruit Muffins, Turkey Barley Stir Fry, Barley-Stuffed Mushrooms, Savory Barley Bean Bake, Barley Cheddar Chowder, and many others.
RICE
The February 2001 Ingredients section, the subject of which was rice, noted that the uses of rice as a food ingredient keep expanding, with its functional and health benefits actively promoted. Today, this is more true than ever, with a number of value-added products being created from rice; with scientists looking at ways to more fully utilize rice's different components, both in nutraceutical applications as well as in foods requiring special functionality properties; and with rice finding a special place in a broad range of applications, especially in the development of ethnic foods.
The developments that we will be looking at also briefly underscores the continuing versatility of rice and its potential impact in the development of future foods. The development of a rice bread for individuals who have an intolerance for wheat gluten. French fries and other portable foods made with rice or rice and grain combinations. Rice bran that may help control blood glucose. A rice starch that can increase yield and quality in poultry products. A rice bran used as a base for beverages. These are only a few examples that might stir the imagination.
Rice starch increases yield and quality in poultry products. A rice starch that binds water in poultry products through vacuum tumbling or injection has been developed by A&B Ingredients, Inc., 24 Spielman Rd., Fairfield, NJ 07004 (phone 973-227-1390; fax 973-227-0172; www.abingredients.com).
Called Remyline AX-DR, the starch is said to produce juicier, better-tasting meat and a 10% greater yield. It has also been used to increase yield in liver, kidney, and shrimp.
Testing has shown that rice starches have an excellent water-binding capacity, a very fast thickening speed, and a creamy mouthfeel. This ingredient—a native, waxy, unmodified rice starch—demonstrates those functional properties and acts like a chemically modified starch. Under static conditions, two swelling phases take place. The initial swelling starts at 62°C (145°F) and at this point the starch will bind 20 times its weight in water. The second swelling begins at 75°C (167°F) and peaks at 85°C (185°F), after which the starch will bind up to 45 times its weight in water. Furthermore, the rice starch is said to be extremely freeze/thaw stable, has a clean flavor, and a low gelatinization temperature. Easy to digest and naturally hypoallergenic, it can offer meat and poultry processors a cost-effective solution.
--- PAGE BREAK ---
According to the manufacturer, the functional advantages of rice starch are due primarily to its small granule size (2–8 microns), compared to those of other starches: corn (15–25 microns), tapioca (20–35 microns), and potato (15–100 microns). Using rice starch helps to eliminate the "gel pockets" that are associated with starches of a larger particle size. The small granule size enables the rice starch to penetrate and bind water deep within the muscle fiber, instead of forming a film on the surface.
To maximize the yield potential of the rice-derived starch, a high shear must be used to disperse the rice starch into the marinade. Gil Bakal, Managing Director of A&B Ingredients, notes, "Because the granules are so small, rice starch needs more shear to separate and disperse, requiring a high shear of about five minutes. This makes for better starch pickup and increases penetration into the muscle. Best results are obtained by adding the rice starch to water and hydrating with the phosphates using a high-shear mixer prior to adding seasonings, proteins, and other thickeners."
New line of rice contains less phytic acid. Rice grains containing less phytic acid have been developed by researchers at the Dale Bumpers National Rice Center in Stuttgart, Ark. Phytic acid which is poorly digested tends to bind to minerals such as iron, calcium, magnesium, and zinc, making them less available to the human body. People in nations with primarily grain-based diets could use less of this compound in their food, and livestock could still be healthy with less of it in their feed.
The researchers produced new germplasm for creating the improved variety of rice. The resulting plant reportedly contains only half the phytic acid of its parent, providing enhanced nutritional value. Although there is less phytic acid in the new line of rice, it has more phosphorus available for digestion and absorption by the body.
The researchers hope studies will be held where volunteers will eat meals prepared with the new rice to see whether their mineral absorption increases.  Previously, volunteers who ate tortillas made with low-phytic-acid corn flour absorbed 50% more iron than those who ate tortillas prepared with corn flour. Similar results are hoped for with the rice.
The research was published in the September 2002 issue of Agricultural Research magazine.
Rice bran may help control blood glucose. A double-blind crossover study has shown that supplementing the diet with products derived from specially processed stabilized rice bran derivatives may help lower blood sugar levels in both Type I and Type II diabetics. Results of the clinical trial were published in the March 2002 issue of the Journal of Nutritional Biochemistry.
Researchers at Advanced Medical Research in Madison, Wis., found that by consuming 20 g per day of the stabilized rice bran derivatives (RiSolubles® orRiceMucil®) for 60 days, Type I and Type II diabetics were able to lower their blood sugar levels by 30% and 20%, respectively. The researchers noted that one out of four diabetics in the 57-subject study lowered their daily dosage of medication by 30–60% just by adding stabilized rice bran derivatives to their daily diet. Moreover,while not all the subjects were able to reduce their hyperglycemic medications, all of the subjects were able to maintain a lower blood glucose level on these regimens as compared to their respective placebo groups.
--- PAGE BREAK ---
In addition, the study found that the stabilized rice bran derivatives were able to lower total serum cholesterol and total triglyceride levels between 5% and 15% in subjects with marginally elevated cholesterol. Not only was there a decrease in blood glucose levels, but there was a lowering of the serum lipid parameters in these diabetic patients.
The rice-derived ingredients used in the study were manufactured by The RiceX Co.,1241 Hawk's Flight Court, Ste. 103, El Dorado Hills, CA 95762 (phone 916-933-3000; fax 916-933-3232). The company holds a patent, "A Method for Treating Hyperclycemia, Hypoglycemia, and Diabetes" (U.S. Patent 6,126,943) and NutraStar, Inc. is the licensee of the rights to that patent.
Creating French fries made from rice. A method for making French fries from mixtures of rice flour have been developed by a USDA-ARS food technologist Ranjit S. Kadan. The approach involves processing mixtures of flour from different rice varieties into a dough that can be extruded into a French fry shape, precooked in hot oil, and then stored in a freezer until use. Studies of the effects of amylose and protein in short-, medium-, and long-grain rices enabled the researcher to refine the properties of rice fries so that they more closely mimicked those of potato fries.
Depending on the flour mixture, the rice fries in tests reportedly absorbed 25-50% less fat from oil during cooking than potato fries. The fries, which can be fortified with vitamins, minerals, soy, rice protein concentrate, and other nutrients, would offer several desirable characteristics, such as excellent storage, easy digestibility, mild flavor, and hypoallergencity.
In addition to his rice fries, Kadan is interested in developing a whole rice bread for individuals who have an intolerance to wheat gluten. The rice bread that the researcher is working on would not contain any wheat gluten, but would still possess the elasticity and viscosity that gluten provides.
For more information, see the article published in the May2002 issue of Agricultural Research magazine (www.ars.usda.gov).
Rice bran finds expanding uses in nutraceutical applications. Expanding the uses of rice bran extract in nutraceutical applications has been the focus of several developments by Ribus, Inc., 20 S. Central Ave., #106, St. Louis, MO 63105 (phone 314-727-4287; fax 314-727-1199; www.ribus.com).
--- PAGE BREAK ---
For example, an enzymatically stabilized rice bran has been used as a base for beverages that provide comparable nutrition to soy without drawbacks. The rice bran-based beverage is high in naturally occurring B-vitamins, gamma-oryzinol, tocopherols and tocotrienols, choline, inositol, calcium, potassium, and other phyto-antioxidants. The base can also be supplemented with vitamins A, C, and D, or other desirable nutrients. The product received a Value-Added Agri Grant from the State of Missouri and the manufacturer is currently working with existing and new beverage marketers interested in a patented rice bran beverage base and retail ready product.
A product called Nu-Rice®ceutical was developed that delivers the nutritional and functional properties of rice bran for use in tablet-style supplements or as an ingredient in fortified foods. The product contains a high amount of protein with a complete essential amino acid profile.
Also, nutritional components of rice bran were isolated for use in organic poultry/livestock feed.
Rice starch prevents cereal sogginess. A rice starch that can be used by product developers to prevent cereal sogginess without changing the cereal's original texture is available from A&B Ingredients, Inc., 24 Spielman Rd., Fairfield, NJ 07004 (phone 973-227-1390; fax 973-227-0172; www.abingredients.com).
Called Remy BCF, the starch is said to set quickly once the product comes out of the extruder. This traps the air in the extruded material for even distribution and optimal porosity. The bubble walls that are created during the extrusion process can create barriers for water and oil uptake into the extruded material.
In high-moisture extruded systems, the starch can improve the bowl life of rice-, wheat, and corn-based cereals. The addition of 5–10% of the starch will keep cereals crunchy for a longer period of time.
Breakfast food combines milk and grain. A frozen breakfast food product containing real fluid milk infused into grains such as rice, wheat, oats, or fixtures of the three has been developed by Healthy GrainFoods, 4125 W. Yorkshire Lane, Northbrook, IL 60062 (phone 847-272-5576). Called Cereal and Milk-To-Go, the shaped product offers benefits such as nutrition, convenience, and portability.
The milk-infused cereal grains are shaped into finger foods such as French fries or a bagel which can then be filled with a scoop of real fruit. The products only require heating in the microwave or toaster.
Shaped grain products developed by the company include rice fries, rice snacks, and rice entree boats, pockets, and casseroles.
Maltodextrin derived from rice. A rice maltodextrin for use in a variety of applications was recently introduced and marketed under the name ArroSweet by Sunrich Food Group, Inc., 3824 SW 93rd St., Hope, MN 56046 (phone 800-297-5997; fax 507-451-8201; www.sunrich.com).
A rice maltodextrin with a dextrose equivalent of 10 (ArroSweet 10) offers a variety of functionality properties, including film-forming ability and low hygroscopicity. It may be used as a flavor carrier, bulking agent, fat replacer, and spray drying aid. An agglomerated version (Agglomerated ArroSweet 10) is also available. Both products are hypoallergenic, kosher certified, and organic.
--- PAGE BREAK ---
Rice may be combined with soy in a nugget. A soy protein rice nugget combining the benefits of soy and the functionality of crisp rice has been developed by The Weetabix Co., Inc., 20 Cameron St., Clinton, MA 01510-0270 (phone 978-365-7268; fax 978-365-7268).
The value-added ingredient, designed for use in high-energy nutrition bars, is said to deliver 50% soy protein with functionality similar to traditional crisp rice.
In addition to its desirable nutritional profile, the ingredient offers increased bulk, improved texture, and manufacturing ease.
CORN
The production of food reportedly uses less than 15% of the corn grown in the U.S. Of that 15%, more than half of it is used in nutritive sweeteners. However, corn's potential may be growing for several reasons.
The increasing interest in Hispanic-style foods will have a positive impact. A variety of corn-based ingredients for use in the production of these foods are available. For example, a cornbread mix with a Mexican-style flavor has been developed. Corn masa flour, a major ingredient in snack foods, may find new opportunities in these foods, as well as take advantage of the fact that tortillas and tortilla chips are currently growing at very fast rates, partly because of the Hispanic trend.
Starches have always offered functionality. But increasingly starches are being developed that offer potential health benefits. In particular, resistant starch derived from high-amylose corn can help lower the glycemic response and provide probiotic and prebiotic benefits.
Cornbread mix has Mexican-style flavor. In response to the growing Hispanic food trend, a Mexican-Style Cornbread Mix was recently introduced by Southeastern Mills, Inc., P.O. Box 908, Rome, GA 30162 (phone 706-291-6528; fax 706-295-5411). The cornbread mix, which is flavored with jalapeño peppers, red and green bell peppers, and Cheddar cheese, requires only the addition of milk and egg. It is said to bake up crumbly and tender, with a chili kick that is not too hot. The mix can also be varied to add extra flavor and nutrition and may be used to create recipes such as Southeastern Tamale Pie.
Southeastern Mills started out as contract bakers and millers of flour, but over its 70-year-history, evolved into a company that produces a full range of value-added products and commodities, including batters and breadings, seasonings and marinades, specialty baking mixes, sauce and gravy mixes, and flour, yellow and white corn meal, and grits.
Corn masa flour finds new opportunities in Hispanic-style foods. More than 50 varieties of corn masa flour for use in the preparation of tortillas, taco shells, tamales, tostadas, taquitos, chips, extruded snack foods, and other related corn products are available from Azteca Milling LP, a division of Gruma Corp., 1159 Cottonwood Lane, #100, Irving, TX 75038 (phone 972-232-5300; fax 972-232-5371).
--- PAGE BREAK ---
Formulation sheets from the company describe specific applications in baked food technology that incorporate corn-derived ingredients.
For example, corn masa starch may be used to provide enhanced texture, flavor, and color in a variety of applications, including corn rolls, corn pan bread, baking powder corn biscuits, and corn pancakes. A modified corn flour may be used to formulate Mexican-style low-fat brownies, Mexican low-fat cheesecake, and Mexican soft pretzels, just to name a few. With the growing popularity of Hispanic foods, applications made with some of these corn-derived ingredients may find a renewed interest.
Facility provides masa flour made from European corn. A masa flour plant in the United Kingdom has been recently opened by Cargill Dry Corn Products. The new plant, which opened in Liverpool, will provide European customers with masa flour, made from European corn. Masa flour is a major ingredient in snack foods, particularly tortilla chips.
According to a company representative, "European masa flour customers will continue to benefit from Cargill's existing expertise in producing a high-quality masa flour with the advantage of having a European-based supplier."
While masa flour traditionally has been imported from the U.S., increasing European Union demand for the product led Cargill to the decision to invest in the facility.
Organic starches available. Functional native waxy maize-based starches for use in organic foods are available from National Starch and Chemical Co., Information Center, One Matrix Drive, Monroe, NJ 08831 (phone 800-797-4992; fax 609-409-5699; www.foodstarch.com). The specialty starches, which received Quality Assurance International certification, are said to impart a smooth, short, heavy-bodied texture and do not set to a gel.
Novation 9230 serves well for aseptic puddings, dips, sauces, and salad dressings because it can withstand high temperatures, high shear, or low-pH food processing systems.
Novation 9260 is suitable for foods such as retorted soups and gravies as well as cook-up, home-style preparations. This ingredient exhibits low to moderate tolerance to temperature and shear and shear at neutral pH.
Food producers who want a 100% organic product label can use these starches as ingredients.
Resistant starches offer potential health benefits. National Starch and Chemical Co., Bridgewater, N.J., recently acquired the resistant starch business, including the worldwide rights to the technology and intellectual property portfolio, from Penford Australia Ltd. The technology platform encompasses resistant starch products for human nutrition, including prebiotic and probiotic effects, colonic health, fat metabolism, glycemic response, weight regulation, and treatment and prevention of disease. The acquisition, combined with its existing proprietary technology portfolio, enables the company to more rapidly grow its already successful human nutrition platform.
National Starch's line of high-amylose resistant starches derived from corn (Novelose) resist digestion by human digestive enzymes and ferment in the large intestine. Human clinical studies have shown that these starches act physiologically as fiber with significantly higher butyrate production than other fibers typically achieve. Butyrate is the preferred energy source for healthy colon cells and has been associated with anti-cancer benefits.
Resistant starches also lower the glycemic response when used as a substitute for flour and other rapidly digested carbohydrates. Incorporating resistant starch into foods such as breads, baked goods, and other processed foods can lower the glycemic response while maintaining the high quality and taste of those foods. Research has indicated that moderating the glycemic response of carbohydrates may be important in reducing the risk of numerous health conditions, such as diabetes, heart disease, and obesity.
--- PAGE BREAK ---
SEEDS
Two seed products, sunflower and flax, are playing an increasingly important role in product formulation. Here are some recent developments:
Sunflower. Studies have identified compounds present in sunflower seeds as offering a variety of potential health benefits, including protection against heart disease and cancer, as well as playing a role in memory and cognitive functions. One study, completed in March 2001 at Virginia Polytechnic Institute and State University, suggests that the sunflower kernel is a good source of phytochemicals. Samples of sunflower kernels, along with a variety of nuts, were analyzed to compare levels of specific phytochemicals present in each. The study found that sunflower seeds contain high levels of tocopherols (vitamin E), choline, betaine, and phenolic acids, as compared to other nuts. In addition, the kernel is a good source of lignans and arginine.
Not surprising, new products are being developed that are using sunflower seeds or being derived from sunflower seeds.
For example, a spreadable sunflower seed butter called Sunbutter was developed in a joint effort between USDA's Agricultural Research Service and Red River Commodities, Inc., 501 42nd St. NW, Fargo, ND 58102 (phone 701-282-2600; fax 701-282-5325; www.redriv.com). The product, which was introduced at the 2002 IFT Annual Meeting & FOOD EXPO®, may be used as an alternative to peanut butter in formulations. The finished product is said to look similar to peanut butter and has a mild yet distinctive sunflower seed flavor.
Also, sunflower kernels coated with chocolate were recently introduced into the candy market by Kimmie Candy, Sacramento, Calif. Called Sunbursts, the candy may be used to decorate cakes, cookies, ice cream, and other confections. Furthermore, the product is available in customized colors to suit holidays, weddings, or team colors for athletic events.
A healthy sunflower oil called NuSun offers a trans-free oil alternative for industrial uses. The mid-level oleic oil is predominantly monounsaturated (65%), is low in saturated fat (9%), and provides a source of linoleic acid (26%), an essential fatty acid. Derived from sun-flowers that were developed using standard breeding techniques, the oil has not been hydrogenated and works extremely well in industrial cooking and frying applications. It provides a clean light taste and its natural stability gives excellent shelf-life characteristics.
In July 2002, a report from the National Academy of Science's Institute of Medicine recommended that trans fatty acid consumption be as low as possible while consuming a nutritionally adequate diet. Reports such as these and future labeling regulations can heighten a search for alternative ingredients, such as the sunflower oil, that can improve the nutritional quality of foods. Recently, Brigham and Women's Hospital—a major teaching hospital associated with Harvard Medical School—switched to the sunflower oil in its foodservice operations.
For more information, write to National Sunflower Assn., 4023 State St., Bismarck, ND 58503 (phone 701-328-5105; fax 701-328-5101; www.sunflowernsa.com).
--- PAGE BREAK ---
Flax. In the December 2002 Ingredients section, I discussed several components in flax that may have potential health-promoting properties. For example, flax is particularly rich in lignans—a compound which may protect against certain types of cancer by interfering with the effects of estrogen. The overall emphasis of that article was on the utilizing of flax in nutraceutical foods or supplements.
This month, I thought we would take a closer look at the potential use of flax with other grains.
Flax seed, especially when ground, can increase the fiber content of muffins and other baked products, while adding omega-3 polyunsaturated fatty acids. Its light, nutty flavor complements many whole grains. Also, whole seeds may be used as a topping, providing texture and flavor benefits.
Flax can also be incorporated into bakery mixes for convenience and nutrition. For example, a variety of mixes, including Flax Pancake and Waffle Mix and Flax N Bran Muffin Mix are available from Pizzey's Milling, Box 132, Angusville, Manitoba, Canada R0J 0A0 (phone 204-773-2575; fax 204-773-2317; www.pizzeys.com). The company provides a variety of flaxseed products, such as Premium Whole Brown Flaxseed, which enhances flavor and adds crunchiness; Milled Brown Flaxseed Regular Grind, which resembles wheat bran in texture and color; and Milled Golden Flaxseed Regular Grind, which is suitable in applications desired a lighter colored product for visual appeal.
Flax works wells with a variety of other grains, producing such breads as Sourdough Bread with Flaxseed, Canadian Dutch Bread, Flaxseed & Wheat Bran Bread, German Flaxseed-Rye Bread, French Flaxseed Bread, and Soft Rolls with Flaxseed.
A recipe book, "Family Favorites—Flax Recipes and Healthful Tips," provides other numerous examples of flax's compatibility with other grains. A pilaf made with bulgar wheat and flax may be used as an alternative to potatoes or plain rice. Or muffins, flavored with oranges, can be formulated with oat bran and flax. For more information about recipes using flax, write to Flax Council of Canada, 465-167 Lombard Ave., Winnipeg, Manitoba, Canada R3B 0T6 (phone 204-982-2115; fax 204-942-1841; www.flaxcouncil.ca).
OTHER GRAIN/SEEDS
Here are a few other grain/seed developments that may have an emerging role:
Amaranth. A threatened plant, Amaranthus pumilus, has been making a comeback along East Coast shorelines for the past 10 years. Seabeach amaranth is of special interest to agriculture because it has atypically large seeds for the genus and could perhaps be the source of crop-improving genes for cultivated amaranths. The seeds contain a rare, high-quality plant protein that can be used to enrich grain products. Samples are being conserved as part of a comprehensive collection of amaranth germplasm. More information can be obtained from the North Central Regional Plant Introduction Station, Ames, Ia. (phone 515-294-6786).
Quinoa. Quinoa was an import grain crop in the Andes for many centuries. Described as "the mother grain" for the ancient Incas, it is gaining popularity in other places throughout the world. It has excellent digestibility and a rich nutritional profile. Studies have shown that it can help prevent blood hypertension, provides a rich source of fiber, and is suitable for use in infant foods and food for older adults. For more information, contact Japan-based Dai- Nippon Meiji Sugar Co., Ltd. (phone 81-3-3271-0755; fax 81-3-3271-0615).
--- PAGE BREAK ---
Hempseed. The shell of whole hempseed has been removed, resulting in a product that resembles sesame seeds with a taste like pine nuts. Called HempNut, the hulled hempseed product contains 36% essential fatty acids and 31% high-quality protein, and is rich in vitamins and minerals. For more information, write to HempNut, Inc., P.O. Box 1368, Santa Rosa, CS 95402 (phone 707-527-8113).
Earlier in this article, we discussed the current grain market situation and the possible effects some of the new developments will have on it. Another issue is also emerging that may have impact on grains and the development of grain-based ingredients.
New research studies are calling for increased use of whole grains in the diet.
Research published in the September 2002 issue of the American Journal of Clinical Nutrition concluded that increased consumption of whole-grain products has the potential to reduce the incidence of Type II (adult onset) diabetes in men and possibly other chronic diseases over time. Findings suggest the importance of consuming about three servings a day of whole grains. A previous two-year study on women found similar findings. Brown rice, whole-grain ready-to-eat cereals, cooked cereal, popcorn, wheat germ, bran, and other grains were recommended. According to a survey of 2,000 U.S. households in a 1994–96 study, adult whole-grain intake is about one serving a day.
Some nutritionists are also arguing that in addition to eating more whole grains, other carbohydrates (grains that have been refined or processed so that they have lost some of their nutrient value) should be avoided. For example, professors of epidemiology and nutrition at the Harvard School of Public Health maintain that the U.S. Dept. of Agriculture's Food Guide Pyramid should be revised to recommend the consumption of whole-grain foods at most meals while refined or processed grain products should be eaten sparingly.
Over the next few months, expect to see more discussion regarding different food pyramids. Actually, over the past few years, there have been quite a number of these guides out there. Some of them are the result of debating nutritionists. Others are tailored to certain segments of the population such as older adults. The differences between these pyramids and how accurate they are would make for an interesting topic for a future issue of Food Technology.
In my opinion, however, food pyramids tend to be flawed because they try to provide a general guide to a population that is very broad with a wide range of dietary needs. In doing so, they almost inevitably favor certain foods while discounting the value of others. Perhaps the answer lies in developing personalized or customized pyramids. An individual consults with a doctor or health professional and based on a number of factors (sex, age, state of health, risks associated with hereditary, food allergies or sensitivities, taste preferences, lifestyle habits, etc.), a customized pyramid is then built using the computer technology that we have available today.
In any case, I expect the "carbohydrate issue" (good vs bad carbohydrates) to be debated for awhile.
Regarding ingredient development, the growing emphasis on whole grains is one more way that the health aspects of grains can be underscored. Most likely, the emphasis on whole grains will have an impact on food formulation. However, there are many other ways that grains and grain-derived ingredients offer health benefits. In this article, we have seen a number of developments derived from grains that offer potential benefits, ranging from grain-derived ingredients that can help lower cholesterol to individual components isolated from grains that may be used in the development of nutraceutical foods and beverages as well as supplements.
As this article has shown in a number of ways, "Going With the Grain" is still an effective rallying cry in the development of new and traditional products.
---
Next month's Ingredients section will discuss ingredients that play a role in weight management and the benefits they offer. These ingredients can include healthy fats and oils, soy and whey proteins, fiber, nutrients, chromium, and a broad rnage of other nutraceutical compounds.
by DONALD E. PSZCZOLA
Senior Associate Editor