Kraft Foods is the largest food company in North America, with annual sales of more than $29 billion. John Ruff, Senior Vice President of Research & Development and Quality for Kraft Foods North America and a member of the company's Operating Committee, oversees Kraft's technology functions, including analytical chemistry; basic research; microbiology; nutrition; product, package, and process development; quality assurance; and scientific relations. He also serves as chair of the Institute of Food Technologists Foundation board of directors.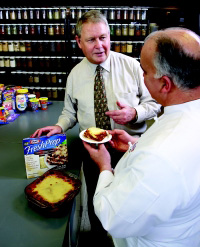 In an interview last December, he spoke candidly with me about Kraft's global leadership, the impact of the company's record-breaking IPO, and a variety of timely issues. Here is what he said.
Kraft R&D Organizational Structure
Kraft has approximately 2,300 world-class scientists and engineers in seven R&D centers and 40 satellite laboratories around the world. The seven R&D centers are in East Hanover, N.J., Glenview, Ill., Madison, Wis., Tarrytown, N.Y., Banbury, England, Munich, Germany, and Melbourne, Australia. Each of those centers has a regional role, and five of them also have a global role focusing on global product categories—East Hanover focuses on biscuit, Glenview on cheese, Tarrytown on refreshment beverages, Banbury on coffee, and Munich on confectionery.
At Kraft, R&D is a single function. The R and the D parts of the organization work hand in glove to establish and encourage collaboration, which is essential to our product development.
The Research side is centralized at our global research center in Glenview. It works on the longer-term strategies, programs, and projects for the benefit of all of our businesses around the world.
The Development side works much more closely with the specific business segments.
So, for instance, we have a segment we call Beverage, Desserts, and Cereal, which is based in Tarrytown. It's actually a good part of what used to be the General Foods organization. Both the business group and the development group are based in that location, so they work very closely together.
Our global Refreshment Beverages group is centered in Tarrytown and supports both our U.S. businesses like Kool-Aid and our ready-to-drink Capri Sun. The Tarrytown center also supports the work that's going on to expand global markets for products like Tang.
Another example is our Asia-Pacific development team based in Melbourne. It supports the Asia-Pacific area on the D side. Its role is to drive the growth, innovation, new products, new processes, and quality initiatives. The benefit of having the development group based with the businesses but integrated into a single R&D organization really allows us to leverage our research capabilities company-wide.
--- PAGE BREAK ---
When we talk about global categories like Biscuits, our East Hanover R&D center supports the rest of the world on cookies and crackers initiatives, given that Nabisco was a leader in this area. Many of the product launch initiatives around the world start there, then are transferred out to the regions for the fast adapting or conceptual work that leads to the final product and launch.
The global Cheese group is based in Glenview, at the longtime home of Kraft corporate R&D and supports the rest of the world in this business.
Of our two global centers overseas. Coffee is based in Banbury, England, where I started my career with the company. Because Banbury is our global coffee center, U.S. businesses look to it for their coffee innovation, in much the same way that our European cheese businesses look to Glenview for their innovation. And Confectionery, including Milka and Toblerone chocolate, is based in Munich.
Global Cross-Pollination
One challenge with global operations is communication. These five global centers, however, really do make it a lot easier to collaborate around the world and ensure that we're coordinated.
To make that happen, we have five worldwide teams, each consisting of a Business Council, which is made up of the senior business leaders around the world for each category, and an Operations, Technology, and Procurement, or OTP, core team, which works with the Business Council.
Each worldwide team—Biscuits, Refreshments and Beverages, Cheese, Coffee, and Confectionery—meets regularly and guides both strategies and activities, whether they are in new product development or new processes, cost initiatives, or quality programs. We don't necessarily send people all around the world for meetings—we often meet via tele conferencing. Teams share the new ideas that are going on within the company and in their marketplace relating to our competitors. We use this interface to stimulate idea generation and move ideas around faster.
The teams also drive a lot of our cost initiatives. If we've got a better way of making processed cheese that we've developed in one part of the world, then we'll implement that through these teams around the world.
I can think of two good examples: Lunchables is a significant business in several European countries, but it's only been in those markets for three or four years. Dairylea Lunchables in the United Kingdom are used in exactly the same way as Lunchables are in the U.S. and the components are fairly similar in most cases. Obviously, we source the materials locally.
An example of the reverse would be Altoids. It's a 200-year-old British mint that had been exported by a very small business that we acquired. The U.S. group recognized that this product was so different and had such heritage that they thought they could really build the business. [The growth was based more on marketing and advertising than product formulation. In fact, the chalky, irregular pieces have become part of the product's mystique.] The unique advertising programs built it into a tremendously successful business.
Roughly 80–90% of what we do involves leveraging a new product idea within an existing product category and taking it around the world. Because we're already in such a large number of categories, we don't necessarily introduce or enter new categories all that frequently.
--- PAGE BREAK ---
Managing R&D Goals
We are pretty disciplined and rigid in tracking what we get from our R&D. For instance, every project that we initiate goes into a computerized system developed several years ago, and we use that to track the progress of the project. But before we even start a project, we will look for the business value. This includes the expected revenue from the product, as well as profitability and earnings potential.
If it's a quality initiative, we'll assess how much it will increase our value or grow our share. If it's an initiative to reduce cost, we'll evaluate how much we will save.
In all cases, I track how many dollars we're generating per person, within R&D, then we use this information to prioritize our projects. If I have a project that is going to deliver $500,000 per head count, I'm going to do that before a project that's only going to deliver $200,000 per head count.
There's never a shortage of projects, so we basically use the payback principle to decide what to work on. That's a good way of making sure that we're working on the right project in any one business around the world.
There are products that we call seasonals, but that's certainly not where we put the majority of our resources. For instance, in our biscuit business we will introduce a product that is literally just for a season. These products obviously can be developed fairly easily, and we wouldn't put a lot of capital investment behind it; but it is a way of bringing news to the category.
The next level of longevity is a new flavor or flavor line extension that might last for 2–10 years. In fact, we cycle flavors in and out of some brands, because there's only so many that we can carry at any given time. For example, the trade will only stock so many SKUs of Kool-Aid, so we will look to bring one or two new flavors in over a period of time, and take the slowest moving ones out.
Our primary focus is on development of products that are going to last for the long term.
New Products vs New Brands
There are, from time to time, opportunities to create a totally new brand, but I don't necessarily see the distinction between a new brand and a new product. It's not as black and white as that.
--- PAGE BREAK ---
One of my favorite examples is Jell-O Pudding. The brand introduced cooked pudding at the turn of the 20th century, and it was a product that took two hours to prepare by the time you boiled the milk, cooked it, cooled it, and served it. This product lasted about 30 years, when a group of bright scientists figured out how to use instant starch and phosphates technology to create Jell-O Instant Pudding. It was the same trademark, same product, but a whole new generation of business and a whole new growth opportunity. Then 25 years later, we moved to ready-to-eat puddings, trading on the convenience factor.
The food industry as we know it today really is the story of convenience, but what was convenient 50 years ago and what is convenient today are vastly different. Things keep moving. In 2002, we introduced X-Treme Jell-O gel sticks, so now you don't even have to find a spoon to eat it. It's a trend that keeps moving on and on.
Each time we introduce unique new benefits to this venerable trademark, it becomes a whole new product, but I'm not sure that it's so important to create a new trademark. This is more of a marketing question—are you entering a category where a new trademark would make more sense than using an existing one?
With DiGiorno, we introduced a new trademark. We had the Tombstone frozen pizza business, but when R&D figured out how to develop a pizza that was as good as take-home pizza, we concluded that it was so different that it made sense to create a new trademark. While the Di-Giorno trademark actually existed within Kraft, it was and still is a trademark for refrigerated pastas and sauce. We actually took the trademark from another category and put it onto our new pizza. But to me the key was not necessarily that we needed another trademark—it was finding the new product benefits that will drive our business.
How the Teams Work 
Our project teams are multidisciplinary, including other functions, such as marketing, operations, and finance, that are brought on early in the process. This is key, as it's important to get the perspective of all the functions beyond R&D that will eventually be involved in the development and commercialization of the product. At every step of the way, we have built in evaluations, and the project must pass every hurdle along the way to advance to the next stage of development.
New product or product innovation ideas can literally come from anywhere or anyone.
We always stay focused on our strategy and growth platform, which includes consumer insight, and look for opportunities where we can lead a category. 
Kraft is committed to its worldwide cross functional teams, consisting of people of varied and diverse backgrounds, which can produce a new idea at any time. We regularly organize innovation weeks where teams are brought together with the sole purpose of brainstorming products and packaging to stimulate idea generation. These worldwide core teams exchange ideas that can lead to business opportunities.
--- PAGE BREAK ---
Health & Wellness Opportunities
There's no question that consumers are looking for foods that have positive health or nutritional attributes, and we have aggressively introduced or acquired a broad portfolio of products with these attributes, including our soy-based Boca meat alternatives, our sugar-free products like Crystal Light soft drinks, reduced-fat products such as Kraft Light Done Right salad dressing, and nutritionally fortified foods, such as Kraft cheeses with added calcium.
Based on consumer interest, we will also explore opportunities to incorporate various concepts, like organic, into our product development. For instance, we offer select organic Boca products that are sold through natural foods channels. When we acquired the Boca business, we realized there were Boca consumers who preferred products made with organic ingredients. The introduction of the organic Boca line reflects our commitment to meet the needs of our consumers and customers in the natural food channel. Based on consumer interest, we'll explore opportunities to incorporate concepts, like organic, into our product development plans. Our focus, however, is more on broad health and wellness attributes than on a narrower organic platform.
In addition, we've been a leader in bringing in low-fat, reduced-fat, and no-fat products to the market. We're constantly looking at the technologies and ingredients that will allow us to do that. It is a very complex area, however. Consumer interest in health and wellness goes all the way from avoiding "the bad stuff " to looking for the presence of positive ingredients and product attributes that will help their health.
We look at both ends of the spectrum, not just in the U.S., but around the world. In Asia, for instance, there's also a major calcium shortfall, so cheese is already a good source. Another example is Tang, which has been a popular U.S. product since it went to the moon in 1969. It has strong sales around the world, and in many countries it is fortified with quite a broad selection of vitamins and minerals. In each market, we've identified specific deficiencies and used Tang to cost-effectively deliver the needed nutrients.
Global GMO Controversy
Kraft's approach to biotechnology is determined by safety and consumer attitudes. With those two considerations in mind, we make judgments on a market-by-market basis. Because of the European regulatory situation and because public acceptance of biotechnology is lower, our European food business is not using biotech ingredients. Our European food business believes that agricultural biotechnology is safe, and while it complies with all local laws and regulations, it believes they should be based on sound science. However, we also respect consumer preferences, and therefore do not use biotech ingredients at this time.
In the U.S., we buy some commodities and ingredients which contain or are made from GMOs. We use those because they are the best quality, the best cost, and we are absolutely confident in their safety, as is the Food and Drug Administration.
--- PAGE BREAK ---
Going Public
[In June 2001, Kraft Foods (symbol: KFT) became a public company with an $8.68-billion initial public offering, the second largest in U.S. corporate history.]
Certainly today our focus is even more on growth, although the IPO really hasn't changed our overall culture. If anything, it has focused our strategies to deliver top-line growth. That's a priority for the consumer goods industry and the food industry in particular. We've continued to make sure that our core technologies are geared to deliver that growth.
Over three-quarters of the R&D resources are what we call profit-increasing, delivering increased revenue and earnings or cost reduction opportunities at the end.
In 2002, our new product revenue [all new products and line extensions company-wide, not including lines acquired] was $1.1 billion, which is larger than for many other food companies. Clearly that is where our focus and our priority continue to be.
Brand Building and New Products 
[In November 2002, Kraft Foods surpassed consumer products giant Procter & Gamble Co. as the best-rated manufacturer in a key performance survey sponsored by Cannondale Associates. In the "2002 Power Rankings," Kraft won four of eight key rankings, including highest strategic importance to consumers; best combination of growth and profitability; strongest business fundamentals; and best sales force.]
We're delighted with that ranking from Cannondale. If you look on at the categories that drove it, I think that more than anything they're recognizing the new product development and growth initiatives that we've been discussing. The kind of numbers that I quoted before are the measure of many years of well-defined strategies that were clearly focused on our major growth areas.
One of our major growth category areas is how to make more convenient meals at home. For instance, the recent acquisition of the It's Pasta Anytime brand is viewed as a springboard to introduce new products, to improve that product, and to really provide a very convenient, shelf-stable product.
Another focus is snacking. That is one of the driving reasons behind the Nabisco acquisition. Nabisco was a very successful company, and we continue to build on that. In 2001, for instance, we introduced Chocolate Cream Oreos, which broke the paradigm of what an Oreo was. It was the biggest new product introduction the brand had ever seen. In 2002, we introduced Cookie Barz, a cookie coated in chocolate—really a hybrid between a cookie and a chocolate bar—and we've got great hopes for it. The cookie bar uses several trademarks, such as Oreo and Chips Ahoy.
One our biggest new product successes is Creme Savers, the first new confectionery item to generate $100 million in revenue. We've leveraged the name to create a Creme Savers yogurt and a Creme Savers pudding. In addition, we're currently introducing a Creme Savers soft chew product. So we're building on the things Nabisco did before the acquisition, while bringing the expertise in how to develop the swirls and the flavors into the dairy and soft candy products.
We try to focus on getting an idea to be as big as it can possibly be. And we are proud of the fact that we have more than 60 leading brands, including Kraft, Oscar Mayer, Post, Nabisco, Maxwell House, and Philadelphia.
--- PAGE BREAK ---
About Kraft Foods 
► Kraft Foods, with more than $29 billion in revenues, is the largest food company in North America and the second largest worldwide.  
►On June 1, 2001, the company began trading as a public company. The $8.4-billion initial public offering was the second largest in U.S. history.  
►Six of Kraft's brands have global revenues of more than $1 billion: Kraft, Oscar Mayer, Post, Nabisco, Maxwell House, and Philadelphia.
►More than 60 leading brands have revenues of more than $1 million.   
►New products generated more than $1.1 billion in revenue in 2002.  
►Kraft has more U.S. food-related patents than any other food company.   
►Kraft spends more in advertising than any other U.S. food company.  
►With more than 113,000 employees, Kraft has operations in 68 countries, and Kraft brands are sold in more than 145 countries. 
► Kraft contributes more than $25 million annually in food and financial support to nonprofit organizations around the world.
---
Ruff 's Climb to the Top

I was born, raised, and educated in the UK. As I was completing my degree in biochemistry, I assumed I would go on and do research, but I was tempted into the industry by Procter & Gamble U.K. The majority of its business in those days was detergents, but it did have a fats and oils industrial division selling frying oils and margarines to restaurants and bakery companies. Because I had a biochemistry degree, the company decided I ought to go into food. So I can argue that I got into food by accident.
After about three years, I decided to leave P&G and join Kraft, or what was then General Foods. I spent my first four years in the U.K. working on products like Jell-O puddings. After that, I was in Holland working on the chewing gum business. Then I went to Brussels, which was our European headquarters, in what I call a "gopher" role. It was a staff role which I now advocate very strongly to anybody building their career. You have to have a job at some point where you've got to get things done without any power. You've got to learn how to do things through influence, and that's what a gopher role usually ends up being. Also, you learn how to anticipate your boss, which is a pretty good practice to succeed, too.
--- PAGE BREAK ---
When I went back to the U.K., I headed up everything but coffee. And then I came to the U.S., to the General Foods central research area in Tarrytown. One of my first assignments was a long-range research program to develop the next aspartame. It was a valuable experience because I got to learn about both the good things and the hard things related to long-term research.
In 1985, 13–14 years into my career, I was asked to move into Maxwell House coffee, which surprised me. It was very unusual for someone to move into coffee unless they were born and bred into it. A year later, I became the head of what was the Maxwell House R&D Division. From that point, I spent quite a number of years in the world of coffee, during which we evolved into a fully global organization. The global teams and councils that I described earlier had their genesis in that coffee team.
In 1991, I was asked to go to Switzerland, just after we acquired Jacobs Suchard. This made us No. 1 in coffee in the world, but it also brought with it a very large and successful chocolate and confection business. I took the leadership of worldwide coffee with me, and we started to look at doing more of our coffee work in Europe because of the expertise that Jacobs had. My bigger challenge was to build a centralized organization. And from there I moved on to head the international R&D organization still based in Zurich.
In 1996, I came back to the U.S. into my current position. At the time, I had the record for having worked in the most countries in the shortest time. One of the things we've done very well at Kraft is to leverage our global people strength as well as our brand strength. Many of the key R&D leaders in our organization have worked in at least two countries.
---
Advice to Food Scientists
We're always inclined to say that the world's changed so much that everything's changed, but it is still incredibly important that people first of all get the best education they can—to learn, to build their skills as strongly as they can, to enter into their career, their job, and then to continue to learn. Get the basics, and recognize that that's only the base and that you've got to learn and keep learning. And you learn through experiences. My advice to people entering the food science field is to look for the opportunities that will give you new experiences as you build your career. The new experiences, especially those that are tough at the time, will really help you grow.
You've also got to learn how to make a difference. There comes a point after you've learned the ropes that you start to work on projects and gain some understanding. There comes a point where to be successful you must be a part of something that happens because you were there.
Today's food scientists really have to be able to understand the business side, too. This includes their consumers. We have a very strong guidance research organization within Kraft. We don't necessarily ask a consumer research organization to help us understand our consumers. If my R&D people don't understand what a consumer wants, then they're not going to be able to do the job.
We expect our scientists to be able to take a product and commercialize it in a plant. Because if you're not comfortable doing that, then you're not going to be able to take that broader role that you need to do today.
--- PAGE BREAK ---
Working with IFT
Because of my background, I got involved with the Institute of Food Technologists about five years ago. I used to be a member of IFST, which is the UK sister organization.
A large number of people in my organization are members of IFT, because it clearly is the most broad-based holistic organization for the food industry. The breadth of technology that's involved is critically important to us, so as a company we are very supportive of IFT. It's a key source of knowledge for food scientists. The most critical value that a company like Kraft has in such a relationship is the ability to bring people into food science and technology and then help them develop, build their careers, network, and find where to get information.
IFT has really set a compelling vision and mission for the organization. My goal as chair of the IFT Foundation board of directors is to make the membership of IFT far more conscious and aware not just of IFT and its strategies, but also of what the IFT Foundation is doing to support that vision.
One of my challenges is to get IFT members involved in the Foundation. Our vision is to have a community of donors—and in my mind, everybody who is a member of IFT should at least be making some level of contribution to the Foundation, consistent with their capabilities.
by Pierce Hollingsworth,
Contributing Editor