Americans are thinking healthier and taking unprecedented action to improve their health. This year, for the first time in food history, health will rival convenience as the most important new food product attribute.
The NPD Group reports that French fry orders at fast-food restaurants fell 11% last year and main-dish salads jumped 12% (NPD, 2003a). Only 11% of restaurant dinners and one in seven in-home suppers now include a dessert (NPD, 2003b).
Snacking during the evening hours has declined, while fruit and vegetable consumption has increased, although still not to desired levels. Children ate and snacked healthier last year (NPD, 2004a). One-third of children 8–17 years old consulted their parents before purchasing fast food, up 6% over 2002 (RoperASW, 2003).
Frustrated by fast-food options in school feeding programs and children's access to sugar-laden vending machines, Moms have taken control of the lunch hour, and brown bagging—in the name of health—is on the rise. And with nearly eight out of ten family households eating together at least five nights a week, parents' influence on their children's eating habits—good and bad—will be a paramount concern (NPD, 2003c).
America lost weight as a country last year, according to NPD (2003d), with the Body Mass Index (BMI) falling from 56% in 2002 to 55%. Americans are also reporting that they are exercising more; 66% of adults say they are exercising strenuously at least once a week, up from 63% in 2002. However, it appears that Americans are less interested in losing 20 lb than in previous years and more interested in health. One-third (35%) report that they carefully plan their meals to be nutritious; up slightly from 32% in 2001.
Sales of "light," "lean," "low," and "less of " brands like Weight Watchers, Lean Cuisine and Healthy Choice are also up. After years of declining sales, these and as many as 1,400 brands with "better-for-you" words in their brand names grew a combined 6.7% in 2002 in just the supermarket channel (IRI, 2003a).
Soy products; nutritional, energy, and wellness bars; weight-control categories; and bottled energy, sport, and water beverages are on fire. In the supermarket channel, they've averaged 18% growth as a group per year over the past five years. New concerns that obesity may become the number-one cause of death in the United States and that it may have already reduced the lifespan of our children—as well as a report from the Centers for Disease Control and Prevention confirming that women eat 22% more calories and men 7% more calories than 30 years ago—will keep weight loss in the spotlight (O'Connor, 2004). Last year, 44% of consumers bought a weight-control product and two-thirds tried to do "something" to lose weight (NMI, 2003; HealthFocus, 2003).
Under the auspices of weight control, the high-protein, low-carbohydrate movement continues, taking an estimated $10-billion bite out of traditional sweet-goods and grain-based-food sales. Two-thirds of Americans' eating habits now reflect a low-carb lifestyle, whether intentional or not (Hartman, 2003a). And with more than 800 new low-carb products introduced in the last two years, "Atkinites" and "Carbovoids" will have even more products from which to choose.
With Unilever blaming a 23% drop in Slim-Fast's sales on the popularity of the Atkins diet, despite the company's new low-carb product line; a $2-billion void left in the marketplace by FDA's banning of "metabo"/ephedra diet-aids; and an unexpected reordering of the traditional diet beverage segment by well-marketed parody calorie/nutrient beverages like Snapple-a-Day and Nouriche, the weight-loss market will continue to grow.
--- PAGE BREAK ---
At the same time, the number of "natural" households has also increased, with 66% of consumers checking the label to avoid additives and preservatives (HealthFocus, 2003). Just over half of food shoppers bought an organic food product in 2003, while certified and organic meats, kosher foods, and the demand for fresh ingredients continued to grow. Interest in avoiding food components detrimental to health—including fat, trans fat, sugar, cholesterol, and salt—have returned to levels reminiscent of the late 1980s and early '90s. Consumers have developed their own hierarchy of avoiding specific artificial sweeteners and continue to shun products that are positioned as healthy but contain artificial colors and flavors, especially products for children.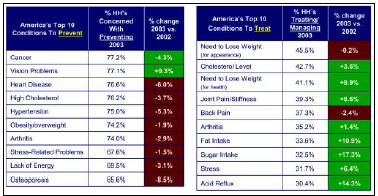 New natural and organic forms of the leading brand of salty snacks, an unprecedented interest in sustainable agriculture, country-of-origin and food safety issues, and a skyrocketing interest in "fresh and convenient" are creating a new generation of purer products for today's issue-oriented shoppers.
With nine out of ten grocery shoppers believing that little changes in diet can make major changes in health and the incidence of chronic diseases accelerating, it's not surprising that the emphasis is gradually shifting from one of prevention to one of treatment (Fig. 1). New American Heart Association guidelines (AHA, 2004a) for women and the identification of a new "at risk" category for hypertension will keep a strong focus on heart health.
Realization of the widespread incidence of insulin resistance and the identification of type 2 diabetes in children will bring unprecedented attention to issues surrounding blood sugar control and the glycemic index. With disturbing data on the state of our children's health, the return of rickets, overweight infants and toddlers, and a host of other "unhealthy" issues, children's health concerns will move center stage. At the same time, the level of consumer confusion has also fallen, from 36% in 2002 to 28% (NMI, 2003).
And the noise continues. The Food and Drug Administration, the U.S. Dept. of Agriculture, and the National Institutes of Health are undertaking major initiatives—including a national-advertising weight-loss campaign—to help reduce the incidence of obesity, heart disease risk and diabetes, while paying increasing attention to portion size, restaurant menus, and alcoholic beverage labeling. The Food and Nutrition Board has sent a first-ever set of Recommended Dietary Intakes and "Upper Limits" for macronutrients—including protein, carbohydrates, sugar, dietary fiber, and trans fats—as well as first-time daily requirements for amino acids and omega-3 fatty acid precursors—to FDA for action (FNB, 2002). Proponents of high-protein, low-carb diets have put pressure on USDA to turn the Food Pyramid upside down; FDA has a new procedure underway for evaluating health claims; and even the World Health Organization had something to say, when it comes to taxes and obesity.
One thing is for sure—a new generation of better-for-you foods is fast approaching. This article identifies and discusses the ten major trends influencing the drive for healthier foods across all segments of the food industry, including key international directions.
1 Just a Little Bit Better for You
Both avoidance and nutritional enhancement continue to play significant roles in the healthy foods market: 69% of consumers (up 5% over last year) have added a food to their diet in an effort to eat healthier, while 66% (up 1%) have avoided some food (NMI, 2003). With on-going concerns about heart and weight—and trans fats grabbing the top food media story in 2003—it's not surprising that eight out of ten consumers still purchase low-fat foods (Fig. 2). Interest in positive health benefits continues to grow, with just under two-thirds using fortified and/or functional foods last year. Perhaps most important, these health-directed markets are strong and stable.
--- PAGE BREAK ---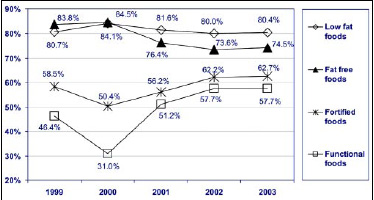 Fortified-food sales are projected to reach $23.4 billion this year, up 6% over 2003 (DSM/Roche, 2003). While 66% of consumers think that vitamins/minerals are effective in the prevention of certain health conditions, 47% now recognize that fortified foods can be used to meet their daily vitamin requirements, climbing 7% in the last five years (NMI, 2003).
Despite the wide array of fortified products, 37% of consumers still feel that they are deficient in calcium, 34% soy protein, 31% fiber, 31% omega-3s, 31% soy isoflavones, 28% whole grains, 27% antioxidants, 23% vitamin C, 19% lutein, and 15% folic acid (NMI, 2003). Contrary to popular belief, 49% of those under age 35 are most likely to feel that their diet is deficient in calcium, compared to 34% of those age 36–45 and 39% of those age 46–55. With those taking mineral supplements falling from 62% in 2000 to 56% in 2003, calcium-fortified foods appear to be making in-roads into the dietary supplement market.
Maximizing the bioavailability of nutrients—as by the addition of inulin to improve calcium absorption in yogurt—is a solid up-and-coming trend. Look for more attention to B vitamins—with those saying they have ever purchased jumping 7.8% in one year to 46%—as consumers correlate them with heart health, energy, and women's issues.
And last, with the return of rickets, expect vitamin D fortification to get unprecedented attention.
With trans fat labeling required as of January 1, 2006 , FNB recommending a dramatic reduction in trans/saturated fats, and both heart and fat moving into the "mega level" of media coverage, it's not surprising that 49% of grocery shoppers still identify fats as the nutritional issue that concerns them the most (FMI, 2003a). Low-fat tops the list of cuisines consumers say they intend to eat more of in 2004 (49%), followed by low-carb (41%), fat-free (26%), high-protein (25%), vegetarian (25%), raw foods (23%)—well above traditional Italian (21%), Mexican (20%), and organic (20%) (GMA, 2003).
Confusion over the healthfulness of various fats is a worrisome and fast-emerging trend: 90% of consumers view saturated fat as unhealthy, 51% monounsaturated fats, 54% poly-unsaturated fats and 53% trans fats; while 63% perceived omega-3 fatty acids as healthy (USB, 2003). Pepperidge Farms' Natural Bread line and ConAgra's Parkay Fun Squeeze Electric blue vegetable oil spread are among the latest fat-conscious entries.
At the same time, healthier oils including omega-3-containing nut oils, organic oils such as Eden Organics' organic Hot Pepper and Toasted Sesame Oil—and apple, ume plum, and red wine vinegars add a flavorful touch. Other healthy oils such as National Importers' Mustard Seed Oil and Heart Beat Foods' Smart Balance Natural blend of canola, soy, and olive oil fortified with vitamin E and omega-3s, represent a novel but fast-growing segment. Annie's Naturals adds organic flavored mustards, ketchup, BBQ sauces, natural marinades, and more additive-, sugar-, fat-, GMO-, dairy-, and gluten-free salad dressings to its extensive line (Fig. 3). Peanut Better, Inc.'s, gourmet-flavored Peanut Better spreads are high in protein, low in carbs, and trans and cholesterol-free. Flavorganics' French vanilla, caramel, and Irish creme organic syrups add a healthy twist to pancakes, while new white soy sauces, with a milder flavor and healthier attitude, from Kikkoman and White Soy Sauce Food Co. will add a delicate touch to Asian items.
--- PAGE BREAK ---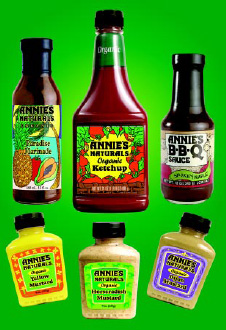 Cereals continue to reinvent themselves for health. Kashi's Seven in the Morning contains seven whole grains and sesame, 7 g of fiber, and 7 g of protein. U.S. Mills' Crispy Brown Rice cereal is loaded with real raspberries, strawberries, and blueberries, while its Morning Mini Bites Graham organic snacks in reclosable pouches—are a healthy, totable, "all-natural" snack for school or work. Natural Path's Organic Granola Bars now come in Cranberry Soy, Apricot'n Nut, and Pumpkin FlaxPlus SKUs.
And healthy convenience reigns. Wholesome Valley offers reduced-fat organic "mozzarella" cheese shreds. Rice Expressions' organic brown rice dishes are cooked to perfection in just three minutes. Alexia's gourmet fries made with 100% pure olive oil are kosher certified and made with all-natural ingredients. While "all-natural" toaster pastries abound, ready-to-eat, 100% natural refrigerated soups like Heartland Soup Co.'s ready-to-serve soups are available in a variety of flavors, including savory chicken and beef vegetable, all under 220 kcal/serving.
2 Counting Carbs
For the first time in a long time, Americans' eating habits are moving in a new direction—high protein, low carb—all in the name of weight loss and health. Two-thirds of adults purchased high-protein and low carb foods last year, up 10% and 7.5%, respectively, over 2002 (NMI, 2003). The number of dieters who think it is important to limit carbs when trying to lose weight has doubled in the past five years to 53% in 2003 (MSI, 2003a).

But interest in reducing sugar, carbs, and fat isn't just for dieters—66% of non-dieting adults want to reduce sugar, 40% carbs, and 74% fat, compared to 80%, 56%, and 83%, respectively, among dieters (MSI, 2003b). More than half of consumers think the low-carb trend will last forever (FMI/SG, 2003)!
While estimates of the number of Americans currently on a low-carb diet range from 15 to more than 50 million, an in depth analysis by the Hartman Group (2003a) indicates that only about 5% of adults—11 million people—have a high involvement with low-carb diets and products. This strict weight-loss-driven segment is likely to behave like any other weight-loss fad, with 4% having a short-term focus and 1% a long-term focus. However, most important to the food industry are the two-thirds of adults—163 million—who are consciously or subconsciously "watching carbs" as part of a life-style change to eat and live healthier.
This new "move to moderation" represents a strong long-term health and wellness trend. It is believed to be a reflection of consumers' increasing consciousness about their weight/health and what they eat—simply applying the strategy of "cutting back here and there" on those items they perceive to be fattening. Those who perceive that bread is fattening rose from 45% to 56% over the past five years; pasta rose from 40% to 54%. During the same time frame, the percentage of consumers who feel it is important to avoid starches rose 36% to 48%, while those who think complex carbohydrates are healthy fell from 71% to 63% (WFC, 2003).
Four out of ten consumers reported that they ate less bread than the year before; 63% explaining they wanted to limit carbs, 31% choosing other carbs when caving into carbs, and 20% feeling that bread was unhealthy (NBS, 2003). Dietary analysis by the Hartman Group (2003a) reveals that the elimination of breads and potatoes led the list of foods most likely to be eliminated on a low-carb diet.
--- PAGE BREAK ---
The more general low-carb trends are more likely to be related to consumers restricting or eliminating foods, rather than adding or substituting new foods, with the exception of new-low carb snacks. Low-intake foods—including potatoes, beans, peas, and lentils; flavored, blended, or fruit yogurt; cereal; cookies, crackers, and pretzels; pasta; rice; fruit, bread, and vegetables—are more likely to characterize a low-carb diet rather than high-intake foods, such as poultry, pork, seafood, cheese, nuts, and beef. The Hartman Group data suggest that consumers do not appear to be adopting one of the most highly advertised aspects of certain low-carb diets, namely, that low-carb is a ticket to eat all the fat you want.
The total market for low-carb products is estimated at $15 billion, while sales of low-carb foods across all channels ranged from $1.5 to $2.5 billion (Ferrier, 2004). Low-carb now ranks fifth among the most desirable new food product attributes, right behind convenience-driven features. According to Information Resources, Inc. (IRI, 2003b), for the 52 weeks ending 12/28/03, low-carb brands reached over $565 million in supermarket sales, up 240% compared to last year! "Low-carb-friendly" categories, such as meats, eggs, and cheese, are growing at a significantly faster rate than "Total food" categories in aggregate. Of the 15 fastest-growing categories identified by IRI, more than half are considered "Low-carb friendly" (Fig. 4). In contrast, traditionally high-carb categories, including pasta, rice, potatoes, sugar, flour, bagels, and English muffins, are experiencing significant sales declines.
Convenient low-carb frozen dinners, such as Laura's Lifestyle Carb Connection Cuisine in upscale recipes including Chicken Puttanesca and Chicken Santa Fe, Cedarlane's Low-carb Lasagna, Eggplant Parmesan, Enchiladas, and Chili Relleno pie and Carbsense Foods' Pasta Meal Mixes and Chili and Curry low-carb meals, are finding a welcome market. Fantastic's Carb'Tastic Low-carb grab-and-go soup cups (Fig. 5), Todds Foods' Two Carb Pizzas, and Specialty Cheese Co.'s 1 carb Frying Cheeses are other convenient low-carb options. Heritage's low-carb sauces, Deliciously Slim's low-carb Granola Cranberry Cashew and Strawberry cereals and SunGold Foods' Sunbutter are among the new low-carb condiments.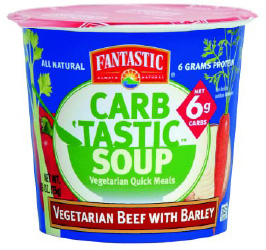 And then there are snacks! IRI reports that among low-carb dieters, sales of low-calorie candy increased 99%, compared to 62% among non-dieting households, pork rinds 53% vs 20%; refrigerated lemonade 41% vs 28%, bars 29% vs 18% and dried meat snacks 28% vs 9% (IRI, 2003b). Double B Foods' zero carb beef jerky and Golden Valley Natural's one-carb Natural Beef Jerky and Turkey Nuggets are among the new low-carb meat snacks. Hershey's mini-Reese's' Peanut Butter Cups and Russell Stover's Low-carb Truffle Cups are among the new sugar-free, low-carb candies. Carb Slim offers zero-carb Carb Slim Mint Cookie Crunch Bites, Mister Cookie Face's, and Controlled Carb Gourmet one-carb brownies. Popped cheese from Specialty Cheese Co. with only two carbs and Guiltless Gourmet Baked Carb Style chips in zesty flavors like Salsa Verde and Southwestern Ranch are among the new and novel low-carb savory snacks.
And bars abound. PowerBar's Pria touts indulgence and nutrition without the carbs, while Atkins' Endulge bars crosses into candy territory with wafer strips in mint, peanut butter, and chocolate crème flavors.
3 Healthier Kids
The introduction of omega-3 fortified school meals in Texas, the banning of less-nutritious vending items in Los Angeles, the nation's second-largest school district, and the advent of once "adult only" medical conditions in children are just a few of the events setting the pace in the new—and virtually unexplored—market aimed at healthier kids. And a lucrative food and beverage market it will be. Last year, America's 73 million kids under age 18 influenced 84% of household food spending—up 10% in just one year—and averaged $3,006 per child in discretionary spending (RoperASW, 2003; Harris Interactive, 2004). Sales of traditional kids' food and beverages reached $27 billion.
--- PAGE BREAK ---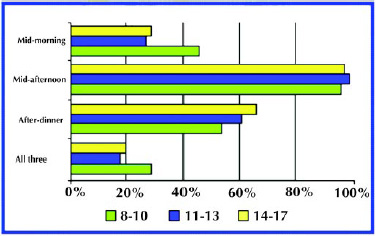 Two-thirds of households with children are looking for healthy foods/beverages that can be eaten on-the-go; one-third often gives up convenience to achieve a desired health benefit (NMI, 2003). With nearly one-third of teenage girls skipping breakfast and one-quarter of teenage boys missing lunch and breakfast, portable meal options—formulated to the nutritional needs of kids/teens, rather than of adults—remain an unmet need (Fig. 6; Sodexho, 2002). Sandwiches (74%) remain the most popular lunchbox items; 70% contain a salty snack, 59% fruit, and 57% a fruit drink (NPD, 2003e).
Hansen's Beverage Co.'s all-natural, 100% Juice Slams, enriched with 17 essential vitamins and minerals; Stretch Island Fruit Co.'s 100% organic fruit, single-portioned Fruit Leathers and Horizon Organic's Fruit Gels and pudding cups are among the latest lunchbox additions.
While kids are snacking more often these days—22 more snacks per child age 2–7 than five years ago—they appear to be choosing healthier items (NPD, 2004a). Yogurt is the fastest-growing snack food for children under age 13. With kids age 2-7 eating 14 times more yogurt than in 1999, products like Stonyfield Farms' organic kids' yogurt in Screamin' Strawberry and BaNilla Blast flavors and YoBaby drinkable yogurt for infants and toddlers are right on target. Salty snacks remain the most popular, accounting for one-quarter of all kids' snacks; confectionery products 14%. Kids are snacking more often on frozen snack foods, fruit snacks/rolls, granola bars, and meal kits; less often on non-chocolate candy, gum, traditional savory snacks, veggies, and ice pops/fudge pops. Healthy Handfuls are cleverly packaged in cute cartoon-decorated "cup holder" cups and "tote-and-go" boxes with handles in Python Pretzels, Koala Krackers, Lucky Duckies cheese crackers, and oatmeal raisin Crocodile Cookies; with no hydrogenated oils, trans fat, or GMOs.
More frequently these days, issues often become opportunities. With 87% of high school and 25% of elementary school students having access to school vending—which generates an average annual profit of $39,000 per high school and $14,000 per middle school—major markers are racing to deliver healthier options to ensure long-term brand loyalty with young consumers (Sodexho, 2004). In addition to single-serve juice, energy drinks, and bottled water—such as Apple & Eve's Water Fruits, purified water with real fruit juice, vitamin C, and vitamins B-3, 5, 6, and 12, in Water Melon Wave and other flavors, and milk-based drinks like Coca-Cola's Swerve and Dr Pepper/7-Up's Raging Cow in furious flavors like Berry Mixed Up—are pleasing moms and kids alike. Carbonated milk drinks, such as Mac Farms' E-moo in Bubblegum and Cotton Candy flavors; soymilks; and reduced-fat, -calorie, and -carb chips, nuts, and candy are also enjoying brisk sales. Clever vending programs like Stonyfield Farms' Menu for Change are not only providing their own healthier vending food items, such as yogurts, but also branding the machines. And kid-friendly, convenient, healthy products such as Vitaballs (Fig. 7) will continue as a strong trend.
--- PAGE BREAK ---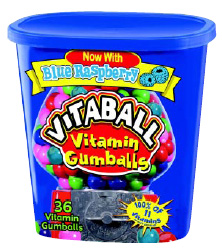 Two demographic trends—growth in the <5 and 14–24 age segments—will spur strong markets. With the Echo Boomers and Gen Xers both in their child-bearing years, a mini Baby Boom will send infant and toddler food sales rising 14%/year through 2007 (Mintel, 2002). With 10% of infants and 10% of pre-schoolers overweight, convenient controlled-portion meals like Gerber's Lil Entrees and Beech-Nut's Table Time bowl meals will help ensure a healthy and convenient solution.
Horizon Organic's Organic Infant Formula with iron is produced without the use of hormones, antibiotics, or pesticides, and WaddaJuice's new line of diluted juices in "sippy cap" bottles (Fig. 8) are just perfect for meeting the American Academy of Pediatrics' recommendations for serving juice to youngsters. Prenatal foods fortified to ensure a healthy pregnancy, such as Puleva's Mamá milk in Spain or Parmalat's Mamán milk with added nutrient and omega-3s, are another fast-emerging segment.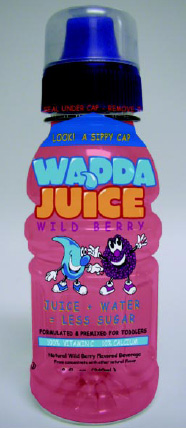 Those age 14–24, now keenly interested in health and nutrition, will total 40 million by 2010. More than half (57%) of young adults have gone on a diet or changed their eating habits to build muscle and increase sports performance, 35% to lose weight, 32% to help control acne, and 23% to maintain weight (MSI, 2002). Only one-third of teens are satisfied with their weight; 17% of girls age 16–17. Undoubtedly, today's young adults' more adventuresome palate for ethnic cuisines and their growing preference for vegetarian and natural/organic options will rewrite the book on healthier food choices in years to come.
4 Serious Considerations
Shoppers are clearly aware of the healing power of food: 87% agree that eating healthfully is a better way to manage illness than medication. To determine the right course of action, 40% of grocery shoppers sought out health and nutrition information last year and frequently turned to health professionals for advice as to how diet can help manage and treat specific health conditions (FMI, 2003b). Pharmacists top the list of health professionals influencing healthy and natural food decisions. Government certification programs are expected to become a close second in 2004, as physicians' impact continues to wane (NMI, 2003).
With one in four Americans suffering from some form of coronary heart disease, 108 million with high cholesterol levels, and 53 million with high blood pressure, it's not surprising that almost every consumer behavior related to improving heart health has escalated (AHA, 2004b). Two-thirds of adults say they're trying to eat heart-healthy foods, and 41% have made dietary changes to lower their cholesterol, 41% to lower trans fats. Four out of ten of households (43%) are treating a member for high cholesterol, 34% high fat intake, 30% high sodium levels, 28% hypertension, and 17% heart disease (NMI, 2003). And it's none too soon. Heart disease tops the list of the fastest-growing health conditions for men and ranks second for women (Fig. 9, MSI, 2004). A new "at-risk" category, "pre-hypertension"—characterized by blood pressure levels of 120–139 mm Hg systolic and 80–89 mm Hg diastolic—is now recommended for vigorous treatment and will surely send concern over high sodium levels soaring.
--- PAGE BREAK ---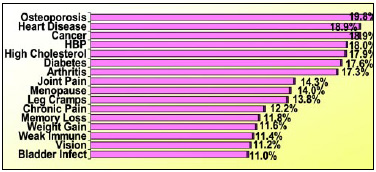 With 44% of shoppers saying that reducing the risk of heart disease or helping to maintain healthy cholesterol levels is an extremely/very important food claim, marketers have begun differentiating heart-healthy products based on their ingredients (HealthFocus, 2003). For example, Coca-Cola's Minute Maid cholesterol-lowering HeartSmart juice contains plant sterols, while PepsiCo's Tropicana Essentials Healthy Heart orange juice is based on the nutrient bundling of potassium, vitamins B-6, B-12, C, and E, and folate. With womens' deaths from heart disease slow to decline and new female-specific AHA guidelines, heart-healthy products for women will be in high demand (AHA, 2004a). Already highly appealing to women, soymilks, such as White Wave's Silk Soymilk Enhanced, fortified with vitamins A, C, and E, omega-3s, and 25% more calcium, should find a particularly receptive market among women, especially in the half-gallon size. AHA recently launched "Go Red for Women," a nationwide campaign to raise awareness that heart disease is women's No. 1 killer.
With 30–80 million Americans suffering from insulin resistance and one million new cases of diabetes every year, interest in blood sugar, insulin and the glycemic index is moving center stage. While 17.5 million Americans already suffer from diabetes, attention is focusing on the 26 million "pre-diabetics," for whom dietary intervention and exercise may play a turnaround role. Market interest in diabetes has been underestimated for some time. According to HealthFocus (2003), 37% of shoppers are extremely/very concerned about diabetes; 63% want to learn more about foods that manage blood sugar, 53% about blood sugar and insulin, and 48% the glycemic index. While glycemic index claims are important label additions in Sweden and Australia, FNB's recent position that scientific evidence to support its role in disease prevention is insufficient is likely to hamper U.S. activity.
Many of the hundreds of recently introduced low-carb and/or sugar-free products are appropriate for diabetics. SouthWest's Dairy's Le Carb brand, which has just added the first fresh low-carb dairy milk drink to its extensive line of products, is also positioned as a way for diabetics to maintain their blood sugar levels. The product is ultrafiltered to remove lactose. Hershey's Reeses' Peanut Butter Miniatures and Russell Stovers' Peanut Butter Crunch and Milk Chocolate candies are also other sugar-free, low-carb additions. Diabetes is projected to grow 20% among men and 17.6% among women by 2013 (MSI, 2004). Perhaps most important for those at risk for diabetes is Nutrition 21's petition to FDA for a health claim for chromium picolinate, proposing eight potential claims, including reduction of insulin resistance, Type 2 diabetes, and more.
Undoubtedly the most important—and most illusive—treatment market rests with our kids. With 15% (9 million) of kids age 6–17 overweight and another 15% "at risk," and only half of those 12–21 getting any serious exercise, foods and beverages aimed at helping to control and/or lose weight remain a critical need. Weight issues are credited with not only the advent of Type 2 diabetes in children but also with rising rates of asthma, depression, and orthopedic problems. Two million kids have cholesterol levels over 200 mg/dL, and 27 million have levels greater than 170 mg/dL, the level generally used as a standard for acceptable blood pressure in children.
Only 6% of kids age 6–12 and 13% of kids age 17–21 meet the 5-A-Day guideline for fruits and vegetables. Child-oriented juices and bars that deliver a complete serving from the fruit and vegetable group continue to find a receptive market. And with 60% of school children complaining about being tired and 15% having fallen asleep in school, child-specific energy bars and beverages—and omega-3-fortified products to improved mental functioning—are clearly an idea whose time has come (NSI, 2003).
--- PAGE BREAK ---
5 Must-Have Ingredients
With 93% of consumers believing that some foods have health benefits that go way beyond nutrition—and contain natural components that can help prevent and even cure disease—it's not surprising that individual foods or commodities that market their intrinsic healthfulness or leverage individual nutritional assets have been among the greatest success stories in the functional food arena (IFIC, 2002; FMI, 2002).
Cranberries, broccoli, red wine, tea, tomatoes, fatty fish, and blueberries are among the best-known examples. Others, like oats, whole grains, peanuts, almonds, marine-based fish oils, orange juice, fruits and vegetables collectively—and soon, hopefully, olive oil—have been successful in achieving some form of formalized health claim.
Armed with economic projections of the dramatic impact of increased consumption on health-care costs—sure to catch any legislator's eye—and an unprecedented battery of health-promoting ingredients, the U.S. dairy industry is the latest group to pursue this winning strategy. Hot on the heels of its 3-A-Day program for milk, cheese, and yogurt—and stronger bones—the dairy industry has embarked on a campaign to raise awareness of the positive role that dairy can play in reducing the incidence of osteoporosis, obesity, and diabetes. In addition to providing calcium in natural combination with many of the co-factors necessary for improved absorption, milk contains a number of compounds, including lactoferrin, conjugated linoleic acid, whey peptides, galacto-oligosaccharides, and others, that improve mineral absorption, boost immunity, aid in endurance/sports performance, digestion, weight control, appetite suppression, and help increase lean body mass. Perhaps most important is the role that whey proteins may play in reducing blood pressure, improving immunity, increasing performance, and diminishing the effects of hangovers.
Moreover, 46% of consumers now recognize that functional foods contain specific ingredients—often derived from other natural sources—that provide a positive effect in terms of delivering a specific health function or end benefit. Most important, 36% think functional foods can be used in place of some medicines (NMI, 2003). Not surprisingly, consumers are looking for more information on potential health-promoting food ingredients (Fig. 10, HealthFocus, 2003).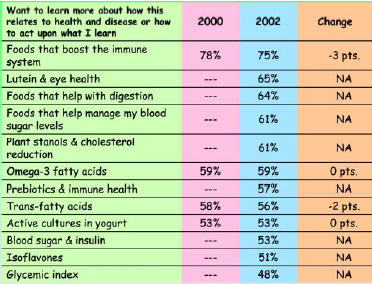 Marine-based omega-3 fatty acids, docosahexaenoic acid (DHA), and essential fatty acids (EFAs) from nuts, flaxseed, and cranberries, are some of the latest ingredients enjoying widespread international attention. Omega-3s, followed by EFAs, have topped the list of best-sellers in the specialty supplement category for several years, posting just under 30% growth last year (NBJ, 2003). First-ever RDIs for two omega precursors, newly revised, even stronger recommendations from AHA to increase dietary intake, and petitions and pressures on FDA to formalize its "qualified" heart-health claim are framing the future for a strong fortification trend.
Nearly three-quarters of consumers are aware of fish oils, and 53% omega-3s (MSI, 2002). One in five increased their consumption last year (HealthFocus, 2003). Major marketers—like Gortons of Gloucester and Chicken of the Sea—whose products naturally contain high levels—are flagging omega-3 content on packages. Currently, infant formula fortified with DHA and arachidonic acid and eggs high in omega-3 and DHA and enhanced with vitamin E, such as Egg-lands' Best Eggs, represent the majority of omega-fortified products sold in the U.S.
However, growing rapidly is interest in fortified spreads, recently mandated by Unilever for all its spreads and oils in Europe; milks and soymilks, such as Natrel's Omega-3 Milk and Soyaworld's Omega-3 Soymilk in Canada; breads and baked goods; and cereals and cheese. Trend-setting projects such as the Green Machine omega-3 school vending project in Europe and Omega Protein/H&H Foods' omega-fortified school lunch program in Texas will bring further attention to the role that this key ingredient can play in learning and child development (NNB, 2004; Mills, 2002).
--- PAGE BREAK ---
Plant sterols are another effective tool for heart-directed marketers. Although their level of consumer awareness is well under 10%, shoppers are interested in more information on these important cholesterol-lowering agents (HealthFocus, 2003). Plant sterols are among the active ingredients in Minute Maid's HeartWise orange juice. GFA Brands' Smart Balance is one of the first U.S. heart-healthy products to contain omega-3s and plant sterols. Whey protein isolates—used as the bioactive agent in Finland's Valio Dairy's Evolus blood pressure–lowering milks—provide another much-sought-after heart benefit.
Last and perhaps most lucrative, innovative food industry suppliers continue to open up an ever-growing range of condition-specific markets. Kemin Foods' FloraGlo™ and Roche's lutein and zeaxanthan provide options for the 25% of Americans who feel that it's important for their store to offer lutein-enriched foods (NMI, 2003). Cargill offers Ascend™ trehalose, a unique energy source for active lifestyles, and OptaFlex™ chondroitin, aimed at promoting healthy joints for the 80 million suffers of joint pain. The Beverage Groups' Daily Wellness Teaz for Joints offer a range of products such as glucosamine-containing ready-to-drink tea for joints; Tummy Teaz fortified with peppermint, licorice, and chamomile extract; and Sleep Teaz containing B vitamins, valerian, and melatonin.
6 Fizzy, Fruity, and Flavored
A new palette of soft refreshing colors, an array of crisp clean fruit flavors, and healthier carbonated alternatives are sending the better-for-you beverage market booming. In line with a new generation of mid-calorie and more natural options, new beverage attitudes abound.
Six in ten consumers (59%) say they are likely/very likely to drink a nonalcoholic beverage to address a health concern. Overall health, bone strength, energy, cold/flu, and digestion are the strongest motivators. After thirst, an all natural claim is the most likely to ensure purchase of a "better-for-you" beverage. Eight out of ten no longer find artificial colors/flavors acceptable in healthy beverages, 75% artificial sweeteners, and 54% sugars; 53% of consumers would consider buying a fortified juice (Fig. 11, Hartman Group, 2003b).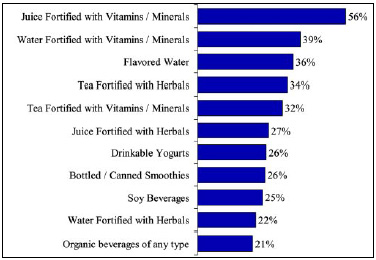 For the first time this year, Americans are expected to buy more bottled water than coffee or beer. Embroiled in discussions of inter- and intracellular hydration, optimal pH, microstructure, and even "wetter waters," bottled-water sales continue to rise. Glacier and naturally filtered, super-oxygenated, "iced," and country-of-origin–sourced waters continue to command premium prices. Watermark Beverages' Ice Age Premium Glacier Water is among new waters borrowing a sense of purity from "ice."
Capitalizing on the strength of two explosive market categories, "energy waters," such as Hansen's mildly fruit-flavored Energy Water (E2O), containing ginseng, taurine, B vitamins, electrolytes, and glucose, are another fast-emerging trend. With new RDIs now set for amino acids, Ajinomoto's launch of Amino Vital Ready-to-Drink—which "delivers all the energizing, restorative and fitness-enhancing" power of amino acids in a single-serve sports water or as a powder mixed with water—has the potential to create a new category in the mainstream sports beverage segment. Fruit waters and soy waters like Leading Brands' Soy2O, a combination of fruit-flavored water and natural soy isoflavones, are yet another new direction.
Diet Pepsi (up 6.1%), Diet Coke (up 5.0%), and Caffeine-Free Diet Coke (up 2%) posted the only gains among the top ten carbonated soft drink (CSD) brands in 2003 (BMC, 2004). As traditional CSD sales slide and health/weight concerns grow, it's not surprising that mid-calorie and lower-calorie soft drinks are coming into vogue. PepsiCo has announced plans to launch, Pepsi Edge, a new "mid-calorie" version of Pepsi this summer with less than half the sugar, carbs, and calories of regular soda. Coca-Cola and Cadbury Schweppes PLC's Dr Pepper are also testing mid-calorie sodas aimed at the 60 million Americans who use both regular and diet sodas. This "dual user" category jumped 75% in the last two years. At the same time, the addition of fruit-flavors to the leading CSDs—like Diet Coke with Lime and lemon-flavored Diet Pepsi Twist—have added not only taste but a more healthful image as well.
--- PAGE BREAK ---
With juices recently shunned for being too high in calories and carbs, the most exciting mid-calorie opportunity may be in the juice category. Tropicana Essentials Light n'Healthy, with a day's requirement of vitamin C and added calcium, has one-third less sugar and calories than orange juice. Minute Maid Light juice drinks, made with real fruit juice, contain 5 kcal/8-fl-oz serving.
As the "Pepsi Generation" ages, it's not surprising that they are seeking healthier carbonated alternatives. Pure carbonated water and lightly carbonated flavored waters—such as Bottle Green Drink Co.'s Presse, which mixes "pressed" fruit extracts with Canadian spring water, and Talking Rain Beverage Co.'s Sparkling Ice Spring Water with fruit juice and vitamins C and E are poised for widespread appeal. Natural sodas such as Hansen's Signature Premium Hand Crafted Soda in "30-something" flavors like sarsparilla and vanilla cream (Fig. 12) or Blue Sky's line of no-preservative, no-artificial-color/flavor sodas are coming on strong. Utmost Brands' Grown Up Soda comes in less-sweet adult flavors like Dry Valencia Orange and Star Ruby Grapefruit. Posting strong sales are single-serve sparkling fruit juices in nostalgic glass bottles, such as Switch Beverage Co.'s Switch carbonated 100% juice products in soft fruit flavors, and champagne-like adult sparkling lemonades like The Foreign Candy Co.'s Lorina French Sparking Pink Lemonade in old-fashioned seltzer bottles.
Elegant "quietly effervescent" fortified table waters such as CCW Holdings' Sanfaustino Aqua Minerale bring more natural calcium to the table and offer a natural bicarbonate effect. Skylar Haley's Essen is a new sparking juice featuring premium fruits, including Fuji apple juice or Minneola tangerine in slim, upscale cans.
New flavorful entries—like Food Collage, Inc.'s Jammin' Nectars in Caribbean blends of Mambo Mango and Guanabana—and more emphasis on keeping the product as close to natural as possible—like Nantucket Nectars' organic Cloudy Apple juice—will keep the juice segment strong. With Hispanics consuming 25% more prepared beverages than any other culture, The Beverage Groups, Inc.'s Bahio Aguas Frescas line of mango, guayaba, and other traditional juices, is perfectly positioned for future growth.
Once the privilege of emperors, the rare exotic "white tea" is among the most talked about beverage entries of the year. Minimally processed from tender young green tea buds and leaves, white tea has the highest antioxidant concentration of all green tea products. While Uncle Lee's Tea simply offers 100% organic certified White Tea bags, Celestial Seasonings has paired white tea with fruit in Imperial White Peach White Tea and Perfectly Pear White Tea.
Chai tea products are currently the fastest-growing products in the tea category. Leader Oregon Chai's new line of almond and honey Latte concentrates for milk, summer fruity Chai tea bases, and Chai Nog and Cider concentrates are only part of other exciting Chai product options. The mixing of coffee flavors like expresso, java, and cocoa with Chai tea is another inventive direction.
Even coffee has gotten healthier. Caffé Botanica's new healthy coffee blend is made with organic, herb, and mineral-infused gourmet beans to help you "wake up healthy"; versions available include Strength (calcium-infused), Health (echinacea-infused), and Energy (Asian ginseng-infused decaffeinated beans). Skylar Haley's achieV One single-serve, flavored, ready-to-drink coffees contain 20 g of protein, 19 essential vitamins and minerals, and only "five carbs" and are lower in calories than most coffee drinks. Javalution Coffee Co.'s JavaFit is a high-energy, fat-burning, appetite-suppressing gourmet coffee containing chromium polynicotinate, garcinia cambogia, and citrus aurantium—brews to help you lose weight.
--- PAGE BREAK ---
7 Higher-Powered Alternatives
With 32% of households treating a member for stress, 29% for lack of energy, and 22% for sleeplessness, it's clear that products that help to optimize performance—or offer mild "stimulation"—will be in high demand (NMI, 2003).
Energy drinks topped the list of the fastest-growing supermarket categories last year, up 39%; sports drinks rose 13% (IRI, 2003b). Natural energy sodas are quickly gaining in popularity. Blue Sky's Blue Energy soda—a light, effervescent drink powered by Panax ginseng, caffeine, and guarana with all-natural flavors and colors—is positioned to attract a broader audience, while American National & Specialty Brand Ginseng Rush—also a sparkling soda—is designed to "Push It" for extreme athletes.
Less-extreme energy drinks are Bossa Nova Beverages' "instinctively natural" Rainforest Fruit Drinks in Guarana Berry and Natural Energy versions; they come in sleek, vivid blue and yellow, stylized bottles and are called "as stylish and original as they are effective." They are highly appealing to women, and each purchase contributes to the Save a Tree Project.
Drinks that provide an immediate energy boost in new interactive formats—such as PowerBar's new Power Fast Fuel Gels, which provide "carbs, electrolytes, amino acids, adrenaline pumping get-out-of-my-way energy burst," are breaking new ground. Fitonat USA's phosphor is an instant energy drink packaged in "single shot"–sized bottles; the active ingredients are added to the beverage with a twist of the cap, for maximum—and very interactive—energy. NMI reports that 22% of consumers are receptive to taking a dietary supplement as a liquid, 23% a soft chew, 18% a ready-to-drink beverage, and 14% a chewing gum.
But today, protein means power, as high-performance protein bars and powders move out of their sports-only niche. Clif Bar has introduced a baked energy bar made with whole grains and fruit, while Probar's High Performance Whole Food Nutrition Bar for "endurance, recovery and meal replacement" is made from 15 blended natural foods. PowerBar's ProteinPlus Carb Select and Promax's Carb Conscious Bars, with two net carbs and 22 g of protein, offer the best of the high-protein, low-carb world.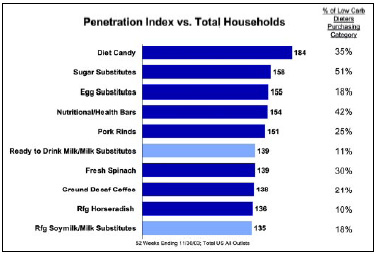 MLO Sports Nutrition's Xtreme bar, which provides power athletes with 30 g of protein and 5 g of creatine, Xtreme Crunch bars, and Super High Protein Powders are among the new heart-healthy soy protein–based products. These products are particularly appealing to teens and young adults, as more than half have made dietary changes to improve performance (MSI, 2002). SnackMasters' high-protein Turkey and Beef Sticks and BBS Supplements' Lean Works high-protein chicken snacks are other new, natural, high-protein snacks.
Other food sources of protein are also gaining momentum, such as MLO's Milk & Egg Protein, Brown Rice Protein, and Vegetable Protein powders. As marketers look to differentiate, expect more attention to the source of protein and new protein combinations.
It's impossible to talk about high protein without talking about soy. Sales of soymilk grew 29% over last year; 28% among low-carb dieters (IRI, 2003b). Low-carb dieters are more likely to buy soymilk, milk, skim milk, creamers, various cheeses, and yogurt than the general population (Fig. 13). In addition to the advent of half-gallon containers for soy milk, cultured soymilks are the latest new category trend. White Wave's Silk aLive! culture dairy drinks in tropical, peach, and berry flavors (Fig. 14) and WholeSoy Co.'s WholeSoy Cultured Soy drinks in single-serve, fruity flavors are some of the year's most notable innovations. Lifeway Organics' probiotic soy kefir, SoyTreat cultured Soy Milk Smoothie, is also available in a coffee flavor. Naked Fruit Juices' Crème de Soy creamy, dreamy Fruit 'n' Soy Smoothies contain 10 g of protein and as much calcium as a glass of milk. Calcium-enriched Kikkoman's Pearl Soymilk offers a new suggestion: "Great with cereal." American Natural & Specialty Brands Co.'s Better than Milk, powdered Soy Carb Care, and ready-to-drink beverages are another unique low-carb entry.
--- PAGE BREAK ---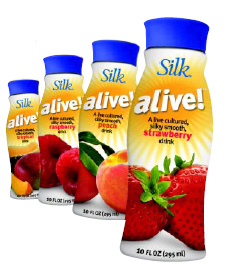 Soyfood sales are estimated to reach $5.2 billion by 2006 (SoyaTech, 2003). With greater use of soy meat alternatives in traditional foods like pizza and a switch to organic soy ingredients by leading meat-alternative marketers Morningstar Farms and Boca Burger, the meat-alternative category continues to grow. Veggie Patch's CarbSlam soy-based Chick'n and Spinach nuggets bring a new low-carb addition to the alternative appetizer category, while low-carb soy-based pastas hope to bring carb-conscious pasta lovers back to the category.
Soy-based yogurts jumped 26% across all categories. Geni-Soy's Low Carb Tortilla Chips with 8 g of "impact carbs" (carbohydrates that affect blood sugar level) and Turtle Mountain's all-natural line of Carb Escapes soy-based decadent non-dairy frozen desserts and novelties are two innovative soy/low-carb snack entries. Rocamojo, Inc.'s Rocamajo and Rocamajo Blend are two healthy coffee alternatives that maintain all of the health benefits of soy with the familiar taste and aroma of coffee.
8 Pace-setting Restaurants
Restaurants will continue to set the pace for the rest of the food industry—and these days, that means health!
Leader McDonald's has down-sized its "Super-Sized" items, dropped the fat content of Chicken McNuggets, and served up a host of healthier menu items. In the UK, the company is lowering the sodium levels of fries by 24% and cutting back on trans fats. Both McDonald's and Wendy's now allow for substitution of milk for soda in their respective "Happy Meals," and Wendy's offers a trade-up of a fruit cup for a cookie. Subway and TGI Fridays boast Atkins Nutritionals' approved appetizers, entrees, and desserts. Applebee's sports Weight Watcher Points on menus, while Blimpie's Carb Counter Menu and signature breads—credited for a 10–15% in sales volume—have rolled into Wal-Mart. And convenience stores, like 7-11, are getting a piece of the low-carb action, too.
With two-thirds of the 46% of consumers who are trying to limit their carb intake reporting less-frequent purchases of take-out food for themselves and 52% less-frequent dining in restaurants, it's not surprising that chain and fast-food restaurants were quick to move on this fast-emerging trend (MSI, 2003b). Hot on the heels of the In-N-Out Burger chain, CKE Restaurants introduced 1/3-lb low-carb "bun-less" burgers wrapped in lettuce at both Carl's Jr. and Hardee's operations. Ruby Tuesday, which estimates that 19% of frequent casual-dining patrons follow the Atkins plan, is sporting a Smart Eating Survival Guide to help diners control carbs, protein, and fat and is featuring healthier-carb options like whole-grain fajitas/burger wraps, a low-carb cheesecake, and a creamy cauliflower alternative to mashed potatoes. Baja Fresh Mexican Grill—the second-fastest-growing Mexican-food chain in the U.S.—developed a high-protein-oriented Lifestyle Choices Menu. Denny's reconfigured its menu offerings for the carb-concerned, while Don Pablo's launched a line of low-carb lettuce-wrapped fajitas, served with a South Beach diet sauce. Holiday Inn rolled out its Low Carb Inspirations Breakfast nationwide.
The likelihood of being on a low-carb diet has less effect on the decision to eat out in a "sit down" restaurant, as most customers on a strict high-protein, low-carb regimen report they find it relatively easy to order, alter, or "disassemble" their meal to conform to their low-carb preferences. In addition to serving "deconstructed" menu items—such as Chipotle Grill's deconstructed burritos in a bowl—creative restaurateurs are altering courses by adding a mid-meal or dessert cheese sampler, reconfiguring the center-of-the-plate by eliminating the traditional carbohydrate component, or featuring a protein/sauce combination without any sides. Others are featuring a high-traffic-area humidor to display fresh high-protein items like fish, meats, and cheeses to further attract customer attention.
From Eggs Benedict to Quiche Lorraine, eggs and egg substitutes are mainstreaming onto menus. Sausages, riblets, meatballs, and marinated fish like ceviche and pickled her-ring are back in vogue. Skewered meats, poultry, and seafood tidbits are a natural to be dipped in carb-free zesty sauces and condiments. Likewise, flame cooking and rotisserie cooking, especially Greek style, are some of the many "gimmicks" attracting high-protein diners. What about unbreaded, highly flavored steak strips, antipasto samplers with European cured meats, or raw fish or carpaccio platters? Smoked and boldly flavored varieties of ham including French, Black Forest, maple-cured, thick-cut bacon, and hard salami are making a triumphant return. And cheese-, hot pepper–, or olive-stuffed sausages, mushrooms, and bacon-wrapped rumake are back to stay.
--- PAGE BREAK ---
Could the move to health be working? For the first time in five quarters, the restaurant industry reported gains, although modest, in the final quarter of 2003 (NPD, 2004b). Consumer spending for that quarter (September-November) was up 2% vs the same time a year ago, although traffic was up only 0.5%. The big chains, which account for about 50% of the total restaurant industry, saw a 4% increase in traffic. Quick-service restaurant (QSR) chains and casual-dining chains led the way with an increase in traffic of 5%. Interestingly, fast-food hamburger outlets are leading the recovery in the restaurant industry, after the weakest year in more than a decade—traffic increased 6% vs the fourth quarter last year.
One of the most recent and significant changes in restaurants may well provide an opportunity for health-directed foodservice operators and suppliers. With breakfast long recognized as the healthiest meal of the day, it is important to note that Americans are buying breakfast and lunch at restaurants. In the last quarter, fast-food restaurants saw an increase in traffic of 3% for breakfast and 4% for lunch, with dinner staying flat. Traffic was up 6% for lunch at casual-dining restaurants and 1% at mid-scale restaurants. Average checks at restaurants were up just over 1%, lower than the 2% inflation rate, partially reflecting consumers' shifts toward visiting more often at cheaper day parts, i.e., breakfast and lunch.
But it's not all cut and dry. There will be some real issues, too. A lot of today's low-carb, healthy restaurant fare is still high-calorie. Many restaurants have circumvented normal new item testing procedures to speed to market with low-carb options. Many operators still think that just offering more protein foods alone will attract low-carb consumers. And what about cost? It's one thing to substitute a lettuce wrap for a bun, but quite another to buy low-carb signature items. Kentucky Fried Chicken recently learned the dangers of careless marketing to the diet crowd after promoting fried chicken as a low-carb food for weight loss. As foodservice marketers who are over-zealous and inexperienced with nutrition claims address health, FDA's position remains unclear.
9 Naturally Gourmet
The U.S. natural food and drinks market will more than double in the next five years, when it will be worth $47.5 billion (Datamonitor, 2004). The organic market, which is projected to reach $30 billion by 2007 and grow at 21% per year, will be the major driver.
Just about half (49%) of consumers think it is important for their "store" to have natural foods and beverages, 31% organically grown, and 30% vegetarian (NMI, 2003). Datamonitor estimates the number of U.S. loyal users will grow from 79 million to 113 million in 2007. With price still the main deterrent, savvy marketers are making their products "a little more gourmet" as a surefire way to deliver higher-quality, more-provocative, tastes and ease the price issue.
Organic "ready meals" are expected to lead category growth—increasing 25%/year through 2007—convenient appetizers, side dishes, and on-the-go items will also register strong gains. With the gourmet market increasing more than 40% in the past five years, Fantastic Foods is right on trend with expanding its all-natural, shelf-stable Fast Naturals Ready Meals line with vegetarian Hot and Sour, Jambalaya, and other ethnic upscale entrees and adding its new Carb'Tastic Fast Naturals' Ready Meals in ethnic variations, ranging from vegetarian Teriyaki to Thai Curry.
Ethnic Gourmet's all-natural, authentic Bowl line in Singapore Noodles and Pad Thai Shrimp and Arch Foods, Inc.'s Curry Classics all-natural frozen upscale ethnic entrees should continue to find a welcome market. Ling Ling Foods' all-natural frozen appetizers, including Spring Rolls and Potstickers and Putney Pasta's all-natural and organic Putney Pasta entrees, including Spinach & Feta Ravioli with Artichoke Pesto, are "so fresh we had to freeze it." And Forkless Gourmet's ethnic Bun Meals (Fig. 15)—with all-natural ingredients, and signature sauces stuffed in an oven-baked bun—will give gourmet flair to hand-held foods.
--- PAGE BREAK ---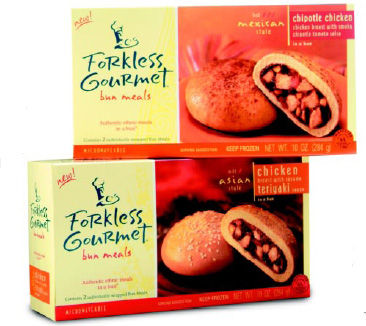 Organic and all-natural condiments and "meal components" are also mainstreaming onto shelves. From Claussen's All-Natural Kosher Dill pickles to Solea's Organic Citronat Pure Lemon Juice to Frontier Natural Products Coop's organic bac'uns bacon bits and Green & Black's Organic Coffee, everyday staples are going organic. Stewart & Jaspers' naturally sweet Almond Vanilla Spread and Almond Butters (Fig. 16), n'Spired Natural Foods' Loriva Supreme Culinary Oils, including toasted sesame, avocado, and other flavor-infused oils, or Eden Foods, Inc.'s Organic Brown Mustard and Yellow Mustard will add a sophisticated touch to any meal. Even salt has gone gourmet, with sea salt—hand-harvested, stone-ground, organic, foreign-sourced—such as Pacific Resources International's PacificSalt's Marlborough Flaky Sea Salt made with New Zealand Sea Salt Flakes or Source Atlantique Inc.'s 100% organic Seasoning Sea Salt infused with herbs, spices, and aroma.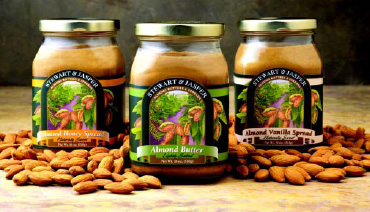 With two-thirds of Americans saying that snacking can be part of a healthy diet, it's no wonder the natural snack category is on fire (NMI, 2003). PepsiCo's Frito-Lay is once again leading the way with reduced-hydrogenated/trans fats, low-carb, and natural/organic snack foods; the company has recently added the first pretzels, Gold Heartzels Pretzels, to carry the American Heart Association's "Heart-check mark" to its health portfolio. Anson's Sweet Nature Foods' all-natural Chocolate Covered Caramels and Premium Chocolate Bars in single-serving size of 2 oz, Brendt & Sam's Cookies, Inc.'s All-Natural Gourmet Cookies, and Nature's Highlights, Inc.'s Lite'n Krispy all-natural Rice Sticks are among the latest market entries. And then there's fruit: Artiemis International, Inc.'s organic or non-organic fruit-laced Berry Bites naturally contain the antioxidant power of a serving of fruits and vegetables.
With three out of ten consumers making a regular effort to have a meatless meal, vegetarian options also represent a fast-growing segment (Fig. 17; NMI, 2003). Heinz's Linda Mc-Cartney frozen vegetarian line has expanded with more upscale items, including Artichoke and Roasted Garlic Pizza. Tesoros Foods has set out to "explore the flavors of Italy" with its new vegetarian gourmet line of foods imported directly from Parma Italy, while Deep Foods Green Guru line focuses on frozen Indian, Thai, and Chinese vegetarian and vegan meals, including Manchurian Dumplings and Samosa.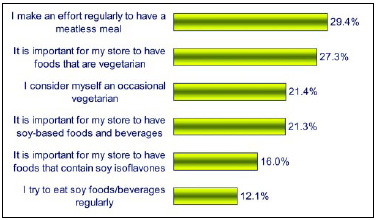 Despite the low-carb movement, new grains and more sophisticated natural cereals are coming on strong. Vegeusa's Himalayan Barley Blend, a rice side dish with barley and California red, brown and black rice; French Meadow Bakery and Café's 10 Grain Sprouted Parmesan & Garlic Texas Toast; AltiPlano Gold's New World Morning Quinoa Hot Cereal in instant variety packs; and Rudi's Organic Bakery's Certified Organic Spelt Tortillas are a few of the interesting new grain-based options.
Dozens of exploding new natural and organic food categories are taking form. With 54% of consumers saying that it is important for their store to carry antibiotic-free, 52% hormone-free, and 43% GMO-free dairy, meat, and poultry—coupled with concerns about contaminated "meats" and country-of-origin issues—interest in organic and natural "meats," such as Laura's Lean Beef, vegetarian-fed, raised on family farms with no antibiotics or growth hormones used—are in high demand (NMI, 2003). Ian's Natural Foods offers an extensive frozen line of products, ranging from chicken nuggets and fish sticks to cheese blintzes and chicken pot pies, using certified antibiotic- and hormone-free beef, poultry, and pork and no artificial preservatives, bleached flours, refined sugars, trans fats, or hydrogenated oils.
All-natural "wild" products such as Wildcatch Seafoods' All-natural Wild Caught Seafood "harvested only from sustainable fisheries" and North American Mountain Grown Spices are also gaining in popularity. And watch for creative entries like Redwood Hill Farms' Goat Milk Yogurt or Napa Valley Foods' Natura's Olive Oils, which donate $1.50 per bottle to the Susan G. Komen Breast Cancer Foundation.
--- PAGE BREAK ---
10 International Learnings
When it comes to health and nutrition, it really is a small world. Heart disease is now the world's leading cause of death, more prevalent than malnutrition and infectious diseases (WHO, 2002). There are more people overweight worldwide than underweight. With nearly 70% of Germans, 64% of Greeks, 58% of Finns, 56% of Australian adults, and 27% of Australian children overweight or obese, it's no wonder the global weight-loss market tops $240 billion in sales (BCC, 2003).
Cholesterol levels—already afflicting 110 million in Western Europe—high blood pressure, joint pain, and depression are also on the rise. Globally, more than 150 million people—one out of 20 in Europe—suffer from diabetes, and the number is expected to grow to 300 million by 2025 (IDF, 2003).
Stress, lack of energy, and sleeplessness have become prevalent lifestyle conditions in most developed countries. With many cultures having a stronger natural-remedy awareness and focus than the U.S., it's not surprising that they offer a broader portfolio of innovative health-promoting and disease-reducing foods and beverages.
The probiotic market—which includes a wide array of drinks, yogurts, candies, breads, and other products containing gut-healthy, "good" bacteria—is by far, the world's biggest functional food segment. Recently, the world's two largest and most successful probiotic marketers and functional food brands—Yakult Honsha and Groupe Danone—announced a strategic alliance to accelerate their global positions. Originated by the Yakult brand in Japan in 1935, "single-shot," 65- to 125-mL bottles are the latest probiotic dairy craze worldwide. "Little bottles" of probiotic drinks contain millions of live bacteria that survive the digestive process and exert a positive effect on intestinal wellness, the immune system, and disorders ranging from Irritable Bowel Syndrome to common diarrhea.
In October 2003, Sweden-based Skåne Dairy's ProViva probiotic fruit drink was awarded Europe's first health claim for a probiotic product, the only such claim outside Japan. The gutoriented claim, "ProViva reduces the build-up of gas in the stomach," is credited to the Lactobacillus plantarum 299v strain produced by Sweden-based Probi AB. French-owned Triballat Noyal's Sojasun, launched in the United Kingdom last May, was the first soy-based probiotic "daily dose" product. Skåne Dairy's latest innovation ProViva Shot!, is a dairy-free, fruit-flavored probiotic drink with an oatmeal, malted barley flour, and fruit base.
Sweden-based BioGaia's Life Top probiotic straw containing live probiotic bacteria is another novel invention. First affixed to Orchard Maid Organics probiotic juice boxes in the UK, it ensures delivery of adequately high numbers of organisms to achieve the promised health benefit.
The majority of dairy launches in Europe claim to improve either appearance or body function (Innova, 2003). Of the 272 dairy products launched in Europe over the four months ending November 2003, 30% were in the yogurt sector (Fig. 18).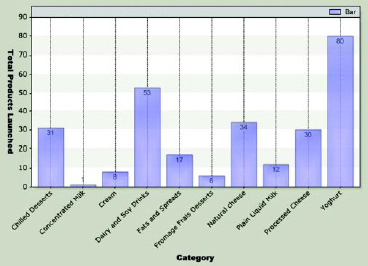 After six years of test marketing Actimel in the Denver area, Group Danone has launched the first probiotic "daily dose" drink in the U.S. DanActive is sold in 100-mL mini-bottles, with the front package copy reading, "DanActive. Immunity. Helps Naturally Strengthen Your Body's Defense System" (Fig. 19). The product also sports three other structure/function claims relating to gut health and immunity. Although 53% of Americans say they want more information on "active cultures," only 9% are aware of the term probiotics (HealthFocus, 2003: NMI, 2003).
--- PAGE BREAK ---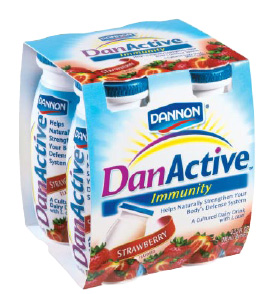 Iceland's largest dairy, Mjölkursamsalan Dairy has created yet another new mini-bottle trend by introducing the world's first high-blood-pressure daily-dose milks under its LH brand. Finland-based Valio Dairy's Evolus blood pressure–lowering milks uses bioactive peptides as the active ingredient, fermented with lactic acid bacteria, and Kaiku Benecol marketed by Ipartlat Dairy in Spain is made with Benecol plant stanol esters.
And the innovation continues. Skåne Dairy's Primaliv yogurts were also the first to carry an approved Swedish health claim, stating that the product can "balance your blood sugar level and lower your cholesterol."
In Australia, consumers interested in managing their blood sugar levels have the benefit of a unique food and beverage package logo, called the GI symbol, which tells shoppers at a glance the Glycemic Index of a food. The small but highly profitable "night time milk" niche continues to grow with the UK launch of Cricketer Farm's Night Time milk, a high-melatonin milk said to help promote sleep. Swiss dairy group Emmi A.D. has launched a lactose-free milk containing only 0.1% lactose—based on technology from Valio Dairy—that tastes "just like milk."
Grain milks are another new, profitable, and fast-growing European category that has the potential to rival soymilks and create a new convenient breakfast option. Finland-based BioFerme Dairy's Yosa is an oat-based dairy alternative, fermented with lactic acid bacteria, with a texture similar to yogurt. Sold alongside dairy and soy products in the chiller cabinet, Yosa is made from cooked oat bran and whole oat grains fermented with the probiotic bacteria Bifodobacterium lactis Bb12 and Acidophilus LA5. It is rich in oat beta-glucans, low in fat (0.7 g/100 g), and lactose- and cholesterol-free. Among the latest two line extensions are a single-serve 200-mL drink fortified with 36% of the RDA of calcium, 50% vitamins B-1, B-3, and B-12, 34% of vitamin D, and 16% of vitamin E. Another new SKU contains 36% of the RDA for calcium, omega-3, and omega-6, derived from blackcurrant seed oil. "Fruits of the forest" remains the most popular flavor.
Another product enjoying tremendous success is Graindrops, a Norwegian grain-based milk recently introduced in the Netherlands. Developed by Susanne Lien in Norway, the drink is made by the classic Japanese technology koji, which ferments the grain into a liquid retaining its intrinsic nutrient content.
And grain-based liquid meal replacements such as Toni Foods' Müesli beverage in Australia are providing convenient, healthy, early-morning meals. Up & Go from Sanitarium, Australia's biggest breakfast cereal maker, is another immensely popular morning meal replacement.
Awareness and interest in omega-3s are also high in Europe. Nearly half of consumers in Germany are aware of heart benefits associated with omega-3, compared to one-third in the UK, the Netherlands, and France (HealthFocus, 2003). While Parmalat's and Puleva's omega-3 milks are gaining ground across Europe, France's Flury-Michon is bringing omega-3 to the meat case with Flury Michon Reduced Fat Ham with Omega-3's. Nestlé Industrial e Comercial Ltda. offers omega-3 cream cheese spread in Brazil, and Cuétara SA biscuits in Spain are now fortified with fiber, vitamins, and omega-3. At the same time, UK-based Matthews Foods is aiming to create a new segment of the olive oil spread market with Filippo Berios Olive Spread. Filippo Berios, one of Europe's largest oil brands, has created a product with 41% olive oil content, almost twice that of any other olive oil spread, providing a more appealing taste and health message.
If a look at these trends throws you back to the issues, concerns, and industry directions reminiscent of the 1980s, you're right on target. Only this time we're dealing with a more health-experienced (good and bad), restaurant-spoiled, and ultimately more discriminating consumer than ever before. Although more-critical health benefits and a more-affordable price are part of the contemporary, it may be time to dust off a few of those great product concepts food companies thought to offer back then. One thing is for sure, America's approach to health is different this time—more aggressive, more sophisticated, and most assuredly here to stay.
by A. Elizabeth Sloan, Contributing Editor
The author is President, Sloan Trends & solutions, Inc., P.O. Box 461149, Escondido, CA 92046 ([email protected]).