IFT wants you!
Your vision, expertise, and experience can play a vital role in the direction of IFT and the future of food science and technology. Opportunities abound as the IFT Nominations and Elections Committee seeks candidates for key national-level positions.
"In the 21st Century, we will need leaders who have insights into the future and a passion for leading us into new frontiers," said Gilbert A. Leveille, incoming chair of the Nominations and Elections Committee and vice president of technology for Cargill, Inc. Candidates, he added, must be Professional Members who have volunteer experience in IFT. "Nominees should have proven exemplary leadership qualities, demonstrated commitment to IFT and related professional organizations, and extensive background in the industry."
If this sounds like you, why not throw your hat in the ring? Self-nominations and nominations on behalf of colleagues are strongly encouraged and being accepted now for President-elect and Membership and Councilor Representatives to the Executive Committee for 2005–06.
The positions
As the Institute's governing board, the Executive Committee sets the tone and tenor of IFT and ensures the availability of the resources needed to sustain and grow IFT programs. As Chief Elected Officer and Chair of the Executive Committee, the IFT President is the primary steward of the strategic vision and plan, a real force for moving IFT forward.
The Executive Committee is composed of the President, President-elect, Past President, six representatives of the IFT Membership who are not Councilors, and six representatives drawn from the IFT Council. Representatives of Council must be individuals who have served as a Councilor or Alternate Councilor within three years of their nomination to the Executive Committee. Two Membership Representatives and two Councilor Representatives will be elected next year.
All of IFT's national, elected leaders serve three-year terms to ensure continuity, oversight, and progress in their important work. The Executive Committee usually meets just three times annually, in March, June, and October. Regular communication continues throughout the year as policies and programs are implemented.
The process
Making a nomination is easy. The Nominations and Elections Committee has designed the Personal and Professional Data Information Form as a tool to capture all the relevant information. The form will be available on-line this month. Just visit www.ift.org for more information or log directly into the myIFT member portal at www.myift.org. A form can also be requested by contacting Andrea Lohse in the IFT Executive Office ([email protected]).
Completed forms for nominees to the offices of President-elect and Membership and Councilor Representative to the Executive Committee for the term beginning September 1, 2005, are due October 1, 2004. The Committee meets in the fall to review dossiers on all candidates and develop a final slate of nominees for election. All information is confidential and can only be accessed by the Nominations and Elections Committee.
IFT wants you to fill out the Personal and Professional Data Information Form today. By doing so, you indicate your willingness to lead IFT into a bright future of sound science and industry excellence.
Symposium proposals due September 1
The IFT Committee on Divisions and the Technical Presentations Committee are now accepting proposals for symposia to be presented at IFT's 2005 Annual Meeting in New Orleans.
Symposia represent important collections of current knowledge on given subjects. The identified topic should address a uniform theme on which all speakers focus; the topic should be timely and relevant to a large number of IFT members; and proposed speakers should be among the best qualified to present up-to-date information on the topics.
IFT accepts symposium proposals via the Internet. You can electronically submit your entire proposed program and receive an instant receipt by going to www.ift.org/cms/?pid=1000503. This saves time and eliminates the diskette and multiple paper copies required under the traditional submission procedure, which is still available. For information on the process and deadlines involved, contact IFT's Professional Development Department at 312-782-8424.
The deadline is September 1, 2004. Division organizers of preliminary symposium proposals must submit their proposals to the appropriate Division Chair. The Division review includes acceptance or rejection, suggestions for modification, and ranking for final submission to the Chair of the Technical Presentations Committee (TPC) by September 30. Planned cosponsorship with other Divisions must be coordinated prior to the deadline.
Symposium organizers not seeking Division sponsorship must submit their proposals directly to TPC Chair Denise M. Smith by September 1. The role of the TPC is to coordinate the review of proposals to avoid duplication of symposium topics among the Divisions. The TPC chair will notify the organizers of symposium proposals of acceptance, rejection, or suggested combination with another symposium by October 29.
The same point system for Divisions will be used again this year. Each Division is allotted a total of two points for symposia sponsorship, with an individual symposium counting as one point. Symposia cosponsored with another Division count as one-half point. Cosponsorship with an outside organization, however, is counted as one full point. Divisions are not required to use their full two-point allotment, and the TPC will consider and review symposia in excess of the two-point limit.
Contact Denise M. Smith, Univ. of Idaho, Dept. of Food Science & Toxicology, P.O. Box 442201, Moscow ID 83844 (phone 208-885-7081, fax 208-885-8937, e-mail [email protected]).
IFT's MacAulay wins ADA Young Dietitian Award
Jennifer MacAulay, Staff Scientist in the Institute of Food Technologists' Office of Science, Communications, and Government Relations, was named the Young Dietitian of the Year 2003–04 by the Washington, D.C., section of the American Dietetic Association. The award is given to ADA members 35 years of age or younger who have demonstrated leadership qualities and performance in legislation, research, public relations, education, community outreach, management, and other areas related to the profession.
MacAulay, who has worked at IFT for two years, serves as a liaison at numerous meetings on a variety of nutrition and food-related topics, writes articles and reports for Food Technology, and coordinates an expert panel that is developing a report on functional foods.
A Registered Dietitian, MacAulay received her B.A. degree in biology from the University of Virginia and her M.Ed. Degree in sports sciences and nutrition from the University of Texas at Austin. Prior to joining the IFT staff, she gained experience as a Nutrition Information Specialist at the U.S. Dept. of Agriculture's Food and Nutrition Information Center and as a Dietetic Technician at the National Institutes of Health.
EDUCATION NEWS
Levine named head of Minnesota food science dept.
Allen Levine was recently named Head of the Dept. of Food Science and Nutrition at the University of Minnesota.
He is a professor in the university's Depts. of Psychiatry, Psychology, and Surgery and an adjunct professor in the Dept. of Food Science and Nutrition. He is also Director of the Minnesota Obesity Center and has served for more than 15 years as Deputy Associate Chief of Staff of Research at the Minnesota Veterans Administration Medical Center.
A Member of IFT, Levine earned his B.A. degree in botany from Rutgers University and his M.S. degree in botany and Ph.D. degree in nutrition from the University of Minnesota.
Shetty receives Jefferson Fellowship
Kalidas Shetty is the recipient of one of five inaugural Thomas Jefferson Science Fellowships from the U.S. Dept. of State. The Jefferson Fellowship brings specialized scientific knowledge to the practice of U.S. foreign diplomacy.
At a recent ceremony, Secretary of State Colin Powell congratulated Shetty and four other scientists working in different disciplines, and said that they will serve for one year within the Dept. of State in roles of international scientific diplomacy. Following the fellowship year, the recipients will return to their academic careers but will remain available to the U.S. government as experienced consultants for short-term projects for five years.
Shetty, a professor of food science at the University of Massachusetts and specialist in food biotechnology, conducts research on the use of solid-substrate fermentation to convert crop residue to food-grade fungal products enriched in antioxidants and antimicrobials. He is a Member of IFT.
AOCS announces research award recipients
The American Oil Chemists' Society (AOCS) recently announced the winners of three research awards.
Casimir C. Akoh, Professor, University of Georgia, received the 2004 Stephen S. Chang Award, which recognizes a scientist or technologist who has made decisive accomplishments in research for the improvement or development of products related to lipids. Akoh is a leader in the area of designing more nutritious edible oils and is an internationally recognized scholar on fat substitutes and structured lipid research. He is a Professional Member of IFT.
George M. Carman, Professor, Rutgers University, won the 2004 Supelco/Nicholas Pelick–AOCS Research Award, which recognizes outstanding original research in fats, oils, lipid chemistry, or biochemistry. A Professional Member of IFT, Carman is a pioneer and leader in the field of lipid biochemistry, particularly in the areas of lipid enzymology and lipid-mediated regulation.
Jan Sjövall, Professor, Karolinska Institutet, Sweden, received the 2004 Schroepfer Medal Award, which recognizes significant and distinguished accomplishments in the steroid field. For more than 40 years, Sjövall has worked in the areas of steroid biochemistry and steroid analyses and developed new methods of liquid chromatography and solid phase extractions of steroids.
---
Correction
The article "Flavor Encapsulation: A Convergence of Science and Art" by Mike Porzio (July 2004, p. 40) inadvertently included the wrong diagram for Figure 1 on p. 41. The correct diagram is shown here and in the online version of the article (
www.ift.org/publications/docshop/ft_shop/07-04/07_04_pdfs/07-04-porzio.pdf
). We apologize for the error.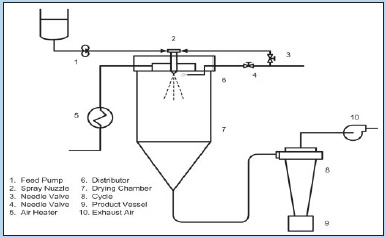 by KAREN BANASIAK
Assistant Editor
[email protected]