Hold the pickle, hold the lettuce. That was yesterday. Today, it's more likely hold the bun, but keep the lettuce. Even odds, I reckon, regarding the pickle.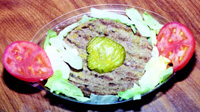 Yes, the marketplace has seen some, well, "interesting," differences lately. I'm referring, of course, to the wave—more like a tsunami—of low-carbohydrate food products (or to put it more accurately, products promoting a low-carb lifestyle) out there in the mainstream.
Here are just a few examples of what companies have been launching: Burger King's bunless Whopper served on a plate without ketchup and mayo; Hardee's bunless, lettuce-wrapped version of its signature burger; Subway's two wraps, Chicken Ranch and Turkey Bacon, in a thin tortilla; T.G.I. Friday's Cheeseburger Cheeseburger—two burgers with cheese, without fries or bun; Ruby Tuesday's low-carbohydrate cheesecake and other low-carb items; Heinz's low-carbohydrate version of its ketchup called Heinz One Carb Ketchup); Lou Malnati's pizza with crust replaced by sausage; a variety of low-carbohydrate beers (Rolling Rock's Rock Green Light, Michelob's Ultra, and Coor's Aspen Edge); and many other entries too numerous to mention.
Other additions are on the horizon as well. Frito-Lay will be debuting a new line extension of Doritos and Tostitos, formulated with soy proteins and fiber, that reportedly has 60% less carbohydrates than its traditional tortilla chip brands. Unilever is also unveiling a line of 18 new low-carbohydrate products based on such brand names as Skippy peanut butter, Ragu spaghetti sauce, and Wishbone salad dressing, along with other condiments, spreads, snacks, and shakes. Keto Foods & Snacks, Neptune, N.J., will be introducing a ready-to-drink milk which has 1 g of carbohydrate/serving and is lactose free.
In light of all these entries in the marketplace, I couldn't help wondering what Mike Royko, the late great newspaper columnist and analyzer of social and political behavior, would have thought about all of this. I can see some of his headlines now: "Cheeseburger . . . Cheeseburger . . . No Bun" or "Slats Grobnik Becomes Low-Carb Crazed; Police Called In" or "Billy Goat Es-chews High Carb." (Sorry, I guess you have to be from Chicago.)
Over the past several weeks, I sifted through quite a bit of material (both pro and con) regarding the low-carbohydrate diet. Although the subject of low- carbohydrate formulations is a complex one, as well as controversial, there can be little doubt that right now it's a hot area and consequently needs some addressing, hopefully in a rational manner. In the January 2004 issue of Food Technology, the Consumer Trends column discussed "The Low-Carb Diet Craze," and this month's Ingredients section will be tackling the subject from an ingredients and formulation perspective.
--- PAGE BREAK ---
An in-depth examination of what a low-carbohydrate diet means to consumers and to business was recently issued by The Hartman Group, a full-service consulting and marketing research firm based in Bellevue, Wash. According to the new report, "The Low-Carb Diet and Today's Consumer" (a summary of which can be found at www.hartman-group.com), Americans who eat a diet low in carbohydrates do not necessarily recognize the diet as specifically "low carb." Rather, the eating habits are a reflection of wider trends in eating such as balance and moderation. Also, the report noted that those who are long-term adoptees of the diet follow it on a permanent basis for reasons such as diabetes.
I picked this particular report to lead off this month's Ingredients section because I thought it raised some interesting philosophical points that go beyond whether this particular diet is short term or of longer duration, whether the development of low-carbohydrate products is being driven more by marketing zeal than scientific innovation, and even beyond whether an individual is personally a staunch supporter or critic of low-carbohydrate food products in general.
As readers of this monthly section probably already know by this time, the topic of "reformulation" frequently comes up. I find it a particularly intriguing concept in today's marketplace, dominated by health issues, consumers' desires for taste and high quality,and, of course, economical considerations for the food formulator. If the conclusions of the Hartman study are on the mark, then it means that the current low-carbohydrate trend may have a positive impact in a number of ways on the larger, more encompassing health picture.
To start with, the low-carbohydrate trend may reflect the consumer's awareness and growing interest in purchasing versions of traditional products that are being promoted as having health benefits. This certainly indicates that the market is open for products—low carbohydrate or not—that are formulated to be healthier, and those, I might add, that offer benefits based on scientific research and not on misleading promises or colorful marketing strategies.
Also, many of the ingredients that are being used in low-carbohydrate products—for example, soy protein, wheat gluten, fiber, gums, sweetener alternatives, certain grain-based ingredients, and others—have been used in the formulation of other products that promote health benefits. In fact, previous Ingredients sections (November's sweeteners, December's gums, January's colors, and February's proteins) all discuss developments which can play a key role not only in the formulation of low-carbohydrate foods, but also in the healthy reformulation of foods in general. The inclusion of these ingredients in low-carbohydrate foods that are already appearing in the marketplace can obviously have a positive impact on the formulation and reformulation of future healthy foods and beverages in a variety of areas, including diabetes, low cholesterol, fiber enrichment, or general health, regardless of whether these foods are being promoted as low-carbohydrate or not.
--- PAGE BREAK ---
If these first two points are true, then it's possible that the low-carbohydrate trend, after all the hype and debate have settled, might quietly merge or evolve into the bigger picture which concerns, after all, the health of the consumer. In particular, and I'm saying this only as a possibility, if we and our children are indeed consuming too many sugars, for example, then moderating our intake—not necessarily consuming a low-carbohydrate diet for the duration of a lifetime—may be the lesson that we can learn from the "low-carb craze."
Furthermore, it's possible that if we ever do reach that point in our evolution, either as a society or as individuals, it may not even be necessary to use the term "low carb" or other such phrases because our foods and beverages have, hopefully by that time, already been reformulated to achieve maximum health and functionality.
I admit that the kind of evolution—or perhaps revolution—that I'm talking about would take some time. It would not be fueled by quick answers and would require some significant changes by the food industry, the government, and the individual.
In taking such a view, I may be a naive idealist or an idle dreamer. At the same time, however, I am in no way trying to gloss over the debate regarding the low-carbohydrate diet.
Is this diet a controversial one? Yes. But that should come as no surprise when one realizes that world opinions regarding how to deal with rising obesity, diabetes, and other health problems are clearly divided. Recently, the World Health Organization drafted a plan that included recommendations that people curb their consumption of sugar and other refined foods, that junk food marketing be restricted, that advertising be more responsible, and that labeling be made clearer. The Bush administration opposed the plan on grounds that it depended too much on unproven science and that more stress should be placed on "personal responsibility."
Especially in light of the above news item, it would be impossible for any one article to clear up the complexities and controversies regarding the low-carb diet. To be truthful, I feel like I'm walking right into a hornets' nest. I'm only hoping that many of the testy critters are still frozen from the brutal winter.
In any case, this month's Ingredients section will discuss recent developments that might interest food companies who are considering the formulation of low-carbohydrate food products. After these developments are covered, I will then look at several issues that I think a formulator of low-carbohydrate foods needs to address or at least be aware of.
Here are some of these developments, which include novel ingredients, new applications, significant news events, regulatory insights, new research ventures, and other areas which may have impact on low-carbohydrate formulating.
--- PAGE BREAK ---
Organization Formed to Promote Carbohydrate Awareness. The Carbohydrate Awareness Council, founded in 2003 to serve the needs of the low-carb industry, is committed to encouraging health and well-being with controlled-carbohydrate nutrition. One of its functions is to provide information about the industry that is easily accessible to executives, salespeople, retailers, buyers, growers, media, and other associations.
CAC was formed in response to some of the problems that this particular sector of the industry faces. According to Gil Wilshire, President and Chief Scientific Officer, "At present no standards or guidelines establish what constitutes 'low-carb' and misinformation abounds regarding low-carb diets and foods. . . . As individual companies, we cannot perform consumer education, seek to influence public policy, stimulate research funding, and establish the position of the industry in the marketplace without taking valuable time from our core competencies. . . . It is time that we unite in our vision and goals with an organization dedicated to our industry." 
As its first order of business, it organized the CarbAware Executive Summit, held on January 14–15, 2004, which brought together executives from established food producers, new niche companies, and complimentary industries. At the Summit, they established common goals, visions, and standards that foster cooperation to promote and strengthen the position of the industry by enhancing growth and consumer awareness.
One program, due for release in 2004, is an industry "seal of assurance" for consumers to distinguish low-carb products which meet the industry guidelines for quality and carbohydrate content from those which do not meet the industry standards. The seal will appear on products in supermarkets and specialty stores, as well as in restaurants and fast-food outlets.
In addition, the industry's first trade show and conference will be held in late spring 2004.
For more information about the council and its activities, write to Carbohydrate Awareness Council, P.O. Box 3371, Falls Church, VA 22043 (phone 703-200-1712; www.carbaware.org).
Low-Carbohydrate Trend Boosts the Use of Eggs. The recent emphasis on high-protein, low-carbohydrate formulation is helping boost the use of the egg as an ingredient, according to the American Egg Board (AEB), 1460 Renaissance Dr., Park Ridge, IL 60068 (phone 847-296-7043; fax 847-296-7007; www.aeb.org). The inclusion of eggs, which are extremely low in carbohydrates, typically does not affect carbohydrate content or glycemic index.
Because of their health and functionality properties, eggs are being used in the formulation of low-carbohydrate products appearing in the marketplace. For example, a frozen dessert called LeCarb™ is made with egg whites which enhance body and texture through their foaming properties. The full-bodied dessert is said to serve 6–7 g of carbohydrate, depending on flavor, and have 64–84% less sugar than regular ice cream.
"Low-Carb Dieting and Glycemic Index" is the title of an article in The EggsAminer (Winter 2003), a quarterly newsletter for food manufacturers from AEB. The article advises that food marketers proceed with caution when trying to take advantage of the current trend of reducing carbohydrate intake because the Food and Drug Administration is beginning to take a closer look at the role of carbohydrates in the diet. The article notes that currently there is no set definition for low carbohydrate, as FDA has never settled on guidelines. Furthermore, FDA requires the carbohydrate content of foods to be determined by chemical composition, not physiological effect on the body. Physiologically, all carbohydrates are not created equal, as the body responds to certain carbohydrates differently than others.
--- PAGE BREAK ---
"Glycemic index is a ranking of carbohydrates on a scale from 0 to 100, depending on how much the carbohydrate raises blood sugar levels after eating. Foods with a high-glycemic index are rapidly digested and absorbed and result in big fluctuations in blood sugar levels. But foods with a low-glycemic index, by virtue of their slow digestion and absorption, produce gradual rises in blood sugar and insulin levels. FDA is taking a closer look at the role of carbohydrates in diets and considering creating guidelines that could be announced in 2004 as part of the agency's anti-obesity initiative. However, for now, marketers should be careful about the language they use on the product labels describing carbohydrate content."
The October 2003 Ingredients section included an article, "Formulating High-Protein Foods," from the newsletter (Fall 2003). The article said that egg products, naturally high in protein, can boost protein levels in low-carbohydrate foods. The article also included several studies on the value of proteins in weight-loss diets.
Reformulating Foods to Make Them Low-Carb. A center for assisting food and beverage, foodservice, and food ingredient companies in reformulating their products to be healthier and more consumer friendly was recently launched by TIAX LLC, the former Technology & Innovation business of consultant Arthur D. Little. Named appropriately the Center for Food Reformulation, it will focus on reformulating existing products to reduce trans fatty acids, carbohydrates, and calories.
"The Center will be an important initiative for TIAX," said Kenan Sahin, President and founder of the company. "With the exponentially increasing prevalence of obesity and diabetes among Americans, it is essential that consumers have access to healthy product offerings that still meet their demands for flavor, convenience, and value."
Staffed by experts from a range of fields, including chemistry, biology, food science, sensory science, engineering, and manufacturing, the center reportedly combines a sensory-directed product-development approach with its extensive links to the research community, food suppliers, and manufacturers. Through a close relationship with its clients, it will develop healthier formulations while maintaining a product's flavor, texture, and shelf life.
Not surprisingly, one of the projects the center has been working on is the development of a low-fat, low-carbohydrate snack product for an established food company. Such a product, while offering health benefits, will not be significantly different in terms of taste and texture from traditional snack products (e.g., those containing trans fats or more carbohydrates), and can be effectively positioned as an alternative to competing brands already in the marketplace.
Recently, TIAX (an acronym for "technology and innovation applications to the power of X") organized a conference with the Harvard School of Public Health. The conference, "Changing the American Diet: Imperatives and Opportunities," focused on stimulating thought and discussion on how industry and academia can work together to create necessary changes in the American diet.
For more information about the center, write to TIAX LLC, Cambridge Headquarters, 15 Acorn Park, Cambridge, MA 02140-2328 (phone 617-498- 5000; www.tiax.biz).
--- PAGE BREAK ---
Ingredients Offer Low-Glycemic Benefits. Studies have shown that while high-glycemic carbohydrates are quickly digested and sharply raise blood sugar levels, low-glycemic carbohydrates have the benefit of breaking down slowly, releasing glucose gradually into the bloodstream. In addition to helping control established diabetes, a low-glycemic, low-carbohydrate diet may improve the body's sensitivity to insulin as well as suppressing hunger longer.
Low-glycemic ingredients suitable for people who follow low-carbohydrate diets and who want to control their blood sugar levels are available from Danisco Sweeteners, 440 Saw Mill River Rd., Ardsley, NY 10502 (phone 800-255-6837; fax 914-674-6542; www.danisco.com/sweeteners). Such ingredients, used singly or in combination with each other, can meet the challenges involved in formulating food and beverage products containing low-impact carbohydrates.
Here are some examples:
• A specialty carbohydrate, Litesse® is a polydextrose ingredient that provides 1 kcal/g. It may be used to replace sugar and fat and impart a desirable mouthfeel. It has the added benefits of being prebiotic and high in fiber (90%). It is colorless, neutral tasting, stable, highly soluble, and well tolerated. It has a glycemic index ranging from 5 to 7. It may be used in frozen desserts, nutrition bars, baked goods, confections, beverages, and a variety of other products. 
Litesse II solution can be used as an alternative to high-fructose corn syrup in applications designed to reduce sugar or lower glycemic load. With a functionality similar to HFCS, it can serve as a humectant, provide solids, decrease water activity, control crystallization, and enhance flavor and texture. It has fewer calories, does not contribute sweetness, and is compatible with high-intensity sweeteners for use where sweetness is desired.
• Lactitol, a reduced-calorie sweetener (2 kcal/g) derived from lactose, provides the body with only about 50% of the carbohydrate effect of sugar. The sugar alcohol is a slowly metabolized carbohydrate that generally causes only a small rise in blood glucose levels, making it suitable for use in the formulation of low-carbohydrate products. It has a glycemic index of 4, and its solubility and viscosity are similar to those of sucrose. With this sweetener, product formulators can reduce sugar content and carbohydrate levels in applications such as sugar-free chocolate, ice creams, confections, baked goods, chewing gum, and other products.
• Xylitol, a naturally occurring bulk sweetener, offers 40% fewer calories and has a glycemic index of 8. Interestingly, its distinctive cooling effect, especially in combination with mint and fruit flavors, may be a characteristic that food formulators can take advantage of when developing low-carbohydrate food products with distinctive taste.
These three ingredients not only have been used in a variety of prototype low-carbohydrate food and beverage products, but also have made their way successfully into the marketplace.
--- PAGE BREAK ---
Recently, Hershey Foods introduced nationally its first sugar-free line of chocolate candies (Reese's® Sugar-Free Peanut Butter Cup Miniatures, Hershey's® Chocolate Candy, Hershey's Sugar-Free Chocolate Candy with Almonds, and Hershey's Sugar-Free Dark Chocolate Candy). These confections, intended primarily for consumers with diabetes or those on a restricted carbohydrate diet, were made with lactitol.
A prototype cookie product, ChocoOrange, was made with polydextrose, lactitol, and xylitol. The crispy vanilla cookie layered with orange-flavored creme and a rich, chocolate coating is sugar free, low glycemic, and reduced calorie, making it suitable for consumers seeking low-impact carbohydrates, including diabetics.
Another prototype, a caramel pecan turtle, contained a combination of polydextrose and lactitol. The confection consists of caramel, pecans, and a chocolate coating, but it is reduced calorie, sugar free, and (because it contains salatrim) low fat. The polydextrose was used to replace the sugar and is high in fiber.
Attorneys Report on FDA's Policy on Carbohydrate Claims. FDA's policy on carbohydrate claims was summarized by attorneys-at-law Olsson, Frank, and Weeda, P.C., Ste. 400, 1400 Sixteenth St., N.W., Washington, DC 20036-2220 (phone 202-789-1212; fax 202-234-3550), based on conversations they had with representatives from the agency. The following material has been taken from their report.
FDA's policy regarding carbohydrate claims is essentially the same as the policy recently announced by the U.S. Dept. of Agriculture's Food Safety and Inspection Service. Under that policy, FSIS permits the following label statements:
• Statements that do not expressly state or imply a specific level of carbohydrates.
• Terms such as "low carb," provided they are used to describe a diet or lifestyle (not a particular food) and are truthful and not misleading.
• Terms such as "net carbs," "effective carbs," and "net impact carbs," provided they are truthful and not misleading. To avoid being misleading, FDA believes such terms must be accompanied by an explanation regarding the meaning of the terms and how the amounts were calculated.
FDA permits factual statements about total carbohydrate content of a food, provided such statements are truthful and not misleading and do not characterize the level of total carbohydrate in the food.
--- PAGE BREAK ---
FDA continues to use the definition of "total carbohydrate" contained in its regulations. Under that definition, "total carbohydrate" is calculated "by sub-straction of the sum of the crude protein, total fat, moisture, and ash from the total weight of the food. Thus, "total carbohydrate" encompasses a wide variety of substances, including sugars, sugar alcohols, dietary fiber, organic acids, and preservatives.
FDA has received an industry petition requesting that the agency define certain carbohydrate claims (e.g., "low carb"), and FDA intends to undertake a rulemaking in response to the petition. While the petition does not call on FDA to revise the definition of "total carbohydrate," nor does it address the issue of "net carb" label statements, FDA may take up these issues as part of its review of the petition.
The attorneys also note that the only two warning letters sent by FDA in 2003 objecting to the use of "low carb" or "reduced carb" claims were for a "reduced carb" bread and a "low carb" candy bar, products that are not naturally low in carbohydrates.
Resistant Starches Provide Option for Low-Carb Products. Resistant starches which may be used in the formulation of low-carbohydrate food products were highlighted at FI Europe 2003 by National Starch, 10 Finderne Ave., Bridgewater, NJ 08807 (phone 800-797-4992; fax 609-409-5699; www.foodstarch.com). The ingredient, marketed under the names Hi-Maize or Novelose, is suitable for a range of applications, including grain-based, low-and moderate-moisture products such as snacks, cakes, cereal and muffin bars, biscuits, pizza, bread, breakfast cereal, pasta, and noodles.
According to the manufacturer, studies have shown that resistant starch provides excellent functionality while aiding digestive health, fat metabolism, glycemic response, and weight regulation. As an insoluble fiber and nondigestible carbohydrate, it offers a new ingredient option for replacing rapidly digestible carbohydrates such as flour and turning processed and convenient high-glycemic foods into moderate and low-glycemic alternatives.
Maintaining healthy blood sugar levels is crucially important for diabetes, but recent research is suggesting that it also assists in energy management and weight control. Furthermore, resistant starches may improve sensitivity to insulin, an important biomarker linked to heart disease, diabetes, and obesity.
National Starch received IFT's 2003 Food Technology Industrial Achievement Award for the development and commercialization of the resistant starches marketed under the name Novelose. The company reportedly developed the ingredient to provide the physiological benefits of fiber without the processing problems associated with typical fibers. Resistant starch is a prebiotic fiber, which is fermented in the large intestine and preferentially generates butyrate, a biomarker for maintaining colon health.
In the area of low-carbohydrate formulation, prototypes have demonstrated the effectiveness of these starches. Prototypes included reduced-carbohydrate pastas, such as Asian noodle and Southwest noodle salads, and breakfast bars.
--- PAGE BREAK ---
Use of Soy and Dairy Ingredients in Low-Carb Formulating. A few months ago, I mentioned that soy ingredients were moving away from their status as alternative ingredients and more toward a mainstream position in the marketplace. If this is so, then the emphasis on low-carbohydrate formulation should accelerate that evolution or at least have a positive impact on their inclusion in a variety of food products. Other ingredients such as whey should also be positively influenced by the trend.
Reflecting this evolution are a number of developments by Kerry Ingredients U.S., 100 E. Grand Ave., Beloit, WI 53511 (phone 608-363-1200; fax 608-363-1670). Here are some examples:
• No-sugar-added coatings are said to provide an indulgent taste with a low-glycemicindex that promotes improved health benefits for diabetics. These coatings, described as no-sugar-added, sugar-free, low-fat, and low-carb, may also be fortified with soy to provide a boost in protein and other health benefits associated with soy consumption. Applications include nutrition bars,meal replacement bars, soy-based bars, granola and cereal bars, healthy snacks, and other treats.
• Low-carbohydrate, low-fat, and no-sugar-added inclusions for use in cereals, snacks, and other products may also be fortified with such ingredients as soy, flax, and omega-3 polyunsaturated fatty acids. Some innovative inclusions highlighted include a low-carbohydrate, no-sugar-added berry granola, and fortified blueberry agglomerates.
• Dairy proteins may be used to improve the texture and shelf life of bars, which can have an obvious benefit in the low-carbohydrate formulation area. See the February 2004 Ingredients section for more information on the functionality benefits of these proteins.
• A low-carbohydrate ice cream prototype called Low-Carb Vanilla Fudge Delight was developed using soy protein and milk protein isolates. The low-carbohydrate, no-sugar-added vanilla ice cream is swirled with low-carbohydrate chewy fudge variegates and protein-fortified, low-carbohydrate chewy chocolate chunks. Variegates deliver bursting flavor and smooth texture with visual appeal, sensory qualities which can enhance the desirability of a low-carbohydrate formulation. Soy and milk isolates enhance the nutritional profile with an added protein boost. The recent acquisition of Guernsey Bel by Kerry can further the innovative development of low-carbohydrate frozen desserts by bringing together innovations in the area of functionality and health.
• Kerry Nutriant, Kerry's nutritional division, offers a variety of soy-based ingredients that in addition to their benefits provide good water-holding and emulsification properties, can reduce moisture and fat loss, and improve mouthfeel. For example, in a low-carbohydrate, high-protein application such as pasta, soy ingredients can give an elastic mouthfeel and a clean flavor.
--- PAGE BREAK ---
Report Provides Insight on Carbohydrates. A report, "Dietary Reference Intakes for Energy, Carbohydrate, Fiber, Fat, Fatty Acids, Cholesterol, Protein, and Amino Acids," was released (September 2002) by the Food and Nutrition Board of the National Academies. The report sets the first RDA for total carbohydrates for adults and children at 130 g/day. Most people typically exceed this daily amount, with the median intake of energy-yielding carbohydrates ranging, depending on age, from approximately 200–330 g/day for men and 180–230 g/day for women. However, individuals who adhere to extremely low-carbohydrate regimes may not be getting enough carbohydrates from the food they eat.
The report went on to note that while certain populations that live on a high-fat, high-protein diet containing only minimal amounts of carbohydrates appear to suffer no adverse health or longevity effects, the amount of dietary carbohydrates that provides for decreased risk of chronic disease in humans is unknown. There may be subtle and unrecognized health problems caused by a very low-carbohydrate diet among populations that are not genetically or traditionally adapted to such a diet. Of particular concern in Western, urbanized societies are the long-term consequences of a diet sufficiently low in carbohydrates to cause chronically increased production of keto-acids. Such a diet may result in bone mineral loss, high blood cholesterol concentrations, and increased risk of kidney stones and urinary tract deposits. It also may affect the development and function of the central nervous system.
Furthermore, while the acceptable range for carbohydrates is 45–65% of total calories, the report suggests that no more than 25% of total calories come from added sugars. Added sugars are incorporated into foods and beverages during production and processing. The suggested maximum level is based on trends that show that people whose diets are at this level of added sugars or above are more likely to have poorer intakes of important essential nutrients.
Wheat Derivative Reduces Carbohydrate Levels. Resistant wheat starch that enhances fiber content while reducing net carbohydrate levels in many foods has been introduced under the name FiberStar 70™ by MGP Ingredients, Inc., P.O. Box 130, Atchison, KS 66002-0130 (phone 913-367-1480; fax 913-367-0192; www.mgpingredients.com).
The wheat derivative is said to deliver a minimum of 70% total dietary fiber, can partially replace flour in bakery products, and possesses low water-holding capacity which provides for high inclusion levels with minimal reformulation. It has a neutral flavor, white color, and smooth texture. The ingredient may be used in a variety of products, including breads, pasta, muffins, waffles, breakfast cereals, and nutrition bars.
Research Efforts May Have Impactin the Low-Carb Area. The February 2004 Ingredients section discussed how a partnership was formed between the Solae Co. and Linguagen Corp. to improve soy taste through flavor modification. The companies are working together to identify and develop flavor modifiers that will continue to improve the taste of soy protein to meet the needs of consumers. Such a development can have an impact in low-carbohydrate formulations which may use soy as an ingredient to partially replace flour or because it is high in protein.
In an effort to develop healthier foods and beverages that use less sugar, Linguagen recently announced an expansion of its taste-receptor research. Three leading food ingredient companies—Cargill Ventures, Danisco Venture A/S (Danisco A/S), and E.I. du Pont de Nemours and Co.—will provide financial resources for the research, which should enable greater insights into the trends and needs of the food industry.
This development, since it is focusing on improving the flavor of reduced-sugar formulations, may also have an impact in the area of low-carbohydrate food product development. Interestingly, the low-carbohydrate trend may help provide incentive for the work that is increasingly being done in taste-receptor research, including the development of new flavor enhancers or masking agents.
For more information about these research developments, write to Linguagen Corp., 2005 Eastpark Blvd., Cranbury, NJ 08512-3515 (phone 609- 860-1500; fax 609-860-5900; www.linguagen.com).
--- PAGE BREAK ---
Stabilizer Blend Reduces Carbs in Ice Cream. A stabilizer blend for developing a prototype low-carbohydrate ice cream has been developed by TIC Gums, Inc., P.O. Box 369, Belcamp, MD 21017 (phone 410-273-7300; fax 410-273-6469; www.ticgums.com). Called TIC Pretested Dairyblend IC LC Base, the gum blend can be used in ice cream to attaina 43% reduction in carbohydrates. (A typical ice cream would contain as much as 16 g of carbohydrates.)
According to the ingredient supplier, the finished low-calorie ice cream will deliver all the qualities of a standard full-fat ice cream while giving the consumer reduced carbohydrate levels. In addition, the formulation can provide almost 5 g of dietary fiber/serving.
The formulation consists of the stabilizer blend (14.60%), fat, glycerin, whey protein concentrate, sucralose, and other ingredients. Adjustments can also be made to the formula.
Low-Carb Solutions Available. Innovative low-carbohydrate ingredient solutions to meet the needs of customers are available from ADM, 4666 Pkwy., Decatur, IL 62526 (phone 217-424-5424; 217-424-5580; www.admworld.com). The company works with various applications to address glycemic index concerns and reduction in net carbs with ingredient offerings such as soy proteins, wheat gluten, dietary fiber, sorbitol, gums, emulsifiers, and healthy fats.
For example, Fibersol-2™, a digestion-resistant maltodextrin developed by Matsutani America, Inc., contains 90% soluble fiber and has an ultra-low glycemic index of less than 5. The ingredient is odorless, tasteless, and stable in most processing conditions, and can enhance the texture of the low-carbohydrate product.
Carbohydrate contents of breads and other bakery products can be reduced by using soy at lower levels as a partial replacement to wheat flour. ADM offers a range of ingredients, including NutriSoy® soy proteins which offer protein concentrates from 40 to 90%. Most recent, the company developed an organic powder made from whole soybeans which has a microfine particle size but retains proteins and other key components. The ingredient, which offers a smooth rich mouthfeel and a good flavor profile, may be used in the formulation of soy beverages, frozen desserts, and fermented soy products.
--- PAGE BREAK ---
General Approval Can Have a Sweet Effect on Reformulation. Acesulfame potassium recently received a general use approval from FDA. This means that the sweetener can now be used as a general purpose sweetener and flavor enhancer in foods and beverages (not including meat and poultry), as opposed to specific applications which had previously received approval.
According to a representative from the Calorie Control Council, "With the current obesity crisis, the use of low-calorie sweeteners, such as acesulfame K, has never been more important. With this broader appeal, acesulfame K can now be used in even more foods and beverages. Such products will allow consumers to enjoy their favorite products with fewer calories."
FDA's decision can also have an important influence on the area of low-carbohydrate formulation. I think this is true for a number of reasons.
First, generally speaking, traditional foods and beverages are being modified so that their carbohydrate levels are reduced. As an alternative to sugar, acesulfame K can obviously play a role in achieving this.
Second, because of its special functionality, including synergistic properties with other sweeteners (see November 2003 Ingredients section), it can provide reformulated foods with a desirable taste and texture.
Third, the sweetener—alone or in combination with other sweeteners—holds interesting possibilities for other applications. For example, we have seen a variety of low-carb confections (Hershey's, Russell Stover, Nestlé's, etc.) in the marketplace today. With their success, food formulators are looking at other areas. One might be shelf-stable baked goods which can also benefit by such sweeteners. Acesulfame K, because of its functionality properties, is suitable for this sector which holds great potential for low-calorie sweeteners.
More information about the functionality of acesulfame K, sold under the brand name Sunett™, can be obtained from Nutrinova, 285 Davidson Ave., Ste. 102, Somerset, NJ 08873 (phone 732-271-7220; fax 732-271-7235; www.nutrinova.com).
Coatings Explore New Frontiers. A line of new sugar-free confectionery coatings that have potential in low-carbohydrate formulation recently received a successful lift-off by Wilbur Chocolate, a business unit of Cargill, 20 N. Broad St., Lititz, PA 17543 (phone 800-233-0139; fax 717-626-3487).
The coatings are made with combinations of sweeteners—inulin and oligofructose, erythritol, and isomalt—that are suitable for diabetics, and contain fewer calories, more fiber, and more calcium. These coatings may be used in a number of prototype applications, such as chocolate chip cookies, nutrition bars, peanut butter cups, and a variety of other products that might appeal to those looking for restricted carbohydrates.
--- PAGE BREAK ---
The following are some of the available coatings and the sweeteners they are made with:
Blends of erythritol and oligofructose were used in the formulation of milk chocolate–flavored sugar-free coatings (Voyager) and dark chocolate–flavored sugar-free coatings (Gemini). A three-way blend of isomalt, erythritol, and oligofructose was used in the production of milk chocolate–flavored, sugar-free coatings (Pioneer) and dark chocolate–flavored sugar-free coatings (Apollo).
Also offered are sugar-free compound nuggets (Galileo and Mercury) formulated with isomalt, erythritol, and oligofructose.
Technology May Appeal to Formulators of Low-Carb Foods. Technology enabling inexpensive and high-quality production of carbohydrate-like molecules using proprietary, natural fermentation techniques is being commercialized by zuChem, Inc., a supplier of specialized sugars for the food and pharmaceutical industry, Chicago Technology Park, 2225 W. Harrison, Chicago, IL 60612 (phone 312-217-0419; www.chempetitive.com). The technology, developed by USDA's National Center for Agricultural Utilization Research (National Ag Lab) based in Peoria, Ill., may be used to make the low-calorie sweeteners mannitol and xylitol at a cost that would appeal to formulators of low-carbohydrate food products.
Recently, the company received a research grant from the Biotechnology Development Organization (BRDC) to commercialize a fermentation approach to manufacture xylitol. The National Ag Lab also researched research funding to support a scientific collaboration with zuChem on the xylitol product. Under the agreement, zuChem will be able to manufacture xylitol more cost effectively and expand the market through the use of alternative raw materials.
"The xylitol market is poised to expand dramatically if it could be produced inexpensively from readily available materials," said a company representative. "The BRDC grant is helping us to develop and commercialize an approach to manufacture xylitol that solves these problems. The new process will be more cost effective and opens the production route to a wider range of very inexpensive raw materials including those derived from corn and corn products."
The xylitol agreement is part of an ongoing collaboration between zuChem and the National Ag Lab. In 2002, the company entered into a cooperative research and development agreement with the National Ag Lab to use the fermentation approach to manufacture mannitol. The company plans to begin selling mannitol at the beginning of 2004.
Getting a Buzz Over New Health Possibilities. Two different news developments, although they are probably not directly related to low-carbohydrate formulation, may be of interest to formulators of these type of food products because of functionality and health reasons.
--- PAGE BREAK ---
A study by researchers at the Harvard School of Public Health and Brigham and Women's Hospital has found that participants who regularly drank coffee significantly reduced the risk of onset of type 2 diabetes, compared to non–coffee-drinking participants. Men who drank more than six cups of caffeinated coffee per day reduced their risk for type 2 diabetes by more than 50%. Women who drank the same amount reduced their risk by more than 30%. These effects were not accounted for by lifestyle factors such as smoking, exercise, or obesity. Decaffeinated coffee was also beneficial, but its effects were weaker than for regular coffee. The study involved more than 125,000 participants over a 12-year period. Researchers are not sure why coffee is beneficial for diabetes, and more research is needed. Findings of the study were published in the January 6, 2004, issue of Annals of Internal Medicine.
A South Dakota State University study may lead to new uses for whey concentrate in liquids such as coffee and tea that have a neutral pH. The researchers are working to develop processing technologies to improve the solubility and mouthfeel of whey mineral concentrates in these beverages. Previously, a lack of solubility and a gritty mouthfeel in neutral pH beverages prevented the food industry from using these ingredients in such products as coffee creamers. As a possible solution, researchers are using whey mineral supplements as the medium to grow starter cultures producing neutral and phosphorylated exopolysaccharides. In the proper ratios, the phosphorylated exopolysaccharides will help reduce or eliminate the gritty mouthfeel of whey mineral concentrates. The exopolysaccharides can interact with calcium to limit the size of the calcium–phosphate complexes present in whey concentrate. That could allow the concentrate to dissolve better.
New Center Implements Low-Carb Formulation. A new Technology and Applications Center was recently unveiled by Sensus America LLC, formerly Imperial Sensus, Princeton Corporate Plaza, 1 Deer Park Dr., Ste. J, Monmouth Junction, NJ 08852 (phone 646-452-6140; fax 646-452-6150; www.sensus.us). The center includes a modern applications laboratory to help implement health-related applications for customers. One of these application areas is the use of inulin to formulate low-carbohydrate foods.
At the new center, the company has developed several low-carbohydrate baked products, including bagels and breads. Some of these prototypes were demonstrated at the 2003 IFT Food Expo®.
Inulin, marketed under the name Frutafit®, is a nondigestible soluble fiber and a complex carbohydrate. It has only 1.5 kcal/g but is not turned into blood sugar. It can replace simple carbs in food applications, reducing calories and limiting blood sugar levels (lowering the glycemic load). It also has prebiotic properties.
According to the company, low-carb prototypes, including bagels and bread, have a reduced glycemic index, reduced dough viscosity, enhanced shelf life, increased bioactive fiber content, and prebiotic benefits. The products contained inulin (Frutafit) and fructo-oligosaccharides (Frutalose).
--- PAGE BREAK ---
Particulate Contains No Net Carbs. A particulate for use in low-carbohydrate formulating has been developed by Nuvex Ingredients, Inc., P.O. Box 158, Blue Earth, MN 56013 (phone 507-526-4341; fax 507-526-2838; www.nuvexingredients.com). Called Zero Carb Crisp™, the ingredient is a blend of soy protein isolate and calcium carbonate that reportedly contains no net carbohydrates and no sugars. It contains 2% carbohydrates—all of which are dietary fiber.
The ingredient may be used to reduce the level of carbohydrates in applications such as bars, snacks, cereals, and many other products. An example of a prototype application created by the company to demonstrate the effectiveness of its ingredient was Low Net Carb Lemon Yogurt Bar.
According to a company representative, "because the ingredient has no net effective carbohydrates, manufacturers are free to either reduce total net carbs in their products or to use their carb budget in other ways to create tastier foods without adding carbs. In today's competitive new products arena, that flexibility is a huge advantage."
Yogurt Formulation Customized to Be Low Carbohydrate. A yogurt formulation customized to meet the low-carbohydrate trend has been developed by Degussa Food Ingredients, 3582 McCall Place, Atlanta, GA 30340 (phone 800-241-9485; www.texturantsystems.com). The formulation, Low-Carbohydrate Strawberry Yogurt, consists of whole milk, nonfat dry milk, inulin, polydextrose, locust bean gum, pectin, and carrageenan. It also includes a low-carbohydrate fruit preparation.
In addition to being low in carbohydrates, the formulation demonstrates the functionality of gums, particularly their stabilizing properties.
Recently, the company's three separate food ingredients units, Flavors & Fruit Systems, BioActives, and Texturant Systems, have been combined into a single business unit, Degussa Food Ingredients. This concentration of food activities into a single business unit will improve the company's ability to meet market requirements for system solutions and tailor-made products and services, including, as shown by this formulation, the growing interest in low-carbohydrate food and beverage products.
Gums Play Functional Role in Low- Carb Foods. The December 2003 Ingredients section discussed the special properties that gum systems provide food formulations. In the area of low-carbohydrate foods, gums can play an especially important role because of their thickening and moisture-retention abilities—characteristics which may be lost when traditional carbohydrates are taken out of the formulation. Furthermore, these ingredients, although they are carbohydrate based, function at lower levels than starches and provide the benefit of soluble dietary fiber.
--- PAGE BREAK ---
A wide variety of gums which may help food formulators reduce the level of carbohydrates in their products are available from Gum Technology Corp., P.O. Box 35306, Tucson, AZ 85740 (phone 800-369-4867; fax 520-888-5585; www.gumtech.com). For example, the appropriate gum or gums may be used o partially replace flour or help enhance gluten in baked goods. Or gums may be used in the formulation of low-carbohydrate pastas or cereals, where they can provide the appropriate thickness ormouthfeel traditionally contributed by grains.
Ingredient Blend Provides Fiber and Sweetness. A line of ingredient blends containing inulin, oligofructose, and enriched sprouted mung bean may be used to improve the mouthfeel, texture, and flavor of low-carbohydrate products, while unmasking unwanted aftertastes. They are marketed under the name BakeFlora™ by Roxlor International, LLC, 1300 N. Market St., Ste. 401, Wilmington, DE 19801 (phone 302-778-4166; fax 302-778-4170; www.roxlor.com).
Introduced to the United States in 2001, the BakeFlora line was designed to add fiber and allow for the replacement of bulk after the complete or partial removal of sugar in such products as baked goods, confections, meal replacement bars and drinks, and dairy applications. Although these blends are generally used in conjunction with sugar alcohols, where they act as flavor enhancers and extenders, they can be used on their own to provide fiber and sweetness. They are said to be as sweet as sucrose, although a version is available which is said to be 10 times as sweet as sugar.
Milled Flaxseed Has Potential in Low-Carb Formulating. Milled flaxseed is being promoted as a suitable ingredient in the formulation of low-carbohydrate foods by Pizzey's Milling USA, Inc., 3175 Commercial Ave., Ste. 211, Northbrook, IL 60062 (phone 847-714-9527; fax 847-714-9528; www.pizzeys.com). The company supplies whole-milled flaxseed, flaxseed bran, and lignan/fiber ingredients ingredients customized to specific formulations.
For example, SelectGrad™ Whole-Grain Milled Flaxseed, which the company described as the "Ultimate Low-Carb," contains only 3% digestible carbohydrates, 27% total dietary fiber, 20% protein, 22% omega-3 fatty acids, and 1% lignans. In addition, it is a rich source of antioxidants, is gluten free, and does not contain trans fat. It may be used in baked goods; breadings, batters, and coatings; soups, sauces, and gravies; side dishes and casseroles; beverages; pasta and pasta fillings; and chili and meat fillings.
Milled flaxseed also has functionality properties which make it applicable in low-carbohydrate formulation. Previously, I mentioned that shelf-stable baked goods may be an increasingly important area for low-carbohydrate formulating. Milled flaxseed has excellent water-binding properties which enhance its ability to extend shelf life in baked products. The ingredient may be used as a stabilizer, similar to gum arabic, and it can improve loaf volume and oven spring.
A recent addition to the company's portfolio is BevGrad™, a fine-milled whole flaxseed designed specifically for beverage, confectionery, and nutritional supplement applications. When used in such prototype formulations as Tropical Fruit and Flax Beverage or Soy and Flax Smoothie, it contributes significant omega-3 fatty acids, lignan phytoestrogens, dietary fiber, and antioxidant value to products, even at low levels of use.
--- PAGE BREAK ---
Fiber Ingredients Help Produce Low-Carb Foods. Fiber ingredients, Raftilose® oligofructose and Raftiline® inulin, are available for use in low-carbohydrate formulation by Orafti Active Food Ingredients, 101 Lindenwood Dr., Malvern, PA 19355 (phone 610-889-9828; fax 610-889-9821; www.oraftius.com). 
According to the company, fiber ingredients such as inulin and oligofructose have functionality and health properties that can help food manufacturers produce low-carbohydrate foods that can support healthy weight loss. These ingredients may be used to replace sugar, reduce calories, and provide fiber to boost the absorption of ingested calcium to promote healthy bones and increase weight loss.
The company has developed a number of prototypes which demonstrate the functionality and health benefits of these ingredients. Here are some examples:
Nutrition bars, made with inulin and oligofructose, have reduced net carbohydrates, reduced sugar, higher levels of fiber, a sweet flavor, and extended shelf life. A Mandarin Orange Flavored Weight Loss Water, made with inulin, has zero net carbs, is a good source of fiber for satiety, and is sugar free. A sugar-free chocolate, made with inulin/polyol system, has natural fiber, nutritional benefits, smooth texture, and improved flavor.
Hopefully these developments will provide some help for formulators of low-carbohydrate foods. However, when developing these foods, one has to address—or at least be aware of—several issues.
• First, FDA has never set a definition for low carbohydrates, so there are currently no guidelines in this area. However, things may be changing soon, as certain associations and members of the food industry are petitioning for some guidance.
• Second, the ideal balance of carbohydrate, protein, and fat for the individual, especially in the area of weight loss, is not exactly clear cut, and numerous studies have debated the benefits of low-carbohydrate foods.
For example, according to a study from Stanford University Medical Center and collaborators at Yale University, people who go on low-carbohydrate diets (60 or fewer grams of carbohydrates a day) typically lose weight, but restricted caloric intake and longer duration are the major reasons why."While these diets are effective in the short term, weight loss results from reduced calories, not carbohydrate restriction," said a social science research associate at Standford's Center for Primary Care and Outcomes Research.
--- PAGE BREAK ---
Furthermore, the study found that although there were no short-term adverse effects of the diet, there was insufficient evidence on the diet's long-term effects and impact on people over the age of 53. (Numerous medical associations and physicians have expressed concern that these diets are too high in fat and can lead to kidney and liver problems and other health risks.) 
The report, which was published in the April 9, 2003 issue of Journal of the American Medical Association, is a review of all the scientific literature published on low-carbohydrate diets from 1996 to 2003. The researchers did a meta-analysis of 107 diet studies, involving 3,268 people from around the world.
At press time, researchers at the University of Arkansas for Medical Sciences found that older people can lose weight on a diet rich in complex carbohydrates, even if they eat until they are satisfied and do not reduce the calories they consume. "Our study suggests that eating a diet low in fat and rich in carbohydratesis better than counting calories for people who need to lose weight," said a researcher. The findings are in contrast to claims that high-carbohydrate foods create more body fat than do low-carbohydrate foods, and that it's easier to restrict calories on a high-fat diet because the dieter feels more satisfied.
Also, according to news reports, a professor of cardiovascular disease prevention at the Harvard School of Public Health has been given a grant from the National Heart, Lung, and Blood Institute to study low-fat and low-carb diets in an attempt to determine which type of diet is the most effective. The group of researchers will study 800 overweight people for two years.
Third, the media have been actively involved in the coverage of low-carbohydrate diets. Most recently, a new national print magazine, Low Carb Energy, is scheduled to make its debut in May 2004. The bimonthly publication will motivate readers to embrace and continue a healthy low-carbohydrate way of life. It will offer general and nutrition information, recipes, wellness and fitness features, weight-loss information, personal support, and other resources. This publication will join the company of a wide range of books, Web sites, pamphlets, and other literature focusing on low-carbohydrate diets.
It should be pointed out that while it may be true that media coverage has become more and more positive—i.e., supportive of low-carb diets—"positive" does not necessarily mean accurate. For example, the other day I spotted a major newspaper's headline (using a type point usually associated with declaration of war), that read "Bread is Dead." So much for the Staff of Life premise. Not only will the Bible have to be revised, but frankly I don't know how I'm going to make those grilled cheese sandwiches anymore.
Also, at the center of media coverage, is the debate whether the late Dr. Atkins has been vindicated or not. The problem there, of course, is that it turns the attention away from the more important issues of health. If the doctor was still alive, he might agree on that point.
Not surprisingly, because of space considerations as well as the usual emphases on the sensational, complex issues are frequently simplified. Pro or con, scientific research needs to be cited and implications carefully analyzed. To do that, there needs to be better communication between food scientists and the media regarding low-carbohydrate formulation.
--- PAGE BREAK ---
Fourth, many of the products in the marketplace are stripped-down versions of traditional products and may be more indicative of shrewd, sometimes colorful marketing strategies, rather than legitimate scientific innovation.
Take low-carb beers, for example. I can't help wondering if you take enough carbohydrates out of that beer, don't you just have water? And, as we all know, water doesn't really have much flavor. But then again, in the tradition of flavored waters, beer flavors may be created which can be added to give low-carb beers back their flavor. Just make sure that the beer flavors don't contain carbohydrates or the food formulator might have traveled a great distance back to square one.
Also, food formulators know that it is usually cheaper to subtract an ingredient than to add one Yet, some of these products, which are promoted as low in carbohydrates, are the same in price as the traditional, not-stripped-down versions. That suggests that the consumer may be paying for a marketing campaign and not for the product itself.
Fifth, when replacing one ingredient with another, technical challenges can occur in terms of quality, texture, flavor, and appearance. For example, we saw that in the early 1990s when fat was replaced with carbohydrates and other ingredients. Products that did not meet the high-quality standards of a full-fat product failed in the marketplace. The same lesson holds true with products that have reduced carbohydrates. Take, for instance, baked products such as breads. When reducing carbohydrates and replacing them with another ingredient—e.g., one with water-holding properties—a variety of factors still need to be carefully considered. Otherwise, products might be created that have mold problems or wrong texture and color. Obviously, these products will not do well in the marketplace. With the potential health benefits being actively promoted by manufacturers, the importance of functionality must not be forgotten in the process. It's one thing selling a hamburger with no bun—it's quite another redesigning a product with nontraditional ingredients that inadvertently have a negative impact on the overall quality of the finished product. Perhaps that is why it may be important for food manufacturers to consult with culinary or reformulation centers which hopefully will have a better awareness of the potential problems and overcome them before money is lost.
Sixth, perhaps the biggest problem that a food developer might have when grappling with the issue of low-carbohydrate foods, is the realization that there is no magic bullet, no one solution to a problem.
In my coverage of ingredients over the past 20 years, I have consistently seen a gradual evolution. In the early 1990s, the emphasis was clearly on taking the fat out of products and replacing it with an ingredient that would ideally replace the characteristics of that fat. The emphasis then changed to nutraceuticals and the addition of health-promoting ingredients to the formulation. From those trends came such developments as the incorporation of healthy fats and oils and an increased awareness of the importance of flavor, texture, and appearance, in addition to health value. New developments today are suggesting that we will be seeing a lot more in the area of sensory, especially flavor enhancement. And, of course, hopefully all of these factors will have an impact on the reformulating of foods.
Where does the low-carbohydrate trend fit in? Well, I don't think we should be ready to build statues to Atkins. On the other hand, I don't think we should discard all efforts made in support of low-carbohydrate diets, either. Rather, the answer, again part of the evolution of food and food ingredients, is that such a trend may take us one step closer to the goal of creating healthier foods, one step closer to solving the obesity and health-related problems that we face today.
by DONALD E. PSZCZOLA
Senior Associate Editor
[email protected]