We could all use a quick pick-me-up during our busy days. From business executives and research scientists to athletes, stay-at-home parents and teachers, we all reach for a cup of coffee, can of pop, snack, or something else to physically and mentally stimulate us during the day. I confess, my weakness is a nice cold can of pop to get me through the day after a sleepless night with a three-month-old.
The energy market, which consists mainly of bars and beverages, has shown steady growth throughout the years. The energy drink market has grown rapidly since its inception in 1997, increasing by 465% from 1998 to 2003, according to Mintel International Group Ltd., Chicago, Ill. With estimated sales of $890 million in 2003 and increases of at least 20% each year, the market will continue to grow, but at a much slower rate as the market matures. Overall, Mintel predicts the energy drinks market to grow by 210% from 2003 to 2008, fueled primarily by an expansion in the target market—women and various ethnic groups.
Energy bars are part of the $3-billion food bar market, which is expected to more than double by 2007, according to Packaged Facts, a division of MarketResearch.com, New York, N.Y. Food bars—which include nutrition, energy (sports), granola, and cereal bars—are especially popular among health-conscious and time-pressed women.
A closer look at these energy-yielding products shows that they rely on some key ingredients, such as carbohydrates, caffeine, taurine, and guarana. Here is a look at some energy bars and beverages and their energy-boosting ingredients.
Energy Bars
Carbohydrates serve as the main fuel source during exercise. Consumption of carbohydrates prior to exercising increases the stored carbohydrate (glycogen) in muscles and helps maintain the level of blood glucose. Both muscle glycogen and blood glucose are critical fuels that provide energy. According to the Nicholas Institute of Sports Medicine and Athletic Trauma, recreational athletes need to obtain 55–60% of their daily calories from carbohydrates. This can be achieved by consuming 3 g of carbohydrates/lb of body weight.
Some energy bars utilize carbohydrates, both simple and complex, to boost consumers' energy levels throughout the day. For example, PowerBar, Berkeley, Calif., offers PowerBar® Harvest among its many energy-providing products. The bar targets the average consumer, offering long-lasting morning energy. According to the company, 70–75% of the energy in the bar comes from simple and complex carbohydrates, for both immediate and long-lasting energy. Some of the ingredients include whole oats, brown rice syrup, brown rice, rice crisps, and soybeans.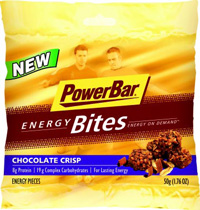 Another product, PowerBar Pria™ is promoted is promoted as a nutritious energy snack for the mid-day. The Chocolate Honey Graham version contains ingredients such as soy crisps, rice crisps, brown rice syrup, graham cookies, and whole oats.
--- PAGE BREAK ---
In mid-2003, the company introduced PowerBar Energy Bites™ (Fig. 1). The product supplies everyday athletes with sustained nutritional energy needed to keep the intensity up between plays. Each bag of the product contains 19–20 g of complex carbohydrates that serves as the source of dietary fuel. According to the company, team sports athletes need approximately 120–140 kcal from carbohydrates/hr. The Bites provide 128–132 kcal/serving from carbohydrates. Some of the carbohydrates include glucose syrup, fructose, sugar, maltodextrin, modified food starch, and pectin.
Clif Bar Inc., Berkeley, Calif., also offers an energy bar that utilizes a mix of carbohydrates, protein, and fiber to provide "a moderate glycemic index food." The company states, "You'll benefit from a steady increase in blood sugar levels followed by a gradual decline (sustained energy!)." With a 4:1 ratio of carbohydrate to protein, Clif® Bar is also promoted is also promoted as a post-workout recovery snack. Some of the ingredients include brown rice syrup, soy flour, rolled oats, roasted soybeans, apple fiber, oat fiber, milled flaxseed, chicory extract, psyllium, and evaporated cane juice. In March 2003, the company announced that Clif Bar received organic certification under the U.S. Dept. of Agriculture's National Organic Program. All 13 flavor versions are 70% organic.
Liquid Energy
Beverages on market shelves tend to utilize more than carbohydrates to rejuvenate consumers throughout the day. In addition to caffeine, energy beverages contain several ingredients that are thought to boost energy levels. Although it is not completely agreed on in the scientific community that all have energy-yielding properties, ingredients such as taurine, guarana, and ginseng have found a home in many energy beverages. Here are a few examples.
• Campbell Soup Co., Camden, N.J., debuted its Invigor8™ energy drink line in October 2003 (Fig.2). One variety, Energy Boost, contains caffeine and guarana. The beverage also contains vitamins B-3, B-6, B-12, and antioxidant vitamins A and C.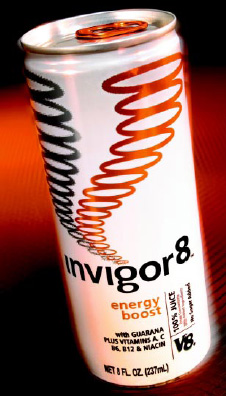 • Hansen Beverage Co., St. Corona, Calif., offers E2O, an energy beverage containing ginseng, taurine, B vitamins, and electrolytes. According to the company, the target demographic for the energy water includes bottled-water drinkers who are bored with plain water, the energy-drink crowd, and the house/office coffee loyalists who need a healthful morning and afternoon pick-me-up.
• South Beach Beverage Co., Norwalk, Conn., introduced SoBe No Fear in early 2003 (Fig. 3). The beverage targets those involved in active sports like skateboarding and motorcross. The berry–passion fruit–flavored drink contains 158 mg of caffeine/can and contains taurine, creatine, and arginine. The company also offers a unique energy product, SoBe Liquid Infused Gum (Fig. 4). With a tagline of "Bite this!" the gum contains guarana, ginseng, and taurine in the liquid center.
--- PAGE BREAK ---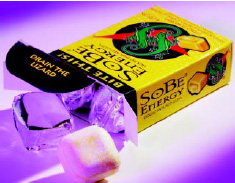 Energy-Boosting Ingredients
Caffeine, taurine, guarana, ginseng, and B vitamins are common ingredients found in energy products. Other ingredients such as D-ribose and L-carnitine have made their way into energy beverages as well. Although some of these ingredients lack substantial research supporting their energy claims, their popularity and notoriety among consumers are currently enough to keep sales of energy-boosting products up. Here's a brief rundown on some of these.
• Caffeine is a stimulant derived from coffee beans, tea leaves, kola nuts, and cacao beans. The body rapidly absorbs caffeine and circulates it to body tissues, where it affects the central nervous system and metabolism. It has long been used to enhance sports performance, but excess amounts of caffeine are banned by the International Olympic Committee.
• Taurine is an amino acid produced in the body from L-cysteine. It is involved in the formation of taurine bile acid conjugates in the liver, which are essential for micelle formation and fat absorption, according to PDRhealth, a part of Thomson Healthcare, Stamford, Conn. Taurine also has antioxidant and membrane-stabilizing activities.
• Guarana is a botanical source of caffeine. Beverages utilize its stimulant activity to energize consumers. According to PDRhealth, amounts of guarana delivering up to 400 mg of caffeine/day are considered harmless.
• Ginseng is an energizing herb that is thought to improve abstract thinking and speed up reaction time. The active ingredients in ginseng are a set of compounds called ginsenosides, which have a variety of effects, ranging from stimulation of the nervous system to reduction of blood sugar levels. Pregnant and breastfeeding women are advised not to consume ginseng, and people with diabetes and heart and circulation problems are advised to use caution when taking ginseng.
• B-vitamins are one of the most popular groups of vitamins in energy drinks. Thiamin (B-1), riboflavin (B-2), niacin (B-3), and pyridoxine (B-6) work together to metabolize carbohydrates. Vitamin B-12 is used in the body by many coenzymes and is believed to combat fatigue.
• L-carnitine, an amino acid derivative, is present in nearly all cells of the body. It transports long-chain fatty acids across the inner membranes in the mitochondria, where they are processed to produce biological energy in the form of adenosine triphosphate, ATP.
• D-ribose is a naturally occurring five-carbon sugar found in all living cells. It can be made in the body from other substances, such as glucose. It is contained in important biological molecules, including ATP, nucleotides and nucleotide coenzymes, and all forms of ribonucleic acid.
Further information and opinions on potential energy-enhancing ingredients are available from the following organizations: American Botanical Council (www.herbalgram.org), Gatorade Sports Science Institute (www.gssiweb.com), Nicholas Institute of Sports Medicine and Athletic Trauma (www.nismat.org), and PDRhealth (www.pdrhealth.com).
by LINDA MILO OHR
Contributing Editor, Chicago, Ill.
[email protected]