Las Vegas' publicists only thought they captured headlines with CSI (Crime Scene Investigation) and the World Series of Poker, but they suffer by comparison with the food packaging breakthroughs revealed during IFT's Annual Meeting + FOOD EXPO® in July.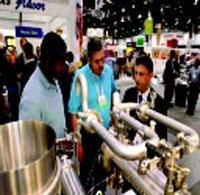 Arguably leading the way was the winner of IFT's Food Technology Industrial Achievement Award, Tetra Pak's Tetra Recart™ retortable carton. Then there was the debut of American Purpac Technologies, the newest contract aseptic/hot fill packaging operation in the world; Scholle's bag-in-box for edible oils; two new oxygen-scavenging labels; BP Chemical/Bulk Lift's antimicrobial-fiber intermediate bulk containers (IBCs); and more.
In the meeting rooms, there was the announcement of high-crystallinity polyester bottles with elevated temperature resistance; the emergence of a new star in Bob Underwood of the University of Alabama–Birmingham sharing his research on the use of packaging as brand communication; and much more.
Shining in the neon and halogen lights of Las Vegas were innovations in food packaging yearning to burst from the confines of IFT and into the realm of all food packaging. Small in numbers, the developments dominated in quality as IFT's Food Packaging Division joined with others to deliver information on the rapidly growing universe of polyester bottle packaging, convenience packaging, control of Listeria, and many more innovations.
Clemson University's Kay Cooksey set the stage for incorporation of the antibiotic polypeptide nisin into a methyl cellulose/polyethylene glycol coating on the surface of low-density polyethylene film to inhibit Listeria. When the film was wrapped around frankfurters, a three-log reduction in cell count occurred during 60 days of storage. Although expensive at the moment, the concept appears to merit some review.
Polyester and Other Plastic Containers
Speakers in Session 22 addressed evolutionary trends in PET and polyolefin containers. As recollected by Graham Packaging Co.'s John Tobias, the chronology of polyester bottles unrolled like a series of fits and bursts that began only during the 1970s and moved to dominate the entire bottle/jar scene today. As with all developments, the sequence was not one of undeviating success.
--- PAGE BREAK ---
Polyacrylonitrile (PAN) in hemispherical shape was a contender. And then there was the circa-1985 polyester Coca-Cola can and the hot-filled Furmano tomato sauce can. But throughout the brief history of polyester packaging, progress was made through thorough technical effort: peanut butter during the late 1980s; heat set/hot fill to 185°F obtained from 20–25% side wall crystallinity; and today's 205°F resistance from 30–35% crystallinity.
The beginnings with hot-fill juices have been followed by hot filling of apple sauce (1998); Welch's jams and jellies; and Ragu pasta sauce in collapsible-side-wall jars. New for this year is pasteurizable polyester jars with blown wide-mouth (>80-mm-diameter) finishes and heat-set polyester containing oxygen scavenger for packaging of food products such as pickles and sauerkraut.
Paralleling the package structural design are advances in bottle/jar processing such as the blowing of a narrow-neck preform followed by cut-off to generate the wide mouth; 112 cavity molds; and 20-sec cycle speeds. And food packagers have converted to "instant" cooling after achieving the desired sterilization value.
All have contributed to the dramatic advances in polyester packaging that now focus on nutritional beverages, jams and jellies, pasta sauces, and the ubiquitous salsa, according to Graham's Jay Arnold. But what of beer packaging about which so much has been written and spoken? Nina Goodrich, formerly of Amcor but now of Alcan, believes that brewers must opt for in-house self-manufacture. She also noted the leaps being made directly from glass to flexible without the transition in polyester. And she recommended what should be the mantra for all food packaging: identify the ultimate objective and target development directly to solve that issue with whatever processing/ packaging fits.
Joe Marcy and Janet Webster of Virginia Tech discussed the sensory issues associated with plastic in direct contact with food/beverage contents, namely, migration from the plastic into the food and scalping. Conversely, incorporation of antioxidants such as tocopherol into plastic could lead to migration that would retard oxidation of flavor.
Not to be outshone in the dazzle was Evalca Co.'s Nicole Herms, who cited the benefits of oxygen- and flavor-barrier ethylene vinyl alcohol incorporated into polyester to enhance properties.
Convenience Packaging
One terrific set of presentations on the consumer value of food and beverage packaging (Session 52, Convenient Food Packaging for On-the-Go Lifestyle) featured a gaggle of knowledgeable folks from industry and universities. All concurred that consumer convenience ranked just below safety and quality in consumers' minds and hearts. Designer Chris Bailey of Bailey Design Group, Inc. presented a video record demonstrating the changes since the 1950s in lifestyles, eating behaviors, and, consequently, packaging. In the future, he stated, the issues will be convenience, choices, health, and radiofrequency identification (RFID)—but the product must taste good.
--- PAGE BREAK ---
Lynn Dornblaser of Mintel's New Product News offered a dozen or so packaging innovations from around the world that have been seen and might affect us in the near future, including steam cuisine for microwave heating of chilled entrees from the United Kingdom; microwavable toddler meals in retorted trays, with a holder that stabilizes the tray; easy pack unit-portion dry mix for pancakes and waffles; wet soup concentrate from New Zealand; precooked couscous; slow crock-pot food (sort of counter to the conventional wisdom of using less heat to prepare foods); lox in a box (but without bagels) with Melba toast from the UK; Hunt's Manwich in unit-portion size for microwave reheating; pouches of fruit compote; dry drink mix in format to pour into 20-oz water bottles; and egg and rehydrating water in a single package, separated from each other.
Tom Biddie of Kraft Foods North America, Inc. suggested that today's trends include casual dining, meal solutions for which no recipe is required, on-the-go eating, dashboard dining, and portion control. He pointed out, with appropriate examples from his company, that packaging is essential to achieve the quality/convenience objective. How can you be an American without Kraft Macaroni and Cheese but now with a microwave version? Or Ritz crackers in a standup pouch with peel-off/pull-open tab? As if to underscore the thesis, the old Baker's chocolate brand has been revived with a new package of "dipping chocolate."
Standing in for a colleague, co-chair Leslie Cook of Cryovac Div. of Sealed Air Corp., described the company's Simple Steps cook/ship/display/reheat/serve/ eat all from the same package system. Microwavable, steam-assisted, self-venting, and (vacuum) to help preserve the product are integrated into the system.
Your obedient servant, who also co-chaired the session, chronicled food packaging by describing available foods and kitchens that drove or were driven by packaging. (While providing rationales for many of today's conveniences such as easy-open tabs on aluminum beer and carbonated beverage cans, microwave susceptors, and zipper reclosures, I concluded by plunging into the nether world of tomorrow: self-heating and self-cooling packages, and use of radio frequency (RFID) to signal to the microwave oven the cycle for optimum heating and communicate the nutritional status of foods to consumers).
The University of Alabama's Bob Underwood capped the session by linking brand to package. Brand represents trust, value, and loyalty, he said, especially with food—a low-involvement consumer non-durable. The package is integral to the brand—the decisive point for food products. With a highly fractured market, he said, much more is invested in trade communication than in consumer advertising and promotion. Packaging is so vitally important to a food product's success because three-fourths of all purchase decisions are made in-store, at the shelf site.
Packaging, he added, must cut through the clutter of messages playing on the consumer, be relevant and resonate, and be different but not too different. Good packaging drives change; but a lot of poor packaging remains—and thus the opportunity to be more competitive is based on packaging functionality and appearance. Quantification derived from (marketing) research is a positive means to meaningfully wed the product and its attributes to the package and its initial and continuing message to the consumer.
--- PAGE BREAK ---
Retortable carton wins award
Although this package has justifiably received considerable publicity for its European pet food successes during the early 21st century, winning IFT's 2004 Food Technology Industrial Achievement Award elevated its status just a tad above other nearly equal innovations. Members of IFT's Food Packaging Division swell with pride when a packaging professional or development receives a major IFT award, as has occurred for so many consecutive years.
Renowned for its worldwide research, development, and leadership in aseptic packaging and now polyester bottles, Tetra Pak embarked on a daring mission when it first elected to attempt to package low-acid wet foods in paperboard composites. The risk increased more as the company departed from its traditional roll-stock paperboard lamination and employed preformed, knocked-down blanks.
Targeting metal cans and the emergent retort pouches and multilayer barrier trays, Tetra Recart is a rectangular solid–shaped package that occupies space much more efficiently than its predecessors. Lighter weight than cans or glass jars, the package is said to be more stable on the shelf than the pouch, with similar graphic capability. Convenience is achieved with a laser-perforated easy-open top. Another claimed benefit is "safer for youngsters" (safer than multilayer barrier plastic bucket type cans?).
The Tetra Recart package is currently being introduced into the United States under the Smart Pak™ designation by Hormel for its Stagg® and Hormel® brands of chili in a total of 24 SKUs. According to insiders, in the figurative "dead of night," Hormel sales folks removed traditional metal cans and replaced them with the Recart versions. And these same whisperers claimed an increase of one-third in sales volume— not too shabby.
In the system—everything marketed by Tetra Pak is a total system embracing machines, materials, and multipacking— cartridges of blanks are fed at up to 400 packages/min (a lower-speed version is also available) in individual carriers to be erected, inverted, and filled on an Italian Zacmi rotary filler. Product is filled, and the open-top carton is induction sealed—all monitored by vision imaging. Steam injection into the headspace reduces the oxygen content to permit a claimed 18-month ambient-temperature shelf life. Retorting of the individually racked and thus separated cartons is accomplished in an FMC Corp. static retort, using a pressurized-steam/ hot-water spray followed by cooling by a cold-water spray under pressure within the retort. On emergence from the retort cycle, the cartons are cooled and unitized into 12 packs, using shrink-film bundling.
Although the development alone warranted the IFT award, the technical and apparent marketing benefits might generate a totally new perspective on retort packages. As I have stated so often when attempting to predict the future for packaging innovation: stay tuned for repeat sales and the potential race for other food packagers to join the Tetra Recart bandwagon.
More information is available from Tetra Pak, 101 Corporate Woods Pkwy., Vernon Hills, IL 60061 (www.tetrapak.com).
--- PAGE BREAK ---
Pleasant Surprises at Food Expo
Yummy food samples and dazzling displays on the floor could not deter your dedicated reporter from plowing laser-like to the great exhibits relating to packaging. Some of the exhibitors had been kind enough to provide preliminary information, and some offered an array of print and computer data to support their offering. Nevertheless, as usual, pleasant surprises—meaning innovation that had not been prominent in the pre-show documentation—lifted us.
Obviously, we could not comprehend all of the vast array of packaging-related presentations or displays on the floor of the exhibition hall. Those anxious to capture the entirety are encouraged to visit the technical program and the exhibit directory via the IFT Annual Meeting + Food Expo Web site at www.amfe.ift.org. Even then, not every nuance becomes visible. It is incumbent on those who wish to invest food technologists with more packaging to ensure that their offerings are apparent in our context.
Nevertheless, IFT and its Food Packaging Division have been the source for a host of applicable innovation, much of which will require the earnest efforts of our membership to implement commercially and grow for our constituencies.
by Aaron L. Brody, Contributing Editor
The author is President and CEO, Packaging/Brody, Inc., Duluth, Ga. E-mail: [email protected].