The terms fat, oil, and lipid are often used interchangeably by food scientists. Sometimes, fat is used to describe lipids that are solid at a selected temperature, and oil is used to describe lipids that are liquid at the same temperature.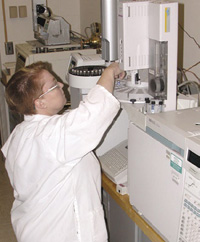 Lipids are a major component of foods and important to our diets. They provide energy and essential nutrients, determine many physical characteristics of foods (e.g., flavor, texture, mouthfeel, and appearance), and contribute to physicochemical properties (e.g., crystallization, melting point, smoke point, rheology, density, and color). But despite these many positive roles in foods, they can also cause oxidation and off-flavors, and excessive consumption of certain lipid components can be detrimental to health.
There are many forms of lipids, including triacylglycerols (95–99% of the total lipids in most foods), diacylglycerols, monoacylglycerols, free fatty acids, phospholipids, sterols, carotenoids, and vitamins A and D. Further processing for application in foods has also introduced unsaturated, polyunsaturated, and saturated fats. Newer fat alternatives now include trans, omega-3, and omega-6 fatty acids. Of all these choices, the Food and Drug Aministration originally only required total fat content and saturated fat content of foods to be listed on the Nutrition Facts label panel.
In 2000, omega-3 fatty acid content was required only if qualified health claims were made for dietary supplements. In September 2004, FDA issued additional requirements for use of this fat source to make qualified health claims for conventional foods and fortified foods. In November 2004, the agency also issued regulations for qualified health claims regarding use of monounsaturated fatty acids from olive oil. And on January 1, 2006, the agency will require that the percentage of trans fat in foods be listed separately on all foods requiring a nutrition label.
Laboratory Methodology
I asked experts from three major food testing laboratories to comment on how they normally conduct fat analyses for their customers' various needs.
• Amanda Ropchak, Sales Manager, Medallion Laboratories, Minneapolis, Minn., said, AWe offer both gas chromatography and crude fat analysis for fat quantification. The much more modern GC method does not quantitate the total lipids present, but actually analyzes total fat per se, as well as its individual fatty acids, saturated fat, mono and polyunsaturated fat, and trans fats."
The fat analysis by GC performed by Medallion is AOAC Official Method of Analysis 996.06, which was developed by Medallion's scientists, she said. The Nutrition Labeling and Education Act defined fat as the sum of all fatty acids in a food sample expressed as triglycerides, and the method provides the data to meet that definition.
--- PAGE BREAK ---
The method starts with the traditional Mojonnier flask setup and hydrolysis using acid or base, or a base followed by acid, depending on the matrix, to assure complete extraction. The fatty acids within the extracted residues are then transesterified to form fatty acid methyl esters, which can then be quantitated down to 0.001% using the powerful capabilities of capillary gas chromatography.
"Nearly 60 individual fatty acids are identified and quantitated using the procedure," Ropchak said. "The report format includes total fat, trans fat, saturated fats, mono and polyunsaturated fats to meet the NLEA requirements. The report generated by Medallion also now features the total omega-3s, which are part of the qualified health claim recently approved by FDA. AOAC 996.06 is applicable to all foodstuffs, including raw materials and ingredients. The analysis has proven particularly useful for tracking the reduction in trans fatty acids in products for researchers seeking alternative fat ingredients."
The crude fat analysis is performed using a Mojonnier flask extraction. Crude fat measurements are typically used during product development to track changes in products and/or macronutrient profiles, or for quality control purposes when fat is added as part of a process. "Crude fat is no longer used for nutrition labeling purposes," Ropchak said, "as the GC method is much more accurate."
• Bill Ikins, Corporate Chemistry Director, Silliker Laboratories, Homewood, Ill., said that a significant percentage of the fat testing that is conducted at Silliker is for nutrition labeling. The method utilized is AOAC Official Method 996.06, which Ikins feels provides the most equitable way of labeling food with a total fat number. Another advantage of this method, he said, is that it can provide a great deal of information from a single analysis. Total fat, saturated fat, monounsaturated fat, polyunsaturated fat, trans fat, omega-3 and -6 fatty acids, and a fatty acid profile (a fatty acid as a percentage of the total fatty acids) can all be derived from this test.
"It does take a lot of research to establish this method because of all the fatty acid isomers that separate on these long capillary columns," he said. "These isomers must be identified and in some cases mathematically grouped to provide the customer with useful summary information."
"The remaining fat testing at Silliker is primarily the traditional crude fat testing using the Soxhlet, acid hydrolysis Mojonnier and base Mojonnier methods," he continued. "These methods were collaboratively studied and became official AOAC methods decades ago. Many customers want these traditional methods in order to calibrate their more rapid fat analysis equipment. The desire is always to get away from the solvent usage and manual nature of these tests, but they are not so easily automated.
"We have looked at accelerated solvent extraction (ASE) as a possibility, but the necessary preparation steps and the sequential nature of the analysis did not quite justify the expense of the equipment in our minds. This technology definitely has possibilities for replacing preparation steps for other methods, but did not appear to be a replacement for the routine crude fat analysis.
--- PAGE BREAK ---
"We are currently looking at another instrument that extracts the fat under high pressure and temperature conditions. With this method, you are actually weighing the residue after the fat and moisture are removed. We have gotten used to weighing back the extracted fat, so this is a paradigm shift that we are exploring."
• Rebecca Pfundheller, President, Analytical Food Laboratories, Grand Prairie, Tex., commented that her laboratory performs fat analysis using a variety of official methodologies, U.S. Dept. of Agriculture and AOAC procedures.
"We perform fat testing on an unlimited list of product matrixes: raw meat and poultry, cooked meat and poultry products, sandwiches, nut products, flour mixes, tortillas, snack foods, soups, sauces and condiments, liquor beverages, and more," she said. Her clients include food, beverage, cosmetic, and pharmaceutical manufacturers, importers and exporters, meat brokers, restaurants, and the hospitality industry.
"In its simplest definition," she said, "extraction is the art of separating into its component parts, two liquids, or two solids, or a liquid and a solid. Depending on the sample makeup, we will follow fat extraction procedures recommended by USDA (Soxhlet distillation) or AOAC (acid hydrolysis procedure). As samples arrive at the laboratory, the entire sample is ground to a consistent paste using one of the following: Robo-Coupe, Hobart grinder, or food processor. All samples are stored in labeled sample bags and kept refrigerated to eliminate any deterioration of the product."
The acid hydrolysis procedure, she explained, is designed to extract fat from products that are high in complex carbohydrates. The sample is heated in a steam bath, using acid to digest the matrix and release the fat. Samples are then transferred to Rhorig extraction tubes or Mojonnior flasks, and the fat is extracted from the solution through a series of petroleum ether and ethyl ether washes. Aliquots of the ethers are siphoned off and collected in flasks. The ethers are evaporated off, and the fat is left behind. The fat is calculated as percent.
The Soxhlet procedure, she continued, is designed to extract fat from products that are high in protein, such as muscle meats. The meat sample is dried and placed into an extraction thimble, which is then placed into a Soxhlet extraction unit. Petroleum ether is the solvent used for the extraction. The distillation takes place on a heat extraction unit. After 4 hr, the ether is boiled off, and the leftover product is calculated as percent fat.
"In addition to the calculated fat percentage of a product," Pfundheller said, "the laboratory can continue to examine the fat for peroxide values, free fatty acids, monounsaturated fatty acids, saturated fatty acids, unsaturated fatty acids, and trans fatty acids.
"The requests we receive from clients for fat testing cover a broad spectrum of uses. Many clients use the information for nutrition data, Nutrition Facts panels, production process evaluation, research and development/formulation checks, core drillings, and fat claims. We perform analyses following traditional methods and procedures. There are a variety of 'quick' procedures and equipment that may also be utilized. Manufacturing plants and in-house quality control departments may opt for less-traditional methods as a time and space saver. These may include microwave technologies, but although these rapid methods are used throughout the industry, they still need to be calibrated against a traditional, regulatory method."
--- PAGE BREAK ---
Online X-Rays Yield Fat within 1%
Some fat measurements may not be required to be quite as accurate as the above methodologies. A fat analyzer that can measure total fat content of meat online at process speeds is marketed by Inline Product Inspection Ltd., West Yorkshire, UK. The methodology is an X-ray unit that calculates the Chemical Lean (CL) value of the meat. The fat analysis by CL values is said to be accurate within 1%.
The all-stainless-steel unit is called the Eagle FA. It meets the exacting standards of the meat industry, and handles beef, pork, poultry, and lamb. The system can also automatically detect and reject contaminants such as metals, glass, stones, bone, PVC, Teflon, and stainless steel. The company's SimulTask™ software allows each contaminant to be individually analyzed. All image analysis routines are run simultaneously. Fat measurement in boxed meats and meat blocks is also available via the Eagle Carton FA and the Eagle Case FA, respectively.
For More Information
For more information on fat analysis services, contact Medallion Laboratories, 9000 Plymouth Ave. N., Minneapolis, MN 55427 (phone 800-245-5615, www.MedallionLabs.com); Sillilker, Inc., 900 Maple Rd., Homewood, IL 60430 (phone 708-957-7878, www.silliker.com); and Analytical Food Laboratories, Inc., 865 Greenview Dr., Grand Prairie, TX 75050 (phone 972-336-0336, www.afltexas.com).
For more information on the Eagle FA X-Ray Fat Analysis Systems, contact Inline Product Inspection Ltd., Unit 4 Crown Works, Parry Lane, Bradford, West Yorkshire BD4 8TJ, UK (www.productinspection.co.uk).
---
Blame Your Liver for More Required Fat Testing
It was the identification of a molecular mechanism in the human liver that explained how foods containing high levels of saturated fats and
trans
fatty acids cause the elevation of blood levels of cholesterol and triglycerides. This, in turn, is responsible for the increased risk of heart disease and certain cancers.
A group of scientists, led by Bruce Spiegelman, from the Dana-Farber Cancer Institute (a principal teaching affiliate of Harvard Medical School funded by the National Cancer Institute, the National Institute of Allergy and Infectious Diseases, and numerous foundations) reported in the January 28, 2005, issue of Cell that the harmful effects of selected fats are set in motion by a biochemical switch, or co-activator, in liver cells called PGC-1 beta.
This information explained to scientists why diets high in unsaturated and polyunsaturated fats did not increase blood cholesterol and triglycerides. The liver was known to be responsible for the body's synthesis of triglycerides and cholesterol, so it makes sense that it also initiates the buildup of these molecular chains that are more harmful to human health.
"It is possible that in the future, drug therapy might be used to 'turn down' the mechanism, decreasing cholesterol levels and heart disease risk," reported Spiegelman, who is also Professor of Cell Biology at Harvard Medical School.
Unsaturated trans fatty acids, or trans fats, became a substitute for partially hydrogenated fats because they provided excellent substitute solid fats for shortenings, margarine, baked goods, and oils used to fry French fries and other fast foods. But newer studies then showed that they, too, not only raised low-density-lipoprotein (LDL) cholesterol ("bad" cholesterol) and lowered high-density-lipoprotein (HDL) cholesterol ("good" cholesterol), but they may have even stronger adverse effects than saturated fats. In response to consumer concerns, the Food and Drug Administration has now issued requirements for separate labeling of trans fatty acids on the Nutrition Facts panel, effective January 1, 2006.
by DEAN DUXBURY
Contributing Editor
Consultant, Oak Brook, Ill.
[email protected]