Food companies want their packaged products to have shelf life—and not just in terms of freshness; these companies want their products to sell well and remain in the market for the long term. And this is understandable, given the time and money devoted to the product development process.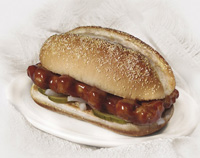 For a number of reasons, though, some companies are producing limited-edition or limited-time products, which are, quite obviously, available for only a brief time.
A Season of Change
Some limited-edition food and beverage products are seasonal, including products tied to a season or holiday, and many of those seem to show up on stores shelves every year. The venerable Peeps®, Cadbury Creme Eggs, and Sweethearts® Conversation Hearts come to mind. Take a look at the products on store shelves throughout the year and you are sure to see heart-shaped confections, chocolate Easter bunnies, peppermint-flavored ice cream, or any number of products that you can only purchase for a limited time at certain times during the year.
One interesting limited-edition seasonal product, as pointed out by Mintel International Group Ltd., Chicago, Ill., is baked bean flavor crisps produced by Walkers Snack Foods Ltd., West Berkshire, UK. The product was only available during National Baked Bean Month.
Several companies have been manufacturing seasonal products for decades. Just Born Inc., Bethlehem, Pa., began making Peeps in 1953 by hand-squeezing marshmallow through a pastry tube and later mechanized the Peeps-forming process. In 1866, the brother of the founder of the New England Confectionary Co. (NECCO), Revere, Mass., invented the process that allows romantic sayings to be printed directly on little heart-shaped candies.
Coming to a Grocery Store Near You
Other limited-edition food and beverage products are often tied or licensed to the popular movies, television shows, or toys of the day. These products serve two purposes: to promote the movie, television show, or toy for a period of time and increase short-term sales for the food company. Some of my childhood favorites from the 1980s include Smurfberry Crunch cereal, based on the Smurfs Saturday morning cartoon, and Ecto Cooler drink, a product tie-in with the movie Ghostbusters. This product proved quite popular, and it became a permanent fixture in the Hi-C product line for several years after it originally debuted as a limited-edition product tie-in.
Some recently released limited-edition tie-ins or licensed products are Spam® Golden Honey Grail, available in conjunction with the recent Broadway debut of Monty Python and the Holy Grail musical, and The Incredibles Pop-Tarts, which is a product tie-in with the movie The Incredibles.
"There are entire sections of the supermarket that have been taken over by licensed products," said Tom Vierhile, Executive Editor, Productscan Online, Naples, N.Y. "Check out the fruit snack aisle sometime; it's practically all licensed products."
For instance, Kellogg Co., Battle Creek, Mich., has produced many limited-edition licensed fruit snack products tied into movies such as The Lion King, Robots, and The Incredibles. Many of these are fruit-flavored gummies shaped like characters from the movies.
With these types of in-and-out food and beverage products, the manufacturers try to incorporate a color (Hi-C's Ecto Cooler drink was bright green, which was the color of the "slime" produced by the supernatural beings in the film Ghostbusters) or shape (Cheez-It® SpongeBob SquarePants Movie Baked Snack Crackers features cheddar cheese-flavored crackers shaped like the popular underwater inhabitant) into the food or beverage product that is representative of the promotion.
Additionally, the packaging for these types of products often contains pictures of characters and the logo from the movie or television shows, and often bears the phrase "limited-edition."
--- PAGE BREAK ---
Reinventing the Wheel Using Line Extensions
Many food and beverage products available for a limited time represent line extensions. With these, the product developers modify an existing formula with the addition of different ingredients such as flavors or colors. Spam Golden Honey Grail is honey-flavored Spam. The Incredibles Pop-Tart is a Pop-Tart that contains a wildberry-flavored filling. Hershey Foods Corp., Hershey, Pa., has several examples of limited-edition products that are line extensions of existing products. Its Limited Edition York Chocolate Truffle Mint, introduced in 2004, is a version of the York Peppermint Patty, but the limited-edition version contains a mint chocolate truffle-flavored filling instead of peppermint. The company has also offered limited-edition versions of its Hershey's chocolate bar: Limited Edition Cookies 'N' Chocolate, Limited Edition Double Chocolate, and Limited Edition Nut Lovers.
The Comeback Kids
Then there are some limited-edition products that are available for a brief period of time and then disappear, only to reappear some time later. They are not tied into any particular holiday or movie or television program. McDonald's Corp.'s, Oak Brook, Ill., McRib sandwich is an example of this type of product that has been continually on and off the market for more than 20 years. Debuting in 1981, McRib was available nationwide by the end of 1982. And from the beginning, it was marketed as a promotional menu item with the intention of being put back on the menu as a promotional item in the future. (McDonald's refers to limited-edition or limited-time offers as promotional offerings, according to Wade Thoma, Senior Director of Concept Development, McDonald's USA.)
"McDonald's has what it calls its core menu—products that are permanently available on the menu in all 13,600-plus restaurants in the United States," said Thoma. "McRib and other items are offered only as promotional items—not part of McDonald's core menu—but made available during certain periods of the year to meet the needs of our customers by providing different variety and choice. It's all about our customers."
Thoma adds that the strategy of repeatedly offering and removing a product for a limited time helps to keep the product fresh in the customers' minds and maintains the demand that McDonald's needs to continue to offer the product.
In addition to the
McRib
sandwich, the company has offered grilled chicken flatbread sandwiches and BBQ bacon burgers as promotional items in this repeated limited-edition fashion, and seasonal items such as
Shamrock Shakes
(around St. Patrick's Day) and
Eggnog Shakes
(around Christmas).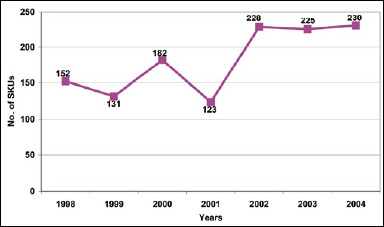 Trends, Challenges, and Success Stories
Trends define the marketplace. So is there a definite trend in the number of launches of limited-edition food and beverage products? The answer is a little more nebulous than clear. Numbers of new limited-edition food and beverage products launched in the United States between 1998 and 2004 (see Fig. 1) provided by Productscan Online show that there has been a slight increase overall in these products into the marketplace (152 SKUs in 1998 versus 230 SKUs in 2004). But these numbers have been as low as 123 SKUs in 2001 and 131 SKUs in 1999.
Also, when conducting a search on these types of products, Productscan Online searched its database of new products using the words "limited edition" or limited time," and if a seasonal product was described in its database using these terms, it was included in the search results. When analyzing these numbers it is important to remember that if either of the two phrases is not attached to the product listing or description in Productscan Online's database, it will not be counted as a limited-edition product. Keep in mind that for any given year, the numbers could be slightly greater than what is presented here.
--- PAGE BREAK ---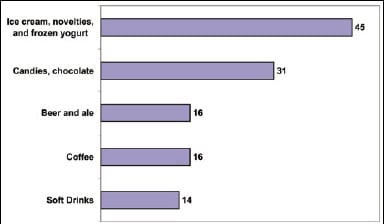 Using the same search phrases, Productscan Online provided numbers for the top-five product categories of limited-edition products in the U.S. from January to November 2004 (see Fig. 2).
Lynn Dornblaser, Director of Consulting Services, Mintel International Group Ltd., said that her company's analysis of new products and consumer trends has shown that limited-edition products, especially candies, ice creams, yogurts, and snacks are more common in Europe.
One thing noted by several market research firms, including Productscan Online, Mintel International Group Ltd., and Leatherhead Food International, Surrey, UK, is that in the past few years, more larger companies are producing limited-edition products, and that they are doing so to help increase short-term sales.
Last year saw PepsiCo's introduction of two limited-edition beverages: Mountain Dew Pitch Black, a grape-flavored, dark-colored version of Mountain Dew, and Pepsi Holiday Spice, Pepsi with a bit of spice added (think the taste of a Christmas spice cake). The company's first limited-edition soft-drink offering, which debuted in 2003, was Mountain Dew LiveWire, an orange-flavored version of Mountain Dew. In fact, this product proved so popular—the company said that the product added a 10% volume increase to the Mountain Dew trademark and its removal from store shelves caused an influx of requests from consumers to bring it back—that it was available once again for a limited time during the summer of 2004. According to the company's 2004 fourth-quarter results, its carbonated soft drink volume grew almost 1%, which was helped by its two limited-edition products: Mountain Dew Pitch Black and Pepsi Holiday Spice.
"People like new products–they're much more interested in variety nowadays than they were just a few years ago," said Dave Burwick, Senior Vice President and Chief Marketing Officer of Pepsi-Cola North America. "By introducing new flavors for a short period of time, then taking them away, we're meeting the wants and needs of soft-drink consumers while playing directly to their purchasing patterns."
Hershey Foods Corp., too, has seen its 2004 fourth-quarter sales increase by 7.5%, which it attributes to unit volume growth associated with the introduction of limited-edition items.
In its 2003 Annual Report, Kellogg Co. attributed the growth of its Eggo® frozen waffle brand to the strength of new products, including a limited-edition Scooby Doo™ frozen waffle. The report also detailed that in the UK, its cereal business gained category share of +1.0 point due to innovations and consumer promotions, including a limited-edition cereal tied to the Simpons® cartoon. The company increased it share of the U.S. cereal industry and mentioned that a limited-edition cereal tied into the movie, Cat in the Hat, and holiday-themed versions of brands like Rice Krispies helped.
While he would not provide sales for specific products, McDonald's Thoma did mention that the McRib sandwich is very popular among the restaurant's customers.
"We have a number of customers that tell us they would drive up to 50 miles to get a McRib. It is a very successful promotional item for McDonald's."
Limited-edition products are also developed by some companies because they are a cost-effective way to test new ideas. Productscan's Vierhile mentioned that by launching limited-edition products, food companies can test items without losing shelf space. He said that food industry consultants have agreed that this strategy is inexpensive because if one of these types of products fails to generate a significant amount of sales for the company, it will die a natural death. But if it proves to be popular, like Mountain Dew LiveWire, it will brought back for a second "limited" run or made to be a permanent addition to the company's product lineup. He adds that the cost of new product failure to some industries, such as soft-drink manufacturers, is quite large; if they can get some live market testing of products under the guise of a "limited-edition" launch, it could reduce the risk of losses from product failure.
--- PAGE BREAK ---
"Products go from 'cool' to 'yawn' very quickly," said Vierhile. "Consumers have flings with these things and then it's on to something different."
The manufacturing of some of these limited-edition products can pose challenges to processors. Brach's Confections Inc., Dallas, Texas, produces dozens of seasonal confection products throughout the year. Two of its most popular products—Christmas Nougats and Crimp Ribbon Candy—are also the most difficult to make. The Christmas Nougats, for example, involve many steps in the manufacturing process, some of which are performed entirely by hand. Terry O'Brien, Chief Executive Officer, Brach's Confections Inc., says the company faces several challenges in making these two products. The first is maintaining high quality standards throughout the seasonal production cycle because, as he says, "the quality is what keeps our seasonal buyers coming back year after year." Second, the company needs to make sure it uses the best ingredients it can purchase, such as fresh peppermint oil, because, again, that is what its customers expect. Finally, he says that keeping costs under control by constantly evaluating alternate ways to improve operational efficiency is important.
O'Brien also adds that the production schedule for its seasonal products typically begins about 6–7 months in advance of the season or holiday, and includes deadlines for formulation development and nutritional profiling and contacting and receiving products or services from vendors, such as ingredients suppliers, packaging, and co-manufacturers.
While some companies may eschew producing limited-edition products, for others, these products just may be the way to help test new flavors and other ideas without expending much money on research and development.
---
IFT Annual Meeting Programs Address Product Development
The general topic of new product development will be the focus of several symposia and a continuing education course at the 2005 IFT Annual Meeting + Food Expo
®
to be held in New Orleans, La., on July 16–20.
"Tools and Techniques for Mastering Innovative Product Design," Pre-meeting Continuing Education Course, July 15–16
"IFT Student Association: Student Product Development Competition," Session 1, Sunday morning, July 17, and Session 35A, Monday morning, July 18
"Accelerated New Product Development: Speed to Market, Doing More with Less," Symposium 22, Monday morning, July 18
"The Role of Sensory in New Product Innovation," Symposium 28, Monday morning, July 18
"The Marketing Function: Why Should I Care?," Symposium 47, Monday morning, July 18
"Optimization of Formulation and Process for Product Development: Conceptualized Experimental Design and Data Collection and Analysis," Symposium 63, Tuesday morning, July 19
Also of interest to product developers are the IFT/RCA Product Development Pavilion and the Global New Product Showcase presentations. More information about the 2005 IFT Annual Meeting + Food Expo can be found by calling 312-782-8424 or visiting www.am-fe.ift.org.
by Karen Banasiak,
Assistant Editor