Recognizing the growing popularity of energy drinks like Red Bull, Anheuser-Busch has launched a new Budweiser beer infused with caffeine, guarana, and ginseng. Trade named BE (B-to-the-E), the drink also contains aromas of blackberry, raspberry, and cherry, which impart a lightly sweet and tart taste.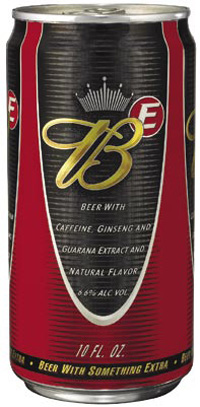 "We created a great new drink that's outside the boundaries of the taste adults would expect from a traditional beer," said Nathaniel Davis, A-B Brew-master. "With B-to-the-E, we've come up with a beer that has a taste with a 'wow' factor at the finish."
The beer targets contemporary adults who are looking for the latest beverage to keep up with their highly social and fast-paced lifestyles. BE comes in a slim 10-oz can with bold red and black graphics. It is priced slightly higher than Budweiser and marketed through local print advertising, point-of-sale materials, bar and club promotions, and online programs. BE contains 6.6% alcohol by volume.
In 2002, the Food and Drug Administration approved a health claim for plant sterols' ability to lower heart disease risk by lowering cholesterol. To take advantage of this health claim, Masterfoods USA has developed a snack bar containing plant sterols and cocoa flavanols. Each 0.78-oz bar contains at least 100 mg of flavanols. Called CocoaVia, the snack bars come in four flavors: Chocolate Crunch Bar, Chocolate Almond Crunch Bar, Chocolate Blueberry Crunch Bar, and Chocolate Cherry Crunch Bar.
A clinical research study demonstrated that consumption of two CocoaVia bars/day significantly reduced cholesterol levels. In the study, one group of 35 participants received a placebo (non-sterol-containing) snack bar (the control group) twice a day, while the other group of 35 participants ate the plant-sterol-containing bar twice daily (the treatment group). Study participants had their cholesterol levels checked twice at the beginning of the study, again at the mid-point of the study, and twice at the end of the six-week study period.
At the onset of the study, participants had an elevated fasting total and LDL cholesterol >240 mg/dL and >160 mg/dL, respectively. At the end of the study, total cholesterol, LDL cholesterol, and the ratio of total:HDL cholesterol decreased significantly by 4.7%, 6%, and 7.4%, respectively, in those who consumed the plant sterol-enriched snack bars. Plasma lipids did not change in the control group. There were no changes in body weight, blood pressure, or HDL cholesterol in either treatment group.
"Plant sterols are a clinically proven ingredient that lowers cholesterol," said Catherine Kwik-Uribe, Research Chemist at Mars, Inc., one of the study authors. "Physicians and cardiologists have recommended the sterol-containing spreads to their heart health concerned patients. Now this research shows that patients have another food option with not just the sterol benefits, but with the multiple cardiovascular benefits of cocoa flavanols and great taste, too."
Many low-carb products rely on the addition of non-nutritive sweeteners to keep their carbohydrate counts in check. Del Monte uses this approach for a new line of low-carb canned fruit products. The Del Monte Carb Clever line of canned fruit products contains 50–70% fewer carbohydrates than conventional canned fruit.
Rather than packing the fruit in heavy syrup or natural fruit juices, Del Monte packs the fruit in water sweetened with Splenda® brand no-calorie sweetener. The result is delicious, ready-to-eat fruit that's lower in carbs and calories, while retaining a pleasing sweet taste.
Many health and nutrition experts are concerned about reports, such as those from ACNielsen, indicating that 44% of low-carb dieters—an estimated 15 million Americans—have either cut back or stopped eating fruit as a result of the diet.
"The ACNielsen research regarding insufficient fruit consumption while on low-carb diets underscores the market need for the Del Monte Carb Clever line of products," said Josie Welling, Vice President of Marketing, Del Monte Fruit. "People on these diets, as well as those cutting back on refined sugar intake, are really trying to do something positive for their health. Continuing to enjoy fruit, while being conscious of their total carb and sugar intake, is easy with Del Monte Carb Clever."
Many consumers like to eat fish but don't know how to prepare it . Bumble Bee Seafoods helps to solve this dilemma with its introduction of Prime Fillet ready-to-heat entrée-style tuna steak. The individual serving of 100% natural albacore tuna comes in an easy-open, vacuum-sealed pouch. Three varieties are available: Lemon & Pepper, Mesquite Grilled, and Ginger Soy.
"More than 50% of canned tuna consumption today is in the form of a sandwich, with another 20% consumed as tuna salad," said Bumble Bee President and CEO Christopher D. Lischewski. "Prime Fillet Albacore Steaks offers today's busy consumers—from moms through professionals to college students—the chance to enjoy albacore as a seafood dinner with just a few minutes' preparation and little to no fuss.
"The tuna steaks are high in protein and vitamin B, and provide omega-3 fatty acids, whose benefits include strengthening the immune system, reduced risk of heart disease and hypertension, as well as improved mental health," Lischewski said.
InBev USA has launched Beck's Premier Light—the lowest-calorie beer in the United States market. The imported beer—brewed in Bremen, Germany—contains only 64 calories and 3.9 g of carbohydrates per 12-oz serving. The beer comes in familiar Beck's packaging—a green bottle with the signature oval front label. It is available in 12-oz non-returnable longneck bottles in 6, 12 and 24 packs, as well as on draught.
"We are very excited about early enthusiasm from retailers for Beck's Premier Light," said Victor Melendez, Director of Marketing at InBev USA. "It's a fantasti-ctasting beer that stays true to its German roots in both taste and its brewing process. Not only does the beer have incredibly low calories, but it will be the first low-carb import to hit the U.S. market."
To address the growing Hispanic population in the U.S., Celestial Seasonings has created a line of teas especially for Hispanic consumers. The herb teas—Honey Lemon Diet, Apple Banana Chamomile, Cinnamon Apple, and Linden Mint Herb—are available in 10-count packages with Spanish-first bilingual copy.
"The research and development behind these teas represents the best of art and science," said Joan Boykin, Director of Marketing at Celestial Seasonings. "We formulated our new line of teas around herbs and flavors popular in the Hispanic market, like linden, mint, honey, lemon, and chamomile, as well as familiar favorites like cinnamon and apple." Each tea is naturally caffeine-free and blended with 100% natural herbs, spices and other flavors. Honey Lemon Diet and Cinnamon Apple can also be enjoyed as iced.
A 2004 ACNielsen poll shows that diet tea is the best-selling tea in the Hispanic market, and many chamomile and linden teas are among the top-selling flavors. In blind taste tests, Celestial Seasonings Honey Lemon Diet Tea was preferred 9 to 1 over the top competitor, and Apple Banana Chamomile was preferred 4 to 1 over the highest-ranking competitive tea.
Most Americans (75% of women and 50% of men) do not get enough calcium in their diet, according to the U.S. Dept. of Agriculture. In fact, only 14% of teen girls and 35% of teen boys are meeting their 1989 Recommended Dietary Allowance of calcium. To help alleviate this dietary deficiency, McNeil Nutritionals has developed CalciMilk with double the calcium of ordinary fluid milk. Each 8-oz serving contains 600 mg of calcium. The product is available in whole, 2%, and skim varieties.
"Contrary to popular belief, osteoporosis is not an 'old woman's disease.' Even young celebrities are in the news on the subject," said Maureen Conway, Director of Nutrition Services and Communications at McNeil Nutritionals. "People are shocked to discover bone loss can start at an early age in some individuals. When consumers began to forgo milk for other less nutritionally dense beverages, we exchanged refreshment for the nourishment that historically contributed to healthier bones. That is one reason why osteoporosis today is more prevalent."