The "Nutrition Facts" label required on foods today has gone a long way in educating the consumer about the health benefi ts (or negative aspects) of the foods they select for their diet. Many people are concerned about diet and health, and are interested in "healthy foods."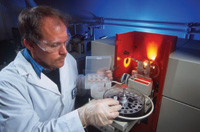 The weekly IFT E-Newsletter on July 14, 2004, reviewed how concerns about diet and health were driving food product reformulation. Reduction of caloric and carbohydrate content was increasing. It was found imperative that adding health-enhancing components to foods did not change the color or taste and did not decrease the shelf life.
The July 21, 2004, issue indicated that organic produce may have health benefi ts; that women consuming vegetables like spinach and broccoli may preserve more of their cognitive abilities as they enter their 70s, pushing back the onset of Alzheimer's and related dementias; and that regular physical activity and nutrient-conscious eating will improve physical function, help stabilize weight, and reduce rheumatoid arthritis. It is no wonder that consumers are looking for foods that are more "healthy."
There are several ways that you as a food processor can develop your products to meet desired nutrient levels for "healthy foods." You can formulate your product, then analyze it in-house and adjust it if necessary to meet the nutrient levels desired; you can engage an experienced consultant or consulting fi rm; or you can work with an ingredient supplier that helps you both develop and manufacture formulations containing almost any type or level of nutrient fortifi cation or enhancement you desire.
Nutrition Knowledge is Key
Tricia Giron, owner and president of The Culinary Palette, Ltd., provides consulting services in food fortifi cation and regulatory issues, as well as product and recipe development.
According to Giron, "Food fortifi cation was designed to safeguard consumers against disease associated with nutritional defi ciencies by adding essential nutrients to foods considered to be dietary staples. While foods such as infant foods, breakfast cereals, and bread have been fortifi ed since the inception of food fortifi cation, sport drinks, meal-replacement bars, and even teas are candidates for fortifi cation today."
Processors can achieve fortifi cation, she said, by adding liquid or dry premixes containing pre-measured levels of desired vitamins, minerals, and other nutrients. "Nutrients are available in a variety of forms to allow your premixes to be customized for your application. For example, calcium gluconate is a more-water-soluble form of calcium commonly used in beverage applications."
Analytical testing for nutrients is done to verify the level of nutrients in the premix and to monitor processing lines for accurate premix application. "Most vitamins are analyzed using high-performance liquid chromatography (HPLC) methods," she said. "With an experienced chemist, these methods can be employed on-site, with reasonable costs associated with them for equipment and supplies. HPLC can also be used for other nutrient analyses such as sugar profi les."
--- PAGE BREAK ---
Giron described other analytical methods:
• Minerals are commonly analyzed using atomic absorption (AA), inductive coupled plasma (ICP), graphite analysis, and other wet chemistry methods. AA and many wet chemistry methods can easily be conducted in the quality control lab with reasonable equipment costs. The methods are also relatively quick, making them ideal for plant-level testing while the product is still in the line.
• Vitamins and minerals can be analyzed by capillary electrophoresis (CE) in just a few short runs using one piece of equipment. Though more affordable and user-friendly today, this effi cient technique still remains one for a more-experienced chemist and a larger budget.
• Other nutrients commonly addressed with fortifi cation today include proteins and nutraceuticals, which can typically be analyzed using wet chemistry methods, gas chromatography–mass spectrometry (GC-MS), and HPLC. Since implementing validated methods for multiple nutrients in these categories can be costly and time-consuming, many processors opt for contract laboratories to test fi nished products. The Offi cial Methods of AOAC International is a key reference for any laboratory considering conducting its own nutrient analysis. These reliable methods once validated for your particular application will yield accurate and precise results you can depend on.
Nutrient Premix Systems Offer Benefi ts
Another alternative to utilizing individual consultants to help food processors develop and formulate their individual products with enhanced nutrients is to utilize a major supplier of nutrient systems. One such company is Fortitech, Inc., a world leader in the development and manufacture of customized nutrient premixes for the food, beverage, and pharmaceutical industries.
"Nutritional premixes offer numerous benefi ts to manufacturers," said Ram Chaudhari, Fortitech's Senior Executive Vice President & Chief Scientifi c Offi cer. "The production process is streamlined because a nutrient system provides a single source of multiple nutrients. Savings on labor, inventory, and testing result. Premixes offer greater consistency and address issues of product taste and texture early in the development stage. They eliminate any chance of error during the manufacturing process where missing a small amount of an ingredient or weighing incorrectly may cause a potential defi cit of that nutrient and a possible recall. All of these potential errors can be avoided by using a nutritional premix."
--- PAGE BREAK ---
Chaudhari said that premixes also help manufacturers develop products to better serve market segments (e.g., children, athletes, seniors or women) and particular health conditions (e.g., digestive or bone health). Customized blends may contain a selection of vitamins, minerals, amino acids, nucleotides, nutraceuticals, and other functional ingredients. Fortifi cation is applicable to a wide range of foods, including baby formulas, cereals, nutrition bars, dairy products, sports drinks, juices, water, snacks, candies, supplements, and more.
An ISO 9001-2000-certifi ed company, Fortitech manufactures nutrient premixes under strict good manufacturing practices, including the Food Products Association's Supplier Audits for Food Excellence® (FPA-SAFE) program. Each batch is carefully tested for potency and consistency prior to shipment and is labeled with a certifi cate of analysis. Premixes are available in both liquid and powder forms and can comply with kosher and halal standards.
Chaudhari added that Fortitech has complete in-house analytical capabilities, including AA and ICP equipment that is used to test trace minerals, as well as HPLC that is used in the testing of all fat- and water-soluble vitamins.
---
Iodized Salt Was Early Fortifi ed Food
Iodized salt was one of the fi rst fortifi ed food products in the United States," according to Linda Kragt, Technical Services Manager at Morton Salt Co. "Today, iodine defi ciency disease is relatively rare in the U.S., but in the early 1900s it was fairly common in the Midwest. It gained public health signifi cance during World War I, when the major source of rejection of draft registrants in the Great Lakes region was the prevalence of goiter, an enlargement of the thyroid gland caused by insuffi cient iodine intake."
Kragt said that David M. Cowrie, Professor of Pediatrics at the University of Michigan, studied the problem and became interested in the iodization of salt that was being tested in Switzerland. His efforts with the Michigan State Medical Society resulted in the introduction of iodized salt in 1924. Salt was selected for iodization because it was consumed on a daily basis and was an inexpensive means of fortifi cation.
"Morton Salt was the fi rst company to nationally distribute iodized salt," Kragt said. "The program was highly successful and led to the eradication of iodine defi ciency disease in the U.S. Some involved with the original program advocated mandatory iodization of salt. However, a legal consultant recommended that iodization be voluntary, allowing consumers to have a free choice in the marketplace. Today, both plain table salt and iodized table salt are available on grocery store shelves."
With regard to the food industry, Kragt said that "Most salt sold for food processing is not iodized. However, iodized salt is available to processors for special nutritional applications and also for repacking in shakers and packets.
Kragt pointed out that Food Chemicals Codex mandates the tolerance for iodized salt as 0.006–0.01% potassium iodide. Salt manufacturers analyze iodized table salt during production to ensure that levels are within tolerances. A typical analytical procedure involves oxidizing the iodide to iodate. After addition of potassium iodide, the free iodine is titrated with sodium thiosulfate.
--- PAGE BREAK ---
Nutrient Analysis Data Resources
Food processors and consumers can fi nd nutrient analysis data in various databases and software packages. Among them are the following:
USDA's National Nutrient Database for Standard Reference (www.nal.usda.gov/fnic/foodcomp/search). This resource is provided by the Nutrient Data Laboratory of the U.S. Dept. of Agriculture/Agricultural Research Service.
NATS, Nutrition Analysis Tools & System (http://nat.crgq.com). This database uses USDA guidelines and product information provided by most of the world's major food companies. It was developed by James Painter at the University of Illinois, Urbana-Champaign.
ESHA Database (www.esha.com/products/eshadata/database). This database includes more than 23,000 foods and combines nutrient data from more than 1,200 sources of information.
NutriBase Software (www.nutribase.com). This software provides nutrition information and prints Nutrition Facts labels.
Genesis® R&D SQL (www.esha.com/products/genesissql). This product development and labeling software automates tasks ranging from nutrient analysis to moisture and fat adjustments. It tracks 127 nutrient components for more than 26,000 foods and ingredients.
---
For More Information:
Iodized salt: Morton Salt, A Rohm & Haas Co., 123 N. Wacker Dr., Chicago, IL 60606-1743 (phone 312/807-2000, www.mortonsalt.com).
Nutrient enhancement consultant services: The Culinary Palette, Ltd., 7014 S. Brookbank Rd., Darien, IL 60561 (phone 630/455-0209, www.theculinarypalette.com).
Food fortifi cation and nutrient systems: Fortitech, Inc., Riverside Technology Park, 2105 Technology Dr., Schenectady, NY 12308 (phone 518-372-5155, www.fortitech.com).
by Dean Duxbury,
Contributing Editor,
Consultant, Oak Brook, Ill.
[email protected]