Every three years in spring, the fairgrounds in Dusseldorf, Germany, teem with the greatest array of innovation the packaging community can muster—Interpack. On April 21–27 this year, more than 2,600 organizations from 57 countries welcomed nearly 200,000 industry professionals from more than 100 nations.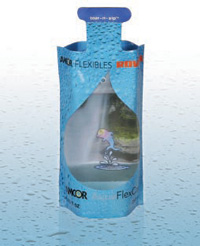 Because Interpack represents the target focus for the world's packaging industries, the overwhelming majority of exhibitors try to debut their latest developments on the triannual schedule of this massive event.
Exhibition organizers provided some stunning data: the world packaging production volume is nearly a half trillion dollars. Germany is the world's largest maker of packaging machinery, followed by the United States (previously the leader), Japan, Italy, and China. And plastics have taken the top package materials position from paper and paperboard, which still dominates distribution packaging.
To attempt to capture some of the awesome torrent of innovation, a team of American packaging professionals from Packaging & Technology Integrated Solutions (PTIS) probed every recess of the 18 exhibit buildings. Experienced food packaging veterans Brian Wagner, Terry Bedell, and Mike Richmond systematically explored the innovations and advances to compile a detailed document published by PakIntell (www.pakintell.com). Some of their data and conclusions are shared below.
On-the-Go Packaging
Interpack issues "Specialist Articles," some of which target food packagers. "Full Nutrition without Cooking" is the topic of a brief on the "to-go" trend discussed in this column in May 2005.
The German perspective suggests that the trend is characterized by smaller units and multi-component snacks, i.e., small, handy bags or tubs, sized to fit into a "rucksack." Bags are less handy in cars because contents spill onto the seat and floor. Thus, tubs of thermoformed polypropylene to fit into the mug holder. The opening, about 3 inches in diameter, allows an adult hand to reach in to retrieve the contents. If the consumer does not eat the entire portion, the tub may be closed with a "spring catch" lid. Upscale foods such as fresh salad can be packaged in transparent thermoformed bowls, with added dressings in plastic pouches and adjuncts such as croutons in portion trays. Such containers separate dry components such as crackers from other ingredients such as cheese or jelly.
According to the Interpack report, hardly any packed lunch still requires cooking or heating. Meals and snacks are engineered to be eaten directly from the package without crockery or cutlery. A small spoon can be offered in the lid of the yogurt "pot," or Americans can suck yogurt from a plastic tube to avoid the spoon. The report asserts that flexible tubular packaging from laminations on vertical form/fill/seal equipment is applicable to puddings, ice cream substitutes, peanut butter, and even apple puree (applesauce).
Sorting out the themes of relevant food packaging innovation from among the thousands of primary, secondary, and distribution packaging applications displayed is a formidable task. Subjectively, it appears that since Interpack 2002, many exhibitors have invested in convenience, retail shelf presentation and visibility, prolongation of refrigerated and ambient-temperature shelf life, as well as enhancing packaging equipment efficiency.
Chilled Foods Packaging
It appears that around the world, the fastest-growing food and beverage category is chilled, reduced in temperature to retard biological and biochemical quality loss but providing relatively short shelf life measured in weeks. Packaging for refrigerated foods requires careful engineering to ensure product safety and quality retention.
• Multivac. Known for its historical pioneering in thermoform/fill/vacuum, gas-flush packaging for solids and semi-solids such as cured meats and cheese, Germany's Multivac (www.multivac.de) offered its FormShrink equipment. Foods with irregular shapes and sizes, such as hams, cheese wedges, pizza, and dressed poultry, are placed into cavities thermoformed from shrink barrier plastic films such as nylon/ethylene vinyl alcohol (EVOH) laminations. A barrier lidding film is sealed to the edges while air is withdrawn. The entire package is subject to brief surface heating to shrink the films closely to the product surfaces. The result is a product with a tight "second skin." Advantages over using preformed pouches include less material, better puncture resistance, ability to print effectively, simplification of loading, and marked increase in productivity.
Another Multivac offering is Serve Box, a reclosable package fabricated from semi-rigid plastic with a flat base and a 3-dimensional dome closure for product visibility. Projections in the "dimpled" base hold the solid product, such as sliced cheese or luncheon meat, in place. The dome is engineered for package stackability. Closure knobs enable consumers to reclose the package. Use of barrier materials permits use of modified atmosphere in a singularly engineered circulation pattern (through the irregular "wafer" base pattern) to increase chilled shelf life.
Deviating from its basic machine concepts, Multivac introduced Sterivent, a sterilizable pouch package fabricated in line from DuPont's Tyvek® spun-bonded polyolefin permitting the free passage of sterilizing gas for medical devices.
• Illig. German thermoforming equipment manufacturer Illig (www.illig.de) offered in-line thermoform/fill/seal equipment for packaging fluids and liquids such as yogurt, pudding, and juice in cups, tubs, trays, etc. Competing with off-line fabricated and in-the-round decorated injection-molded open-top polypropylene containers, Illig's machinery employs direct labeling with in-mold polypropylene film labels printed in high definition using ultraviolet-cured inks—implying very high spectral gloss. Labels, which increase the structural integrity of the container, may incorporate metallics, barrier for added chilled shelf life, and desirable aroma emission. A matte finish could be applied to the external surface to differentiate on the shelf from high-gloss finish decoration on most plastic containers.
• Huhtamaki. Finland's Huhtamaki, a major global package material supplier, introduced several structures, including in-line formed bottles fabricated from barrier materials. Finished bottles are sleeved with printed shrink sleeves. Formed in-line from barrier lamination is the standup flexible pouch with filling/dispensing closure capable of hot filling. The company's long-time Top Tray polypropylene/EVOH lamination for ready meals is now available in M+ format with an option for modified atmosphere for extended shelf life under chilled distribution. Trays with self-absorbent open-cell structure bases to remove purge are said to keep the contents "dry." The company offers sterilizable, peelable aluminum oxide–coated barrier lidding material for retort trays of baby food. For retort pouches, laminations of polyester/aluminum foil/nylon/polypropylene are available with rotogravure-applied matte overlacquer to deliver better graphics. In conjunction with German machine maker Laudenberg (www.laudenberg.de), Huhtamaki exhibited Cyclero, a round flexible can cylinder with sonically welded seams plus fitments.
•CFS. Dutch company Convenience Food Systems (www.cfs.com) offers a ShrinkPak 3-dimensional package structure similar to Multivac's FormShrink package but augments its system with materials that fit its Tiromat thermoform/vacuum-gas flush/seal equipment engineered for this application.
The company also introduced a new tray bottom web film called C-base, a transparent barrier film with anti-fog properties capable of thermal pasteurization. The material, formed in-line on the company's Tiromat equipment, is targeted at "fresh" and heat-and-eat foods such as wet pasta, ready meals, and meal components.
Moving through chilled distribution channels, the company's eXbase foamed-polypropylene tray is also microwavable and offers thermal insulation to enable consumers to handle the microwave-reheated foods.
Aseptic Packaging
Perceived to be European in origin and certainly in market domination, aseptic packaging to enable food processors to deliver liquid and fluid foods for ambient-temperature distribution is regarded as a major "new" food packaging technology, despite its more than 50-year history.
• Hamba. Known for decades for its ultra-clean and aseptic preformed cup deposit/fill/seal machines, the German company Hamba (www.hamba.de) extended its technology into aseptic bottle-filling machinery. The company provides three basic aseptic-style technology system concepts.
The first is open, i.e., not sterile: steam-sterilized clean-in-place equipment for packaging chilled fluid and liquid foods such as milk and yogurt.
The second is ultra-clean equipment which "decontaminates" the empty package structures with hydrogen peroxide and the equipment with steam, and incorporates a sterile air tunnel for operations. The result is packaged product which is capable of refrigerated extended shelf life (ESL).
The third is the classical aseptic system, for ambient-temperature shelf-stable distribution: hot vaporized 35% hydrogen peroxide is the package material sterilant, with hot sterile air drying, and steam is the equipment sterilization means, but with integrated chain rinsing and continuous cup-holding pocket sterilization. Standard cup machines are capable of outputs of nearly 1,000 cups/min, with aseptic machine output of up to 150 cups/min. Aseptic small-bottle machines are capable of outputs of up to 900 bottles/min in multi-lane configuration.
• Rommelag. German company Rommelag (www.rommelag.de) continues to offer its aseptic in-line extrusion-blow-mold/fill/seal Bottelpack® system aimed at pharmaceutical liquid applications, although some beverages have been packaged on these machines.
• Weiler Engineering. This American company (www.weilerengineering.com) manufactures Asep-Tech® aseptic blow mold/fill/seal machines. Also engineered primarily for liquid pharmaceuticals, the systems are capable of operating at up to 60 plastic bottles/min. These systems extrude thermoplastic resin into tubular shapes called parisons in bottle-shaped molds. The mold is closed and conveyed to a blowing and filling nozzle, which is lowered into the parison until it forms a seal with the mold neck. The container is formed by blowing sterile air and expanding the hot parison against the wall of the mold. Sterile product is metered through the fill nozzle, which is then withdrawn to permit hermetic sealing of the container. The result is an ambient-temperature shelf-stable polyolefin bottle that has been sterilized by temperature of the plastic and filled with sterile liquid.
Flexible Packaging
If no other descriptor could be applied to Interpack 2005, it was a dominantly European flexible packaging show—hinting at a future in which flexible plastic in its many variations beyond what we imagine today will cannibalize market from its materials rivals.
•Flupp. Among the more intriguing packaging concepts presented is squeezable flexible packaging. The German company Flupp (www.s-designteam.de) has an ingenious multichamber standup flexible pouch system mostly equipped with a dispensing fitment. Edge seals are accomplished by face-to-face fusion to achieve seal integrity. The consumer mixes the components by applying pressure to rupture the internal barrier seals. Filling is through the fitment for one chamber and through the flexible top prior to heat sealing for the other chambers. According to machine supplier Hensen, provider of systems for standup pouch packaging of liquids for many decades, outputs for the Flupp system can be as high as 200 pouches/min.
• Rovema. The German machinery supplier Rovema (www.rovema.de) demonstrated vertical form/fill/seal equipment producing Aqua Flex Can flflexible pouches with top and bottom fusion gusset seals to hermetically seal the container. Designed for still beverage packaging, the package can be fitted with a straw for consumption.
• WIPF. The Swiss company WIPF (www.wipf.ch) has introduced double laser scoring for flexible pouches to provide easier opening than the more-conventional single-laser scoring. Double scoring compensates for slight changes in pull direction by the user. The two parallel laser perforations extend slightly above and below the tear notch. When the consumer begins to tear open the pouch at the notch, the tear proceeds along the upper or lower perforation line, depending on how the user holds the pouch.
• Menshen. German plastics molder Menshen (www.menshen.com) introduced a valved pouch fitment that automatically closes when the consumer stops sipping, so that the package contents can't spill, no matter what the attitude.
Barrier Polyester Bottles
The race to capture bottle and jar market share from metal cans, glass, and even flexible packaging has increased with the advent of enhanced-property polyester structures, incorporating more new barriers and more-efficient fabrication technologies.
•Sidel. Now a division of Tetra Pak, France's Sidel (www.sidel.com) provided advances in blow molding technology, including ESL and aseptic configurations. Sidel manufactures injection molding equipment to form preforms to be blown, after reheating, into bottles on its or any other stretch blow molding equipment. The scrap rate has been reduced to 0.1%; air consumption is down 40%, and electrical consumption is down 15%. Thus, polyester (or even polypropylene) bottles for water, carbonated beverages, juices, etc., can be produced at up to 600 bottles/min. Bottle production can be linked with Sidel's turnkey ESL or aseptic packaging equipment to deliver filled bottles of juice, milk, etc. Microbiological destruction can be accomplished by treating the preforms with peracetic acid/peroxide prior to final blowing.
• SIG and Schott. Barrier properties of polyester bottles can be enhanced by plasma coating from companies such as Switzerland's SIG Corpoplast (www.sigsystems.com). In cooperation with Switzerland's Schott HiCotek (www.schott.com), SIG Plasmax applies glass coating on polyester bottles using plasma discharge technology. Measurement of carbon dioxide loss through the bottles demonstrates equivalency to metal cans at 38°C. Quantification of juice shelf life has indicated a 50% extension in 1-L bottles. Tests have also demonstrated that barrier can be effectively applied to polypropylene and high-density polyethylene bottles.
Retort Pouches and Trays
Post-fill thermal sterilization to permit ambient-temperature distribution of solid and semisolid foods has emerged from conventional cylindrical metal cans into trays, pouches, and shaped rigid metal cans.
• Rychiger. Furthering the growing cause of retort and hot-fill pouches and trays are new concepts from the Swiss cup/tray filling/sealing equipment engineering firm Rychiger (www.rychiger.com). Virtually any size or viscosity fluid or solid may be packaged on the company's deposit/fill/seal machinery.
The company developed a membrane-cutting technology in which the lidding material is fed from the reel at a defined angle, leading to optimum placement of the punched openings on the film. Cups, trays, etc., are denested and moved, in servo-driven continuous motion by a walking-beam mechanism, to the piston, auger, or volumetric fillers engineered by the company. Lidding may be from roll stock (fed at an angle) or pre–die-cut stacks. Heat sealing is mechanical, with individual seal stations with individual temperature control to achieve excellent seal integrity.
The company also offers a peelable seal on conventional metal cans by heat sealing a flexible membrane to a die-cut metal end that is affixed to the retortable can body by double seaming.
• Satori. As is (or should be) known to all those in or near retort pouch or tray packaging, the autoclaving operations are just as critical as the packaging functions. Among the limited number of companies providing reliable thermal sterilization equipment is Germany's Satori (www.satoristocktec.com).
In its steam-injection water-spray technology, directly injected steam blends with fine droplets of water spray to produce what is claimed to be a homogeneous heat transfer environment throughout the entire autoclave. Water-jet sprays into the cages from the sides achieve rapid, uniform cooling, consequential short process protocols, and higher-quality contents.
Future Advances
Obviously, any short article citing fewer than two dozen items cannot begin to summarize the hundreds of advances in food packaging technologies in evidence at Interpack 2005.
Any suggestion that the paucity of listings from United States and or Asian sources here indicates a technology gap is erroneous—the overwhelming number of innovations directed the team of packaging professionals attending Interpack toward those present in the largest quantities.
The focus on primary packaging for thermally stabilized and extended-shelf-life foods indicates that safer, higher-quality food can be packaged for distribution in a wider variety of technologies than ever before. This bodes very well for future advances in these and related categories of food preservation and packaging.
by Aaron L. Brody,
Contributing Editor,
President and CEO,
Packaging/Brody, Inc.,
Duluth, Ga.
[email protected]