In the third year of their productive partnership, the Institute of Food Technologists and the Research Chefs Association again provided entertainment and inspiration on the exhibit floor of the 2006 IFT Annual Meeting + Food Expo®.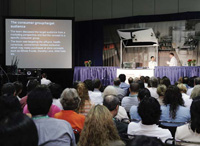 Three teams, each consisting of a chef, a food scientist, and a student, conceived and executed novel food products meant to be eaten on the run. The teams also tried to make the products natural, nutritious, and practical to manufacture. All were volunteers, fitting this assignment into their already busy lives and careers.
In past years, there were more teams—as many as six or seven—and the teams were larger. The more-focused approach this year attracted large audiences and still provided a unique learning experience for participants and observers.
Rob Brannan, now a professor at Ohio University and a previous participant, was chair of the planning committee, which involved IFT and RCA members. Jan Miller of IDF and Eric Sparks of Park 100 Foods were hosts and moderators all three days, helping to field questions from the floor during the lively discussion that followed each demonstration.
'Grab & Go' Tortilla Torta Cup
The Center of the Plate Team consisted of Tamie Cook, Culinary Director of Be Square Productions (producer of keynote speaker Alton Brown's TV show, Good Eats); Dominik Teyke, Director of Research & Development at Boar's Head Provisions Co.; and Catrina Mills, Culinology student at the University of Cincinnati. This year, the students were added to the teams relatively late, so they were heavily involved in the preparation of samples at Food Expo.
Cook explained that she had been an occupational therapist, but on a stay in France had become fascinated by cooking and so embarked on a second career by attending the New England culinary school in Vermont, which featured a hands-on approach. She served an internship with Alton Brown and then stayed on to help write, test, and develop recipes used on the show.
A recent show had explained how to make tortillas at home, including the nixtamalization process for corn, in which dry corn kernels are soaked in lime (calcium hydroxide) water to soften the skin and release the starch. The soaked corn is ground into masa (corn dough) and formed into flat sheets for baking. Cook thought of using the corn tortillas as "quasi lasagna noodles" in some kind of layered dish using Latin American flavors and ingredients.
--- PAGE BREAK ---
Cook and Teyke agreed that their target audience was affluent, health conscious, and busy. They conceived the idea of putting the layered dish in a microwavable plastic cup that would fit into a car's cup holder. They added a fork attached to the cup for convenience. Since the team wanted a fresh component, they conceived of a second plastic cup with a film lid that could hold sour cream and fresh salsa as condiments.
Teyke's firm could supply carnitas, a natural pork shoulder cooked in a bag and cut into pieces. He also helped develop the sauce, and found it challenging to not use some available technologies, since the team wanted to avoid artificial colors, phosphates, hormones, and antibiotics. He did convert the sauce to a concentrate, which Cook admitted was a foreign concept to her as a chef.
In discussion, the team felt that they had not been required to compromise quality to deliver a practical product.
Crispy Asian Noodle Stix
The On the Side team consisted of Birgit Miller, Food Technologist at Food Technologin Co., Robert Danhi of Chef Robert Danhi Inc., and student Paolo Beltran of Chapman University. The team wanted to take advantage of Chef Danhi's expertise in Asian flavors and foods and so turned to such dishes as Thai fish cakes, Malasian otak otak, Chinese noodle pillow, and Japanese pork cutlet for inspiration. They wanted a starch-based product that could be fried from the frozen state, like American fish sticks.
The gold standard was a mixture of diced shrimp, a commercial Asian herb blend, oyster sauce, eggs, cream, and cornstarch. Some of these ingredients were impractical or too costly on a commercial scale, though the chef did use available materials where possible from the start. Later, the original tiger shrimp were replaced by less-expensive Mexican shrimp and eventually by almonds and shrimp flavor. The Almond Board of California helped sponsor the demonstrations, so it seemed fitting to include its products.
Dry noodles added texture to the mixture. Panko bread crumbs coated the surface. A commercial Thai sweet chili sauce was enhanced with ginger, soy sauce, and orange juice concentrate. Presentation was on a romaine lettuce leaf garnished with fresh cilantro. The herb blend needed a boost, so lemongrass paste, keffir lime extract, Thai basil, and cooking rice wine were added. The final formula included pasteurized egg, shredded carrots and green beans, oyster sauce, shrimp extract, and almonds. Prototypes had been made by piping from a pastry bag, but for scale-up, a Rheon extruder was used. Potato starch was added and coating was done on-line. Some preservatives were added to the sauce mix because Miller was concerned about potential temperature abuse in a commercial kitchen. The sauce could be made by cold blending because it has a low pH and high solids content.
--- PAGE BREAK ---
The team felt that the final product tasted even better than the prototype and had retained all the "non-negotiable" features intended. To prepare presentation samples, the team used a vertical cutting machine and the Rheon machine in a Two Chefs on a Roll plant. Cooperating suppliers included Mills Family Farms, Gilroy Foods, Wing Hing Foods, and Lee Kum Kee. The sauce was packaged in a pouch for and the frozen sticks on a two-layer cardboard tray. The exercise demonstrated that a novel and tasty food could be assembled from available ingredients at a reasonable cost and with easily available equipment.
Fruit & Vegetable Concepts
The Five a Day team consisted of Kelly Henderson, Food Technologist at ConAgra Food Ingredients; Melissa Ventura, Corporate Research Chef at Red Arrow Products Co.; and Elizabeth Olsen, Culinology graduate from the University of Nebraska, now interning at ConAgra. Because of very short time constraints and travel conflicts, this team operated more independently than the others and developed both culinary and more-industrial concepts for providing consumers with more fruits and vegetables in their diets.
Ventura demonstrated a lettuce wrap that used thickly cut carrot sticks, cucumber, water chestnut, bean sprouts, and pea pods to make a tasty, hand-held snack that a restaurant could easily prepare. She also showed a grilled zucchini pocket filled with ratatouille and garnished with sesame. The zucchini was marinated in thyme seasoning.
Henderson, operating largely on his own, developed a vegetable leather based on carrot and spinach that he hoped could be folded around a vegetable filling. The concept was inspired by fruit leathers or roll-ups and has real promise. The execution shown did not stick to itself as intended, but further experimentation, probably adding syrup, should correct that, if desired.
Finally, the team offered a roasted, dried, mixed-vegetable, trail-mix snack. This was made from available reduced-moisture vegetables, including red Bell peppers, zucchini, carrot, and corn, flavored with a Mediterranean dressing, then dried at 150°F. Small cups were distributed to the audience as they left.
Challenge and Inspiration
Culinology is RCA's trademarked word for the blend of culinary art and food science that results when chefs and food scientists are cross-educated and cooperate with each other, combining the unique skills and talents of each discipline. Typically, the chef helps conceive a concept, prepares a gold standard or ideal prototype, and helps plan the presentation. The food scientist typically participates in conceiving the concept, applies his or her knowledge of available ingredients and processes, addresses food safety and nutritional concerns, and helps to solve packaging issues.
With more than 50% of the food dollar being spent away from home and 20% of purchased meals being ordered from a car, the development of easy-to-eat, tasty, safe, and nutritious foodservice items will be a continuing challenge for chefs and food scientists. Not only does the annual IFT/RCA Culinology demonstration show how such teams can succeed, but also the specific results may very well inspire future developments.
by J. Peter Clark,
Contributing Editor,
Consultant to the Food Processing Industries, Oak Park, Ill.
[email protected]