Each year, the Institute of Food Technologists honors outstanding individuals, teams, and organizations for contributions to the profession of food science and technology by presenting achievement awards and electing Fellows. At its 2006 Annual Meeting + Food ExpoB. in June, IFT presented achievement awards to 14 individuals and one company and recognized nine newly elected Fellows. Following are brief biographies of this yearb�0;19;s honorees.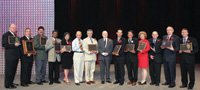 2006 Achievement Awards
José Miguel Aguilera, Professor, Pontificia Universidad CatC3lica de Chile, received the 2006 Marcel Loncin Research Prize, which provides research funding to a scientist or engineer conducting basic chemistry, physics, or engineering research applied to food processing and the improvement of food quality.
Throughout his career, Aguilera has contributed to food technology and engineering, specifically the study of food microstructure, in which he is considered an expert. As founder and director of the Food Biomaterials Laboratory at Pontificia Universidad CatC3lica de Chile, he has undertaken research in areas such as structure-property relationships in foods and biomaterials; applications of modern microscopy techniques; and modeling and quantitation of microstructural changes in food.
Aguilera has published more than 130 articles in international journals and 24 book chapters and is the author or coauthor of 12 books, including Microstructural Principles of Food Processing and Engineering and Engineering and Food for the 21st Century. He has shared his expertise of food microstructure as a keynote speaker at various professional association meetings and as a consultant to the Nestlé Research Center and Unilever. Additionally, he has conducted research for the U.S. Dept. of Agriculture, International Development Research Center, and U.S. AID, among others.
The prize is $50,000 paid in two annual installments and a plaque from the Marcel Loncin Endowment Fund of the IFT Foundation.
George A. Burdock, President, Burdock Group, received the 2006 Bernard L. Oser Food Ingredient Safety Award for contributions to the scientific knowledge of food ingredient safety and leadership in establishing principles for food ingredient safety evaluation and regulation.
Burdock, who once worked with Bernard L. Oser and the Flavor and Extract Manufacturers Association Expert Panel, founded Burdock Group in 1988. Now an internationally recognized food and dietary supplement consulting firm with clients in the United States, Europe, and more than 20 countries, Burdock Group assists food companies, law firms, and individuals with food safety and regulatory issues.
--- PAGE BREAK ---
Burdock, who authored Fenarolib�0;19;s Handbook of Flavor Ingredients and Encyclopedia of Food and Color Additives, has also written book chapters on biotechnology and food ingredient regulation. He has co-authored the chapter on food toxicology for the last three editions of Casarett and Doullb�0;19;s Toxicology, the standard text for graduate schools worldwide. Additionally, he has generated many peer-reviewed and trade publication articles on food ingredient toxicology, dietary supplements, and regulation. Burdock has been a consistent supporter of student involvement in professional organizations by providing Burdock Group Student Travel Awards to several IFT Sections and other professional organizations.
The award is a $3,000 honorarium and a plaque from the Bernard L. Oser Endowment Fund of the IFT Foundation.
Mary Ellen Doherty Camire, Professor, University of Maine, received the 2006 Babcock-Hart Award for contributions to food technology that improve public health through nutrition or more nutritious food.
A leader in her field, Camire has published articles and book chapters on the nutritional implications of extrusion processing. Her research has shown that extrusion may not appear to cause changes in total fiber, while a significant redistribution of insoluble to soluble forms of fiber may occur. As a result, she has stressed the need to fully characterize dietary fiber in extruded products. Her use of a colorimetric clinical assay in an in-vitro procedure for estimating the bile acidb�0;13;binding capacity of extrudates and their potential cholesterol-lowering ability has been adopted by researchers at the U.S. Dept. of Agriculture and others around the world to develop improved processing methods for producing healthful grain and legume products.
Additionally, she has conducted research on the benefits of blueberries and cranberries for amelioration of diabetes and heart disease. The research is leading to the identification of an efficacious dose of anthocyanins that could be used successfully in formulated products.
Camire has shared her expertise with organizations and testified before the U.S. House of Representatives, U.S. Senate, and a U.S. Commission on dietary supplements.
The award is a $3,000 honorarium from the International Life Sciences Institute North America and a plaque from IFT.
--- PAGE BREAK ---
Jairus R. David, Director of Global Quality Assurance Operations, Mead Johnson Nutritionals, is the recipient of the 2006 Industrial Scientist Award for technical contributions to the advancement of the food industry.
David has led a cross-boundary team consisting of researchers and members from the Food Research Institute, Centers for Disease Control and Prevention, and American Academy of Pediatricians to develop a honey food safety policy for ready-to-eat infant cereals and bakery products for the prevention of potential incidence of infant botulism in children age 12 months or younger. Currently, all honey and honey-containing food products in commerce carry a warning label, "Do not feed honey to infants under one year of age," as a result of this work.
David pioneered an extended production run for the first low-acid aseptic cup filler in the United States and co-authored the book Aseptic Processing and Packaging of Foods: A Food Industry Perspective.
Additionally, he teamed with the Food and Drug Administrationb�0;19;s Center for Food Safety and Nutrition to investigate and implement newer food safety standards for Bacillus cereus in reconstituted, unrefrigerated infant cereal. He recommended that pediatric health care professionals advise parents and nurses to discard unused reconstituted cereals to minimize the risk of B. cereus emetic and diarrheal toxins.
The award is a $3,000 honorarium and a plaque from IFT.
Eric A. Decker, Clydesdale Professor of Food Science, University of Massachusetts, received the 2006 Research & Development Award for recent, significant research and development contributions to the understanding of food science, food technology, or nutrition. He also received the 2006 Stephen S. Chang Award for Lipid or Flavor Science for significant contributions to lipid or flavor science.
Through his research on lipid chemistry, Decker has addressed the challenge of producing omega-3-fortified foods, which involves developing technologies that can deliver omega-3 fatty acids that also have excellent oxidative and physical stability. Since these fatty acids would likely be incorporated into food in the form of dispersed emulsion droplets, Decker studied the mechanisms of lipid oxidation in food emulsions.
--- PAGE BREAK ---
This research eventually led to the development of an emulsion-droplet interface to protect lipids, such as omega-3 fatty acids, that are susceptible to oxidation. Using these results, his research team has developed an omega-3 fatty acid delivery system that can remain stable for more than one year. This low-viscosity emulsion system can be easily dispersed into food to obtain nutritionally significant amounts of omega-3 fatty acids (100—500 mg/serving).
In collaboration with researchers at Penn State University and the University of Connecticut, the system has been tested in ground turkey, sausage, yogurt, ice cream, and salad dressings; has a patent pending; and has generated more than $2.3 million in research funding from various agencies, including the National Research Initiative and the Initiative for Future Agriculture and Food Systems at the U.S. Dept. of Agriculture.
The award is a $3,000 honorarium and a plaque from IFT (R&D); $3,000 honorarium and a Steuben crystal sculpture from the Stephen S. Chang Endowment Trust Fund supported by the Taiwan Food Industries (SSC).
Daniel Y.C. Fung, Professor, Kansas State University, is the 2006 recipient of the Carl R. Fellers Award for service to the field of food science and technology and bringing honor and recognition to the profession.
He has worked on the detection and control of staphylococcal enterotoxins and the effects of physical and chemical agents of controlling pathogens such as Escherichia coli O157:H7, Salmonella, Listeria monocytogenes, Clostridium perfringens, Staphylococcus aureus, Campylobacter, and others. Recently, his research groupb�0;19;s studies on the effects of spices and dried plum extracts on major foodborne pathogens in meat and apple juice attracted national and international attention with news coverage in major newspapers, television and radio shows, and magazines.
Fung also worked on the role of the Oxyraseb�0;4;" enzyme in acceleration of the food fermentation process. He holds three U.S. patents for his research.
As a professor, he has developed and conducted the annual International Workshop on Rapid Methods and Automation in Microbiology for applied microbiologists since 1980. More than 3,500 people from 60 different countries and 46 states have participated in the workshop.
The award is a $3,000 honorarium from Phi Tau Sigma and a plaque from IFT.
--- PAGE BREAK ---
George E. Inglett, Research Chemist, U.S. Dept. of Agriculture, received the 2006 Nicholas Appert Award, IFTb�0;19;s highest honor, which recognizes an individual for preeminence in and contributions to the field of food science and technology.
For more than 50 years, he has conducted basic and applied research and has been widely recognized around the world. As the inventor of the Trim Technologies, including Oatrim, Z-Trim, Nutrim, Soytrim, Ricetrim, and Calorie-Trim, he helped to pioneer the creation of fat replacers from grains used in preparing low-fat and low-calorie foods for people who are concerned with obesity, diabetes, heart disease, and cancer. Today, the Trim products are used in preparing these types of foods found in many grocery stores, and private industry has licensed all of the Trim products.
As a research chemist with Corn Products Co., Inglett purified Aspergillus niger glucoamylase enzyme, a method that gave higher yields and greater-purity glucose than the acid hydrolysis process. While working for IMC, he discovered and isolated the intense sweeteners from certain plants from tropical Africa and Asia that resulted in the discovery of the sweet protein known as thaumatin, which is distributed around the world as Talin by Overseal Foods Ltd.
Throughout his career, Inglett has traveled to more than 60 countries, making about 250 presentations, and published more than 260 papers, patents, and books. He has conducted collaborative research with faculty from universities around the world on food chemistry for producing value-added products and their applications for improving the health benefits of food products.
The award is a $5,000 honorarium from IFT and a bronze medal from the Chicago Section of IFT.
Miguel A. Jimenez, Consultant, formerly Senior Scientist at Reynolds Metals Co., is the recipient of the 2006 Bor S. Luh International Award for outstanding efforts to promote the international exchange of ideas in the field of food technology.
--- PAGE BREAK ---
Jimenez maintains contact with IFT members around the world regarding international issues and for many years has shared his scientific expertise with a variety of U.S. government agencies dealing with food production, safety, education, and world hunger. He also has encouraged food professionals to donate technical literature to educational institutions in less-developed countries, as he has.
Jimenez has chaired the IFT International Relations Committee, Committee for Global Interests, Committee on Worldwide Interests, and International Division. He founded and for 21 years edited what is now the International Division Newsletter, where he continues as associate editor. In 1981, he prepared a Roster of IFT Members with Linguistic Competence. He has also organized symposia and roundtables on international themes, the International Luncheon, and the International Lounge at the IFT Annual Meeting. In 1989, he started the International Divisionb�0;19;s George F. Stewart International Research Paper Competition.
The award is a $3,000 honorarium and a plaque from the Bor S. Luh Endowment Fund of the IFT Foundation.
Dong-Hyun Kang, Assistant Professor, Washington State University, received the 2006 Samuel Cate Prescott Award for outstanding ability in food science research. Recipients of this award must be less than 36 years of age or have received his or her highest degree within the previous 10 years.
His research has focused on the development of rapid methods for monitoring pathogenic and spoilage microbes in food. Kang has developed several new tools for the recovery of microbial numbers, including the thin-agar layer and agar-underlay methods for recovering injured foodborne pathogens from foods and the double-pipette and multi-pipette methods to isolate motile foodborne pathogens. He has also developed several new media, including the OK medium for isolation of Enterobacter sakazakii (patent pending), SK medium for isolation of Alicyclobacillus spp., and KF medium for isolation of lactic acid bacteria.
He is a pioneer in the application of new antimicrobial systems, such as antimicrobial ice, antimicrobial gas, and antimicrobial aerosolization systems. Currently, he conducts fundamental research on the inactivation of spores in food involving a systematic study of the interaction of water activity and temperature in thermal processes, ultra-high-pressure processes, and thermal processes coupled with ultra-high pressure. Kang has published more than 70 refereed journal articles and works on editorial boards for five scientific journals.
The award is a $3,000 honorarium and a plaque from IFT.
--- PAGE BREAK ---
Richard H. Linton, Professor of Food Safety, Purdue University, received the 2006 Myron Solberg Award for leadership in the establishment, successful development, and continuation of an industry, government, and academia cooperative organization.
Over the years, he has become a leader in retail food safety programming, primarily as the key academia representative for the Conference for Food Protection and through his development of the Essentials of Food Safety and Sanitation and Super-SafeMarkb�0;4;" food safety training curricula and Food Safety Day training manuals, which are part of Purdue Universityb�0;19;s Food Science Extension and Outreach.
The Center for Food Safety Engineering at Purdue University was formed in 2002 with a research grant obtained by Linton. The center, headed by Linton, is a nationally recognized program for the detection of chemical and biological agents. In 2001, Linton partnered with Purdueb�0;19;s Krannert School of Management to develop computer-based simulations for possible bioterrorist attacks on the food supply. The information generated by this effort has positively affected Indianab�0;19;s preparedness in responding to a food emergency and serves as a model for other states.
Linton serves as chair of the National Alliance for Food Safety and Security, which is a collaborative effort for food safety research. He ensures that all projects involve multiple universities and U.S. Dept. of Agriculture collaboration.
The award is a $3,000 honorarium and a plaque from the Myron Solberg Endowment Fund of the IFT Foundation.
Robert L. Shewfelt, Professor and Undergraduate Coordinator, University of Georgia, received the 2006 William V. Cruess Award for excellence in teaching food science and technology.
His teaching philosophy is to understand studentsb�0;19; perspectives and tailor his instruction relevant to their frame of reference. One of his teaching methods involves the use of personal selection of a specific item to apply to general principles. For example, in the Food Chemistry course, one student prepares and presents a Molecule of the Day at each lecture to illustrate a concept for that lecture.
--- PAGE BREAK ---
Shewfelt also stresses professional development. In one course, groups of graduate students develop a research proposal, participate in a simulated grant panel evaluation, and design a joint laboratory with equipment based on a pretend budget. His courses emphasize the importance of our global economy, and one courseb�0;14;Food Issues and Choicesb�0;14;is one of the few College of Agriculture and Environmental Sciences courses approved to meet the universityb�0;19;s cultural diversity requirement.
Shewfelt has not only focused his efforts on teaching and advising students but also organized the Dept. of Food Science and Technologyb�0;19;s review of its undergraduate program and prepared documents to meet IFT standards. He serves as the coach of the departmentb�0;19;s College Bowl Team and has won many awards for his teaching efforts.
The award is a $3,000 honorarium from IFT and a bronze medal from the Northern California Section of IFT.
Pamela D. Tom, Seafood Extension Program Manager, University of California-Davis, received the 2006 Calvert L. Willey Distinguished Service Award for meritorious and imaginative service to IFT.
Since the 1970s, Tom has provided volunteer service and leadership to IFT, serving on the Aquatic Food Products Division, Northern California Section, and national-level committees and task forces, including the Committee on Sections and Divisions, Information Systems Committee, Student Activities Subcommittee, Annual Planning Subcommittee, Ad Hoc Committee on Member Needs, Awards Committee, and Council Issues and Agenda Committee. She has served as chair of several of these.
As a volunteer member at various levels, Tom has incorporated her computer and Internet skills to help strengthen communications within IFT. While serving on the Committee on Sections and Divisions, she helped to create and manage for two years the first all-Section and all-Division listservs. She created the Web sites for the Northern California IFT Section and Aquatic Food Products Division and tailored the members-only content for the Aquatic Food Products Division Web site.
Tom collaborated with several IFT staff members to launch the Aquatic Food Products Divisionb�0;19;s first online election. As chair of the Division Councilors Caucus, she helped to develop a Web site to facilitate the exchange and archiving of information and dialogue on topics among Division councilors.
The award is a $3,000 honorarium and a plaque from IFT.
--- PAGE BREAK ---
Lynn G. Turner, Professor and Undergraduate Teaching Coordinator, North Carolina State University, received the 2006 Elizabeth Fleming Stier Award for pursuit of humanitarian ideals and unselfish dedication resulting in significant contributions to the well-being of the food industry, academia, students, or the general public.
As a professor, advisor, and mentor, Turner has dedicated his career and personal time to helping students achieve their personal and professional goals. He serves as a co-instructor for the Global Seminar course, which is open to students across the university and provides them with an international perspective on environmental and food systems issues. The course uses Internet and video conferencing with international university partners.
He has encouraged students to attend professional conferences, conduct research, participate in student organizations, and seek internships to help advance them in the profession. Since 1999, he has funded a scholarship that is awarded based on financial need and academic merit to a qualified student in food science.
Turner is involved in Extension and Outreach, working with processors to solve problems; other faculty and representatives of state agencies to provide training; and high school students, including 4-H members, to promote food science as a career.
The award is a $3,000 honorarium from the New York Section of IFT and a plaque from IFT.
2006 IFT Fellows
Fellow is a unique professional distinction conferred on individuals with outstanding and extraordinary qualifications and experience for their contributions in food science and technology. The Fellow must have been an IFT Member for 15 years and a Professional Member at the time of nomination. If a nominee is an IFT Professional Member from outside the United States, the 15-year member requirement may be waived by the Awards Committee.
IFT has conferred the Fellow designation on a select number of Professional Members every year since 1970. A complete list of Fellows can be found on the IFT Web site at www.ift.org.
--- PAGE BREAK ---
Douglas L. Archer, Professor, University of Florida, was honored for devoting his career to improving food safety and food security worldwide.
For more than 35 years, his research has contributed to the safety of the national and international food supplies, and he has helped to formulate policies for protecting the food supply around the world.
After working at the Food and Drug Administrationb�0;19;s Center for Food Safety and Applied Nutrition, including serving as Assistant Surgeon General, he joined the Dept. of Food Science and Human Nutrition at the University of Florida. There, he served as chair of the department and serves as director of the UF/IFAS Biosecurity Program. Recently, he was selected to be Associate Dean for Research, Institute of Food and Agricultural Sciences, at the University of Florida. Archer has also participated on joint food safety task forces and committees with faculty from other universities.
A highly sought-after consultant on food safety and security issues, Archer has provided expert testimony at Congressional hearings and other government proceedings; lectured at symposia, university programs, and trade and professional organization meetings and conferences; and authored and coauthored numerous journal articles.
As a professor and student advisor, Archer has encouraged students to pursue careers in food science, food technology, nutrition and related fields.
Jacqueline H. Beckley, President and Chief Innovation Officer, The Understanding & Insight Group, was honored for being on the forefront of innovation and change, particularly with respect to the role of sensory and psychological factors in consumer perception.
Working for Quaker Oats in the sensory research area, Beckley developed new methodology and designs for experimentation, including separate methods for incorporating childrenb�0;19;s taste preferences into product development.
Her interest in the use of alternative forms of assessing what consumers need and want led her and her colleagues to develop advanced applications of imaging techniques for prototyping concepts. While employed at Nabisco, she developed a process that increased concept and protocept scores by 25b�0;13;30% while reducing overall testing costs by 50%.
In 1999, Beckley started the Understanding & Insight Group, which helps companies better understand consumers and develops methods for faster and more economical business and product development directed at increasing market and sales sustainability. She has collaborated with others in the industry to create a systematic use of multiple conjoint analyses as a way to understand the consumer more intuitively. A patent is currently pending for Beckley and her collaborators for a system that provides for the construction of algorithms to understand human behavior.
--- PAGE BREAK ---
Edward Allen Foegeding, William Neal Reynolds Distinguished Professor of Food Science, North Carolina State University, was recognized for his contributions to the understanding of molecular mechanisms of protein functionality in foods.
While his main research is on the functionality of whey proteins in gels and foams, he initially conducted research on the chemistry of muscle proteins and how they function in meat products. His studies on the addition of hydrocolloids to processed meat products were some of the first to examine textural properties. Research conducted on how the biochemistry of muscle and proteins alters functional properties explained differences between red and white muscle and provided a mechanism for myosin isoform gelation.
In the early 1990s, Foegeding began research on whey protein functionality and heat-induced gelation, and it attracted attention from companies and universities around the world. His research laboratory continues to be productive in the areas of rheology and whey protein gelation, and his work has expanded into studying the function of whey proteins in beverages and foams. This includes conducting research on forming whey protein polymers, which has been awarded three patents; developing ways to incorporate whey proteins into processed cheese; and developing rheological models for processed cheese. As a result of his work and reputation in the field, faculty from universities in Ireland, Canada, Spain, and Poland have taken leaves to study in his laboratory.
William C. Franke, Associate Director, Center for Advanced Food Technology at Rutgers University, was honored for fostering an environment that is supportive of food science research, especially in the areas of food safety and diet and health.
Prior to joining Rutgers University, Franke spent his entire professional careerb�0;14;almost 30 yearsb�0;14;at Lipton/Unilever Food, where he began as a product development scientist and later served as Vice President of Scientific and Regulatory Affairs and Vice President of Research, Development, and Quality.
While at Unilever, he led teams that developed Take Control cholesterol-reducing spread and completed GRAS notification for phytosterol esters and health claim petitions. He also developed or helped develop many products, including Fun Fruit snacks, Lipton side dishes, Wishbone dressings, and Lipton Ready-to-Drink Tea, and new and improved processes such as natural instant tea and decaffeinated tea.
Franke also set standards across the company by instituting and implementing Total Quality Management programs and Innovation Process Management programs. He lent his expertise to GRAS determinations, health claims, clinical trials, scientific advisory boards, and global regulatory issues.
He draws on this experience in his current position, which involves developing new opportunities for technology transfer to companies and providing technical advice in the areas of product development and food regulations, especially as they relate to functional foods.
--- PAGE BREAK ---
Wayne T. Iwaoka, Interim Vice Chancellor for Student Affairs, University of Hawaii at Manoa, was recognized for his leadership and meritorious contributions to food science education and student development in university programs and IFT.
He has been a strong proponent to develop more effective methods of teaching and learning in food science classes where students could learn not only the technical knowledge of food science but also critical reasoning, problem solving, and other success skills. He believes that all educational programs should contribute to the development of students not only as competent employees and leaders but also as contributing members of society.
As a member of the IFT Task Force on Evaluating Outcome-Based Measures of Learning, Iwaoka successfully worked to have professionalism and interpersonal skills included in the IFT Undergraduate Education Standards for Degrees in Food Science. This was a way to ensure that students systematically learn to work effectively with others, deal with conflict, and develop their potential as leaders for the food industry. He was co-founder and past chair of the IFT Education Division. As the first Scientific Editor of IFTb�0;19;s Journal of Food Science Education, he has been a leader in strengthening the scholarship of teaching and learning, and has encouraged faculty and trainers to publish their effective practices in the classrooms and workplaces.
Arthur J. Miller, Senior Managing Scientist, Exponent Inc., was honored for conducting research that helped shape food policy and practices; providing scientific and organizational leadership; and creating opportunities for the next generation of food scientists.
His research influenced the formulation of many federal food safety policies and industry practices. He defined the minimum water activity to control growth of Listeria monocytogenes in foods, which became a preventive control measure established in the U.S. Food Code and by industry. His research on microbiological sampling of meat carcasses and pre- and post-harvest pathogen interventions for apple cider safety provided a strong science base for the U.S. Dept. of Agricultureb�0;19;s Pathogen Reduction and the Food and Drug Administrationb�0;19;s Juice HACCP rules, respectively.
Millerb�0;19;s leadership at the Eastern Regional Research Center resulted in the Microbial Food Safety Research Unit becoming the largest food safety research program within the USDA. As the lead scientist for the National Food Safety Initiative, Miller significantly expanded FDAb�0;19;s extramural grant program, initiated its first post-doctoral training program, and forged new multi-sector initiatives, leading to novel research, outreach, and education programs.
He has mentored undergraduate and graduate students, postdoctoral fellows and visiting scientists; established ARSb�0;19;s first food safety programs at Land Grant Institutions; and currently serves on advisory boards at university food science departments.
--- PAGE BREAK ---
Sam Saguy, Professor, Hebrew University of Jerusalem, was recognized for establishing an international leadership role in both academia and industry through the advancement of the fundamental understanding of complex systems utilizing engineering and scientific principles.
One characteristic that distinguishes Saguyb�0;19;s work is his contributions to improve food technology by applying quantitative and computer-related models of various food processes. He developed and implemented optimization techniques that have enhanced food research and product development. His work on the mechanisms of oil uptake during deep-fat frying was significant for enhancing the understanding of this complex phenomenon. He also focuses on the role of the consumer, new product and concept development, and R&D innovation. He co-edited the textbook New Product Development: From Concept to the Market Place, which is used in many university courses. Some of his recent publications discuss kinetics of solids leaching during rehydration of particulate dry vegetables and water inhibition in dry porous foods. These studies have led to new understanding of rehydration of dry food particulates and principles of liquid transport in porous media.
Saguy has been a lecturer at IFT and other international events. He has worked for several leading food companies, served on technical advisory committees, and consulted for multinational companies.
Aurora Alfonso Saulo, Extension Specialist in Food Technology, University of Hawaii at Manoa, was honored for her contributions to the strengthening of the technical capability in food safety and quality of the food industries in Hawaii.
Saulo serves in the capacity of Technical Advisor to the Hawaii Food Manufacturers Association and directed the only Processed Foods Industry Analysis in Hawaii. For the first time, Saulo quantified through research studies that consumers perceived the misbranding of Hawaii products as cases of deception and misrepresentation. Results continue to be used to enforce the law against economic fraud.
She was the first chair of the Hawaii Advisory Council on Food Protection Practices. After receiving a U.S. Dept. of Agriculture Cooperative State Research, Education, and Extension Service grant, Saulo helped produce an instructional videotape and manual that are used by the Hawaii Dept. of Health as one of its approved food safety training courses for the food industry. Saulo has been awarded other grants to support the Hawaii food industry, including the recent development of a DVD and instructional manual on the management of food allergies in foodservice situations. These accomplishments demonstrate her originality in approach, leadership, recognition, and acceptance by statewide industry for her technical knowledge in food science and technology.
Richard C. Whiting, Senior Scientist, Center for Food Safety and Applied Nutrition, Food and Drug Administration, was recognized for his contributions to the advancement of food safety predictive microbiology and microbial risk assessment and the development of practical applications for the food industry and government.
--- PAGE BREAK ---
As one of the first scientists to explore the potential for application of mathematical modeling techniques to food microbiology, Whiting has developed models that have led to the branch of microbiology called predictive modeling. His work has helped to develop quantitative microbiological risk assessment, another specialty area within food microbiology. He is internationally recognized for his work and leadership on breakthroughs in risk assessment, including participating on the teams that developed the risk assessments on Salmonella in shell eggs for the U.S. Dept. of Agriculture and Listeria monocytogenes for the Food and Agriculture Organization and World Health Organization.
During his 30-year career with the USDAb�0;19;s Agricultural Research Service and FDA, Whiting has advised FDA, USDAb�0;19;s Food Safety and Inspection Service, FAO, WHO, and Codex Alimentarius and has published articles on Clostridium botulinum growth and survival; biochemistry of meat muscle behavior; low-salt meat products; behavior of foodborne pathogens in food systems; and the importance of considering biodiversity in the development of food safety control systems.
---
Praxair Inc., Danbury, Conn., is the recipient of the 2006 Food Technology Industrial Achievement Award for its NatureWashb�0;4;" Ozonated Water Wash and Dry System. The award honors the developers of an outstanding food process or product that represents a significant advancement in the application of food science and technology to food production.
This system is said to improve fresh-cut produce in three waysb�0;14;by extending shelf life, reducing spoilage microorganisms, and increasing confidence in product safety. Produce continuously passes through the enclosed system on a flat belt as it is exposed to various treatments in three zones. First the produce is washed with potable water to remove organic debris. It then passes through the ozonated-water wash zone, where it is sprayed from multiple angles with a controlled concentration of dissolved ozone. This wash water is recycled in the system. Finally, the produce is dried with sanitary ozonated air via forced convection.
The systemb�0;19;s design minimizes food handling and exposure to the processing room environment to help lessen possible produce recontamination prior to packaging. The closed system design prevents ozone from escaping.
The company reports that the NatureWash system extends the shelf life of fresh-cut produce by 30b�0;13;100%, compared to standard industry treatments, and it helps the produce retain positive appearance attributes longer than produce treated with standard industry treatments.
The award is a plaque from IFT.
---
Call for Nominations for 2007 Achievement Awards & IFT Fellows
The Institute of Food Technologists is seeking nominations for the 2007 Achievement Awards and the 2007 IFT Fellows.
Achievement Awards recognize excellence in a variety of areas, including teaching, public health, lipid or flavor science, food ingredient safety, industrial developments, and others. Deadline for receipt of nominations for the Achievements Awards is December 1, 2006.
IFT Fellow is a unique professional distinction conferred on individuals for contributions in food science and technology, leadership in the profession, and service to IFT. Deadline for receipt of nominations for the IFT Fellows is February 1, 2007.
The Marcel Loncin Research Prize provides research funding for basic chemistry/physics/engineering research applied to food processing and improvement of food quality. It is given only in even-numbered years.
For instructions and nomination forms, click on "Awards" at www.ift.org or contact Heather Lang at [email protected].
---
by Karen Banasiak,
Assistant Editor
[email protected]