This year, the IFT Food Expo seemed to have more processing equipment exhibitors than usual, and in many categories there were several representatives. Some exhibitors had new developments to share, while other developments were mature and stable.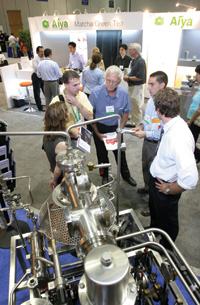 • High-Pressure Processing. Commercial high-pressure processing units and components were offered by Avure, Carlsbad, Calif.; Uhde High Pressure Technologies GmbH, Hagen, Germany; and NC Hyperbaric S.A., Madrid, Spain.
Pressures up to 87,000 psi have been found to inactivate vegetative spoilage and pathogenic cells with little sensory impact on the foods treated. A number of units have been installed to process avocado and guacamole, which otherwise is difficult to preserve because of its delicate flavor and tendency to discolor. Ready-to-eat meats, such as cut luncheon meats, are good candidates for high pressure because post-cooking contamination with Listeria is a risk. High-pressure processing occurs after final packaging.
One of the most intriguing applications is the removal of meat from crustaceans, such as lobster and crab. NC Hyperbaric showed packages of "naked" intact lobster, sold commercially by Ocean Choice International, Souris, PE, Canada. Even the thin pieces of flesh from the tail and legs were present. High-pressure processing has been used to shuck and partially pasteurize oysters. With crustaceans, there is little or no microbial reduction, but the refrigerated meat is available for new, creative culinary applications and the yield is essentially 100%.
In his Food Engineering Division Lecture during the IFT Annual Meeting, "High-Pressure-Assisted Processes: Opportunities and Challenges for Food Engineering," Dietrich Knorr of the Berlin University of Technology reviewed the history of high-pressure processing and discussed his own considerable contributions to the area. Knorr, the winner of IFT's 2004 Marcel Loncin Prize, said that the development of high-pressure processing had parallels with the development of thermal processing—both had moved from using relatively small vertical vessels to larger horizontal vessels, and a better understanding of mechanisms and limitations had developed over time for both.
Knorr said that thermal assistance is necessary for high-pressure processing to kill spores and that adiabatic heating, as high as 25–30°C, contributes. For Salmonella species, there seems to be no correlation between thermal resistance and pressure resistance.
He said that there are about 84 units installed around the world supplied by five vendors. His research has included studies of ice phase transitions under high pressure in frozen foods and investigation of virus inactivation. Surprisingly, high pressure can induce thermal tolerance for some organisms, such as probiotics in cultured dairy foods, and so can help maintain desirable populations in pasteurized foods.
--- PAGE BREAK ---
• Supercritical Extraction. Uhde and Thar Technologies, Pittsburgh, Pa., offered supercritical extraction technologies, typically using carbon dioxide as an inert and selective solvent to recover oils and flavors from natural sources. Thar also has a super-critical extraction facility in which they will process customers' raw materials for a fee, but their primary business is designing and selling equipment and systems.
• Extrusion and Mixing. Extrusion using single or twin screws has been used for many years to make cereals, snacks, pet foods, and ingredients. Recent developments include back-pressure-regulating valves, increased power and production rates, and new applications. For example, Clextral Inc., a French company with United States offices in Tampa, Fla., described coextruded, bicolored and bi-textured snacks and pieces made on its extruders. The company also offers belt and rotary dryers suitable for connection to its machines. A distinctive feature of Clextral extruders is their use of resistance or induction heating in the barrel.
Specific mechanical energy (SME), the energy per unit weight applied to a food, has been found to correlate with desired properties such as expansion of puffed products, gelatinization of starch, and flavor development. Wenger Manufacturing, Inc. Sabetha, Kans., offers a high-speed, high-power twin-screw extruder with options such as a mid-barrel valve and back-pressure valve that help control residence time and applied shear.
Bühler AG, Uzwil, Switzerland, showed a small twin-screw extruder intended for laboratory use, with screws only 20 mm in diameter. They do not recommend attempting scale-up from such a small machine. Experience suggests that about three times capacity is the limit for reliable scale-up. However, the small machine is suitable for prototype development and would be a nice addition to a food science pilot plant.
Coperion Holding GmbH, Stuttgart, Germany, has combined a number of previously independent companies, including Werner & Pfleiderer, a long-time manufacturer of twin-screw extruders and mixers. The ZSK MEGA compounder was developed to continuously mix polymers but could also be used to mix viscous foods. It uses intermeshing twin screws with various elements to transport and back-mix the contents.
Buss AG, Prattein, Switzerland (U.S. office in Carol Stream, Ill.), offered a twin-screw continuous mixer or kneader with the unusual feature that its shafts oscillate in addition to rotating. Originally developed for polymers, it could be applied to food doughs and pastes.
--- PAGE BREAK ---
American Process Systems, Gurnee, Ill., offered a wide range of agitated mixers. Its fluidizing blender is said to be very fast and very gentle with fragile pieces. Mix times can be as short as 30 seconds, which means that filling and emptying would take much longer than actual mixing. Other mixers, such as ribbon or paddle blenders, can have mix times as long as 30 minutes, depending on the powder characteristics.
Another clever idea from American Process is its elevation station. In this system, a horizontal-shaft mixer, such as ribbon blender, is mounted between two columns with hydraulic lifts inside. The mixer is filled at ground level, operated, and then lifted off the floor to permit emptying into drums. Only 12 ft of head room is needed, and it eliminates the requirement of a fork truck or mezzanine. The standard model has a painted frame, which might not be a food plant's first choice, and it is not clear whether a sifter or mill can be inserted under the mixer if needed. However, for simple mixing in a space-constrained situation, it could be a practical solution.
Littleford Day, Florence, Ky., has long offered high-intensity mixers well suited for incorporating fats into dry mixes and for conducting complex operations in one vessel. Its machines are often jacketed so they can be used as dryers, evaporators, and reactors. Their characteristic agitators include plows that run close to the cylindrical walls and separately powered choppers that run on shafts penetrating the walls, each with its own motor. The additional features and mechanical complexity of these mixers make them more expensive than simpler machines, but for some applications they are almost the only choice.
Amixon Inc., Memphis, Tenn., makes vertical-shaft mixers that typically have a helical blade. The mixers have very large access doors cut by water jet from the cylindrical vessel. Some are made from two cylinders with parallel intermeshing agitators. The company claims that the mixers can operate properly from 20 to 100% full. It is unusual for a mixer to work well when much more than 50% full, because some head space is normally required to allow for mass movement of solids and expansion as air is incorporated. The Amixon machines rely on the positive and gentle circulation of solids to achieve good mixing.
Amixon's parent company, AZO, Inc., offers automatic dispensing and formulating systems in which robotic carriers with scales collect components of a formula from storage bins using both gain in weight and loss in weight of the supply bins. Such a system could easily provide the front end for a mixing system, supplying the Amixon or other mixer.
--- PAGE BREAK ---
• Separations. Rohm and Haas, Philadelphia, Pa., showed and presented in the New Products & Technologies session a food-grade, selective-ion-exchange resin that removes and concentrates polyphenolics from plant extracts for possible use as antioxidants. It also helps to decolorize fruit juices.
GEA Filtration, Hudson, Wis., offers a full line of micro-, ultra-, and nanofiltration and reverse-osmosis systems. In a presentation in the New Products & Technologies session, GEA described a high-pressure reverse-osmosis system that can achieve up to 1,000 psi and reach concentrations of 30% solids, compared to 600 psi and 25% solids in more-common systems.
Pall Corp., East Hills, N.Y., offered a range of physical filtration units designed to remove particles from liquids. Their equipment and filters are most often intended to remove fine particles, but some can remove bacteria and effectively sterilize fluids without using heat.
Sefar America Inc., Buffalo, N.Y., offers a range of fabric screens used to separate powders in such applications as milling, brewing, and sugar refining.
LCI Corp., Charlotte, N.C., and FT Technologies, Griffith, NSW, Australia, each offered sophisticated distillation and evaporation equipment suited for recovering volatiles from foods. FT uses spinning cones and rotating disks under vacuum to reduce residence time at temperature while producing extracts and flavors. LCI uses an agitated falling thin film to concentrate viscous fluids with little heat damage.
• Water Softening. Morton Salt, Chicago, Ill., has introduced Morton® System Saver® II Pellets to remove hardness minerals and reduce soluble iron in process water, as well as reduce problems related to clogged or scaled pipes and other equipment. The new formula contains a more effective cleaning agent that removes more dirt and iron particles from the resins. This results in cleaner, softer water, and more soft water per recharge and extends resin life. The patented pellets provide trouble-free softening by resisting defects known as bridging and mushing.
Space does not permit description of other processing innovations here, but it is clear that the Food Expo can be inspiring to the process engineer.
--- PAGE BREAK ---
Bulk Containers Dominate Packaging Offerings
Many suppliers of ingredients use bulk packaging, such as tote bins, to ship their liquids and powders to food manufacturers. Thus, it comes as no surprise that bulk containers dominated the offerings of exhibitors supplying packaging-related products and services at Food Expo.
• Bulk Containers. International Paper (www.ipaper.com/bulkpackaging) showcased a new food safety feature for its ReadyFill intermediate bulk container (IBC), which consists of a multi-walled corrugated structure with polyethylene liner. It can hold up to 330 gal of liquid.
The ReadyFill Tracking System is an integrated hardware and software program that enables food processors to fulfill tracking and tracing requirements of the FDA Bioterrorism Act. Through a durable barcode on the IBC, users can trace the container throughout the lifecycle of the shipment.
Paper Systems (www.paper-systems.com) displayed a returnable, collapsible, liquid bulk container for food-grade materials. Holding more than 300 gal, Exo-Bin can also store slurries, powders, and vegetables. Filled bins can be stacked five high. The container consists of a plastic top cap and bottom skid, which can be assembled in less than one minute.
Menasha Packaging Co. (www.menashapackaging.com) exhibited its ReliaPak IBC for liquids, solids, and meat and poultry. Corrugated walls and a continuous woven polypropylene sleeve (for meat and poultry applications) prevent bulging of the container.
SpaceKraft (www.spacekraft.com) showcased its LaborSaver seamless container. The six-ply, A-flute corrugated unit can be stacked up to three high and withstands up to 37,000 lb of top-to-bottom compressive force. An optional valve-in-place eliminates the need for an ancillary valve. Users may pump from the top or dispense from the bottom using the valve dispense assembly.
• Contract Packaging. Portion Pac (www.portionpac.com) displayed dozens of examples of condiments and other products in portion-packed pouches, cups, and trays. The company co-packs private-label, national, and its own brands. Packaging capabilities include hot fill and shelf stable.
Ameriqual Group (www.ameriqual.com) exhibited its packaging and assembly solutions for meal kits, club-store packs, end-aisle display cases, and variety packs. Co-packing capabilities range from shelf-stable trays and retortable pouches to microwavable bowls and glass jars.
--- PAGE BREAK ---
American Copak (www.americancopak.com) showcased its broad range of co-packing services—bottling, canning, bag-in-box, flexible packaging, standup bags, and cartons. The company maintains more than 50 dry and liquid production and blending lines. Equipment includes ribbon blenders, scraped-surface kettles, both vertical and horizontal form-fill-seal packaging machines, rotary-head fillers, and nitrogen-injection MAP.
American Purpac Technologies (www.purpac.com) presented its contract manufacturing capabilities in aseptic and hot-fill systems. These capabilities include aseptic processing and packaging of concentrates and ready-to-use products in aseptic flexible packages from 2-L to 5-gal bag-in-box, processing, and packaging of concentrate blends and ready-to-use products in aseptic bulk disposable totes in sizes ranging from 5 to 340 gal, and hot-filling PET bottles from 12 to 64 oz.
• Oxygen Scavengers. Multisorb Technologies (www.multisorb.com) displayed Freshmax oxygen-absorbing labels and FreshPax oxygen-absorbing packets. The oxygen scavengers can reduce residual package oxygen to below 0.01% to maintain product freshness, extend shelf life, and maintain product appearance without preservatives. With Wal-Mart's recent announcement of expanding its organic offerings, these active packaging components may play a major role in the growth of organic packaged goods that move through a traditional distribution system.
Mitsubishi Gas and Chemical America (www.oxygenabsorber.com) featured Ageless Omac oxygen-scavenging film, which is ideal for high-aw solid and liquid foods, especially retortable products. The film can be made into oxygen-absorbing retortable pouches, standup pouches, and tray lids.
• Aseptic Packaging. Tetra Pak (www.tetrapak.com) presented a range of food and beverage applications in aseptic packaging, including wine, juice, vegetables, and sauces. Vintner Three Thieves is using the single-serve Tetra Prisma aseptic package to produce a 250-mL 4-pack of Bandit Pinot Grigio and Bandit Cabernet wines. Another Tetra Pak innovation on display was the Tetra Aptiva aseptic package, which fuses a paperboard base with a translucent plastic top and resealable cap. The new package costs less than PET or HPDE bottles and offers a large printable area on the paperboard for product branding. Its opaque top allows consumers to see the beverage inside. Pascual, a Spanish food processor, recently selected Aptiva to introduce Scapy brand beverages for the youth market. Launched in November 2005, the drink is a blend of fruit juice and milk enriched with vitamins. It is targeted to 8- to 14-year-olds.
Bob Swientek, Editor in Chief, Food Technology • [email protected]
---
by J. Peter Clark,
Contributing Editor,
Consultant to the Process Industries, Oak Park, Ill.
[email protected]