Four of the world's best-known market-trend gurus—Harry Balzer of the NPD Group, Amanda Archibald of Mintel International, Maryellen Molyneaux of the Natural Marketing Institute, and Robert Gannon of ACNielsen—participated in the first annual "Food Technology Magazine Presents" program at the 2006 IFT Annual Meeting of the Institute of Food Technologists in Orlando, Fla., on June 27.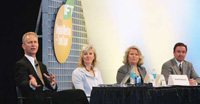 They provided a very lively and well-attended discussion of future food industry, restaurant, and ingredient opportunities. I had the honor of organizing and moderating the program. Here's my summary of their presentations.
Mega Market Changes
Citing the automobile's power window as the fastest-growing food appliance in America today—24% of all restaurant meals were ordered from a car in 2006—Harry Balzer, Vice President of the NPD Group, Rosemont, Ill., kicked off a thought-provoking list of major shifts already underway in consumer food attitudes and behaviors. He also suggested that food technologists look for the "obvious" when major consumer trends change direction.
Although 77% of all meals are still eaten in the home, compared to 21% in restaurants, Americans are increasingly bringing restaurant take-out food home for their evening meal. NPD reports that restaurant take-out reached a new high in 2006 of 127 meals per person. At the same time, the number of meals eaten at a restaurant continued to decline, falling to a low of 81 meals per person, a level not seen since 1986.
Balzer credits the growing number of women in the workforce over the past decade as the driver of these convenience-based changes. However, he pointed out that over the past few years the number of women in the workforce has begun to slowly decline—although it is still around 60%—and suggested it will likely have yet another effect on future food demands.
The breakfast beverage business is another example of a sector experiencing a major change. It appears that with the proliferation of coffee shops and their exotic drinks Americans are in love with coffee. However, NPD data revealed that that the percentage of in-home breakfast meals that included coffee fell from a high of 45% in 1985 to 32% in 2006. Moreover, while the number of consumers who buy their early morning coffee away from home has grown in the past three years, the number of restaurant breakfast meals including coffee has also dropped, from a high of 49% in 1989 to 32% in 2006.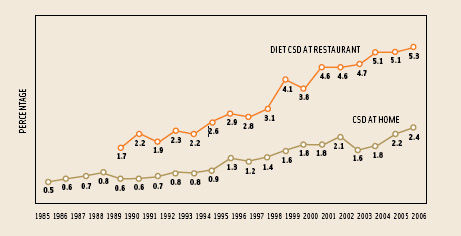 So what are they drinking during the early morning hours? NPD found that more Americans are starting the day with carbonated soft drinks, especially carbonated diet soft drinks at restaurants (Figure 1).
Balzer believes that Americans are also experiencing "fresh stress"—the usage of fresh products in home meal preparation is at an all-time low, but the desire for fresh food is exploding. According to NPD, the percentage of in-home dinners including a fresh product fell from 56% in 1985 to 47% in 2006. Balzer believes that the next "obvious step"—and big opportunity—is foodservice retailers offering fresh prepared take-away meals customized to reflect a family's likes and dislikes. Companies already doing this include Dinner My Way, Dinner by Design, and Entrée Vous.
Fried chicken, breaded chicken sandwiches, chicken nuggets, and chicken strips are the fastest-growing items in restaurants in 2006, according to NPD, despite America's growing concern for health and weight. Balzer pointed out that consumers will adjust their attitudes to get what they like. NPD also found that the number of Americans who think that people who are not overweight look a lot more attractive has dropped from 55% in 1985 to 24% in 2005.
--- PAGE BREAK ---
On the other hand, NPD reports that 75% of Americans ate reduced/non-fat foods on a regular basis at least once in a two-week period in 2006, followed by foods that are light/diet 51%, calcium fortified 39%, vitamin fortified 37%, reduced cholesterol 31%, reduced sodium 26%, decaf/caffeine-free, and organic 18%. Balzer also predicted that the organic trend is going to evolve into a series of other trends related to avoidance of specific ingredients perceived to be negative.
Balzer also said that in addition to taste, convenience, and cost, he would add "new" as a major food industry driver. He cautioned, however, that while Americans like to try new things, that shouldn't be mistaken for a trend.
Restaurants Going Upscale
With restaurants traditionally setting the culinary pace for the food industry, it was important to learn from Amanda Archibald, Senior Analyst, Mintel International's Menu Insights Group, Chicago, Ill., that the foodservice business is in the midst of a premium movement. This trend will have a major impact on the types of foods consumers will demand and the rate at which their culinary understanding will accelerate.
Mintel's Menu Insights Group, which tracks restaurant menus, reported that the number-one reason Americans dine out is to treat themselves—cited by 69% of diners in 2006. Other reasons for eating away from home were craving something specific 58%, celebrating an occasion 52%, no time to prepare a meal at home 45%, traveling/out of town 44%, and on a date 38%.
Topping the list of foods most frequently claimed to be "premium" on restaurant menus are ham and charcuterie, which can add a gourmet touch to sandwiches and pizza topping; chicken, which can provide an upscale twist to nuggets/strips; and fish, according to Mintel. Bacon, beef, pizza, ice cream, mixed greens, sandwich toppings, and beer were other common premium menu items.
Premium foods are being translated differently within each dining segment, Archibald said, and diners can literally enjoy an upscaled meal at any price point:
• Quick-Service Restaurants. QSR premiumization is not just a fad, Archibald said. Rather, it's a direction that fast-food eateries must follow to remain competitive and stem growing competition from fast-casual eateries.
According to Mintel, premium QSR menu items are primarily focused on entrée/sandwich, breakfast, and salad offerings, promoted by limited offerings and core menu adjustments. Leader McDonald's features its premium coffee blend, Chicken Selects, Premium Salads, and Newman's Own Organics dressing and is redesigning restaurants to create a café-like atmosphere.
Quizno's offers sandwiches made with Prime Rib and Angus Beef and Flat Bread Salads served with a fork. Long John Silver's is offering Butter Lobster Bites for a limited time. Arby's boasts 100% all-natural chicken, and Sonic Drive-In sells a chic Breakfast Bistro Sandwich. With these more-upscale offerings, QSRs will be able to expand and appeal to a wider demographic.
• Fast-Casual. This dining segment, defined by quick, fresh, casual-style foods, was the first sector to introduce diners to premium ingredients in a convenient way, at affordable prices, Archibald explained. Fast-casual premium menu offerings focus primarily on soups, salads, sandwiches, sushi, and bakery.
This segment has responded by serving organic and natural ingredients, creating adventurous flavor combinations, and providing bakery selections displaying artisan creativity. Panera Bread now offers Kids Grilled Cheese Sandwich made with organic American cheese on White Whole Grain bread. Einstein Bagels serves a Butternut Squash Bisque and La Madeleine an Artisan White Chocolate Bread.
Fast-casual operators are also aggressively menuing evolving Asian cuisine and emerging seafood concepts, such as Wolfgang Puck Express's Shrimp Tempura Roll. Authentic ethnic flavors and ingredients like Cosi's Wasabi Roast Beef Oriental Sesame Ginger Sandwich and Baja Fresh's Chipotle Glazed Charbroiled Chicken Salad are also gaining customer attention.
--- PAGE BREAK ---
• Family/Midscale. This segment is creating value primarily though claims—including home-style, prime, deluxe, Chicago, New England, Europe, and Caribbean-style—a new focus on freshness, and an adventuresome dive into ethnic cuisine, Archibald reported.
Café Baci serves Gourmet Hot Chocolate, Ruby's Diner a Skinny Lunch, and Big Boy a Vegetarian Omelet. Country Kitchen offers a Grilled Turkey Bistro Flatbread Sandwich and Marie Callender's a flavor-laden Cabo San Lucas Chicken Caesar Salad. Family/midscale restaurants are differentiated by not serving alcoholic beverages.
• Casual-Dining. Aggressive menu development is the premium plan in casual dining. Oysters top the list of new upscale menu items, followed by salmon, sushi, shrimp, tilapia, chicken, surf & turf, burgers, ribs, and trout, according to Mintel. Red Lobster serves Oysters on the Half Shell, Cheesecake Factory Vietnamese Shrimp Summer Rolls, and Rock Bottom Brewery samplers of Wisconsin artisan cheeses and handcrafted beer.
Limited-time offers are increasingly important in casual dining, Archibald reported. Applebee's Neighborhood Bar & Grill has offered Steakhouse Inspirations, Salad Sensations, and others in 2006. T.G.I. Friday's created Flavor Shot Grill and Here's the Deal with seven new innovative entrees for under $10. Others emphasize seafood, Asian, and fresh trends.
The casual-dining segment is on its way to a new dining dimension, according to Archibald. The term "casual plus" has been used to describe an evolving segment which is more focused on a smaller, more intimate restaurant atmosphere, while the menu is alive with high-quality ingredients and emerging culinary concepts.
• Fine-Dining. With the entire restaurant channel moving toward premium menu offerings, fine-dining has to work even harder to set the pace, Archibald said. High-end eateries are embracing chefs' values and attitudes toward food and translating them onto their menu.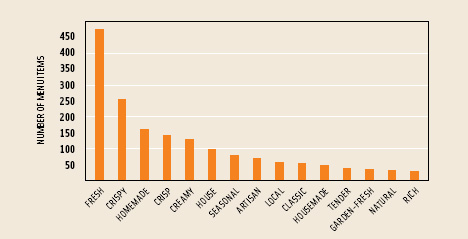 Fresh tops the list of new menu marketing claims in fine-dining restaurants (Figure 2). Many fine-dining chefs are promoting "locally grown," using ingredients produced on their own restaurant premises. They support local meat and dairy farms and are redefining the term "artisan." Chef Craig Shelton of the Ryland Inn, Whitehouse, N.J., serves local Readington Farms' bison with aligot and Perigueux sauce, with haricot vert, baby carrots, and roasted shallots from his abundant, three-acre organic garden right outside the kitchen door.
Healthy Does It
Consumers in America show a high level of recognition and understanding of nutrition, according to Maryellen Molyneaux, President of the Natural Marketing Institute, Harleysville, Pa. NMI's 2005 research indicates that 83% of adults in the United States agree completely/somewhat that there is a definite connection between diet and health.
However, Molyneaux reported there is a difference between what consumers believe and how they behave. Although 55% know they should eat healthier, they don't; 52% believe that healthy food should taste good and are not willing to give up taste for health; and 54% select foods based on the Nutrition Facts panel.
Only 37% of consumers select foods primarily on their nutritional content, Molyneaux reported. Despite the U.S. Dept. of Agriculture's launch of the new Food Pyramid in 2005, only 27% say it influences their food selections. This has remained fairly stable over the past four years, indicating that further understanding of the Food Pyramid is needed before it has an impact on consumers' actual eating patterns.
--- PAGE BREAK ---
One of the key consumer drivers, she said, is the desire to prevent specific diseases/conditions—76% of adults are concerned a little/lot with preventing heart disease, 75% vision problems, and 73% lack of energy—the top three concerns.
The desire to prevent specific health conditions is in turn driving increased usage of fortified foods, functional foods, and specific nutritional ingredients. Use of fortified/functional foods has increased steadily since 1999, with more than 65% reporting they used either in the past year. It is likely that these categories will overtake low-fat and no-fats foods—which are declining—as the most frequently consumed health foods in 2006.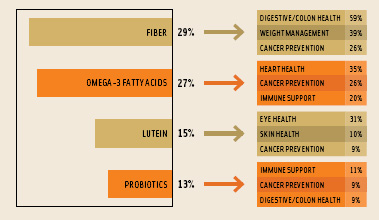 Consumers are aware of various deficiencies in their diets and for the most part are cognizant of the benefits associated with each ingredient, Molyneaux explained (Figure 3). Beyond the actual clinical benefit, consumers associate many healthy ingredients with cancer prevention and immunity. Immunity is a strong and accelerating health market.
Conversely, lutein awareness, usage, and deficiency have all decreased slightly in 2005 from the previous year. This could likely be due, she said, to less marketplace "noise" and the fact that consumers are not aware that lutein is in the products they're using.
Multiple health and wellness factors are leading consumers to the hottest trend in the marketplace: organics. Consumers spent $13 billion on organics in 2005, a growth of 17% over the previous year. Based on reported consumer usage patterns, future expected shopping, and other trended data, NMI projects that sales could reach $20 billion in 2009. However, NMI believes that the recent decision by Wal-Mart to increase its organic grocery offerings and its typical price point positioning could boost sales even further and lead to a $26 billion payday for the organic industry in 2009.
NMI's 2005 study found that 56% of consumers are using organic products with some frequency in six categories—packaged foods, produce, beverages, milk, personal care, and clothing/linens.
A recent NMI study for USDA on dairy found that lack of antibiotics, lack of hormones, and cows fed with organic feed were the main motivators for buying organic dairy and milk. Lack of chemicals or additives and the belief that organic is better for their families also ranked high. While environmental concerns were not defining factors, they do have play with certain organic segments.
NMI has identified three organic consumer segments: The Devoteds™ (13% of primary grocery shoppers) are committed, have high usage and spending, and have integrated organics into their overall lifestyle; they also exhibit the highest expectations for the products they use. The Temperates™ (25%) are pragmatists with moderate organic attitudes and lower frequency of use; they fit organic into their existing lifestyles. The Dabblers™ (19%) are a disproportionately male group; organics are more about hipness than health.
Devoteds and Temperates account for three-quarters of organic spending. While Wal-Mart is most likely targeting the Temperates, the key to its overall success may be whether Devoteds can adjust their buying habits and purchase their organic merchandise at such a mainstream venue. It will also be interesting to see if consumers who have not bought organic before will now try new items based on lower pricing and shopping convenience.
Molyneaux cautioned that while it appears that organics have a strong future among all consumers, the industry needs to be aware of the characteristics that define the core organic food and beverage user. This group has a high concern for personal, and planetary, health. They are the early adoptors and influencers who are likely to promote products they believe in via grass-roots activities. To them, values matter. They are interested in fair trade and prefer their foods to be either U.S. or locally grown and grown on farms that practice sustainable agriculture. They prefer to purchase products from companies who are committed to their communities and corporate social responsibility.
--- PAGE BREAK ---
A Global Perspective
For companies competing in the global food and beverage marketplace, understanding local consumer attitudes and purchase behavior regarding healthy foods, nutrition, and labeling is critically important for success.
Robert Gannon, Senior Vice President and Managing Director of Global Accounts, ACNielsen, Schaumburg, Ill., explained that while health is almost always expressed as the No. 1 or No. 2 concern among consumers globally—alongside of the economy, war, job security, etc.—purchase behavior varies widely by country. According to ACNielsen's 2006 survey of 40 countries, China, Canada, Russia, and Brazil demonstrated the highest percentage of people concerned about health.
Consumers in the U.S. (65%), Portugal (64%), Canada (61%), New Zealand (61%), Spain (60%), S. Africa (59%), Norway(57%), and Mexico (56%) are among those who most understand nutrition labels; those in China, Russia and Poland least understand. In general, consumers' understanding of nutrition labeling for products is less than optimal, particularly in developing markets, Gannon said.
Globally, fat, calories, and sugar are the items most frequently checked by consumers on labels, he reported. Fat content, with a global average of 49% of consumers checking the label, is checked most often in Mexico, Canada, and the U.S. and least often in China, Russia, and Poland.
Brazilians, Mexicans, and Indians regularly check for calories; Mexicans, Brazilians, and Americans are the most likely to check a product's sugar content; and Chinese, Russian and Polish are least interested in these categories.
However, when it comes to preservatives/additives, China (70%), Mexico (48%) and India (45%) top the list of concerned consumers, followed by Mexicans, Indians, and South Africans. Consumers in the U.S., Canada, Poland. and Russia are least likely to check for these on labels. Gannon explained that these differences among countries are most likely due to the different emphasis being placed on key ingredients, conditions such as obesity or high blood pressure, or nutrient deficiencies by governments or the media.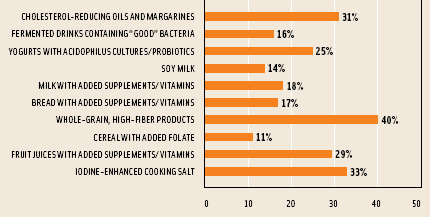 Gannon also focused on consumers' interest in functional and fortified foods around the world (Figure 4). He said that in general the most popular functional food was whole-grain or high-fiber products. Consumers in eight of the twelve countries he discussed in his presentation purchased whole-grain, high-fiber more regularly than the global average including the U.S., Canada, Mexico, and Brazil. Globally, consumers cited bad taste and a disbelief in health benefits as the most frequent reasons for not purchasing these products.
Other functional foods that score high on the global list include cholesterol-reducing oils and margarines, vitamin-enhanced fruit juices, and iodine-enhanced cooking salt; the latter is purchased by more than one-third of shoppers globally.
Gannon reported that four products would never be purchased by more than one-third of shoppers globally: soymilk, vitamin-enhanced milk, bread with added supplements, and cereal with added folate. He said that 10% of consumers globally said they had never heard of fermented drinks containing good bacteria, iodine-enhanced cooking salt, and cereal with added folate.
by A. Elizabeth Sloan, a Professional Member of IFT and Food Technology Contributing Editor, is President, Sloan Trends & Solutions, Inc., P.O. Box 461149, Escondido, CA 92046 ([email protected]).