To meet rigorous food safety regulations and high quality standards, food products and their raw materials undergo a battery of analyses. IFT's 2006 Food Expo® showcased many suppliers of analytical instruments and testing services, offering the latest evolution in food measurement and testing, quality control methods, and product development tools. Here's a rundown of some of these lab-related developments.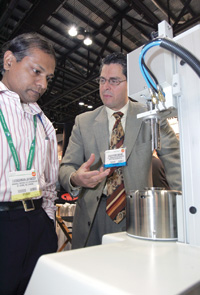 • Physical Testing. C.W. Brabender Instruments (www.cwbrabender.com) demonstrated the Micro ViscoAmyloGraph instrument, which measures the gelatinization properties of starch and flour. The unit, equipped with rotating bowl and stirrer, which completely submerges into the sample, is connected to a high-resolution torque sensor for precise viscosity determination. The special geometry of the stirrer ensures good mixing of the sample and prevents sedimentation of starch particles.
Sonics & Materials Inc. (www.sonics.biz) displayed its line of ultrasonic processors. Ultrasonics is used in analytical chemistry for many common procedures, including breaking of chemical bonds, formation of free radicals, and polymerization and depolymerization of long-chain molecules. In biology, it is used for the releasing enzymes and proteins from cells. The company also employs ultrasonic technology to cut food products.
Haake rotational viscometers from Cole-Parmer Instruments (www.coleparmer.com) measure the resistance of a test substance against a preset speed. Units feature 21 speeds with built-in digital accuracy (±0.5% of the absolute value) by means of stepped motor. Various models can test a range of viscous materials from oils to emulsions to whipped cream.
Texture measurement has helped a manufacturer of fish cakes improve its production process. The manufacturer was experiencing problems during the forming stage, where fish cakes were either too soft, resulting in irregularly shaped cakes, or too hard, producing brittle fish cakes that broke apart on the production line. Using a TMS-Pro texture measurement system with Texture Lab Pro software and a ball probe accessory from Food Technology Corp. (www.foodtechcorp.com), the manufacturer was able to identify key critical quality points within the production process. This resulted in an optimization of the product formula, reduced production downtime, and consistent fish cake quality.
Density and refractive index analyzer from Anton Paar (www.anton-paar.com) measures density and refractive index simultaneously. Applications include quality control of soft drinks, alcoholic beverages, juices, and flavors.
VisTex system from Brookfield Engineering (www.brookfieldengineering.com) includes a viscometer and a texture analyzer. The system measures flow behavior in a number of products, such as dough, sauces, chocolate, baked goods, and candies.
--- PAGE BREAK ---
• Chemical Analysis. The zNose portable analyzer from Electronic Sensor Technology (www.znose.com) can analyze and identify a chemical, vapor, or toxin in less than 10 sec with part-per-trillion sensitivity. QC applications include ingredients, packaging, and finished products.
Pasteurization testing can be accomplished with the Fluorophos ALP test from Advanced Instruments (www.aicompanies.com). The rapid phosphatase method delivers results in 3 min and can be used to screen or confirm pasteurization of many dairy products, such as milk, cheeses, and cultured products.
Ultimate 3000 HPLC system from Dionex Corp. (www.dionex.com) brings new versatility to the liquid chromatography field. Integrated dual-pump technology delivers increased throughput, 2D HPLC performance, as well as automated on-line sample preparation. Applications include vitamins, minerals, and antioxidants.
Aquasorp IG isotherm generator from Decagon Devices (www.decagon.com) helps to determine the relationship between water activity and moisture content. Isotherms provide valuable information about product formulation, shelf life, stability, temperature effects, moisture sensitivity, and drying characteristics.
Paul N. Gardner Co. (www.gardco.com) offers a full line of food-testing devices, including moisture analyzers, colorimeters, pH meters, rheometers, texture analyzers, water activity meters, polarimeters, and water baths.
Q Laboratories (www.qlaboratories.com) provides analytical chemistry services, including fatty acid profiles, mycotoxin testing, preservative assays, vitamin testing, and shelf life/stability studies.
Clarus 500 GC/MS from Perkin Elmer Instruments (www.perkinelmer.com) provides complete characterization of food samples. State-of-the-art electronics process more scans across each peak, resulting in greater accuracy and precision and better overall spectral fidelity. The instrument can conduct up to 60 scans/sec.
IQ170 dual-technology pH meter from IQ Scientific Instruments (www.phmeters.com) is NEMA 4X (IP 67) rated, showcases an extra large LCD display with LED backlight, and has the ability to measure accurately pH, mV, temperature, ORP, conductivity, TDS, and salinity. Features include automatic temperature compensation, automatic pH buffer recognition, automatic conductivity cell constant recognition with auto ranging, and up to three-point pH calibration.
--- PAGE BREAK ---
D25LT color quality system from HunterLab (www.hunterlab.com) measures the color of coarse, nonhomogeneous, and irregularly shaped food products. It can be used to measure samples such as cookies, crackers, chips, beans, spices, soups, and other food products. The sample-measurement port of the optical sensor can be oriented upward to measure samples such as soup through the clear bottom of the sample cup, or the port can be oriented downward to allow samples such as chips to be measured through the open top of the cup.
HygroLog NT data logger from Rotronic (www.rotronic-usa.com) calculates relative humidity, temperature, and dew point.
Anresco Laboratories (www.anresco.com) provides a range of food-testing services, including pesticides, Nutrition Facts labeling, trans fat, microbiology, preservatives, aflatoxin, protein, color additives, and vitamins.
Grabner Miniflash instrument from Ametek (www.petrolab.com) measures the flashpoint of flavors and additives. Unit requires only 1 mL of sample per test.
Select moisture analyzer from Sartorius (www.sartorius.com) can be used for routine testing of moisture or solids in the lab or on the production floor. The rugged and compact unit features a touch-screen display. Measurements include weight, percent moisture, solids, and dry weight. The unit provides results in 3–10 min.
MilkoScan FT2 instrument from Foss North America (www.foss.dk) provides compositional analysis of milk and dairy products. The unit can measure fat, protein, lactose, total solids, free fatty acids, density, casein, total acidity, and freezing-point depression, with results in 30 sec.
Shimadzu Scientific Instruments (www.ssi.shimadzu.com) offers beverage analysis via liquid chromatography. LC analysis can detect several compounds (e.g., acesulfame K, benzoic acid, potassium sorbate, caffeine, and aspartame) in diet soft drinks within 1 min of analysis time. The high-speed autosampler features a 10-sec injection cycle time, enabling fast LC analysis.
--- PAGE BREAK ---
• Scales and Balances. Mettler Toledo (www.mt.com) presented the University of Maine's Dept. of Food Science and Human Nutrition with its 2006 Food Science Education Grant. The gift, worth more than $60,000, consists of analytical equipment and accessories, balances, software, training, and a PC to establish or enhance the education in current and future collegiate food science programs.
Ohaus Corp. (www.ohaus.com) supplies a broad range of analytical balances and scales. Its Explorer Pro balance features a large graphic display for easy reading, robust software for a variety of applications, and an innovative user interface with on-screen text prompts and scroll-down menus. The Champ CKW scale features stainless-steel construction and washdown protection. Models are available in capacities of 6–60 lb.
• Microbial Analysis. Rapid swab test from Weber Scientific (www.weberscientific.com) detects Listeria in food processing environments at sensitivities as low as 1–10 cfu/mL. The kit provides positive results in 30 hr. Results cannot be considered negative until samples have been incubated for 48 hr.
Assurance genetic detection system from BioControl Systems (www.biocontrolsys.com) provides an integrated solution for pathogen discovery. The system can detect Escherichia coli O157:H7 in 8 hr, Listeria monocytogenes in 24 hr, and Salmonella in 20 hr. It uses proprietary magnetic particles to capture the target organism from the enriched sample and transfer it to the amplification tube.
ABC Research Corp. (www.abcr.com) maintains an analytical microbiology lab specializing in routine microbial testing, pathogen detection and quantification, environmental monitoring, and product spoilage analysis. Advanced analytical methods include PCR and ELISA.
ColiQuant bacteria testing system from LaMotte Co. (www.lamotte.com) uses a patented combination of color-producing nutrients and enzymes to determine E. coli and coliform levels in potable water. Results are available in 24–72 hr.
Northland Laboratories (www.northlandlabs.com) pairs two technologies—immunomagnetic separation (IMS) and polymerase chain reaction (PCR)—to detect Salmonella, Listeria species, L. monocytogenes, and E. coli O157:H7. Benefits include improved sensitivity, specificity, and speed. IMS-PCR testing delivers results (negative or positive) for Salmonella in 28 hr, Listeria in 29 hr, and E. coli O157:H7 in 10 hr.
Using DNA-based technology, Michelson Laboratories (www.michelsonlab.com) offers fast, accurate analysis of raw ingredients and finished products for a variety of pathogens.
• Food Safety. Online training and education courses from Silliker (www.silliker.com) include interactive programs in food safety, food microorganisms, GMPs, HAACP, quality, food labeling, and regulatory compliance for managers.
Burdock Group (www.burdockgroup.com) offers safety assessment and regulatory compliance regarding GRAS, qualified health claims, indirect additives (e.g., packaging), food and color additive petitions, GMOs, and functional foods.
--- PAGE BREAK ---
Michigan State University's National Food Safety & Toxicology Center (www.foodsafe.msu.edu/proms) offers an online Professional Master of Science in Food Safety program. The program, which results in a 30-graduate-credit M.S. degree, addresses new concerns such as food security, emerging foodborne pathogens, zoonotic disease, and biotechnology.
Snapshot ATP swabs from Hygenia (www.hygeniausa.com) monitor the general hygiene of manufacturing plants, freezers, and storage facilities. The swabs work with a variety of luminometers, including BioControl, Biotrace, Charm, and Celsis Lumac. Results are available in 20 sec.
ELISA Technologies (www.elisa-tek.com) offers diagnostic test kits for mycotoxins, antibiotics, GMOs, meat and fish speciation, and allergens.
Microbac Laboratories (www.microbac.com) announced a strategic alliance with MVA Scientific Consultants. As part of the alliance, Microbac will serve as MVA Scientific Consultants' preferred provider of microbiological and chemical analyses for food, environmental, and other samples. MVA Scientific Consultants will serve as Microbac's preferred provider of forensic food microscopy and other micro analytical services. Microscopy is considered to be one of the most powerful tools for studying unknown materials, particles, and contaminants in the environment and food. It is being increasingly used to detect counterfeit food products and adulterants in foods.
Ecolab Inc. (www.ecolab.com) introduced Octa-Gone, a fatty acid-based antimicrobial product that reduces microbial contamination on ready-to-eat (RTE) meat and poultry products. The product has a proven 2 or greater log reduction of L. monocytogenes. It's effective against microbial pathogens without affecting the color, flavor, or appearance of the RTE meat product, and it's approved as a processing aid by the U.S. Dept. of Agriculture. Thus, no additive labeling is required for processors. The product is applied directly onto the inner surface of packaging bags just before the RTE meats are placed inside and sealed. The packaged and sealed product is then sent through a hot-water shrink tunnel, tightening the package and spreading the Octa-Gone treatment over the entire surface of the RTE product.
AiroCide PPT system from KES Science & Technology (www.kesmist.com) uses photocatalytic oxidation and UV light to destroy airborne mold, fungi, bacteria, and viruses, as well as breakdown volatile organic compounds in laboratories, processing plants, coolers, produce distribution, wineries, and storage facilities.
--- PAGE BREAK ---
• Product & Process Development. ESHA Research (www.esha.com) announced the release of version 8.7 of Genesis R&D SQL product formulation and labeling software. In addition to an extensive update of manufacturers' information for food products and additives, this version adds nutrient data for food folate, folic acid (synthetic folate), and ground beef yields. The program's user interface now includes optional "tool-tip" help for most dialog boxes, giving users instructive information directly on-screen. In addition, the standard multicolumn report automatically lists nutrients under their appropriate group heading.
Armfield Ltd. (www.armfield.co.uk) displayed its improved FT94X UHT mini-pilot processing system, which extends the range of its HTST/UHT equipment to 50–100 L/hr. This throughput increase enables larger batches of material to be prepared for more-extensive product trials. A new 24-bar pump permits the tubular heat exchanger to handle more-viscous product.
Product Dynamics, Div. of RQA, (www.rqa-inc.com) announced the opening of a major expansion of its Orland Park, Ill., product development facility. Increasing the building from 6,000 sq ft to 38,000 sq ft allows for a dedicated food development lab, two focus group rooms, viewable consumer kitchen, and a doubling of the commercial kitchen and consumer research capacity.
Tragon Corp. (www.tragon.com) showcased its custom market research and sensory capabilities, including product optimization, quantitative descriptive analysis, immersion research, focus groups, and one-on-one interviews. Through these capabilities, food companies can uncover opportunities that competitors overlook.
Quality Analyst software from Northwest Analytical (www.nwasoft.com) analyzes plant data for vendor certification, regulatory compliance, process improvement, and cost reduction. The statistical process control system provides fast, simple charting of data and easy connection to external databases.
Shuster Laboratories (www.shusterlabs.com) offers a broad range of services to the food industry, including product development from concepts to scale-up, sensory research, analytical services, plant GMP audits, and labeling evaluation.
Nutritionist Pro food labeling software from Axxya Systems (www.nutritionistpro.com) helps food manufacturers design and create camera-ready Nutrition Facts labels. It can be used to make nutrient content claims (e.g., low sodium, low fat) based on serving size reference amounts.
MicroThermics (www.microthermics.com) presented its miniature plant trial services, which allows food manufacturers to integrate HTST and UHT processing into their product development. This eliminates failed plant trials and saves time and money. With these services, researchers can make production-quality samples of UHT and pasteurized milk, soy milks, juices, puddings, cheese sauces, baby foods, and other products. Its hot-filling service fills products into actual hot-fill bottles. The company also offers process sterilization, in-line homogenization, deaeration, custom hold times, ultra-clean filling, and data analysis.
Bob Swientek is Editor-in-Chief, Food Technology magazine ([email protected])