In this day of concern for government regulations, product and process safety, assurance of accuracy and compliance with nutrition label statements, and importance of optimum cost factors, product development by trial-and-error can no longer be justified. Product development software can help optimize the product development process.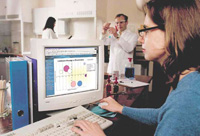 I interviewed representatives of several companies that supply or use product development software to learn some of its advantages.
Formulation Management
"All product development teams pursue the same goal—product differentiation to create a sustainable competitive advantage," said Ted Pliakos (phone 636-532-6021), Vice President of Sales for Advanced Software Designs, Chesterfield, Mo. "To this end, challenges include external factors such as product proliferation, consumer awareness, fast-moving consumer trends, and changing government regulations. Infrastructure (internal) challenges arise from the constant need to aggressively innovate and launch new products while at the same time ensure projects are done correctly in both composition and regulatory aspects."
The company's ProductVision® Formula Management software package is being used by many food and beverage companies. It includes formula management, project tracking, workflow, nutrition labeling, testing, experimental formula design, and other modules designed to assist in new product development.
Pliakos said that the software package allows an organization to harness existing knowledge; develop new products in a structured, collaborative environment; and ultimately shorten the product development cycle to gain a competitive edge. Increased speed to market is critical for products with a limited market life span, he added. "A product designed quickly to meet current market conditions reduces the odds that market conditions will dramatically change during the development stage."
He summarized the advantages of using product development software. "Duplication of effort is eliminated by maintaining all product and raw material information such as costs, characteristics, specifications, and development status in one database. The automatic creation of accurate and fully compliant nutrition labels and ingredient declarations for the United States, Canada, and the European Union saves hours or months of tedious work for regulatory departments and helps insulate companies from failure-to-warn legal suits."
--- PAGE BREAK ---
"The automatic determination of regulatory information such as kosher, allergen, and GMO status," he continued, "greatly reduces the time needed to prepare this information and allows customer service people to respond instantly to requests for information. The software releases R&D staffs from tedious and nonproductive activities that increase employee satisfaction and lead to more satisfied customers."
Simon Poppelsdorf (phone 847-291-8300), Vice President of Flavor R&D at Bell Flavors and Fragrances, Northbrook, Ill., said that his company is using several software programs in assisting the Regulatory Dept. and the Creative/Application Dept.
"For the Regulatory Dept.," he said, "we have found the software program BACIS from Boelens Aroma Chemical Information Service, the Netherlands, very useful. For our beverage application, we are using the Beverage-Master software from Leffingwell & Associates, Canton, Ga. This program provides formulas with all the information needed to produce beverages on an industrial scale."
John C. Leffingwell (phone 770-889-5111), President of Leffingwell & Associates, described Beverage-Master as "a software suite that allows rapid and accurate development and conversion of beverage formulations. Primary uses include beverage formula development, quality control, in-plant beverage troubleshooting, and financial analysis. It automatically calculates syrup Baume, syrup true Brix (% solids), observed syrup hydrometer, refractometer values, finished beverage true Brix, and observed refractometer Brix. It also makes corrections for sweetener blends, as well as provides titratable acidity values for beverages. The software is designed to rapidly generate laboratory formulas and calculate all common Nutrition Facts values."
"For nutritive sweeteners," he added, "it automatically provides conversion to alternative sweetener formulations. The diet module provides automatic calculation of relative sweetness values compared to sugar for all approved dietary sweeteners and blends of sweeteners. The Juice-Master version has all the capability of Beverage-Master, but also includes a user-modifiable juice concentrate database for designing juice-containing beverages."
Bryan Seyfarth (phone 952-851-7500), Solutions Marketing Director, Sopheon Corp., Minneapolis, Minn., suggested an optimistic outlook for product development. "According to recent studies, food and beverage manufacturers introduce more than 18,000 new products each year. But research has also uncovered a more sobering fact: an estimated 78% of the products that enter development in food companies either never make it to market or end up as commercial failures. Why such high fatality rates? A primary reason is that many manufacturers lack the process discipline and decision support needed to identify the most commercially promising product ideas and efficiently focus on getting those likely winners to market."
--- PAGE BREAK ---
"Effective product development is far from easy," he continued. "Implementation success depends on a mix of best practices. They include being able to objectively assess ideas entering the process funnel, link them to business strategy, pick the right performance metrics, and give those responsible for managing and executing the development process the tools they need to get the job done. A growing number of food manufacturers are addressing these challenges with the help of a new breed of software specially designed to improve product development and product portfolio management."
One such software package is Sopheon's Accolade. Seyfarth said that the software automates the product development process and provides decision support within each stage of a food product's life, from its inception as an idea until its commercial retirement. "The system adapts to any stage- or phase-based process," he said, "but it is known for its particularly strong alignment with the widely used Stage-Gate methodology created by Robert Cooper, who also had a hand in designing Accolade."
A principal advantage of the software, Seyfarth added, is that it simply and clearly lays down the steps in each user's process, streamlines them, and takes the administrative burden out of executing them. "Best-practice content embedded in the software helps ensure successful process execution by development teams and other stakeholders. The result is that process adoption rates and adherence levels within organizations where Accolade is deployed are consistently very high, and improved time-to-market and better commercialization success rates typically follow."
Cadbury Schweppes, the multinational confectionery and beverage producer, is among the food industry leaders that have recently adopted Sopheon's system. Early last year, the company used the software to enhance an enterprise-wide portfolio management initiative aimed at increasing growth through innovation. The implementation now spans 45 countries and includes 2,400 users in product development, marketing, and commercial strategy. Rosemary Grabowski, Vice President of Integrated Portfolio Management at Cadbury Schweppes, was close to the initiative that introduced Accolade's portfolio-management capabilities to the company's Mott's operating unit. "It's enabled us to make better resource allocation decisions on projects," she said. She credited the software with improving by 14% Mott's time-to-market in the first year following deployment.
--- PAGE BREAK ---
Ingredient Sourcing
Matthew Perry (phone 913-707-8233), Vice President of Business Development at Chemidex, Inc., Overland, Kans. said that "The complex nature of R&D projects in the food industry demands an efficient way of searching for new ingredients and managing raw material reference data. The Chemidex Food & Beverage Cybrary® is the solution to help speed new products to market. More than 25,000 scientists in the global food, cosmetics, personal care, and chemicals sectors have used it to accelerate new product development processes for nearly ten years."
The Cybrary is an entirely Web-based search engine. Food scientists throughout the world may search for ingredients and other raw materials or request samples from multiple suppliers directly through this index. Users may instantly view supporting documentation, including specification sheets, kosher certificates, and sample formulations. Since the database is continually updated, information is always current and relevant. This software allows users to significantly increase product development efficiency, which in turn helps speed new products to market.
"Use of this database takes search to a whole new level," Perry said. "The Chemidex search engine is designed specifically to assist food scientists in rapidly pinpointing specific valid solutions for their problems. They can search through extensive, global libraries of information using any of five search engines: ingredient type, physical property, formulation, supplier, and keyword. Searches begin with any engine and are refined using any combination of the other engines. Unlike traditional methods of product discovery, this process is fast, current, and ensures best fit of ingredients to the needs of the formulator."
Access to the Cybrary is free to qualified members of the food industry R&D community.
An Important Tool
Food and beverage product developers have many choices of commercial software programs from which to choose. Because food product development can be very costly and is often unsuccessful, optimum planning is recommended. Software can be an important tool in this activity.
--- PAGE BREAK ---
Justifying Use of Software
Advanced Software Designs suggests the following items to consider in deciding whether to use product development software. The company provides a downloadable worksheet at www.asdsoftware.com.
Costs
• Software license fees
• Implementation consulting fees
• Software customization fees
• Software vendor travel expense
• Hardware costs (e.g., servers, communication equipment, client workstations)
• Other software costs (e.g., Windows XP, Citrix Metaframe, etc.)
• Training costs
• Software maintenance costs
• Internal manpower costs (team members, IT integration efforts, IT support staff/help desk, trainers, internal quality assurance personnel, document writers)
Cost savings
• Productivity savings (e.g., reduction in number of data entry personnel and IT support personnel resulting from reduced number of systems to support)
• Cost avoidance (e.g., elimination of outdated systems and their associated upgrade costs, license/maintenance fees, support, training, etc.; reduction in customer claims due to product noncompliance; reduction in assessed noncompliance fees/fines)
Revenue enhancements
• Shorter development cycle times
• More accurate/timely customer service response
• More accurate costing/reporting/analysis tools
---
by Dean Duxbury,
Contributing Editor Consultant,
Oak Brook, Ill.
[email protected]