From lowering cholesterol and blood pressure to aiding in weight management and muscle recovery, proteins play an important role in today's functional foods and beverages. Whether they are pure proteins, hydrolysates, or peptides, proteins are packing a punch in today's products.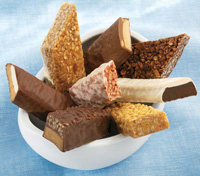 Protein hydrolysates and bioactive peptides are the products resulting from protein hydrolysis achieved by enzymes, acid, or alkali and fermentation process, explained Vijai K. Pasupuleti, President, SAI International, Geneva, Ill. Bioactive peptides are generated from proteins by enzymatic hydrolysis followed by centrifugation, filtration, and/or chromatography.
While dairy and soy garner the majority of attention in protein and bioactive peptides, other protein sources, such as eggs, peas, and gelatin, offer health benefits as well.
Dairy Proteins
In the dairy sector, whey protein has stepped into the limelight because of its benefits implied by research in areas such as sports nutrition and muscle development, weight control, and blood pressure reduction. "The continuing discovery of other potential health benefits that can be realized through dairy proteins continues to emerge in areas related to satiety and weight management, blood glucose control, insulin sensitivity, and immune health," stated Pete Huth, Director, Regulatory and Research Transfer, Dairy Management, Inc., Rosemont, Ill.
Huth said that researchers at the University of Illinois have conducted clinical studies of the effects of a diet high in animal protein on body weight and body composition:
Layman et al. (2005) showed that moderate calorie-restricted weight-control diets high in animal-based protein, including dairy, and lower in carbohydrate, combined with exercise, lower body weight and body fat, preserve lean body mass, and manage blood sugar and insulin levels compared to lower-protein, higher-carbohydrate diets.
Dairy proteins, including whey, are the richest sources of a class of essential amino acids called branched-chain amino acids (BCAAs). Layman et al. (2003) showed that diets higher in protein and BCAA—in particular, leucine, which has the unique characteristic of controlling how carbohydrates and protein are metabolized in the body especially under conditions in which a subject would be losing weight, such as calorie restriction—help control blood sugar levels and reduce body fat and body weight while maintaining lean body mass.
--- PAGE BREAK ---
Other studies have demonstrated that high-leucine-containing protein, such as whey, helps preserve muscle mass under exercise conditions. Tipton et al. (2004).demonstrated that during the recovery period following heavy resistance exercise, consumption of whey protein results in highly efficient rebuilding of skeletal muscle.
In other areas of dairy protein research, Huth added, studies suggest that high blood pressure can be reduced significantly through bioactive protein components that can be released from casein and whey proteins. Pins and Keenan (2002) showed that enzymatically hydrolyzed whey protein isolates can lower systolic and diastolic blood pressure by as much as 11 and 7 mm Hg, respectively, in borderline hypertensive subjects.
Recent research has also linked both hydrolyzed whey and hydrolyzed casein to a reduced risk of infant allergies. Hays and Wood (2005) examined published literature to determine whether feeding hydrolyzed infant formulas from birth has a role in allergy prevention. The cohort of studies consistently showed reductions in the cumulative incidence of hereditary disease from 12 to 60 months of age among high-risk infants fed extensively hydrolyzed casein formulas or partially hydrolyzed whey formulas.
The various research findings have opened the door to some innovative dairy protein ingredient offerings from around the world:
• DMV International, the Netherlands, won the NutrAward at Nutracon/Supply Expo in March 2005 for C12 Peption, a hydrolyzed milk protein that has been shown to support the natural blood pressure mechanism. According to the company, a single administration of 1.7 g of the protein reduced diastolic blood pressure by 8 mm Hg and systolic blood pressure by 6 mm Hg in mildly hypertensive people.
• DSM Food Specialties, the Netherlands, offers PeptoPro®, a casein hydrolysate that is easily absorbed. The ingredient has been shown to provide energy directly to the muscles, helping to reduce fatigue, promoting faster recovery, and repairing damaged muscle tissue.
• Ingredia, France, offers Lactium™, a milk protein hydrolysate with regulating properties on stress. According to the company, clinical studies have shown the efficacy of the ingredient on different stress-linked troubles, such as a smaller increase in the mean blood pressure response to stress.
• Fonterra Co-operative Group, New Zealand, launched a range of natural dairy protein crisps with up to 80% dairy protein content. Dairy Protein Crisps are said to provide the nutritional benefits of dairy protein with improved mouthfeel and texture.
--- PAGE BREAK ---
Soy Proteins
Soy protein still enjoys wide acceptance among consumers, particularly for its heart health benefits. "Consumers equate soy with health, and this message is spreading among mainstream consumers, which can be seen in the increase of soyfood sales in supermarkets," observed Debbie Schulz, Market Development Manager, Cargill Health & Food Technologies, Wayzata, Minn. "We are also seeing this trend of soy equaling health spreading to Europe."
Aside from heart health, recently published studies provide evidence of soy protein's role in lowering blood pressure, reducing the risk of prostate cancer, and reducing the risk of fractures in elderly women.
He et al. (2005) showed that soy protein supplements help prevent high blood pressure in people at risk, and lower it in those with early stage hypertension. The researchers examined the effect of soy protein supplementation on blood pressure in 302 adults in China 35–64 years of age. They were randomly assigned to receive 40 g/day of isolated soybean protein supplements or complex carbohydrate control for 12 weeks. At 12 weeks, soybean cookies reduced diastolic and systolic blood pressure values by about 3–4 mm Hg more than did the carbohydrate cookies.
Yan and Spitznagel (2005) conducted a meta-analysis that showed that regular consumption of soy protein–containing foods and beverages may reduce the risk of prostate cancer in men by as much as 30%. After reviewing eight population studies, the researchers said that the studies demonstrated a 30% reduction in the risk of prostate cancer in men who regularly consumed soy protein–containing foods.
Zhang et al. (2005) showed that eating soyfoods may reduce the risk of fracture in postmenopausal women. The researchers selected data on about 24,000 postmenopausal women participating in the Shanghai Women's Health Study. The subjects completed a food frequency questionnaire and at followup 4.5 years later were asked if they had suffered any fractures. Higher soy protein consumption was significantly associated with lower risk of fracture. The inverse association was more pronounced among women in early menopause.
With mounting research on other potential benefits of soy protein, ingredient suppliers are offering more ingredient options to fortify foods. For example, Cargill Health & Food Technologies offers Prolisse®, made using a patented process that provides better flavor and increased solubility, Schulz stated. The company recently introduced Prolisse soy crisps with 80% and 60% protein.
ADM, Decatur, Ill., offers NutriSoy® soy protein in various forms and concentrations, increasing the options for food formulators. The company offers more than 40 different soy protein products, including soy flours, soy concentrates, textured dry and frozen soy protein, and isolates with and without intact isoflavones.
In October 2005, Monsanto and the Solae Co., St. Louis, Mo., announced plans to develop a new line of soy proteins with better taste and higher solubility. The companies said that the secret lies in the use of a soybean that has high levels of beta-conglycinin, a naturally occurring, texture- and flavor-improving compound. Using plant-breeding technology, Monsanto will develop the new soybean, and Solae will then isolate the protein from the beans and refine it to best suit a variety of applications.
--- PAGE BREAK ---
Other Potent Proteins
Other proteins also have nutritional and health benefits:
• Egg Protein. According to the Egg Nutrition Center, Washington, D.C., a large egg provides 6 g of high-quality protein. The protein content of egg white is 3.6 g, while egg yolk provides 2.7 g. Egg protein has an amino acid pattern almost matching the human requirement for essential amino acids.
• Rice Protein. A rice protein concentrate, Oryzatein, from Axiom Foods, Inc., Los Angeles, Calif., offers a non-allergenic protein source that the company claims is better absorbed by the body than other vegetable-derived proteins. Derived from whole-grain brown rice, it contains nine essential amino acids, plus other nonessential amino acids.
• Pea Protein. A pea protein ingredient, Nutralys®, is offered by French ingredient supplier Roquette. The company believes that pea protein can complement existing protein sources and help traditional food makers give their products new properties.
• Wheat Protein. The high-protein trend and growing interest in whole grains create opportunity for wheat proteins. For example, Arise® wheat protein isolates from MGP Ingredients, Atchison, Kans., increases the protein content while reducing the carbohydrate content of whole-grain products and other foods. Prolite™ wheat protein isolates from ADM act as a powerful whipping protein and also improve volume in whole-grain and other applications while increasing protein content.
• Gelatin. A protein obtained from collagen, gelatin is known for its many functional properties and use in the pharmaceutical industry. It also offers nutritional benefits, containing nine essential amino acids, according to PB Leiner, Jericho, N.Y. The company offers Polypro gelatin hydrolysates, which are said to be easier for the body to absorb and utilize.
A Positive Trend
"Diet, beverage, functional food, and sports markets are demanding nutritionally balanced proteins. To meet this demand," observed Pasupuleti of SAI International, "the formulators have started to blend proteins or bioactive peptides and/or other ingredients to make up a complete nutritional profile and provide health benefits. This is a very positive trend we will see more of in the future."
by Linda Milo Ohr,
Contributing Editor,
Denver, Colo.
[email protected]
References
Hays, T. and Wood, R.A. 2005. A systematic review of the role of hydrolyzed infant formulas in allergy prevention. Arch. Pediatr. Adolesc. Med. 159: 810-816.
He, J., Gu, D., Wu, X., Chen, J., Duan, X., Chen, J., and Whelton, P.K. 2005. Eff ect of soybean protein on blood pressure: A randomized, controlled trial. Ann. Intern. Med. 143(1): 1-9.
Layman, D.K., Shiue, H., Sather, C., Erickson, D.J., and Baum, J. 2003. Increased dietary protein modifi es glucose and insulin homeostasis in adult women during weight loss. J Nutr. 133(2): 405-10.
Layman, D.K., Evans, E., Baum, J.I., Seyler, J., Erickson, D.J., and Boileau, R.A. 2005. Dietary protein and exercise have additive eff ects on body composition during weight loss in adult women. J Nutr. 135(8): 1903-10.
Pins, J.J. and Keenan J.M. 2002. The antihypertensive effects of a hydrolysed whey protein isolate supplement (BioZate® 1). Cardiovasc. Drugs Ther. 16: 68 (abstr.).
Tipton, K.D., Elliott, T.A., Cree, M.G., Wolf, S.E., Sanford, A.P., and Wolfe, R.R. 2004. Ingestion of casein and whey proteins result in muscle anabolism after resistance exercise. Med Sci Sports Exerc. 36(12): 2073-81.
Yan, L. and Spitznagel, E.L. 2005. Meta-analysis of soy food and risk of prostate cancer in men. Intl. J. Cancer 117: 667-669.
Zhang, X., Shu, X.O., Li, H., Yang., G., Li, Q., Gao, Y.T., and Zheng, W. 2005. Prospective cohort study of soy food consumption and risk of bone fracture among postmenopausal women. Arch. Intern. Med. 165: 1890-1895.