Say the first thing that comes to mind when you think of food texture. Interestingly, some of your answers might be "chewy," "gritty," "tacky," "stringy," and "rough." That's because, when it comes to texture, much of food formulating, at least in the past, has focused its energies on creating products that avoid such attributes that could easily lead to product rejection in the marketplace.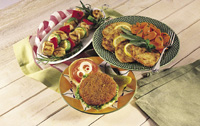 Furthermore, since people learn the customary texture of foods in their diet primarily through experience, it was a good idea not to "rock the boat"—i.e., create textures that were different from traditional expectations because the resulting products might be perceived as of lesser quality and therefore, again, be rejected in the marketplace.
Of course, there was nothing wrong with that approach. It's just that by focusing on avoiding the negatives, less energy was spent on the positives—creating new, different, or innovative textures. Also, as times changed and consumers began looking for different eating experiences, particularly those that reflected flavors and ingredients from around the world, the creation of textures that differed from the norm might not be perceived as negative.
Whether talking about food formulating of yesterday or today, texture remains of critical importance. As defined in Dictionary of Food Science and Technology, compiled and edited by the International Food Information Service (2005), texture's sensory properties relate to the feel of a surface or product, or the impression created by a surface structure or general physical appearance of a surface. It is a major factor affecting the mouthfeel and quality of a food.
As such, its characteristics play a significant—although sometimes overlooked—role in attracting consumers and getting them to purchase—and repurchase—a certain product. More than ever, we're beginning to see several signs of a gradual change in the perception of texture and its subsequent adaptation to today's trends and consumer needs.
--- PAGE BREAK ---
For example, in the October 2005 Ingredients section, we looked at the innovative textures being imparted by a wide range of batters and breadings. Recently, a new Japanese-style breadcrumb from Southeastern Mills, Inc., Rome, Ga. (phone 706-291-6528, www.semills.com), was introduced that could deliver a delicate crunch to crab cake recipes. The breading maintains its texture, even after cooking, giving the cakes a crispy exterior and light interior.
In time for the holiday season, Godiva Chocolatier, New York, N.Y. (phone 800-946-3482, www.godiva.com) debuted Pop Chocolates—truffles which have an effervescent infusion that pops in the mouth, creating a tingling sensation. (An adult version of pop rocks, perhaps?) The collection includes CranOrange Dark Chocolate Dazzler, a dual layer of tart cranberry and citrus flavors, and White Chocolate Raspberry Sparkler, a dual layer of raspberry and chocolate ganache.
Opportunities for unique textures may be increasing in the area of good-for-you products. The Solae Co., St. Louis, Mo. (phone 314-982-1983, www.thesolaecompany. com), developed a prototype, Kidoozle! Crunch Bar, combining soy nuggets, granola, oats, chocolate chips, raisins, and yogurt coating with colorful sprinkles. And Ocean Spray Ingredient Technology Group, Lakeville, Mass. (phone 508-946-1000, www.oceanspray.com), launched a "less sugar, high-fiber" sweetened dried cranberry, which works well in muesli, cereals, baked goods, salad toppings, and trail mixes.
A recent press release from the National Restaurant Association emphasized that a fusion of tastes and textures is driving the popularity of ethnic foods. At the 2006 NRA Restaurant, Hotel-Motel Show, the International Cuisine Pavilion will showcase new ideas from a wide range of countries, including Mexico, Brazil, Spain, Italy, New Zealand, Indonesia, and Japan.
And at the 2005 Food Ingredients Europe show, the top two awards for the most innovative ingredient in 2005 were given to developments that highlighted texture. C.P. Kelco, a Huber Co., Chicago, Ill. (phone 312- 554-7800, www.cpkelco.com), received the Gold award for a range of pectin types that are able to resolve problems related to gel texture and syneresis that typically occur when traditional pectins are used for jams and jellies with soluble solids in the range of 5–30%. Winning the Silver award was Avebe America, Inc., Princeton, N.J. (phone 609-520-1400, www.avebe.com) for its line of Eliane™ amylopectin potato starches which can provide innovative textures.
--- PAGE BREAK ---
Although these signs are certainly encouraging, there is a lot of territory left to explore when it comes to texture. Compared to the sophisticated developments in the areas of flavor or packaging, and the amount of time and energy spent developing and marketing ingredients that have healthier attributes for the consumer, texture may very well be likened to the Fourth Dimension when it comes to food formulating.
So as the New Year rings in with its promise of new beginnings and unrealized potential, this seems like an especially appropriate time to look at some of the exciting directions that texture—and the ingredients that contribute to texture—are starting to take and that may have impact in future formulating.
Determining the Influence of Texture
At the 2005 IFT Food Expo, visitors sampled prototypes having the same flavor but different textures at the booth of National Starch Food Innovation, Bridgewater, N.J. (phone 800-787-4992, www.foodinnovation.com). The participants were then asked to rank their preferences, giving reasons for their choice, as well as demographic information. (See the 2005 September issue, pages 51-52.)
Since then, the results have been tabulated and, according to the company, the language used by the participants to describe the textures have provided valuable insight into the way people view and understand texture and its influence on the sensory experience. Although the results themselves are considered proprietary, they did reflect distinct preferences among different demographic groups. For example, the "quick meltaway" snack product scored the highest overall, while "light and crispy" was second, and "crunchy" was third. The dairy product preferred was "super creamy," with "marshmallow" second and "gelled" third.
In an interview with Food Technology, Marshall Fong, National Starch's Director of Custom Market Solutions, shared his thoughts on how food texture has changed over the years and what future directions it will be taking.
"There is no longer a defined texture for any particular food category," said Fong. "For example, yogurt texture in the U.S. is no longer just cup set and fruit on the bottom. There are now thick and creamy, light and airy, drinkable, and so on. Also, indulgent textures are becoming more popular as are foods that make use of the right combinations of different textures." More than 10% of new product launches in the United States make a specific texture claim on the front label of foods, he added.
What factors influenced these changes in food texture?
--- PAGE BREAK ---
According to Fong, "Restaurants and food companies alike are finding consumers have a more open and sophisticated palate, and are trying to take advantage of this, whereas in the past a more conservative approach was taken to make sure that textures were simply 'not wrong.' This consumer shift is being driven by the proliferation of TV food programming and the increasing speed at which local cuisines are being globalized. As companies do more research on consumer preferences, it is also apparent that different groups prefer different textures."
Fong anticipates that texture will be taking several interesting directions in the future. Foods will increasingly incorporate textures from adjacent or even completely different categories. Food companies will rely on texture as "a mechanism of new variety," and one can expect texture exploration to increase rapidly over the next five years. Another key aspect of texture is that as food developers strive to meet other goals, such as in the areas of nutrition profiles, low/lite claims, and microwavability, these changes create a number of texture challenges that need new solutions "to build back gold standard textures."
Over the past several months, National Starch has introduced several ingredient developments that expand the range of textures possible in packaged and prepared foods. For example, a new line of functional flours are said to exhibit a very indulgent mouthfeel and a smooth creamy taste and texture, while eliminating the processing difficulties that made traditional flours problematic in texture delivery. Ideal applications for the functional flours include gourmet and premium foods, frozen and refrigerated meals, refrigerated and frozen soups, home-style and premium sauces, baby foods, and natural or organic items.
Also launched by the company were functional native starches that deliver all of the functional performance expected from a modified food starch, such as processing tolerance and superior freeze-thaw and shelf-life stability, while retaining their native starch character and labeling. This breakthrough technology enables the formulation of high-quality natural or organic positioned processed foods while meeting consumer expectations for taste, texture, and convenience.
"National Starch has made texture a key strategy for innovation," said Fong. "While our company has always been able to characterize the technical aspects of texture, the key developments we're bringing to the industry now are how to measure the influence of texture on consumer liking. This is not as simple as it sounds—consumers still have a difficult time articulating texture, especially those they really enjoy."
While flavor, nutrition, and packaging concepts are advanced, texture virtually remains an unexplored territory for food formulators, noted Fong. It is also more difficult to explore than other aspects of food.
--- PAGE BREAK ---
When Cheesecake Meets the East
When one thinks of a traditional cheesecake, usually descriptors such as richness, creamy texture, smoothness, full body, and indulgent quickly come to mind. Many of these terms, I suspect, relate more to the texture of cheesecake than the flavor itself.
Our perception of cheesecake has a lot to do with the way it is produced. Usually with a graham crust and a filling that consists of cream cheese, eggs, and sugar, the product is then baked. Afterwards, the cheesecake is chilled and topped with fruit, chocolate, or a variety of other ingredients.
At a recent Chicago Section Suppliers Night, I came across a concept from Japan that offers an alternative view of "cheese cake"—a product that is not baked but steamed. In Japan, the product is called Cheese Mushi Pan or Steam Cheese Cake. The formulation was featured by Riken Vitamin USA, Inc., Schaumburg, Ill. (phone 847-310-8007, www.rikenvitamin.com), as a way of showcasing the functionality of its emulsifiers.
Ingredients in the formulation consist of eggs, sugar, salt, cake flour, xanthan gum, baking powder, cheese powder, cheese flavor, cream cheese, and fresh milk. Also, it contains ExcelSponge-526, an aerating emulsifier which provides batter whippability and gives better texture and volume for items such as sponge cake, and Crystal Ace YT-100, a liquid shortening which gives easy melt, soft mouthfeel, and stable aeration to high-fat-content cakes such as butter or pound cake.
Because the product cooks in a steam box, it offers a very different kind of texture—one that can be described as more delicate or silky. When I sampled it, its flavor seemed different as well—the impact of the dairy flavor starting out slow, but gradually increasing and lingering longer. The texture of the product—combined with its mouthfeel and lingering notes—made it a very different eating experience.
Of course, I'm not sure if most American consumers would associate this product with cheesecake. But as a dessert application it was certainly light and refreshing, and demonstrates the possibilities that an ethnic dessert (especially an Asian one) might have in a marketplace interested in a wide range of textures and flavors fusing together. Although the cake was served plain, it might also complement fruit topping or other flavors, adding new dimensions to the dessert.
--- PAGE BREAK ---
Protein Crisps Provide the Right Feel
Whey has evolved from a by-product to a value-added ingredient for use in a number of food products. One of the reasons for its success—and of particular relevance to this article—has been the development of whey protein crisps, which provide a crunchy texture along with the nutritional benefits associated with protein.
In 2004, a new textured ingredient, WPCrisp, made its debut at the IFT Food Expo. This product was different in that it was chiefly derived from whey instead of the usual sources— corn, soy, and rice. The patented product—made by extruding a combination of whey protein and an edible polysaccharide, such as cornstarch—was the result of a collaboration between Utah State University, Dairy Management Inc. (DMI), and Grande Custom Ingredients Group, Lomira, Wis. (phone 920-269-7188, www.grandecig.com).
The product was available in four standard sizes at 50% whey protein, but could be customized to meet the needs of food manufacturers looking for different sizes and protein content ranging from 40 to 70%. The ingredient's crunchy texture made it suitable for use in cereals, snacks, granola, trail mixes, protein and nutrition bars, salad toppings, frozen dessert toppings/coatings, yogurt toppings, or as a crunchy flavored snack on its own.
Since then, there have been several other innovations in the area of whey protein crisps. Grande Custom Ingredients Group continues to refine the concept by adding different flavors, such as banana, strawberry, cinnamon, and cheddar to the textured ingredient. Different colors can also be added, further broadening the application possibilities. And this is probably only the beginning as innovative prototypes from DMI, such as a bite-sized, Cheddar cheese-flavored snack, incorporate the ingredient from Grande Custom.
Most recently, a range of crisps containing up to 80% dairy protein was introduced at the 2005 Supply Side West and the Fourth International Whey Conference by New Zealand-based Fonterra Cooperative Group (www.fonterra.com). The product is manufactured using a patent-pending technology which makes possible higher protein levels while creating light, crispy particulates without the addition of any additives. The resulting natural crisps provide the nutritional benefits of dairy protein with improved mouthfeel and texture in a variety of health-oriented consumer products. The availability of higher dairy protein crisps will drive even higher growth in the expanding market, notes Anthony Lawler, the company's Protein Crisps Business Manager.
In addition, protein crisps using sources other than whey are emerging. For example, a crisp that combines soy and wheat proteins has been developed under the name Super Saver 60 by Nuvex Ingredients, Blue Earth, Minn. (phone 507-526-4331, www.nuvexingredients.com). Although wheat gluten is a lower-cost source of protein, it has a natural hardness that does not make it palatable. According to Grant Gengel, Director of Sales and Marketing, this challenge has been addressed, making the ingredient suitable for use in a variety of applications, including nutritional bars, snacks, and cereal clusters. The crisp delivers 60% protein, has an appealing  flavor, and costs 50% less than traditional soy protein crisps.
--- PAGE BREAK ---
New Textures for Desserts
Imagine biting into a Caramel Cheesecake Cookie Monster, a caramel-flavored ice cream with cookies-and-cream cheesecake pieces swirled together with a chocolate-wafer cookie variegate. Or a Macadamia Macaroon Swirl, a coconut-flavored ice cream, macaroon mini-cookie inclusions, macadamia nuts, and a rich, cookie dough batter variegate. Or Blueberry Pomegranate Chunk, a blueberry and pomegranate-flavored ice cream with a blueberry variegate and walnut bark chips fortified with omega-3 fatty acids.
These formulations, demonstrating the innovative use of bakery and confectionery inclusions, flavors, variegates, novelty coatings, texture-enhancing stabilizers, wellness and fortified ingredients, and layered technologies, were highlighted at the recent 2005 Worldwide Food Expo by Kerry Ingredients, Beloit, Wis. (phone 608-363-1200, www.kerryamericas.com). Texture plays an especially important role in the successful development of these frozen dessert concepts, suggesting an increasing sophistication in terms of its diversity as well as complexity. For example, instead of an ice cream having one texture, it can have layers of textures, each one favorably interacting with the other.
Gwen Meyer, Technical Director for Dairy Applications, Kerry BioScience, Hoffman Estates, Ill., provided some valuable insights about texture and its evolving role in food formulation. "Twenty years ago, the quality of food in a box was driven by available technology to preserve the food and by a lower consumer demand," she observed. "As this demand grew, the need for textural ingredients to improve overall quality has increased."
For instance, pudding from a box was cooked on the stove and thickened by starch. Then, instant pudding followed, made possible by the development of instant starches. Although these early instant puddings tended to be grainy in appearance, consumers thought of it as a compromise between quality and time availability. Over the years, ingredient developments improved, and today, it is taken for granted that packaged ready-made pudding should have a glossy appearance and thick, creamy body—improvements made possible by the use of emulsifiers and starch/emulsifier combinations.
"I strongly believe that texture is driven by the consumer demand for quality products," Meyer said. "Through the years, ingredient companies have been very active in providing textural solutions for all types of products and processes." For example, the reduction of fat or carbohydrates in an ice cream formula leaves more moisture, which changes the texture from what we perceive as the norm or standard for ice cream. The moisture must be controlled with ingredients. "Today, 1% fat or even lower fat ice creams are in the market that taste very good because of an understanding of the interaction between emulsifiers, hydrocolloids, and bulking agents such as fiber, inulin, and polydextrose."
--- PAGE BREAK ---
According to Meyer, manufacturers also want to increase their usage of less costly ingredients such as whey protein. In ice cream, this alters emulsion stability and leads to undesirable textural changes if not formulated with appropriate ingredients to compensate. By choosing the right emulsifiers, with the right degree of saturation, fat source, and melt point, the emulsion stability can be rebuilt to that of the control.
New ingredient developments in the areas of sweeteners and fibers may also impart textural characteristics while reducing glycemic index. One example might be the use of inulin in ice cream. Stabilizing ingredients are also being developed, such as Enrich 301, a cultured dairy product having gum-like properties that can improve texture, mouthfeel, and flavor in ice cream and other foods.
Packaging is another factor to consider. Multiple compartment chambers allow foods of different textures to be packaged together and maintain their separate textural attributes, such as crackers and spreads. In the future, Meyer expects to see more control of water activity through use of barriers and ingredients to make different textured foods more compatible when packaged together.
The possibilities for creating new textures seem endless, as demonstrated by these other frozen dessert concepts that Kerry showcased at the 2005 Worldwide Food Expo. These concepts included Chai Yogurt Wonder Bar, a spiced chai-tea-flavored ice cream bar enrobed with a creamy, light yogurt coating; Cinnamon Sticky Bun, cinnamon-flavored ice cream with sticky-bun dough mini-inclusions and praline pecan bits swirled together with a cinnamon streusel variegate; and Double Fudge Brownie Bar, sweet black cherry ice cream sandwiched between two brownie fudge cookies and enrobed with a rich chocolate fudge coating sprinkled with chocolate cookie bits.
"People eat with their eyes," noted Meyer. "Taste is a combination of appearance, texture, flavor, and the quality of a finished product which people see and experience as they eat."
Mapping the Texture of Chocolate
The day I took the above-described texture test at National Starch's booth, the highlighted product was a chocolate-flavored "snacklet," which ranged from crunchy to softer or chewier. At the time, I was reminded of the importance of texture in food development, especially its ability to help differentiate products in the marketplace. I wondered if it wasn't possible to create a line of chocolate-flavored food products whose textures were specifically designed for such groups as children, men, women, older adults, etc.
A few months later, at the IFT Chicago Section Suppliers Night, I sampled a snack item, chocolate-coated potato chips, featured by Ottens Flavors, Philadelphia, Pa. (phone 215-365-7800, www.ottensflavors.com). This product, like the chocolate-flavored snacklet, demonstrated the broadening and innovative use of chocolate or chocolate flavor in product development. Beyond combining a sweet and salty taste, it also raised some interesting questions regarding texture—in particular, how that chocolate coating might affect the overall texture of the potato chip. Was the product still as crunchy as a traditional chip? Was the mouthfeel creamier? How was the overall taste and texture experience affected?
--- PAGE BREAK ---
Faced with these questions, I wondered what kinds of new research projects were being done in the area of texture, especially as it related to chocolate.
And this, of course, brings us to the work of a very interesting facility, Worcester Polytechnic Institute's Surface Metrology Laboratory, Worcester, Mass. (phone 508-831-5706, www.wpi.edu.com). Researchers there study the surface texture of a wide range of products, including foods such as potato chips and— yes—chocolate (although not necessarily together). The academic facility uses a scanning laser microscope to measure the surface area or texture of the product, creating what would look like a topographical map of that surface.
"Surface area can determine how much salt or other flavoring a potato chip absorbs, for example, and how uniformly the flavoring adheres to the food," said WPI Director Christopher Brown. "For candy, it can determine how fast the chocolate melts in your mouth, or how appealing it may be to your palate."
Recently, a student research project looked at broken surfaces of chocolate and determined how temperature affects its surface texture. Mechanical engineering student Gabriel J. Cantor conducted the research for his senior capstone project, "Scale-Sensitive Fractal Analysis of Chocolate."
Cantor broke hundreds of pieces of chocolate at various temperatures and charted the resulting surface area and texture of the pieces using a scanning laser microscope. What he found was that the texture of the chocolate pieces became rougher as the temperature was increased. Next, he observed that the amount of chocolate flavor people sense depends in part on the surface area, or texture, being tasted—more surface area equals more flavor. Warm pieces with a rough texture offer more surface area for taste buds to savor, while colder pieces with a smoother surface are less flavorful. Cantor concluded that if warmer chocolate produces rougher pieces when broken and rougher pieces are more flavorful, then warmer chocolate tastes better. While his project did not aim to determine the temperature at which chocolate tastes best, he was able to establish that around room temperature would be optimum.
Cantor's measurement and analysis of the topography of fractured chocolate surfaces is known as surface metrology—the study of how surface texture influences behavior and how surface texture is influenced by manufacturing processes, wear, fracture, and other factors. Through his measurements, Cantor created topographical maps of the chocolate samples. He then analyzed the data using a scale-sensitive fractal analysis algorithm, which was patented by WPI. The effect of temperature on the fractured surfaces was examined and a strong correlation between relative area and temperature was discovered at a specific scale of observation.
--- PAGE BREAK ---
Previously, WPI researchers studied the texture of potato chips, finding that surface area is a key but frequently overlooked factor in how much oil and salt each chip will hold, and ultimately, how the chip will taste. It was determined that more surface area is related to more oil absorption, which, of course, can be of major concern if you wish to make a potato chip that is less oily. And with the increasing focus on trying to reduce sodium without affecting the quality of the product, having such knowledge may also be important.
As an interesting side note to this texture story, WPI's latest project tried to better understand what our early ancestors ate by using new measurement techniques to examine microscopic wear on their teeth. The microscopic pits and scratches found on the teeth offer a visual history of the type of food consumed by the tooth's owner. Pits indicate a diet of hard, brittle foods, such as nuts and seeds, while scratches imply a diet of tough foods such as leaves and possibly meat. The project, conducted by WPI in collaboration with researchers from Penn State, University of Arkansas, and other facilities, allowed them to gain new insights into dietary evolution. Since dietary evolution is ongoing, it would be interesting to speculate what 22nd century man would think about the kinds of textures offered in today's foods.
Enzyme Helps Texture 'Get it Together'
An enzyme, Activa transglutaminase, restructures muscle foods such as red meat, poultry, and seafood, and may be used in most food systems that contain protein. With its ability to cross-link any protein or combination of proteins that contain a sufficient amount of the amino acids glutamine and lysine, it offers food manufacturers a number of opportunities to create new or improved textures.
For example, fish having different colors and textures can be joined to create novel products with texture and eating characteristics that make them appear to be naturally produced. Using this process, a seafood sausage containing such components as cod, shrimp, scallops, and salmon can be created. Other innovations might include the processing of shrimp into value-added patties, improving the texture of calamari rings, the forming of minced clams or clam pieces into strips, and the production of large, consistently textured scallops from smaller species.
--- PAGE BREAK ---
The enzyme is effective for restructuring turkey breast, tenders, or breast trim into steak-like items that are bacon wrapped. In addition to the restructuring process, the adhesion qualities of the enzyme keep the bacon attached to the product throughout the cooking process. Restructuring can be combined with marinating to add further value to poultry products. Restructured poultry products can be stripped into fajitas, cubed into kabobs, or thinly sliced for Philly cheese steak. Ethnic specialties such as shabu-shabu can be made from restructured muscle.
In red meat applications, the enzyme can increase the bite characteristics of emulsion and coarse ground products. It is said to be effective in reduced-sodium systems where lower salt and phosphate levels typically do not allow adequate protein extraction. Inadequate protein extraction can result in undesirable product texture. Through fiber alignment, thinner cuts of meat can be layered to create products that replicate the natural appearance and texture of whole-muscle cuts. Bite characteristics of roast beef can be improved or the strength and sliceability of ham can be increased. Restructured products can be portioned in a variety of ways, which range from traditional shapes and thicknesses to thinner, sandwich- style slices and even into portion-controlled kabob items.
The enzyme was developed by Ajinomoto Food Ingredients LLC, Chicago, Ill. (phone 773-714-1436, www.ajiusafood.com). Initially, one of its main benefits was cost savings because it could produce savory items from lower-cost cuts. However, as time passes, the enzyme may play an increasingly significant role in the future exploration of texture. Furthermore, restructured meats can influence the creative use of seasonings and coatings, marinades, sauces, other ingredients such as bacon wraps, and so on. All of these developments, in combination with restructured products, expand the potential for different, innovative textures. And it doesn't stop with savory. Recently, an application for yogurt was developed. The enzyme provides creaminess and smoothness to the product.
Whole-Grain Flour in Pizza Dough
A whole-grain flour combines the nutritional benefits of whole grains with the taste, texture, and finished baked quality of refined flour. The product—called Ultragrain™ White Whole Wheat—was developed by ConAgra Food Ingredients, Omaha, Neb. (phone 800-537-4819, www.conagrafoodingredients.com). (See the January 2005 Ingredients section for a further description of this product when it was launched.)
--- PAGE BREAK ---
Since the ingredient was introduced in 2004, it has seen some interesting applications. In particular, ConAgra Foods created a new line of whole-grain The Max pizzas, a pizza dough formulated with Ultragrain flour. The product offers school lunch programs nutritious meal options that score high on taste. More than 2,600 school districts have added this entrée to their menus for the new school year.
"As the first whole-grain flour combining preferred taste and texture with nutrition, we thought Ultragrain might be well-suited for the needs of school nutrition programs," said Don Brown, Vice President, Business Development, ConAgra Mills. "Our research and the real world bore that out. In The Max pizza, UltraGrain was the perfect match, giving school lunch leaders a nutritious product kids love to eat. It delivered the best of both worlds."
Compared to other wholewheat flours, Ultragrain has a lighter color, a smoother texture, and a reduced visibility of bran specks. It is a suitable ingredient for a number of different foods that generally use refined flour, including breads, crackers, cookies, pasta, pastries, and, of course, pizza dough.
Setting the Stage
In upcoming issues, we will be looking at new developments in the areas of fiber, sweeteners, and starches. In addition to their potential functionality and health benefits, these ingredients can play an important role in creating innovative textures. From that perspective, this month's Ingredients section on texture is setting the stage for future articles.
Food formulators are faced with a variety of challenges. These may include developing foods that have a low glycemic index, reduced sodium, fiber fortification, lower levels of fat, higher whole grain levels, and texture and sweetness modification. Not too surprising, ingredients that impart textures will have an influence on solving these challenges as well as creating innovative end-products.
Furthermore, food formulating of the future will increasingly perceive texture not in a singular form—one that has specific attributes whether they be positive or negative—but rather as multiple textures working together, ideally one enhancing the other, in the finished product.
As textures become more complex, more varied, it may even become necessary to enlarge the vocabulary to include words for different kinds of textures and subsequent mouthfeels. Anything is possible as future explorations of texture help uncover the shape of textures to come.
--- PAGE BREAK ---
Reducing Salt While Adding Mouthfeel
The reduction of sodium in processed foods presents a major challenge for food developers. Salt plays a critical role not only in terms of taste or taste enhancement, but also in providing attributes such as texture or mouthfeel. Furthermore, finding the right level of salt without the reduction affecting sensory properties is very product specific.
Food ingredient suppliers are taking the lead in developing possible approaches to reduce salt. Because these approaches deal with perceived mouthfeel, they seem appropriate for this article. However, it will be interesting to see how the spread of new or emerging textures will affect low-sodium formulation in the future.
For now, here are three of the most recent developments related to sodium reduction and mouthfeel.
A technology that works in conjunction with potassium chloride allows food manufacturers to replace up to 50% of the salt in a formulation. Called SaltTrim, it reportedly blocks the negative taste of potassium chloride while preserving the product's salty taste and mouthfeel. The approach, which is specifically customized for the finished product, was developed by Wild Flavors, Inc., Erlanger, Ky. (phone 859-342-3600, www.wildflavors.com).
A customized salt reduction flavor system, Taste Essentials, modifies off notes exhibited by potassium chloride while enhancing the overall saltiness. The system offers flavors with non-characterizing taste profiles, such as the Natural Savory Base Flavor, as well as flavors with specific profiles and characteristics. Potential applications include soups, bouillons, sauces, dressings, frozen ready meals, and salty snacks. The system is available from Givaudan Flavors, Cincinnati, Ohio (phone 513-948-8000, www.givaudan.com).
A range of high-nucleotide yeast extracts under the Maxarome name compensates for a lack of salt in low-sodium applications. The ingredients enable up to 60% reduction in salt while giving a perception of salty taste, including a full mouthfeel and a lingering taste effect. They are suitable for use in soups, sauces, marinades, snacks, and other foods. The extracts are offered by DSM Food Specialties, Eagleville, Pa.(phone 610-650-8480, www.dsm-foodspecialties.com).
Next month's Ingredients section will look at how fiber-based ingredients are offering a range of benefits that go well beyond traditional functions and perceptions.
by Donald E. Pszczola,
Senior Associate Editor
[email protected]