With 200 deaths each year from allergic reactions to food ingredients, the Food and Drug Administration is concerned about what food labeling can do to enhance awareness of dangerous allergens.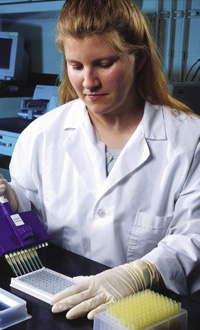 In August 2004, the Food Allergen Labeling and Consumer Protection Act (FALCPA) was enacted, requiring labeling of the presence of a major food allergen on foods packaged on or after January 1, 2006, and sold in the United States. FALCPA defines a major food allergen as an ingredient that is one of the following eight foods or food groups or an ingredient that contains protein derived from one of them: milk, egg, fish, Crustacean shellfish, tree nuts, wheat, peanuts, or soybeans. These eight categories account for 90% of all food allergies. Allergic reactions to these ingredients in processed foods can include nausea, vomiting, diarrhea, sudden loss of blood pressure (anaphylactic shock), or even death in extreme cases.
Testing Can Play a Significant Role
Mary Ann Platt, Executive Vice President of RQA, Inc. ([email protected]), said that "Concerns about food allergen management have again come to the forefront for packaged food manufacturers. While there are specific control systems that are the foundation of allergen management programs in any food processing facility, testing can play a significant role. Test kits that have been approved as Performance Tested Methods by AOAC International offer recognized, rapid methods of detecting the presence of certain allergens."
In its Talk Paper T03-72 of October 30, 2003, FDA announced that several test kit methods for the detection of peanut proteins in breakfast cereal, cookies, ice cream, and milk chocolate had been approved as Performance Tested Methods by AOAC International. "These test kits," FDA said, "will provide a quick and reliable method for the food industry to detect more readily the presence of peanuts in food that is not labeled as containing peanuts, and can more effectively prevent these products from reaching consumers."
At that time, three kits had been approved as Performance Tested Methods through a limited interlaboratory study: Biokits Peanut Assay from Tepnel Biosystems Ltd., Flintshire, UK; Ridascreen Fast Peanut from R-Biopharm AG, Darmstadt, Germany; and Veratox for Peanut, developed by Neogen Corp, Lansing, Mich. FDA-validated methods for milk, egg, and wheat gluten were said to be on the horizon.
FDA said that these test kits represented a significant step forward, because peanuts can cause severe and, in some cases, near-fatal allergic reactions in some people. In 2003, FDA estimated that seven million Americans have food allergies of varying degrees of severity and that approximately 8% of children less than three years of age and 2% of the adult population are affected. Today, scientists estimate that as many as 11 million Americans suffer from true food allergies.
--- PAGE BREAK ---
ELISA Test
Bryan Glaser, General Laboratory Supervisor at the American Institute of Baking, Manhattan, Kans. (phone 785-537-4750), said that "Because of the potential severity of reactions to allergens by consumers,food companies must monitor products and processes to prevent contamination that might result in a tragedy or expose a food processor to product liability lawsuits. That is, they must have a good allergen control program in place."
He described the commercially available quantitative enzyme-linked immunosorbent assay (ELISA) test kits that AIB uses in its allergen testing services to the food industry. In the double-antibody "sandwich ELISA," test, he said, "target protein is bound or 'sandwiched' between an antibody (specific for the protein of interest) that is bound on the surface of the microwell and a second antibody-enzyme labeled conjugate. Color develops as a result of the presence of bound conjugate and is directly proportional to the amount of target protein present. Color results are read in a microwell reader with a 650-nm filter, giving exact food allergen concentration of the sample."
To be useful, he continued, "any allergen test should have a level of detection in the low partsper- million range. Tests available at AIB will detect egg, peanut, milk, almond, and gluten allergens with a 2.5-ppm level of detection (gluten 5.0 ppm)."
While tests may not be available for all the big eight allergens, he said, a good allergen control program, verified by qualitative and quantitative testing, allows manufacturers to be highly effective in reducing risks to consumers with food allergies.
Immunochromatographic Test
Jennifer Baker, Marketing Manager for Natural Toxins and Food Allergens at Neogen Corp. ([email protected]), described a simple and popular testing format, similar in looks and function to a home pregnancy test.
Jennifer Baker, Marketing Manager for Natural Toxins and Food Allergens at Neogen Corp. (), described a simple and popular testing format, similar in looks and function to a home pregnancy test.
--- PAGE BREAK ---
Neogen, she said, developed the first commercially available rapid test for food allergens (peanuts) in 1998 as a result of its close working relationship with the University of Nebraska's Food Allergy Research and Resource Program (FARRP). "Since 1998," she said, "this relationship has yielded additional food allergen tests for milk, eggs, almonds, gliadin (gluten), soy flour, and hazelnuts, and an even easier testing format."
"The new food allergen screening format is a single-step, lateral flow immunochromatographic assay," she explained. "After sampling and extraction with a buffered salt solution, all a tester has to do is immerse a test strip in the sample and allow the strip to develop in 10 minutes or less. If two lines appear, it's positive for the target food allergen. If only one line appears, it's negative. It's that simple."
The strip-test format, as well as screening versions in a 30-min sandwich enzyme-linked immunoassay microwell format, are intended to test samples for a target food allergen against a set test control (e.g., 5 ppm). "Samples for such screening tests," Baker said, "can include food ingredients intended for use in prepared foods, environmental surface swabs, and clean-in-place rinse waters. Tests are available to test everything in a facility for an allergen's source, from the finished product and all of its ingredients, to every piece of equipment and surface that the product contacts throughout processing.
"Exact food allergen concentrations in food-ingredient and finished-product samples can be computed using a test in a fully quantitative sandwich ELISA microwell format. Following the test procedure, color changes in the sample wells are compared to test control wells using a microwell reader. Allergen concentrations are then computed using these comparisons.
--- PAGE BREAK ---
Training Program for Ethnic-Food Handlers
A program of awareness and education of handlers of ethnic foods is currently being developed by Aurora Saulo, Extension Specialist in Food Technology, Dept. of Tropical Plant and Soil Sciences, and Alphonso Tirado, Graduate Assistant, at the University of Hawaii at Manoa.
This program was initiated because millions of Americans are believed to be allergic to foods. Since most of these food-allergy occurrences result from the inadvertent exposure to the offending food in food service situations and the number of foods eaten outside the home, especially ethnic foods, is increasing, it is highly relevant to address and improve the management of food allergens by educating handlers of ethnic foods at both the state and national levels.
The training program aims to communicate the seriousness of food allergens as a food safety issue, to help easily identify allergens in a food, especially ethnic foods, and to help reduce the number of deaths and general complaints due to food allergy.
The simple, easy-to-use food-allergy training and awareness program for handlers of ethnic foods is based on the findings of the research on practices and social behaviors that may affect the management of food allergens in ethnic foods (e.g., use of dried fish ingredients instead of salt to impart the salty flavor to dishes; merely brushing down woks with water between uses).
The program consists of a 9-minute educational training video with a graphic international language for ease of understanding; a manual directed at trainers with basic knowledge of safe food practices; simple-illustrated posters to support the DVD disk as a quick reference; and stick-on-labels to support some of the concepts from the DVD and the manual. These training materials concisely cover up-to-date information on food allergy, the incidence of food allergy, food-induced anaphylaxis, the role of the food service industry and food service employees in avoiding food allergic reactions, procedures for preparing and serving non-risky meals for food-allergic guests, and what to do in the event of an allergic reaction.
On completion of this training program, food handlers are able to recognize the major food allergens, that food allergens are a serious health concern and food safety issue, and that they have specialized roles in reducing the incidences of food anaphylaxis–related deaths and general complaints.
More Information
Further information on allergens and allergen testing is available from the following organizations:
Food Allergy and Anaphylaxis Network (FAAN), 11781 Lee Jackson Hwy., Ste. 160, Fairfax, VA 22033 (phone 800-929-4040, www.foodallergy.org).
Food Allergy Research and Resource Program (FARRP), Dept. of Food Science and Technology, 143 H.C. Filley Hall, University of Nebraska-Lincoln, Lincoln, NE 68583 (phone 402-472-7833, www.farrp.org).
by Dean Duxbury,
Contributing Editor
Consultant, Oak Brook, Ill.
[email protected]