Soothes achy joints. Benefits joint health. For healthier joint function. These are some of the claims touted by joint-health products on today's retail shelves.
In the United States, Flexamin Triple Strength and Flexamin Complete, dietary supplements from Arthritis Research Corp., Ronkonkoma, N.Y., claim to soothe achy joints with the joint-health ingredients glucosamine, chondroitin, and methylsulfonylmethane, as well as hyaluronic acid. And Joint Juice, a combination of 1,500 mg of glucosamine and 60 mg of vitamin C
with real fruit juice marketed by Joint Juice Inc., San Francisco, Calif., is said to hydrate and lubricate joints to help increase joint cushioning and function.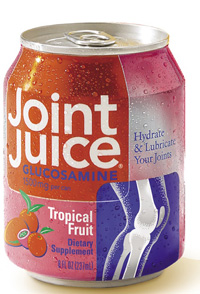 In the United Kingdom, Health Co. launched Logic Juice 4 Joints, a juice-based product with added chondroitin and glucosamine. And Merck Consumer Health Care, Germany, plans to launch joint-health products in Asia under its Seven Seas brand name; products include Pure Cod Liver Oil and JointCare Glucosamine with Chondroitin Plus Fish Oil Omega-3.
With the rising number of Baby Boomers, there looks to be no slowdown in the number of joint-health products coming to market. According to the Arthritis Foundation, one in three Americans—almost 66 million individuals—suffer from daily joint discomfort, creating an open market for products targeting joint health. From glucosamine and chondroitin sulfate to methylsulfonylmethane, research is uncovering powerful nutraceuticals to help alleviate joint discomfort. Recent research is supporting these nutraceuticals' joint benefits as well as uncovering potentially new supplements for the market.
Glucosamine and Chondroitin Sulfate
When it comes to joint health, glucosamine reigns at the top of consumer awareness, followed by chondroitin sulfate. Glucosamine and chondroitin are natural substances found in and around the cells of cartilage. Researchers believe these substances may help in the repair and maintenance of cartilage—that glucosamine inhibits inflammation and stimulates cartilage cell growth, while chondroitin provides cartilage with strength and resilience.
--- PAGE BREAK ---
Two recent studies showed that glucosamine and chondroitin can help reduce the pain of arthritic joints. The most widely publicized study, the Glucosamine/ Chondroitin Arthritis Intervention Trial, GAIT (Clegg et al., 2005), was a multi-center clinical trial in the U.S. that tested the effects of glucosamine and chondroitin for treatment of knee osteoarthritis. Initiated by the National Center for Complementary and Alternative Medicine (NCCAM) and the National Institute of Arthritis and Musculoskeletal and Skin Diseases (NIAMS), two components of the National Institutes of Health (NIH), the study concluded that the combination of glucosamine and chondroitin sulfate is effective in treating moderate-to-severe knee pain caused by osteoarthritis.
In the study, approximately 1,500 osteoarthritis patients took a daily dose of either 1,500 mg of glucosamine hydrochloride, 1,200 mg of chondroitin sulfate, a combination of both supplements, 200 mg of the common prescription painkiller celecoxib (Celebrex) or a placebo for 24 weeks. Results showed that both celecoxib and the glucosamine-chondroitin combination significantly reduced knee pain compared to the placebo.
A European study, Glucosamine Unum in Die Efficacy, GUIDE (Herrero- Beaumont et al., 2005), showed that glucosamine sulfate was more effective than the over-the-counter painkiller acetaminophen on joint pain. In the study, 318 patients with knee osteoarthritis took either oral glucosamine sulfate soluble powder (1,500 mg once a day), acetaminophen (1,000 mg three times a day), or placebo over a 6-month period. Results showed that both glucosamine sulfate and acetaminophen were more effective in reducing pain than the placebo. In addition, patients taking glucosamine sulfate exhibited more relief than patients on acetaminophen. The researchers concluded that once-daily 1,500-mg oral doses of glucosamine sulfate may be the preferred treatment for knee osteoarthritis.
Methylsulfonylmethane
Another popular nutraceutical in the joint-health arena is methylsulfonylmethane (MSM), a sulfur compound believed to help relieve pain and stiffness. A recent study (Kim et al., 2005) suggested that MSM could help alleviate pain associated with knee osteoarthritis. Scientists from the Southwest College of Naturopathic Medicine in Arizona and the Arthritis Health Center in Arizona gave participants 3 g twice daily of either placebo or MSM (OptiMSM from Cardinal Nutrition, Vancouver, Wash.) for 12 weeks. Results showed that compared to the placebo, those taking MSM experienced statistically significant reductions in pain and in difficulty performing activities of daily living.
--- PAGE BREAK ---
More Ahead
While glucosamine, chondroitin, and MSM top the list of popular joint-health ingredients, other potential nutraceuticals may soon step into the joint-health limelight:
• Cod liver oil was shown to help slow the destruction of joint cartilage in patients with osteoarthritis (Cardiff University, 2004). The trial showed that 86% of pre-operative patients with arthritis who took cod liver oil capsules (1,000 mg) twice daily had absent or significantly reduced levels of the enzymes that cause cartilage damage, compared to 26% of those given a placebo oil capsule.
• Pomegranate extracts have been shown to block enzymes that contribute to cartilage degradation in osteoarthritis (Ahmed et al., 2005). A team from Case Western Reserve University showed that pomegranate extracts or compounds derived from it may also be a useful nutritive supplement for maintaining joint integrity and function.
• Sulphoraphane, an antioxidant in broccoli, was shown in research at Johns Hopkins University to block an enzyme that triggers inflammation in joints (Healy et al., 2005).
• Conjugated linoleic acid was included in a patent issued in January 2005 to PharmaNutrients, Gurnee, Ill. The patent, "Methods and Compositions for the Prevention and Treatment of Inflammation, Osteoarthritis, and other Degenerative Joint Diseases," includes the company's unique CLA-based composition.
• Rose hip extract is included in LitoZin®, a joint-care supplement introduced by Europharma, Green Bay, Wis., to the U.S. market in September 2005. The extract contains a galactolipid compound called GOPO™ that functions as an anti-inflammatory compound. Recently published research showed that the rose hip extract could alleviate symptoms of osteoarthritis (Winther et al., 2005).
---
Joint Health Evident at SupplySide West
Nutraceuticals touted to promote joint health were plentiful at the SupplySide West Show in Las Vegas, Nev., in November 2005. From glucosamine to chondroitin, suppliers were eager to discuss the benefits of their joint-health ingredients.
--- PAGE BREAK ---
• BioCell Technology LLC, Anaheim, Calif., showcased BioCell Collagen II™, which contains Type II collagen proteins, chondroitin sulfate, hyaluronic acid, glucosamine, and other proteoglycans. Derived from 100% pure chicken sternum, it is thought to support healthy joint function by strengthening cartilage and the joint structure.
• Bioiberica, Barcelona, Spain, showcased CS b™ Bio-Active chondroitin sulfate. The National Institutes of Health used the company's chondroitin sulfate in its GAIT study.
• Cardinal Nutrition, Vancouver, Wash., highlighted the research behind OptiMSM®, a premium distilled MSM recently shown to help alleviate pain associated with knee osteoarthritis.
• Cargill Health & Food Technologies, Minneapolis, Minn., showcased OptaFlex™ Chondroitin and Regenasure™ Glucosamine. OptaFlex Chondroitin is manufactured by a proprietary process that eliminates the need for solvents. Regenasure, from Cargill Acidulants, Eddyville, Iowa, is produced from a vegetable source, making it a non-shellfish, non-animal glucosamine available for vitamin, food, and cosmetic manufacturers.
• Humanetics Corp.,Chanhassen, Minn., showcased MicroLactin™, which is composed of micronutrients found naturally in cow's milk. According to the company,scientists discovered a small, low-molecular-weight fraction of milk that carries unique properties associated with the human inflammatory response system. The company stated that two independently conducted clinical trials have confirmed that it is highly effective at improving joint function in a short period of use.
• InterHealth, Benicia,Calif., offered UC-II™, a brand of undenatured Type II collagen. According to the company, undenatured Type II collagen works with the immune system to promote healthy joints and improve mobility and flexibility.
• Keratec Ltd., New Zealand, showcased Cynatine FLX™, an extract from pure New Zealand wool. The company reported that the keratin-based ingredient helps prevent joint breakdown and build joint resilience and has an anti-inflammatory effect. The company discussed its recent research that suggests the wool extract activates two important joint antioxidant defense enzymes and stimulates the regeneration of cells.
• NatureGen, San Diego, Calif., showcased glucosamine and chondroitin sulfate manufactured in China. In addition to glucosamine powder, the company has the capability to produce granulated glucosamine to customer specifications.
• Sierra Mountain Minerals, Inc., Vancouver, BC, Canada, showcased SierraSil®, a natural mineral composite found in the high Sierra Mountains. According to the company, it is a distinct mineral deposit that contains minerals such as calcium, potassium, magnesium, copper, iron, zinc, phosphorus, manganese, selenium, vanadium, chromium, boron, and molybdenum in a form that possesses unusual health-promoting properties. A recent clinical trial indicated that SierraSil improved joint health and function within 1–2 weeks of treatment and may offer an alternative therapy in subjects with joint pain and dysfunction (Miller et al., 2005).
by Linda Milo Ohr,
Contributing Editor,
Denver, Colo.
[email protected]
References
Ahmed, S., Wang, N., Hafeez, B.B., Cheruvu, V.K., and Haqqi, T.M. 2005. Punica granatum L. extract inhibits IL-1ß–induced expression of matrix metalloproteinases by inhibiting the activation of MAP kinases and NF-Κ in human chondrocytes in vitro. J. Nutr. 135: 2096-2102.
Cardiff University. 2004. Cod liver oil really can slow the onset of osteoarthritis. Press release. Feb. 9.
Clegg, D.O., Reda, D.J., Harris, C.L., and Klein, M.A. 2005. The efficacy of glucosamine and chondroitin sulfate in patients with painful knee osteoarthritis (OA): The Glucosamine/chondroitin Arthritis Intervention Trial (GAIT). Presentation 622 at American College of Rheumatology Conference, Nov. 14.
Healy, Z.R., Lee, N.H., Gao, X., Goldring, M.B., Talalay, P., Kensler, T.W., and Konstantopoulos, K. 2005. Divergent responses of chondrocytes and endothelial cells to shear stress: Cross-talk among COX-2, the phase 2 response, and apoptosis. PNAS 102: 14010-14015.
Herrero-Beaumont, G., Román, J.A., Trabado, M.C., Blanco, F.J., Benito, P. Martin-Mola, E., Paulino, J., Marenco, J.L., Porto, A., Laffon, A., Araùjo, D., Figueroa, M., and Branco, J. 2005. Effects of glucosamine sulfate on 6-month control of knee osteoarthritis symptoms vs placebo and acetaminophen: Results from the Glucosamine Unum in Die Efficacy (GUIDE) Trial. Presentation 1203 at American College of Rheumatology Conference. Nov. 15.
Kim, L., Axelrod, L., Buratovich, N., Waters, R., and Howard, P. 2005. Efficacy of methylsulfonylmethane (MSM) in knee osteoarthritis pain: A pilot clinical trial. Presented at 20th Annual Meeting of the American Association of Naturopathic Physicians, Aug. 24-27.
Miller, M.J.S., Mehta, K., Kunte, S., Raut, V., Gala, J.., Dhumale, R., Shukla, A., Tupalli, H., Parikh, H., Bobroswki, P., and Chaudhary, J. 2005. Early relief of osteoarthritis symptoms with a natural mineral supplement and a herbomineral combination: A randomized controlled trial. J. Inflammation 2: 11.
Winther, K., Apel, K., and Thamsborg, G. 2005. A powder made from seeds and shells of a rose-hip subspecies (Rosa canina) reduces symptoms of knee and hip osteoarthritis: A randomized, double-blind, placebo-controlled clinical trial. Scan. J. Rheumatol. 34: 302-308.