While three-quarters of all adults ate last night's meal at home, the number of meals prepared at home continues to decline, falling from 64% in 2003 to 58% in 2005 (MSI, 2005). "Scratch" dinners prepared at home dropped another 7% over the past two years and now account for only 32% of all evening meals. One-quarter (26%) of last night's dinners used convenience foods and 17% used restaurant/supermarket take-out, while 23% were eaten at a restaurant.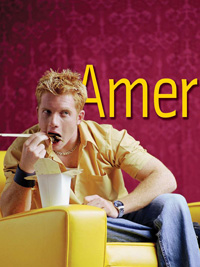 Taking Out & Eating In
Americans are now more likely to take out food from a restaurant than to eat on-site (NPD, 2005a). In 2005, Americans ate 80 meals per person at restaurants, down from 93 in 1985, and took home 57 restaurant meals per person, up from 33 meals 20 years ago. Americans carried 27 restaurant meals to work this year, vs 23 in 1985.
One out of every five restaurant meals (22%) were purchased from a car this year, up from 14% in 1998 (NPD, 2005a); 32 restaurant meals per person were eaten in the car, the highest level ever recorded by NPD. Although 86% of all take-out meals still come from quick-service restaurants (QSRs), 6% from casual-dining chains, and 8% from mid-scale/family eateries, casual-dining take-out is the only area showing growth (Duecy, 2005a).
Applebee's Carside To Go program represented more than 10% of its total restaurant sales this year, up 9.4% over 2004; Romano's Macaroni Grill 7%; and Ruby Tuesday 6%. Nearly two-thirds (61%) of those under age 35, 54% of those 35–54, and 45% of those 55 and older use full-service take-out at least once a week (Technomic, 2005a).
Entrees and side dishes are the most frequently ordered take-out items at casual-dining restaurants, and Asian food, pizza, pasta, Mexican food, and shellfish top the list (NPD, 2005b). Pizza, burgers, and Chinese are the top take-out choices overall (Technomic, 2005a; Sloan, 2005a).
And there's room to grow. NPD (2005c) reports that only 28% of curbside customers order appetizers and 44% order non-alcoholic beverages, compared to 39% and 72%, respectively, of on-premise diners. Less than 20% of curbside patrons order sandwiches, and less than 10% order breads/sweet rolls, desserts, breakfast foods, and snacks (Duecy, 2005a).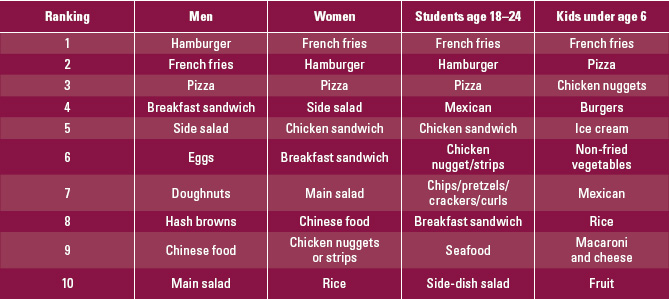 Eating Out
When it comes to restaurants, consumers want choices—hearty vs healthy, small portions vs super-sized, gourmet vs good value, and ethnic authenticity vs down-home style. Not surprisingly, healthy and not-so-healthy foods exist side by side on the Top 10 lists of America's most frequently consumed restaurant foods, although burgers, French fries, and pizza still top the list (Table 1; NPD, 2005c).
• Contemporary Comfort Foods. With 30% of consumers eating comfort foods once a week, 29% 2–3 times a week, and 11% daily, home-style menu options remain a menu staple (ICR, 2004). One-third of chain chefs believe comfort foods will be among the next major menu trends (Kruse, 2005). Bob Evans Restaurants menus feature Slow Roasted Dinners, Elmer's Restaurants Country Dinners, and The Ground Round Melting Pot of Comfort Food ethnic selections.
Meatloaf, stew, macaroni and cheese, pot roast, sausage, spaetzle, apple/fruit pie, potatoes, and BBQ are among the most frequently menued comfort foods in U.S. restaurants (Mintel, 2005a).
--- PAGE BREAK ---
Slightly upscaled versions of comfort foods are fast finding followers. Buffalo, turkey, pork, and Black Angus are making meatloaf more adventuresome. Blue cheese, Gorgonzola, exotic peppers, and ethnic sausages add high-end appeal to macaroni and cheese, as does gourmet grilled cheese-of-the-day menu features.
American regional fare is another fast-growing extension to comfort food. T.G.I. Friday's new Jack Daniel's® Pulled Pork Sandwich and Hardee's new Hand-Scooped Ice Cream Shakes & Malts™ have tremendous home-spun appeal.
And as restaurateurs pursue Boomers and Empty Nesters, expect comfort foods to get a health makeover and upscale retro foods—from crab Louis and shrimps de Jonghe to coquilles St. Jacques and bananas Foster—to come on strong.
• Healthier Directions.
In 2004, diet soft drinks, main-dish salads, bottled water, milk, and fruit made NPD's Top 10 list of the fastest-growing restaurants' orders, joining burgers, fries, coffee, and chicken sandwiches (Sloan, 2005a). In 2005, main- and side-dish salads were among the Top 10 foods ordered by men, women, and young adults (Table 1). Non-fried vegetables and fruit made the list for kids under age 6, while interest in high-protein, low-carb diet favorites continues to keep eggs and rice orders going strong.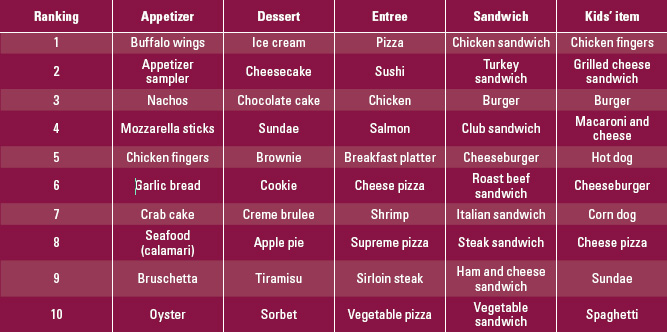 Right after sandwiches and salads, seafood/sh was the most frequently added new menu item in the top 200 chain restaurants (Food Beat, 2005). Sushi, salmon, and shrimp are among the most popular entrees menued across all dining types (Mintel, 2005a; Table 2).
Fish and seafood are also becoming more prominent in the appetizer category, with crab cake, calamari, and oysters among the most frequently menued items (Mintel, 2005a).
More than half of casual operators saw rising poultry and entree salad orders last year; 40% said sales of organic and low-fat items were also up (NRA, 2004). Fat-free, low-carb, light, low-fat, and vegetarian topped the list of ingredient restaurant menu claims; gluten-free has begun to appear on family restaurant menus (Mintel, 2005b).
Four out of 10 chain chefs think that portion size will be a major menu trend (Kruse, 2005). According to Technomic (2005b), 30% of consumers think restaurant portions are too large; 62% feel that there are not enough small portions in restaurants; and 61% say they want to cut down on the amount of food they eat.
As sales of healthier foods climb, full-service and fast-casual restaurants have seen a slow, continual erosion of dessert sales over the past four years, with desserts being ordered on only 26% of visits and appetizers on 13% (NPD, 2005c).
• Menus Go Gourmet. From Baby Portabella Pizza at Papa Johns to Ciabatta Breakfast Sandwiches at Jack in the Box, restaurants are adding premium items to their menus.
A new a frequent attitude, a desire for more-adventuresome eating, and a feeling of entitlement among overwhelmed and overworked Americans are giving diners permission to treat themselves to gourmet and exotic foods and beverages, creating opportunities at the high end of menus.
Ice cream and beef lead the list of premium ingredients featured on U.S. restaurant menus (Mintel, 2005a). Meats such as pepperoni, ham, and steak dominate the top 15 premium items, while poultry, fish, bread, vegetables, and greens are also mentioned.
Corn-fed, USDA Choice, premium, grain-fed, farm-raised, antibiotic-free, free-range, natural, and dolphin-safe are the leading premium menu descriptors for meat, poultry, and fish, according to Mintel (2005a). Parmesan is the top premium cheese cited on fine-dining menus, followed by Mozzarella, goat's milk, Parmigiano-Reggiano, and Gorgonzola. Provolone, Cheddar, Mozzarella, and Swiss top the list in QSRs.
--- PAGE BREAK ---
• Ethnic Everything. Italian, Mexican, and Chinese remain the most popular ethnic cuisines overall. Since 2003, there has been a 10% increase in the proportion of total adults naming Mexican food as a favorite cuisine, reaching the highest level to date and putting Mexican food on a par with Italian in popularity (MSI, 2005).
For the first time, Chinese food made the top 10 most-ordered list of foods in restaurants for both men and women, and sushi ranked just behind pizza on the list of most menued entrees (Tables 1 and 2). Japanese cuisine ranks a distant fourth, with 21% of consumers saying it is popular in their household. Trial of sushi rose from 18% in 1998 to 31% in 2005, up 6% in the past two years (MSI, 2005). Won ton, clam chowder, egg drop, hot and sour, and vegetable rank just above chicken noodle on the top 10 list of soup flavors in American restaurants (NPD, 2005c); miso also made the list.
• Super Snacks. Restaurants are finding new opportunities in providing grab-and-go and sit-down-and-share snacks and regular meals during the afternoon and late-night dayparts. Teenagers are the most-frequent afternoon visitors, accounting for one-quarter of traffic from 3 to 5 p.m.; those age 18–34 represent 22% of the traffic from 10 p.m. to 2 a.m. (Duecy, 2005b).
Soft drinks, ice cream, chips/pretzels/crackers, yogurt, bars, cheese, gelatin, donuts, fruit juice, pudding, salted nuts, salads, and cottage cheese are America's most-ordered restaurant snacks (NPD, 2005c).
•Wake-Up Call. Some of the biggest gains in the restaurant industry are coming at breakfast time. In 2005, limited-service restaurants provided 16% of all breakfasts, and full-service 5%, the highest level ever. Of the breakfasts, 61% were eaten at home or brought from home; 15% were skipped (Technomic, 2005c).
With coffee the No. 1 food consumed in the morning and 53% of Americans drinking coffee every day, it's not surprising that McDonald's' Newman's Own Organic Blend and Burger King's BK Joe premium—available in "turbo strength" with extra caffeine—are hot on the heels of 7-Eleven and Dunkin' Donuts' designer coffee successes.
Yogurt, croissants, bottled water/seltzer, waffles, breakfast sandwiches, iced and frozen coffee, hot chocolate, breakfast wraps/burritos, biscuits and gravy, and fruit are the fastest-growing breakfast foods in 2005 (NPD, 2005c). Bravo! Foods International launched Breakfast Blenders fortified milks at 7-Eleven stores; the drinks are 100% lactose-free and low in sugar and have 50% more protein than regular milk.
Breakfast sandwiches rank fourth on the most-ordered list of restaurant foods by men (NPD, 2005c). After learning that more than half of consumers eat nontraditional foods for breakfast—pizza 51%, sandwiches 41%, chicken 23%, Mexican food 19%, and burgers 19%—Carl's Jr. added the Breakfast Burger—fried egg, bacon, hash brown nuggets, cheese, and a charbroiled all-beef patty on a sesame-seed bun.
• Lunchtime Fast Fixins. Convenience is the most important factor at lunch, and sandwiches remain king. America's most-menued sandwich—chicken—grew 36% on casual-dining menus last year, while the number of sandwiches on menus overall jumped 34% (Table 2). Traditional American sandwiches are enjoying the strongest growth, followed by Italian/Mediterranean, BBQ, and Southwestern/Tex-Mex (Mintel, 2005a).
Swiss, Parmesan, and Cheddar account for one-quarter of menued sandwich cheeses. Caesar dressings are experiencing triple-digit growth, followed by marinara, BBQ sauce, Ranch, and Thousand Island.
Home Cooking
In 2005, Americans ate a cooked meal at home 4.9 times per week (GfK, 2005). Only 20% of adults said they rarely sat down to a meal together at home, whereas 20% often eat frozen dinners and 20% eat store-made, pre-cooked meals (Mintel, 2005c).
--- PAGE BREAK ---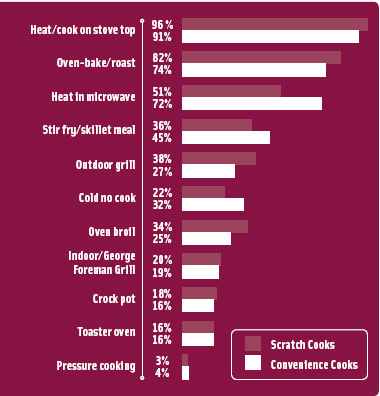 Four out of 10 dinners (44%) are prepared in 30 minutes or less (NPD, 2005a); stove-top cooking and roasting are the most common methods of meal preparation (Figure 1). Convenience cooks use the oven less and the microwave, skillet and grill more often than scratch cooks. Outdoor grills and slow cookers are used more for dinner preparation now than 20 years ago and toaster ovens less (NPD, 2005a). Three out of four American households own a barbecue grill, and slightly more than half cook outdoors year round (Mintel, 2005c).
With regard to convenient meal solutions, consumers are increasingly turning to refrigerated options, which they perceive to be healthier; dollar sales increased by 8.2% over the previous year, compared to 4.7% for frozen and 2.5% for shelf-stable (IRI, 2005).
Fresh is the most desirable food label claim and is extremely/very important to 62% of food shoppers (HealthFocus, 2005). Consumers believe that refrigerated prepared meals use fresh ingredients and contain fewer additives and are therefore healthier (R&M, 2005a).
Refrigerated side dishes that eliminate some of the most-time-consuming steps—peeling, chopping, mixing, and cleanup—are leading the way. Dollar sales of refrigerated side dishes increased by 79.9% over last year, prepared refrigerated salad/fruit/coleslaw 18.1%, handheld refrigerated entrees 16.5%, fresh-cut salad 6.7%, refrigerated dinners/entrees 6.1%, and refrigerated pizza 5.6% (IRI, 2005).
Growth of frozen convenient meal solutions was due in large part to an 18.2% increase in dollar sales of multi-serve frozen meals, including both skillet and crock-pot items, such as Tastee Choice skillet meals with Asian and Mediterranean recipes. Private label multi-serve frozen meals also posted a 15.5% dollar gain. Frozen handheld entrees gained 8.2%, side dishes 7.3%, single-serve dinners 3.1%, and pizza 1.8%, while pot pies fell 6.2% (IRI, 2005).
Shelf-stable meals that offer very limited preparation time, recipe variety and big flavors—such as Campbell's' multi-flavor chili line, which is also available in microwavable bowls for on-the-go eating—outpaced other shelf-stable meals' modest growth. Prepared chili sales jumped 25.9% during the same time period, instant breakfast 4.5%, prepared pasta 4.4%, ready-to-serve wet soup 3.9%, dry add-meat dinner mixes 3.5%, and condensed soup 2.4%. Packaged microwave dinners rose a modest 0.7%, dry macaroni and cheese 0.6%, and prepared dry dinners/ entrees 0.5%, while dry soup fell 2.1%, dry salad/side dish mixes fell 2.5%, and dry dinner mixes with meat fell 29.6% (IRI, 2005).
Fresh supermarket take-out also continues to grow. In the previous 30 days, 42% of adults purchased supermarket take-out, up 12% in the past two years (MSI, 2005).
Just about half of consumers eat BBQ foods regularly, 31% Southern, and 28% Tex-Mex (Lempert, 2004). Barbecue remains one of America's favorite flavors, with 88% of meal preparers having used BBQ products. More than half have also cooked with Cajun ingredients (56%), Mesquite ingredients (53%)—up 7% in the past two years—and Tex-Mex ingredients (46%), up 3%. Just over one-third have cooked with curry, Creole, and Szechwan flavors; one-quarter Vietnamese or Caribbean jerk; and only 8% tandoori (MSI, 2005).
Italian, Mexican, and Chinese remain the most popular ethnic cuisines with meal preparers. Since 2003, Mexican food has grown by 12% to the highest level to date, 86%, almost double the 1985 level of 44% among meal preparers. Though relatively less popular, both Japanese and German cuisines continue to grow in popularity at home, Japanese up from 8% in 1985 to 23% in 2005 and German up 11% to 21%. Greek is popular with only 15% of meal preparers, Thai 13%, Indian 11%, and Middle Eastern 10% (MSI, 2005)
--- PAGE BREAK ---
Healthy Eating
Health continues as the No. 1 driver of the food industry worldwide. In fact, most Americans ate some "better-for-you" foods in the past two weeks at home or in restaurants (NPD, 2005a). Three-quarters of consumers ate a reduced/non-fat food, 51% lite, 39% calcium-fortified, 27% vitamin-fortied, 31% reduced-cholesterol, 26% reduced-sodium, 25% decaf/caffeine-free, 23% sugar-free, and 13% organic (NPD, 2005a).
In the U.S., organic and no/low sugar foods/beverages are posting the most significant sales gains and the greatest potential for strong and sustainable growth (ACNielsen, 2005a). The sweetener market is set to grow at around 8.3% per year until 2008 (Freedonia, 2005). Sugar and high-fructose corn syrup top the list of sweeteners that 39% and 30% of moms, respectively, are avoiding (HealthFocus, 2005).
With processed foods ranking third on the list of mom's food concerns, parents are turning to organic staples as a means of keeping kid's diets free of pesticides, hormones, antibiotics, and GMOs (HealthFocus, 2005). Amy's Kitchen is making organic foods even healthier with its new low-sodium line.
Flax/hemp seed, whole grain, no/reduced lactose, and no/reduced calorie segments have also generated consistent annual growth (ACNielsen, 2005a). Dietetic candy and diet soft drinks were the fastest-growing supermarket categories during the past year (Sloan, 2005b).
The demand for health is rebalancing the beverage category (Sloan, 2005b). Energy drink sales grew 67% for the year ending 10/2/05. Sports drink sales rose 18% and bottled water 23%, while carbonated soft drinks fell 1% and their diet versions soared (IRI, 2005).
While growth for no/low-fat items has been in the low single digits, it is still the largest healthy segment, with sales topping $32.6 billion in 2004 (ACNielsen, 2005a). CDC (2005) reports that total blood cholesterol levels and LDL levels among older adults have declined significantly, although there has been little change among younger adults.
NMI's new Healthy Aging Boomer Database (NMI, 2005) found that saturated fat, cholesterol, fat, and trans fat were the ingredients Boomers are most trying to avoid while they're looking to add ber and vitamins/minerals most often. Two other once-vibrant health categories are slowing: the $4-billion soy category grew just 2.1% overall in 2005 (Soyatech, 2005), and declines in Atkins-related nutrition bars drove total nutrition bar category sales down 20% (IRI, 2005).
Snacking & On-the-Go Eating
With 53% of adults saying they're trying to avoid snacking, portion control and portability have become strong snack demands (NPD, 2005a). Among more-indulgent snacks, multi-packs and single-serve options are enjoying brisk sales. For the past year, total sales of salty snacks grew only 1.8%, cookie sales grew 0.3%, cracker sales fell 0.5%, and chocolate candy sales fell 0.6%; in contrast, their single-serve and multi-pack counterparts posted gains of 7.8, 6, 7.8, and 4.9%, respectively (IRI, 2005).
Healthier portable snacks—with the exception of carb-directed nutrition bars—and those acting as meal replacements are also showing strong growth. The number of skipped meals rose from 102 per person 20 years ago to 114 in 2005; 16% skipped lunch (NPD, 2005a). Sales of drinkable yogurt grew 16%, single-serve cup yogurt 7%, rice snack squares 27%, and granola bars 13%. Yogurt is now America's favorite at-home snack, followed by bars, cheese, gelatin, doughnuts, fruit juice, pudding, salted nuts, salads, and cottage cheese (NPD, 2005a). Nuts, especially almonds, have gained popularity way beyond the snack category, infiltrating nearly every portion of the menu, including salads. Fruit is now the top snack eaten by children age 2–12 (NPD, 2005d). In the dairy case, natural cheeses, vegetable juices, and portable drinks/shakes continued to post strong gains (ACNielsen, 2005b).
A Flavorful Future
After 14 years of decline, fresh fruit consumption rose 4% from 2002 to 2004, while fresh vegetable intake fell 2% (PBH, 2005). Young adults age 18–37 and those with children under age 6 posted the largest gains in fruit intake last year (Sloan, 2005d).
Today, there are more Chinese restaurants in the U.S. than McDonald's, Wendy's, and Burger King outlets combined (NAD, 2005). Young consumers dramatically favor ethnic foods. While families with kids under age 12 account for 34% of total dollars spent on foods and beverages, they account for 52% of dollars spent on Mexican foods. And, to a lesser extent than Hispanic foods, a similar trend exists with Asian foods (Lempert, 2005).
by A. Elizabeth Sloan, a Food Technology Contributing Editor and Professional Member of IFT, is President, Sloan Trends, Inc., 2958 Sunset Hills, Escondido,CA 92046 ([email protected]).