The yogurt market in the United States, according to market analyst Datamonitor, is worth about $7 billion and is set to grow further.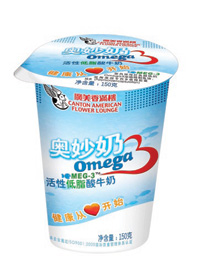 A key factor driving sales growth has been the increasing demand from consumers for dairy products with "functional" properties. This has led to the promotion of added-value products such as probiotic and other functional yogurts.
Another important trend is the increasing demand for consumer convenience. The success of yogurt drinks is based on its portable format, which offers an easy and convenient way to aid digestion. As yogurt drinks are consumed without a spoon, it is a particularly car-friendly food, and single-serving sizes are conducive to on-the-go consumption.
Sales of functional products are rising across all food and drink categories in the U.S. and Europe alike, and growth rates are appreciably faster than those shown in mainstream food and drinks markets. The U.S. functional food market was worth $18.9 billion in 2004, with annual sales growth averaging 7.2% over the 1999–2004 period. It is forecast to grow at a slightly slower but still significant 5.7% over 2004–09, far outstripping growth in the overall food and beverage market.
Dairy products are the second most popular nutraceutical category in the U.S., with consumers spending $5.0 billion on functional dairy food in 2004. Most adults have been told from childhood that milk is an essential part of a healthy diet. This makes it particularly worthwhile to launch functional milk variants targeted at improving bone health, as well as functional yogurt variants targeted at gut health.
New Product Development
Yogurt launches on a worldwide basis have been trending up, albeit modestly. According to Datamonitor's Productscan® Online database of new products, 2005 saw the launch of 931 new yogurt food products, up from 794 the year before. This year appears set to become a record year for yogurt, with 756 new launches from January to mid-June 2006. Yogurt drink introductions are also growing, hitting 364 SKUs in 2005, up from 339 in 2004. Some 210 yogurt drink launches have hit the market from January through mid-June this year.
Category offerings seem to be split in half, with some new entries pursuing more of a dessert and snack positioning while others burnish their health credentials with cholesterol-lowering variants and products that contain specific types of probiotic bacteria.
• On the dessert front, recent breakthroughs include Yoplait® Whips!® whipped yogurt in the U.S. in new flavors like Dulce de Leche and Creamy Latte. The yogurt has a fluffy, mousse-like texture and flavor. In Israel, Tnuva Dairy Ltd. is out with Yoplait Maple Syrup Diet Bio yogurt, one of the first times maple syrup has crossed over into the yogurt category.
--- PAGE BREAK ---
Back in the U.S., Wells Dairy's new Blue Bunny Swirl Sensations™ Yogurt includes such dessert flavors as Bananas Foster and New York Cherry Cheesecake.
Seasonal flavors that suggest freshly picked fruit highlight new Toni Jogurt from Emmi Schweiz AG of Switzerland. The company's Kiwi-Stachelbeeren (kiwi and gooseberries) flavor is for the spring season from April to July, while Apfel-Zimt (apple and cinnamon) debuted for the winter period from December to March. Layered yogurt sounds particularly indulgent, with new Yoplait Layers yogurt from Australia-based National Foods. Vanilla on Chocolate Sauce and Vanilla on Butterscotch Sauce are two flavors in the line.
• On the health front, new "daily dose" yogurts are breaking new ground in the U.S. Dannon Co.'s new DanActive™ Immunity weekly pack includes 8 single-serving bottles of probiotic cultured dairy drink. Each is said to contain 10 times more cultures than yogurt. The launch comes on the heels of Dannon's launch of Activia yogurt in the U.S. earlier this year with "specific beneficial bacteria that work in the colon along with the body's own bacteria."
Nobody says that probiotics have to be boring. CoolBrands International recently added Breyers Light! Probiotics Plus yogurt in flavors like Strawberry Cheesecake and Key Lime Pie in the U.S.
Swedish consumers can also go the probotic daily-dose route with PrimaLiv YoghurtShot which is made with Diminicol, a plant sterol ingredient proven in clinical trials to lower cholesterol levels by 9%.
While probiotic drinks may be news to most Americans, Japanese consumers are familiar enough with them that newer entries sport the type of probiotic bacteria right on the package. Morinaga Milk Industry's Morinaga BB536 Nomu Drinking Yogurt contains the functional lactic acid bacteria Bifidobacterium longum BB536 that is said to reach the intestines alive, where it improves the intestinal environment.
Yogurt's link with excellent brain health is something alluded to by new launches like Danone's Danino yogurt for children, with omega-3 fatty acid. Ocean Nutrition Canada supplies the omega-3, which is branded as MEG 3 DHA on the yogurt package. Said to nourish "both their bodies and their minds," the yogurt has 20 mg of DHA in each 100-g serving. In China, Canton American Flower Lounge Livestock Co. recently launched OMU drinkable yogurt enriched with MEG-3 brand omega-3 EPA/DHA made from fish oil. Omega Farms Yogurt with EPA and DHA Omega-3 was recently launched in the U.S. in colorful cups, suggesting that they are positioned toward young children.
The cholesterol-lowering front could prove to be the next big niche for yogurt. Swiss consumers can sample Col Balance Yoghurt, a new yogurt said to contain plant sterols that are said to be helpful in lowering cholesterol levels. Or they can try new Tesco Cholesterol Lowering Yoghurt, a new yogurt made with Forbes Medi-Tech, Inc.'s Reducol™ plant sterol that is new in the UK. Tesco Stores is the UK's largest retailer.
--- PAGE BREAK ---
Other new developments which suggest that product developers in the yogurt market don't get too much sleep include Brown Cow Farm's new Brown Cow All Natural Low Fat Yogurt with Fruit & Whole Grains. New in the U.S., the low-fat yogurt contains whole grains along with sunflower and flax seeds to provide consumers with a "fresh from the farm" taste. Even more eclectic is Yomo Frutta e Verdura Yogurt from Granarolo S.p.A. of Italy. This fruit and vegetable flavored yogurt comes in flavors like Blueberry & Carrot and Pineapple & Fennel.
Can yogurt actually help people relax? Perhaps, if Vietnam-based Vietnam Dairy Products Co.'s new Vinamilk Kefir Yoghurt is effective. This unsweetened product is said to help lower cholesterol levels as well as relieve stress.
Yogurt as an Ingredient
Over the past few years, there has been a modest rise in new products bearing yogurt as an ingredient. Last year, food marketers launched 321 yogurt-containing products in the U.S., up from 265 such products in 2004 and 237 SKUs in 2003.
Yogurt denotes a "healthy halo" in the minds of consumers. Marketers are exploiting this perception by bannering yogurt as a headline ingredient on the package or as part of the brand name. However, most of these entries do not contain the active cultures that give yogurt its primary health benefit. It remains to be seen if consumers will make that distinction.
Some of the more notable yogurt-containing products launched in the past year or so include Kellogg's Yogos Yogurty-Covered Fruity Dots, Kellogg's All-Bran Yogurt Bites cereal, and Nestlé's Purina One dog and cat food with yogurt.
Yogos fruit snacks contain nonfat yogurt powder—cultured whey protein concentrate, cultured skim milk, and yogurt cultures (heat-treated after culturing). The snacks come in 23-g single-serving pouches, each providing 100% of the Daily Value of vitamin C and 10% calcium.
Purina One pet foods incorporate nonfat yogurt and other highly digestible protein sources to promote optimal nutrient absorption. They are lactose-free. The pet food line comes in several varieties—Sensitive Systems, Senior Protection Formula, Growth & Development, and others—to meet the needs of different life stages and conditions.
---
Yogurt Research Explores Probiotic Cultures, Processing, and Disease Management
At last month's IFT Annual Meeting + Food Expo® in Orlando, Fla., several technical sessions centered on yogurt cultures, processing, and health attributes. Here's a synopsis of some these yogurt-related presentations.
--- PAGE BREAK ---
• Researchers at the University of the Americas, Puebla, Mexico, presented results of their study on the viability of probiotic bacteria and cultures in yogurts and fermented milks.
They monitored the changes in titratable acidity, pH, color, texture, whey separation, and the viable counts of Streptococcus thermophilus (ST), Lactobacillus delbrueckii ssp. bulgaricus (LB), Lactobacillus acidophilus (LA), Lactobacillus casei (LC), and Lactobacillus reuteri (LR) during manufacture of yogurt (ST+LB), probiotic yogurts (ST+LB+LA, ST+LB+LC, and ST+LB+LR), and fermented milks (ST+LA, ST+LC, and ST+LR) and during storage for 35 days at 5°C.
ST counts decreased by 1.8–3.5 log cycles during storage, but viable counts remained above 107 cfu/g. LB lost viability to 30–50% of the initial population after 35 days. Probiotic bacteria also lost viability during storage, with milk fermented with LC being the only one with counts <105 cfu/g.
• Researchers at Washington State University and São Paulo State University, Brazil, discussed the effects of high-hydrostatic-pressure (HHP) processing of probiotic lowfat yogurt.
Skim milk fortified with skim milk powder was subjected to three treatments: thermal treatment at 85ºC for 30 min; HHP at 676 MPa for 5 min; and a combination of both. The processed milk was fermented using two different starter cultures containing ST, LB, LA, and Bifidobacterium longum at inoculation rates of 0.1% and 0.2%.
The combined heat and HHP milk treatments produced compact yogurt gels with increasingly larger casein micelle clusters interspaced by void spaces; the gels exhibited a high degree of cross linking, high water-holding capacity, and attractive physicochemical characteristics. The combined treatment resulted in yogurt gels with higher shear stress vs shear rate curve than gels obtained from thermally treated milk.
The type of starter culture and inoculation rate, providing different fermentation pathways, also significantly affected the consistency index and texture properties. 
• Researchers at the University of Massachusetts explored the potential of selected yogurts for management of diabetes and hypertension.
Selected brands of dairy and soy yogurt enriched with strawberries, blueberries, and peaches were screened for total phenolic content, related antioxidant activity, in-vitro inhibition of enzymes relevant to type 2 diabetes, such as alpha-glucosidase and pancreatic alpha-amylase inhibitory activities, and hypertension-relevant angiotensin converting enzyme (ACE-I) inhibitory activity.
Blueberry yogurt exhibited the highest activity in terms of 1,1-diphenyl-2-picrylhydrazyl (DPPH) scavenging activity and alpha-glucosidase inhibition, which correlated with phenolic content. The alpha-amylase inhibitory activity was not correlated to any specific types of yogurts, whether plain, soy-based, or fruit-enriched. With ACE-I inhibition, the highest activity correlated with soy-based and fruit-enriched yogurts.
These results suggest that DPPH radical scavenging and alpha-glucosidase inhibitory activity were clearly correlated to total phenolic content, whereas alpha-amylase and ACE-I inhibition were not. The research strongly indicates the potential of dairy and/or soy yogurts enriched with fruit phytochemicals for use in management of type 2 diabetes and hypertension.
Bob Swientek, Editor-in-Chief, Food Technology
by Tom Vierhile is Director, Productscan Online, Datamonitor Naples, 6473D Route 64, Naples, NY 14512 ([email protected]).