Gourmet and specialty foods are going mainstream in supermarkets, restaurants, and large mass merchandisers. McDonald's offers an Asian salad, sports arenas sell organic hot dogs, and Wal-Mart's new supercenter in Plano, Tex., features high-priced wines, gourmet cheeses, sushi, and natural pet food—and the company plans to add 400 organic SKUs, too.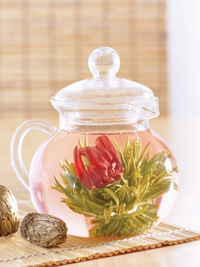 Harris (2005) reports that 96% of Americans buy premium goods in categories that are important to them, and few segments get more personal attention than food. The Boston Consulting Group (2005) estimates that 122 million adults—excluding those in affluent households with income greater than $150,000—have the means and desire to "trade up."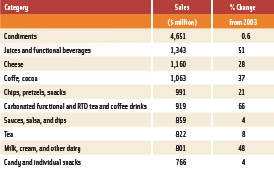 Premium, Please
More-adventuresome eating; an unprecedented level of culinary, health, and environmental awareness; and a feeling of entitlement among overwhelmed and over-worked Americans have caused gourmet and specialty food sales to outpace their traditional counter-parts in 26 of 30 food categories (Table 1; Mintel, 2006).
Specialty food sales hit $34.7 billion in 2005, up 29% from 2003–05 (Mintel, 2006). Packaged Facts (2005a) expects the gourmet food/beverage market to top $62 billion by 2009; 19% of adults are considered true gourmets.
Natural/organic food sales reached $28.3 billion in 2005, up 12% vs 2004. Organic foods, up 17%, grew four times faster than natural foods since 2003 (Packaged Facts, 2006). By 2010, natural food sales are projected to reach $13 billion; organic foods $33 billion. Organic food sales reached $13.8 billion in 2005 (NBJ, 2006).
New product introductions in gourmet, health food, and specialty stores totaled 5,168 in 2005, up 25% from 2000 (Mintel, 2006). Pet and baby foods had the most new product activity over the past five years. New confectionery introductions jumped 116%; beverages 60%, and fruits/vegetables 52%. New product activity fell 52% in soups, 18% in sauces/seasonings, and 26% in dairy.
Half of supermarkets are experimenting with organic formats and 25% with new ethnic concepts, although 66% already have gourmet sections, 57% natural/organic, and 89% ethnic. Upscaling is easy—94% already offer prepared takeout, and 86% have a bakery, 69% a coffee bar, and 49% a sushi station (FMI, 2006a; 2005). Mass marketers sell 72% of specialty foods and 45% of organic (Mintel, 2006; NBJ, 2006).
As restaurants upscale their menus to attract today's more-adventuresome consumers, they will accelerate the demand for specialty foods. A dramatic increase in use of Curbside-to-go take-out programs from more-sophisticated full-service restaurants and a trend among family diners to trade up to causal-dining restaurants instead of fast food will help introduce Americans to more upscale fare at a younger age. Immigrant Americans looking for authentic ingredients will also drive growth.
Demographic changes will inadvertently reorient the market toward those groups most interested in specialty foods—the 73 million Gen Yers age 12–29 and the 76 million Boomers age 42–60(Sloan, 2005).
--- PAGE BREAK ---
Those age 25–44 are the most-frequent purchasers of specialty foods and the most likely to shop ethnic stores (Purcell, 2006; FMI, 2006). Those age 18–34 most enjoy ethnic foods, and most want to eat gourmet every day. Those age 35–49 most prefer foods with lots of spices (Simmons, 2005).
Budget-minded young adults most often buy specialty snacks, candy, desserts, chocolate, and affordable ethnic foods and beverages—specialty teas, coffees, sodas, and authentic ethnic drinks. Young, more-affluent, two-career couples usually buy specialty sauces, flavored basics, and gourmet prepared/packaged foods (Purcell, 2006).
With more than half of Boomers cooking dinner five days a week and Empty Nesters entertaining more at home, gourmet main-meal components, appetizers, desserts, and healthy, high-quality convenience foods hold the highest appeal (FMI, 2006). Boomers are most interested in ingredients, authentic regional foods, and a formal food presentation style (Packaged Facts, 2005b).
Gen Xers and Yers, especially males, shop natural and organic stores more often than any other group, and single males are twice as likely to shop natural food stores (FMI, 2006).
Specialty Foods
With sales of $4.7 billion in 2005, condiments are the largest specialty food category, followed by frozen/shelf-stable/refrigerated juice and functional beverages at $1.3 billion, cheese/cheese alternatives $1.2 billion, coffee/coffee substitutes/cocoa $1.1 billion, chips/pretzels/snacks $991 million, and ready-to-drink (RTD) teas/coffees $919 million (Mintel, 2006).
Sales of specialty juices/functional beverages grew 51% from 2003–05, RTD coffee/tea 66%. Smaller categories also grew—specialty bread/baked foods 148%, water 61%, yogurt/kefir and other dairy 50%. Specialty condiment sales fell 4.8% in 2005. Specialty seasonings and oils rose 3.1% and 3.3%, respectively (Mintel, 2006).
With year-round grilling and healthier eating in mind, interest in rubs and spice blends is booming (Denis, 2006). Although American regional blends are currently back in vogue, Indian, Moroccan, and African seasonings are coming on strong.
Powdered green tea, cocoa—such as in Diva Chocolates' Spicy Cocoa Rib Rub—and coffee have high appeal to the growing number of female grillers, as do dessert rubs for grilled fruit. Liquor-infused, fruit and spicy or nutty marinades like Napa Valley's Consorzio Kitchen's Sesame Orange or Mango Cilantro and charred/roasted flavored rubs are other strong trends.
Regional sauces such as Wild Thymes' Tuscan Tomato Basil Vinaigrette; wing-specific sauces like Wing-Time USA's all-natural line; Annie's Naturals' organic Artichoke Parmesan and Goddess dressings; and a unique new multi-purpose Spicy Vinegar Sauce from Wewoff's are other new directions.
Artisan Salt Co. sells 24 varieties of all-natural, gourmet salt, including Cyprus Flake Mediterranean and Alaea Hawaiian Sea Salt. Blessac Rainbow Salt's Truffle Salt is sea salt mixed with dried black truffles. Horizon offers Smoked Crystal Salt Flakes.
--- PAGE BREAK ---
GlobeTrends' LeSpice Grind Fresh Spice Mills are 13 blends of spices ready to grind. Callison's Seasoned Skewers impart bold flavors such as Honey Bourbon and Citrus Rosemary to roasts or shish-ka-bob. Consumers can change the heat of Dave's Gourmet, Inc.'s Adjustable Heat Hot Sauce by turning the cap.
Odell's Chef's Butter offers Seafood Butter, Popcorn Butter, and Clarified Butter, and Meyenberg has a new Goat Milk Butter.
Robert Rothschild Farms set a new pace for cheese dips with its Hot Pepper Peach Cheese Ball Dip, with peach preserves. Emmi Fondue created a cheese-specific fondue line, including Gorgonzola and Cheddar Cheese.
The cheese-producing countries currently in vogue are Spain, Italy, Mexico, Israel, Portugal (with cheeses such as Queso de Tetilla) and Germany (with Hirtenkäse, a herdsman's silage-free cheese). Solex Autentico produces 500-g baby wheels of 100% sheep and goat milk Spanish cheeses—perfect for tapas.
Wisconsin's cheesemaker Seymour Dairy Crest™ created an Ader Käse, similar to German Cambozola or Montagnolo cheese, while neighboring Hook's developed an original Sweet Constantine cheese, with the essence of Parmesan and flavor notes of Asiago.
Wisconsin's BelGioioso fresh Mozzarella comes in easy-to-slice rolls. Bertozzi's Parma Sticks are snack sticks "plugged" from Parmigiano Reggiano wheels.
Straus Family Creamery's organic milk in nostalgic glass bottles, Nancy's Whole Milk Honey Yogurt, and Lifeway Foods, Inc.'s new Greek-Style Kefir are creating specialty excitement.
Liquid Gold
Sales of superpremium fresh juices are expected to hit $1.4 billion by 2008 (Ingram, 2006). Cal Giant's Just Strawberries delivers two servings of fruit per 8-oz glass, while Kagome's Golden Peach Garden and Burgundy Berry Blossom juices, which mix red and yellow fruits/vegetables, boast high anthocyanin, antioxidant, and phytonutrient levels. Lakewood's 100% organic Fresh-Pressed Limeade gets a premium for its handmade appeal. Bossa Nova Beverage Group launched a pure acai juice.
As Americans shift away from sugary sodas, premium flavored waters devoid of calories, artificial flavors, sweeteners, or colors—like Soma Beverage Co.'s MetroMint Peppermint Water, Hint, Inc.'s all-natural essence waters, and Trinity Spring's organic flavored waters—are enjoying brisk sales.
Ultra-pure naturally sourced waters such as Icelandic Glacial's Icelandic Spring Water continue to dominate the category. However, enhanced waters such as Meridan Beverage Co.'s Calcium Fortified AquaCal are coming on strong. Premium waters for kids, such as Maddie's Beverage Co.'s Wateroos in colorful juice boxes and Trinity Kids bottled water with Natural Fluoride are other growing segments.
Specialty sodas are another hot category. Fizzy Lizzy added a Fuji Apple flavor to its line, and Reed's added a special Bavarian Nutmeg version of Virgil's Root Beer.
Rush Beverage Co.'s Rush Ginseng Cola is an energy drink made with Wisconsin ginseng. Sol Maté Beverage Group's Sol Maté is an organic sparkling "jitter-free" energy beverage with yerba maté. E-Water pure spring water has more than 50 electrolytes.
--- PAGE BREAK ---
Lightfull Foods developed a 90-calorie, all-natural Lightfull Satiety Smoothie. Odwalla has a new soy-based Super Protein Latte, and Sibu's Sibu Balance high-antioxidant drink features seabuckthorn fruit.
Display teas are all the rage in the $822-million specialty tea market (Mintel, 2006). Mighty Leaf Tea Co. created Mighty Leaf Artisan-Crafted Whole Leaf Tea Pouches to elevate the tea experience. Each hand-made artisan cluster of Adagio Teas' Drop a Tea Blossom unfolds in water, revealing a delicate hidden flower. Numi Tea, Inc.'s Flowering Tea slowly blossoms into breathtaking shapes when steeped.
Naturally brewed, fruit iced teas are another strong trend. GSC Gourmet's Tea Collection includes packets of Black Tea with Cranberry and Fuji Apple, ready to be mixed into bottled water. Numi's Organic Iced Tea packets contain whole leaf tea and dried fruit and herbs—Fair Trade certified and GMO-free—ready to make authentic naturally brewed iced tea.
The Republic of Tea added Get Gorgeous Herb Hot Tea for Clear Skin and Get Charged Herb Tea for Energy to its medicinal tea line. Honest Tea introduced an organic, diet, RTD, single-serve tea, 10-calorie Tangerine Green Tea. Carrington Tea's Nutra-Tea combines glucosamine and chondroitin with steepable green tea.
Sales of specialty coffee, coffee substitutes, and cocoa reached more than $1 billion in 2005, up 37% from 2003–05 (Mintel, 2006). Exotic sourcing and Fair Trade practices remain cornerstones of the specialty coffee market. Coffee can be certified as sustainable in three ways: "Fair Trade," which assures fair treatment and wages for workers and farmers; "bird-friendly/shade-grown"; and "certified organic." Rogers Family Co.'s Audubon Premium Shade Grown Coffee is "Certified Shade Grown" by the National Rainforest Alliance and provides support for the Audubon Society.
Whole-bean specialty coffees continue to take share from ground. Coffee extracts are also gaining in popularity. Java Juice's all-natural, Fair Trade Black Gold Pure Coffee Extract has as much caffeine as a double shot of espresso and can be added to recipes. Chocolate and coffee blends are a strong flavor trend and collide in Japan's Ito En's new Café Sepia™, RTD natural coffee in 6.4-fl-oz metal bottles.
Low-acid coffees such as Puroast Low Acid Coffee are finding a welcome niche. Café Senora is pure organic Arabica coffee with higher antioxidant levels than green tea.
Coffee alternatives are also getting specialty attention. SoyFee is a no-caffeine,100% organic soy coffee. Organic Works' Teeccino Maya Herbal Coffee is a certified-organic, caffeine-free coffee alternative, wild-harvested and made from barley, chicory, and ramon nuts. Caffé Botanica coffee is made from 100% Arabica beans infused with calcium.
Flavored beverage syrups and elixirs are another fast-emerging trend. DaVinci Gourmet's Carrot Cake, Caramel Pecan, and Simple Syrup are also available in sugar-free form.
Specialty spirits and mixers are another fast-growing category. Flavored and inventive spirits generated more than $550 million in supermarket sales, up 11% in 2005. Wine rang up $4.3 billion in sales, up 9.4% (Brager, 2006).
Heineken Premium Light Beer and Beck's Premier Light are creating a luxury light beer category. Peels, a 100%-natural alcoholic beverage for women, is flavored with 100% fruit juice in Pear and other flavors.
Fruit-based mixers and gourmet drink-glass "rimmers"—such as Stirrings' Simple Watermelon Martini™ and Watermelon Rimmers—are now strong specialty store staples.
--- PAGE BREAK ---
Decadent Delights
Decadent desserts usually create the most excitement within specialty foods, and the Great San Sabar River Pecan Co.'s Pecan Pie In-A-Jar and Tortuga's Rum Cakes made with 5-year-old Tortuga Rum are no exception. Cia Bella Gelato Co. offers a Blood Orange Sorbet.
For an international twist, try Power-Selles Imports' Matiz Torta de Aceite Olive Oil Crisp Bread Sugared with Almonds or La Artesana's hand-made and imported Pears in Red Wine or Nuts in Pure Mountain Honey from Spain.
Convenient specialty desserts are also gaining ground. Achatz Handmade Pie Co. says its fresh-frozen Michigan Berry is its best seller. Cake 'n Cup Kits make difficult recipes, like Lemon Meringue Pie and Crème Brulee, a breeze. Najla's Inc.'s Gone Chunky cookies are all-natural, premium, ready-to-bake cookies, hand-shaped and frozen on individual baking parchment rounds.
Sales of gourmet candy and chocolate rose 24% from 2003 to 2005 (Mintel, 2006). But today, they are more likely to be individually packaged, made with fruit or nuts, be the dark-chocolate high-antioxidant variety, and even be sugar-free.
Country of origin remains a strong driver in premium chocolates. Fran's Chocolates Ltd.'s Chocolate from the Source bars feature single-origin chocolate from various parts of the world. San Francisco Wine Co. pairs premium chocolates with wine and coffee in its Wine Lover's and Coffee Lover's Collections.
Bissingers Handcrafted Chocolatiers use fruits and nuts in its Spa Chocolate Collection. Torn Ranch, Inc.'s T-Bar™ nutrition bar and Tea Truffles are made with European dark chocolate and green tea. SunSpire sells Fair Trade Organic Dark Chocolate Blueberries.
Fruit, boldly flavored, and ultra-thin gourmet cookies are driving sales. Flathau's Gourmet Cookies' Snap Pack comes in Peppermint and Raspberry. Salem Baking Co.'s Moravian Cookies, in Cranberry Orange and Moravian Black Walnut, claim to be the "World's Thinnest Cookies." Salem's Shortbread Straws come in Piña Colada. Dancing Deer Baking Co.'s Maple Pecan Shortbread Nuggets are made with whole-grain white wheat, and Byrd Trading Co.'s Chinese Tea Cookies are made with hand-picked Chinese tea leaves.
Sales of specialty crackers, ethnic crisps, and rice cakes—up 10% in 2003–05—are trending toward whole grain, heritage grains such as spelt and quinoa, and very bold flavors (Mintel, 2006).
American Vintage Wine Biscuits, made with wine, boast strong savory flavors like Chianti, Oregano & Crushed Red Pepper. Salem Baking Co.'s Cocktail Companions are biscuits in Grilled Vegetable Parmesan and Almond Fig & Balsamic Vinegar flavors.
John WM Macy's Foods' twice-baked sourdough CheeseSticks are available in Dijon Swiss flavor and dessert SweetSticks in Java Cinnamon flavor. Aunt Gussie's Cracker Flats are large, flat crisp crackers made from organic wheat and whole-grain spelt flour. La Panzanella LLC's Croccantini are crunchy, "little bite" Italian crackers in savory Fennel and Rosemary. My Family Farm created organic Surf Snacks Pizza Baked Crackers for kids.
Koeze Co.'s award-winning Cream-Nut Natural Peanut Butter and Clearbrook Farms' Oregon Marion Blackberry Preserves are perfect on crackers.
Specialty chips, pretzels, and snacks grew 21% in 2003–05 (Mintel, 2006), and creative flavors and healthier options set the pace. Kettle Foods brand Potato Chips flavors range from Roasted Red Pepper with Goat Cheese to Organic Chipotle Chili Barbeque. Lundenberg Family Farms offers Bean & Rice Chips.
--- PAGE BREAK ---
Native Kjalii Foods introduced Native's Chocolate Covered Tortilla Chips and Thick-cut Tortilla Chips. Kettle Foods' new Baked Pretzel Chips are "pretzels for the potato chip lover." Healthy Snacks' 100% organic Bare Fruit line includes Bake-Dried Cinnamon Apple Chips.
The popcorn category is facing off with indulgent Dale & Thomas' Peanut Butter with White Chocolate Drizzlecorn Popcorn vs LesserEvil's all-natural, low-fat, high-fiber Heart Healthy MaplePecan Kettlecorn with plant sterols. Corazonas Foods offers heart-healthy tortilla chips with whole oats and plant sterols.
Snackmasters offers Ahi Tuna jerky and Wild Alaskan Salmon jerky. The 97%-fat-free, gourmet-cut beef jerky is sliced from top-round beef.
Sales of specialty nuts, seeds, dried fruits, and trail mixes increased 31% in 2005 (Mintel, 2006). No Nuts! from Enjoy Life Foods is a nut-free trail mix with sunflower kernels, pepitas, and more. Overlake Foods Corp.'s line of dried cherries and blueberries contains no sweeteners, additives, or oils.
All-natural Sweet Roasted Chestnuts Smart Snack from Saraya Canada Co. Ltd. and Barmier's Grab an Olive packs of fresh olives are other gourmet snacks.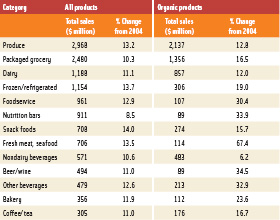 Natural Supermarkets
Food sales at natural product retailers (Table 2; Spencer, 2006) reached $14.4 billion in 2005, up 12.1% from 2004, with all food categories posting double-digit growth except nutrition bars Table 2; Spencer, 2006). Of this total, half was for organic products (up 16.5%). Natural product retailers saw organic fresh meat and seafood sales grow 67% to $114 million. Organic nutrition bars, beer and wine, "other beverages," and foodservice all grew in excess of 30%. Organic pet products jumped 37.5% to $65 million. Natural stores outsold supermarkets in the organic bread and canned fruits/vegetable categories. For the first time since 1999, natural product retailers saw double-digit growth at 10.9% to $25.5 billion (Spencer, 2006). Whole Foods Market led chain sales, up 22.4% over 2004 with sales of $5.03 billion, followed by Wild Oats.
Pet food led the "Top 10 Growth Categories" for organic food sales in natural stores—up 141% over 2004, albeit from a small base—followed by crackers/crispbreads up 103%, energy bars/gels 73%, frozen/refrigerated meats, poultry, and seafood 67%, meal replacements/powders 56%, cookies/snack bars 47%, candy 47%, coffee 35%, oils 34%, and soup 29% (Spencer, 2006).
New ethical issues and buzz words are emanating from the natural food channel. Forty-one percent of primary food shoppers in 2005 said it is important or very important for their store to carry Fair Trade Certified foods (up 30% from 2004)—expect fruit to be the next Fair Trade commodity—50% the USDA Certified Organic Seal (up 58%); and 48% products that are from farms with a commitment to sustainable agriculture (up 24%). In 2005, 61% of shoppers said they wanted their store to carry hormone-free foods (up 6% from 2002), 60% antibiotic-free foods (up 3%), and 53% artificial color, flavor, and preservative-free foods (up 6%); 52% wanted foods without genetically modified ingredients (up 7%), 48% wanted products with GMO ingredients labeled (up 6%), and 44% wanted foods that were not irradiated (up 10%) (NMI, 2006b).
Packaged produce sales rose 26% in natural stores in 2005 (Spencer, 2006). Earthbound Farm's new Organic Single Serve Grab & Go Salad Kits make healthy eating a snap.
Ready-Pac's premium Bistro To Go salads, packaged in clear compartmentalized containers that separate ingredients, come in Cob, Chef, and other recipes. Dole introduced Fresh Makes™ fresh Veggie Pasta Salad Kits, and Seapoint Farms' new fresh Veggie Blends feature edamame.
Sales of specialty shelf-stable and frozen fruits/vegetables increased 23% in 2005 (Mintel, 2006). Jarred fruit, premium canned fruit, and frozen fruit/vegetables are driving the category. Cascadian Farm's new "gourmet boxed" frozen organic vegetables include Asparagus Cuts and Broccoli Florets.
--- PAGE BREAK ---
Sales of natural, organic, and premium meats are also exploding. In addition to providing super-premium cuts and more exotic meats such as bison, ostrich, and heritage turkeys, specialty marketers are upgrading the flavor profile of regular premium and natural meats/poultry, focusing on value-added frozen and pre-prepared fresh items.
Kayem Foods' McKenzie Country Classic Turkey Breast is available in Raspberry Honey and Cherrywood Smoked flavors, and its Al Fresco Apple Maple Natural Chicken Sausages are made with apple chunks and pure Vermont maple syrup.
Di Lusso Deli Co., part of Hormel Foods, is rolling out Italian-style Roast Beef, Double Smoked Ham, and Rosemary & Sun Dried Tomato Turkey—all free of MSG, artificial colors, and flavors. Topps sells premium frozen Sirloin Steak Burgers with Portabella Mushrooms.
Creekstone Farms markets all-natural, pre-marinated sirloin tips in Chipotle Citrus and Cajun-style and frozen All-Natural Black Angus Beef Burgers in Garlic & Herb. Laura's Lean Beef added an all-natural, cook-and-serve meatloaf.
"Clean" deli meats are another fast-emerging trend. Applegate Farms introduced antibiotic-, gluten-, nitrite-, hormone-, and casein-free deli Sliced Roasted Chicken and Chipotle Chicken Breast and an Organic Stadium-Style Hot Dog. Shelton's introduced Ground Free-Range Turkey.
Meat alternatives are gaining, too. Turtle Island Foods, Inc. introduced a Tofurky Chipotle Frank, Tofurky Kielbasa, and Beer Brats with Microbrewed Full Sail Ale. Made with soy protein, they're 100% Certified Vegan.
Seafood sales had a tough year in 2005, up 1.8% in specialty channels, according to Mintel (2006), while Information Resources Inc. reports that unit sales of frozen fish/shellfish fell 9.28% in mass markets for the year ending 2/12/06, refrigerated fish/seafood 3.66%, canned tuna 11.6%, and canned salmon 12.2% (Uhland, 2006). While specialty shoppers continue to opt for wild-caught, line-caught and organic premium fish/seafood, mercury in seafood is still of grave concern. Eco Fish, Inc. introduced the country's first premium-quality canned tuna and salmon independently tested for mercury and PCBs. In May 2005, 60% of consumers were very/extremely concerned about mercury in seafood (NPD, 2005)
Dry grocery is the second biggest section in natural food stores. Racconto introduced Whole Grain Kamut, Spelt, Buckwheat, and other pastas; Hogson Mills introduced Certified Organic Lasagna Noodles with Flax Seed; and Eden offered Organic Spelt Udon Noodles.
Beans, grains, and rice specialty sales grew 26% in 2003–05 (Mintel, 2006). Lundberg Family Farms' new microwavable RiceXpress brown rice mixes are ready in 60 seconds. Lotus Foods added Tiny Aromatic Brown Rice imported from Bengal. Eden Organics' new organic canned Rice & Beans line is produced exclusively from family farms in the United States.
Cascadian Farm's new Great Measure™ premium organic ready-to-eat cereal is designed to provide nutrients essential for dieters. Perky's 100% natural Nutty Rice cereal is "sweetened with fruit juice and honey."
--- PAGE BREAK ---
Bread/baked goods sales rose 12.5% in natural stores in 2005 and 148% in specialty stores in 2003–05, although it is a small specialty segment, and sales of baking mixes, supplies, and flour grew 8% (Spencer, 2006; Mintel 2006). Alexia Foods added all-natural, frozen, fresh-baked artisan breads, including Ciabatta and Three Cheese. King Arthur Flour's Whole Grain Mixes now include organic muffins, pancakes, and scones.
Ironically, food sensitivities are helping alternative grains such as spelt and amaranth and other gluten-free products move center stage. Enjoy Life's Soft Baked Chewy Chocolate Chip Cookies are free of the top eight allergens, including nuts and gluten, and are made in a dedicated bakery. Arico Natural Foods launched all-natural gluten- and casein-free snacks and bars and cookies high in fiber, calcium, and protein. Kitchen Table Bakers' Handmade All Parmesan Jalapeño Gourmet Wafer Crisps are wheat- and gluten-free.
Soup is another specialty staple. Fairfield Farm Kitchen's Moosewood premium organic vegetarian/vegan refrigerated soup line includes a new low-fat, low-sodium Hungarian Vegetable Noodle Soup. Muir Glen Organic introduced canned soups, including Hearty Tomato. Fantastic World Foods' dried-soup cups have added new flavors, including Southwest Tortilla Bean Soup.
Sales of freshly prepared, high-quality frozen meals and ethnic dried grocery kits continue to soar. Kashi is entering the market with all-natural, high-fiber, high-protein, premium meals in Lemon Rosemary Chicken and Lime Cilantro Shrimp versions. Seeds of Change added Spicy Peanut Noodles, Creamy Spinach Lasagna, and Spicy Yucatan Frijoles & Vegetables to its line of certified-organic frozen ready-made meals.
Fairfield Farm Kitchen's Organic Classics premium frozen dinner line added Lemon Chicken Piccata with Wehani® Rice, and Guiltless Gourmet offers new frozen Guiltless Gourmet Wraps, including a Four Bean Chili Wrap.
Cedarlane's new frozen wellness line of Dr. Sears Zone all-natural foods include burritos, pizzas, omelets, and other main entrees, all formulated to the "Zone" ratio of fat, carbs, and protein, with 300–380 calories.
And the demand for fresh products in the specialty channel continues to grow. Simply Asia is moving into the produce section with Simply Asia Stir-Fry Chow Mein, available in four restaurant-style varieties, including Spicy Kung Pao and Mandarin Orange with fresh noodles, vegetables, and signature sauces.
by A. Elizabeth Sloan, a Professional Member of IFT, is President, Sloan Trends & Solutions, Inc., P.O. Box 461149, Escondido, CA 92046 ([email protected]).