Using third-party services—referred to as co-manufacturing or co-packing—for some or all parts of the food supply chain has been a significant element of food companies' strategy for many years. One example is renting warehouse space on a long- or short-term basis. Another is contracting for special packaging, such as promotional bundling (e.g., six-packs of soup) or addition of stickers. Many marketing-oriented firms had some or all of their products made by other companies.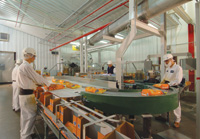 In recent years, as all parts of the supply chain are scrutinized for cost savings, both the use of third parties and the possibility of performing such services have become more common topics of conversation within food companies. Here are some of the issues and influences affecting such discussions.
Why Does Co-Manufacturing Make Any Sense?
One way to improve return on assets is to have fewer assets while maintaining income. Thus, if a third party has underutilized and appropriate assets and is willing to use them for a fee to manufacture someone else's product, both the customer and the asset owner are better off than they would be if the customer were forced to invest in new equipment and facility. This is the essential reason why co-manufacturing makes sense. However, each of the conditions mentioned can be significant, and additional factors can apply, as will be discussed later.
Several categories of products are good candidates for co-manufacturing:
• New products, with their risk of failure and the possibility that the developing company does not have appropriate manufacturing capacity (because the product is new).
• Well-established products that do not have a highly proprietary process.
• Intermediate products, such as bakery premixes or products that can be made in bulk and packaged separately.
• Specially packaged products, such as those for club stores, or those carrying a promotional premium.
• Products whose manufacture in a plant might interfere with other operations, such as those with strong odors or kosher products not acceptable for Passover use produced near Passover-certified products.
Co-manufacturing may also be driven by the ability to get to market faster, so long as the appropriate capacity is available. Almost always, especially for new products, there may need to be some investment, in packaging for instance. Who pays for that and how the costs are recovered are topics for negotiation.
Co-manufacturers charge a fee for their services that covers labor, energy, overhead, amortization, and profit. Raw materials and packaging materials may be provided by the customer or by the co-manufacturer. There is always tension concerning fees between the conflicting ambitions of the co-manufacturer and the customer. The customer wants the lowest cost possible. The co-manufacturer wants to earn a fair profit. Both need to earn a return on the assets employed. The co-manufacturer also bears some risk for the quality of the product and the working capital used to purchase supplies. In a broad sense, the costs of self manufacture and co-manufacture should be comparable, but there are some subtle factors.
Some co-manufacturers have lower labor and overhead costs than large food companies. Existing assets probably have lower book value than new assets would have. Some co-manufacturers, often privately held, may accept a lower return than a large, public company. Owned assets generate depreciation, which is a positive cash flow, whereas paying for another's assets, as a component of a fee, is a pure expense. Thus, the economic impact of having a product made by a third party may be positive, negative, or neutral.
Co-manufacturing should be distinguished from private label manufacturing, though there are similarities. Private label often refers to food and grocery products that carry a store label or a label other than a national brand. The products are often made by relatively small food companies that offer a range of formulas within a family of products, e.g., soups, sauces, juices, or cookies. Sometimes, large, branded manufacturers will offer their products for private label or "generics." One distinction is that most private label manufacturers prefer not to develop special products for each customer, but rather offer what they normally make. Co-manufacturers, on the other hand, usually are given formulas and processes by their customers.
Some Representative Co-Manufacturers
Co-manufacturers usually have a specific skill set. For example, PacMoore, Hammond, Ind., has a main focus of dry blending, sifting, and packaging of food and pharmaceutical ingredients, according to Bob Lyman, Vice President Sales & Marketing (phone 219-932-2666). PacMoore serves the starch, soy, dairy, sugar, flour, and gum industries.
Lyman observed that demands on his firm have become much higher through more-frequent and more-stringent customer audits, third-party inspections,and certifications. PacMoore conducts weekly environmental microbial swabs for Listeria, Salmonella,and other potential contaminants and routinely uses bioluminescence tests to confirm adequacy of cleaning.
In early April 2006, the company opened a new 110,000-sq-ft processing plant in Mooresville, Ind., to address the needs of customers like P&G, General Mills, Kraft, and National Starch & Chemical. The company packages in sizes ranging from 8-oz pouches to 2,000-lb super sacks, and ships and receives via bulk rail and/or truck. PacMoore does not accept formulas with strong odors, such as garlic, so as not to taint its bakery and pharmaceutical products.
Power Packaging, an Exel Co., St. Charles, Ill., may be one of the largest co-manufacturers in the world, with eight facilities in North America, according to Geoff Campbell, President (phone 630-377-3838). He says that if Power does not have the existing capacity or space, it will buy it or build it for a customer. The technologies the company is experienced in include beverages (hot and cold fill, aseptic), dry blending, and filling of products into vertical and horizontal form/fill/seal pouches, as well as rigid containers. Clients include General Mills, Pepsi, Kraft, Unilever, Campbell Soup, Nestlé, and others.
Power is an example of both a traditional and different type of co-manufacturer in that it behaves almost like a developer of real estate—it does not rely only on existing, underutilized assets but is willing to build as needed. Typically, the company can build a new facility faster and source the necessary equipment quicker, and for a lower cost, than their customers can, in part because it has lower overhead and it does not over-engineer the design. The company is not afraid to embrace new technologies, such as aseptic filling or stick-pack production. It also has significant experience operating a variety of facilities for others. Some facilities are dedicated to one customer, while others have multiple customers.
Olmarc Packaging Co., Northlake, Ill., is one of the largest, most diversified custom contract manufacturing companies, this year celebrating 40 years in business. Its clients include most of the Fortune 100 food companies, according to Laura Grubert, Director of Sales (phone 708-562-2448). Olmarc has responded to the demand to become an extension of clients' operations by having its company structure match that of its clients. The Engineering Dept. can manage a project from design to implementation of customized equipment solutions. The Quality Dept. follows the strictest guidelines of both clients and its own high standards, from incoming to on-line testing. The company uses computerized trace and recall programs and has kitchens and analytical labs in each facility. Olmarc also offers a full Logistics Dept. from product scheduling to most outbound shipments via electronic data interchange (EDI). The Purchasing group within Logistics is staffed to also offer clients full turnkey services.
Olmarc processes and packages liquids and dry products, including hot- and cold-filled beverages, microwave popcorn, ready-to-eat snacks and breakfast cereals, and dry baking mixes, of which they can handle 2 million lb/day.
How to Find a Co-Manufacturer
Many potential co-manufacturers advertise in Food Technology and trade journals. They usually list their specializations—spray drying, dry mixing, pouch packing, extrusion, baking, etc. Many belong to various trade associations, but there does not appear to be one just for co-manufacturing. As mentioned earlier, large branded companies may agree to co-manufacture or may offer existing products under private label.
Ordinarily, one's first interest, after finding a few candidates, is to establish that sufficient appropriate capacity is available. For instance, many firms make frozen or refrigerated dough and pastries, but most of them do not have ovens and so are cannot co-manufacture a fully baked product. There are many small and medium-sized bakeries, but few of them have freezing capacity, so they might not be suitable for a frozen, baked product. On the other hand, a firm making frozen pizzas might easily convert some assets to make frozen baked cake. One has to be creative. If time is less of a factor, then building or acquiring may be an option. A consultant may be useful in maintaining confidentiality while conducting a search for a co-manufacturer or in evaluating one's capability.
The overall concern of customers of co-manufacturers is quality. Price is significant, of course, and negotiations can be contentious, but once all parties understand the real costs and relative risks, it is usually possible to reach a fair arrangement. Customers agonize about losing control of products that carry their brand, so the best co-manufacturers have scrupulous quality and logistics systems. Some, according to Lyman of PacMoore, integrate their computer systems with customers so the co-manufacturer assumes responsibility for scheduling runs, ordering supplies, and delivering product where it is needed.
In contrast, an older vision of a co-packer used to be an entrepreneur with a ribbon blender in his garage and the ability to fill drums or kraft bags. Such a small operation would be hard-pressed to meet the requirements of inspections by the American Institute of Baking and the Food Processors Association today, let alone provide the range of services and the sophistication that the large co-manufacturers do.
by J. Peter Clark, Contributing Editor,
Consultant to the Process Industries,
Oak Park, Ill.
[email protected]